Our Anguilla Home's
Interior/Exterior Wall Finishing
Our Anguilla home's structure is up!
The windows and doors are in. We are ready for the final interior and exterior finishing!
Since this is not a conventional concrete block home we cannot use the conventional method to finish it (which would be a simple mortar plastering finish).
We have rigid insulation as a substrate on the both sides of all of our Anguilla home's exterior walls. Most people that passed by the site during construction always ask, "How did you plan to do the finishing over the rigid insulation?"
But, it's not a new technology! It has been around for quite some time now.
The system is referred to as EIFS... Exterior Insulated Finish Systems. The system was designed to be used with insulated walls just like the ones on our ICF Anguilla home. It is used extensively in the hottest and coldest climates.
Although foam is considered rigid, it is not rigid enough to leave it as is on the exterior finish of a structure. It needs to be protected against impact and the elements. So, Mike and "the team" put a fiberglass mesh and cementeous coating over the foam to protect it. It is like the protective skin of a cooler that you would take to the beach.
After this base coat is applied we can finish the walls in the same way as any other... traditional wall, paint, or acrylic stucco's. We chose acrylic stucco for a number of reasons...
The product has great durability and is also less prone to cracking due to its highly elastic properties,
It adheres better to a substrate making it less prone to peeling,
Acrylic stuccos come in any color you can imagine just like paint,
This type of stucco can be ordered in a variety of textures from smooth to rough
.
Acrylic Finishes are gaining phenomenal popularity in new home construction as well as renovation projects!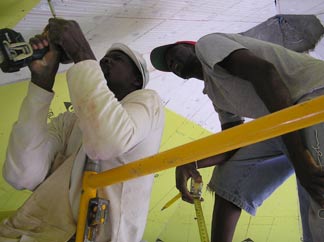 Mike and I decided to use this type of stucco on in the inside of our Anguilla home too, except with a smoother finish.
The finish was applied the same way, but we did add one extre step.
We included a gypsum board layer underneath to conform to the IFC (International Fire Code).
The board that we used is a special board that is not prone to moldings, a big concern in Caribbean construction.
The Team!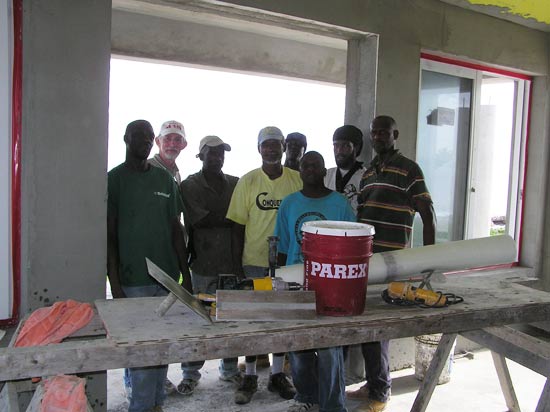 Mike and the team did the gypsum board, base coat preparation and everything else until the finishing stage.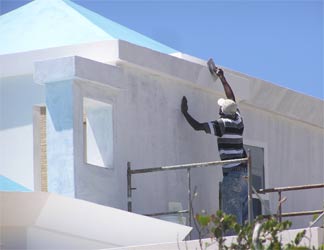 Mike found two of the best guys in the business Asquith (Ras) and Corey for the acrylic finishing work. They are like painters, but instead of using paint brushes and rollers they use trowels.
People who work around these products every day definitely provide superior results!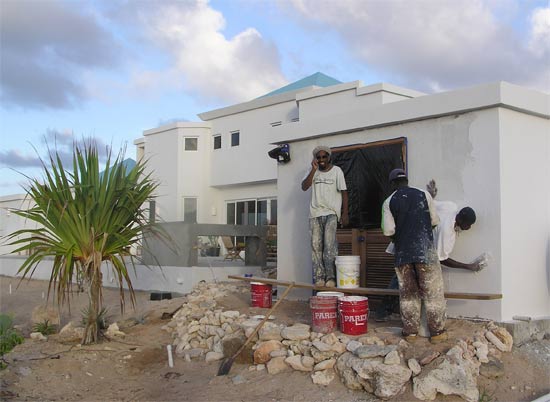 Mike still had to set up some creative scaffolding for the guys to work on. Working around the house, so high off the ground is not the easiest thing to do! Accessibility and safety was on everyone's minds...
"Creative Scaffolding"
Hang On Tight!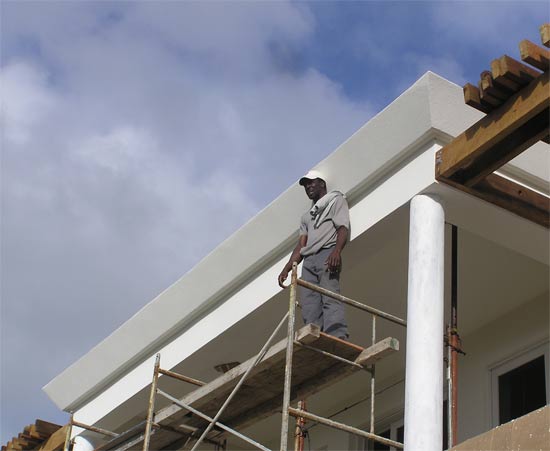 Mike purchased all the EIFS products to complete the job from Parex Lahabra. They are one of the biggest manufacturers of acrylic finishes and peripheral products. Mike chose Parex because they offer great quality at reasonable prices and also provide great technical support.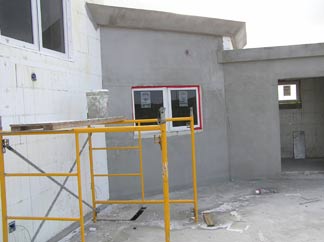 Parex even sent a technical representative (Walter Williams) to visit Anguilla and give an on site training course all at their own expense.
A great gesture from a company that always strives for great results and satisfied customers!
The job went much faster than expected. The gypsum boards and basecoats were applied with ease and speed!
The house was transformed from black and grey to white, in a flash!