Barths Bay Anguilla Villa For Sale...
Sweeping Views and Green Construction
NEW for 2017: Anguilla Beaches Villa For Sale
If you are thinking of buying your own piece of tranquility wrapped in blue, click here to see our newly featured villa for sale, Anguilla Beaches Villa. It's called "Anguilla Beaches" because it's our own home!
Anguilla Beaches Villa By Night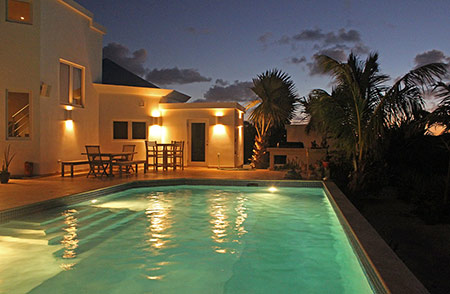 One of the best built villas on the island, it is loaded with unique and best-of-breed features. It comes with an interesting twist…
My parents want to own less and travel more. They spend an equal amount of city time in their 62nd floor apartment overlooking Panama Bay in Panama City, so there is an interesting twist to this sale…
When not traveling, they still want to spend 4-6 months in Anguilla, planning to take long-term rentals when they return. It occurred to me that they wouldn't be as happy as they are here, which I mentioned to my Dad. He had built some unique features into the home and on the property, some of which are…
direct fibreoptic cable (we are completely off the network for virtual 100% uptime and unlimited bandwidth potential)
massive generator that could power the entire villa, 24x7, even with every air conditioner on for a week. This has 3 advantages…


hurricane - hurricanes are actually kind of interesting when you're safe (and we're safe in this home). The worst part of a hurricane is actually the lack of electricity for days, even weeks. The combination of no air conditioning and no electrical pump to move water from the cisterns gets rather, um, uncomfortable.
brownouts/short power failures - the entire villa has a power-surge protector in front of it to prevent damage. Beyond that, the generator kicks in within a 5 seconds if it's more than a brownout (short outages happen). So we're never without electricity (or Internet, therefore) for more than a few seconds.
location - my parents love to keep our house open during the day to hear the ocean. The house catches the near-constant tradewinds, cooling the home and us. It's also just nice to feel the sea breeze. We rarely use air-conditioning, yet remain cool on the hottest days inland or those shorelines that catch little or no breeze.
best home theatre with massive 7.1 sound. Folks in The Valley call us to "turn it down" when a war movie is playing. ;-)
Few, if any villas, have a generator, let alone one like our villa. And none have the perfect combination of creature comforts. My Dad thought about that for a couple of days and came back and said, "Well, let's just rent it back for 4-6 months per year."
So if you are planning to rent your villa, this may be the ideal choice for you. Not only do you benefit from all these features, the villa comes in with a guaranteed, built-in "Return on Investment." On a fiercely competitive island (over 150 villas), this is a WIN-WIN for all.
Barths Bay Villa Has Sold A charming couple now owns this villa, but if you enjoy interesting stories and/or viewing open houses, keep reading for more on this property.
Skip background story and jump to Villa Tour
Background
In 2008, our family pulled up stakes and left Montreal, the only place any member of our family had ever called "home." We bid adieu to snow and taxes and settled into a perpetually warm weather and a tax-free lifestyle where there are far less rules and regulations. Freedom!
Yuki, Me and Touptsi At Home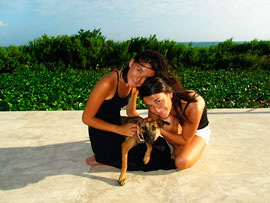 Since 2008, we haven't looked back. Our lives in Montreal are memories... pleasant but in the past. Anguilla is home. We love it here.
My Dad wanted to build our home to be sure of the quality. Back then (2006-2007), Anguilla was in the middle of a building boom. All the top builders were "too busy."
Enter Mike Vallinis...
Mike had done superb work for us in Montreal, so my parents both agreed... "Let's ask Mike if he'd be interested!" As it turns out, building in the Caribbean had been his long-time dream!
My Dad didn't want to be involved beyond drawing up the architectural design. He just wanted to "turn the key." That's where the name TurnKey Construction originated. TurnKey's focus is building environmentally friendly houses in Anguilla, Mike's area of expertise.
The Recession Hits
My parents are not easy to please, but they raved about the work done on our own home throughout the entire process. Mike completed a second home with stunning results.
However, once the Recession was well underway, few people were building on the island. We hated to see Mike and crew out of work. They're not only nice, honest and hard-working people, they have all become friends of the family.
So we organized another project, the construction of a "green" villa 200 yards behind our home, up on a ridge with three panoramic views (to the West, South, and East)...
View #1: St. Martin (Grand Case and Marigot) to the West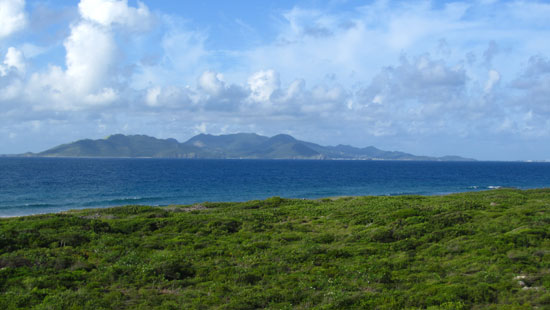 Photo Tour Slide Shows
Click on any image to see a larger version of it in special "slide show" window. If you like, continue to take 1 of 3 possible photo tours...
Views Captions of these photos start with "View #" (ex., "View #2"), followed by brief descriptions of the scenery visible from certain locations in the villa.
Exterior Photos Captions of these photos start with "Exterior Pic #" (ex., "Exterior Pic #4"), followed by brief descriptions of exterior photos of the home.
Interior Photos Captions of these photos start with "Interior Pic #" (ex., "Interior Pic #5"), followed by brief descriptions of photos of the villa's interior.
Barths Bay Anguilla Villa
The villa that Mike and his team have built is in an up-and-coming area of Anguilla that is slightly to the East of The Valley. Several $2,000,000-$5,000,000 villas have been built here. And when the nearby Nicklaus golf course is completed (including many multi-million dollar villas), residential values will increase.
Its location is conveniently close to The Valley (excellent for everyday errands like groceries, mail, video rentals, etc.). And it's a short drive to Shoal Bay, Crocus Bay and 10-15 minutes to Western beaches.
For exact location, see the map below...
Barths Bay Villa
A high-quality, "green" Caribbean villa overlooking St. Martin, St. Barths
and the open ocean.
While it is centrally located, the villa is tucked away in a peaceful spot, away from the main streets and inland roads, on a ridge that catches the trade breezes and with my favorite view of...
View #2: St. Barths Straight Ahead
(Flat Island In Right Foreground)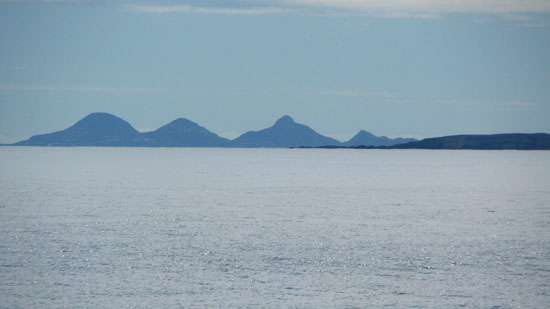 The final seaside view goes forever...
View #3: Open Caribbean to the East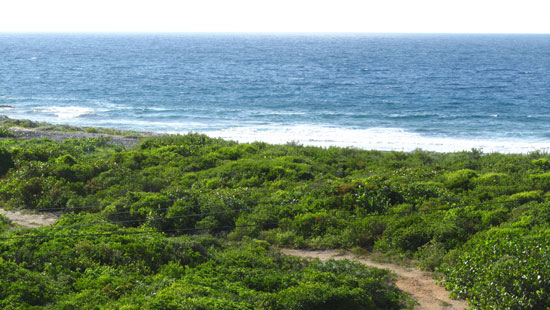 Since the 3 peaks of St. Barths are so majestic, we call the villa Barths Bay Villa (but you can call it whatever you like, of course). Some nights you can even see the lights of St. Barths!
The Tour Begins
Mike and his team build tremendous equity into their construction. The result is a rock-solid, green villa that is built to "multi-million-dollar" quality, selling for a price that is meant to recoup expenses, sold directly by my Dad (via the form below).
Barths Bay Villa sits on a quarter acre of Anguilla real estate, near the sea's edge. The villa features 2,600 square feet of interior living space.
There are two floors, 3 bedrooms and an outdoor living space, complete with a pool. The downstairs bedroom is pre-wired to be a home theatre should you only need 2 bedrooms.
Here is the villa as you approach it from the access road...
Exterior Pic #1: Anguilla villa for sale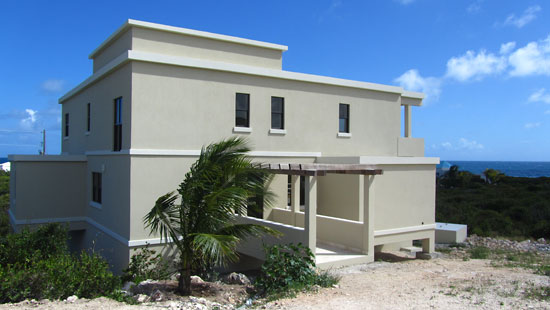 The quality built into this home is unmatched by any home in this price range.
From the foundation work and ICF walls (more on ICF construction below), to the PGT Winguard windows and doors (Miami-Dade hurricane-certified), to the perfectly cast concrete roof structure, this is a rock-solid home.
The photo (left column below) shows the entrance, with pergola made of greenheart (dense, rich tropical wood that withstands the environment). The right-column photos show the views into the home, standing just inside the the entrance, looking to the left and then to the right.
Click on any image to see a larger version of it in a special "slide show" window. If you like, continue to take 1 of 3 possible photo tours, as explained above.
Exterior Pic #2: Entrance/Pergola


Interior Pic #1: Look Left


Interior Pic #1: Look Right


In the two photos immediately above, you are standing at the entrance way.

In the top photo, you are looking towards the left.

You are gazing to the right in the bottom photo...
Exterior Pic #2: Entrance/Pergola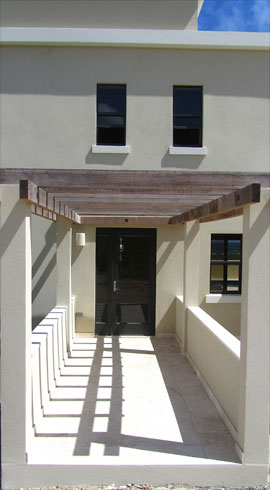 Interior Pic #1: Look Left

Interior Pic #1: Look Right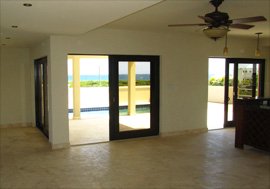 In the two photos immediately above, you are standing at the entrance way.
In the top photo, you are looking towards the left.
You are gazing to the right in the bottom photo...
Returning to the top photo, you can see past a living area and into what can be either a third master bedroom or a home theatre/den (the "flexible room").
In the bottom photo, you look to the right, past an inside dining area through the two sliding doors out to the pool, where there is an outside dining area, and finally to the view beyond. (At the far right, you can see the beginning of the kitchen counter.)
The First Floor
The first floor features a large kitchen and dining space, which open onto the pool area via two wide sliding doors behind the counter which is meant to accommodate bar stools.
Quick Facts
All kitchen and bathroom fixtures and sinks are Kohler.
Countertops are granite throughout the villa.
Lighting is Kitchler everywhere.
Cabinetry is finely finished by KraftMaid.
Let's start at the kitchen...
Interior Pic #3: Kitchen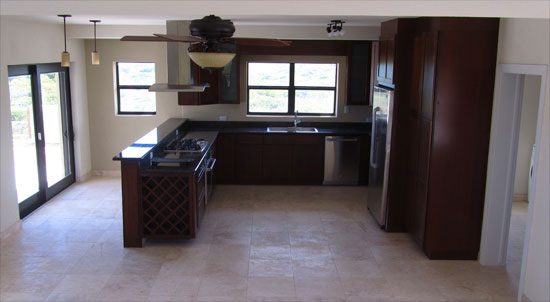 Remember, you can click any photo to open a larger version of it in a special "slide show" window..
On the left side of the photo above, you see room for 4-6 bar stools. The appliances (stove, oven, refrigerator and dishwasher) are all GE Café series.

Interior Pic #4: Another photo of kitchen, with view out to pool.

Interior Pic #5: Another photo of kitchen, with view from the sink window.
The door on the right side of the above photo leads to the laundry room, with top-of-the-line, front-load GE washer and dryer...
Interior Pic #6: Laundry Room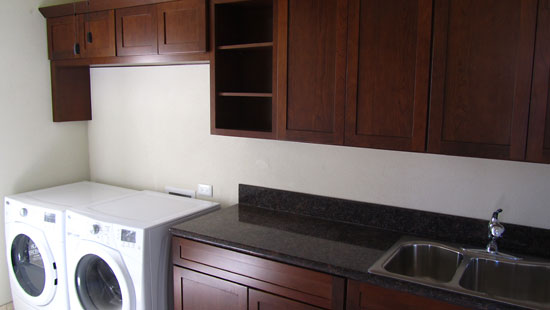 We couldn't fit the whole laundry room into one photo, so here is a (non-clickable) rendering that shows it all to you....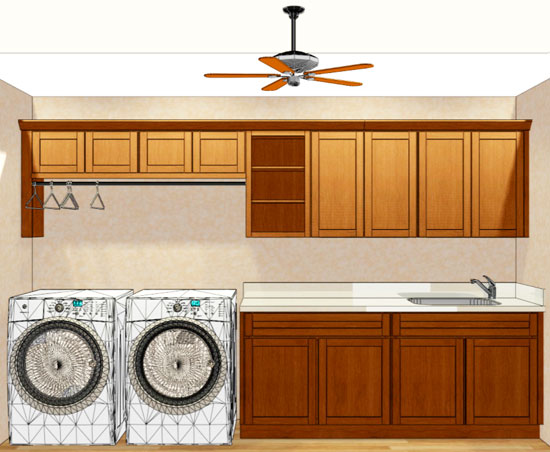 A pdf file of this and 11 other renderings is available for download above.
Continuing On The First Floor...
The rest of the first floor is composed of the living and indoor dining areas, and the "flexible room" that opens onto an outdoor lounge space with deck, complete with pool...
Interior Pic #7: Staircase, Indoor Dining Area And Part Of Living Area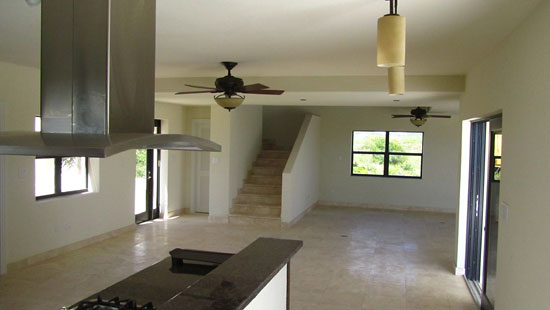 This photo was taken from the very end of the kitchen, where the final barstool would be placed. To better understand the layout of the dining and living areas, download the floor plans (see above).
Both floors are covered with elegant, polished travertine, a surface with high natural salt resistance. Its durability is measured in centuries (many of the ancient ruins were constructed using travertine). Its natural, timeless look results in exceptional beauty.
The "Flexible" Room
The final room on the ground floor (around the corner of the above photo and to the right) can be the 3rd bedroom. If you don't need a 3rd bedroom, this room is pre-wired to become an outstanding home theatre.
First, the downstairs bathroom (a full bathroom, not a powder room)...
Interior Pic #8 and 9: Bathroom Fixtures


Since the downstairs bathroom is comparable to the upstairs one, we'll show it from three views to "assemble" it in detail.

We'll omit detailed views of the two upstairs bathrooms. You can see their layouts, though, from the downloadable floor plans (above).

Click on each image to see the full-blown view. These photos are from left to right...

view of sinks as you enter the bathroom
toilet and part of shower to the right
shower to the far right.

Interior Pic #10: Shower

On to the 3rd bedroom (or home theatre or den)...
Since this room is similar to the two 2nd floor master bedrooms, the following two photos show the view out to the pool, and then to the room from the pool.
This villa is unique in that there is no "best" bedroom. They are all master bedrooms, a strong rental feature, since there will be no arguing over bedrooms! All are similar-sized and have similar bathrooms. The only difference is the terraces...
While the second floor terraces have expansive views, it's hard to beat immediate access to the pool (click photo for a larger and different perspective of the pool).
Interior Pic #11: Straight To The Pool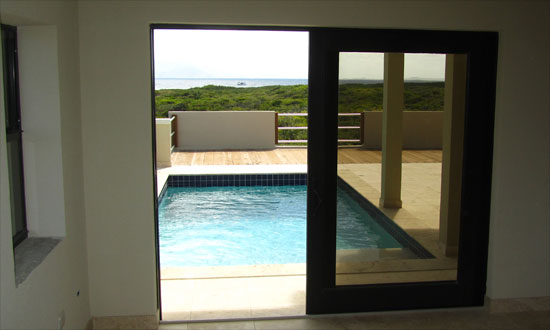 The next photo shows the "flexible room" from the pool's perspective (click on the photo to see a wider view, including Mike "hiding" in shadows)...
Exterior Pic #3: Flexible Room From Pool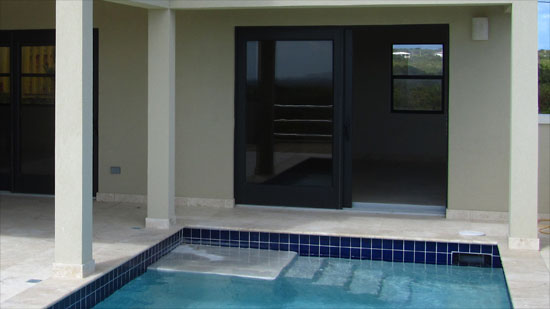 This photo of the pool is taken from the living/dining area...
Exterior Pic #4: Pool and View From Outside Dining Area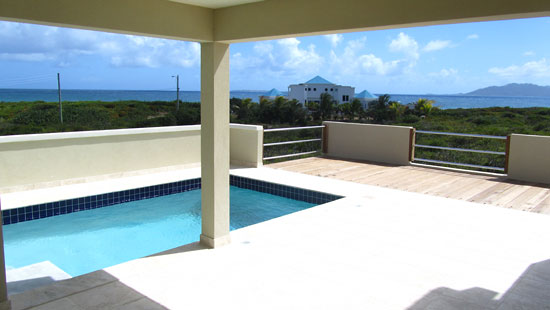 The wooden sundeck is made out of the same wood as the pergola over the villa's entry, greenheart. A dense tropical wood, it will be in the same condition in 20 years as it is today, with no maintenance needed.
Beyond the deck, you can see our home. Welcome, neighbor!
That wraps up our tour of the ground floor, so it is time to visit...
The Second Floor
As you head up (or down) the travertine staircase, you discover that the view is not "all seaside." You are greeted by magnificent view of Anguilla's longest salt pond (hence the name) and bird sanctuary...
View #4: Long Pond


Once upstairs, you find 2 spacious bedrooms. The king beds shown in the 3-D floor plans in the downloadable PDF (above) give you a feel for the size). Each features an en-suite bathroom, lots of storage room in the cabinetry, and air conditioning.
You probably won't need to use the A/C, though, due to this villa's green construction. The near-constant tradewinds are a delight, especially at this additional height.
Let's start with the eastern bedroom (the room immediately above the "flexible" room), upon entry...
Interior Pic #12: Eastern Master Bedroom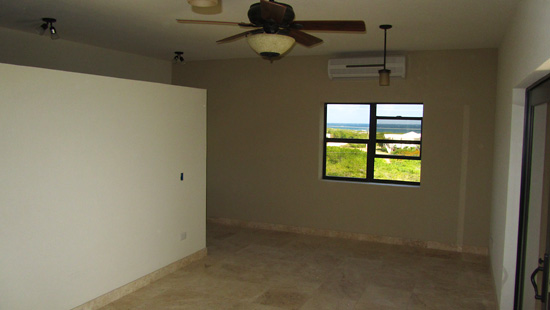 As you enter the room, the sea is all around you...
Interior Pic #13: Eastern Master Bedroom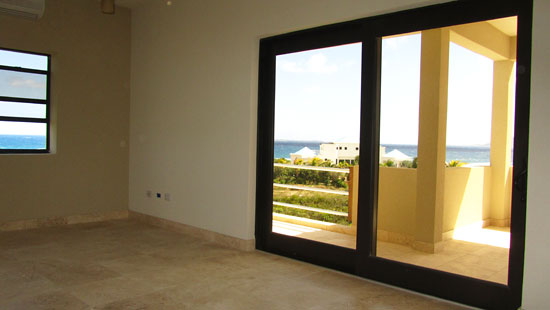 Proceed around the partial wall on the left (2nd photo above) to reach a bank of closets (photo right). A smaller cabinet is out of sight. All cabinetry is finely-finished KraftMaid, woodworking of high caliber.
Note that air can circulate above the wall separating the bedroom from the closets. Maximal air movement is critical in the tropics.
Beware! Before you make it to the closet area, you'll be lured by the sounds, scent and panoramic views of the sea. Head out onto the terrace for the irresistible view (photo far right).
(As always, click on any image for a larger, more-detailed version of it.)
You have this same view from your bed! And speaking of views, the sunrises are spectacular...
View #6: Sunrise Over The Caribbean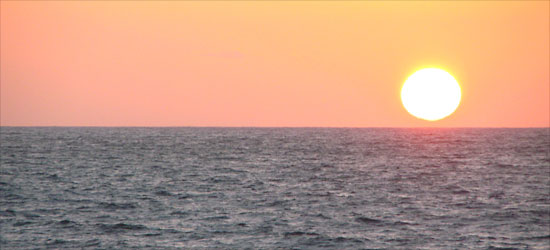 There is but one room remaining to show you...
The Second Upstairs Master Bedroom
Backtrack to the west and enter the second upstairs bedroom, past its closets and en-suite bathroom...
Interior Pic #15: Western Master Bedroom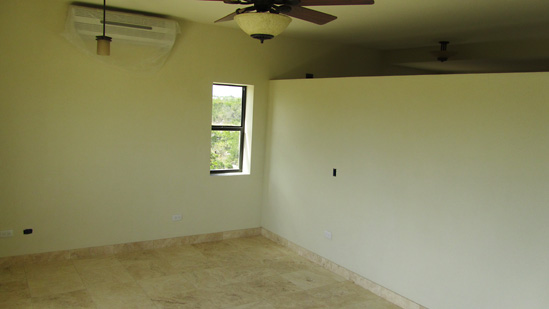 The configuration is slightly different, with the bathroom (instead of closets) behind the partial wall. And there are two banks of closets instead of one long one.
Aside from the layout, the facilities and storage cabinetry are identical, so we'll skip over them.
One can never get used to the views, though. They are especially good from this terrace, with views to the east (see earlier), straight out and over our home...
View #7: Due South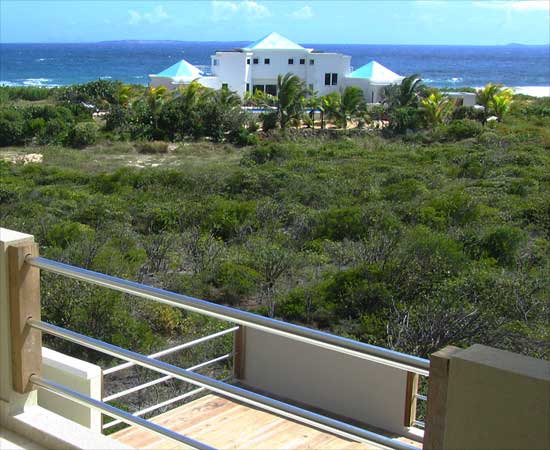 ... and to the far west. This view, down the shoreline, is only visible from this terrace because the western bedroom reaches closer to the sea than the eastern one.
View #8: To Far West From Upstairs Bedroom Terrace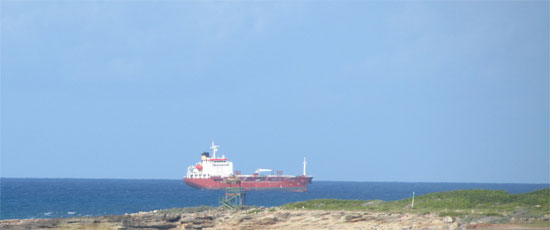 That concludes our tour. Before ending, however, the next part is critical. It is important for one's home to look terrific and use internal space optimally, of course. But most important is what is hidden from view...
Construction And Other Information
Barths Bay Villa is built with ICF walls (information about ICF opens in new window, photo below is non-clickable). Mike's team is the only ICF-certified team on the island and is extremely proficient with it.
Section Of ICF Wall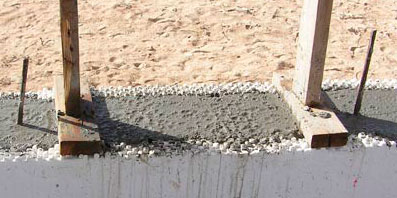 This type of construction is...
super-solid. Each floor's walls are formed from a single concrete pour, instead of cinder blocks and mortar.
hurricane-and-impact resistant. Featuring ICF walls and PGT Winguard windows and doors (Miami-Dade hurricane-certified) that you don't find in homes in this price range, this is villa that has been built to withstand hurricanes.
energy-efficient.

The styrofoam layers on both the inside and outside of the concrete walls keep the huge concrete mass from heating up and from radiating heat into the villa. Little or no air-conditioning is required (but is included).
Sunlight-filtering glass on windows and sliding doors augments the "keep it cool naturally" approach.
The villa is designed to take maximum advantage of the constant tradewinds that breeze over this part of the island. No "heat sinks" here, you really won't use the A/C much.
And if you want to to go "greener," the villa is solar-ready! The "crown" you see above the second floor (in the video below) does more than add to the esthetics of the villa and hide the unsightly air-conditioning units...

There is adequate space to install a solar hot water heater. The plumbing has been set up to accommodate this change if you choose to go one step greener.

low-maintenance. The "skinning" on the inside and outside bonds to the styrofoam with high salt-resistant durability.
Barths Bay Villa took 12 months to build, completing construction at the end of February, 2012. To see it being built in 12 seconds instead of 12 months, please click to play the video...
Summary
This home is the most solidly built and best finished home in its price range. Every square foot of its 2600 internal square feet has been used optimally.
Barths Bay Villa is as "green" as it gets, using ICF insulation, sunlight-reflecting glass, optimal positioning for tradewinds and optional solar addition. (My Dad figures he saves hundreds of dollars per month on our home due to "no A/C.")
These photos show this luxurious villa from 3 angles (click for full view), saving the very best shot for last...
Rainbows are common in Anguilla (hence the nickname "Rainbow City"). Double rainbows, though are pretty rare! My Dad rushed to get that shot, as the rain clouds were passing quickly. Naturally, all rainbows are included in the price!
Zen-like in its clean lines, its internal finishings (lighting and cabinetry) and external "moat" of fine gravel continue the theme of peaceful simplicity.
This Anguilla home is low-maintenance in every way, including gardening which is optional since indigenous shrubs such as frangipani and their lovely white blooms were left undisturbed.
Flexible in configuration, it can easily accommodate 3 adult couples, a retired couple with an upstairs den and a downstairs home theatre, or a family moving to Anguilla.
The Perfect Anguilla Home, For Sale For Under $1,000,000
In short, Barths Bay Villa is the perfect Anguilla accommodation, whether you plan on living here year-round or merely for a few weeks while renting it out to pay for itself.
The goal of this construction was to build a quality home while keeping Anguillians employed. Profit is of secondary consideration, since proceeds will be used to start another, should we need to keep everyone working.
(Mike and crew are currently finishing their 4th consruction and are about to start a 5th, so they may not be needing work from us again, happily.)
There is no better-value villa for sale in Anguilla.
Please use the form below to contact my Dad directly. He will usually reply within hours.