Anguilla Car Rental: Update
On some Caribbean islands, you just lounge in your resort. But what's the point of that? You could be anywhere.
Anguilla is meant to be explored. So an Anguilla car rental is a must if you want to probe and push into every corner.
Our favorite Anguilla car rental agency? It's been the same since Day 1 of our very first trip...
Island Car Rentals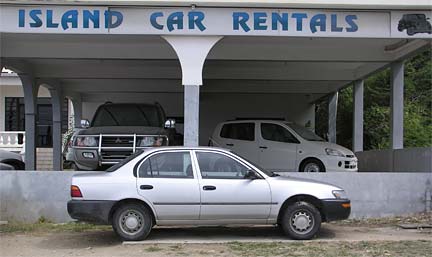 My Dad loves doing business with them. They are so easy, efficient, and relaxed -- if you get in late, they leave your car with your name on the windshield. Drop by and fill in the paperwork, "whenever."
When you leave, just park it at the airport.
And my Dad always shops around for price -- it's sort of a game for him. So all in all -- they offer a great deal. And they're just such nice people to deal with. They've even fixed a flat for us, on a Sunday when everything was closed!
All I can say is... they have our Anguilla car rental business forever!
The last time we dropped in for our car rental, I met Cyiera. She's a really nice person, and as usual took great care of us.
Everything went as smooth and easy as usual. But this time, instead of our usual tiny Toyota (the standard Anguilla car rental), my Mom had insisted on a change of vehicle because my Dad tends to push those poor little Toyotas down some rather nasty backroads (if you can call them "roads").
So soon we were on our way, bumping down those off-the-beaten path backroads in...
A 4x4!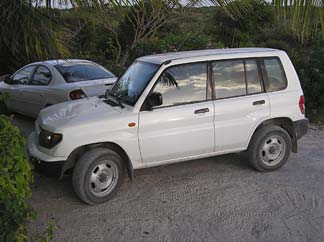 Of course, while my Mom thought "4x4" meant "more safe", my Dad thought it meant "more fun." Heck, we were worried that we has going to try cliff-diving! Ha! Ha!
Anyway, we had a blast with it. If you really intend to push your Anguilla car rental to the very ends of the island, I highly recommend a 4x4.
The rates were still reasonable. And all went smoothly with Island Rental, as usual. We picked it up at night, at the airport upon arrival, the big EVOY sign in the windshield. We dropped in to say "hello" and catch up since our last visit, then fill out the paperwork. And we parked and left it at the airport when we left.
Easy, efficient, and friendly as always!