Junie's Car Rental...
Affordable Rides & A+ Service
By: Kirmani Honoré
Having the freedom to fully experience Anguilla... driving through back roads, off the beaten path to uncover secret beaches and other hidden gems... and far more affordable than taking taxis to and from restaurants day and night...
The reasons to rent a car on an Anguilla vacation are many.
Junie's Car Rental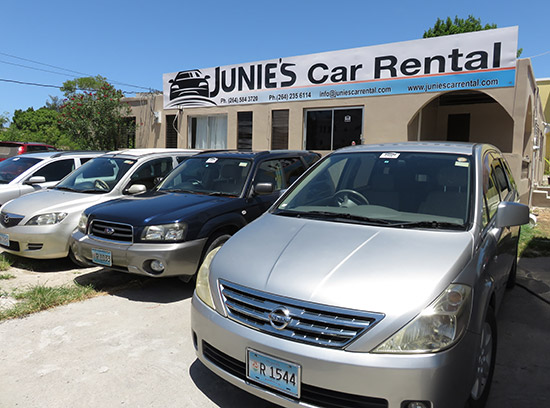 Recognize that logo? (See top-left of photo above.)
If you have been on-island lately, it may look familiar. Seen on rental cars around the island, Junie's Car Rental has surged in popularity over the years.
Why? The answer is simple. Junie's Car Rental has become one of the best. A family owned and operated business, owner Junie makes renting a car ultra-smooth. Junie and his family does it all with dedication and passion!
Meet Junie Connor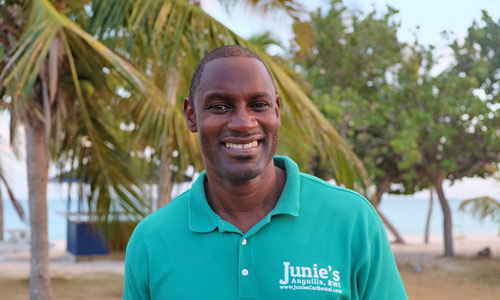 Photo: Junie's Car Rental
Junie's Fleet of Car Rentals
First things first? Junie offers a variety of reasonably priced vehicles. Their rates start at $40 for Nissan March, Cubes, Honda Sabers and even Peugeot convertibles!
The Peugeot convertibles are wildly popular and it's not hard to see why. Here's a quick video of Nori taking a spin with Junie, top-down under the Anguilla sun in a Peugeot...
These cars aren't fit for off-roading, but they are a stylish and fun choice for driving the main roads and feeling the breeze in your hair. Very popular, be sure to book the Peugeot convertible well in advance.
Need more space? Junie also offers a variety of mini vans and SUV's (Mazda Tribute) at $45-55/day.
Need even more space? Junie's Car Rental also carries an 8 passenger van for $60/day.
Special Note: All of Junie's vehicle are right-hand drive (steering wheel is on the right side of the car (like in the UK)). Most car rental businesses in Anguilla offer cars that are left-hand drive (steering wheel is on the left side of the car (like in the States)). In Anguilla we drive on the left side of the road (because we are a British Overseas Territory). Having a right-hand drive is really a plus. Not only is it safer - it also makes it easier to remember to "Keep Left!"
Well-maintained (their office has an on-site garage!), the vehicles are in tip-top shape.
Nancy and Junie have you completely covered, and even rent beach chairs, umbrellas, coolers and baby seats.
First-Class Service
When it comes to arranging your rental, Junie's lovely partner, Nancy is your point of contact.
Nancy Bannerman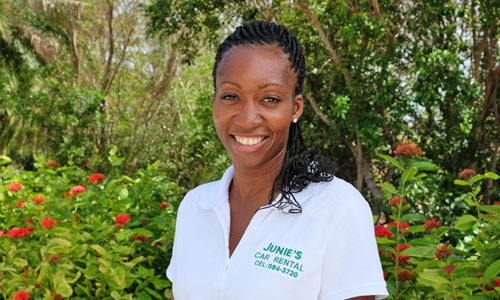 Photo: Junie's Car Rental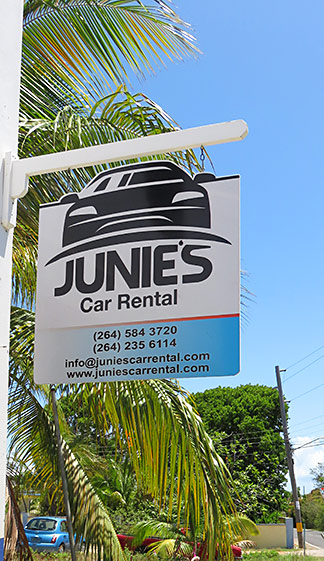 Originally from Germany, Nancy moved to Anguilla many years ago after meeting Junie. The rest is history!
Nancy makes booking, picking up and dropping off your rental car easy.
One of the best parts about Junie's Car Rental?
Their super-specialized service.
Want to pick up your car in Blowing Point?
Drop it off in Blowing Point?
Traveling with more luggage than can fit in your rental car - and need it driven separately to your hotel/villa?
No problem!
Nancy will arrange it all. And, their office is only 2 minutes up the road from Blowing Point terminal. They are never far from Anguilla's main port of entry should you need any quick assistance when you first arrive.
If you have any special requests, don't hesitate to contact Nancy.
The good people at Junie's truly go above and beyond!
Book With Junie's Car Rental
Map, Hours & Contact
Direction: Located across from the Blowing Point Gas Station.
Tel: (264) 235-6114 or (264) 235-3720