---
Combing Anguilla's Beaches for the Best
Anguilla Beach Lovers brings you a fresh dose of "Tranquility Wrapped in Blue" every month. And now you can wrap yourself in our Tranquilitee, the softest, most comfy tee you've ever worn.
If you like this newsletter,, please do a friend a favor and "pay it forward."
If a friend did forward this to you and if you like what you read, please subscribe by visiting...
---
Welcome Back to Arawak Beach Club 🤗💗🏝
A warm welcome to Arawak Beach Club who has joined Anguilla-Beaches.com as a Site Sponsor!
Since "day one," Arawak Beach Club has been a favorite spot in Anguilla. Back in 2002, when we first visited the island, we had countless lunches and dinners in the warm company of the Arawak family. Friendly and welcoming, Arawak has always felt like home.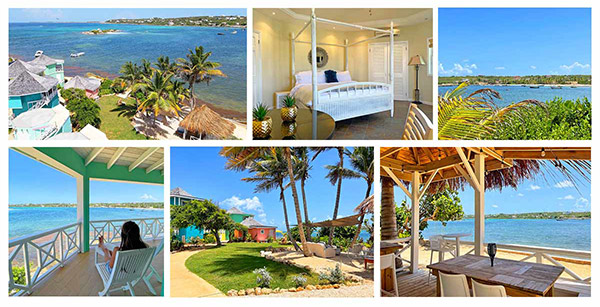 Since those early Arawak days, this resilient property closed after Hurricane Irma in 2017. We all breathed a heavy sigh. The Arawak would be missed.
Fast forward four years later and we are delighted to say...
Arawak is back!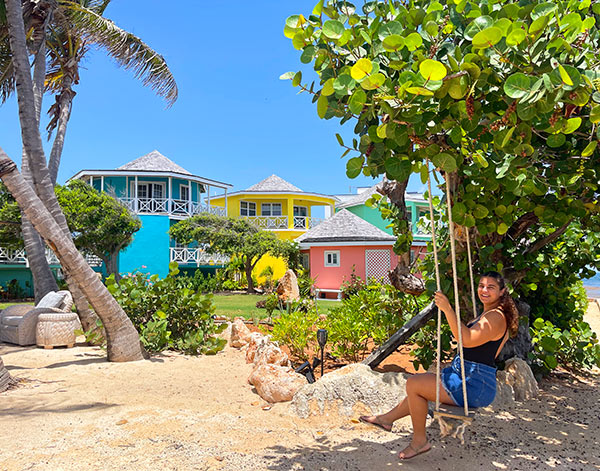 New owners, Judd and Mindie Burdon, are breathing new life into the property. From top-to-bottom room renovations, to adding a brand new restaurant and pool, not only have they restored the spirit of Arawak Beach Club, they are taking the property to new heights.
For an in-depth video on Arawak Beach Club, click here.
For the complete article on Arawak Beach Club, click here.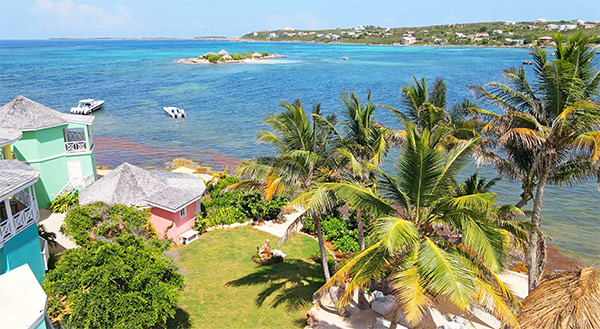 ---
Step Inside Arawak Beach Club
Painted tropical colors that tickle the spirit, the hotel's cheerful exterior matches its scenic setting overlooking Island Harbour.
The "heart of Anguilla," Island Harbour is a charming fishing village home to some of the island's "bests"...
Best bakery: Le Bon Pain
Best pizza: Artisan
Best crayfish: Nat's Palm Grove (10 minutes away by car)
Best beaches: Scilly Cay and Shoal Bay (just a 10 minute drive)
Best hike: Windward Point
Best offshore cay for exploring: Scrub Island
Less developed than other parts of the island, Island Harbour is a true blue slice of paradise!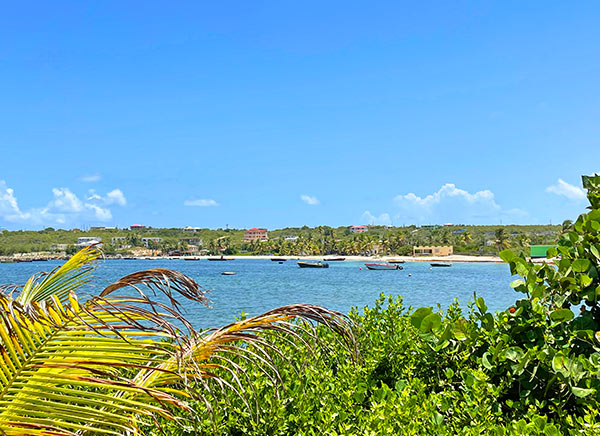 Arawak Beach Club takes full advantage of its picture-perfect setting, with multiple areas for lounging and soaking up the Caribbean scenery.
Lush, aromatic gardens weave between the hotel's communal areas. Aloe plants, papaya trees, orchids, sea grape trees and swaying palms all please the eye as you move from the comfortable lounge area in the sand to the waterfront terrace with outdoor dining tables.
When it's time to quench your thirst? The hotel's breezy beach bar with a view of Island Harbour blue calls!
The bar will expand into a full restaurant come winter, and it will be home to Arawak's brand new, sparkling, infinity-edge pool.
With a setting like this, you can shore see Judd & Mindie's vision!
---
High Value Anguilla Hotel Rooms
Now, let's take a look at Arawak's rooms...
Arawak is known for its high value accommodations. Their rates are a steal! Starting at $150-250 per night (depending on the time of year), you cannot get better bang for your buck.
The owners have been renovating, upgrading and totally re-doing these rooms at a steady pace. In total there will be 17 rooms when renovations are complete.
First up on our Arawak hotel tour?...
The Honeymooner Suite
In the front door, and you are immediately impressed. Bright and big, these renovated rooms are fresh and so inviting!
The Honeymooner features a luxurious California King bed, flatscreen TV, ensuite bathroom with shower, a full kitchen and private terrace.
For more on The Honeymooner Suite...
Next up?...
The Sunshine Suite
Painted summery yellow, the Sunshine Suite is the property's two bedroom unit. Its size makes it a terrific rental for families.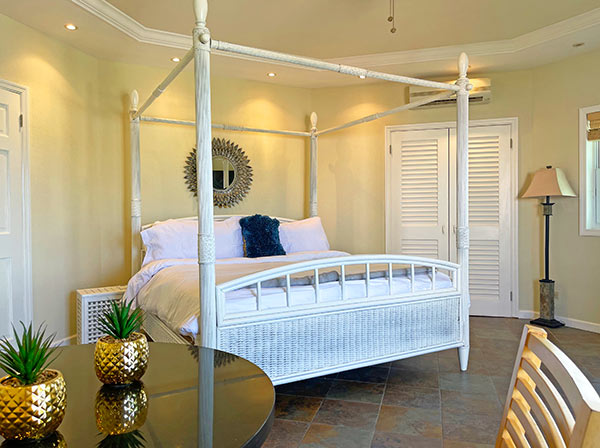 The bottom unit exudes calm sophistication with immaculate crown moldings and overhead lighting.
The suite features flatscreen TV, outdoor terrace and large kitchen with stove top and microwave. It is complete with dining area, desk and a huge walk-in closet with safe.
Its en-suite is equally impressive with an over-sized walk-in shower with built-in bench seating.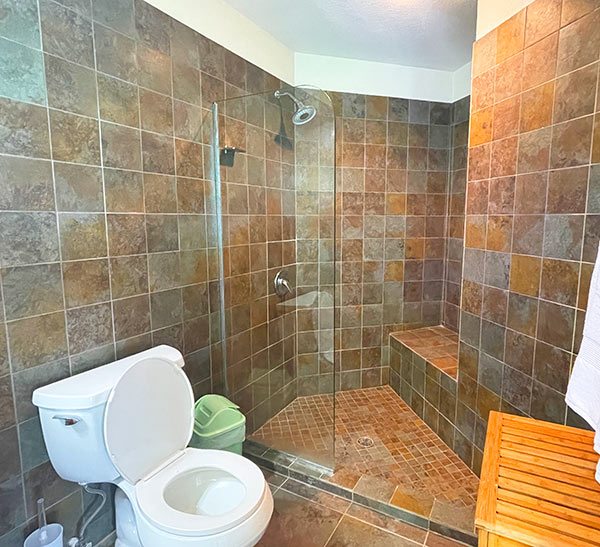 Upstairs, the unit's second airy, spacious suite boasts vaulted ceilings, walk-in closet and en-suite bathroom.
Now, let's check out the view...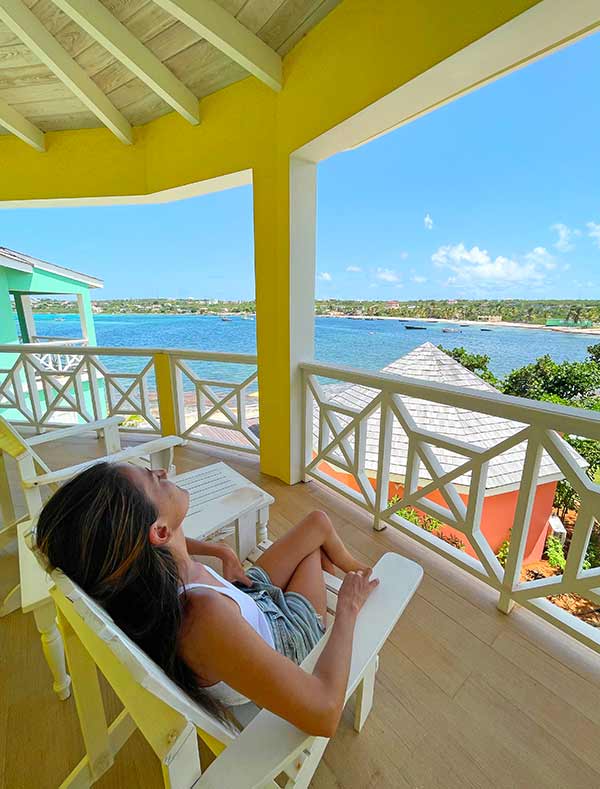 You will fall in love with the Sunshine Suite's huge wrap-around terrace. One of the most picturesque settings at Arawak Beach Club, its uninterrupted view of Island Harbour, the fishing boats and the swaying palm trees puts you at ease.
For more on The Sunshine Suite...
Last but not least...
On "Cloud 9" in Unit 9
Arawak's building right at the water's edge houses Unit 8 and Unit 9. Arawak's Unit 9 will have you on "Cloud 9"...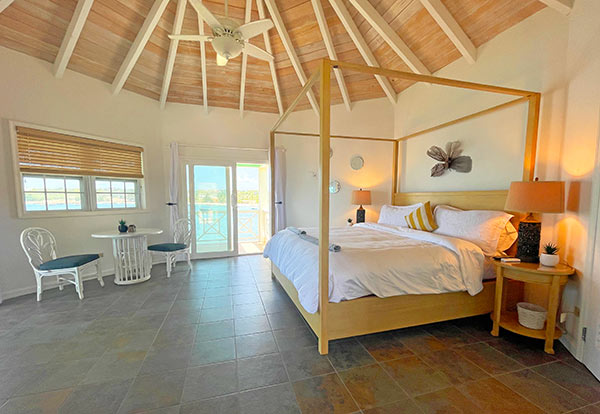 This room is a dream!
A perch in the sky, you are surrounded by natural beauty. The suite's extra-spacious wrap around terrace boasts a 210° view of Island Harbour beauty.
A gentle, cooling sea breeze always blows through this part of the island. With that tropical breeze and the sound of the waves rolling in, you are in heaven.
Arawak's most popular suite, it is not hard to sea why!
For more on Unit 9...
---
Amenities & Activities
Arawak Beach Club's offerings don't end there. Judd & Mindie have thought of every last detail. The property also features...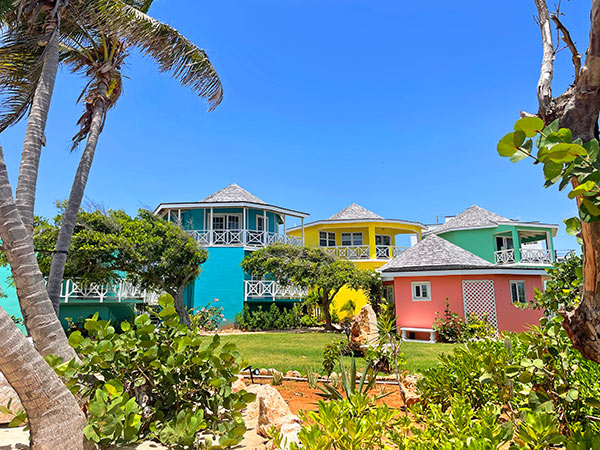 High-speed dedicated fiber optic internet (speed = 40 up and 100 down)
On-site laundry (perfect for long-term stays)
Complimentary use of SUPs and kayaks
Complimentary beach chairs and umbrellas for your off-site use
Weekly activities including hiking excursions and trips to Scrub Island
Coming for Winter 2021: Brand new restaurant and pool
One of Anguilla's most historic and iconic hotels, we are overjoyed to see Arawak Beach Club back in action!
Judd & Mindie are doing justice to a property that is so near and dear to all of our hearts. Lush, green and sparkling pristine, Arawak Beach Club is, once again, one of the most high-value Anguilla hotels.
With so much more to come, stay tuned for updates. Until then, Arawak Beach Club is open and accepting reservations.
---
To Book Your Stay at Arawak...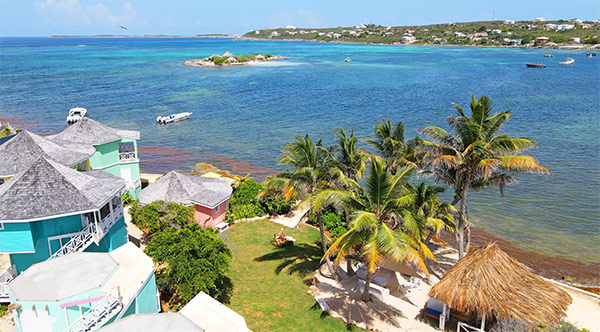 To book your stay at Arawak Beach Club...
---
If you have any questions about Arawak Beach Club, please reply to this email. One of our family's all-time favorite hotels in Anguilla, it is as high value as it gets!
Sending you warm wishes from Anguilla & talk to you soon with more Anguilla news,
Nori & Louise
---
Anguilla-Beaches.com
---