Combing Anguilla's Beaches for the Best
Anguilla Beach Lovers brings you the latest additions to one family's experiences of the "best of all things Anguillian."
If you like this e-zine,, please do a friend a favor and "pay it forward."
If a friend did forward this to you and if you like what you read, please subscribe by visiting...
---
Welcome, Champagne Shores: The Villa!
A warm welcome to Anguilla luxury villa, Champagne Shores who has joined Anguilla-Beaches.com as a Site Sponsor!
Set at the edge of the Caribbean Sea, Champagne Shores: The Villa is a sanctuary of tranquility.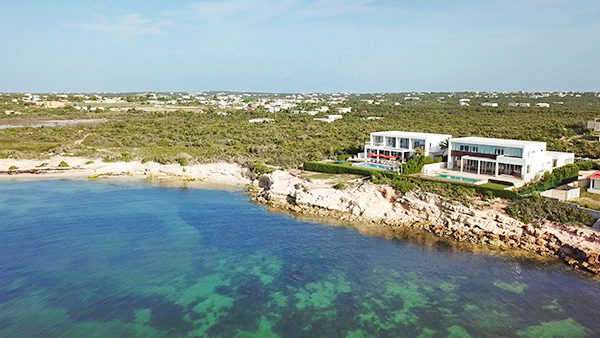 Clean modern design effortlessly melds with Caribbean warmth. Resort-esque reassurance and around-the-clock service go hand-in-hand with Anguilla villa privacy and space. The result? Luxury vacation living at an exceptional value.
It is all a credit to the owners, the Garner's, who have designed an Anguilla villa experience that is meant simply, to enjoy.
To "live" the Champagne Shores experience, please click here for an in-depth video tour.
---
Meet The Garner's
There is an old saying in life, "seek and you shall find." What is true in life is often true in love, and that is true for how the Garner family came to fall in love with Anguilla and their villa, Champagne Shores.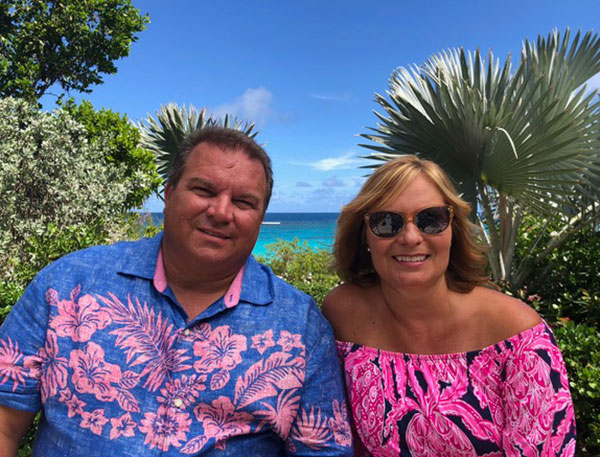 Avid Caribbean travelers, Chris and Allison had been searching for a place to call home in the Caribbean for a decade. Airport after airport, ship port after ship port, island after island. They would vacation, they would look at real estate and they would ultimately, pass.
That all changed on a fateful trip to St. Martin in 2017. One afternoon while on their patio in Grand Case, they wondered, "What is that spit of land in the distance?" They were on a boat the next morning to that very island, Anguilla.
First step on Anguilla soil and first look at Champagne Shores, and they knew. They were home.
More on the Garner's story here.
---
A Warm Welcome
The Champagne Shores experience begins on Travertine-tiled path, lined with tropical gardens. The floor-to-ceiling windows ahead give way to the glistening Caribbean Sea in the near distance.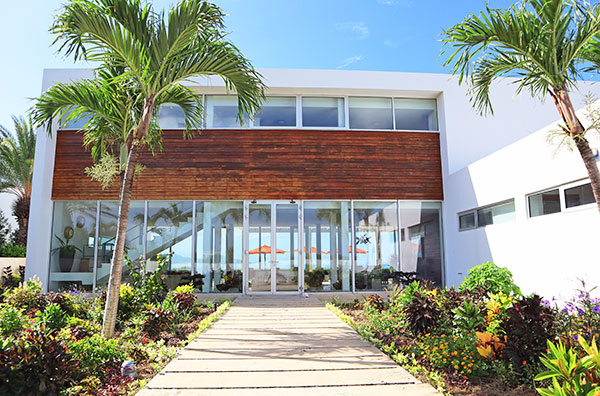 Hot after a long day of travel, the fully air conditioned interior is a breath of fresh air. From look to feel, arriving at Champagne Shores Villa is distinctly soothing.
That feeling is enhanced by the team who set Champagne Shores' villa experience above the rest in its category. Meet Jarli, Marsden and Katie...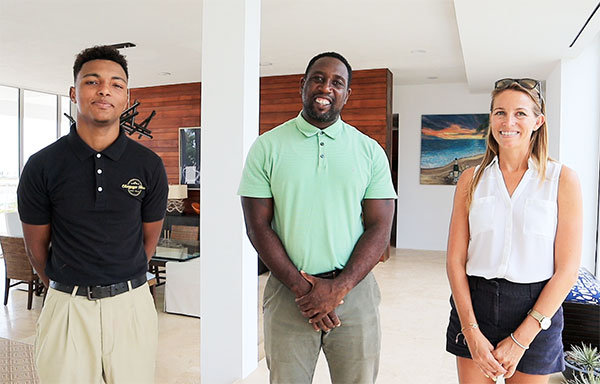 Jarli is your personal service attendant. He is on site every day, from morning through early evening. He does it all. Preparing breakfast? Check. Providing housekeeping and laundry? Check. Putting your champagne on ice? Check. Assisting with the WiFi? The villa's printer? Any and every other question that inevitably crops up? Check, check, check.
For everything else, there is Marsden and Katie (with Properties in Paradise). They are available 24 hours/day to assist with concierge services.
You know a service is exemplary when you find yourself saying, "I didn't even know I needed that." It is a service that other villas at this price point do not offer.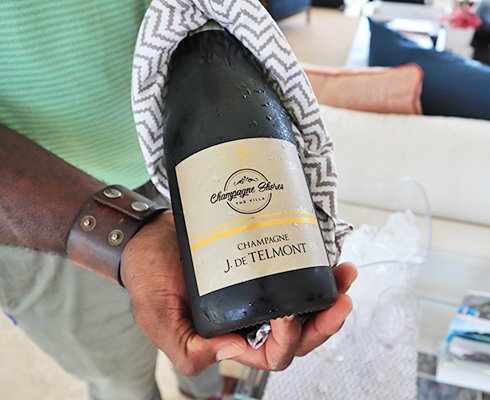 More on Champagne Shores' warm welcome and hospitality here.
---
Inside Champagne Shores
Champagne Shores boasts 7,000 square feet of architectural and design perfection.
The entrance opens into a grand central living area, complete with dining room, lounge and media center. Natural light pours in through the floor-to-ceiling windows that make up the sea facing and entrance walls.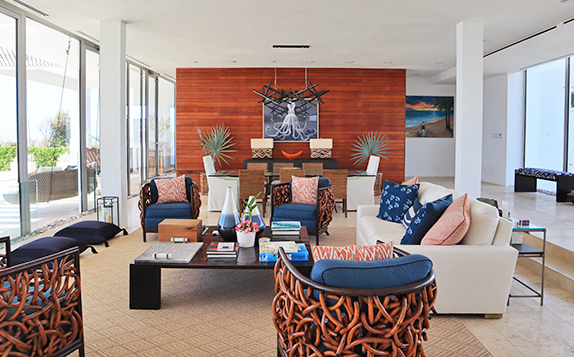 The clean line design is well-balanced with Caribbean warmth. Designer, Alexis Parent has added thoughtful touches throughout, bringing Caribbean beauty to modern sleekness.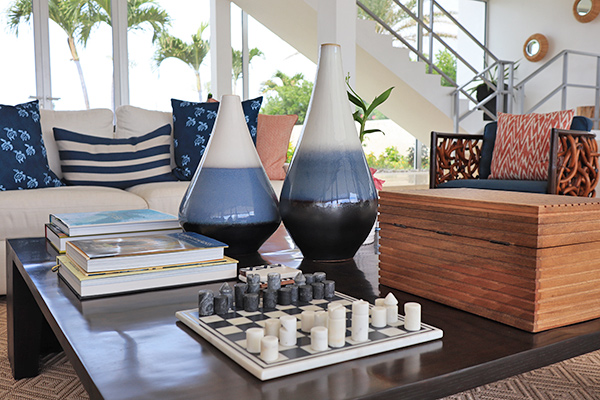 The lounge area backs onto the villa's 55" flatscreen TV with cable and separate Bose docking system.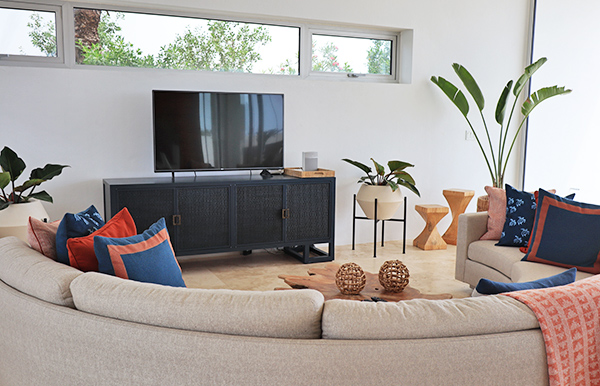 The couch is a stroke of genius. Circular, it brings the area together, seemingly separating it from the rest of the room.
Beyond the central living area is Champagne Shores' kitchen. European in style, the kitchen is most enviable.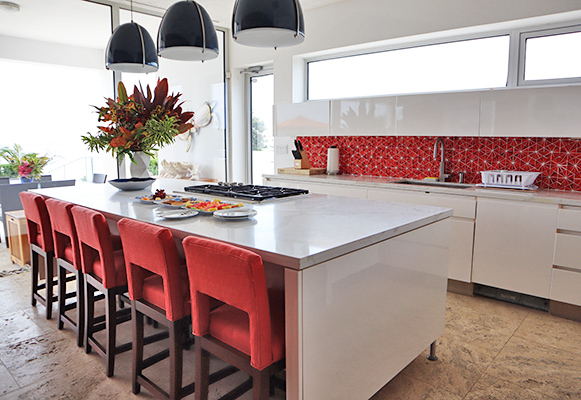 Both the kitchen and central living area open onto the villa's full-sized exterior terrace. The entire villa is also complete with central air conditioning. The air conditioning is "zoned," so you can control temperatures to your liking.
More on Champagne Shores' living and kitchen area here.
---
Five Luxury Suites with Ensuite
Champagne Shores boasts five luxurious bedrooms. All bedrooms are complete with an ensuite bathroom, plush linens, armoire, flatscreen TV and central air conditioning.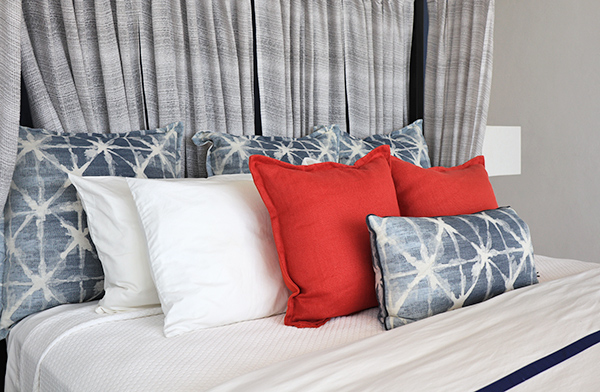 Two master suites and two queen suites are set on the luxury villa's second floor. One master suite is set on the ground floor, just behind the kitchen.
All second floor suites feature breathtaking views via the villa's floor-to-ceiling windows.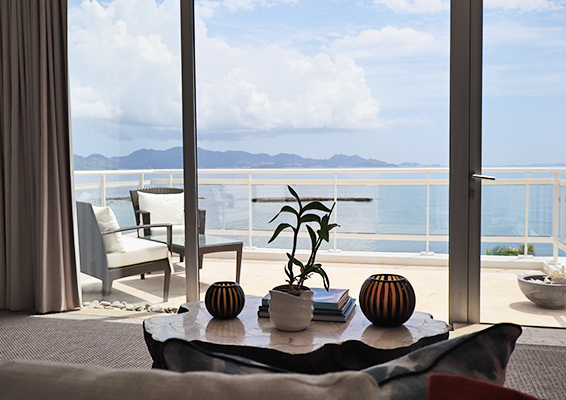 Champagne Shores has a unique geographic location. It is only a 5 minute drive from Anguilla's ferry terminal, making it one of the closest spots on Anguilla to St. Martin. The views from this particular point of Anguilla are especially vivid.
Design-wise, each suite has its own special flair. The queen rooms pop with Anguilla color!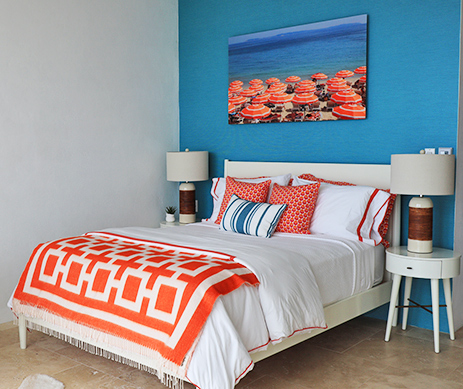 Rounding out the luxury villa experience is, naturally, sumptuous amenities. Champagne Shores' Asprey Purple Water amenities exude a lavender essence of luxury. It is the scent of tranquility.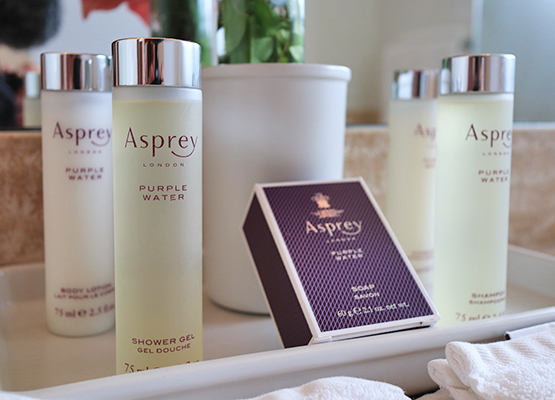 More on the five luxurious suites here.
---
Outdoor Living
Back inside Champagne Shores and downstairs, lies the oversized outdoor living area.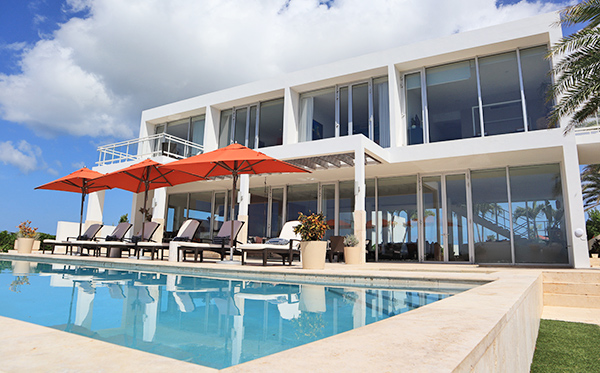 The Travertine-tiled terrace runs the full length of the villa. It is features an outdoor dining area, gas grill (tucked to the villa's side) and lounge area, shaded by pergola and complete with day bed swing.
When sunshine calls, Champagne Shores' 19x22' swimming pool answers.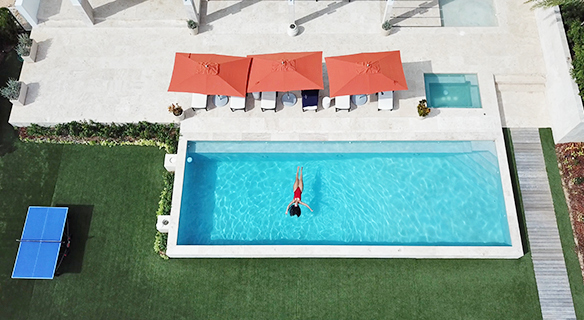 With commanding St. Martin panoramas, everyday is a "pool day" at Champagne Shores.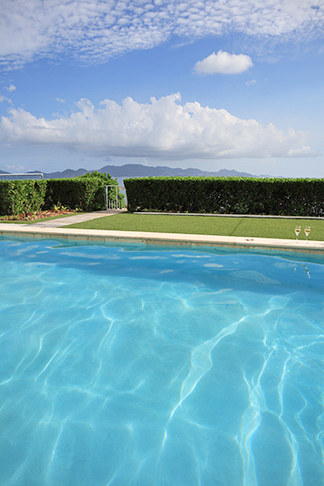 If you can tear yourself away from those pool blues and St. Martin views, Champagne Shores has plenty of activities. Jarli assists with everything, from freshening up your beverage to setting up your activity of choice.
On-site, on the villa's grass lawn, is cornhole and table tennis. Here, Jarli's attention to detail impressed us most.
During our stay, while we were in a heated table tennis competition (amateur competition, of course!), Jarli discreetly brought out the cornhole bean bags. He does not simply attend to your needs, he anticipates them, all without hovering. An impressive and difficult accomplishment that Jarli does with ease and always with a smile.
---
Champagne Shores' Secluded Cove
Through locked gate and down a pebble path lies the beach at Champagne Shores.
A sweet sandy sweep, a few moments on this beach and you quickly realize the origins of Champagne Shores' name.
Gentle waves calmly make their way to this sliver of shoreline. The seas sparkle a champagne-like hue. When the ripples kiss the shore, they almost bubble.
"Allison and I were sitting on these shores when the song "Knee Deep" came on. When Zac Brown sings, "This champagne shore washing over me," it clicked," Chris confirmed.
But before a glass of champagne on these champagne shores? Champagne Shores' gym calls...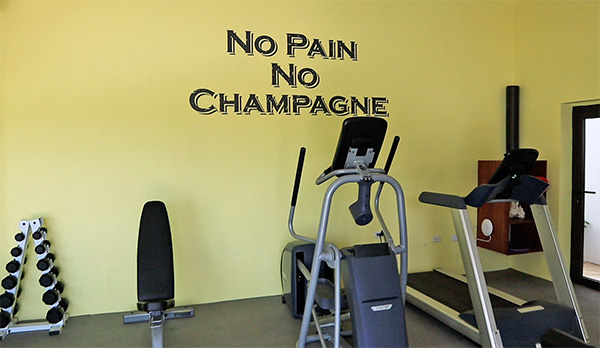 More on outdoor living, the beach and gym at Champagne Shores here.
---
Most Magical of All?
Sparkling night fall...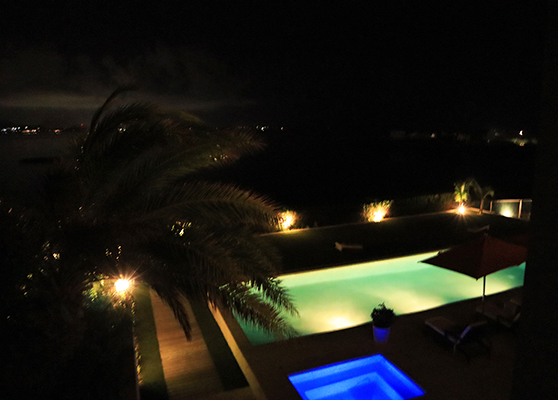 ... brings early morning delight.
When morning breaks, Jarli puts on the coffee. Continental breakfast of pastries, breads, fruit, cheese, juice, coffee and tea are all complimentary.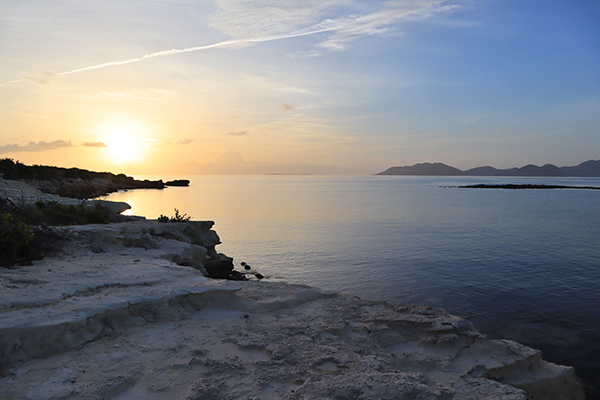 It is the most special time of day at Champagne Shores.
Perhaps it is the way the early light fills the villa. Or the way the sun casts its rays on the bay's ripples. Or perhaps it is the sea turtles, peacefully bathing in the morning light, right before your eyes.
It all amounts to a warm feeling that is best described with one word, "magic."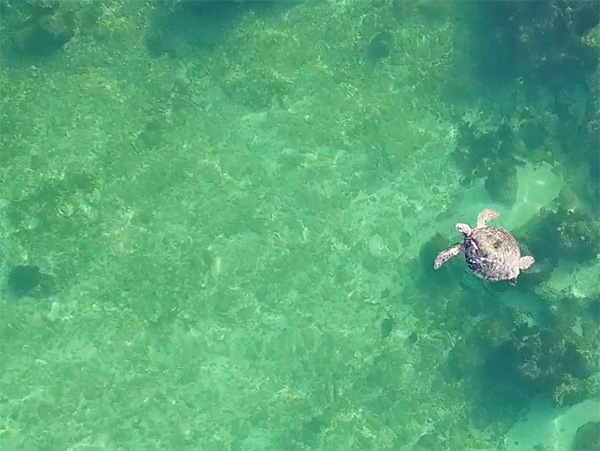 ... the kind of magic only found at Champagne Shores: The Villa.
To see inside Champagne Shores, click here for a video of our stay.
For more details on Champagne Shores, visit their official website...
That is all for now! I hope your autumn is off to a beautiful start :-)
Sending you warm wishes from Anguilla & talk to you soon with more Anguilla news,
Nori
---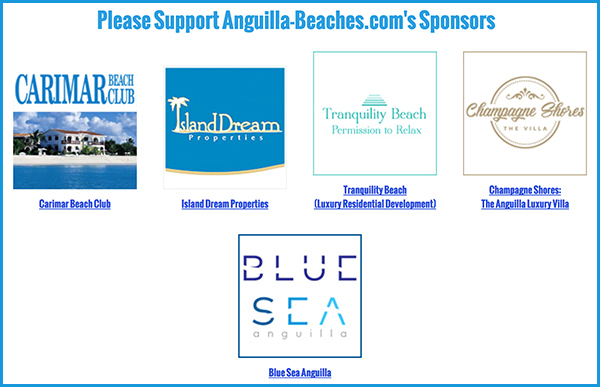 Anguilla-Beaches.com
---