Champagne Shores: The Villa...
A Sanctuary of Tranquility
Champagne Shores: The Villa At A Glance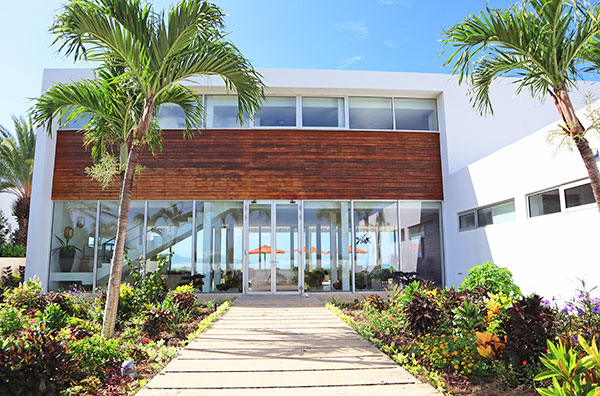 Set at the edge of the Caribbean Sea, Champagne Shores is a sanctuary of tranquility.
Plush outdoor and indoor living areas and five sumptuous suites lay out over 7,000 square feet.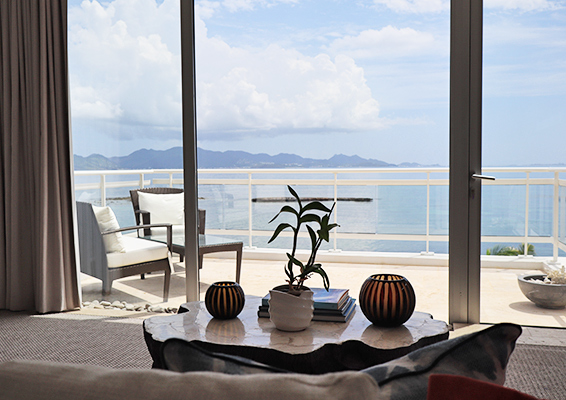 All-air-conditioned, the villa boasts some of Anguilla's most panoramic views from its unique location.
It is the only villa of its kind to also provide an all-day personal service attendant, in addition to 24/7 concierge service.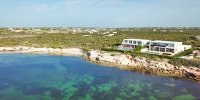 Modern in look, Caribbean in feel, and with every need tended to...
At Champagne Shores, you often find yourself thinking, "I didn't even know I needed that."
More on Champagne Shores, below...
Set at the edge of the Caribbean Sea, Champagne Shores Villa is a sanctuary of tranquility.
Clean modern design effortlessly melds with Caribbean warmth. Resort-esque reassurance and around-the-clock service go hand-in-hand with Anguilla villa privacy and space. The result? Luxury vacation living at an exceptional value.
It is all a credit to the owners, the Garner's, who have designed an Anguilla villa experience meant simply, to enjoy.
To "live" the Champagne Shores experience, please see the video above.
Meet The Garner's
There is an old saying in life, "seek and you shall find." What is true in life is often true in love, and that is true for how the Garner family came to fall in love with Anguilla and their villa, Champagne Shores.
Arriving in Anguilla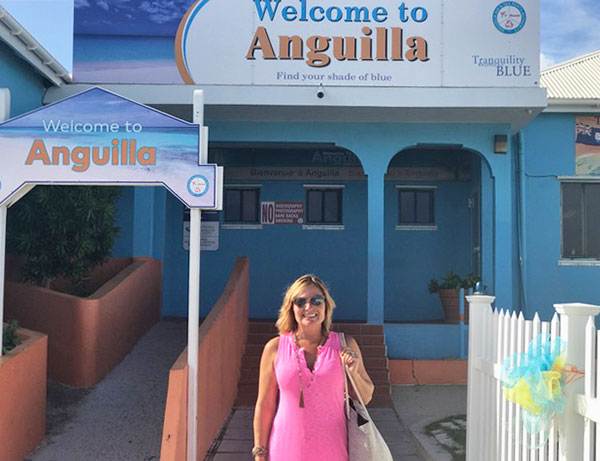 Avid Caribbean travelers, Chris and Allison had been searching for a place to call home in the Caribbean for a decade. Airport after airport, ship port after ship port, island after island. They would vacation, they would look at real estate and they would ultimately, pass.
That all changed on a fateful trip to St. Martin in 2017. One afternoon while on their patio in Grand Case, they wondered, "What is that spit of land in the distance?" They were on a boat the next morning to that very island, Anguilla.
First step on Anguilla soil and they knew. They were home.
"Home" Found in Anguilla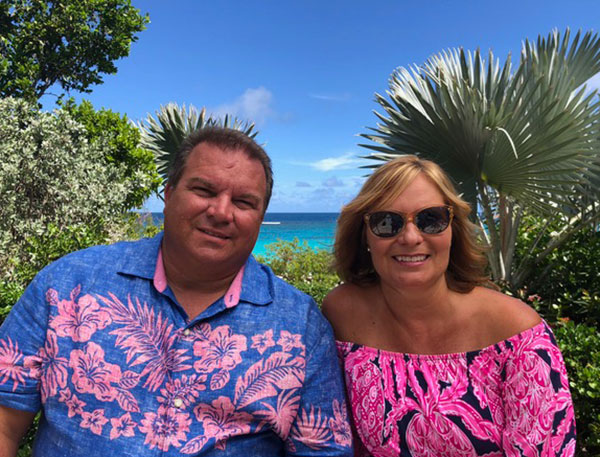 The Garner's in Anguilla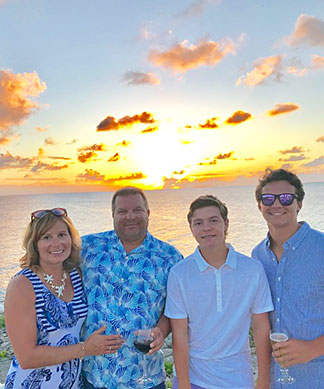 "We live in the countryside just outside of Philadelphia," Chris explained one afternoon while we were chatting.
"And maybe that's why we felt "home" the minute we arrived in Anguilla. It has the peace, the safety, the quiet, the charm and close community of the countryside, with the accessibility of a city, like St. Maarten."
Over seven months the Garner's made eight return trips to Anguilla. It was love.
On their vacations, they would look at real estate. Nothing, though, caught their eye until Champagne Shores (formerly Beaches Edge West Villa) came on the market.
"We saw the photos and were on the next plane down. A day later we signed the papers," Chris laughed.
"We had been searching for the perfect Caribbean home for 10 years. It was 10 years of figuring out what you want and what you don't want. We knew what we were looking for. Anguilla and Beaches Edge were it."
At Home at Champagne Shores in Anguilla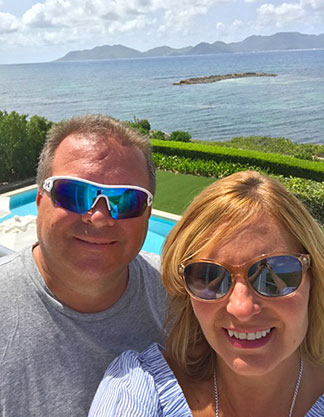 Yes, that is the Anguilla effect. And that is the Champagne Shores effect.
Let's see why.
A Warm Welcome
The experience begins on Travertine-tiled path, lined with tropical gardens. The floor-to-ceiling windows ahead give way to the glistening Caribbean Sea in the near distance.
Champagne Shores... The Villa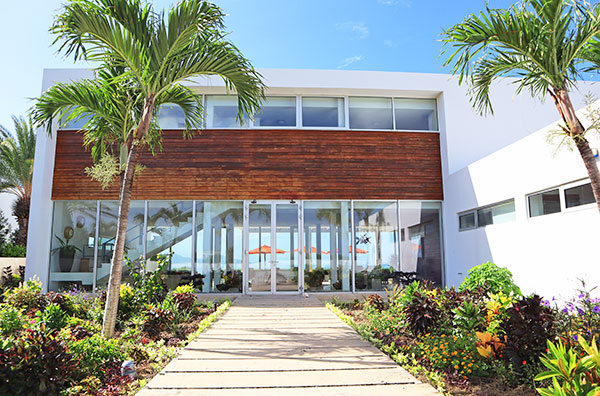 Hot after a long day of travel, the fully air conditioned interior is a breath of fresh air. From look to feel, arriving at Champagne Shores Villa is distinctly soothing.
That feeling is enhanced by the team who set Champagne Shores' villa experience above the rest in its category.
Meet Jarli, Marsden & Katie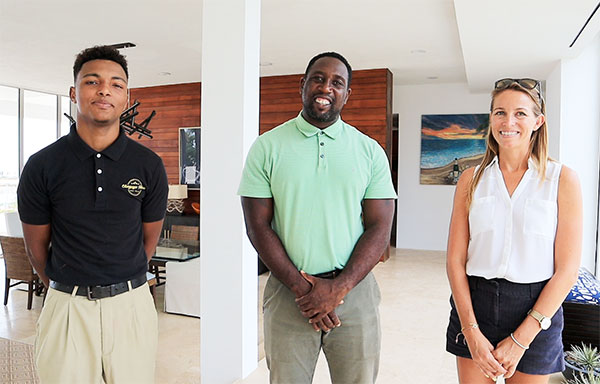 Through our family's "Anguilla vacation days," we have stayed at many Anguilla villas. Left "to our own devices," an interesting feeling of loneliness would strike at times. Champagne Shores replaces that feeling with Jarli, Marsden and Katie.
Jarli is your personal service attendant. He is on site every day, from morning through early evening. He does it all. Preparing breakfast? Check. Providing housekeeping and laundry? Check. Putting your champagne on ice? Check. Assisting with the WiFi? The villa's printer? Any and every other question that inevitably crops up? Check, check, check.
For everything else, there is Marsden and Katie (with Properties in Paradise). They are available 24 hours/day to assist with concierge services.
You know a service is exemplary when you find yourself saying, "I didn't even know I needed that." It is a service that other villas at this price point do not offer.
... and that is just part of Champagne Shores' "warm welcome."
This Moment of Arrival Calls For...
You can't say "Champagne Shores" without saying "Champagne," and no arrival would be complete without a glass of Champagne Shores Champagne!
Champagne Shores Champagne by J. de Telmont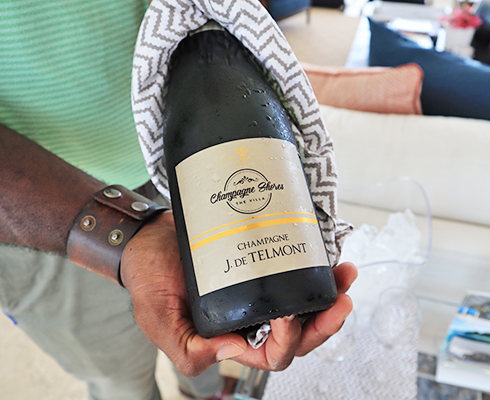 A chilled glass goes oh-so-well with a bite of fine Brie, Wellington crackers and fresh tropical fruits.
Snacks at Champagne Shores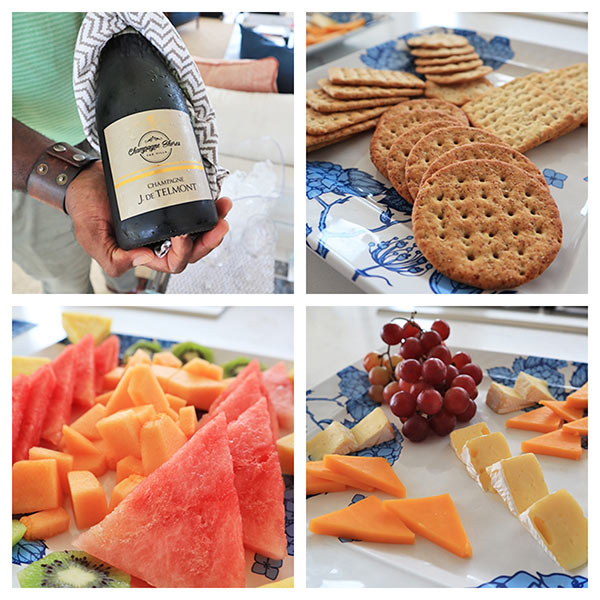 Champagne in-hand, let's explore inside this luxury Anguilla villa.
Inside Champagne Shores
Champagne Shores boasts 7,000 square feet of architectural and design perfection.
The Entrance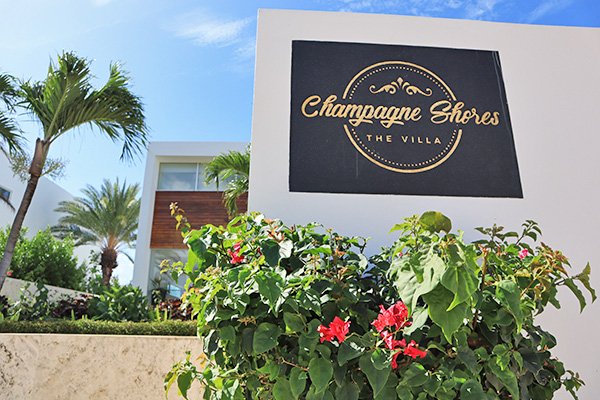 The elegant exterior walkway is lined with tropical garden and sparkling pools immediately by its entrance doors.
Grand Central Living Area
The entrance opens into a grand central living area, complete with dining room, lounge and media center.
Central Living Area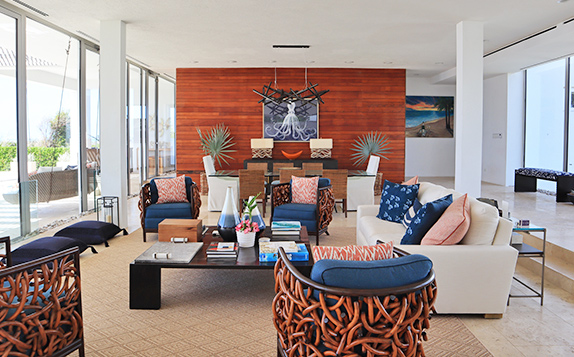 Natural light pours in through the floor-to-ceiling windows that make up the sea facing and entrance walls.
Lounge & Media Center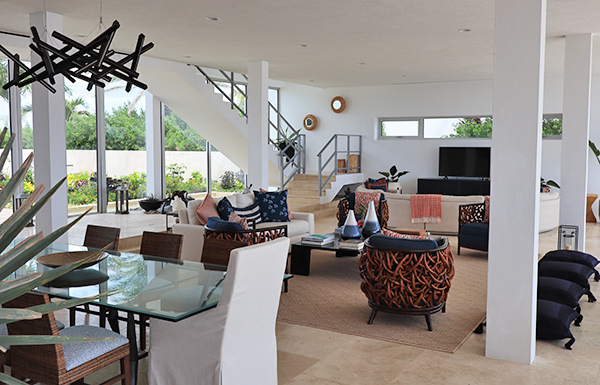 The clean line design is well-balanced with Caribbean warmth. Designer, Alexis Parent has added thoughtful touches throughout, bringing Caribbean beauty to modern sleekness.
Dining Area Touches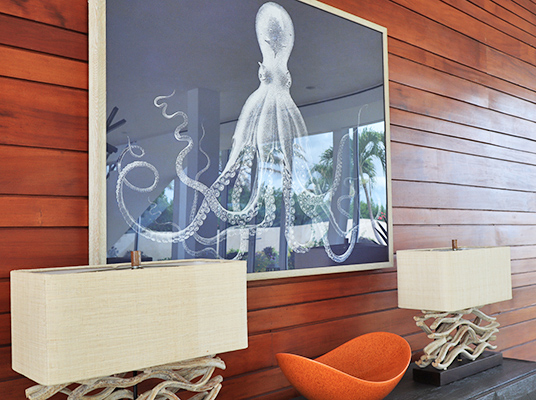 The driftwood lamps, glass-top dining table with rattan dining chairs, vibrant coffee table books and stone chess set, lattice, wood-woven chaises... pops of color and warm textures can be seen and felt throughout.
Lounge Area Touches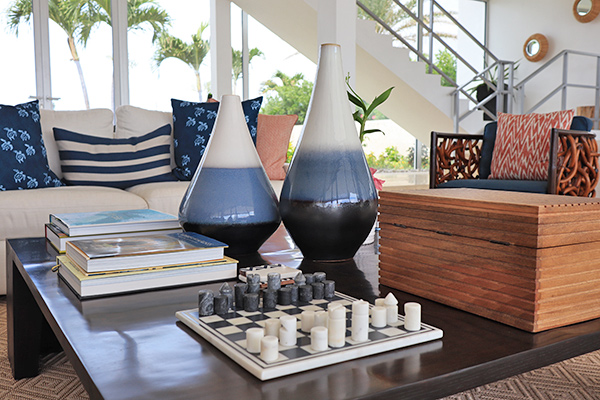 Finally, a luxury villa would not be complete without a media center. The lounge area backs onto the villa's 55" flatscreen TV with cable and separate Bose docking system.
Media Center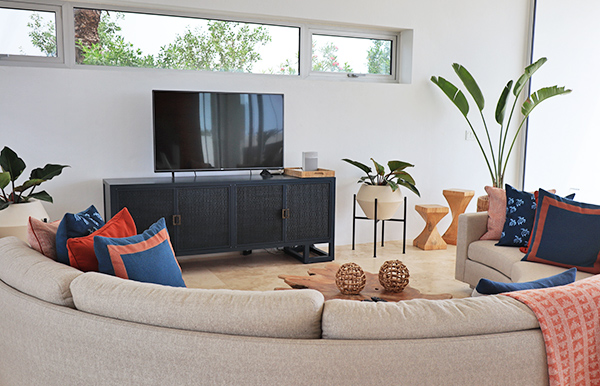 The couch is a stroke of genius. Circular, it brings the area together, seemingly separating it from the rest of the room.
European-Style Kitchen
Beyond the central living area is Champagne Shores' kitchen. European in style, the kitchen is most enviable. Alexis Parent's thoughtful touches are apparent again with eye-catching red bar stools and tiles offsetting the clean, white cabinets.
Kitchen at Champagne Shores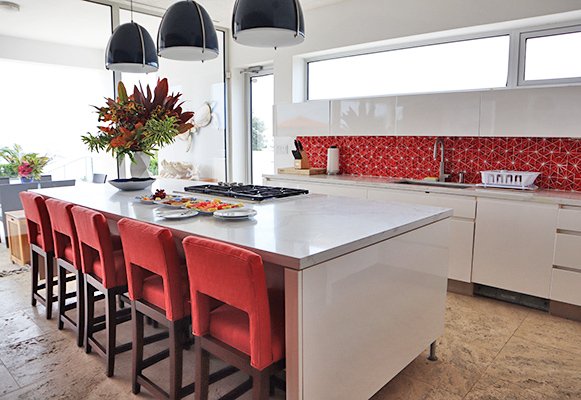 Elegance meets utility in the kitchen. It is fully equipped with state of the art appliances, including dishwasher, oven, microwave, oversized fridge with multiple freezers and separate wine fridge.
Both the kitchen and central living area open onto the villa's full-sized exterior terrace. The entire villa is also complete with central air conditioning. The air conditioning is "zoned," so you can control temperatures to your liking.
Five Luxury Suites with Ensuite
Champagne Shores boasts five luxurious bedrooms. All bedrooms are complete with an ensuite bathroom, plush linens, armoire, flatscreen TV and central air conditioning.
One master suite is set on the ground floor, just behind the kitchen and the ground floor's powder room.
Ground Floor Master Suite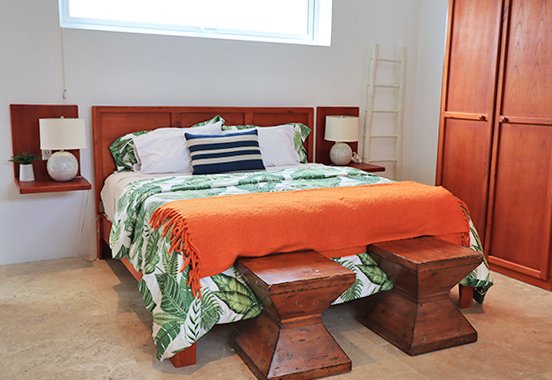 Two master suites and two queen suites are set on the luxury villa's second floor. Here, you will also find a Mac desktop computer with printer.
Mac Desktop & Printer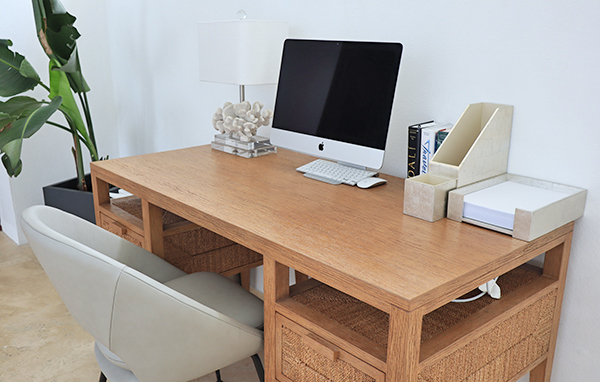 All suites feature breathtaking views via the villa's floor-to-ceiling windows. Each suite has its own special flair.
Western Corner Master Suite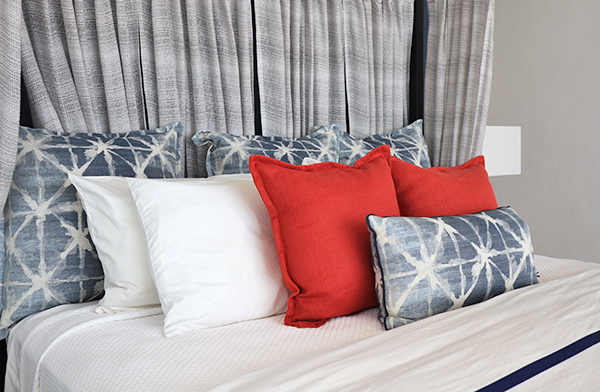 The Western Corner Master boasts a navy color scheme with four poster bed. It gazes out to an unparalleled view of St. Martin.
Western Corner Master View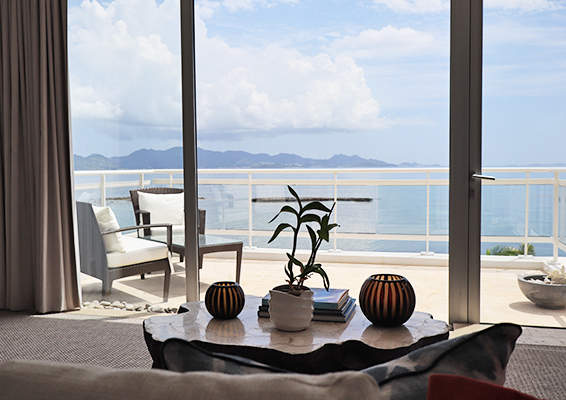 Champagne Shores has a unique geographic location. It is only a 5 minute drive from Anguilla's ferry terminal, making it one of the closest spots on Anguilla to St. Martin. The views from this particular point of Anguilla are especially vivid.
The Western Corner Master Suite takes full advantage of those views with a Juliet balcony.
Balcony View

On the opposite end of the second floor lies the Eastern Corner Master Suite.
Easter Corner Master Suite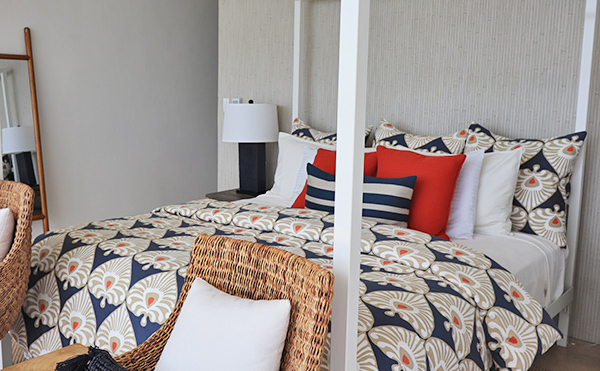 It, too, captures those "HD" St. Martin views. All design elements flow so naturally. This particular master's textured walls perfectly complement the chic and modern-style rattan swivel chairs and carpet.
Eastern Corner Master View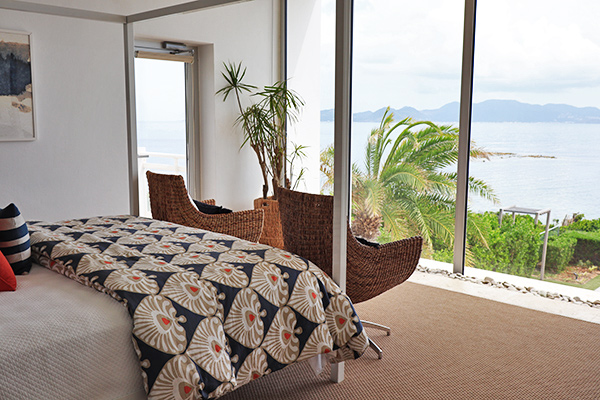 Both master suites feature walk-in closets and oversized ensuite with rain shower and sink tub.
In between the master suites are the two queen suites. They pop with Anguilla color.
Eastern Queen Suite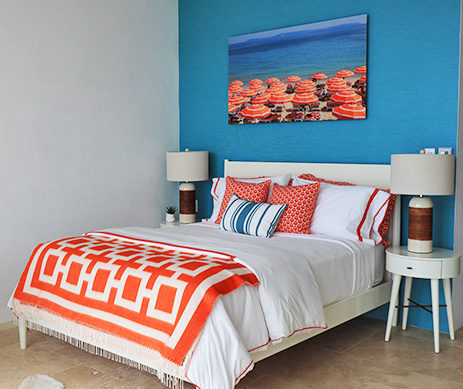 Touting Anguilla's national colors of white, orange and turquoise, they are the picture of happiness. Both rooms are complete with tropical photography, fluffy rugs and St. Martin views.
Western Queen Suite

The queen suites also feature closets and oversized ensuite with rain showers.
Plush Ensuite

Rounding out the luxury villa experience is, naturally, sumptuous amenities. Champagne Shores' Asprey Purple Water amenities exude a lavender essence of luxury. It is the scent of tranquility.
Asprey Toiletries

Ten Bedrooms & A Note on Large Parties
Champagne Shores' five bedroom villa becomes ten bedrooms when combined with neighboring villa, Beaches Edge.
Champagne Shores Villa (left) & Beaches Edge Villa (right)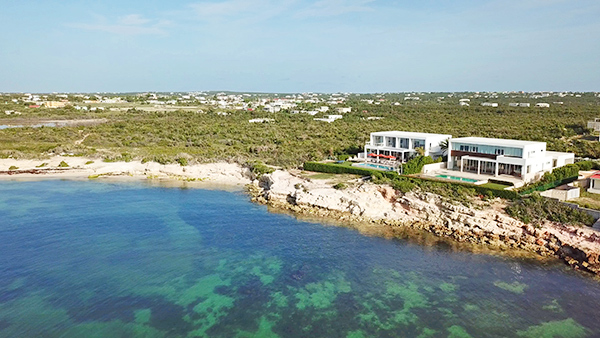 The two properties are side by side and are mirror images of each other. They can be rented together, making it a top choice for large parties and events, particularly weddings.
Outdoor Living
Back inside Champagne Shores and downstairs, lies the oversized outdoor living area.
Outdoor Living at Champagne Shores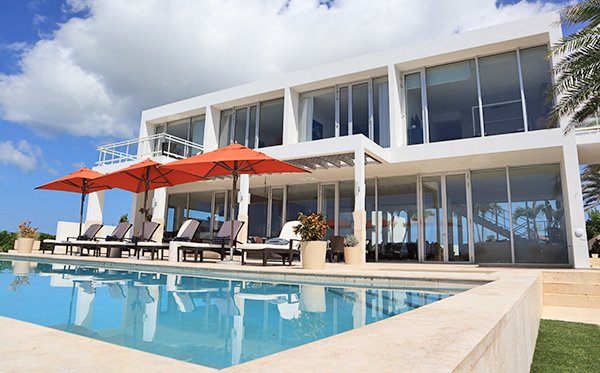 The Travertine-tiled terrace runs the full length of the villa. It is complete with an outdoor dining area, gas grill (tucked to the villa's side) and lounge area.
Outdoor Dining Area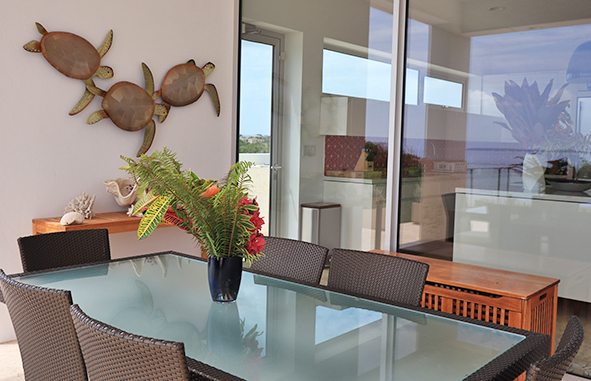 The lounge area even features a playful day bed swing.
Bed Swing

Shaded by pergola, it is the perfect way to beat the heat while enjoying a day of Caribbean sunshine.
Exterior Terrace

When sunshine calls, Champagne Shores' 19x22' swimming pool answers.
Floating in Blue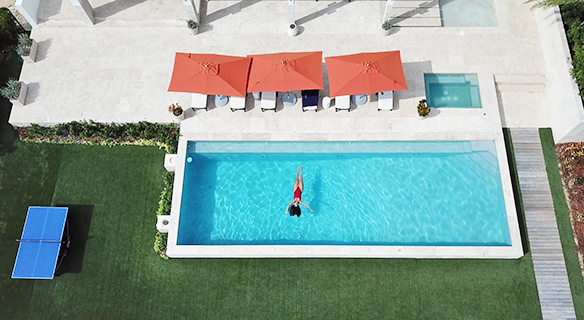 Blue Pool Views

Six plush lounge chaises with red umbrellas line the large, geometric pool.
It is bordered by an intimate jacuzzi and even a shallow pool for children (top right of photo above).
Pool floats and noodles are all available.
With commanding St. Martin panoramas, everyday is a "pool day" at Champagne Shores.
If you can tear yourself away from those pool blues and St. Martin views, Champagne Shores has plenty of activities.
Jarli assists with everything, from freshening up your beverage to setting up your activity of choice.
Commanding St. Martin Panoramas

On-site, on the villa's grass lawn, is cornhole and table tennis. Here, Jarli's attention to detail impressed us most.
During our stay, while we were in a heated table tennis competition (amateur competition, of course!), Jarli discreetly brought out the cornhole bean bags. He does not simply attend to your needs, he anticipates them, all without hovering. An impressive and difficult accomplishment that Jarli does with ease and always with a smile.
Off-site, Jarli steps in again. Champagne Shores offers beach chairs, beach towels and snorkeling equipment. All are available should you want to take them to one of Anguilla's larger beaches, or simply down Champagne Shores' path to...
Champagne Shores' Secluded Cove
Secluded Sandy Beach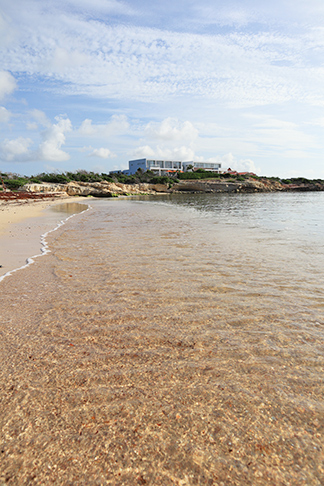 Through locked gate and down a pebble path lies the beach at Champagne Shores.
A sweet sandy sweep, a few moments on this beach and you quickly realize the origins of Champagne Shores' name.
Gentle waves calmly make their way to this sliver of shoreline.
The seas sparkle a champagne-like hue as they roll in over the sand.
When the ripples kiss the shore, they even bubble.
"Allison and I were sitting on these shores when the song "Knee Deep" came on. When Zac Brown sings, "This champagne shore washing over me," it clicked," Chris confirmed.
But before a glass of champagne on these champagne shores?...
Hitting The Gym
Champagne Shores' gym reminds you...
No Pain, No Champagne!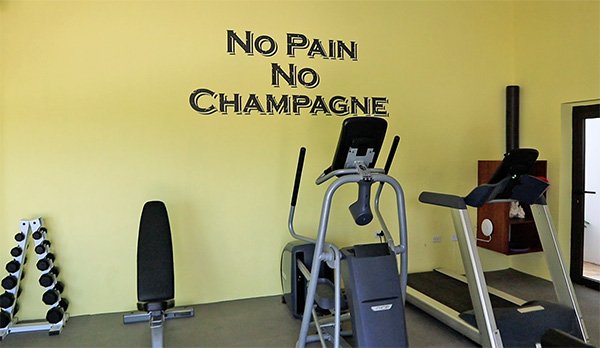 The spacious and fully air conditioned gym features an elliptical, stair master, treadmill and weights. There is every piece of equipment needed to stay in shape throughout your stay. And, there is no sign more motivating!
Once the pain is endured, champagne and dinner is earned.
Glistening Evenings
Champagne Shores offers chef services and Anguilla's world-class restaurants are only a short drive away. Being centrally set, the villa is a convenient 7-15 minute drive to Anguilla's top restaurants. Post-dinner, coming home to Champagne Shores is the sweetest return.
The lighting is immaculate. Inside, overhead lighting elegantly contrasts against the dark Caribbean night beyond.
Champagne Shores By Night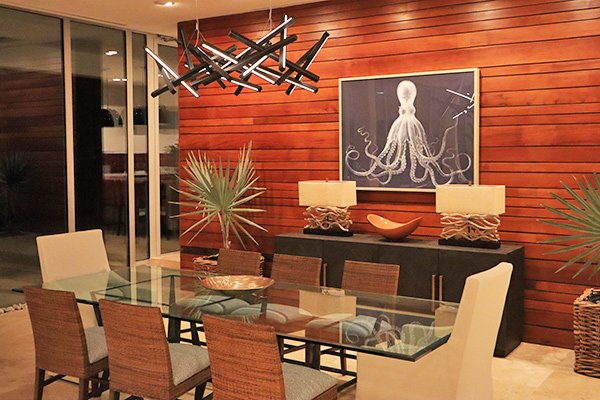 Outside, the pool and jacuzzi lights capture the eye. St. Martin's lights twinkle in the distance. There is something so reassuring in those St. Martin sparkles.
Night Time Pool View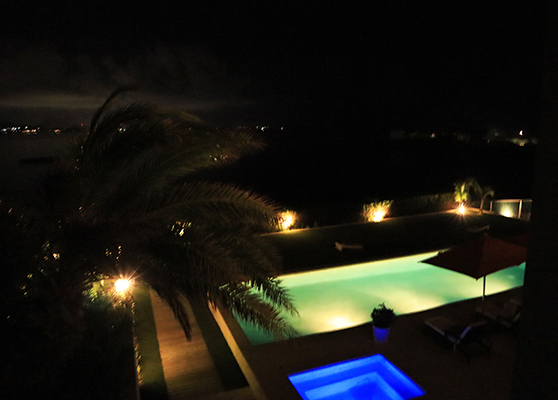 Magical Mornings at Champagne Shores
When morning breaks, Jarli puts on the coffee.
Champagne Sunrise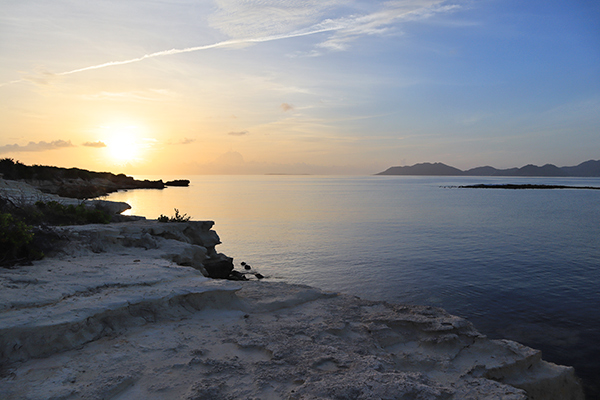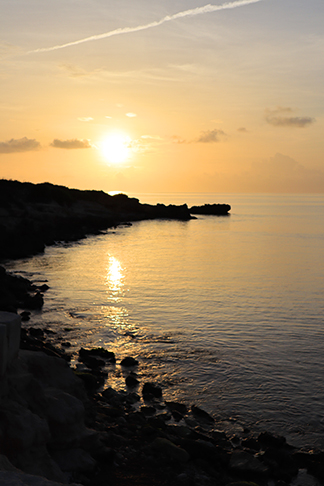 Continental breakfast of pastries, breads, fruit, cheese, juice, coffee and tea are all complimentary.
If you would prefer cooked breakfast, Katie and Marsden can assist with organizing chef service.
It is the most special time of day at Champagne Shores.
Perhaps it is the way the early light fills the villa.
Or the way the sun casts its rays on the bay's ripples.
Or perhaps it is the sea turtles, peacefully bathing in the morning light, right before your eyes.
It all amounts to a warm feeling that is best described with one word, "magic."
Magic Moments at Champagne Shores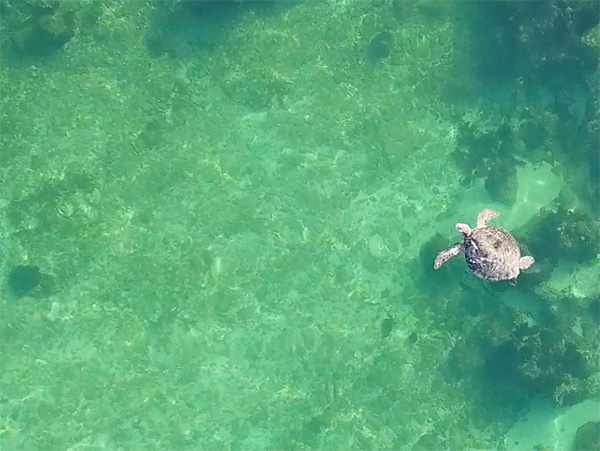 ... the kind of magic only found at Champagne Shores: The Villa.
To reserve your spot at Champagne Shores, contact us below...
Champagne Shores is set on the Caribbean Sea, just a five minute drive from Blowing Point. One of Anguilla's closest points to St. Martin, the location provides especially vivid views of St. Martin. Being centrally set, Champagne Shores is also only a short drive to Anguilla's world-class restaurants and large beaches.