---
Combing Anguilla's Beaches for the Best
Anguilla Beach Lovers brings you the latest additions to one family's experiences of the "best of all things Anguillian."
If you like this e-zine,, please do a friend a favor and "pay it forward."
If a friend did forward this to you and if you like what you read, please subscribe by visiting...
---
Issue #124, December 31, 2019
Happy New Year's Eve from Anguilla!
May 2020 be the year of SEAing clearly 😍💖✨
It has been one jam-packed Christmas! Yachts in Meads Bay...
Private jets landing at Clayton J. Lloyd...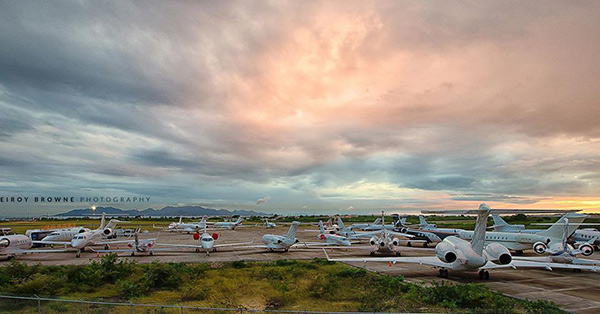 (Photo: Keiroy Browne Photography)
Those are the sights & sounds of the holidays in Anguilla!
What's new since last time?
---
New Year, New Beach
New Year's Eve and a decade of pure tranquility!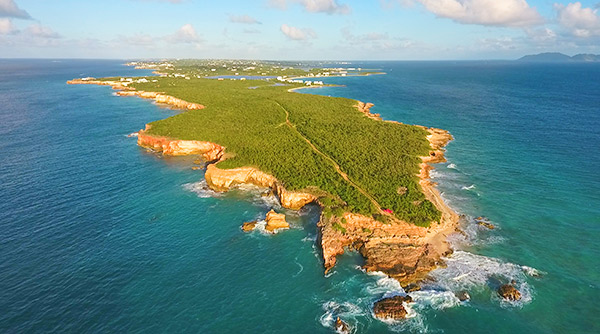 Celebrating 10 years of Tranquility Wrapped in Blue, we have put together a full-length, 1.5 hour feature of ALL of Anguilla's beaches in extra-crisp 4K quality!
This video showcases favorite footage collected from the past decade, as well as brand NEW footage of hard to reach beaches, including...
Windward Point
Sherrick's Bay
Lower West End Point
Anguillita
Click here to watch the "All Anguilla Beaches" video.
---
Petals Joins The Anguilla Card
Anguilla is known internationally for its five-star dining, pristine beaches and luxury villas and hotels. It is also widely known for what it does not have... cruise ships, crowds and shopping.
That includes everything from charming boutiques to the gold and electronic shops you will find on most Caribbean islands. I will skip the gold and electronic shops every time, but I will take the charming boutique, please!
To many people's dismay, they are few and far between in Anguilla. Petals Boutique on Meads Bay at Frangipani Beach Hotel has changed that...
With white-wooden ceilings, and colored in pinks and draped in pink fabrics, Petals Boutique is pretty as a petal.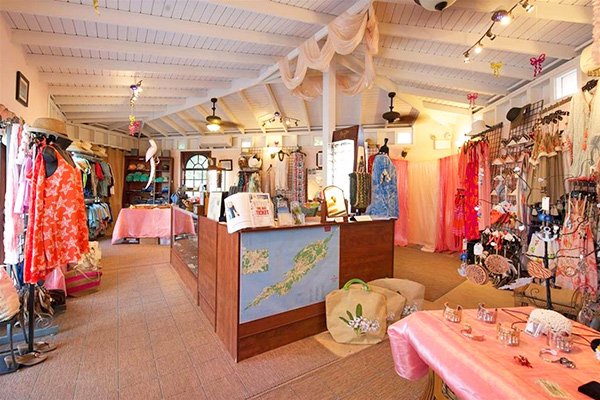 Looking for comfortable yet chic Anguilla-wear or travel-friendly souvenirs for back home? You can find it all at Petals Boutique.
The shop features one of a kind Anguilla t-shirts, swim-shorts, caps and stylish lycra Anguilla shirts.
There is a plethora of unique and vividly colored wraps, cover ups, tank tops, skirts, and even dresses by brands like Pitusa. You won't find these items anywhere else in Anguilla.
One of our all-time favorite items at Petals is their watercolored Anguilla map pouch. Simple and cute, this pouch makes for a perfect souvenir and gift.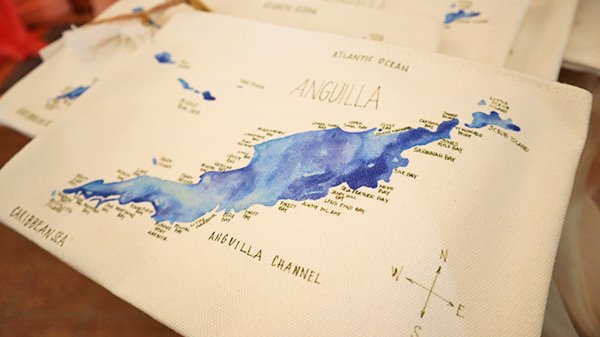 Click here for the full scoop on Petals!
Petals is an Anguilla Card Partner. Save 10% when you use your Anguilla Card at Petals! Click here to purchase the Anguilla Card.
---
Tranquility Beach Anguilla: Accepting Reservations for January 2020!
The majestic Meads Bay project will be opening as a boutique hotel with vacation rentals and ownership opportunities January 2020!
Tranquility Beach's first phase, Signature Suites broke ground early last year. In September 2018, we stepped inside the luxury development with its award-winning architect and developer, Ian "Sugar George" Edwards of Sunset Homes.
We've been blown away by the progress. See the Phase 1 video tour with Sugar George here.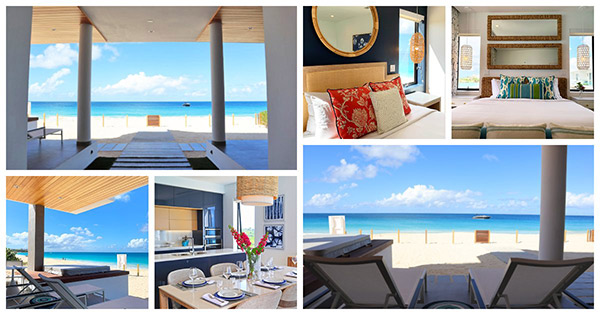 Since then? Tranquility Beach Anguilla has impressed us all over again. Today, walls have been poured, lighting is in and...
Now, Tranquility Beach Anguilla is accepting reservations for Jan. 2020!
Let's take a sneak peek inside...
Tranquility rules supreme at Tranquility Beach Anguilla. You are immediately struck by commanding views and soothing sounds of Anguilla's most coveted beach. Mere steps to Meads Bay's waterline, the property's location is unmatched.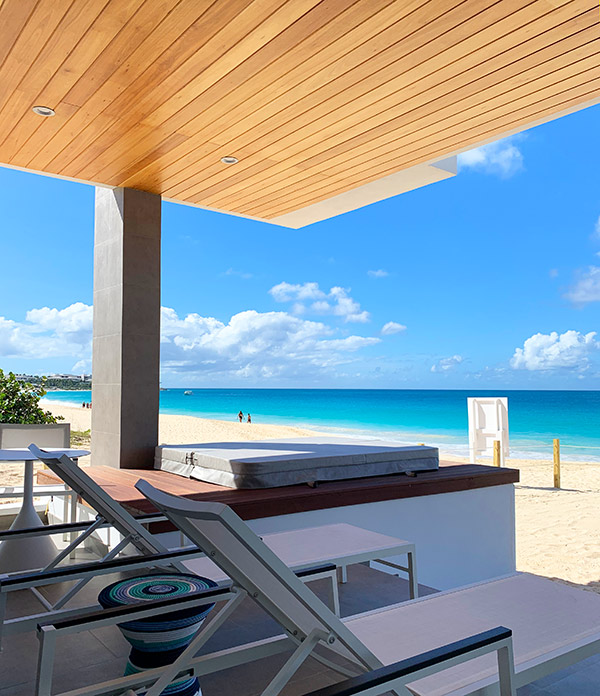 The property's beachfront villa boasts 3 floors and 5 luxurious units. The Ground Floor features two one bedroom suites, separated by walkway. The First Floor has two units, which can be joined together. The top floor is home to the grand Penthouse Suite. No matter the floor, your access to or view of Meads Bay is completely uninterrupted.
The setting goes hand in hand with superior design. Sugar George blends modern-cool with tropical-warmth. Outside, wood ceilings contrast elegantly against strong pillars, stone tile and a white color scheme.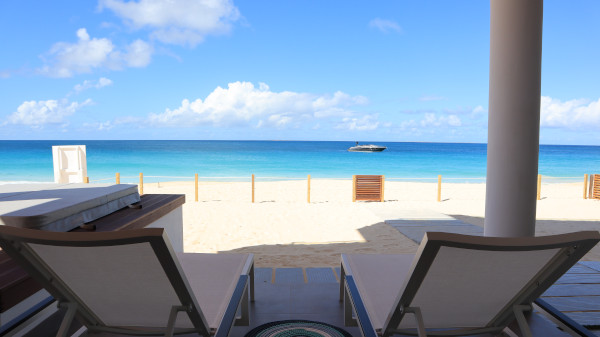 Inside, a wave of tranquility envelops you yet again. Through oversized windows, you are wrapped in Meads Bay blue.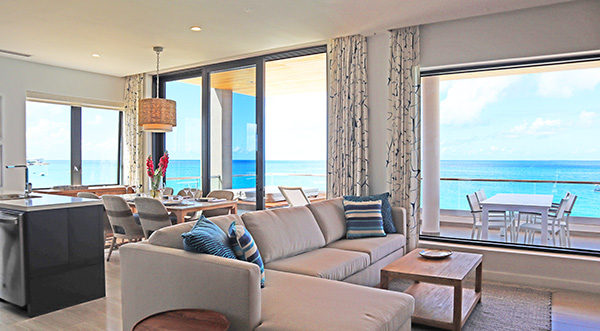 That feeling of sumptuous calm carries through each room, from luxurious ensuites...
... to modern kitchens.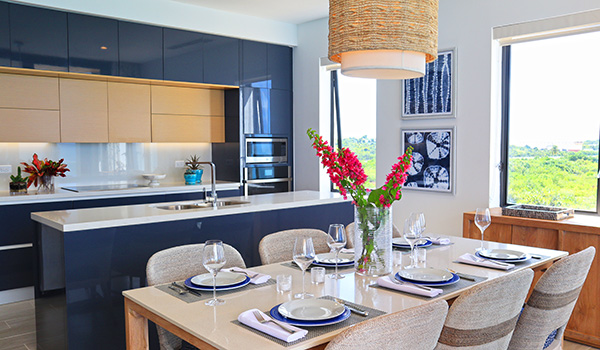 The spacious bedrooms have been immaculately designed, each with its own flair. From chic white and navy color schemes with tropical touches of bamboo and wood...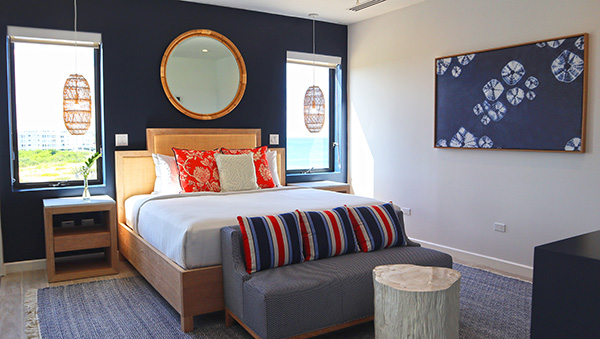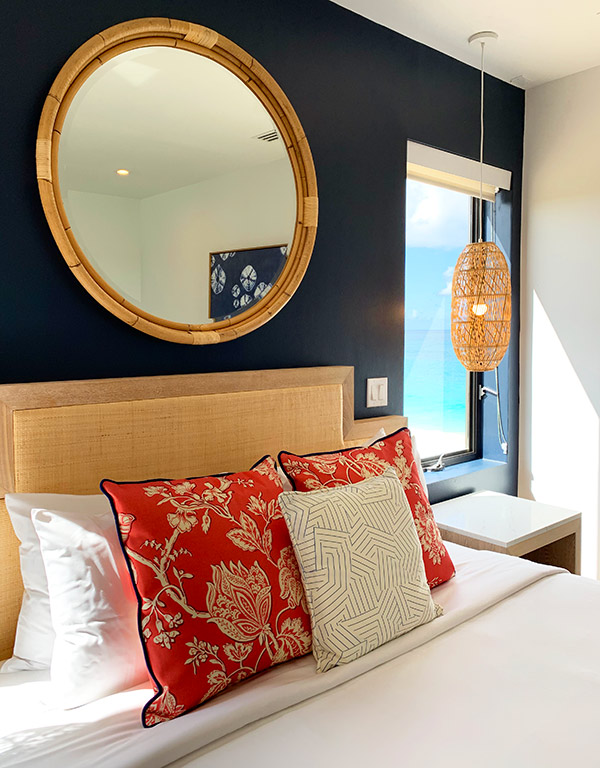 To tropical greens, baby blues and stylish, airy curtains...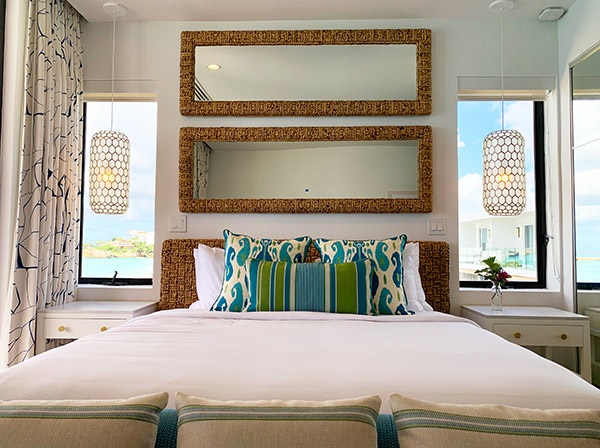 The interior designer has done a flawless job marrying Caribbean warmth with modern elegance. For a complete video tour inside Tranquility Beach Anguilla's Penthouse Suite, click here.
Location, design and furnishings all combine to create a state of the art Meads Bay property.
Tranquility Beach Anguilla delivers on its promise amidst Anguilla's top tier resorts and villas. Tranquility Beach Anguilla will be the epicenter of the epicenter of Caribbean luxury living.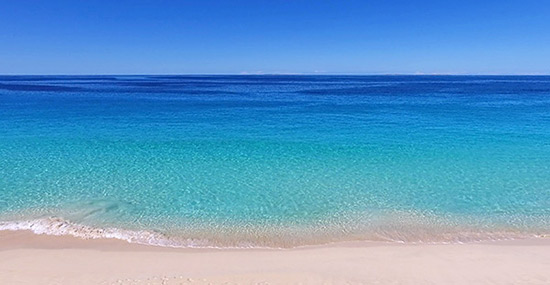 Tranquility Beach Anguilla is accepting reservations for January 2020.
To book your stay at Tranquility Beach Anguilla, click here.
More on Tranquility Beach Anguilla...
Phone: 264-476-8488
Email: info@tranquilitybeachanguilla.com
---
New Year's Resolution: More Meads Bay Mornings
One of the prettiest times of day to dine at Malliouhana's Cafe Celeste? Breakfast! This just may be the most beautiful way to start the day...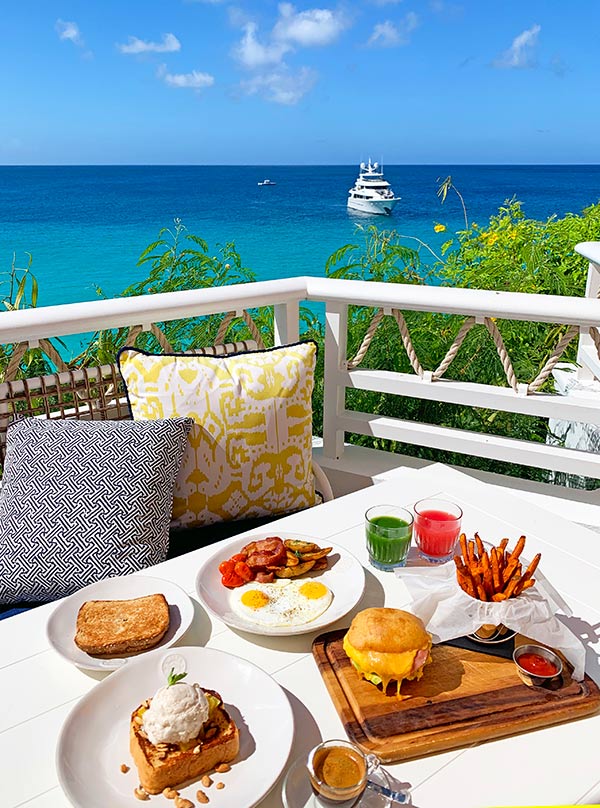 Cafe Celeste's breakfast menu offers classic coffees and teas, a variety of freshly squeezed juices and craft cocktails like the "Bloody Mali", a mix of citrus infused rum and housemade Bloody Mary in a Caribbean spice rimmed glass.
Our favorites for food? From "The Classics" section of the menu, the "Farm Eggs"...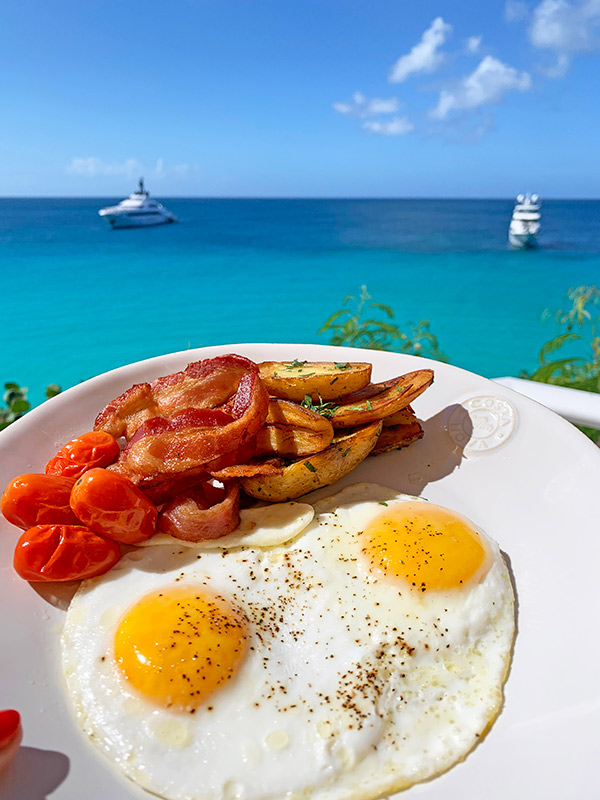 Your choice of sausage or bacon is sided with breakfast potatoes, roasted tomatoes, white or wheat toast and two sunny side up eggs. Everything is cooked to absolute perfection!
Next, from the "Island Breakfast" section, the "Johnny Cake Sandwich" is a "must have"...
Scrambled eggs, breakfast ham, melted cheese, avocado, wilted spinach and roasted tomatoes are sandwiched in a fluffy fried Johnny cake. Served with a side of sweet potato fries and tangy ketchup, this sandwich is a work of art!
Next, from the "Batter & Oats" section, the French Toast...
A generous scoop of coconut ice-cream is placed a-top a slice of thick and fluffy French Toast. To top it off? Cubes of mango, nuts and a delicious syrup.
Malliouhana's restaurant has always been a stylish and sumptuous setting. Cafe Celeste's Chef Jusman is the missing piece. He is the key ingredient. The magic touch. He and his team surpass expectations at every turn. Breakfast is no exception :-)
Cafe Celeste is an Anguilla Card Partner. Save 10% when you use your Anguilla Card at Cafe Celeste! Click here to purchase the Anguilla Card.
---
The NEW Skyviews Map
There is one Anguilla map that is a "must" for everyone Anguilla-bound!...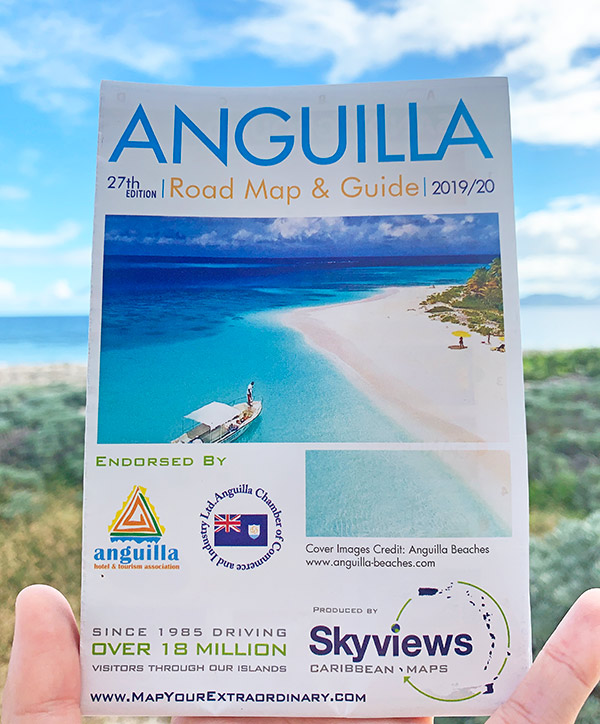 No one makes navigating easier than Skyviews!
If this is your first trip to Anguilla, or if you haven't yet driven through Anguilla, the Skyviews Anguilla map is a lifeline when you are out on the road.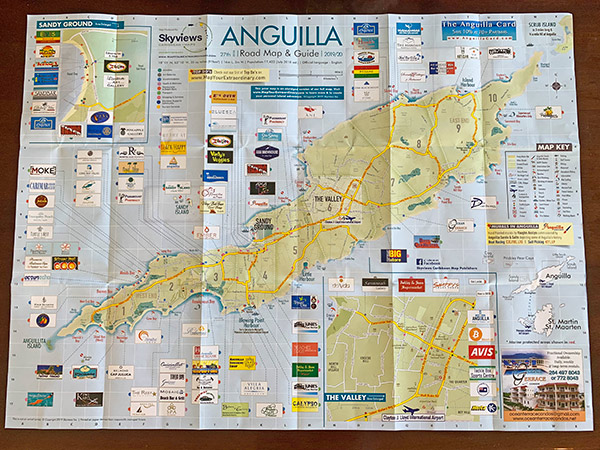 For everyone else, having a copy of the map on-hand simply makes life easier. It answers those reccuring questions... "Where is that in Anguilla?" "What's that business' phone number, again?"
A beautiful map, it really is a souvenir in and of itself!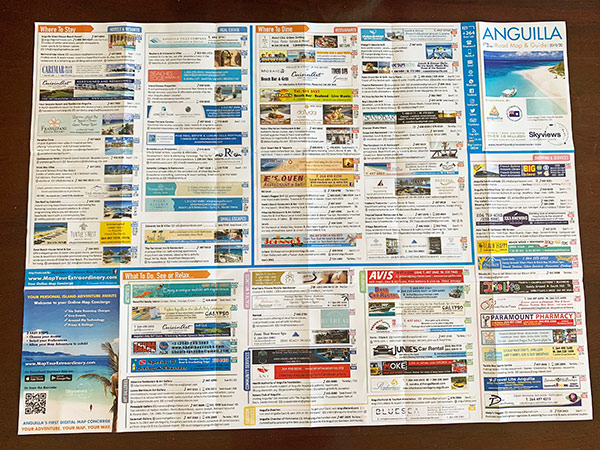 NOW available on-island, be sure to pick up your free 2020 Skyviews map in Anguilla! Skyviews' map is available throughout the island, at Anguilla's ports of entry and airport, hotels, boutiques and restaurants.
A company based out of Barbados, Skyviews has been helping travelers navigate Caribbean islands for nearly two decades. More on Skyviews via their official website here.
---
Guess Who's Golfing at CuisinArt?
All-time hall of famer, Sir Nick Faldo was golfing this past month at Anguilla's very own CuisinArt Golf Club!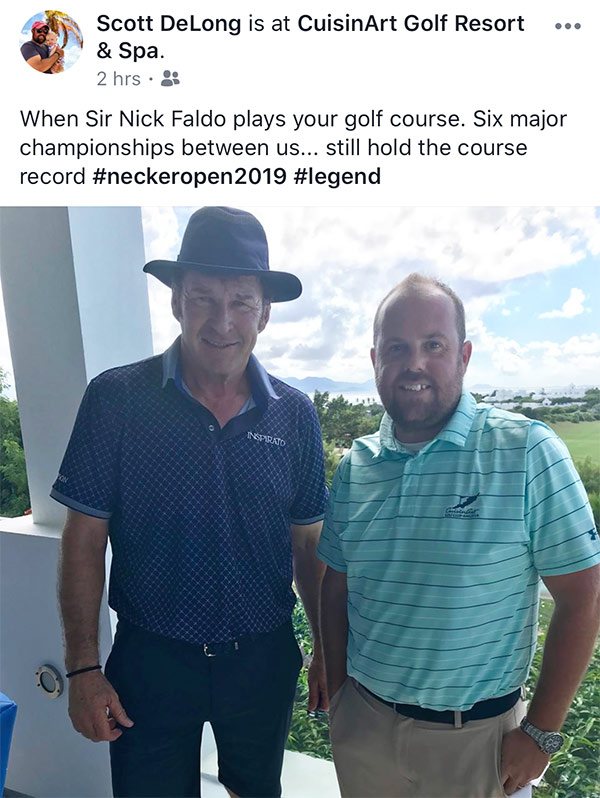 (Photo: Scott DeLong, Head Golf Professional at CuisinArt Golf Resort & Spa)
I remember the days when my Dad would take me to watch Sir Nick Faldo practice his swing during one of his stops in Canada. More than twenty years later, it's pretty darn cool to see Sir Nick Faldo taking on the CuisinArt Golf Course.
One of the leading golf courses in the Cairbbean, Forbes calls it "The Hidden Gem of the Caribbean." Caribbean Journal has labeled it one of the region's best, and Robb Report refers to its first hole as "The Caribbean's answer to the 18th at Pebble Beach."
PGA-level and Greg Norman designed, CuisinArt Golf Club boasts 7,000+ yards of 18 manicured holes stretch along the south shore of Anguilla, gazing out to vistas of the Caribbean Sea and St. Martin's majestic mountains.
It gets better! If you are an avid golfer, there's no better resort to stay at than CuisinArt and The Reef.
The Reef backs onto the golf course, and guests who stay at either properties get a special golf rate.
Reserve your stay and as a CuisinArt/Reef guest, GOLF is $100 per round from Now – April 30, 2020, with complimentary standard or deluxe rental clubs!
... that perk is in addition to a host of resort amenities, including world-class dining and the island's leading spa!
For full details on CuisinArt and The Reef...
---
Escape Winter in an Anguilla Villa
Long Bay Villas
Long Bay Villas is Anguilla's most elegant and iconic ultra-luxury villa! The property takes your breath away in three distinct ways: Sky Villa, Sea Villa and Sand Villa.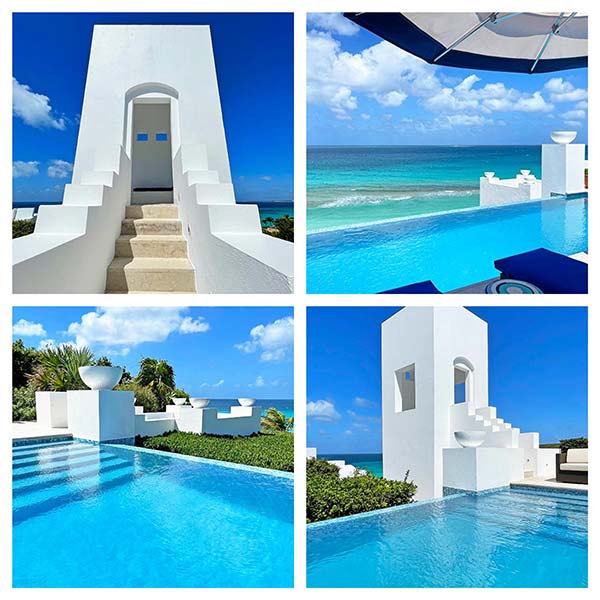 The estate's three stark-white villas tier down the lush hillside that slopes up from pristine and exclusive Long Bay beach. Each villa's unique setting emphasizes a different perspective of "Long Bay Blue."
Inside, the grand villas combine to boast 16 bedrooms with over 19,000 square feet of indoor/outdoor living space that can accommodate 33 guests.
A sensational property, the ultra-luxury experience is rounded out by top-tier service.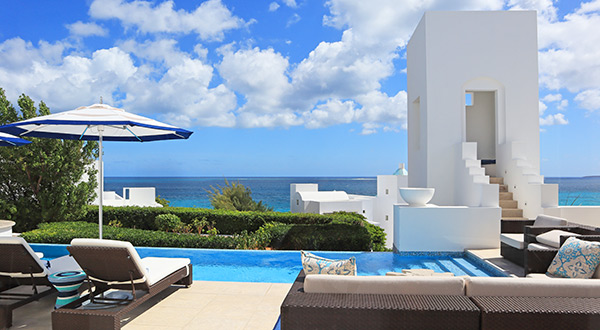 Long Bay Villas is currently offering a high-value special. Guests who book 6 nights get a 7th night free! For full details, visit...
Note: Special excludes Festive and US holidays. Subject to villa availability and minimum number of nights requirement.
Santosha Villa Estate
Next door to Long Bay Villas lies the ultra-exclusive Santosha Villa Estate.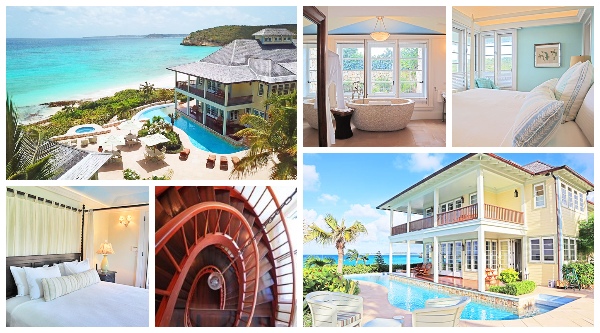 A 37,000 square foot West Indian-style estate, Santosha is of a bygone era. Its design is classic Caribbean, immaculately executed. A marked sense of relaxed sophistication washes over you as you walk through the nine bedroom property.
From regal crown moldings, to mahogany four poster beds, to antique sconces, louvre doors and double-paned windows, to the grand spiral staircase and wrap around verandas, each and every piece has been carefully designed. Each ornamental touch has been hand-selected for its specific place.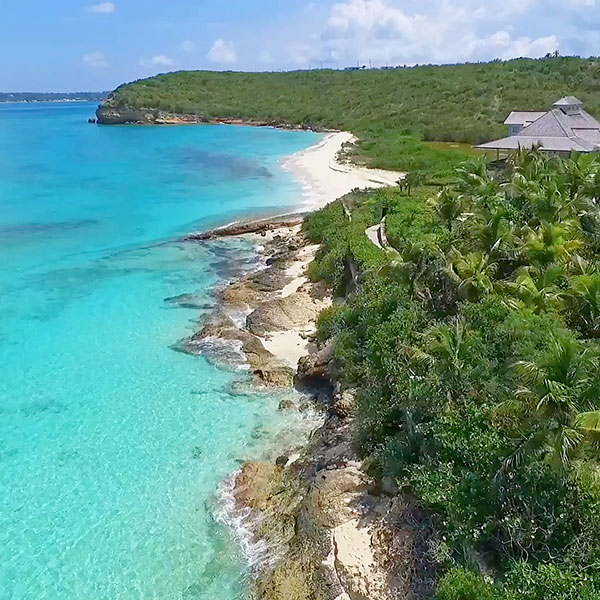 Sprawling across 4.5 lush acres and able to accommodate 23 guests, Santosha Villa Estate is Anguilla's most grand ultra-luxury villa.
Santosha Villa Estate is also currently offering a high-value special. Guests who book 6 nights get a 7th night free! For full details, visit...
Note: Special excludes Festive and US holidays. Subject to villa availability and minimum number of nights requirement.
Champagne Shores: The Villa
Featured on HGTV, Champagne Shores offers luxury with a whole lot of value!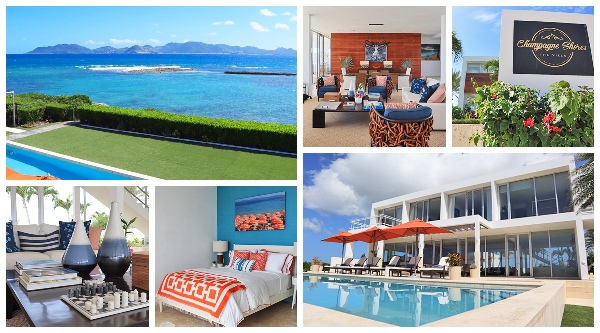 Set on Anguilla's south coast, Champagne Shores spans over 7,000 square feet of plush outdoor and indoor living space with five sumptuous suites. All-air-conditioned, the villa boasts some of Anguilla's most panoramic views.
It is the only villa of its kind to also provide an all-day personal service attendant, in addition to 24/7 concierge service!
Modern in look, Caribbean in feel, and with every need tended to - at Champagne Shores, you often find yourself thinking, "I didn't even know I needed that."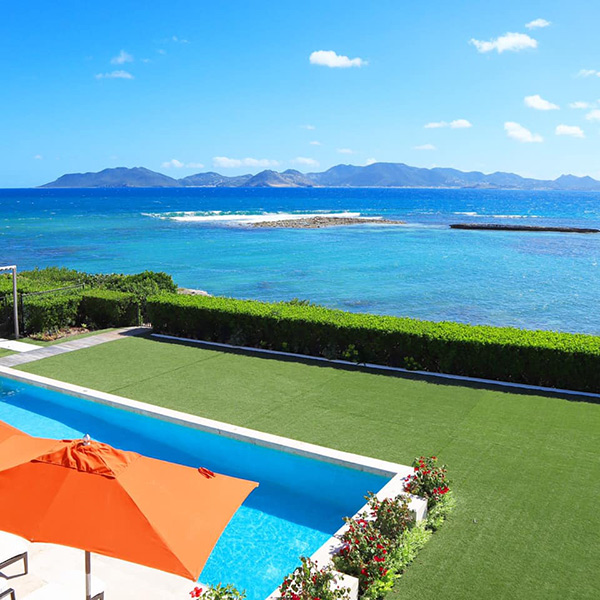 Champagne Shores' post-festive rates begin Jan. 5. They are some of the most competitive Anguilla villa rates! For more on Champagne Shores, visit...
---
Step Inside Spyglass Hill Villa
Anguilla's Spyglass Hill villa is one that has been seen around the world! Featured on House Hunters International, this villa is known for its Caribbean interior design, and its sweeping views of Sandy Ground.
A four-bedroom villa with spacious rooms, this villa blends Caribbean warmth with modern design and finishings. Designed and furnished with distinctly fine tastes, it's no surprise that this home is an Ian "Sugar George" Edwards design, an award-winning architect based here in Anguilla.
The warmth and comfort of this villa hits you the second you step though the front door. It leads you directly into an open-air courtyard with hand-carved stonework.
The courtyard leads to a plush living room, modern kitchen and fabulous outdoor terrace with jaw-dropping view...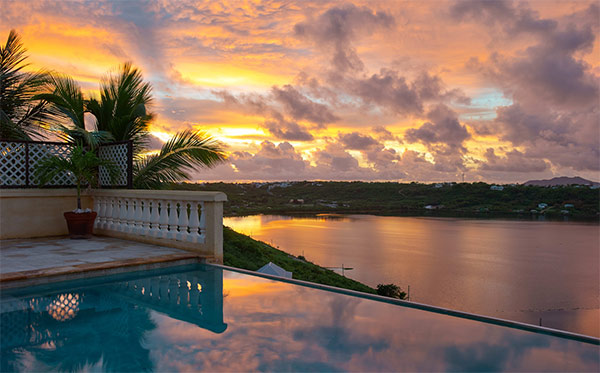 The only word that comes to mind? "Wow!" The rest of the world melts away as you gaze at the water below and St. Martin in the distance.
For a full, BRAND NEW video tour inside Spyglass Hill Villa, click here.
For full details on Spyglass Hill Villa, visit...
---
Winter Remedy: Carimar Beach Club
When the beach calls? Carimar answers...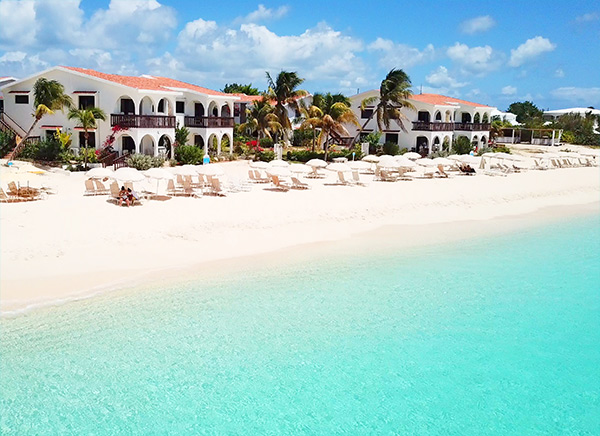 Carimar Beach Club is one of Anguilla's top rated hotels for good reason! Spacious units, right on majestic Meads Bay, just steps from some of Anguilla's tastiest eateries, and all starting at $480 per night...
A perfect winter escape, Carimar and their excellent staff always get it right!
More on Carimar...
---
Real Estate Corner: Bow Green Villa
Our favorite real estate agent, Jackie Pascher has something extra special on the market. This gem is just a few hundred yards from the sandy shores of Rendezvous Bay!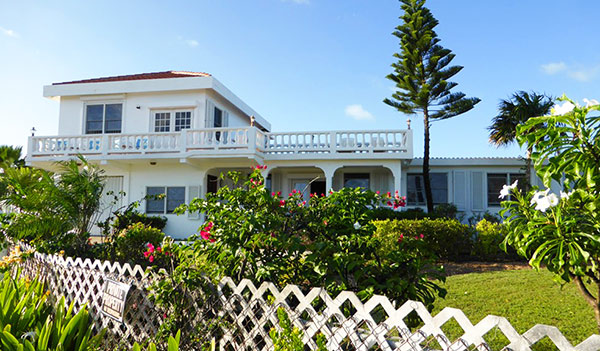 Bow Green Villa features 2 bedrooms, 2 baths, and an open concept living room, dining and kitchen. Upstairs lies the master suite with sitting room, kitchenette and large balcony looking across to Rendezvous Bay and St. Martin.
The large pool and deck is on the back (northern) side of the house. Very private, it makes for a great area for BBQs and parties. There are high-quality solar lights around the pool and also a separate pool bathroom. The lot is fully fenced with charming landscaping.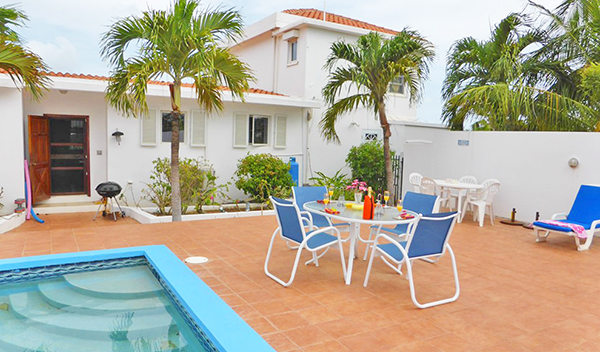 Best of all, you can't beat the location of this property. Rendezvous Bay beach & Garvey's Sunshine Shack is a 60 second walk away!
Bow Green Villa is listed at $1.2 Million.
For details, visit...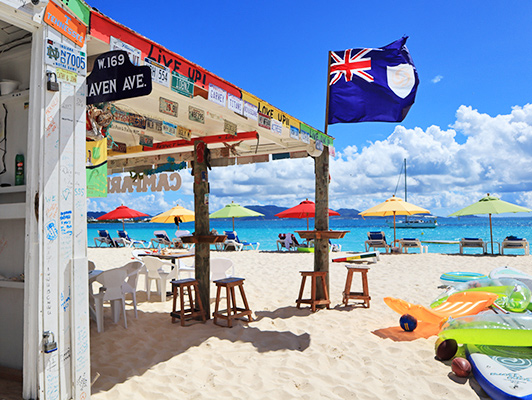 ---
Scilly Cay is BACK!
As we end 2019, it is with great happiness that we announce that Scilly Cay is BACK!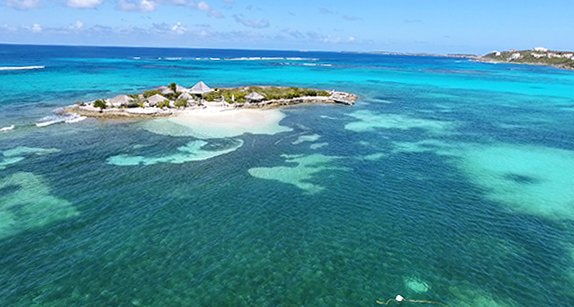 Set on a tiny island off of the coast of idyllic Island Harbour in East End Anguilla, Scilly Cay is a gem of a spot. Here, all you hear is the lapping of water and the rustling of palms.
For lunch? Grilled entrées with fresh salad and cold drinks. Being stranded on a desert island could be tougher :-)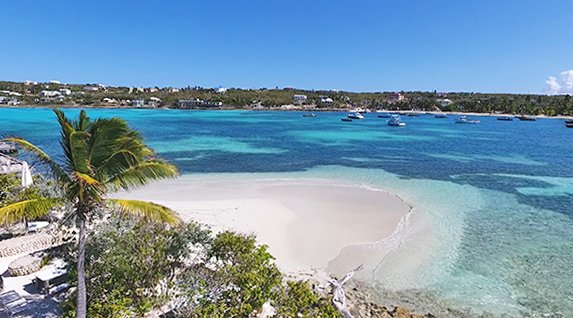 An Anguilla landmark, we cannot visit Scilly Cay without thinking of Mr. Eudoxie Wallace. The founder and original owner of Scilly Cay, Eudoxie is greatly missed since his passing in 2017. Today, his family continues to operate the beautiful island restaurant and carry on the legacy Eudoxie established over 30 years ago.
Cheers to Scilly Cay and the Wallace family.
---
That's all for now!
Here's wishing you and your family a wonderful 2020. May it be the year of SEAing clearly!

Happy New Year from Anguilla,
Nori
Do you have your Anguilla Card yet? Save 10% at 70+ Partners!
---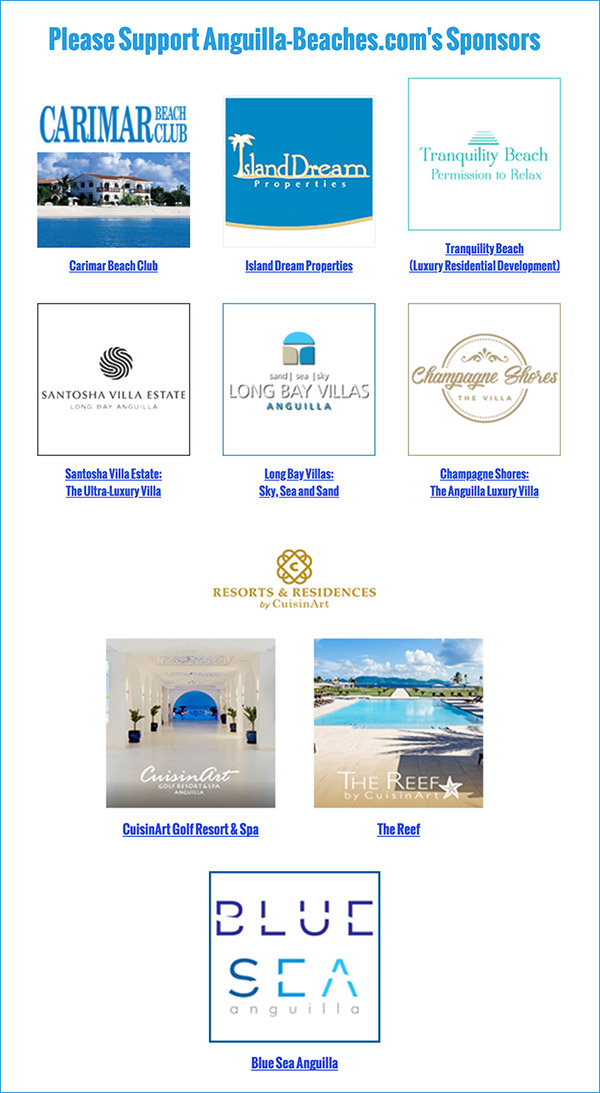 ---
Anguilla-Beaches.com