<![endif]-->
Petals Boutique...
The Top Anguilla-Wear Outfitter
& Souvenir Shop
Anguilla is known internationally for its five-star dining, pristine beaches and luxury villas and hotels. It is also widely known for what it does not have... Cruise ships, crowds and shopping.
That includes everything from charming boutiques to the gold and electronic shops you will find on most Caribbean islands. I will skip the gold and electronic shops every time, but I will take the charming boutique, please!
To many people's dismay, they are few and far between in Anguilla. Jan Klingen at Petals Boutique on Meads Bay at Frangipani Beach Hotel has changed that...
With Janay and Jan at Petals Boutique

Whether you are a local or a tourist looking for comfortable yet chic Anguilla-wear or travel-friendly souvenirs for back home, you can find it all at Petals Boutique. Jackie Pascher, our good friend and Anguilla real estate agent, even did all of her Christmas shopping at Petals!
Inside Petals Boutique
Yuki and I walked into Petals Boutique and felt inspired to one day start our own boutique and clothing line.
Jan, who opened the shop with her sister, has just done it so well. They crafted the shop's concept, choosing everything from the colors, to the merchandise, to their very own label and fragrance.
Petals Boutique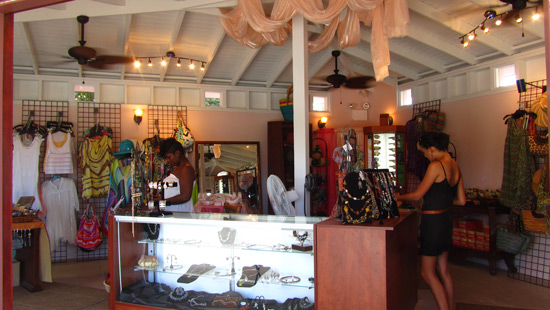 Jan showed us around Petals, introducing us to her very helpful shop manager, Janay.
With white-wooden ceilings, and colored in pinks and draped in pink fabrics, Petals Boutique is pretty as a petal.
It captures the essence of what an Anguilla boutique should be, and blends it with Frangipani Beach Club's rosy and friendly face.
They have many nicely arranged displays show-casing their jewelry, purses and other accessories.
The shop carries a variety of clothing and items for around the house, which make great souvenirs.
Petals is certainly a shop for women, and for men if you are shopping for your woman. ;-)
Petals is also one of the only places in Anguilla where you can get a rash-guard to protect yourself from the sun and surf, or your surfboard if you are surfing in Anguilla.
Petals Boutique For Chic Anguilla-Wear
Dressing for Anguilla's warm temperatures had long been a task I struggled with. Jeans and tank tops made with a mix of cotton and spandex are suffocating in the tropical temperatures.
Breezy linen dresses, skirts and pants are ideal for the weather in Anguilla.
Petals carries some of the leading, and hard to find, designers in warm-weather wear.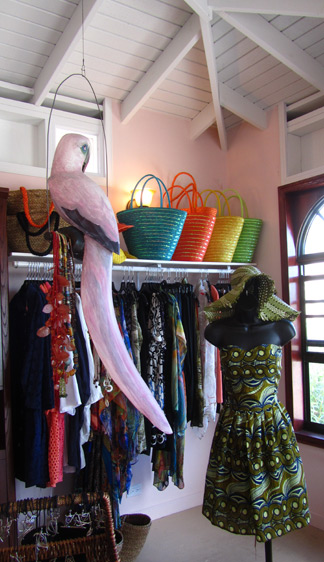 The shop features a hard-to-come-by label, Oh My Gauze.
They create comfortable linen pants that are great for traveling, and for easy wear in Anguilla.
Another label, Echo was a great find by Jan. There are so many unique and vividly colored wraps and scarves, that you won't find anywhere else.
Jan has her own clothing label. The line fits right into Anguilla. The pieces are comfortable yet stylish, with exotic prints.
Petals has also sourced local talent.
They feature a beautiful crochet collection by a local woman.
Crochet is incredibly fashionable (that's what I have heard from my sister the fashionista!) and "in," and hard to find in many other places for a reasonable price.
And, that goes for everything at Petals... All is priced reasonably.
In addition to a terrific Anguilla-wear collection of clothing, being the global jetsetters that Jan and her sister's family are, they have unique pieces of jewelry and other accessories from many corners of the globe, from China to Africa.
These pieces are so rare, you know you will never see anyone else wearing them.
Which was a point that Kristin mentioned...
No one likes showing up to an event, or a restaurant or bar, wearing the same outfit as somebody else.
Shopping at Petals, it is assured that this won't happen. They keep a low stock of "seconds", so they only sell a few of any single item. The other side of that token is if you see something you like, you should act quickly. It's likely the last one left!
Petals for Souvenirs & Anguilla Reminders
The unique jewelry and purses from around the world make thoughtful and portable souvenirs.
One of the nicest souvenirs and reminders of your holiday, especially if you are staying at Frangipani Beach Resort, is Petals' unique fragrance, which is also available as a soap and lotion.
Jan and her sister hand-selected their scent with a professional Parfumerie in St. Martin, the island's French side.
The degrees of variation these Parfumeries are able to detect in terms of scent is remarkable.
"He would show us a few scents we liked. We would say that one, and then he would show us 20 more!" Jan recounted.
It's a lengthy (but rewarding!) refining process.
The lotion has a delightfully refreshing aroma, and the soap has an invigorating exfoliating feature with blueberries in it.
Other charming souvenirs include housewear. As a matter of fact, it was in the housewear section that something really caught my attention...
Turtle Salt & Pepper Shakers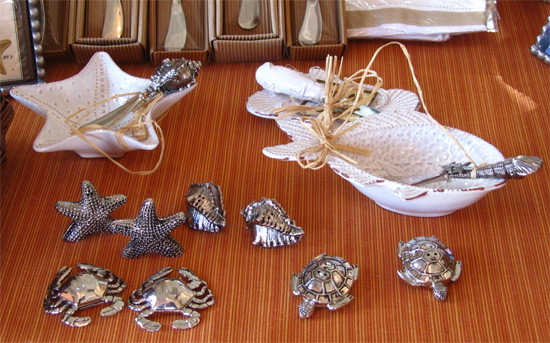 My eye did stray to the starfish bowl (which would really add a seaside touch to our apartment in NYC!), but I stayed focused...
My Dad loves turtles! He has over a hundred turtle figurines, sculptures, and even a giant turtle ottoman. With a large turtle collection, he had never received turtle salt shakers!
Yuki and I returned home from Petals bearing a gift for our Dad.
He was touched by the gesture, and ecstatic to have rounded out his turtle collection!...
Turtle Salt & Pepper Shakers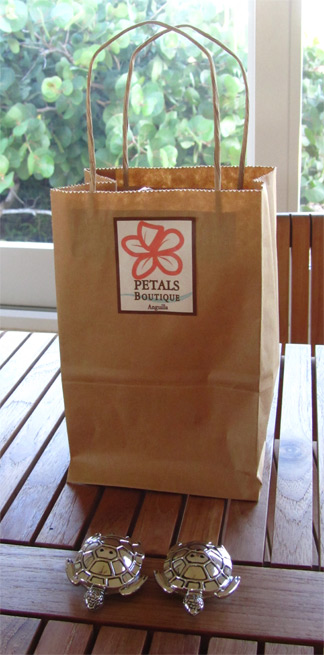 Petals Boutique delivered the perfect souvenir.