The Best in Beachside Anguilla Shopping...
Petals Boutique on Meads Bay
Update: Updated article on Petals Boutique here.
By: Kristin Bourne
We have been anxiously awaiting the arrival of what promises to be the best in Anguilla shopping! I am happy to announce...
Petals Boutique at Frangipani Beach Resort on Meads Bay is open!
At the time of the opening, Nori was up in NYC finishing a semester of studies. (She has since returned home and visited Petals for herself. You can read Nori's review of Petals Boutique here.)
Her Mom (Janice) and I were among the first ones to indulge in a day of shopping at this most lovely beachside boutique...
Charming and chic, comfortable and elegant, classic and cool... Petals Boutique captures the essence of Anguilla, is the ultimate island outfitter, and offers plenty more.
Inside Petals Boutique...
Say "Hello" to Petals' Mascot...
Hand-Painted & Pretty in Pink Parrot

Upon arrival at Petals, Janice and I bumped into Jan Klingen, the general manager and creator of Petals Boutique.
She introduced us to the boutique manager and clothing designer, Janay, who studied fashion abroad and is from Anguilla.
These two ladies have amazing taste and have done an incredible job of filling the boutique with all things beautiful and handy for the beach!
The shop features flattering and warm-weather inspired clothing, unique and fashionable jewelry, and easily transportable gifts for friends at home.
Janay modeling one the boutiques many
gorgeous and versatile pieces

Note: Petals only gets in a few items at most of each piece of clothing! You can really secure your own style shopping at Petals.
If you don't like it when you arrive somewhere on this tiny piece of paradise to find three other people in the same outfit as you, know you can shop confidently at Petals.
The boutique also carries those items you may have forgotten or found you need once you arrive in Anguilla, like an Anguilla BWI rash guard or a wide-brimmed sunhat to shield you from the Caribbean sun.
The boutique has a wide variety, all at very reasonable prices.
Let's Take A Closer Look Inside This Anguilla Shopping Treat...
After speaking with Jan, I was further impressed in knowing the details behind their items.
The artistic leather handbags from
Oregon tempting Janice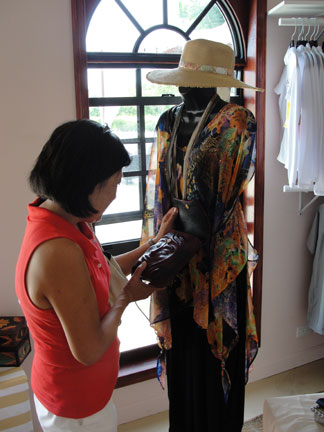 Not only is Petals' merchandise pleasing to the eye, they have some interesting original stories. Here are some examples...
The jewelry alone covers the globe. Amber from Croatia and Turkey, pearls from Asia, funky handmade rings from San Francisco.
Petals carries the most amazing little leather handbags that I would call art.
Petals found a lady in Portland, Oregon who uses the softest leather and creates small handbags and clutches with a face imprint in the leather.
Janice and I found them so interesting and pretty.
You can see them tempting her in the photo to the left. ;-)
This Anguilla Shopping treat even has
Lindsay Phillips Switchflops!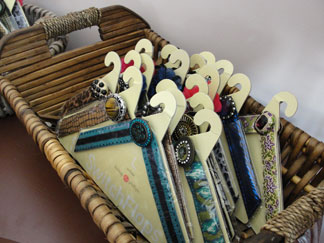 We were also introduced to Switchflops by Lindsay Phillips.
If you are a shoe addict, you will want to keep reading about this...
Switchflops have flip flop bases and the footstraps are interchangeable! Petals carries 4 different bases.
How nice to be able to pack one pair of shoes and however many straps you own. You could "change" shoes three times a day! Petals has a nice variety of straps too. How fun!
I was drawn to the table with all of the nautical merchandise on it. It reminded me of one of mine and my mom's favorite shops at "the beach" where my family has always gone.
This table held a nice conch shell-tipped spreader, sand dollar napkin rings, and other small and clever nautical-themed things.
Gift items and top-notch nautical decor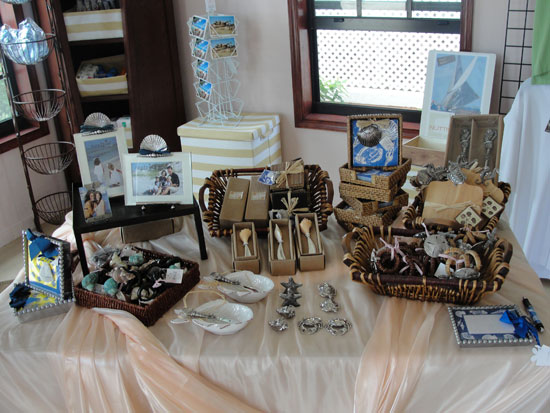 As we looked around we saw a very good selection of hats, men's shirts, women's dresses and cover-ups, handbags, jewelry, and some novelty items like the versatile bands that can be used as a head wrap or a belt.
This mannequin models the cool material
which doubles has a belt or head wrap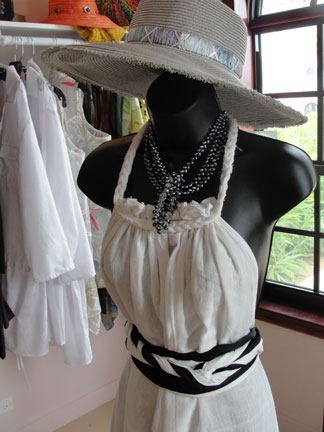 Some of their apparel is their own, not to be found anywhere else, it's called SheSheSharade. All of the pieces had beauty, uniqueness, comfort, and style.
One line that Jan is really excited about is called Oh My Gauze. They carry a variety of pieces from that brand... All high-quality, never wrinkling, fresh and breezy pieces that remind you of the softest gauze you've ever felt!
Most of the pieces are in solid colors too, and Petals' jewelry really pops on the pretty solid colors.
One of the most exciting pieces? Petals carries Maui Jim sunglasses! Now I know, you know that Petals carries good quality as that is a brand to be reckoned with.
Also on hand for those of you who appreciate the sport and the history of boatracing in Anguilla like I do, you will want to pick up a copy of the dvd "Nuttin Bafflin". This dvd is a visual for the book written by Anguilla's David Carty.
I fell in love with this little dress!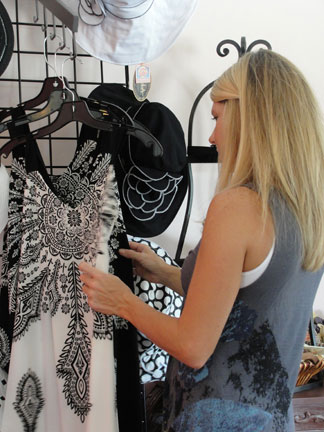 The shop's selection is wide.
Janice and I noticed many things for Nori and Yuki, and plenty for ourselves too!
The great news is I saw some very affordable "steals" for such a nice boutique.
The little black and white dress that I payed extra special attention to was so soft and well made, and $45.
The price tag could have easily said $130.
I was amazed!
One last special touch...
Petals Features Their Own Signature Fragrance!
As we meandered through the shop, we found Petals signature fragrance, "Beaches."
Jan showed us the perfume bottle which was a pretty and simple glass bottle filled with perfume the color of Anguilla's amazing blue waters. The presentation of it was pretty. The scent was clean, fresh, and sweet without being overpowering.
Jan and her team worked with a perfumery in French St. Martin to create it... It is one of a kind. I started wondering if there was anything this boutique didn't have! ;-)
How refreshing!
And that sums up Petals... refreshing, one of the only shops of its kind in Anguilla. The selection is just right for a variety of tastes, with everyone being so cool, stylish and refined, at just the right price.
Janice and I with Jan, just outside of Petals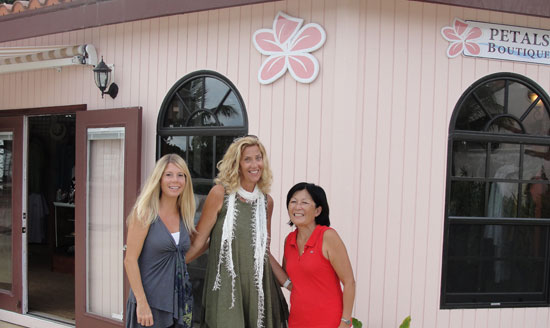 Petals is a pretty boutique worth the visit. I know Janice and I are already planning our return with Nori and Yuki when they return from studying up in NYC.
We are going to make a day of it... Because one of the best things about Petals Boutique is the location, right at the beautiful beachfront Anguilla resort Frangipani Beach Resort.
When you park to visit Petals, you can't not be blown away by the immense blue radiating from Meads Bay as you stroll in to the boutique...
Tip: After you step out of parking on to the walkway, Petals is just to the left. If you follow the sign to the Frangipani reception area, you can't miss Petals. It's a short walk from the main parking area.
Magnificent Meads Bay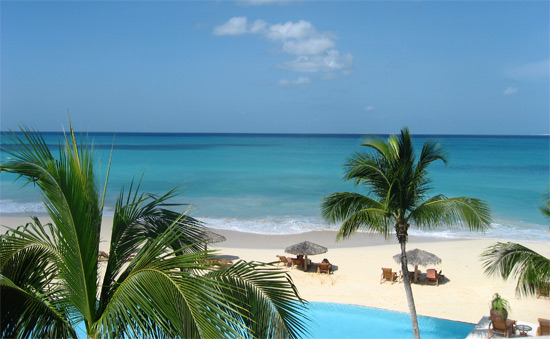 Shopping at Petals Boutique, then taking your fashions to the beach for a stroll, swim and lunch on Meads Bay...
Is there a better way to spend an afternoon on an Anguilla vacation?