Anguilla Hotels...
Frangipani, "The Hollywood Hotel"
Update: For the most recent article see our main Frangipani Beach Resort page.
What is the most famous yet reasonably priced of all Anguilla hotels?
I'll give you a clue.
It's pink and stucco, with red on top.
It's neighbors with Malliouhana and Blanchards and Viceroy.
Give up?
The Frangipani Beach Club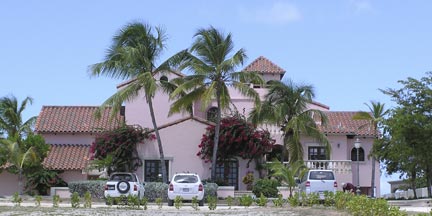 Whenever we're bumping along (blast those speed bumps!) t he Meads Bay's ocean road, we always remark upon this pretty, pink establishment.
We've passed it many times. And of course we had seen it in tourist brochures at the airport and ferry, but not once had we ever explored "Frangipani land."
My Dad being the curious cat he is, needed to see this place in the flesh.
He slammed on the breaks. "This time we check it out!"
I stepped out of the car and onto the hot, black pavement.
Oh, the sounds!
The breeze rustled the palm trees.
Meads' waves gently lapped the shore, in the near distance.
It was sublime!
My Dad and I ventured down past the pool, through the green gardens and were about to take the tiled path down to Meads Bay, when I stopped and looked around us...
Frangipani's architecture was unbelievable!
The distinguished features made this Anguilla hotel feel as if it had been plucked from a Hollywood movie set.
Either a movie set, or an imitation of the The Beverly Hills Hotel, perhaps.
It was pink, the gardens were lush and green, and the roof decked in Californian-esque tiles.
Anguilla? California? Where was I?
And then my Dad awoke me from my daze, and called me to catch up with him on the beach.
Frangipani has a superb location, impeccable grounds, and Anguillian luxury.
For the most part, visitors give this Anguilla hotel excellent reviews. Some however, have been unhappy with it.
But being a cinema student, I'm not sure the bad reviews would keep me from renting a room here one day. (I'd insist upon one of the largest rooms closest to the ocean, shown in the photo above.)
Or, maybe I'll just shoot a movie with my good buddy Steven Spielberg right at the Frangipani Beach Club. Ha! Ha! That'd be the day.
Seriously, it's certainly Anguilla's prettiest hotel.