Anguilla's Frangipani Beach Resort...
Travel + Leisure's #1 Resort in the Caribbean
We have always admired the Frangipani Anguilla resort. Pretty-in-pink, this hotel so sweetly graces one of Anguilla's most spectacular shores, Meads Bay.
Frangipani Beach Resort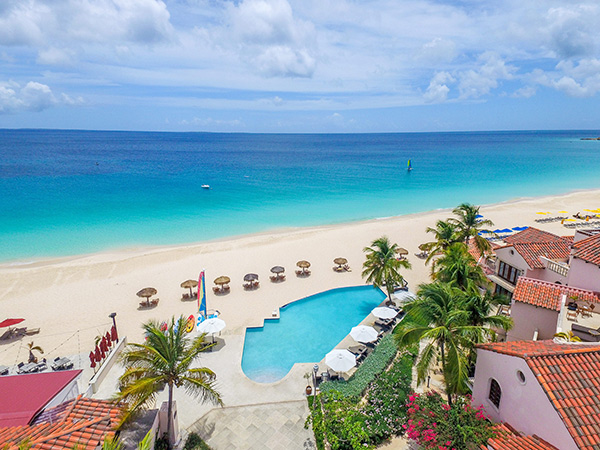 Photo: Frangipani Beach Resort
Before we moved to Anguilla, Frangipani Beach Resort caught our eye on each and every Anguilla vacation, enticing us to stay. But (before the Caribbean construction was completed on our Anguilla home), our parents were faithful to Anguilla villas. It would take a lot to sway them from an Anguilla villa vacation!
So we had only admired the resort from afar. Not knowing much about the Anguilla hotel, Frangipani remained a mystery.
Today, though there is no missing Frangipani. It is Travel + Leisure's #1 hotel region wide!
Travel + Leisure's #1 Hotel in the Caribbean

Meet Shannon & Scott Kirscher
Frangipani's popularity has been soaring in recent years years. Travel + Leisure's accolade is a major testament to the passion and love poured into the property every single day. Two of the people behind that passion and hard work?
Scott's family took over ownership of the hotel in 2004-2005. The family did a major hotel overhaul, restoring its positive reputation from years prior. Shannon and Scott took it notches higher when they assumed management a few years later.
Scott is a familiar face in Anguilla. My sister, Yuki and I have known him for years, often chatting with him at Pumphouse and Elvis'. He is one of the sweetest guys you will meet. He and Shannon both live and breathe Anguilla. In fact, they were married on Meads Bay itself in 2013! Like Scott, Shannon is the picture of sunshine.
With room and suite upgrades and Shannon and Scott's many amenity additions, coming to Frangipani is like coming home.
Inside Frangipani Beach Resort
The experience begins at the reception area, which opens onto Frangipani's tranquil "second pool." Sparkling-blue, it is a sight for eyes sore from a day of travel.
The pool backs onto a conference area, spa and Petals Boutique. Frangipani's state of the art gym is upstairs, with commanding views of Meads Bay.
Gym at Frangipani

The gym features Precor equipment and weights. For sports, Frangipani also has a tennis court. Private lessons for tennis, yoga and fitness can be arranged via Frangipani's concierge.
Down on the main floor, and out beyond the smaller pool at reception, lies the pool. The one you see all over Instagram!
Endless Blue Views

Have you seen a pool more inviting? Its infinity edge drops off to Meads Bay's smooth sands. Frangipani's signature palapa-style umbrellas visually dot the blue water just beyond. No matter the angle, Frangipani's pool-and-beach combination always catches the eye.

Photo: Frangipani Beach Resort
Photo credit: Frangipani Beach Resort
The pool is just steps from Frangipani's beach, Meads Bay. It is one of Anguilla's most magnificent beaches.
Magnificent Meads Bay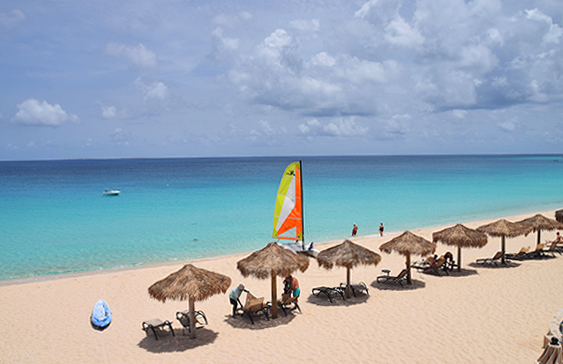 Frangipani offers many ways to enjoy the sea. Their 17' speed boat is available for complimentary water sports, including waterskiing, wakeboarding and tubing. Their 36' powerboat catamaran is available (at a cost) for trips to offshore cays and beach hopping. As for non-motorized sports? Kayaks, SUPs, Hobie Cats, Shannon and Scott have thought of it all.
For relaxing days at the beach, settle into one of Frangipani's beach chaises. Lunch and cocktails are served right to your beach chair, making for the ultimate beach day set up.
What's for lunch? Frangipani impresses here yet again. Famous Straw Hat is their on-site restaurant!
Straw Hat at Frangipani Beach Resort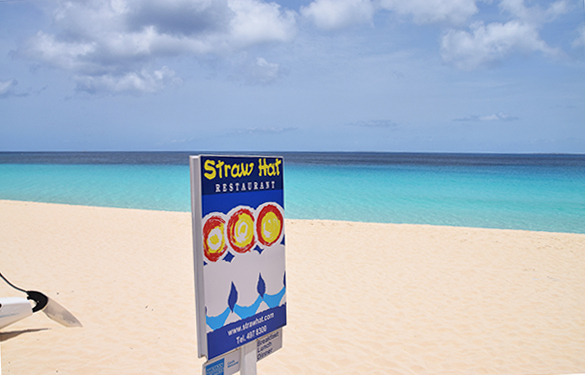 Straw Hat is a mainstay here in Anguilla. It is one of "Anguilla's best" for high-end dining. To have it available on the beach and as room service, too? Now that's a dream!
Frangipani's Rooms & Suites
Frangipani is a high-end boutique hotel. Its intimacy is what gives the family-run resort such a personal feel. The entire property has 19 rooms and suites and a separate villa. The rooms and suites layout over Frangipani's main three story building. Every room boasts a private a terrace and most offer those beautiful blue views.
Terrace View

Frangipani's suites are extra sweet. All suites boast Meads Bay views and come with plenty of space. They are made for Caribbean living, with full kitchens (and state of the art appliances), living area, two bathrooms and even a washer and dryer.
Living Area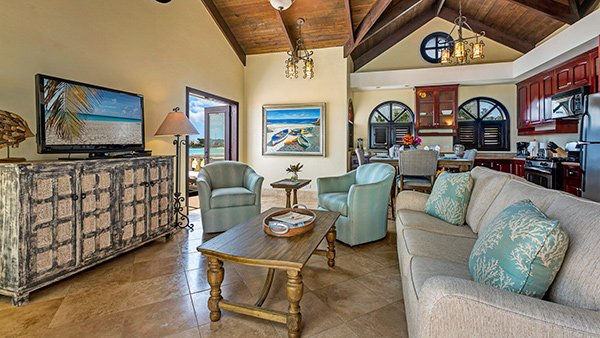 Photo: Frangipani Beach Resort
Kitchen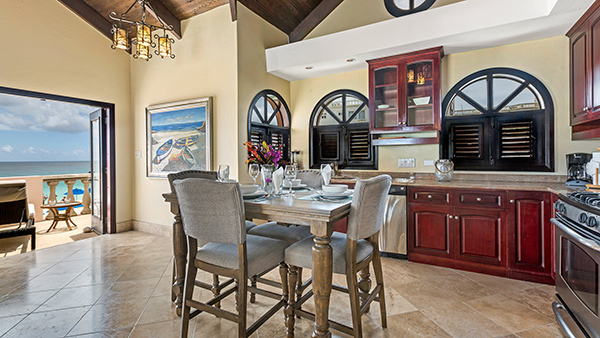 Photo: Frangipani Beach Resort
There is plenty of space throughout the living, dining and kitchen area. The bedrooms are also of generous proportions, each with rich linens, an ensuite and the master bedrooms have that view.
Bedroom With Ocean View


Photo: Frangipani Beach Resort
Suite types include...
King Junior Suite
One Bedroom Suites
Two Bedroom Suites
Three Bedroom Suites
One Bedroom Penthouse Suite
Contemporary-Caribbean is the flavor of the day.
Plush couches, rich mahogany cabinets, cave showers and vessel sinks are just a few of the luxurious touches.
Deluxe Bathroom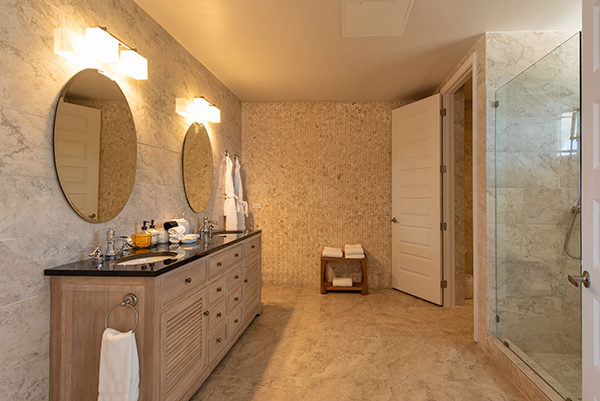 Photo: Frangipani Beach Resort
When it comes to everything electronic, Frangipani has that covered, too with flatscreen TV's, complimentary WiFi and air conditioning.
The ground floor suites, the second floor suites... they all offer tremendous space, light and views.
Perhaps most impressive of all is the one bedroom Penthouse Suite on the third floor with oversized terrace.
In addition to suites, Frangipani offers two types of rooms.
Luxury Ocean View Rooms
Standard Luxury Rooms
Frangipani's rooms feel similar to their suites. The main difference is in space. The "rooms" do not have kitchens and washers and dryers.
All suites and rooms layout well for large families traveling together. You can join suites and rooms, so you can bring your whole family on vacation without being cut off from them throughout your stay.
If you are traveling with a large group, Frangipani's villa may be the perfect option. At 5,000 square feet, it captures the charm and beauty of the hotel yet offers more space and privacy. It is set just to the west of the resort.
Villa Views


Photo: Frangipani Beach Resort
Final Thoughts on Frangipani
The sights, the sounds (of the lapping waves), the tropical garden surroundings... that is just the beginning. The beauty of the Frangipani Beach Resort lies in the "feel" itself. It feels like home.
The family-run hotel is comfortable, relaxed, welcoming and accommodating. It is all accentuated by personal and thoughtful touches and amenities.
Complimentary motorized water sports (including tubing, wakeboarding and waterskiing!)
Complimentary WiFi
Straw Hat restaurant on-site and available for room service and direct to your beach chair
Luxurious rooms and suites with it all, even washer and dryer
State of the art gym with panoramic views
Weekly cocktail party
... these are just a few of the extra-special touches that separate Frangipani from the rest.
It's no wonder demand is high. With such reasonable costs by Anguilla resort standards, the value is excellent.
Shannon and Scott and the whole team at Frangipani go above and beyond.
Contact Frangipani
Tel.: 1-264-497-6442
Toll Free: 1-877-593-8988
Email: info@frangipaniresort.com
More on Frangipani Anguilla