Inside Frangipani Anguilla Resort
My family and I have always admired the Frangipani Anguilla resort.
The pretty-in-pink hotel graces one of Anguilla's most spectacular shores. It has caught our eye on each and every Anguilla vacation, enticing us to stay.
But, back in the day (before the Caribbean construction was completed on our Anguilla home), we were faithful to Anguilla villas.
It would take a lot to sway us from an Anguilla villa vacation!
The Anguilla hotel did go through some turbulent times in the early 2000s, and we had only admired the resort from afar. Not knowing much about the resort, or having heard consistent experiences, Franigpani remained a mystery.
But, today, Frangipani Anguilla resort is one of the #1 rated hotels island wide!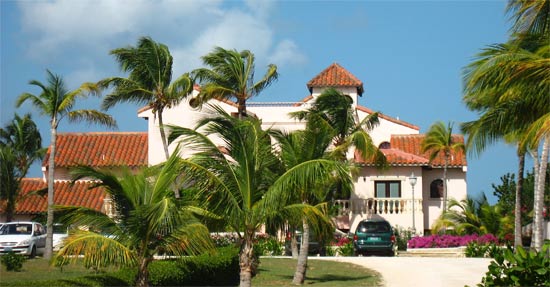 In 2004-2005 the resort changed hands and has been growing in popularity ever since. The new management did a major overhaul, restoring its positive reputation from years passed.
We heard great things, but still wondered what Frangipani was really like inside...
It was during a quiet breakfast at Straw Hat (the restaurant at Frangipani Anguilla) where I saw a familiar face, Scott Kirscher. Scott is just a few years older than Yuki and me. We both lived in Anguilla at the same time in 2009, having chatted several nights at Pumphouse and Elvis'. He managed the hotel at that time. His parents own the resort and now, his uncle Alex and aunt Jan manage it while he studies in D.C.
Warm and friendly as always, Scott came over to say good morning. What started with a "good morning, how was breakfast?" turned into an introduction to Jan and a tour of their fun resort. At last, it was happening!
Scott, Jan and My Dad at Frangipani Anguilla Resort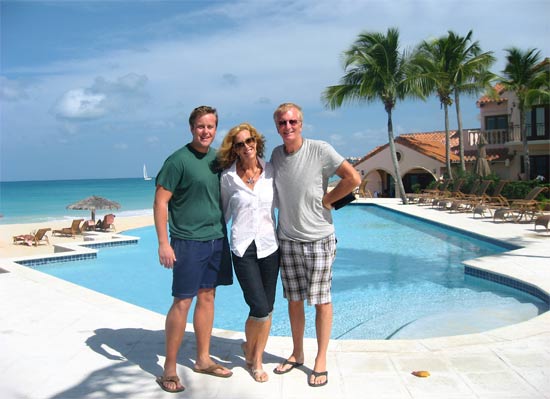 Jan and her husband Alex moved to Anguilla in August 2009 from Texas. What a kind and inviting woman. Sunny and sweet just like Scott!
And so, the tour began. We walked passed the pool area near the beach, and then passed their second pool near their reception area... So still and serene.
We were on our way to a ground floor, one bedroom suite. The layout was noteworthy. Jan unlocked one large wooden door to reveal three more doors that each lead to one bedroom suites and luxury rooms. It is laid out so you can bring your whole family on vacation without being cut off from them throughout your stay.
A First Floor Suite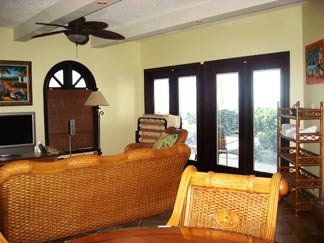 Patio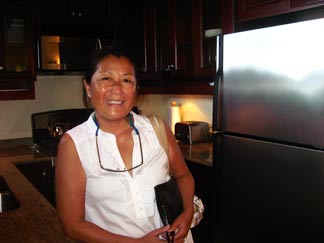 Wow.
My Mom fell in love...
The rooms were spacious and cool with beautiful views of Frangipani's gardens and the beach in the distance.
The kitchen was rich and elegant with Mahogany cabinets, and state of the art appliances.
The washer and dryer (in each suite) was my Mom's favorite part! ;-)
The Bedrooms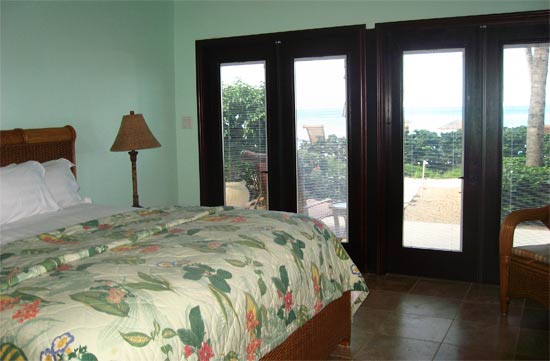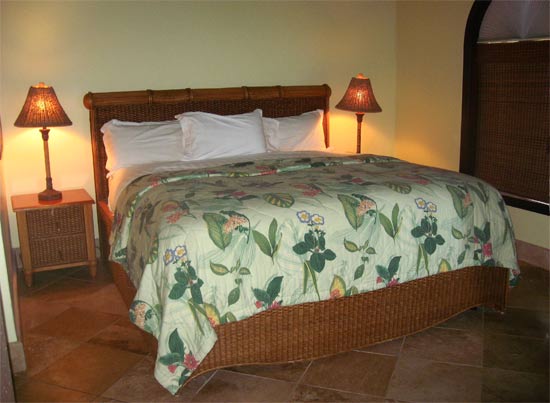 The bedrooms were of generous proportions, each with down comforters and fine linen. Flat screen TVs in each suite too. The master bedrooms opened onto a quiet patio... My Dad and I checked out the view.
The Beach Beyond

Look Up!

The ground floor suites were beautiful, but we were really blown away by the Penthouse suite!
Huge Living Space With Plush Couches & Rich Mahogany Fixtures
(The Light Streams Through the Windows in The Late Morning, Brightening the Room!)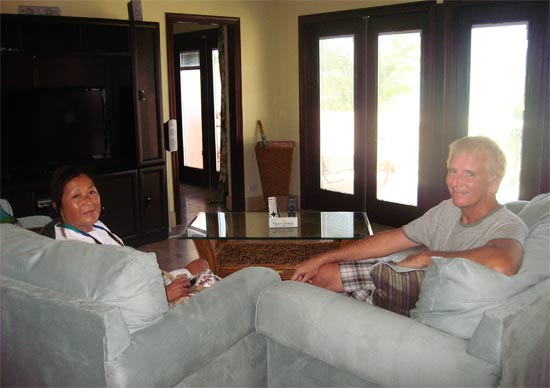 Fully Equipped Kitchen

The best part?
The view & terrace!
The sights, the sounds (of the lapping waves), the surroundings... We loved it all. But the beauty of the Frangipani Anguilla resort is in the "feel" itself.
The family run hotel feels comfortable, relaxed and so welcoming and accommodating. From the managers (Jan and Alex) to the maids... Everyone is inviting, calm and helpful, making you feel right at home.
On our way out we ran into Jan's husband Alex, who was returning from an outing. How lucky to meet him right at the very end of our tour!
Alex and Jan at Frangipani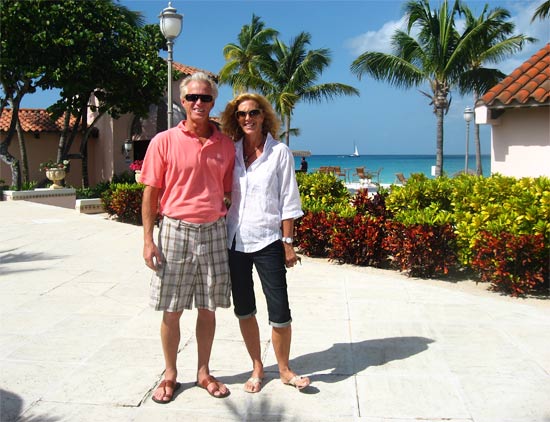 We chatted for a bit about the progress of Frangipani. How far it has come. Location and lush grounds and gardens (well maintained too!), the personal service, one of our favorite Anguilla restaurants on site, luxurious rooms, and many beach sports including water skiing, wakeboarding and tubing! I haven't seen that offered anywhere else on Anguilla! It's no wonder demand is high with such great value and very reasonable costs by Anguilla resort standards. They have gone above and beyond.
After we parted ways, my Dad and I stopped at the salt pond behind Meads Bay, just across the way from Frangipani. Another perk to staying at Frangipani?
It's A Bird Watcher's Heaven!

Our curiosity couldn't have been cured at a better time when Frangipani has been rebuilt, refurbished, and redefined, its reputation more widespread, the resort more loved than before!
It almost makes my family and I disappointed that we no longer seek Anguilla accommodations. ;-)
Contact Frangipani
Tel.: (264) 497 6442
Toll Free: (877) 593 8988
Email: info@frangipaniresort.com
More on Frangipani Anguilla