<![endif]-->
Coming Soon...
An Anguilla Boutique By The Beach,
Petals
Update: Petals is OPEN. More on Petals here.
On a five-star island, with world class cuisine and pristine beaches, Anguilla is only missing one thing to make vacations complete for the elite... Shopping.
This isn't St. Martin, or St. Barths, where row after row of charming cobble-stone streets is lined with French boutiques carrying the latest designs and trends in warm-weather wear. What Anguilla lacks in historic horse-trodden roads, it makes up for in spectacular sea scenery...
And, would that not be the most perfect shopping setting?
Shop by the sea, then unwind with a tasty lunch and a glass of Pinot Grigio by the sea, and maybe even take a dip in the turquoisey blue?
Jan and Alex Klingen, general managers of Frangipani Beach Resort, are onto something...
Opening November 2011, Petals Boutique on Meads Bay at Frangipani Beach Resort
Dad with Scott Kirscher (Owner's Son) and Jan Klingen (General Manager)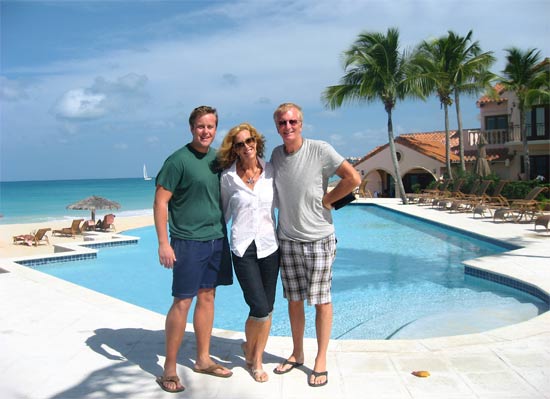 Location? Check... Frangipani Beach Resort on Meads Bay, one of the island's top three best beaches.
Post-shopping lunch? Check... Straw Hat, serving one of the best lunches on the island.
What about the shopping itself? Perhaps the best in Anguilla shopping, especially considering Jan's great personal style!
I recently spoke to Jan about Petals. Here is what she had to say...
Petals Boutique will feature jewelry, clothing and gifts from near and far. Handcrafted one of a kind jewelry from around the world, beautiful designer beachwear including collections from Echo Designs, Oh My Gauze, SheShes Sharade, Capelli and Lindsay Phillips, along with a large selection of beach bags, hats and fun fashion accessories.
Petals will also be an essential Anguilla shopping stop for anyone looking for local handmade pottery, sculptures, photography and original artwork inspired by the beauty and culture of Anguilla.
I am especially excited to announce Petals signature fragrance, Beaches, lets the vacation experience linger a little longer with our perfume, lotions and soap. We will also carry T-shirts, caps and visors with original designs for the whole family!
From the beach fashions, to the local Anguillian crafts, to the unique Petals and Frangipani Anguilla resort souvenirs... Petals will be our next Anguilla shopping stop when we go home to Anguilla this Christmas!
Petals will open November 2011.
Keep in touch through my Facebook page for more details and updates on Petals!