Combing Anguilla's Beaches for the Best
Anguilla Beach Lovers brings you the latest additions to one family's experiences of the "best of all things Anguillian."

If you like this e-zine, please do a friend and me a big favor and "pay it forward."

If a friend did forward this to you and if you like what you read, please subscribe by visiting...
---
A Special Offer From A Charming B&B...
$130/Night in Anguilla!
Lloyd's Bed and Breakfast has long held a special place in the hearts of many.
Back in 1959, the Lloyd family opened their doors to visitors. They were the first to operate a hotel in Anguilla. True to its name at the time, Lloyds Guest House, every traveler was greeted with a warm welcome, treated as if a long-time friend of the family.
That sense of family and togetherness still exists today at Lloyd's.
Merline, Hosapha and Maura run the B&B. They do it all, from cooking you a full daily breakfast (included in the rate), to helping you organize your departure, and everything in between.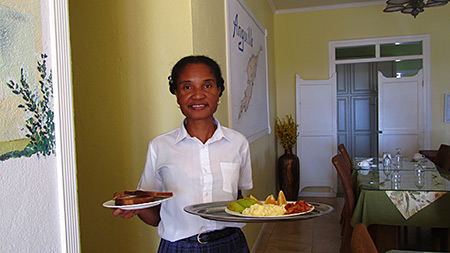 As an aside, the breakfast is delicious! Similarly to B&Bs in Europe and the UK, breakfast served at Lloyd's is a full breakfast of bacon, eggs, grilled tomato and toast. It sure is a treat to wake up to this every morning...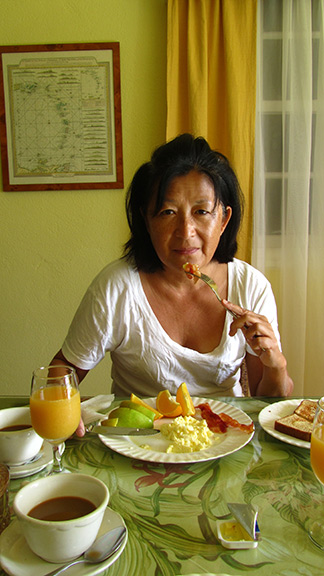 The B&B has been renovated, yet still maintains its original authentic charm. A wooden building, painted lively Caribbean colors, Lloyd's fits right into the Anguilla of morning doves, rice and peas, frolicking goats and freshly baked johnny cakes. This is the real Anguilla.
Inside, there is a large living space with TV, a kitchen and dining area, and 13 private bedrooms with ensuite bathrooms, each with a/c and WiFi.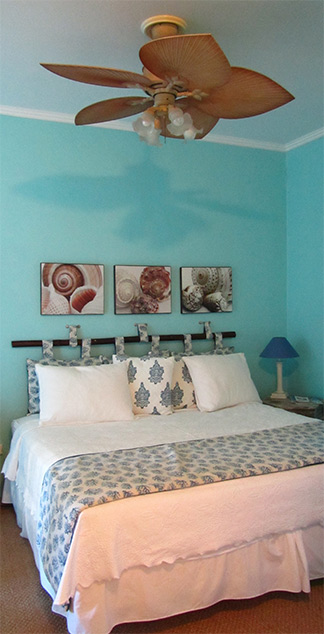 Set in the historic Lower Valley, Lloyd's is centrally located on a bluff overlooking the Valley and St. Martin. It is a 10 minute walk to grocery stores and a 5 minute walk to calm Crocus Bay, one of our favorite beaches...
Crocus Bay is home to one of the most mouthwatering restaurants on the island, daVida. They serve a tasty and affordable lunch at their laidback "Bayside Grill," and tapas and dinner in their elegant dining room. Sunset tapas here is our #1 way to spend a quiet evening. My Mom loves the shrimp dumplings served in a coconut type broth. Plus, just look at the setting... :-)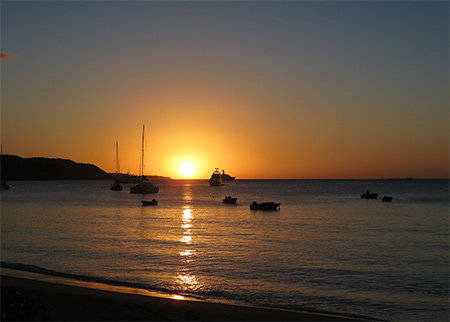 Also, if you're up for a little adventure, Little Bay is just a 5 minute boat ride from Crocus Bay. Only accessible via boat or by scaling down a cliffside, Little Bay is an exotic treasure with terrific snorkeling.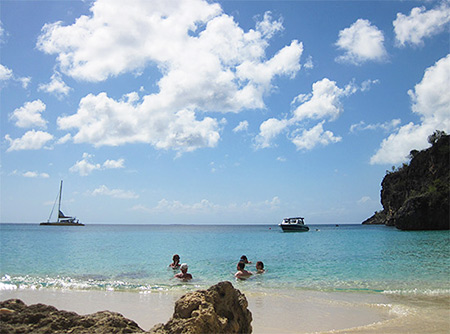 All in all, Lloyd's offers a tremendous experience at an affordable price.
For double occupancy, a room at Lloyd's is $150/night. They are now running a summer special. If you stay 7 nights, the next night is free. Breakfast and transport to/from ferry is included. That all boils down to less than $130/night!
With low airfare, warmer seas, quieter restaurants and beaches, and all of Anguilla's summer festivities, it is a fun time to be in Anguilla, too. :-)
For more information contact Lloyd's via phone here: 1-264-497-2351. Or, click here to visit their website.
Hope this special brings some sunshine to your week!
Nori
Anguilla Beaches Home Page
---