Da'Vida's Tapas Score High
Anguilla Restaurants Ratings
Da'Vida has had consistently high Anguilla restaurants ratings right from their early days.
Each of their several dining experiences are phenomenal.
From an elegant evening, to a relaxed beach day, it is easy to lose track of time down on da'Vida's Crocus Bay.
Somewhere between a grilled fish wrap at da'Vida's Bayside Grill, Crocus Bay kayaking, and your last post-meal Espresso after the best steak on the island in da'Vida's luxury Anguilla restaurant, you wonder where did the day go?
One of our da'Vida favorites is their tapas menu.
Tasty bites and drinks, with a setting that is hard to beat... Could anything top this recipe for a perfect sunset drink and snack?
Da'Vida has outdone themselves again!
They have re-vamped their menu, adding several new instant-hits.
Before biting into da'Vida's tapas menu?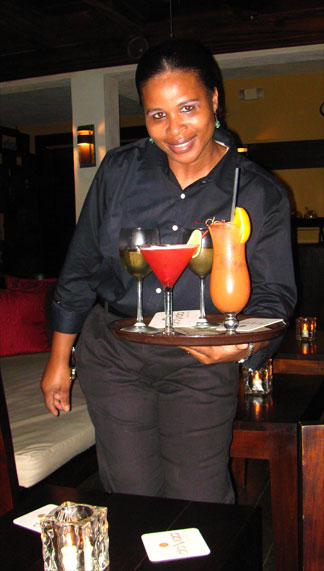 Drinks.
Two glasses of Pinot Grigio for my Mom and me.
Dad?
A rum punch.
But you already knew that ;-)
Yuki was the only adventurous one who sampled a Reggae Cosmo.
Our kind waitress Myra told us that it's one of their most popular drinks!
We knew it was good when Yuki (who normally sticks to Diet Cokes) considered ordering a second.
We were ready to eat!
Their tapas menu consists of...
Lobster spring rolls
Shrimp dumplings
Jerked pork
Seared tuna with wasabi
Beef kebab with terriyaki
Sesame crusted chicken
Seafood pizza
Caribbean corn and vegetable fritters
Each one sounded equally mouth-watering. How would we ever choose?
Problem solved: order one of each!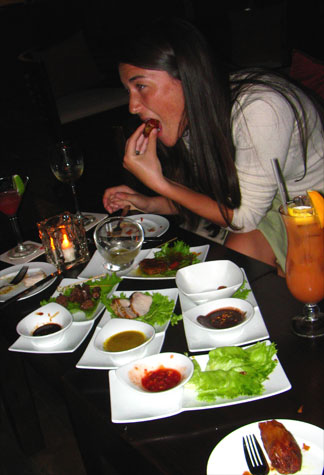 In the photo to the right, you can see I'm biting into my first ever lobster spring roll...
Exotic Asian sensations...
Rich Caribbean spices...
An exceptional blend and fusion of two cuisines, worlds apart!
The lobster spring rolls are my favorite dish.
They are crisp on the outside, warm on the inside and served with a plum-like glaze on the side.
They rival any of the best spring rolls I've had in the most authentic Chinese restaurants in New York City's Chinatown. And I've never seen lobster on their menus!
Another favorite are the corn and vegetable fritters.
The fritters are deliciously deep fried in a light batter, served with a sweet Asian dipping sauce.
Of course, I'm not just about deep fry!
The jerked pork disappeared fast.
The heat is nicely cooled by a refreshing cucumber sauce. Heavenly!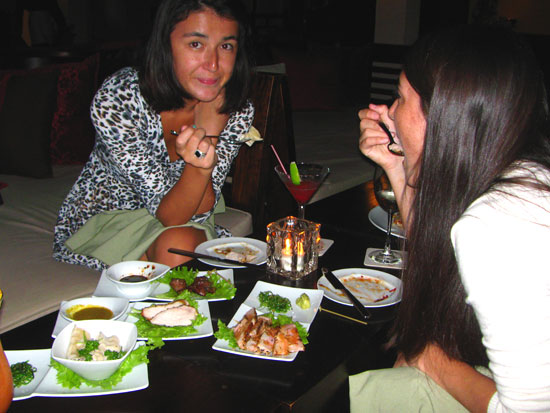 All in all, da'Vida's tapas make for a tasty, light meal in a 5-star setting at an extremely reasonable price.
Of all the high-end Anguilla restaurants, da'Vida is the best deal, offering the most value. Their prices are lower than the other high end restaurants, and without compromising any quality. It is 5-star all the way.
Da'Vida has put true care and deep research into their tapas menu, and the integration of Asian flavors. My family has a discriminating tongue when it comes to Eastern tastes, so we can safely say that da'Vida got it right!
Da'Vida has cast the glove down. Last year, SandBar set the bar, challenging da'Vida. This year, da'Vida responded by raising the bar. They're neck and neck. SandBar and da'Vida both provide THE best tapas (or any type of late afternoon light meal of appetizers) experience on the island.
Both provide outstanding ambience, SandBar is small and intimate (but often crowded), while da'Vida is a grand-and-truly-Anguillian experience. Both are on-the-beach-sunset-perfect.
So which do you choose? If it's a busy time of the year, I'd choose da'Vida because we prefer not to wait or feel rushed (especially if you want to lounge around after eating, with a couple more drinks). And that's not a criticism of SandBar, because their tapas are equally superb and I die for their salt fish mashed potatoes. We honestly can't pick a winner, but hopefully the above gives you some useful guidance.
No matter which you choose (or do both!), tapas provide a wonderful way to have a lower-priced early supper. The special bonus is that you have the entire evening to do something else in Anguilla after dinner!
Da'Vidas serve tapas Tuesdays-Sundays in the late afternoon.
Be sure to try da'Vida's tapas at sunset. It is one of the most magical experiences, enhanced by their unique Asian-Caribbean-luxury setting, distinguished by the undeniably delectable cuisine.
The memories are indelible.
The only question? Your Anguilla restaurant reviews: the Reggae Cosmo or the Rum Punch? ;-)