---
Combing Anguilla's Beaches for the Best
Anguilla Beach Lovers brings you the latest additions to one family's experiences of the "best of all things Anguillian."
If you like this e-zine,, please do a friend a favor and "pay it forward."
If a friend did forward this to you and if you like what you read, please subscribe by visiting...
---
Issue #123, November 17, 2019
To beach or not to beach? 🤔💭🏝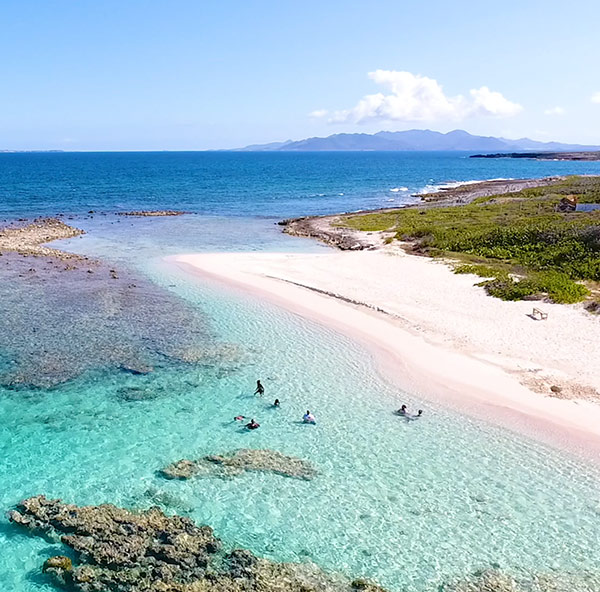 In Anguilla, "beach" is always the answer 😁💗⛱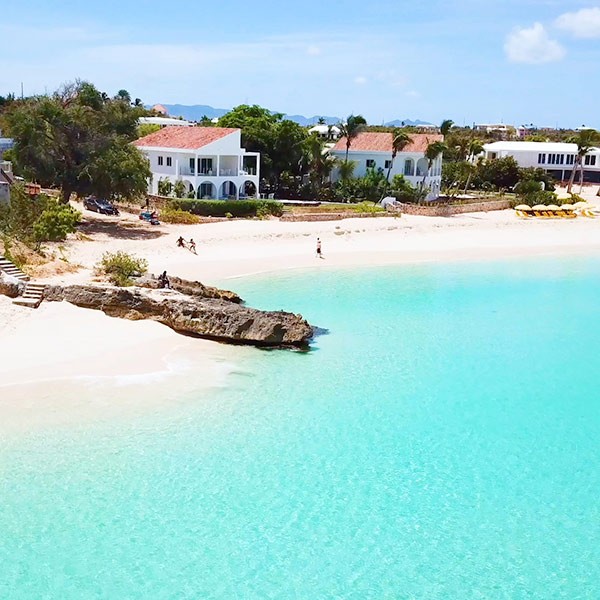 Things have been heating up fast in Anguilla!
CuisinArt, Four Seasons, Malliouhana and Cap Juluca have all opened their doors. With mega weddings, lots of re-openings and plenty of upcoming events, the season is off to a superb start.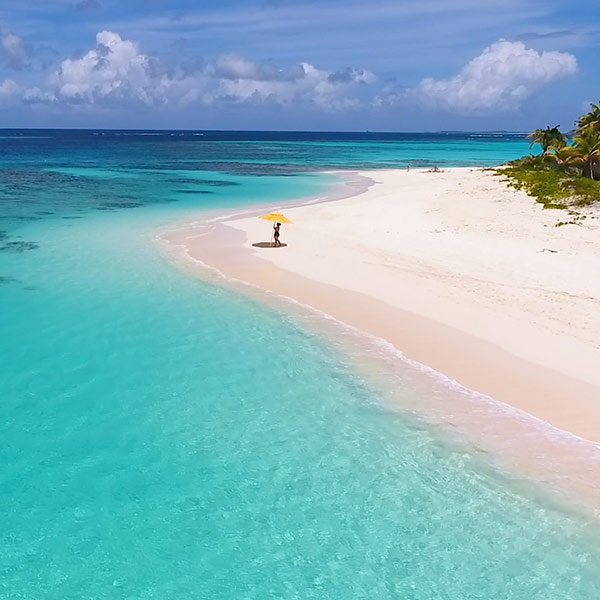 What's new since last time?
---
Lynne Bernbaum's Art Gallery Joins The Anguilla Card
One of Anguilla's most high-profile artists, Lynne Bernbaum's work is iconic. Her impressions of Anguilla have captivated the imaginations of many for years. It is no surprise that Lynne's pieces adorn the walls of celebrity homes and high-end restaurants and villas around the island.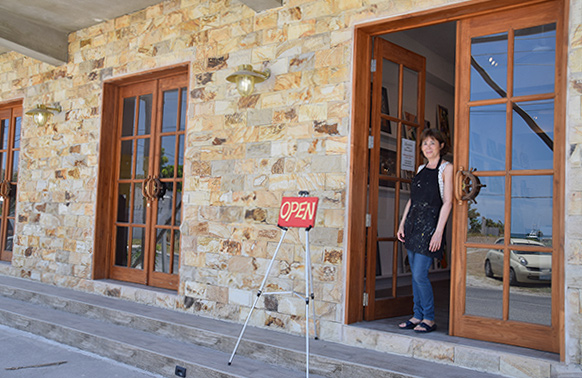 A charming, sweet lady from Texas, Lynne fell in love with Anguilla during her travels to the Caribbean in the '80's. She moved to Anguilla a few years later in 1995, and has been living her dream ever since.
My mom adores Lynne's artwork, how she pictures Anguilla and how she captures the spirit of Anguilla so beautifully. Ms. Bernbaum has a unique, award-winning style, with absolutely fascinating images of Anguilla.
Let's take a peek inside her gallery...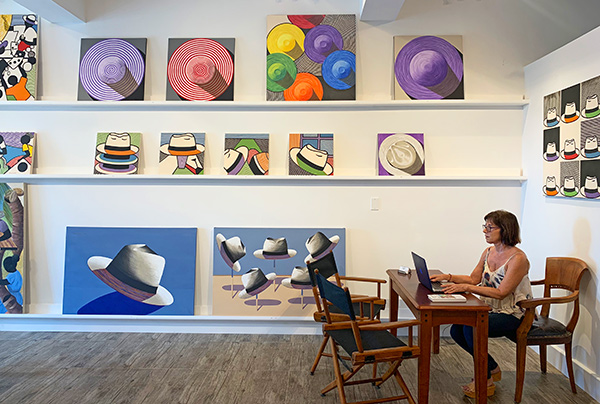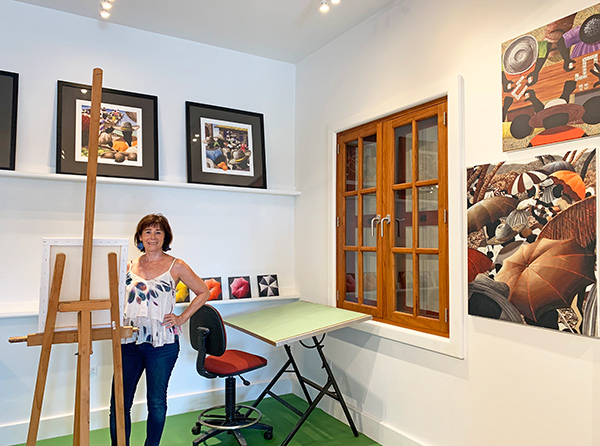 In addition to her Hat Series and classic pieces (the Dominoes and Market Scenes) seen in the photos above, Lynne commissions paintings of the Delicate Bar. A sweet, neighborhood bar right across from her gallery, Lynne has been inspired by the different bar "moments." Whether it is joggers stopping in for a refreshing drink, or a cyclist taking a break with a cool beverage...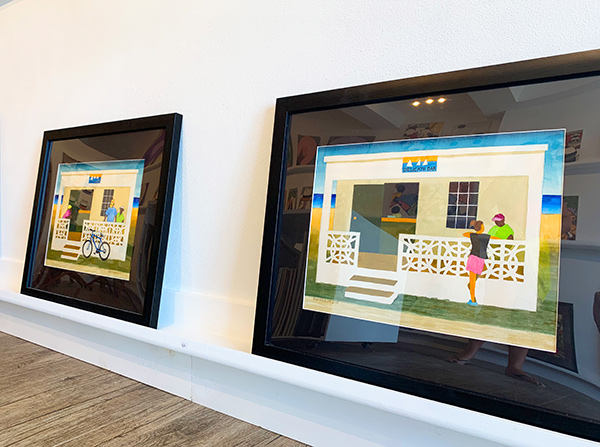 Lynne can personalize your Delicate Bar "scene" however your heart desires. With pets, friends, having a chat with the bar owner, jogging past the bar or taking it easy with a drink - Lynne will work with you to develop your Delicate Bar painting. A touching series, we are in love with these paintings! More on Lynne Bernbaum here.
Lynne Bernbaum is an Anguilla Card Partner. Save 10% at Lynne Bernbaum's Art Gallery when you use your Anguilla Card.
---
NEW YouTube Video: Sandy Island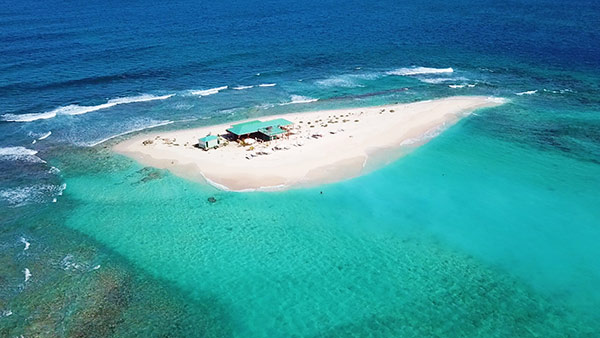 Welcome to one of the most beautiful islands in the world! A mini slice of island paradise - this is the one and only, Sandy Island.
Straight out of Robinson Crusoe, Sandy Island is a tiny spit of sand just off of Sandy Ground. What's on tap at Sandy Island? Snorkeling, sunning, tasty BBQ eats, cool cocktails, all in total seclusion... it doesn't get better than that.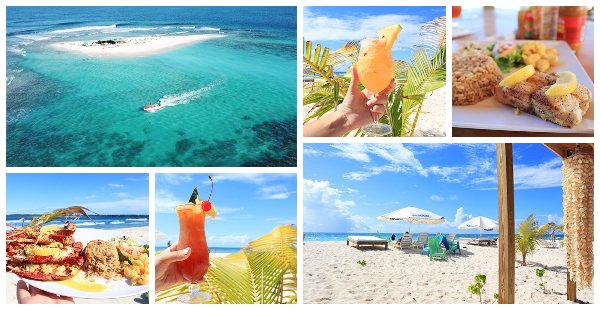 Sandy Island is one of Anguilla's "must-do's!"
Click here to watch the full Sandy Island video.
To never miss an Anguilla YouTube vid, click here to subscribe to Anguilla Beaches on YouTube.
---
Update From Carimar Beach Club on Meads Bay
Outstanding Anguilla hotel value? It all starts and stops with three little words, Carimar Beach Club.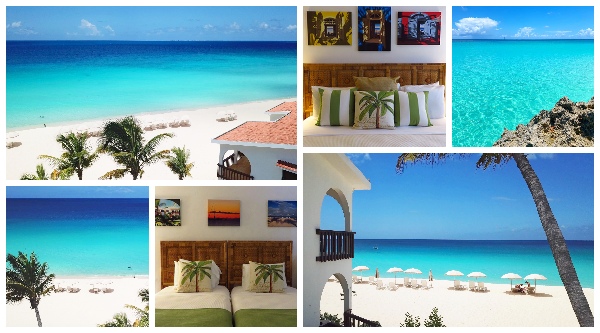 Carimar Beach Club offers exceptional value on location alone! The beloved boutique hotel is set right on the shores of majestic Meads Bay. You are just steps from crystal-clear waters and Anguilla's tastiest eateries.
Inside, Carimar's units are spacious, modern and complete with all of the conveniences of home, including fully equipped kitchens.
With warm and friendly staff, and their experienced and hospitable General Manager, Rolf Masshardt, Carimar has a unique, welcoming atmosphere that makes you feel right at home.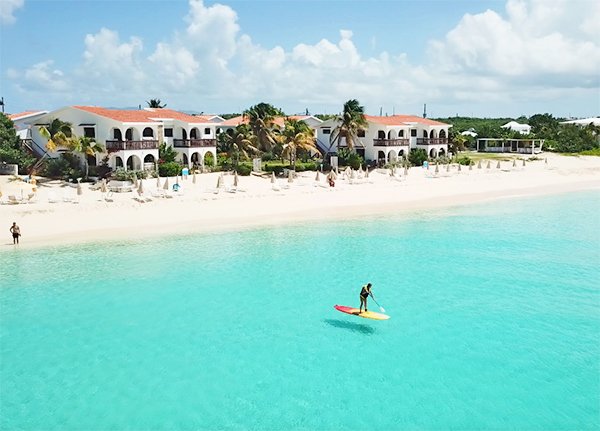 The question at Carimar is, how do you improve on perfection?
Carimar's hard-working team answers! NEW this season is air conditioning that flows through the entire unit (bedrooms AND living rooms), in addition to all-renovated and sparkling-modern bathrooms...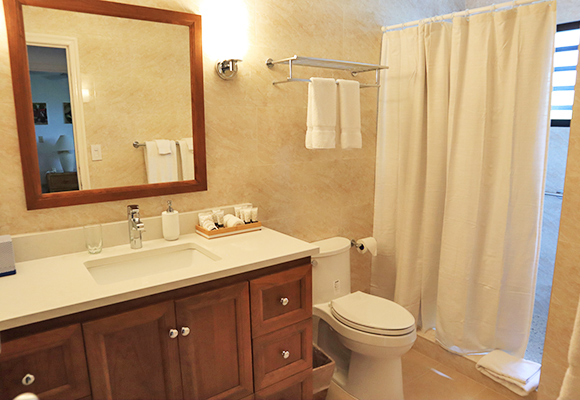 That's not all! There is also guest laundry facilities, perfect for extended stays, and a brand new state of the art gym (complete with air conditioning).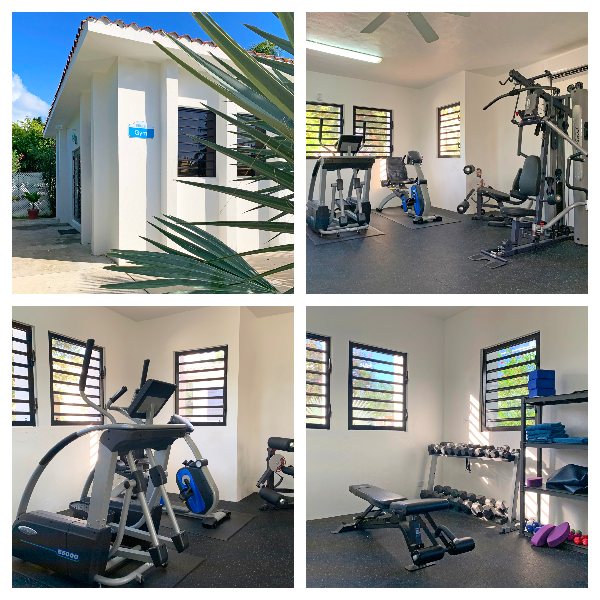 It doesn't end there! New and extra-popular at Carimar is the option of chef services. Carimar's ample kitchens are perfect for dining-in with a private chef. A truly sumptuous treat!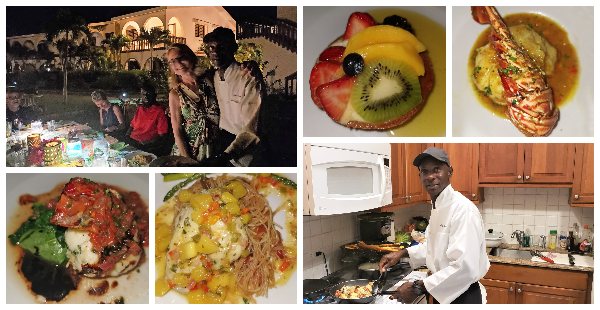 There is something oh-so-relaxing and indulgent to a luxurious private meal, out and under the stars...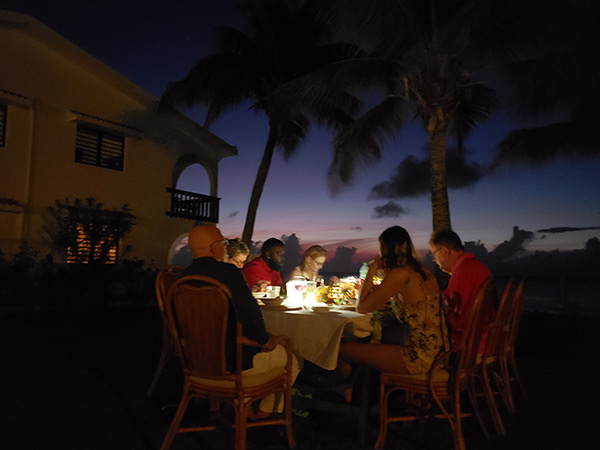 For details, see Carimar's concierge. They will help you arrange a picture-perfect private chef evening.
With excellent nightly rates, Carimar is the complete package.
More on Carimar...
---
NEW Cocktails, Dishes & Desserts at Meze
When it comes to tasty bights, refreshing cocktails and excellent tunes, Meze is a favorite. Set just below Veya, Meze is a go-to for a light evening meal set to some of the best live music on-island.
Chef Carrie has unveiled a NEW menu this year, including one of our FAVORITE cocktails of all time, the Bird of Paradise (left of photo below).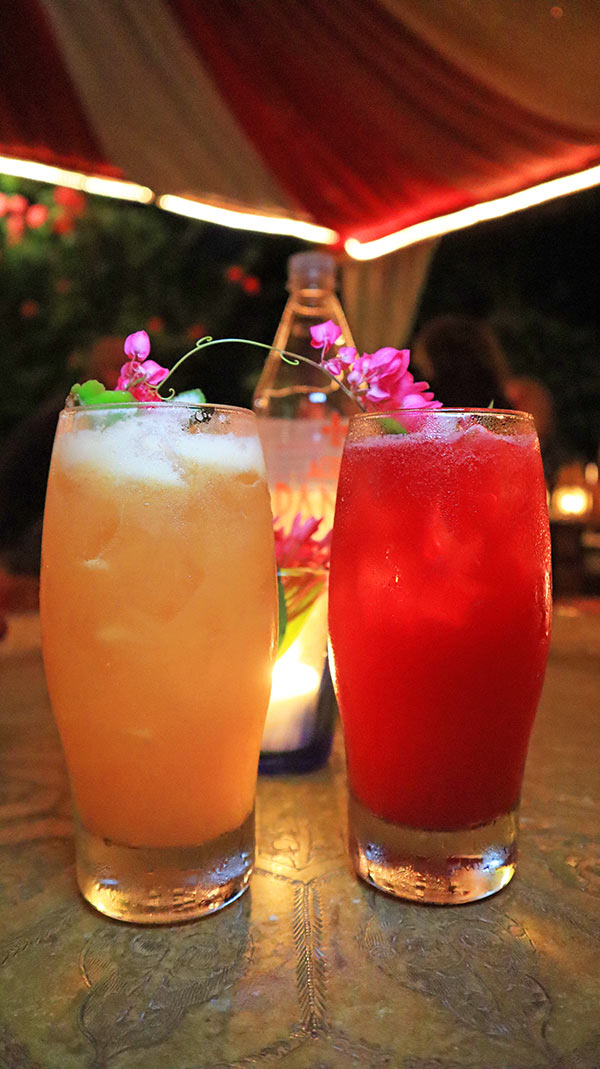 Made with guava, passionfruit, lime and Grey Goose, it exudes tropical flavors!
When it comes to bites, the tzatziki is a classic...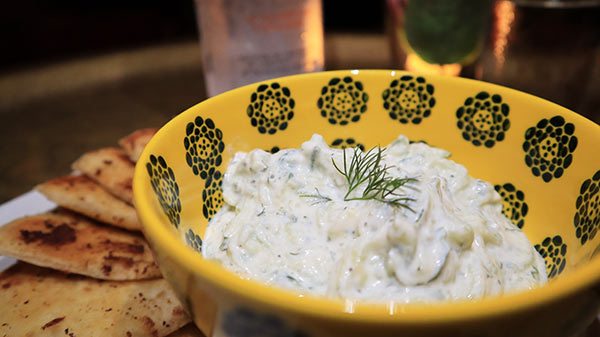 Cool, chunky and fresh tzatziki pairs perfectly with the side of warm flatbread.
What's new for light bites? The steak skewers are not to be missed. For the full effect, dip the steak in the side of guacamole topped with pickled onion!
Another new favorite? The lettuce shrimp wraps...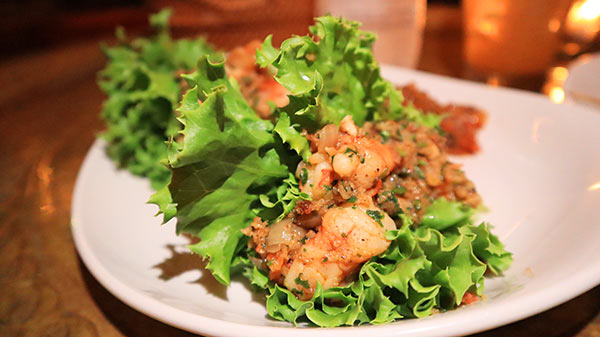 Seasoned with Moroccan spices, each bite is an explosion of flavor.
Meals at Meze don't end there. Be sure to finish your evening with an after-dinner drink. The Dark n' Fluffy is sinfully delicious...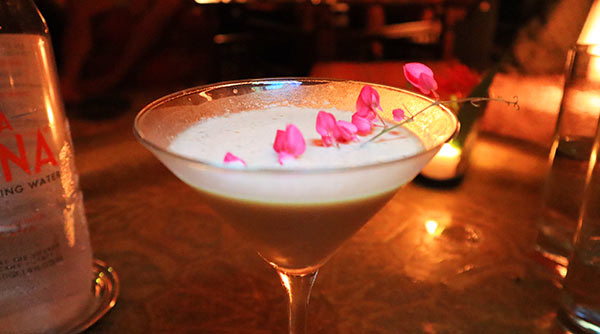 Made with marshmallow vodka, chocolate liqueur and a splash of cream, it is a dessert in and of itself.
We would be remiss, however, to not mention one of our favorite desserts of all time, Carrie's Key Lime Pie In a Jar.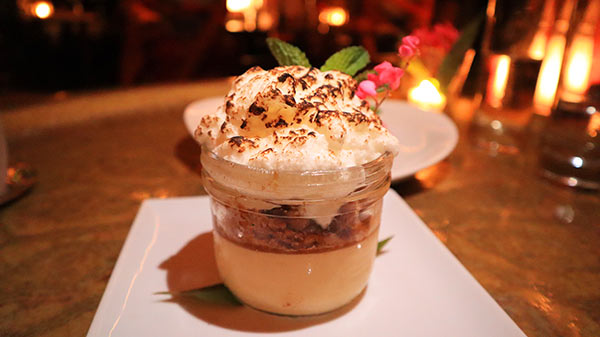 This dessert is perfect in every way! The cookie crumble in the middle, the hefty cream on top, the key lime on the bottom... it deserves a round of applause.
Meze is open nightly with live music Monday-Saturday.
Save 10% at Meze when you dine with your Anguilla Card.
---
Opening SOON: Tranquility Beach Anguilla
Tranquility Beach Anguilla has made outstanding progress. The premier Meads Bay project will be opening as a boutique hotel with vacation rentals and ownership opportunities this coming season!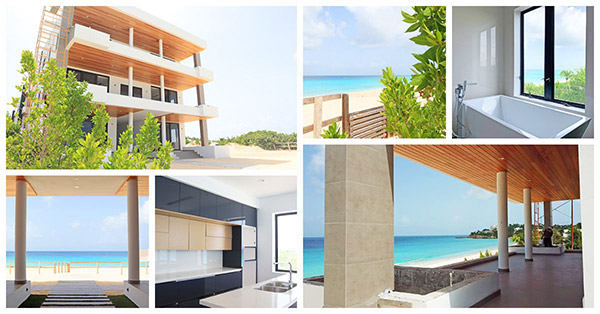 Tranquility Beach's first phase, Signature Suites broke ground early last year. In September 2018, we stepped inside the luxury development with its award-winning architect and developer, Ian "Sugar George" Edwards of Sunset Homes. We were blown away by the progress (click here for our video tour with Sugar George).
Since then? Tranquility Beach Anguilla has impressed us all over again. The developer's extensive experience in the region shows.
First step on-property and you are immediately struck by commanding views and soothing sounds of Anguilla's most coveted beach. Mere steps to Meads Bay's waterline, the property's location is unmatched.
Its setting goes hand in hand with superior design. Sugar George blends modern-cool with tropical-warmth. Outside, wood ceilings contrast elegantly against strong pillars, stone tile and a white color scheme.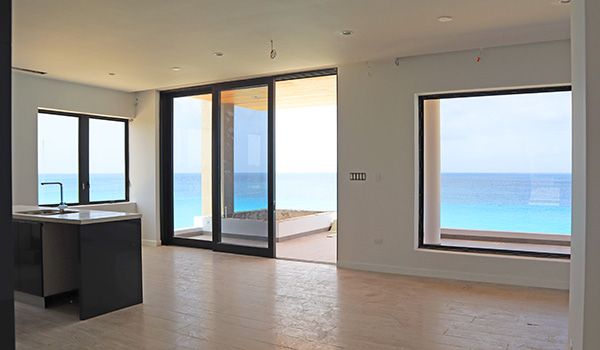 Inside, a wave of tranquility envelops you yet again. Through oversized windows, you are wrapped in Meads Bay blue.
That feeling of sumptuous calm carries through each space.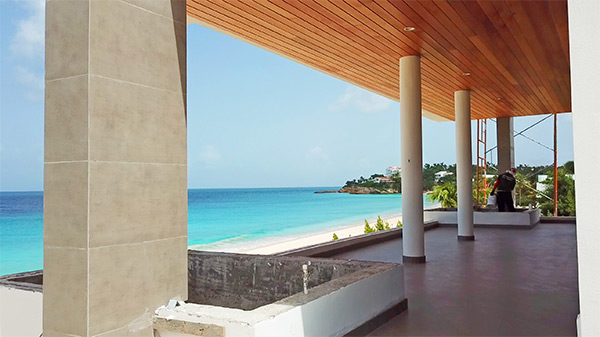 Location, design and furnishings all combine to create a state of the art Meads Bay property.
Nearing completion, Tranquility Beach Anguilla delivers on its promise amidst Anguilla's top tier resorts and restaurants. Tranquility Beach Anguilla will be the epicenter of the epicenter of Caribbean luxury living.
Opening this winter, to book your stay at Tranquility Beach Anguilla visit...
For sales details...
---
NEW Sushi Hot Spot!
Ever since Cha Cha San closed its doors, we have been on the hunt for quality sushi at a price that doesn't break the bank. Thankfully, the search is over! THE best neighborhood spot for affordable Asian cuisine? Look no further than Oishi Delicious Asian Kitchen.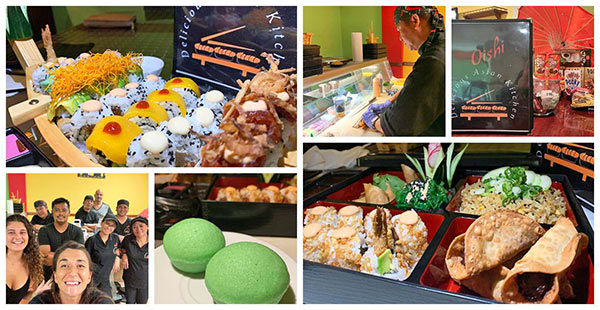 The restaurant is run with passion and love by the Chaderton-Alignay family. Originally from the Philippines, they have called Anguilla home for decades. They are some of the sweetest people you will meet!
The man behind the sushi magic? Chef George, who previously worked at CuisinArt's Tokyo Bay for 8 years. As you might expect, Oishi's sushi is CuisinArt-quality.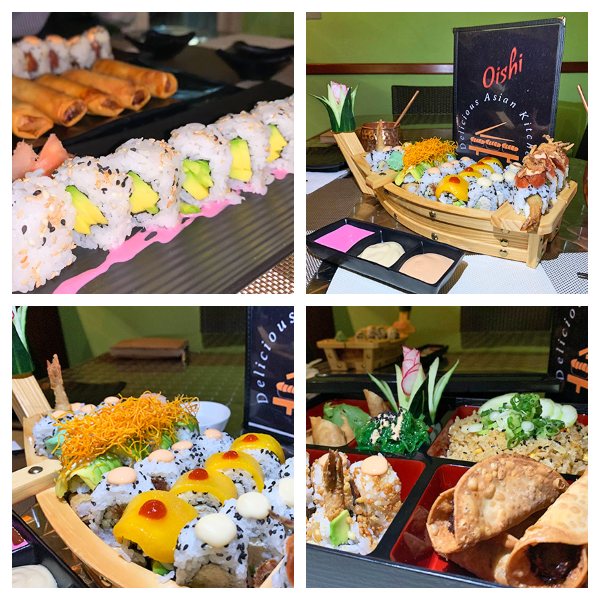 We can't get enough of this superb neighborhood sushi spot!
For the full scoop on Oishi, click here.
---
Super Villa Specials
Long Bay Villas
Long Bay Villas is Anguilla's most elegant and iconic ultra-luxury villa! The property takes your breath away in three distinct ways: Sky Villa, Sea Villa and Sand Villa.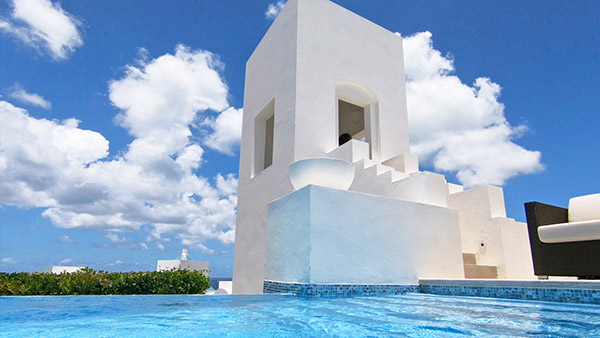 The estate's three stark-white villas tier down the lush hillside that slopes up from pristine and exclusive Long Bay beach. Each villa's unique setting emphasizes a different perspective of "Long Bay Blue."
Inside, the grand villas combine to boast 16 bedrooms with over 19,000 square feet of indoor/outdoor living space that can accommodate 33 guests.
A sensational property, the ultra-luxury experience is rounded out by top-tier service.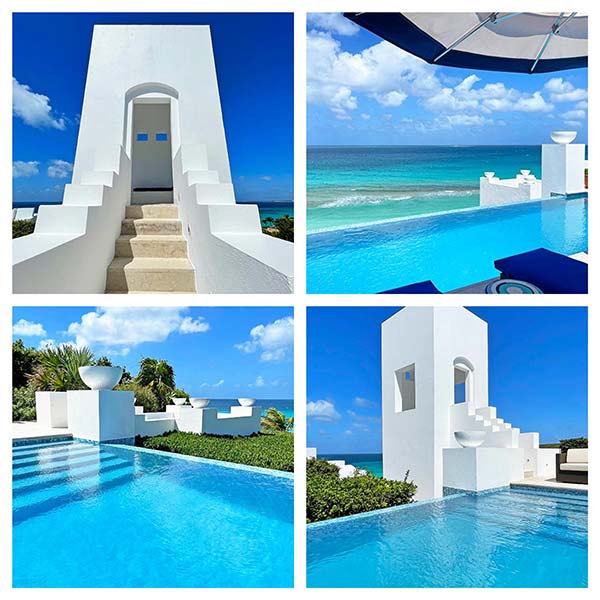 Long Bay Villas is currently offering a high-value special. Guests who book 6 nights get a 7th night free! For full details, visit...
Note: Special excludes Festive and US holidays. Subject to villa availability and minimum number of nights requirement.
Santosha Villa Estate
Next door to Long Bay Villas lies the ultra-exclusive Santosha Villa Estate.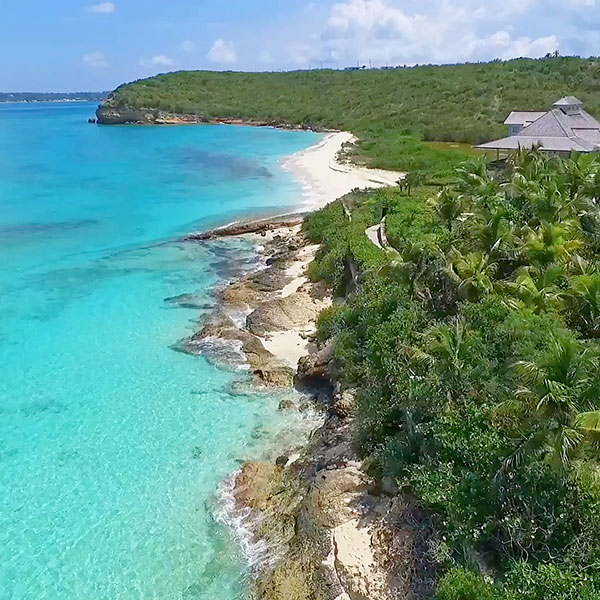 A 37,000 square foot West Indian-style estate, Santosha is of a bygone era. Its design is classic Caribbean, immaculately executed. A marked sense of relaxed sophistication washes over you as you walk through the nine bedroom property.
From regal crown moldings, to mahogany four poster beds, to antique sconces, louvre doors and double-paned windows, to the grand spiral staircase and wrap around verandas, each and every piece has been carefully designed. Each ornamental touch has been hand-selected for its specific place.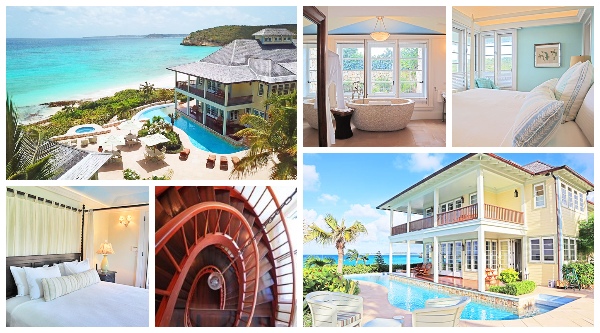 Sprawling across 4.5 lush acres and able to accommodate 23 guests, Santosha Villa Estate is Anguilla's most grand ultra-luxury villa.
Santosha Villa Estate is also currently offering a high-value special. Guests who book 6 nights get a 7th night free! For full details, visit...
Note: Special excludes Festive and US holidays. Subject to villa availability and minimum number of nights requirement.
Champagne Shores: The Villa
Featured on HGTV earlier this year, Champagne Shores offers luxury with a whole lot of value!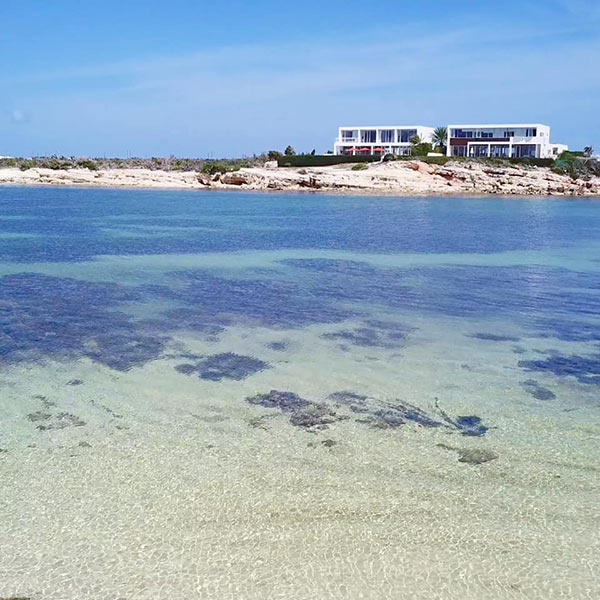 Set on Anguilla's south coast, Champagne Shores spans over 7,000 square feet of plush outdoor and indoor living space with five sumptuous suites. All-air-conditioned, the villa boasts some of Anguilla's most panoramic views.
It is the only villa of its kind to also provide an all-day personal service attendant, in addition to 24/7 concierge service!
Modern in look, Caribbean in feel, and with every need tended to - at Champagne Shores, you often find yourself thinking, "I didn't even know I needed that."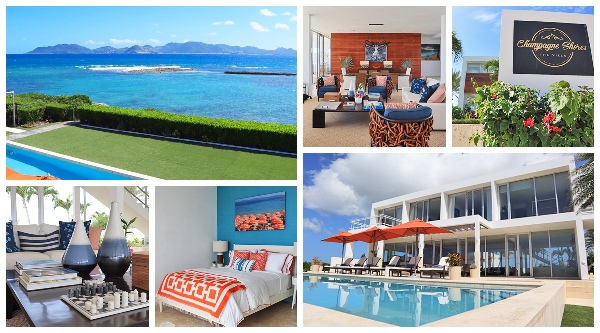 Champagne Shores' winter rates are ON until Dec. 21. They are some of the most competitive Anguilla villa rates! For more on Champagne Shores, visit...
---
Save The Date: Lobster BBQ at CuisinArt Golf Resort & Spa
One of THE most popular weekly events in Anguilla? You can find it every Tuesday evening at CuisinArt Golf Resort & Spa! Welcome to Lobster BBQ.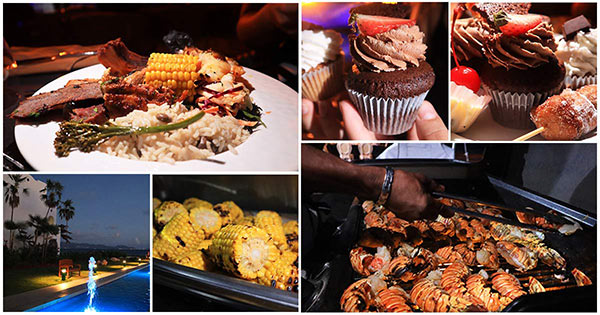 Held every Tuesday night, it has long been hailed as one of Anguilla's "must do's." The value is unbeatable. $75 buys unlimited BBQ lobster with a plethora of gourmet mains and side dishes. All served in an elegant beachfront atmosphere, it is as far as you can get from typical "all you can eat" resort buffets.
What's on the menu? Mouthwatering cuts of steak with decadent wine sauces, fresh salads, huge ribs, pasta stations and an endless supply of everyone's favorite...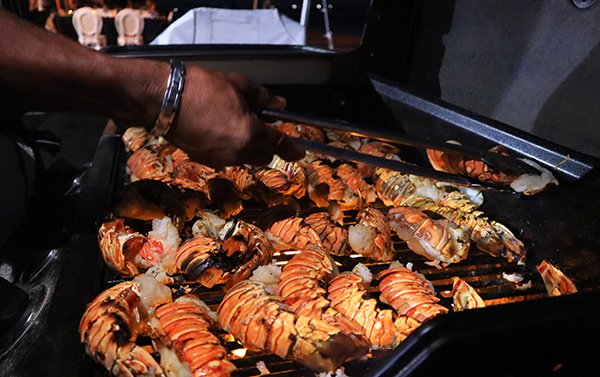 CuisinArt blows your taste buds away yet again when it comes to sweet endings!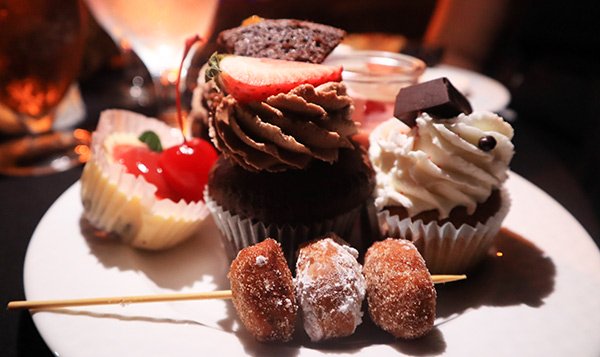 At $75 per person, Lobster BBQ is a steal of a deal!
For full details...
---
Update From Scilly Cay
Wonderful news from the picture-perfect island paradise in Island Harbour!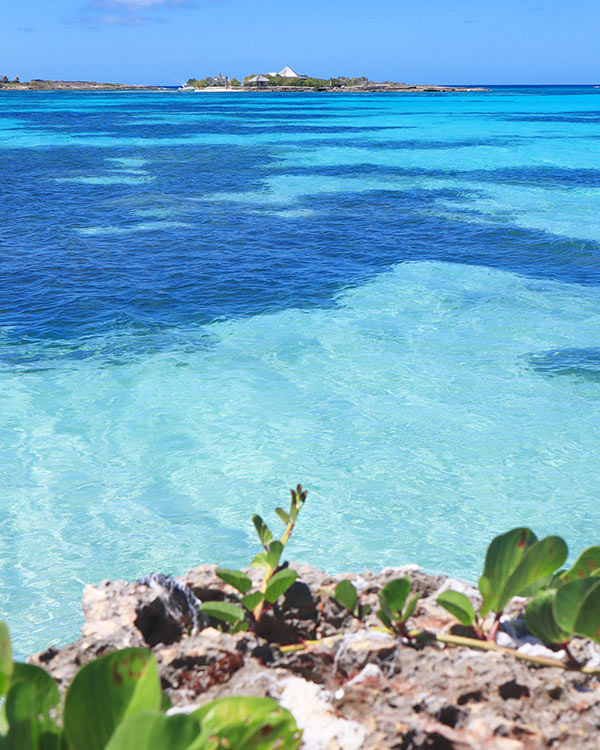 Beloved Scilly Cay will be re-opening on Wed. Nov. 27 and Sun. Dec. 1. From 12-5pm, and with live music (Gershwin and the parables), do not miss Scilly Cay's greatly anticipated re-opening! For reservations, call: 264-235-5000
A huge round of congratulations to the entire Scilly Cay family 💗💗💗
---
Jackie Pascher's Real Estate Corner
Our favorite real estate agent, Jackie Pascher has a fantastic Anguilla real estate listing!
Welcome to Mañana Villa...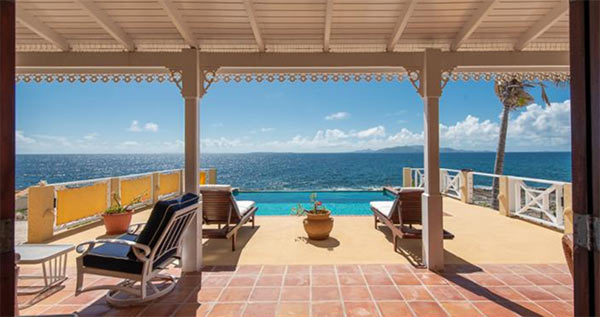 Set on 0.5 acres in Sandy Hill Bay, Mañana Villa is a 3 bedroom, 2 bath villa with views of St. Martin, St. Bart's, Statia, and on a clear day St. Kitts/Nevis.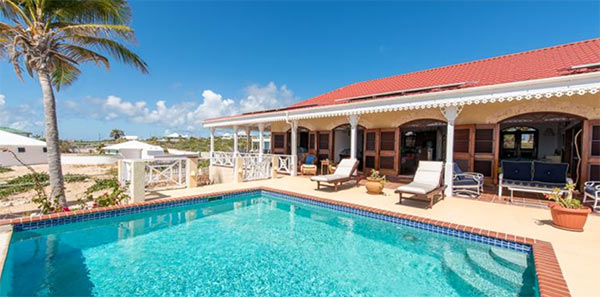 The darling home boasts a traditional West Indian design, with ample amounts of Anguilla stone and gingerbread trim. Doors and windows are made of South American red cedar and are heavily constructed to withstand hurricane force winds. (It has withstood major hurricanes with virtually no damage to the structure!)
An infinity edge pool and carport are included in the property. There is a large covered veranda around 3/4 of the house that could easily be enclosed to expand living space if desired. In the meantime relax in the pool and the veranda and take in the whale and dolphin sightings each winter!
Mañana Villa is on the market at $985,000.00 USD.
Next up? Newly reduced, Banana Wind Villa.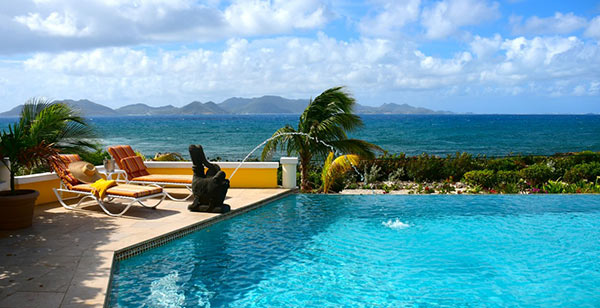 A luxurious villa conveniently located on Round Rock Bay (at Lockrum), Banana Wind is a tropical paradise. Built on almost 200 feet of ocean front in a striking, contemporary style, Banana Wind takes full advantage of its breath-taking panoramic views.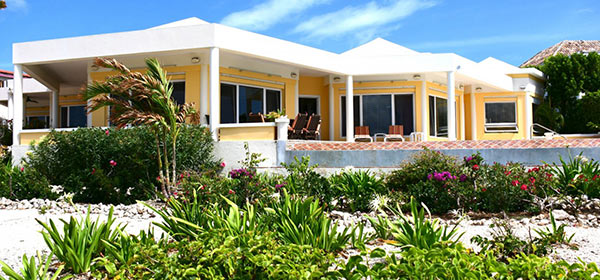 The villa's southern exposure and design also boasts persistent, cooling trade winds that make outdoor relaxing, dining or swimming a delight and that allow guests the luxury of sleeping comfortably while listening to the soothing sounds of the ocean.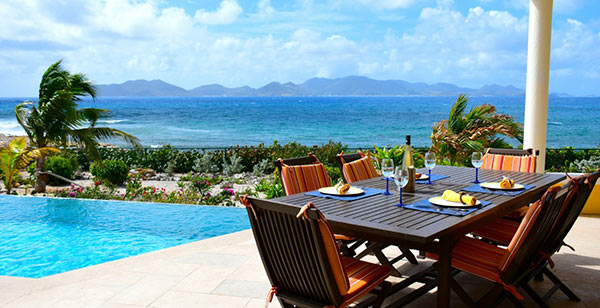 Banana Wind is for sale at $1,500,000. Full details here.
---
That's all for now!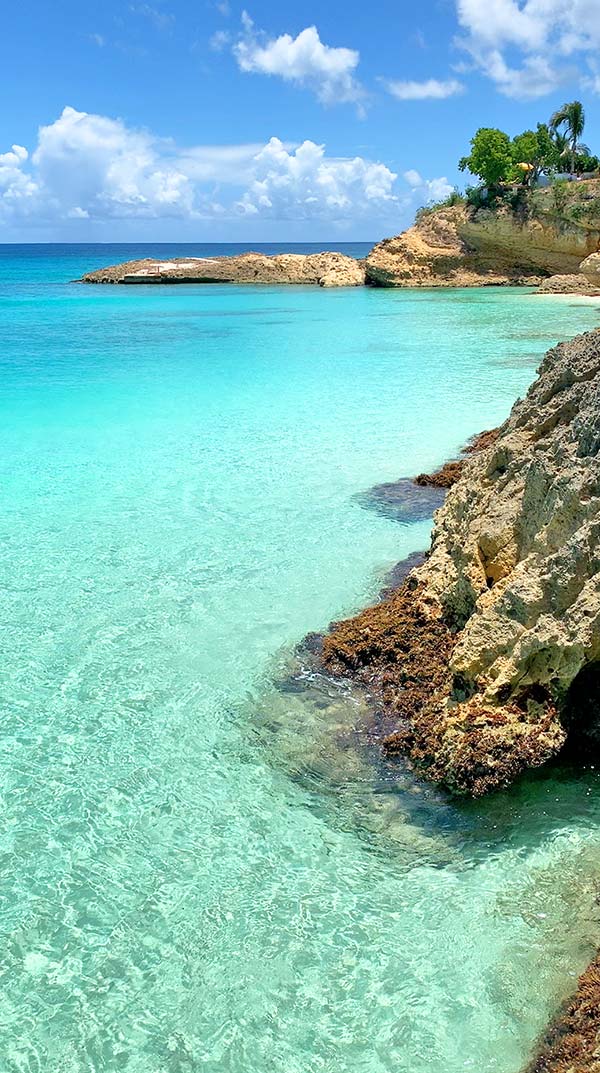 Restaurants and resorts are finessing and finalizing their season menus and offerings, we are putting the finishing touches on the Anguilla Card 2020, and we have been hard at work on a brand new project I can't wait to share with you! Stay tuned for lots of exciting news coming soon :-)
Talk to you soon with more Anguilla news & blue,
Nori
Do you have your Anguilla Card yet? Save 10% at 70+ Partners!
---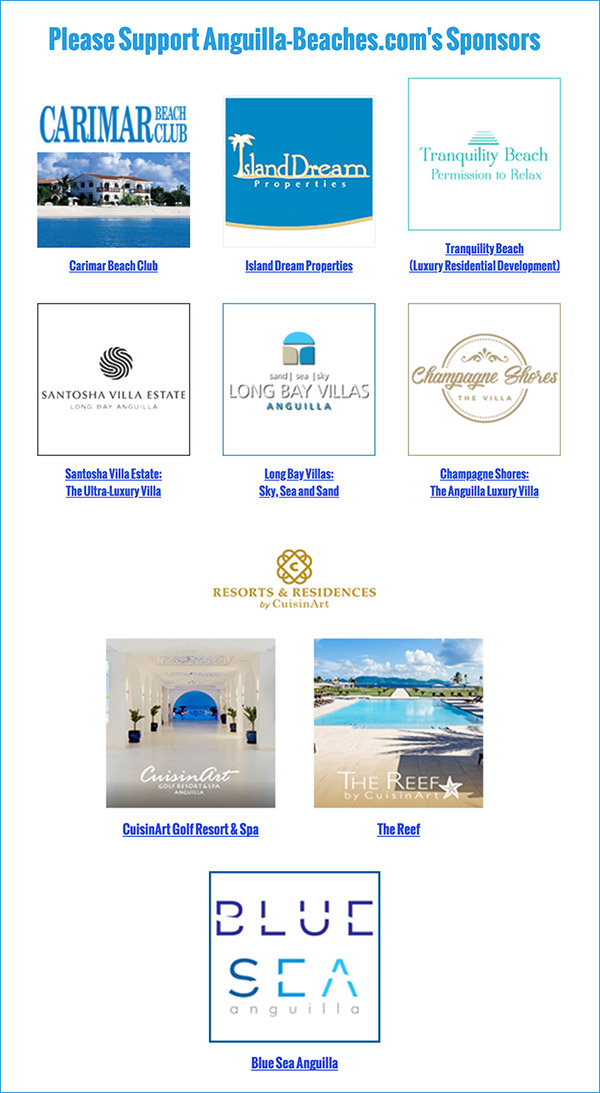 ---
Anguilla-Beaches.com