Oishi Delicious Asian Kitchen...
Five-Star Sushi at An Affordable Price!
By: Louise Fayet
Ever since Cha Cha San closed its doors, we have been on the hunt for quality sushi at a price that doesn't break the bank. Thankfully, the search is over! THE best neighborhood spot for affordable Asian cuisine? Look no further than...
Oishi Delicious Asian Kitchen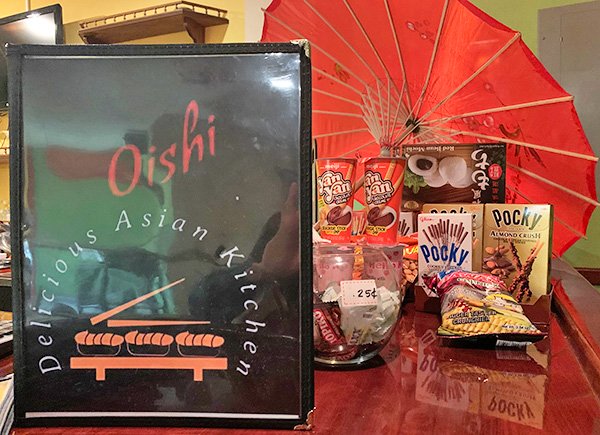 Located in The Valley, inside Saint James Medical School, Oishi is a dine-in or take out restaurant. It is "all in the family" at Oishi. The restaurant is run with passion and love by the Chaderton-Alignay family. Originally from the Philippines, they have called Anguilla home for decades. They are some of the sweetest people you will meet!
The man behind the sushi magic? Meet Chef George...
Chef George In The Kitchen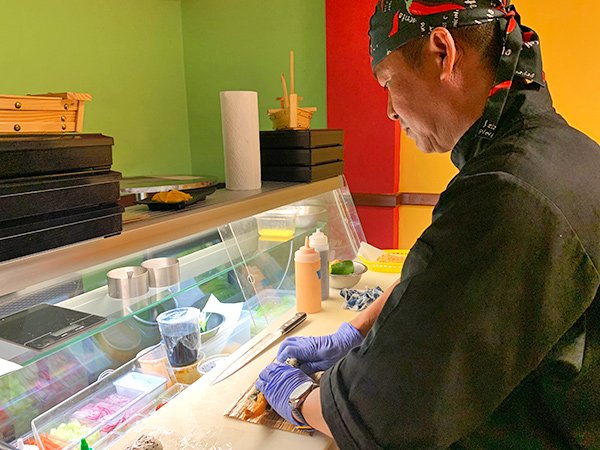 You may recognize Chef George if you have dined at CuisinArt. He worked at Tokyo Bay for over 8 years before joining the team at Oishi. As you might expect, Oishi's sushi is CuisinArt-quality!
Sushi Heaven at Oishi
Oishi's menu starts with a large variety of sushi rolls. Options include classics like the California, shrimp tempura, avocado and spicy tuna rolls. Rolls like the Kamekaze and the Dragon are a tad pricer, but so worth the extra $.
Choosing one roll is tough. When in doubt? Go with the Sushi Boat!
Sushi Boat

The sushi boat is loaded with 6 sushi rolls. At just $47, it is a steal of a deal. Rolls iclude: the Dragon, California, Mango con Roll, Shrimp Tempura, Spicy Tuna and the Kamekaze.
FOOD TIP: This dish can feed more than three people! Bring your appetite or a couple of friends when tackling the Sushi Boat!
Sushi Heaven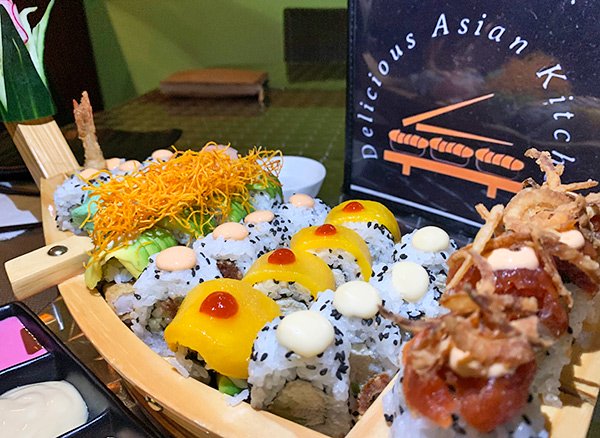 All of the rolls are simply divine. Two of our favorites? First up, The Dragon Roll. Shrimp tempura is fried crispy and layered with cucumber. The roll is finished with smooth strips of avocado and crispy fried noodles.
Second, the Kamekaze. Shrimp tempura makes an appearance in this roll, too. Chef layers it with avocado and tops it with spicy tuna. It is served with spicy aioli and an eel sauce.
Louise Enjoying Her Shrimp Tempura Roll

We really have to hand it to Chef George. He crafts his sushi with such attention to detail. His accompanying sauces make each roll a true stand out. A dip of the tempura roll in Chef's spicy aioli sauce makes for an oh-so-savory combination.
Chef dresses up "classic" sushi rolls with exquisite sauces, too. For vegetarian sushi, the menu offers the vegetarian roll, philadelphia roll, cucumber and the...
Avocado Roll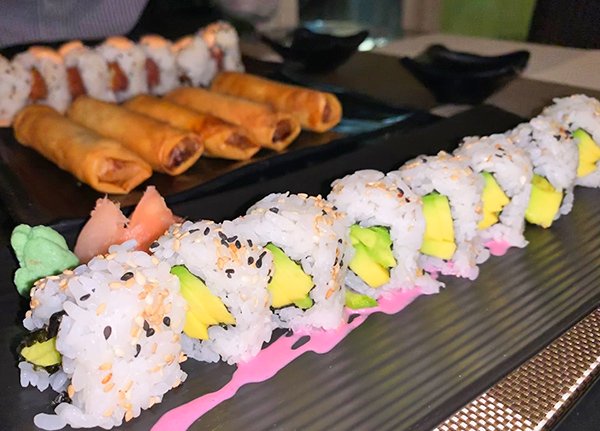 Soft and creamy slices of avocado are wrapped in Nori and topped with sesame seeds. Chef serves this roll with a sweet, pink beet root sauce, pickled ginger and wasabi. A gorgeous and photogenic dish!
Hot Food Menu & Bento Box Specials
In addition to all-things-sushi, Oishi serves up a number of hot dishes including chow mien, shanghai noodles, gyoza, tempura, salads, poke, fried rice, burgers and BBQ.
One of the best ways to sample the best of the menu? With Oishi's Bento Box special. The items change from night to night.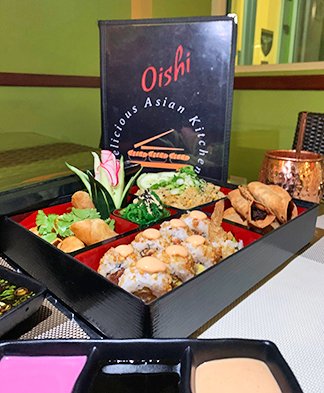 This particular Bento Box is packed with a variety of Asian classics. Shrimp tempura and spicy tuna sushi, fried rice, chicken spring rolls, seaweed salad and a curious crispy eggplant gyoza.
The spring rolls are out-of-this-world good. Fried to perfection, these crunchy chicken spring rolls pair well with their accompanying sauce. Chef serves them with a tangy eel sauce on the side.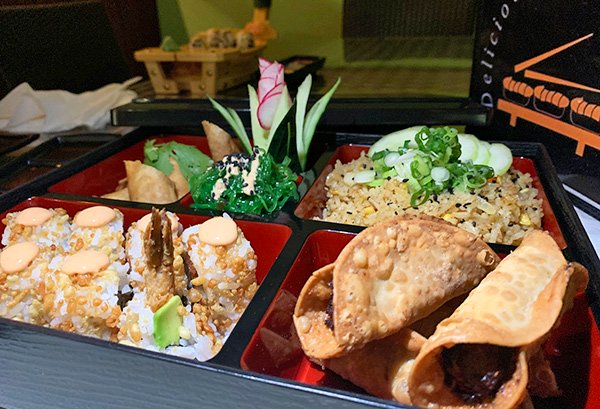 The eggplant gyoza also WOWs tastebuds. Chef gets his sweet pieces of eggplant oh-so-tender, envelops them in a gyoza wrapper and fries them to a light golden-brown.
We definitely recommend trying the Bento Box for an assortment of Asian classics.
Sweet Endings: Fillipino Dessert
A meal is rarely complete without dessert! All of Oishi's desserts are homemade. Depending on what has been made that day, options include a traditional Filippino flan...
Filipino Flan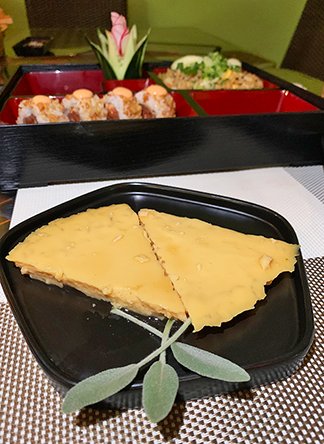 The sweetened, creamy and smooth flan is an after-dinner staple in the Philippines.
Also homemade and unique, the Oishi team prepares picture-perfect steamed rice cakes.
Steamed Rice Cakes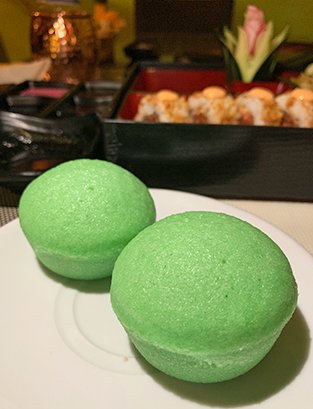 Fluffy, with an anise flavor, these rice cakes are a light way to end the night.
Congratulations to The Oishi Family

A huge congratulations to the Oishi family! The whole operation is run with such love, passion and care. They deliver on their promise: five-star cuisine at an affordable price. Oishi is our neighborhood favorite!
Directions, Hours & Contact
Tel: 264-498-3406
Hours: Open from Sunday to Friday from 12 until 9pm, Sunday open from 6pm until 9pm. Closed on Saturday. Breakfast will start in January from Monday to Friday from 8am until 11am.
Directions: In Saint James Medical School.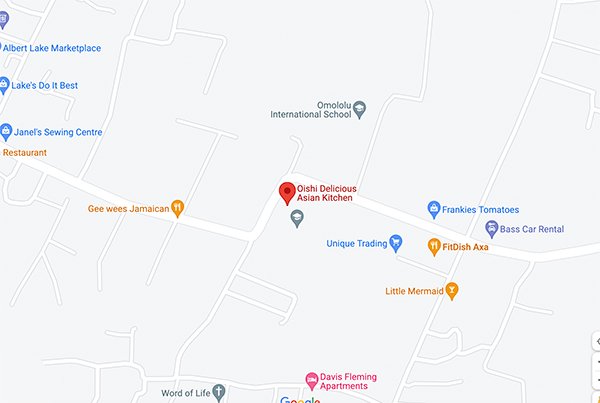 Menu: Click here