Modern, Creative & Perfectly Executed...
Five-Star Japanese Dining at Tokyo Bay, Anguilla
When it comes to Japanese cuisine, my parents are more than well-versed. Be it because of my Mom's Japanese background or their dining experiences in Tokyo, San Francisco, Vancouver and New York, they know sushi and fine Japanese dining.
When we heard that Anguilla would be home to its very own Japanese restaurant, to say we were excited would be an understatement. Japanese food is one of our favorites and my Mom (especially) longed for those savory Japanese flavors here in Anguilla.
Tokyo Bay answered her call...
Meet Executive Chef Jasper Schneider &
Chef De Cuisine Yuki Sugimoto
Update 2019: Tokyo Bay has introduced a NEW Chef from Nobu London. To see his NEW Tokyo Bay menu, visit Menus.ai. Full update coming soon!

Since their opening CuisinArt has re-vamped their entire line of menus with their new Executive Chef, Jasper Schneider.
He formerly opened the popular Sushi Samba in Coral Cables, Florida, one of our favorite sushi restaurants in New York City.
We knew we were in good hands!
Together with Chef Jasper Schneider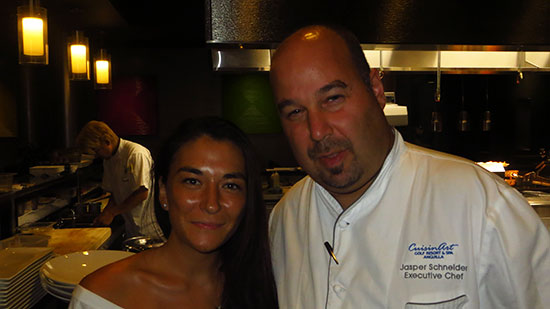 If you have eaten at any of the other restaurants at CuisinArt Golf Resort & Spa, you likely already know that Chef Jasper has brought a true passion for gourmet dining to the island. Innovative and detail-focused, the level of dining at CuisinArt is at an all time high.
Chef Jasper works intimately with his sous chefs and "Chefs de Cuisine" to execute a terrific product on a nightly basis.
At Tokyo Bay, Yuki Sugimoto is his right hand man.
Me & Chef Yuki Sugimoto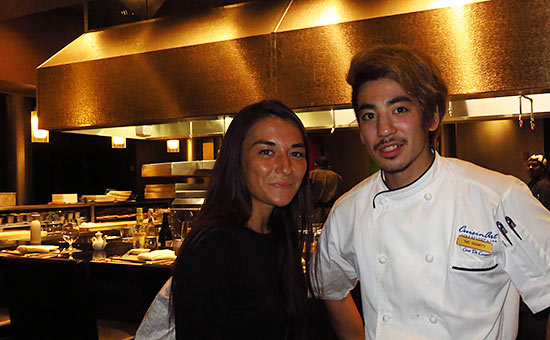 Previously having worked at the grand Sushi Samba in London, Yuki brings an excellent work ethic and volumes of creativity to Tokyo Bay.
Together, Chef Jasper and Yuki develop unique creations that draw on locally available ingredients and fly in fresh delicacies regularly. They re-work the menu tirelessly, constantly evolving it, pushing limits and re-defining what it means to create gourmet Japanese cuisine.
The Setting
As you might expect from a modern Japanese restaurant, Tokyo Bay itself is a step out of Anguilla and a step into a world super sleek.
Located on the top floor of CuisinArt's spa, sealed to the elements, the restaurant overlooks the resort's grounds. Air-conditioned, ultra-modern, with the sushi bar greeting you as you step out of the elevator it feels like the place to be.
The fine-line, contemporary style fits right in with high-end sushi bars in the likes of New York City and Los Angeles.
Set away from the action, there's an outdoor bar and terrace. Overlooking a valley, and with The Dune in the distance, it has the same look as the rest of Tokyo Bay, but when it comes to feel, it's more laidback, relaxed and, naturally, warm.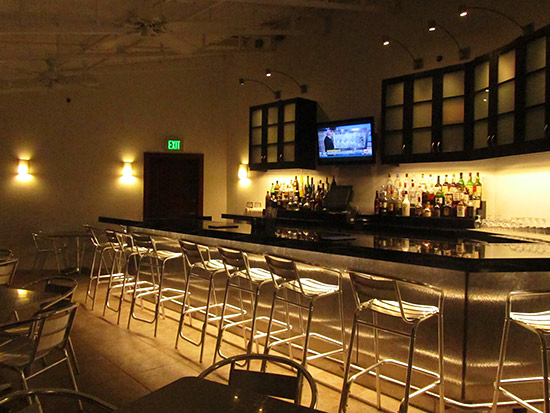 The Menu
Tokyo Bay's menu is extensive, rich with choice.
Let's start at the top of Chef Jasper and Yuki's menu...
Cold Dishes
King crab cevice with coconut milk, oysters on the half shell with yuzu, hamachi with ryu ponzu are just three of the eighteen cold dishes on the menu.
My advice? Follow the good word of Chef Jasper. "Our menu emphasizes sharing many small plates, a classic way of dining in the Orient," he explained. The one rule when it comes to dining is to always follow the chef's orders. ;-)
We started with the crispy rice.
Crispy Rice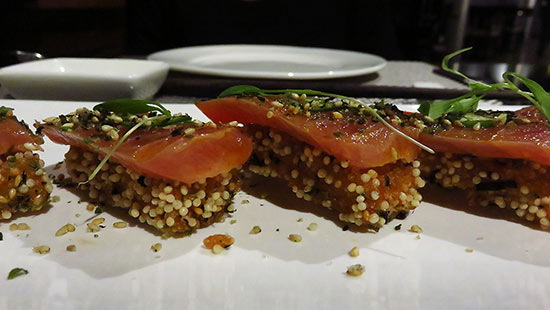 Perfectly crisped rice is topped with lightly spiced tuna sashimi, all garnished with cilantro. Refreshing, with a bite of spice in each mouthful, the blend is perfect.
One of a kind oysters on the half shell were next.
Oysters on the Half Shell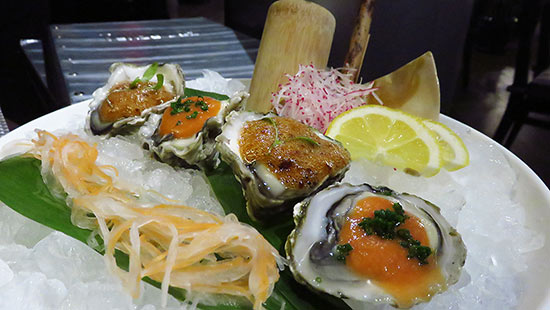 These oysters have an oriental twist. They come either with a wasabi-infused sauce or a "yuzu soy cloud." Light yet loaded with flavor, this dish comes highly recommended. We have never experienced oysters quite like this. Outstanding!
Eel Taco

I wasn't sure what to expect from the eel taco. "A taco? Really?" I thought upon first glance. Tokyo Bay's eel taco is made with a cool, thin slice of cucumber. It lets the eel (seasoned with shiso) shine, without weighing it down with a carb-heavy base. Instead, that carb and a nod to Spanish origins is found in light, crunchy pieces of chicharron, gently placed on top of the eel.
Salmon Nori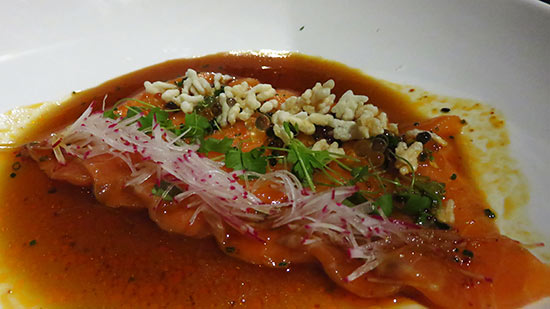 Finally, the salmon nori. Ah, my dream dish... I always ask for a "double order."
Expertly sliced pieces of salmon are bathed in a nori-infused vinaigrette, all topped with puffed quinoa.
Hot Dishes
Spicy edamame...
Spicy Edamame

... makes for an excellent start to the meal over a glass of chilled pino grigio or warm sake while you look over the menu.
Tossed in a wok and accented with garlic flakes, it adds a pleasant kick to what is normally a standard dish.
Foie gras with unagi and sweet potato, eggplant gyoza with yuzu soy, crispy whole fish with ponzu and asparagus, miso black cod and chicken yakitori are just a few of the twenty one other "hot" choices.
The shrimp gyoza and duck duck goose gyoza are both musts for fans of tasty, steamed dumplings.
Duck, Duck Dumplings

The duck dumplings are lightly fried on the bottom, soft and steamed on top. If it wasn't for the rest of the menu, I could eat these all evening.
It is best to save room, though, for what is a stand out dish...
In a warm and fluffy traditional pork bun, pork belly with a yuzu kosho aioli is layered on top of kimchi bokchoy and daikon, all sourced from CuisinArt's on-site hydroponic gardens.
Pork Belly Buns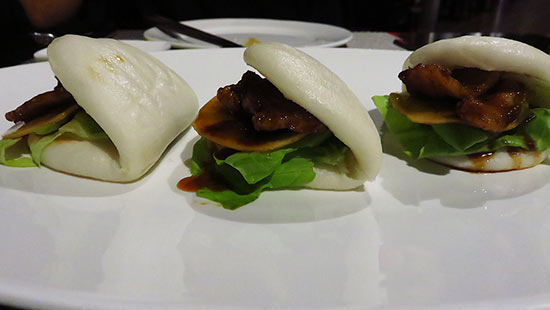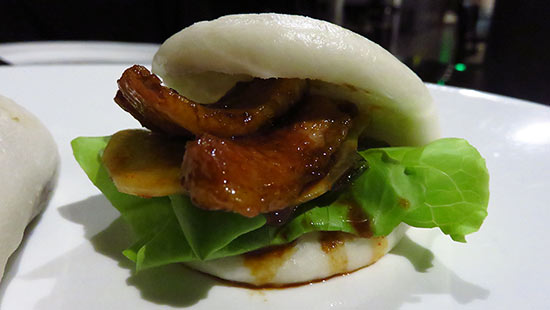 Chef Yuki truly makes good use of what is fresh and plentiful on-island. This makes a huge difference when it comes to flavor and overall quality.
Sweet and savory, these pork belly buns please the palate and warm the soul.
Lastly, my Dad's pick, the rock shrimp tempura...
Rock Shrimp Tempura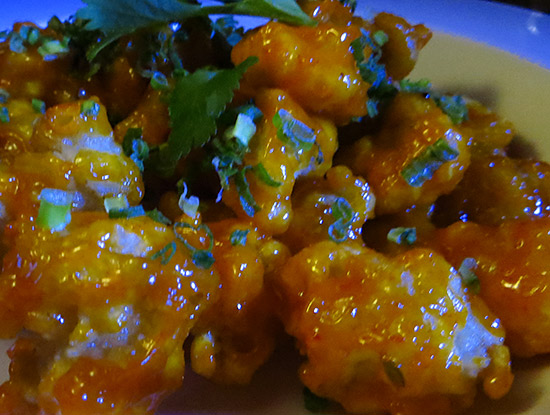 Bite-size pieces of deep-fried shrimp coated in a tangy-spicy and almost creamy sauce, the scallions and cilantro round it out nicely. It is an addictively delicious dish.
Rolls and Sushi & Sashimi
Next? Maki rolls, sushi and sashimi.
The Maki rolls are more American-style, featuring a soft shell crab, spicy tuna, yellowtail and scallion, spiny lobster, salmon/cucumber, BBQ eel, shrimp tempura, the "hamachi dream," "volcano" and a tataki salmon roll.
Hamachi Dream

For lovers of garlic, the Hamachi Dream is made of tartare hamachi, yuzu soy and jalapeño.
The "pink" tiger shrimp roll was a winner for everyone at the table. With avocado, wasabi tobiko and beet aioli, the flavors work well together. The shrimp itself is both out and inside the roll. Tempura shrimp is wrapped inside with a thin layer of shrimp outside, too.
The lobster roll has long been one of the best on the menu. A "spiny" lobster, it means it is caught right here in our waters.
Lobster Roll

With asparagus, aji amarillo and mayo, it is creamy and fresh.
Wrapped in thinly sliced cucumber, the soft shell crab roll with masago, avocado, scallions and aioli is also spectacular.
Soft Shell Crab Roll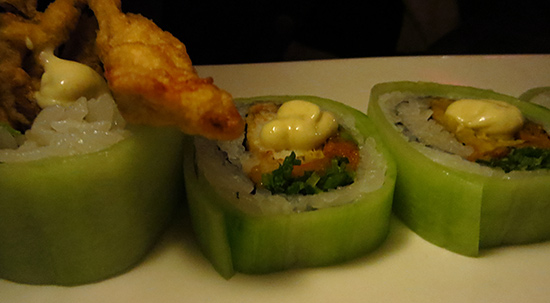 And my Mom returns time and time again just for the yellowtail scallion roll.
Yellowtail Scallion Roll

Each course at Tokyo Bay simply gets better and better. And then, you reach the pinnacle of the meal where Chef Yuki is put to a true sushi chef test...
The sushi and sashimi. You can order individual pieces or go with a sushi selection of the day, which includes 10 assorted pieces (15 pieces of sashimi), including a "fish of the day." Other pieces on the menu include yellowfin tuna, sweet prawn, salmon, octopus, smoked eel, salmon egg and scallop. They also have a vegetarian platter.
Yellowfin Tuna Nigiri

My Dad still fondly remembers his first sushi experience at Tokyo Bay...
The yellowfin tuna, and the rest of the selection, was excellent. The ratio of rice to fish was perfect, the cut of the fish flawless. Fresh, there was zero fishy taste. There wasn't a hint of "this came from the freezer."
Sushi Selection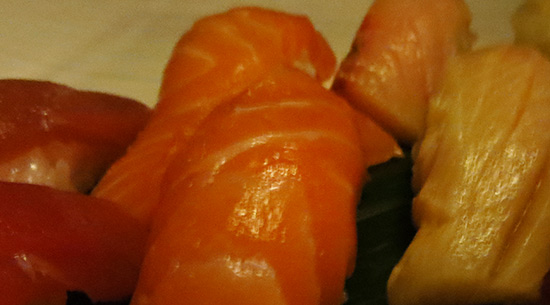 As for that 1 special, catch of the day, piece of nigiri?
It was exceptional. "A perfect 10/10!" I exclaimed. I had to ask what had been done differently with this outstanding piece of fish.
A caught-that-day snapper, the belly of the fish, the richest and fattiest part, was used. No wonder, it just melted in my mouth. It's on par with the finest sushi I've had world-wide.
Not normally ones for dessert, the dining experience at Tokyo Bay is so consistently exceptional that we most usually sample something sweeter to end off a perfect evening.
Our choice? Passion fruit-chocolate "sushi," this dessert gets our choice not just for taste, but for presentation as well. Sliced into manageable pieces, it's not a heavy dessert.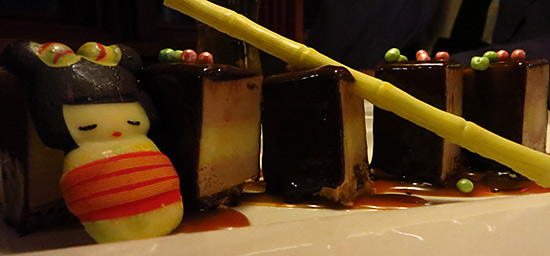 Lastly, Tokyo Bay offers teppanyaki and omakase-style dining (where the chef selects your menu).
More to come on that on our next visit.
In the mean time, I have only accolades for Chef Jasper and Yuki. On a tiny island where many ingredients need to be flown in, they are creating true Japanese dining with a fun yet sophisticated, gourmet edge. From top to bottom, it is safe to say that CuisinArt has nailed it yet again!