<![endif]-->
Anguilla Art
Anguilla is home to many art galleries. Filled with truly original, creative Anguilla pictures, sculptures and art of all kinds, studios/galleries abound in Anguilla.
On just about every turn of the road, you'll see a gallery, or a sign pointing up a small dusty alley, ending in a working artist's studio. Drop in. You won't be disappointed.
Each one holds different and special creations. We are always stunned by the exquisite masterpieces! On the other hand, if Anguilla is not a wonderful place to be creative, where is?
One of our favorite galleries is near Sandy Ground. Here it is...
Lynne Bernbaum Art Studio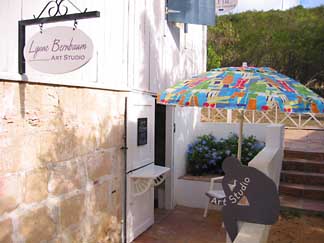 Update: Lynne has moved.
Click here to visit her new Anguilla art gallery.
The studio is owned by Lynne Bernbaum, a charming, petite lady from Texas, United States. She fell in love with Anguilla during her travels to the Caribbean in the '80's. The dream never died. She moved there a few years later in 1995, and has been living that dream ever since.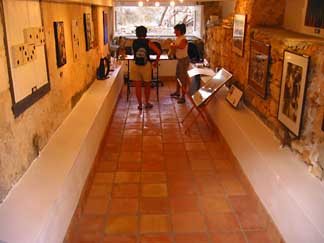 Ms. Bernbaum has a unique, award-winning style, with absolutely fascinating images of Anguilla! (I like to call them "Anguilla pictures" because my mom always says "art, not pictures."
My Dad and I enjoy her artwork, but my mom adores it! On every visit to Anguilla, she is dying to go and see what new creations Lynne has conjured during our absence. Here they are together...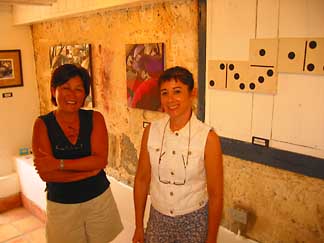 During your next visit to Anguilla, pay Lynne a visit. She's a friendly, smiling lady who makes you feel at ease. And her "Anguilla pictures" capture the spirit of the island beautifully.
If you'd like exact directions to her gallery, send her an e-mail.
But don't stop only there. There is so much truly fantastic Anguilla art ("Anguilla pictures") (not the typical "Caribbean kitsch")! Keep your eyes peeled -- be ready to turn off the road at any moment for yet another treat for your eyes.
To see some of Lynne Bernbaum's Original Paintings, click on the links below...
If you are interested in browsing more of Lynne's Anguilla artwork, please click here.