Lynne Bernbaum's
Anguilla Art Gallery Update
Update 2018: Lynne Bernbaum's gallery is now located in the heart of Sandy Ground, opposite Dolce Vita. More on Lynne Bernbaum here.
Once upon a time, a charming Anguilla art gallery existed on Sandy Ground. The talented artist, Lynne Bernbaum, "lived" there.
My Mom loves her work, so you can imagine her disappointment when the door was locked and the inside empty. Thankfully, there was a note...
"Moved to George Hill."
Lynne's George Hill Location
Despair turned to hope and off we rushed towards George Hill.
Suddenly, my Mom blurted, "Stop, there it is!" (My Mom was excited -- she almost screamed!)
The new location is more accessible and easily seen from the main road, as you can see above.
Would a change of location mean a change in her work? Perhaps Lynne had gone "Anguilla art touristy." My Mom was a little anxious.
No Need To Worry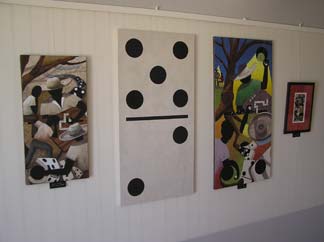 Lynne's art remains strikingly original, an inspiring reflection of her view of Anguilla. Her new location is bright and open-spaced, not as cave-like as her previous location (although that was a nice, cozy spot)
Today, Lynne's George Hill location has closed. She can now be found in the vibrant working harbour, Sandy Ground...
Modern-Chic Spot in Sandy Ground
In a modern, new building (reminiscent of something you may find in St. Barths), Lynne Bernbaum's Anguilla gallery feels so fresh...
Lynne's Gallery in Sandy Ground

Lynne's gallery is located on your right as you're entering Sandy Ground village with the pond on your right.
Just look out for her sign (see the photo on the right).
She is right across the street from the shop, Bijoux.
In fact, together, they make for a nice little shopping experience.
They are both open late, too!
Lynne Bernbaum has long been one of my Mom's favorite artists. She was bubbling with excitement when she heard about her location move. We popped in to see the new space and wish her well.
Congratulations, Lynne!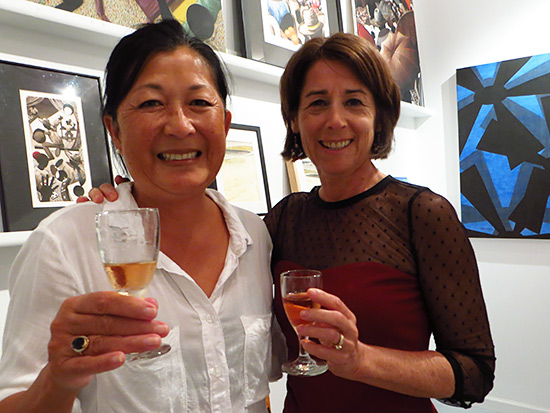 With rosé at the ready, we settled in as Lynne told us a bit about the new space. This is her gallery only. In years passed, she had her studio and gallery in one place. Today, she works at her home studio.
Beaming as she spoke, we were so happy to see Lynne back in Sandy Ground, the home of her first gallery!
My Mom admired her originals, nicely displayed along the stark white walls.
Lynne's paintings do convey a certain, inexplicable feeling, blending island scenes with a modernist touch.
My Mom couldn't leave without taking a little piece of Lynne's work with her.
An ocean scene, one of Lynne's "Nature originals," caught my Mom's eye.
Today, it sits proudly on my Mom's desk.
Lynne packaged up the painting, nicely and delicately, with pretty presentation, as always. Thank you, Lynne and a big congratulations on your eye-pleasing space in Sandy Ground! :-)