<![endif]-->
Anguilla Shopping...
Bijoux Boutique on Sandy Ground
By: Kristin Bourne
Have you noticed over the years that shopping in Anguilla keeps expanding?
I have! One of the latest boutique, called Bijoux, is hard to miss.
It is in a brand new, tall, white building with light blue shutters that sits on the main road in Sandy Ground.
Bijoux Boutique in Anguilla on Sandy Ground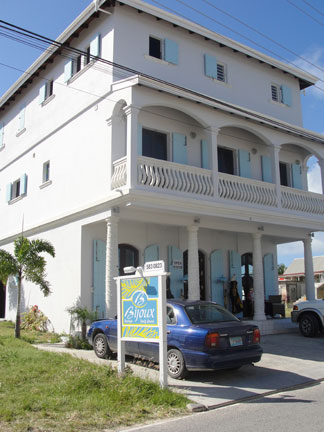 Bijoux Boutique is located very near SandBar (one of Anguilla's most popular tapas restaurants) and the popular Italian restaurant, Dolce Vita.
At night the shop is particularly eye-catching. The white columns are adorned with small, twinkling lights.
I ventured inside for the first time while my Mom was visiting from the States. Otherwise, I'm not a big shopper.
I was surprised to see the volume of selection they had for children... Almost a quarter of the store!. This section included some very soft t-shirts and plenty of colorful sundresses.
There is a small men's section which has a few shirts and bathing suits. There is plenty more browsing opportunity for women!
Jewelry "island" with pretty kids dresses on the right

The rest of the boutique is geared towards women, complete with a jewelry island in the middle of the boutique. There was some jewelry that went for upwards of $300+ US and costume jewelry priced in the $30 range.
They carried Larimar too, the beautiful blue stone. I had not seen it since visiting the Dominican Republic, where it is native. They had it front and center as you enter the shop.
Island Prints and Cool Clothing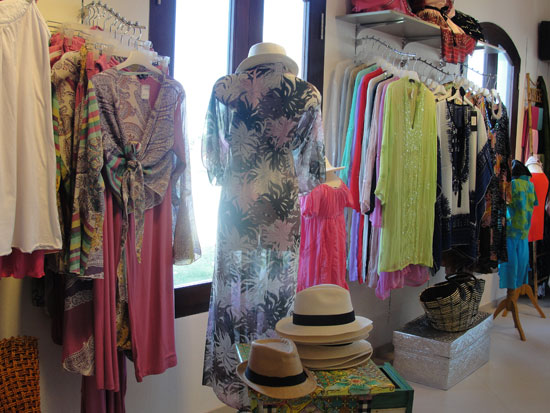 Surrounding the jewelry island are dresses, shirts, blouses, and cover-ups. Most of the pieces that I looked at seemed to start around $49 US in price.
I was pleasantly surprised at the prices seeing as its image screams high-dollar to me. The quality of some items were hits and misses, but there are some good finds!
This shop is worth stopping in, especially if you are a shopper and enjoying an afternoon down on Sandy Ground.