---
Combing Anguilla's Beaches for the Best
Anguilla Beach Lovers brings you the latest additions to one family's experiences of the "best of all things Anguillian."
If you like this e-zine,, please do a friend a favor and "pay it forward."
If a friend did forward this to you and if you like what you read, please subscribe by visiting...
---
Issue #125, February 2, 2019
Siri, take me to Anguilla 😍✨💖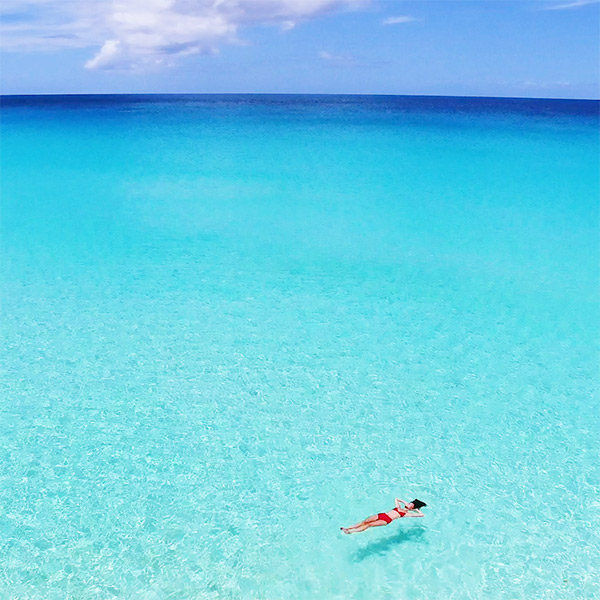 As winter settles in, Anguilla's call is louder than ever!
Villas and hotels are answering that call with plenty of high-value specials (more on that below!).
Before Anguilla news, let's take in another dose of blue...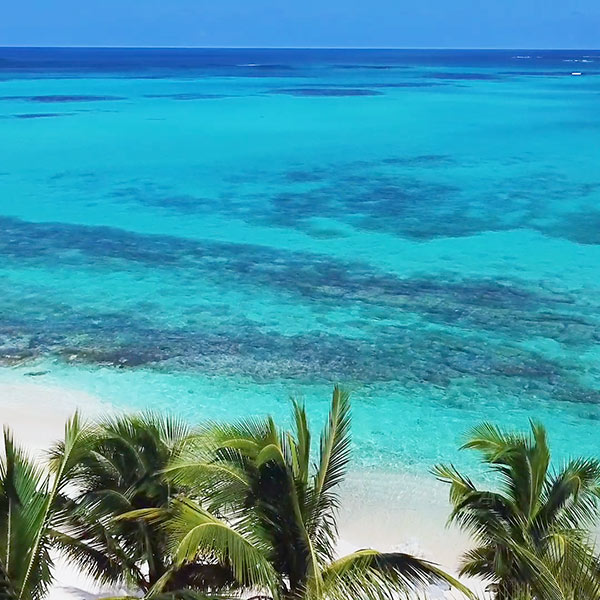 What's new since last time?
---
NEW From Anguilla YouTube
A True Beach Escape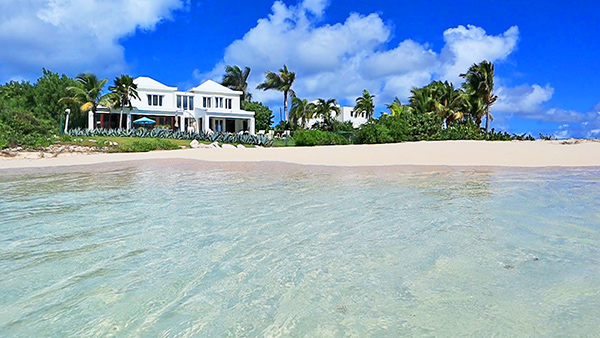 When you think of Anguilla vacations, what comes to mind? Sparkling beachfront, sandy strolls, total relaxation?....
True to its name, Beach Escape Villa delivers on all accounts!
Set directly on sandy beachfront, this Caribbean villa is one of the most relaxing villas in Anguilla. The property has natural advantage, right on Sandy Point beach. Up from the beach, and this vacation rental wows all over again.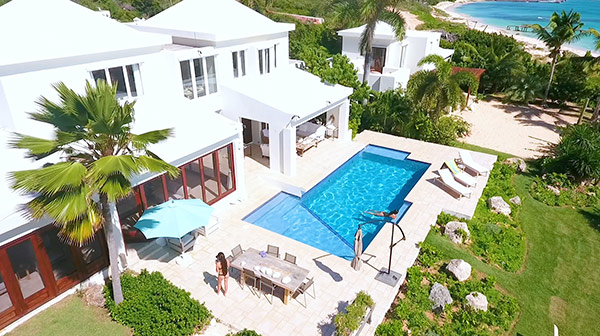 Marrying Caribbean charm with contemporary beach house feel, this is tropical villa living at its most relaxing. It is irresistibly comfortable.
The property boasts 5 bedrooms with en-suites that lay out in two picturesque buildings. The villa is complete with lush tropical landscaping, solarium-esque rain showers, modern kitchen with outdoor cooking options (including EVO grill and charcoal grill), along with all modern amenities like SONOS and Apple TV.
Perfect for families and friends traveling together, Beach Escape Villa is one of the most high-value Anguilla villa rentals.
See inside Beach Escape Villa here.
To book your Beach Escape, click here.
Driving Anguilla in MOKES!
One of the most unique, and certainly most stylish ways to drive Anguilla? This is not your average rental car!...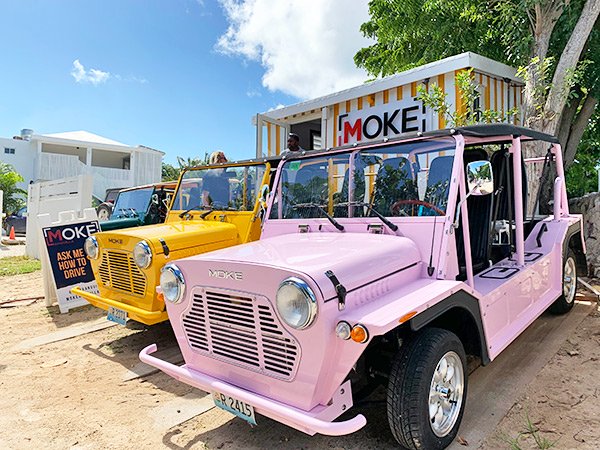 A stylish vehicle first introduced in the UK in the 1960's, Mokes have made a come back today. These classic, open-air vehicles boast durable steel construction and serious chic factor. It is no surprise they have taken the Caribbean by storm. They are the perfect beach buggy!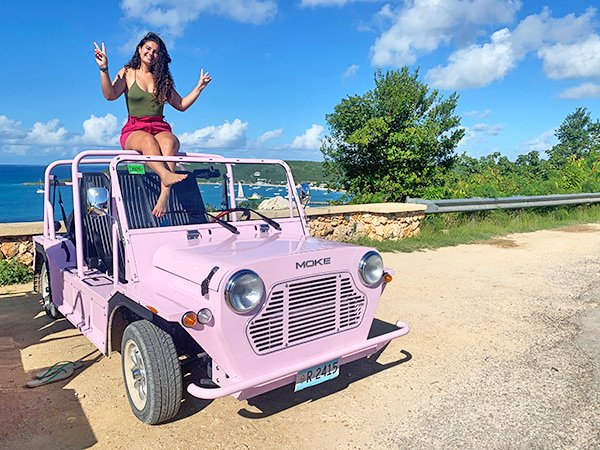 Watch the driving Anguilla video here.
Check out the Moke article here.
Offshore Cay Exploring
Climb aboard for an Anguilla adventure with Anguilla Charters - Rum & Reel!
Established in 2019, Rum & Reel Charters boasts one of the sweetest boats to grace Anguilla's waters. Meet Rum & Reel's 50' vessel, Striker...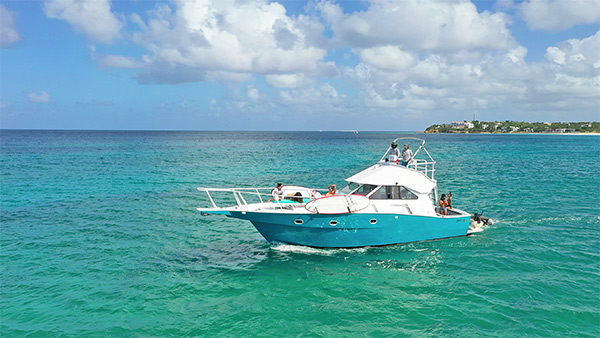 Plush and comfy with plenty of space and a five-star crew, Rum & Reel is a top charter for offshore cay exploring!
Together with Anguilla charter boat, Rum & Reel, this video takes you to two remote Caribbean islands: Dog Island and Prickly Pear.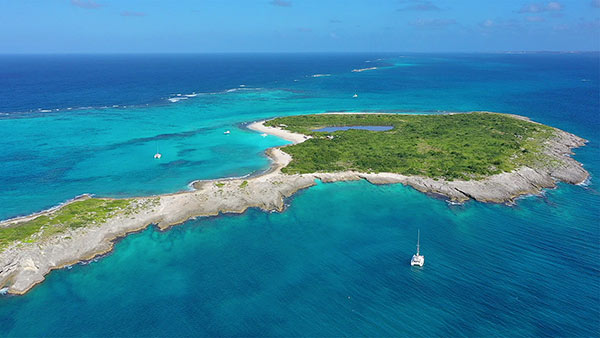 Fun in the sun is a shore thing when you are at sea with Rum & Reel Charters!
Watch the offshore cay video here.
More on Rum & Reel Charters here.
Subscribe to our YouTube channel to never miss an Anguilla vid!
---
Scilly Cay Joins The Anguilla Card
Set on a tiny island off of the coast of idyllic Island Harbour in East End Anguilla, Scilly Cay is a gem of a spot. To get there? Head to the Island Harbour pier. If Scilly Cay's boat's not there, just wave at the island. It'll be there in a few minutes. This is where the one of a kind dining experience begins!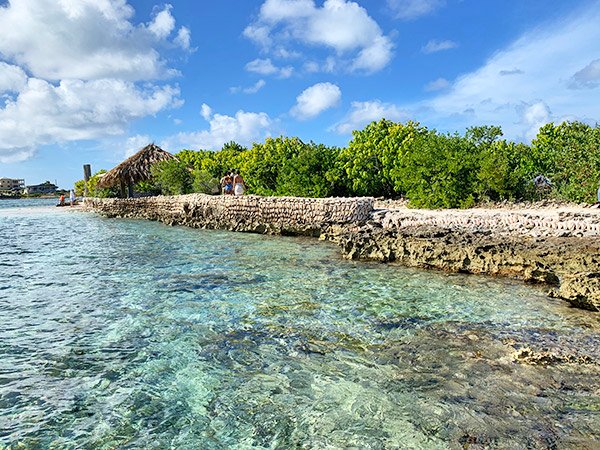 The waters within the bay are always calm and you arrive before you can say "Scilly Cay on a Fine Day"! From the moment we step onto the dock, we always think, "I've never seen anything quite like this." In a word? It is breathtaking.
It's the only building on the tiny island in the middle of the bay. Its views of Island Harbour are panoramic. No electricity here! All you hear is the lapping of water and the rustling of palms. Being stranded on a desert island could be tougher :-)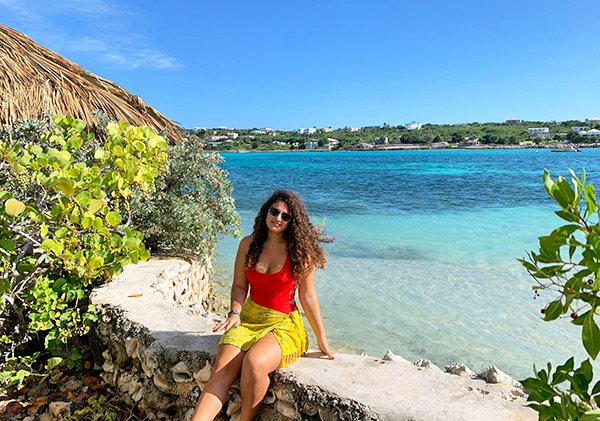 What's for lunch? Scilly Cay is famous for their very strong and tasty $5 rum punches and mouthwatering crayfish and lobster.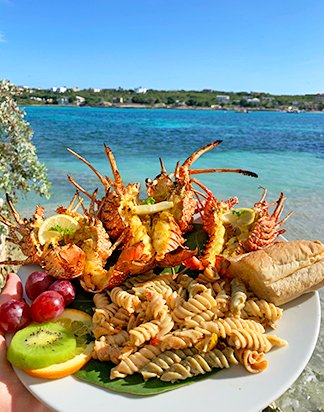 The plate is picture-perfect. Lobsters and crayfish are brushed with garlic butter and served with warm French garlic bread, fresh pasta salad and fruit salad. Fresh and al fresco Anguilla dining... it doesn't get better than this!
Scilly Cay is open Wednesday & Sunday for lunch.
Save 10% at Scilly Cay when you use your Anguilla Card. To purchase your Anguilla Card, click here.
---
Let's Taco 'Bout Olas
Brand new to the Shoal Bay dining scene, welcome to Olas!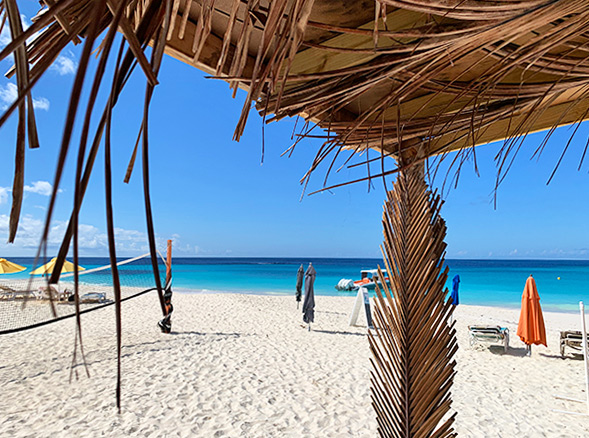 Just next to Madeariman, Olas is creating waves for two reasons.
#1. Their rum punch...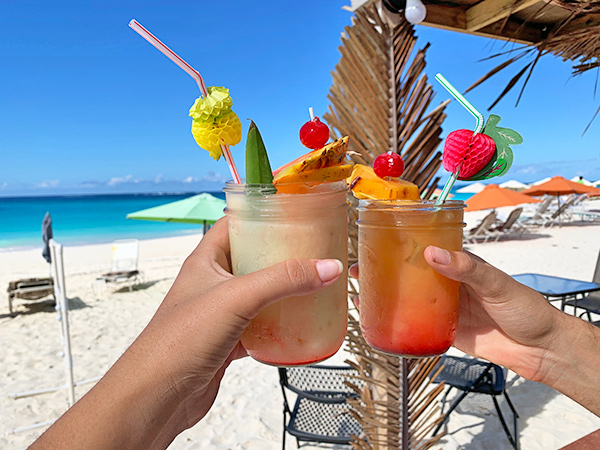 Potent and fruity, many are naming this the punch to beat in Anguilla!
#2. This barefoot beach shack is bringing Mexican flavors to the shores of Shoal Bay.
Their menu is loaded with tasty taco options including grilled fish with Mojo marinade and sweet chili mayo...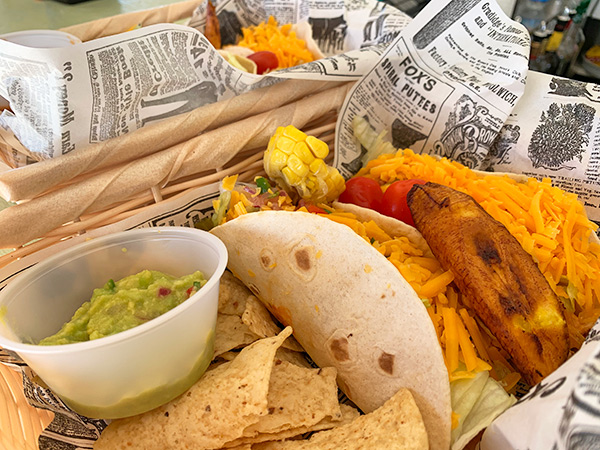 Chili lime chicken topped with jalapeño crema, adobe steak with chipotle mayo, al pastor pork, chili lime cauliflower and even lobster tacos!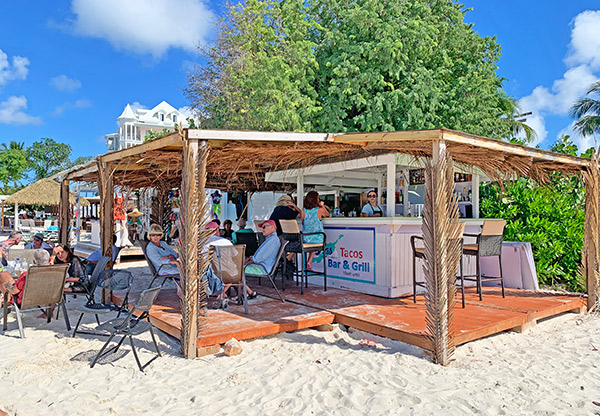 A NEW hot spot directly on the beach, get your taco fix daily on Shoal Bay East!
---
Winter Getaways to Anguilla
CuisinArt Golf Resort & Spa
Amidst swaying royal palms and blossoming bougainvillea, CuisinArt Golf Resort & Spa surpasses the term Anguilla luxury resorts. The five-star beachfront property has long been considered a "Caribbean best."
Its iconic blue domes and white buildings line the powdery-fine sands of Rendezvous Bay like a Mediterranean dream...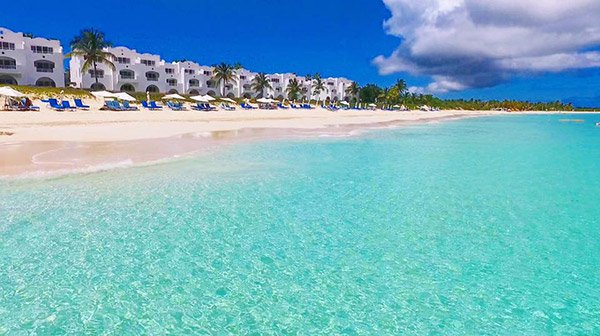 Its pool gazes out to the mountains of St. Martin while sparkling in a million shades of blue. Its suites provide the most jaw-dropping vistas to the Caribbean Sea. World-class cuisine, Greg Norman golf course and award-winning spa round out the CuisinArt experience.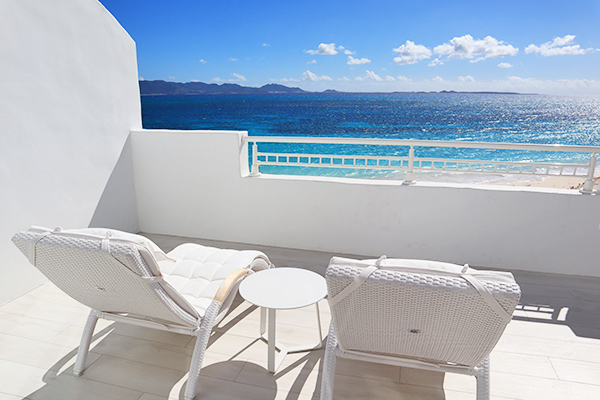 The exclamation point? CuisinArt is offering a sumptuous and romantic special until April 18th!
For full details...
The Reef
One beach over, on Merrywing Bay sits CuisinArt's sister property, The Reef.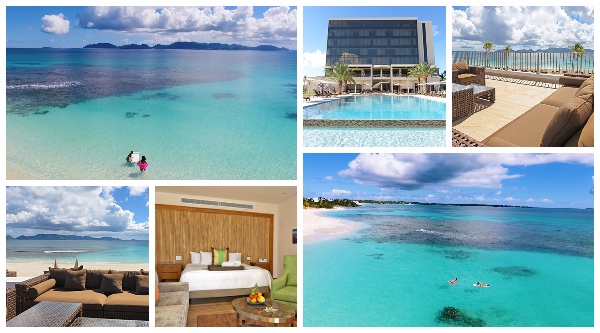 The Reef has been racking up exceptional reviews! First, the size of the light, bright rooms is beyond compare when it comes to hotel rooms in this price category.
Then? The world-class amenities. The Greg Norman designed PGA golf course, CuisinArt's award-winning spa and six outstanding restaurants are all at your fingertips.
Last but not least? The Reef's team of staff always make you feel right at home.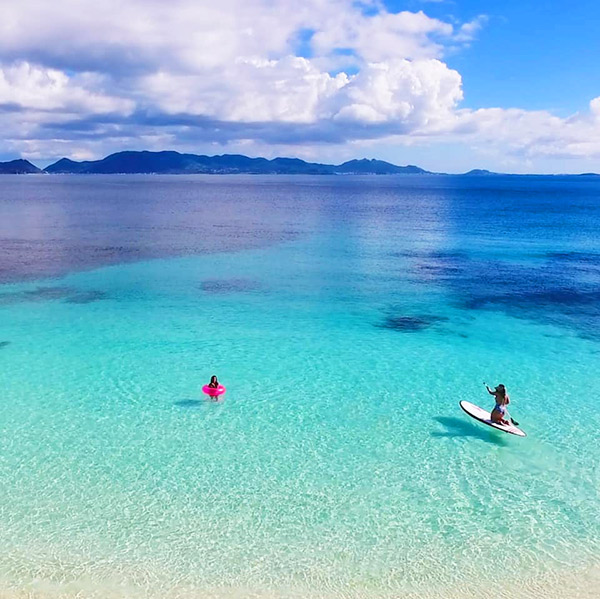 The Reef is currently holding a "Stay 7, Pay 5" special.
For full details, see...
Long Bay Villas
Long Bay Villas is Anguilla's most elegant and iconic ultra-luxury villa! The property takes your breath away in three distinct ways: Sky Villa, Sea Villa and Sand Villa.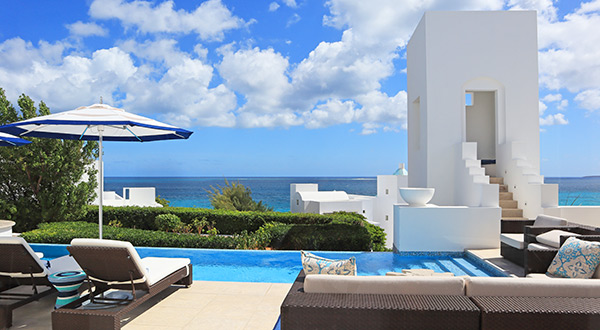 The estate's three stark-white villas tier down the lush hillside that slopes up from pristine and exclusive Long Bay beach. Each villa's unique setting emphasizes a different perspective of "Long Bay Blue."
Inside, the grand villas combine to boast 16 bedrooms with over 19,000 square feet of indoor/outdoor living space that can accommodate 33 guests.
A sensational property, the ultra-luxury experience is rounded out by top-tier service.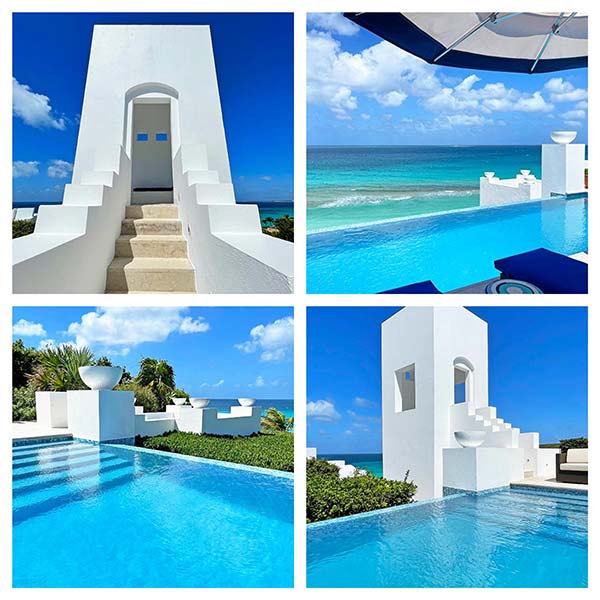 Long Bay Villas is currently holding a high-value "Book 6 and Get Your 7th Night Free" special!
For full details, see...
Santosha Villa Estate
Next door to Long Bay Villas lies the ultra-exclusive Santosha Villa Estate.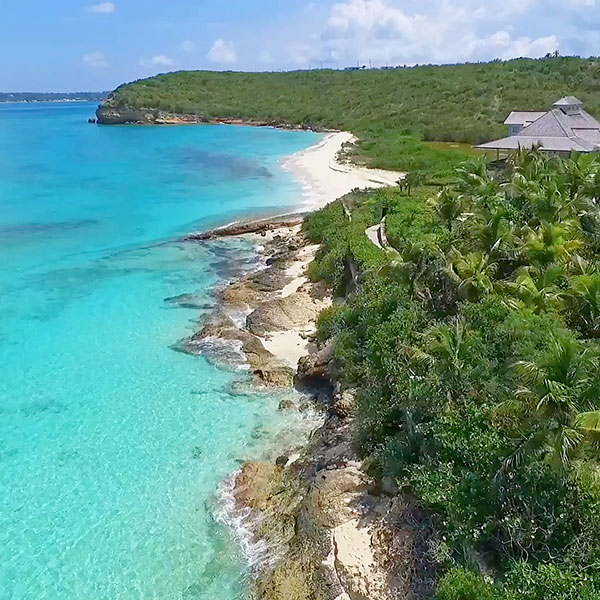 A 37,000 square foot West Indian-style estate, Santosha is of a bygone era. Its design is classic Caribbean, immaculately executed. A marked sense of relaxed sophistication washes over you as you walk through the nine bedroom property.
From regal crown moldings, to mahogany four poster beds, to antique sconces, louvre doors and double-paned windows, to the grand spiral staircase and wrap around verandas, each and every piece has been carefully designed. Each ornamental touch has been hand-selected for its specific place.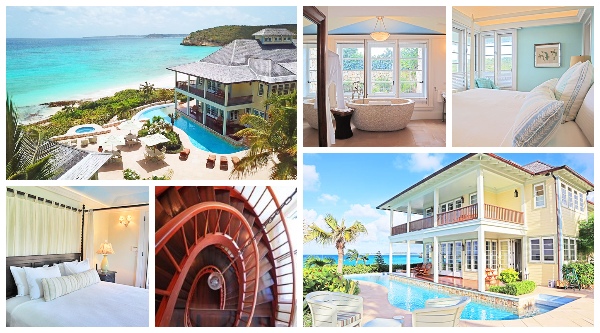 Sprawling across 4.5 lush acres and able to accommodate 23 guests, Santosha Villa Estate is Anguilla's most grand ultra-luxury villa.
Santosha is also offering a high-value "Book 6 and Get Your 7th Night Free" special!
For full details, see...
Carimar Beach Club: Spring & Summer on Meads Bay
Carimar Beach Club's famous and fabulous spring and summer packages are here!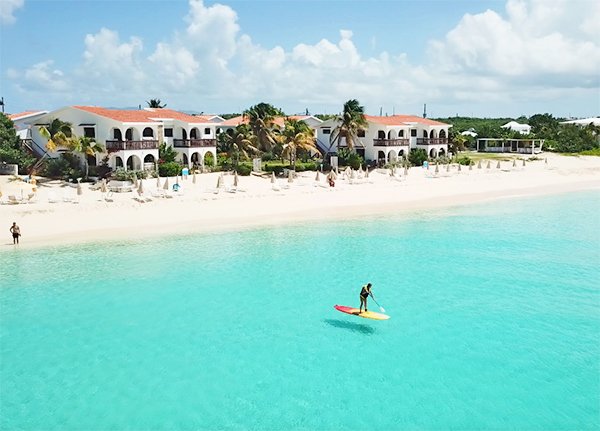 Set right on Meads Bay, Carimar Beach Club wins on location alone!
The charming boutique hotel is rounded out by spacious units (all air conditioned), gym and laundry, tennis courts, lush and blossoming gardens, and their wonderful team of staff who always makes you feel right at home.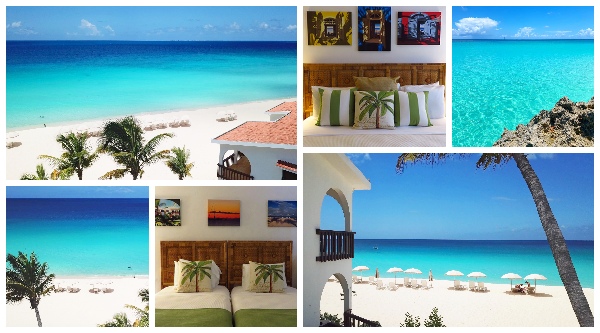 One of the most high value hotels in Anguilla, the deal gets even sweeter this spring and summer!
For full details on their specials, see...
Tranquility Beach Anguilla's Opening Special
The majestic Meads Bay project is officially OPEN!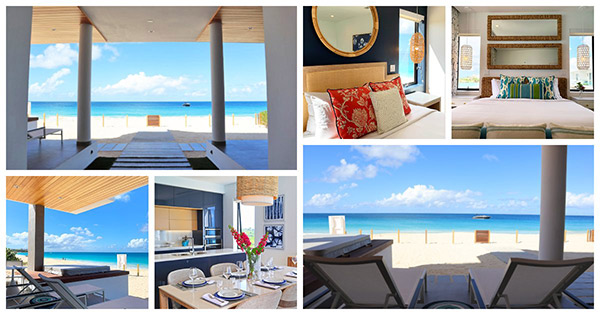 The chic boutique hotel with ownership opportunities opened mid-January with 15 one, two and three bedroom luxury condominiums.
Award-winning architect, Ian "Sugar George" Edwards has more than delivered!
Tranquility rules supreme at Tranquility Beach Anguilla. You are immediately struck by commanding views and soothing sounds of Anguilla's most coveted beach. Mere steps to Meads Bay's waterline, the property's location is unmatched.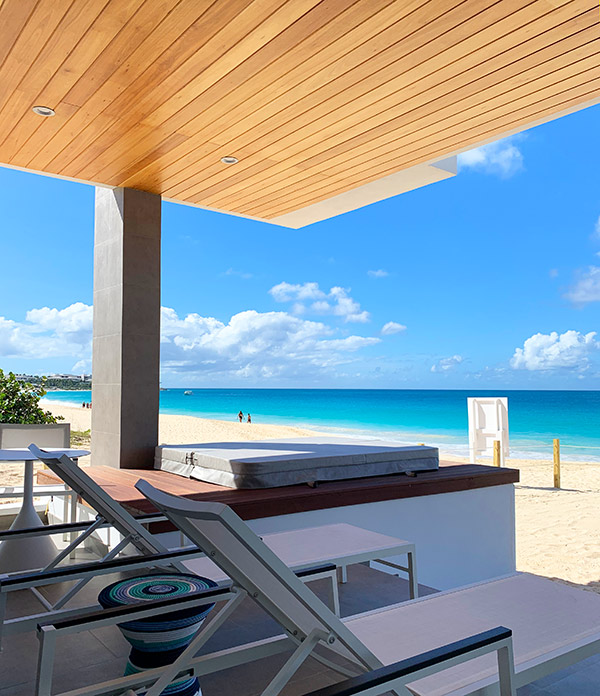 The setting goes hand in hand with superior design. Sugar George blends modern-cool with tropical-warmth. Outside, wood ceilings contrast elegantly against strong pillars, stone tile and a white color scheme.
Inside, a wave of tranquility envelops you yet again. Through oversized windows, you are wrapped in Meads Bay blue.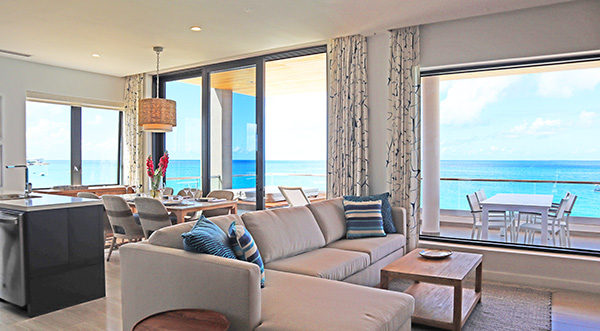 That feeling of sumptuous calm carries through each room, from luxurious ensuites, to modern kitchens.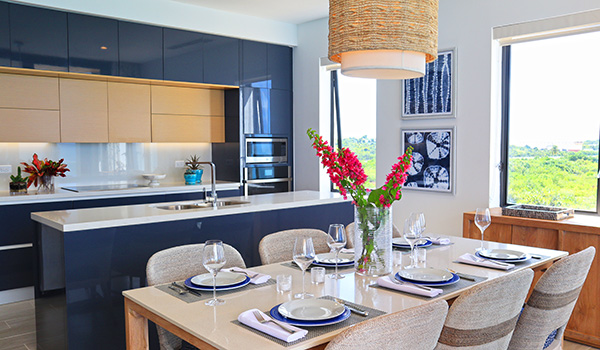 The spacious bedrooms have been immaculately designed, each with its own flair. From chic white and navy color schemes with tropical touches of bamboo and wood...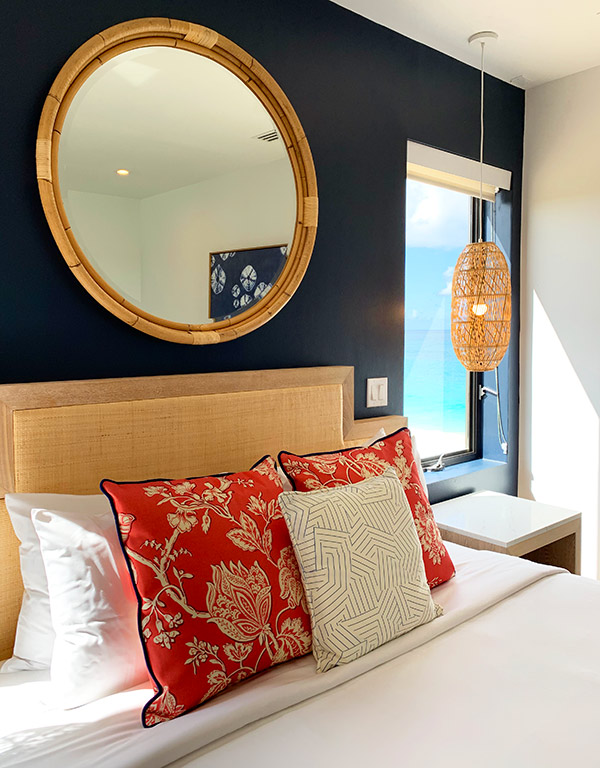 To tropical greens, baby blues and stylish, airy curtains...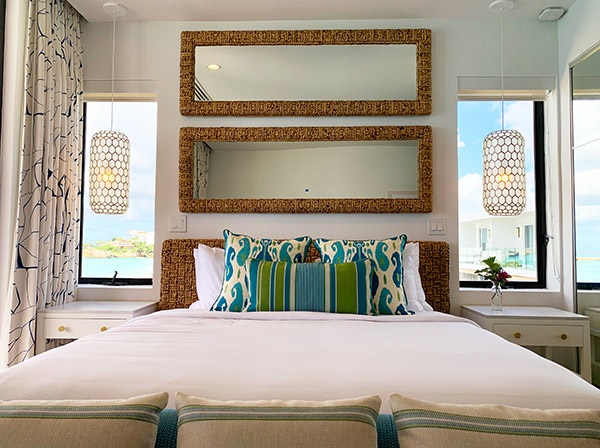 Location, design and furnishings all combine to create a state of the art Meads Bay property.
Tranquility Beach Anguilla is offering an exceptional opening special until March 2020!
Enjoy the seventh night free when you book by March 31, 2020 for 2020 stays (excluding festive and select US holidays and subject to availability, government tax and service charge). Buyers receive 10% off the purchase price and pay no out-of-pocket HOA dues until December 31, 2021 when they submit a contract and deposit by March 31, 2020.
For full details, visit...
---
Where Happiness Awaits...
Oh, Palm Grove… where to even begin? Our love affair with this sandy beach shack runs deep.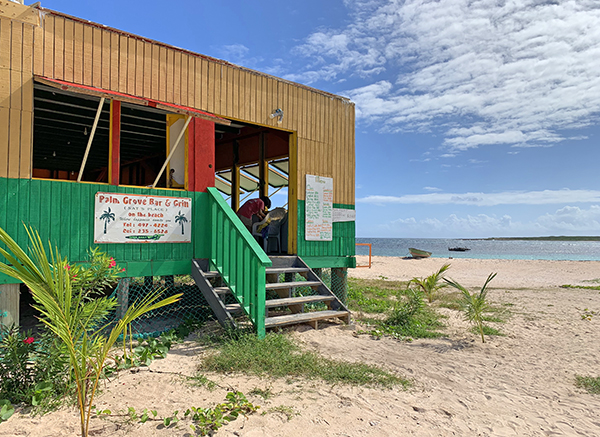 Set on Junk's Hole, Palm Grove (aka Nat's) is an off-the-beaten path gem. Extra-tranquil, this low-key, open air beach bar takes full advantage of its location.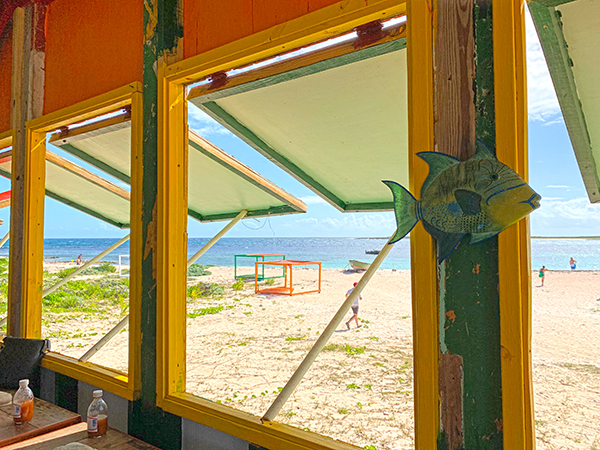 The best way to begin an afternoon at Palm Grove? With Nat's famous rum punch. Fruity and delicious, buyer BEWARE. These tasty drinks sure can sneak up on you ;-)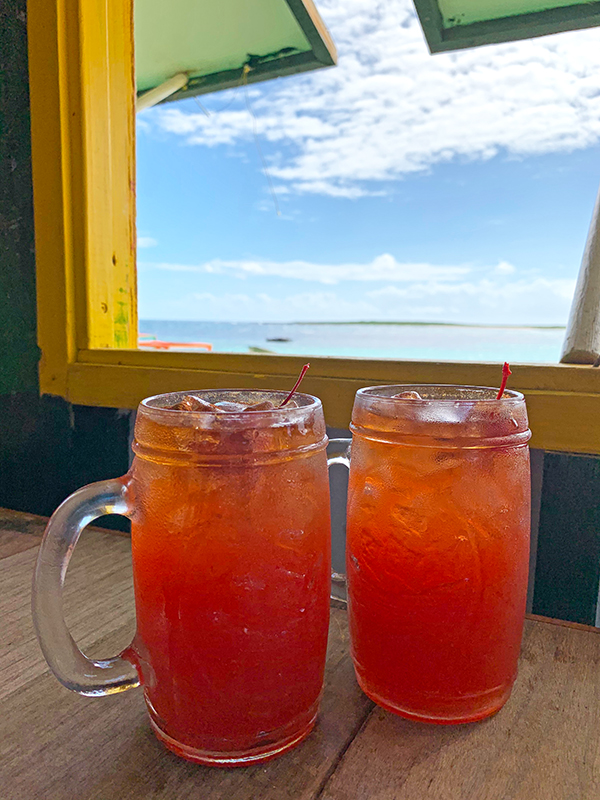 What's for lunch? Crayfish so fresh, you may even see the fisherman hand-deliver your lunch, live. Once in Nat's hand, Nat boils his crayfish to seal in the juices. Then he BBQ's and spices them to perfection.
As Nat approaches with a giant tray of crayfish, our mouths always water…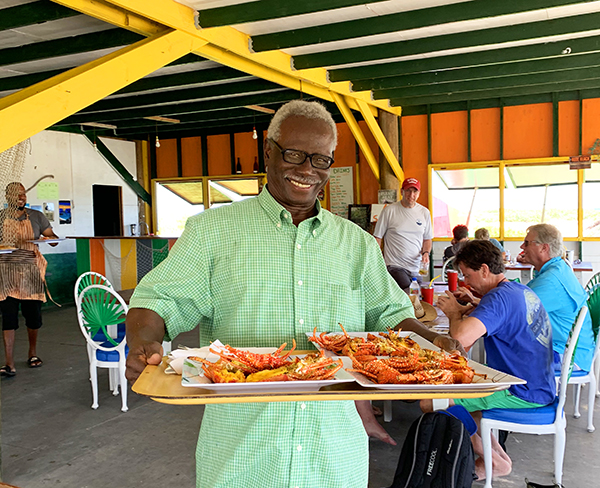 Time after time, year after year, Nat's crayfish go down as our favorite in Anguilla!
Juicy, loaded with flavor, nothing comes close. Nat serves his crayfish with all of the trimmings, too. BBQ orders come with coleslaw, hand-cut fries and some of the all time best Johnny cakes in Anguilla. Fluffy and puffy, each bite is heaven!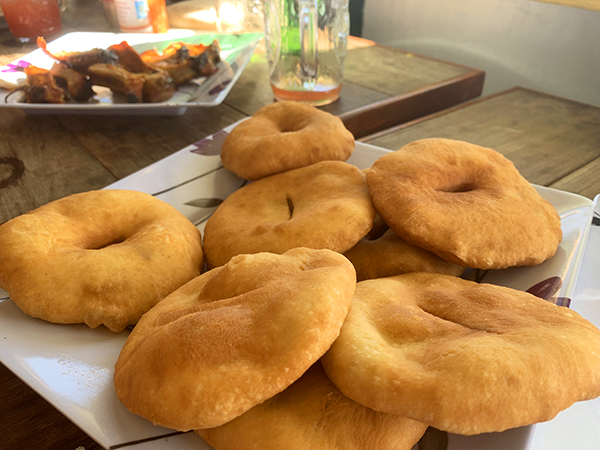 It is a Caribbean feast fit for a king!
The quintessential Anguilla beach bar experience, if you haven't been to Nat's, you haven't been to Anguilla 😉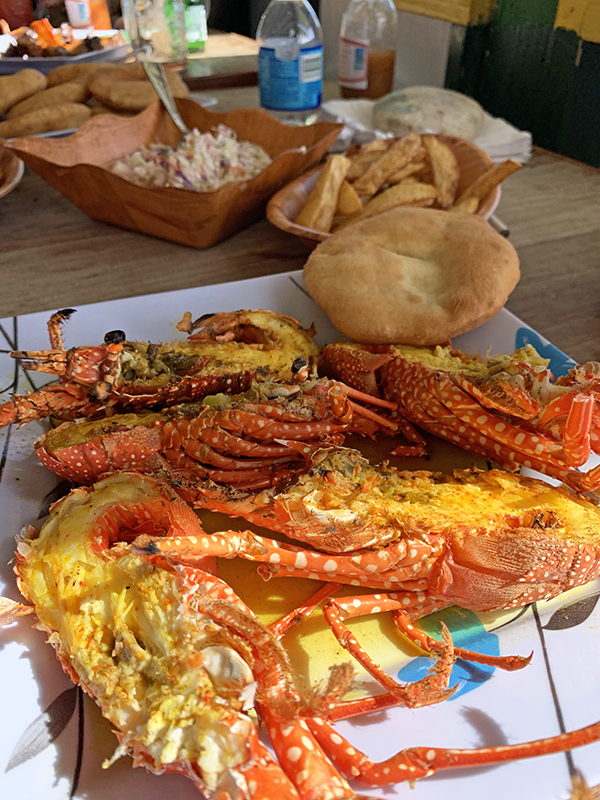 Nat's is open daily for lunch. Closed Monday.
Save 10% at Nat's when you use your Anguilla Card. To purchase your Anguilla Card, click here.
---
Let's Hear it For Anguilla!
Last chance to vote Anguilla to #1...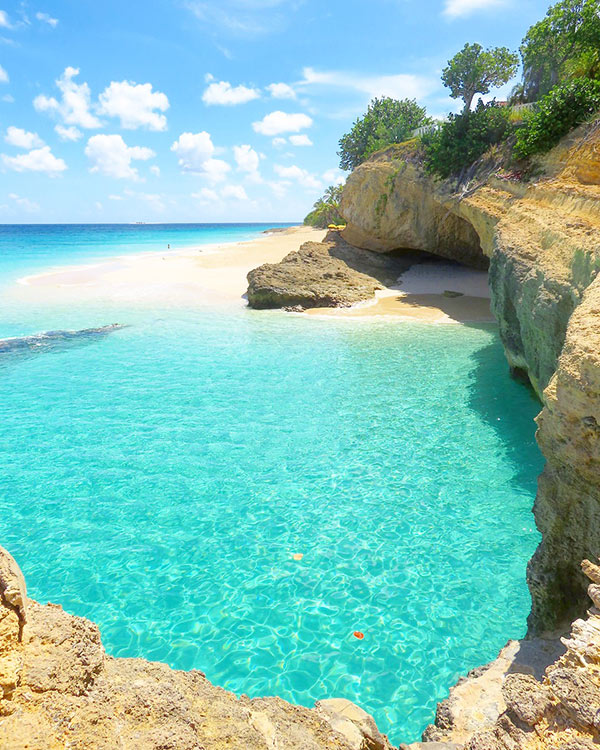 Anguilla is up for the MAJOR USA TODAY 10Best awards.
CuisinArt Golf Resort & Spa, Elvis', Sunshine Shack... they are all nominated. HUGE thank you to nominating judge, Melanie Reffes for all of the Anguilla love!
VOTE NOW to get Anguilla to #1 in each category via the links below...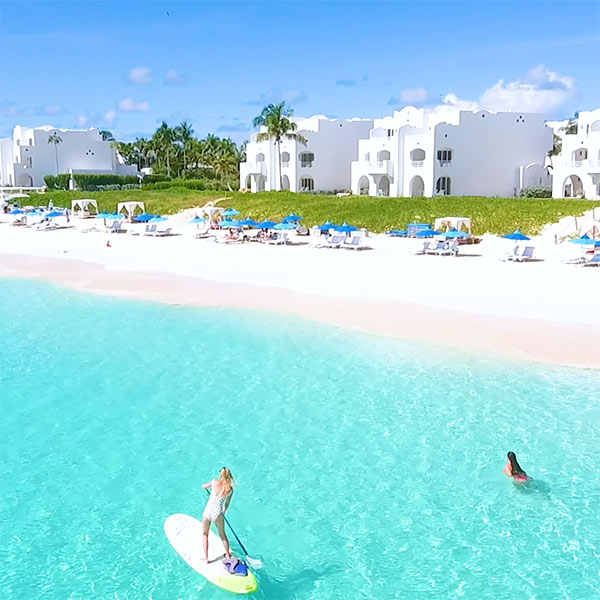 Voting ends SOON, Monday, February 3 at noon ET. All winners will be announced on Friday, February 14.
Let's hear it for Anguilla 🎉🎊💗🎊🎉
---
Real Estate Corner
Our favorite real estate agent, Jackie Pascher has two fantastic Anguilla real estate listings!
First, welcome to Mañana Villa...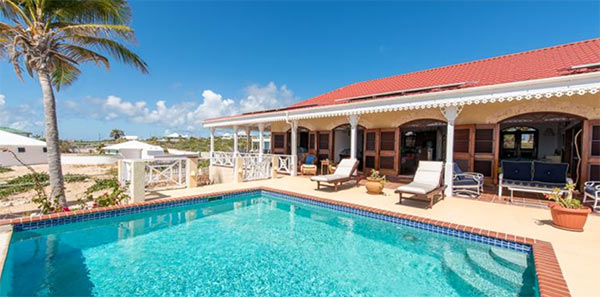 Set on 0.5 acres in Sandy Hill Bay, Mañana Villa is a 3 bedroom, 2 bath villa with views of St. Martin, St. Bart's, Statia, and on a clear day St. Kitts/Nevis.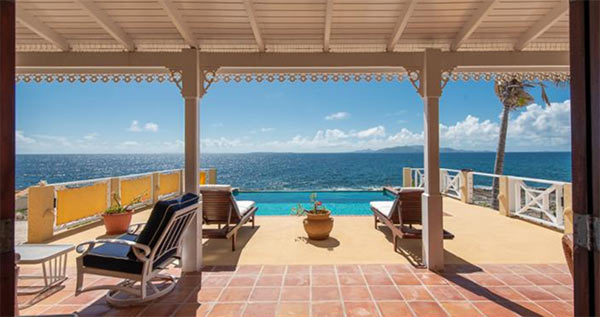 The darling home boasts a traditional West Indian design, with ample amounts of Anguilla stone and gingerbread trim. Doors and windows are made of South American red cedar and are heavily constructed to withstand hurricane force winds. (It has withstood major hurricanes with virtually no damage to the structure!)
An infinity edge pool and carport are included in the property. There is a large covered veranda around 3/4 of the house that could easily be enclosed to expand living space if desired. In the meantime relax in the pool and the veranda and take in the whale and dolphin sightings each winter!
Mañana Villa is on the market at $985,000.00 USD.
Next up? Las Brisas! Available at just $695,000, it is a steal of a deal. This three bedroom villa boasts beautiful views of Sandy Hill Bay and a whole lot of space.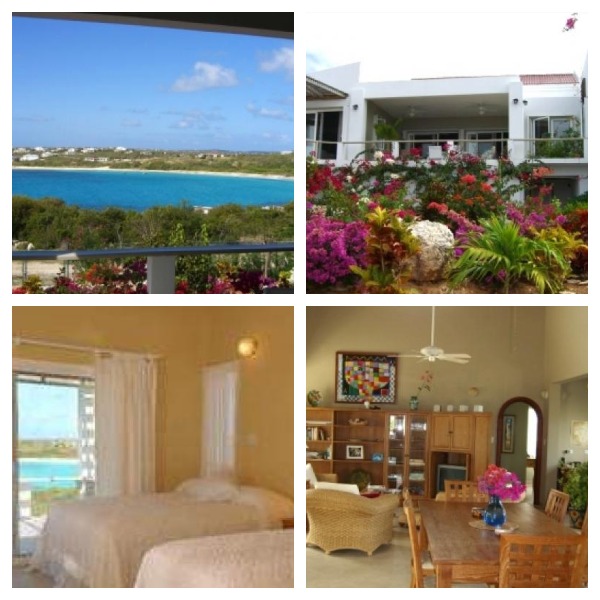 There are two spacious bedrooms with ensuite on the main floor, both with a/c and ceiling fans, well-equipped kitchen, laundry room and living/dining area. Sliding glass doors lead to a lovely covered deck to enjoy the sunsets and bay views.
Downstairs is a studio apartment with small kitchenette, bathroom, bedroom. The home is tiled throughout with ceiling fans and a/c units in each bedroom.
---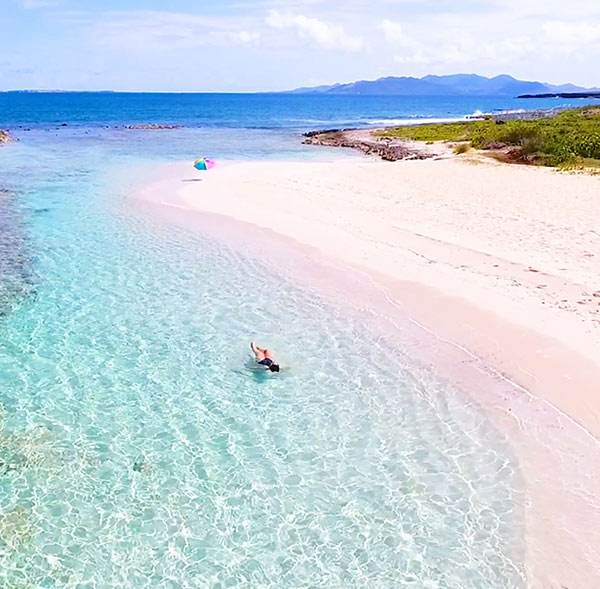 That's all for now!
Here's wishing you a wonderful February & talk to you soon with more Anguilla news,
Nori
---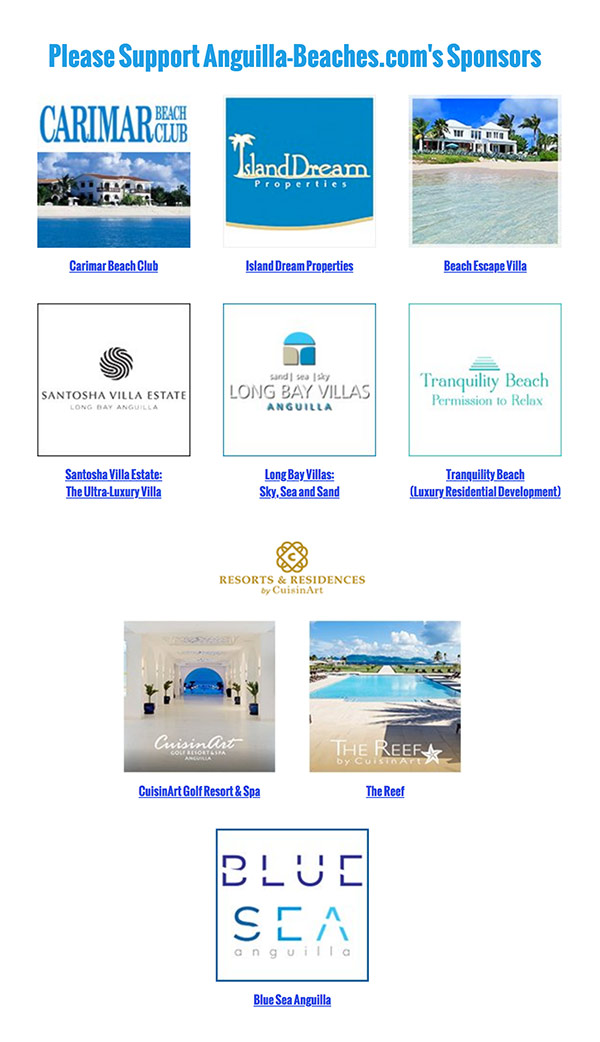 ---
Anguilla-Beaches.com