---
Combing Anguilla's Beaches for the Best
Anguilla Beach Lovers brings you a fresh dose of "Tranquility Wrapped in Blue" every month. And now you can wrap yourself in our Tranquilitee, the softest, most comfy tee you've ever worn.
If you like this newsletter,, please do a friend a favor and "pay it forward."
If a friend did forward this to you and if you like what you read, please subscribe by visiting...
---
Issue #138, April 16, 2021
Bluuuuetiful news from Anguilla!...
New travel measures are here!
Immediate changes to current travel requirements include...
Reduced quarantine period for travelers who are fully vaccinated (final dose administered at least three weeks before date of arrival)
Reduced entry fees
As of July 1st, travelers who are fully vaccinated will not be required to quarantine (final dose administered at least three weeks before date of arrival).
For a complete breakdown of the travel requirements and timelines, please click here!
We have been missing you dearly and can't wait to sea you again soon 🤗🤗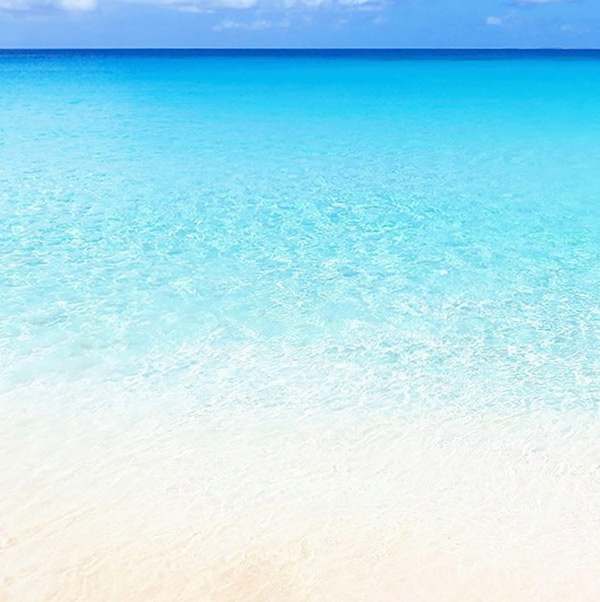 Now? A deep breath of Anguilla calm...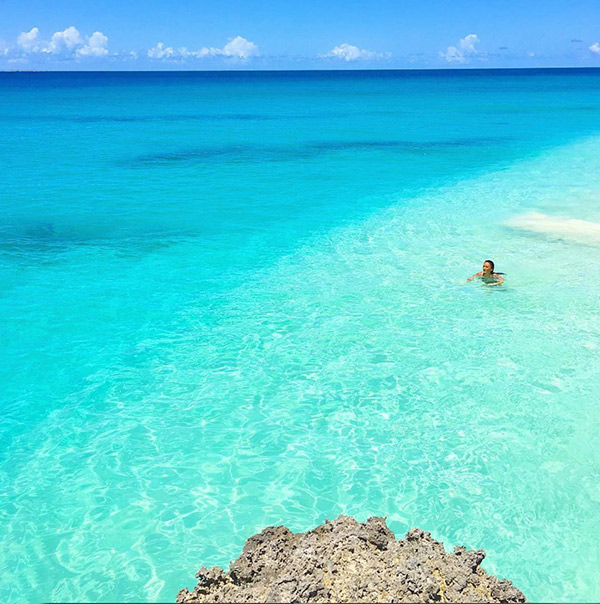 ---
What Else is New?
We have been hard at work putting together a three part YouTube series showing you the in's and out's of Anguilla's current "bubble experience."
If you are planning an Anguilla vacation this spring or summer, read on for a full look at traveling to Anguilla now.
First up?...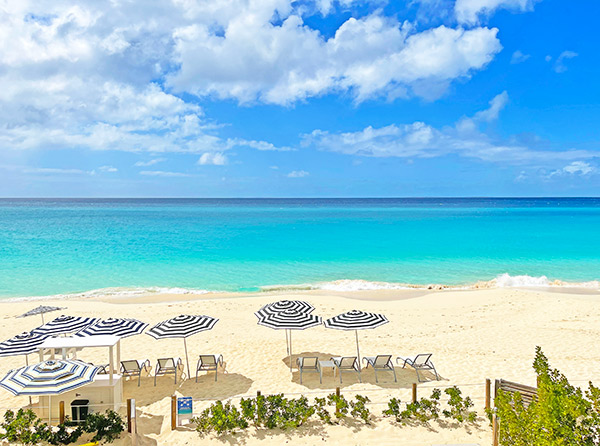 Set smack dab in the middle of Meads Bay, Tranquility Beach Anguilla's setting can't be beat.
Developers, Neil Freeman and Ian "Sugar George" Edwards knocked it out the park when they built Tranquility Beach Anguilla.
The property wins for location, design and over-delivers with excellent hospitality.
All factors combine to create a top tier vacation experience!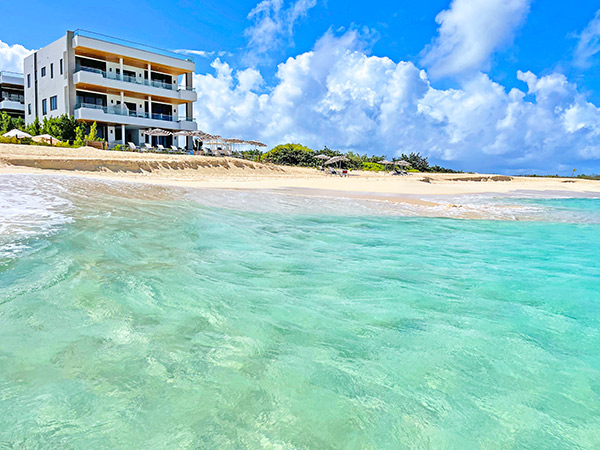 Location
Tranquility Beach is in the "Meads Bay Bubble." While you are "in the bubble," you can visit any property between Frangipani and Carimar!
Long lunches at Straw Hat, sumptuous dinners at Blanchards, soothing strolls on the beach... Tranquility Beach's setting is a real treat.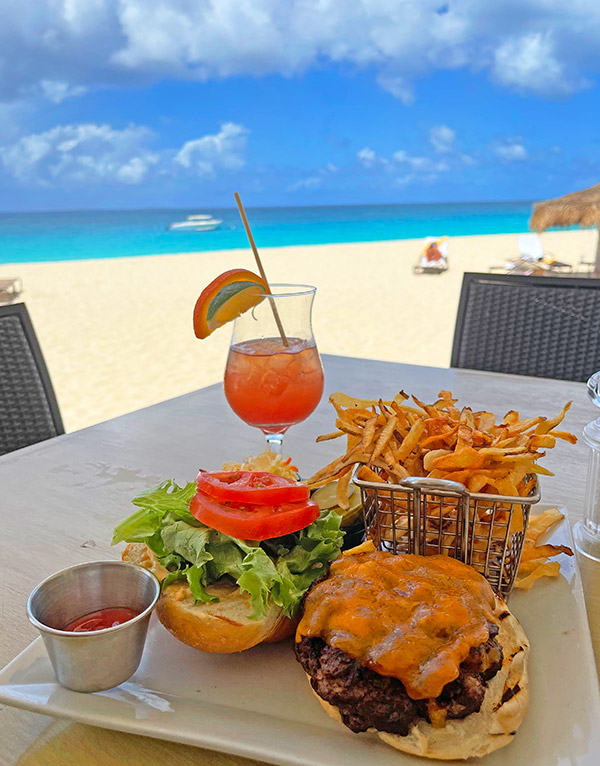 At the end of a full day on Meads Bay, there is no sweeter feeling than "coming home" to Tranquility Beach Anguilla.
Tranquility Beach's large suites offer all of the comforts of home: laundry, dryer, full kitchen for preparing meals in and expansive outdoor terraces.
These suites tick every box!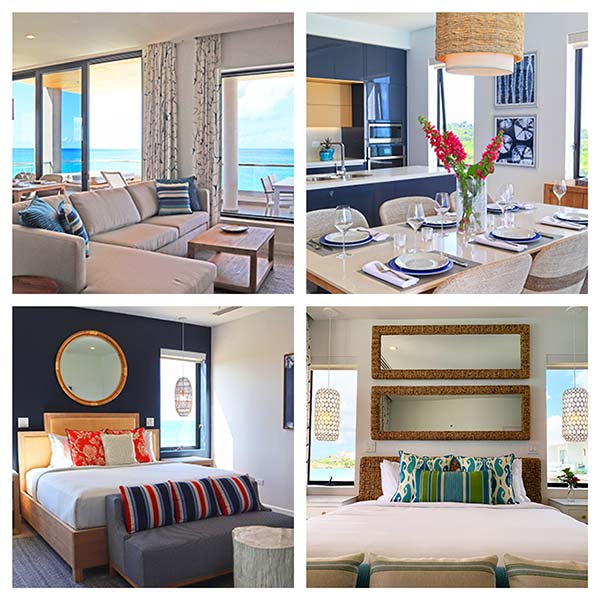 Last but not least, Tranquility Beach's team goes above and beyond! They assist with everything prior to your arrival (including stocking your room with groceries and supplies).
Once you arrive? They take care of your every need, from delivering fresh pastries in the morning, to booking your lunch and dinner reservations and arranging all of your excursions.
Everything is a breeze with Tranquility Beach's caring team of staff.
Click here to experience "Anguilla's bubble" at Tranquility Beach Anguilla.
To Book Tranquility Beach Anguilla, Visit...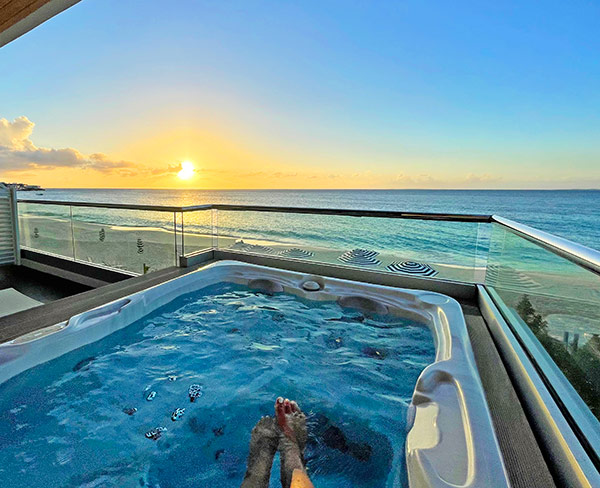 ---
Amidst swaying royal palms and blossoming bougainvillea, Resorts & Residences by CuisinArt surpasses the term "Anguilla luxury resorts."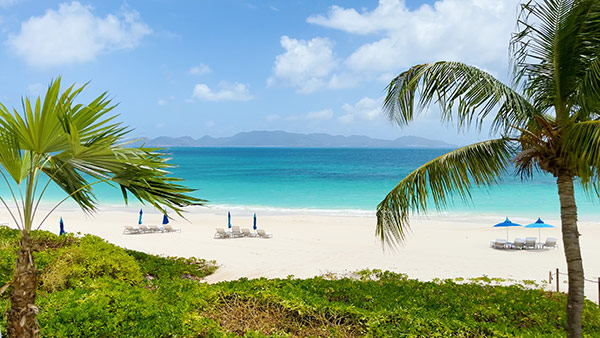 Its iconic blue domes and white buildings line the powdery-fine sands of Rendezvous Bay like a Mediterranean dream...
Its pool gazes out to the mountains of St. Martin...
Its suites provide the most jaw-dropping vistas to the Caribbean Sea...
The exclamation point? CuisinArt is gearing up for big changes this year! Stay tuned for impressive updates at this iconic property.
Until then? CuisinArt is as "bluuuetiful" as ever!
Click here for a look inside CuisinArt today.
To Book Resorts & Residences by CuisinArt, Visit...
---
Ahhh, Malliouhana...
It is the resort that inspired white-sand Anguillian dreams in the minds of travelers when it opened back in the 1980s.
A benchmark for impeccable service and classic-Caribbean design, it set the pace for luxury Caribbean travel for twenty years.
Today, Malliouhana stands the test of time!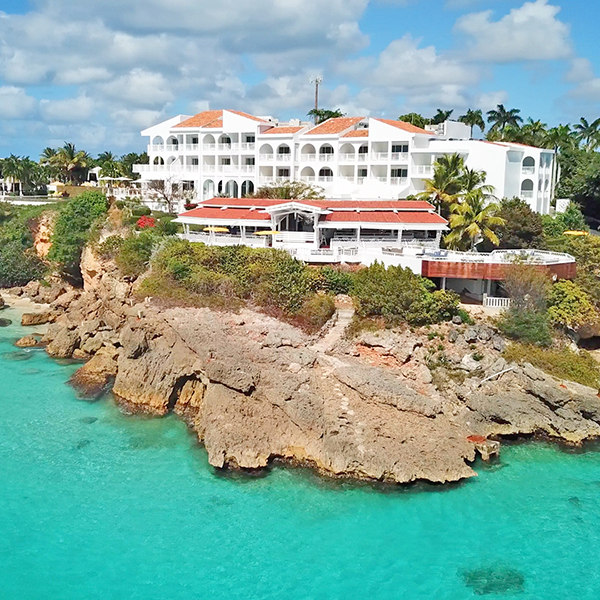 From its two coves that sparkle in a million shades of blue...
To its stylish, oversized suites...
To all of the personalized treats (Malliouhana totes, coconut cocktails, specialty Anguilla snacks)...
Malliouhana impresses at every turn.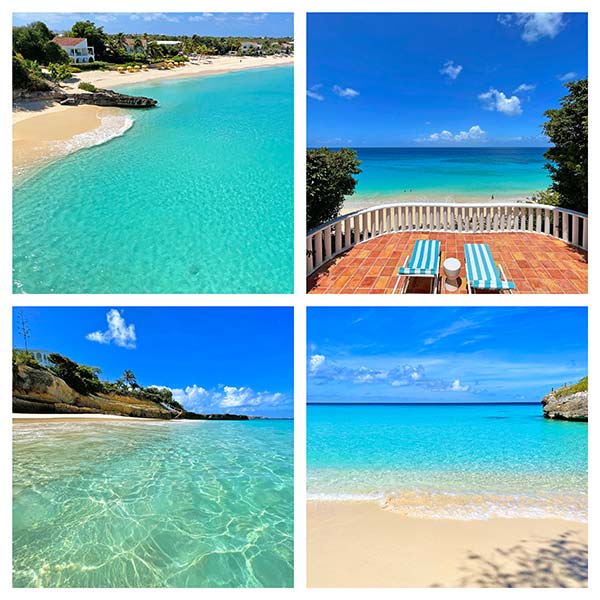 Come sunset hour? The property takes your breath away all over again!
Fine dining restaurant, Celeste delivers time after time with exquisite, Anguilla-inspired cuisine. Think: Salt fish with tomato ragu and mini Johnny cakes, or 16 hour short ribs with a tamarind jus.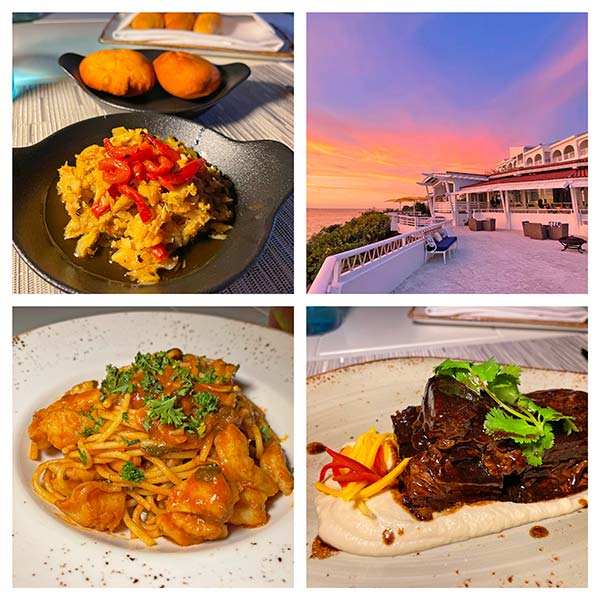 Click here for the one of a kind Malliouhana experience.
To Book Malliouhana: an Auberge Resort, Visit...
---
If you are planning a spring or summer trip to Anguilla, click here to submit your travel application.
---
Taxi Tip: BB's Tours
While you are "in the bubble," you will need a COVID-certified taxi service to get around the island!
Our go-to? Bernard Wattley, owner and operator of BB's Tours.
Accommodating, kind, and always on time, Bernard offers an excellent service at reasonable rates. We can't say enough good things about him!
To book with Bernard...
Tel/WhatsApp: 1 264-729-3568
---
Dining "Must Do": Sharky's
When it comes to dining out "in the bubble," Sharky's is a "must do!"
We fell in love with Sharky's owner and operator, Chef Lowell Hodge ever since his days as a top chef at Blanchards. Since then? He has grown a thriving restaurant of his own.
Do not miss Chef's melt-in-your-mouth lobster cakes, rosemary citrus chicken and the dessert of the day (homemade by Chef's wife).
Sharky's is open nightly to "bubble guests" for dinner (closed Wednesday & Saturday) and features live music on Sundays, Mondays, Tuesdays, and Thursdays.
To book your dinner at Sharky's, contact Chef Lowell via...
---
"The Bubble" Experience at Long Bay Villas & Santosha Villa Estate
Anguilla has been receiving glowing testimonials for its "bubble" experience.
From two to six week stays, Long Bay Villas and Santosha Villa Estate have been delivering soothing getaways over the past year.
"There is no comparison to me. The best vacation ever! The villas are beautiful, the staff are amazing and the food is out of this world! Thank you all for this amazing experience. My family and I will never forget it!"
- Ashley C.




"Our third visit to Long Bay Villas was magnificent! We relaxed and enjoyed ourselves while having every need taken care of. What an outstanding escape from the U.S. Loads of thanks!"
- John & Beth P.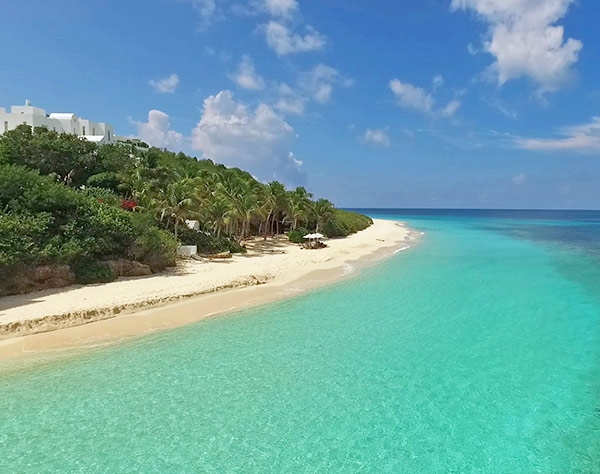 Long Bay Villas is Anguilla's most elegant and iconic ultra-luxury villa. The estate's three stark-white villas tier down the lush hillside that slopes up from pristine and exclusive Long Bay beach.
Next door to Long Bay Villas, Santosha Villa Estate sprawls across 4.5 lush acres. A 37,000 square foot West Indian-style estate, Santosha is of a bygone era. It is Anguilla's most grand ultra-luxury villa.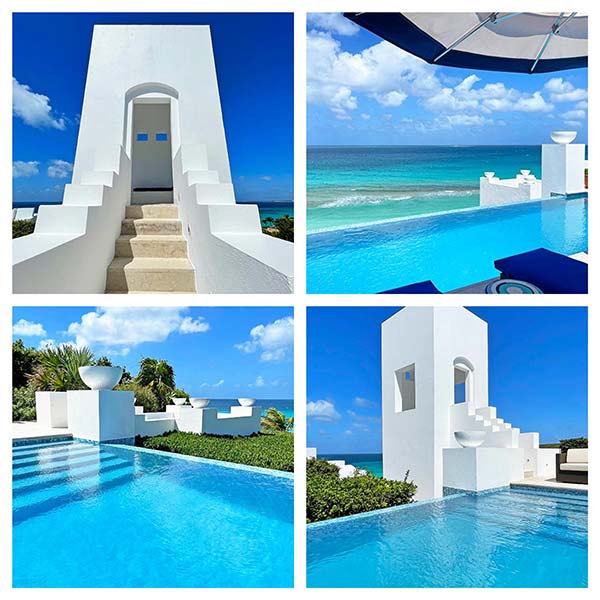 Perhaps most importantly of all, the two properties are renowned for their excellent service. This has been especially true this year, in times of Coronavirus.
Property manager, Patricia Bygrave and her staff have been going above and beyond to deliver the most blissful and safe escapes.
From setting up offices with printers and high-speed & dedicated WiFi for guests, to organizing private chef services with the use of the villa's separate commercial kitchen, Long Bay Villas and Santosha Villa Estate have been pulling it off.
Inside "the bubble," protocols include the use of PPE and separation of staff and guests. Despite the measures, the vacation experience is uninterrupted with chef services (thanks to the separate commercial kitchen) and beach access.
"There are truly no words to describe our stay here! Everything has been absolutely phenomenal. Every single person on the team deserves all things GREAT! This experience is one that sets the bar higher than any place we have been. We are beyond grateful for everything. Anguilla is hands down the most beautiful place we've ever been. The service is five-star. Thank you for having us. It couldn't have been better. We will miss it here and we will miss each of y'all.
Love,
The Cox family"
Patricia and her team have been doing such an outstanding job that guests have been extending their trips to multi-month long stays!
Once guests are out of "the bubble" (photos below)...
"It's "normal life,"" Patricia explains.
Guests are free to discover the island, dine at any restaurant, walk any beach.
Still, they are opting to stay on-property where Patricia and her team bring all of the conveniences of "regular life" into the villas...
Tutoring, nannying, tennis and swimming lessons for kids
In-villa barber services
Villa stocking & shopping
Between parents working remotely and children doing online school, "Cooking lessons with our chefs have become very popular as an activity, along with paddleboarding and kayaking for the kids," Patricia exclaims.
She and her team at Long Bay Villas and Santosha Villa Estate have been giving travelers a whole new lease on life in these turbulent times.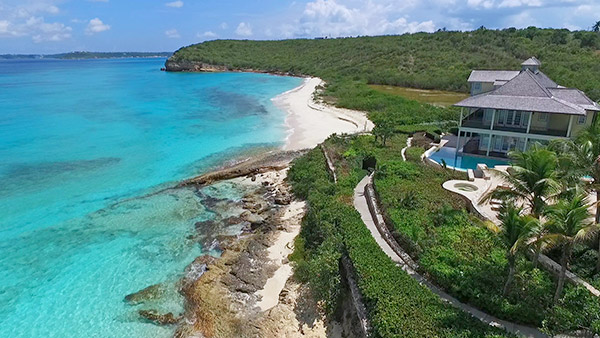 With discounts for long-term stays, Long Bay Villas and Santosha Villa Estate make for the ultimate spring and summer family getaway.
More on Long Bay Villas
More on Santosha Villa Estate
---
More Anguilla News
Tradition Back in The Water!
Set sail with everyone's favorite sailing charter, Tradition. They are open for "bubble guests" and guests who are post-bubble.
Owners and operators, Laurie & Deb always deliver a five-star day at sea!
For more details and to book with Tradition, click here.
---
AnguillArts: Paint Parties at The Beach!
Bringing painting parties to the beach, AnguillArts is one of the best ways to enjoy leisurely days in Anguilla.
Settle into a seat by the sea, grab your beverage of choice and let Karen show you the way! AnguillArts makes for a fabulous way to spend a day at the beach and create your OWN Anguilla keepsake.
AnguillArts' next paint party takes places Apr. 21 at Tropical Sunset 10:30am-1:30pm.
Note: AnguillArts is open to guests who are outside of "the bubble."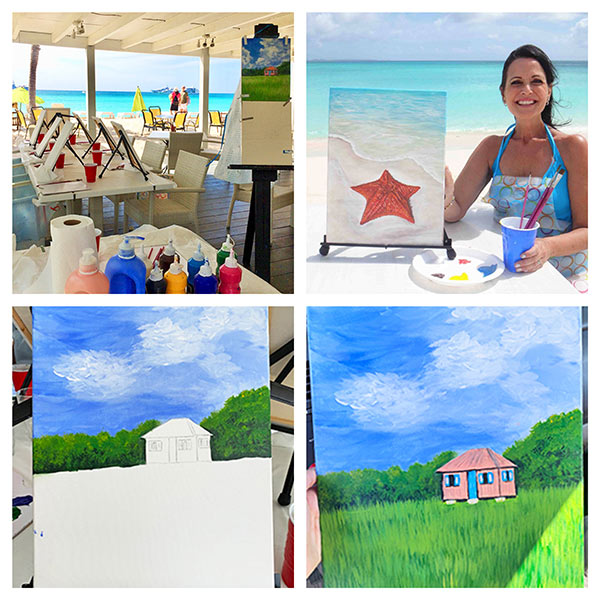 ---
Save The Date: Hibernia Fundraiser
Mary Pat & Raoul's annual fundraiser takes place Friday Apr. 30th AND Saturday May 1st.
Hibernia's annual fundraiser is for their orphanage project in Myanmar, Pylone Chantha Orphange. They have made tremendous progress this year despite COVID-19, providing for the children's needs as well as constructing brand new bathroom facilities. Upcoming plans includes fixing and expanding the dormitories.
If you are on-island, join Mary Pat and Raoul for an evening of delightful cuisine and ambiance, all for an excellent cause.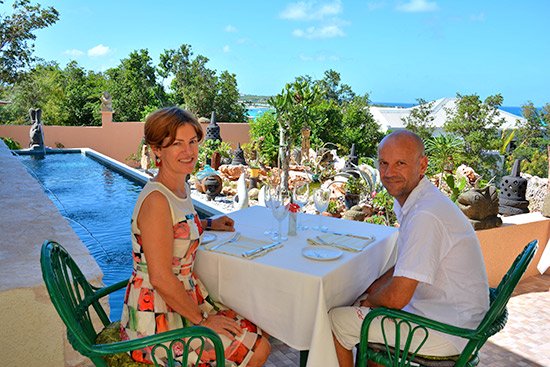 This year's menu features...
Salad of Marinated Conch with Cucumber and Mint
Hibernia's Homegrown Organic Tomatoes Served 3 Ways: Chilled Soup with Truffle Mousse, Hibiscus Flowers Farci, Tomato Bread Topped with Avocado & Freshly Smoked Salmon
Veal or Beef Casserole with Ginger, Forest Mushrooms & Crunchy Vegetables Served with Pomme Dauphine
Cannoli Filled with Pistaccio Cream, Served with Vanilla Ice Cream
Menu: $78.00 Per Person. 15% Service Charge Will Be Added.
To book...
Email: hibernia.axa@gmail.com
Tel.: 1 264 497 4290
Note: Hibernia is open to guests who are outside of "the bubble."
---
Tasty Updates From Scilly Cay
Scilly Cay has introduced a brand new kid's menu!...
Try the grilled cheese sandwich, hot dogs, chicken strips or pasta!
All entrees are $15 (no service charge added) and include a side of fruit, chips, a drink and of course, a free boat ride over :-)
Another yummy reason to visit Scilly Cay with your whole family.
This delightful slice of paradise is open for lunch Wednesday to "bubble guests" and Sunday to "non-bubble guests".
For reservations, call: 264-235-5000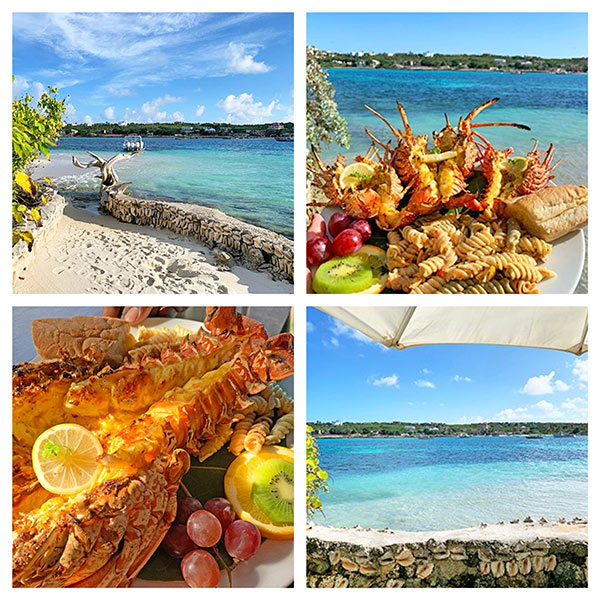 ---
Where to Stay This Spring & Summer?
Beach Escape Villa
At Beach Escape Villa, tranquility is a shore thing.
Our family fell in love with Beach Escape Villa many moons ago, based on its location alone. A villa with chic beach house charm, Beach Escape is true to its name.
Set on secluded Sandy Point beach, at Beach Escape you are directly on sandy beachfront.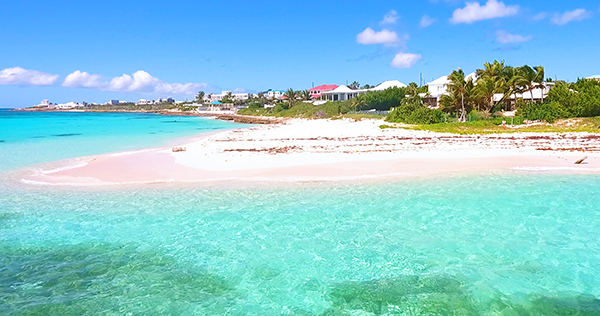 Beyond location, Beach Escape is one of the most comfortable and user-friendly villas in Anguilla.
Five bedrooms, plush media room, modern kitchen with outdoor cooking options and indoor and outdoor dining and lounging spaces span the villa's property.
Two heavenly master suites are in the villa's main house, while two additional master suites and a twin room are in the guest house.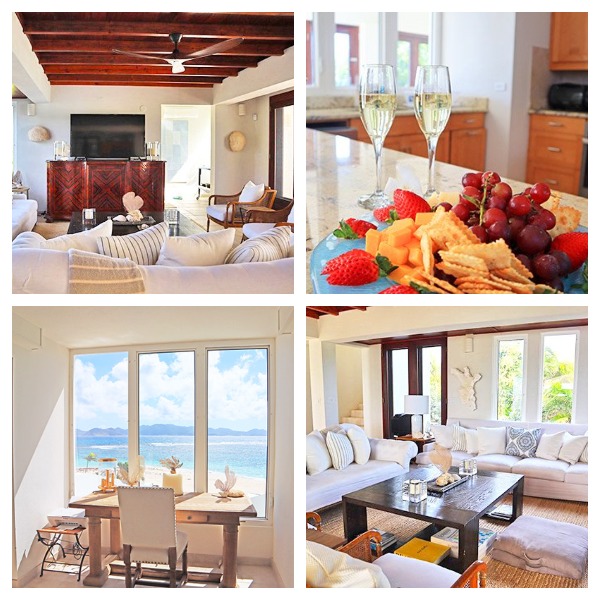 With direct beach access, grassy lawn, sandy front, Apple TV, SONOS, EVO grill, tropical landscaping, solarium-eque showers, oversized screened-in patios, luxurious outdoor couches…
Beach Escape is an ideal choice for a beach escape!
More on Beach Escape Villa
NOTE: One of the defining aspects to Beach Escape is its beachfront location. Throughout the stay-in-place period, you have access to all "bubble" activities and the villa's sandy beach.
---
Thinking of a Much Longer-Term Stay?
Our good friend, Jackie Pascher of Island Dream Properties has two exciting real estate listings!
First up? Bow Green Villa...
You can't beat the location of this property, just a 2 minute walk to Rendezvous Bay beach and Garvey's Sunshine Shack!
This Rendezvous Bay villa features 3 bedrooms, 4 bathrooms, and open living room, dining and kitchen. The upstairs master suite is complete with a sitting room, kitchenette and terrace looking across Rendezvous Bay to St. Martin.
Last but not least? A large pool and terrace, perfect for BBQs!
Bow Green Villa is listed at $1.2 Million
Click here for full details on the property.
---
Next? Banana Wind...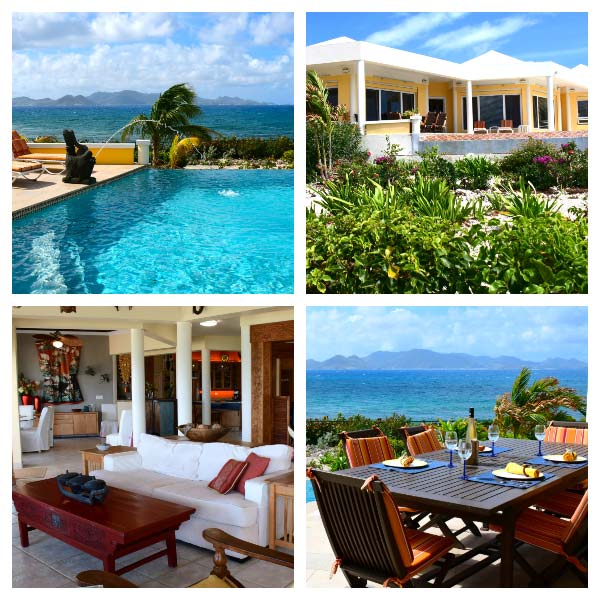 A luxurious villa conveniently located on Round Rock Bay, Banana Wind is an exclusive, tropical paradise.
Built on almost 200 feet of ocean front in a striking, contemporary style, Banana Wind takes full advantage of its breath-taking panoramic views of the clear blue Caribbean waters and of nearby St. Martin and Saba beyond.
The villa's southern exposure and design also boasts persistent, cooling trade winds that make outdoor relaxing, dining or swimming a delight and that allow guests the luxury of sleeping comfortably while listening to the soothing sounds of the ocean.
Banana Wind has been reduced to $1.3 Million
---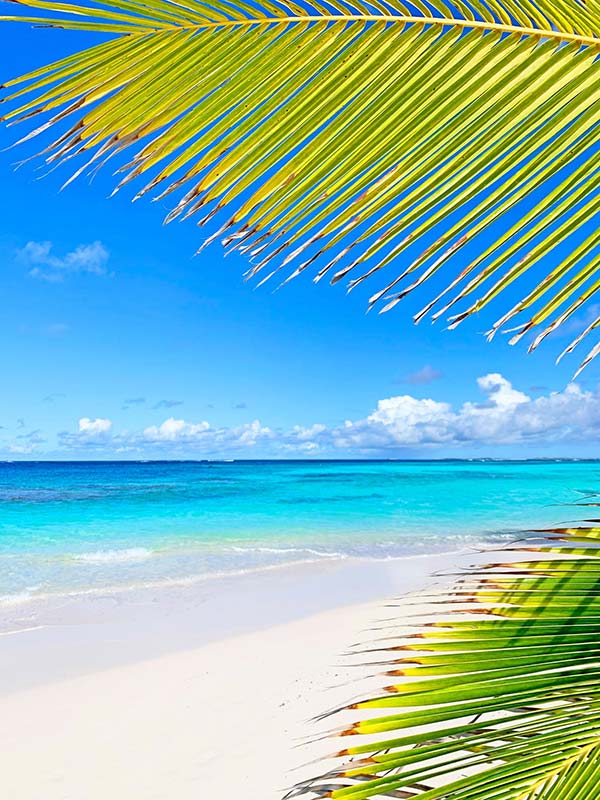 ---
We can't wait to see you again in Anguilla!
With lots of warming Anguilla sunshine,
Nori & Louise
---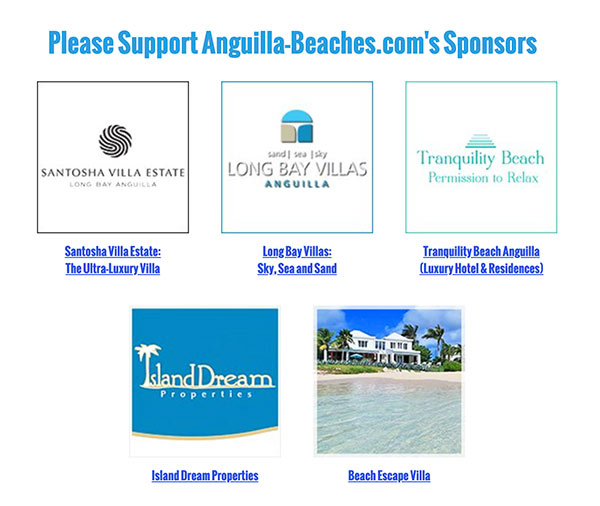 ---
Anguilla-Beaches.com