---
Combing Anguilla's Beaches for the Best
Anguilla Beach Lovers brings you a fresh dose of "Tranquility Wrapped in Blue" every month.
If you like this newsletter,, please do a friend a favor and "pay it forward."
If a friend did forward this to you and if you like what you read, please subscribe by visiting...
---
Issue #158, May 27, 2023
It's beginning to look a lot like summer in Anguilla 🤗💗🏝
Summer is officially on the horizon and you know what that means. The waters are sparkling extra-calm and clear!
Come summer time, Anguilla's seas shimmer in a million shades of pure azure.
We are celebrating this bluuuetiful season with two NEW videos of blue!...
First? Shoal Bay. This beach puts on a spectacular display of turquoise and teal come summer.
Click here to relax on Shoal Bay with us.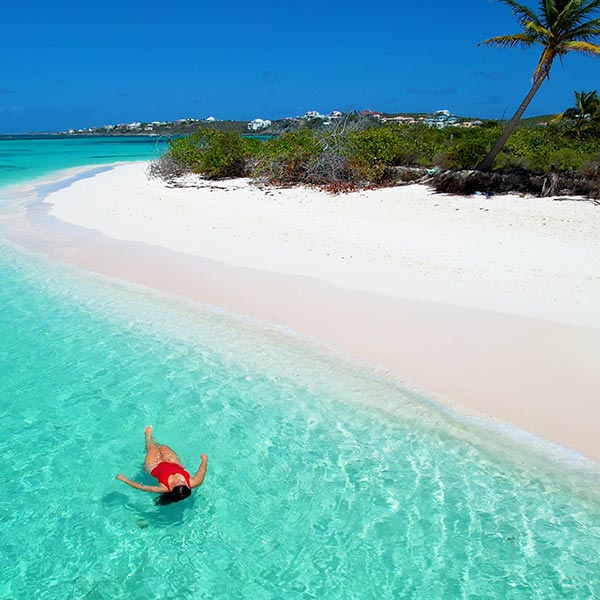 Next up? Turtle Cove. This beach has long been one of our favorite "secret gems." Set below Malliouhana, doesn't it take your breath away?...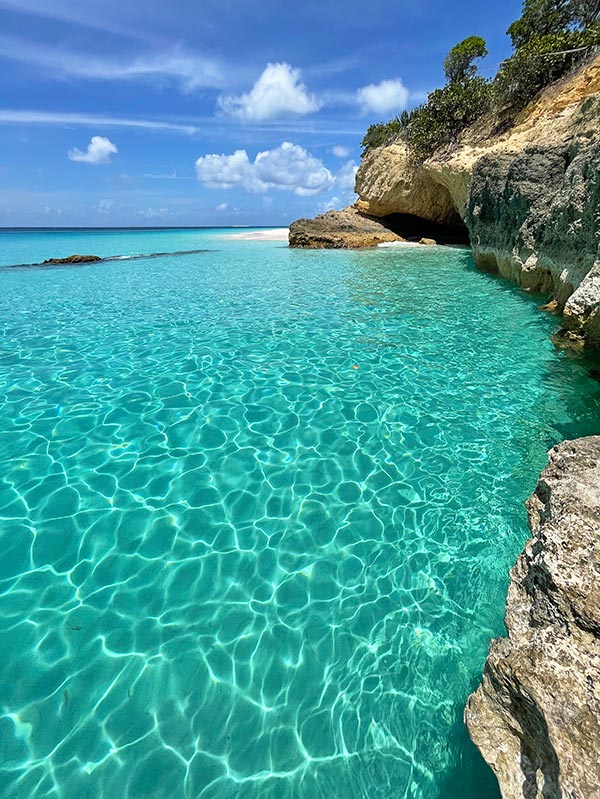 Click here to soak up Turtle Cove calm all day long on our sister channel, MyTranquilitee.
There are no two waves about it. Summer is ahhh-mazing in Anguilla!
What's new since last time?
---
Affordable Anguilla Vacations
Affordable Anguilla vacations? It's possible!
While Anguilla certainly caters to the high-end, the island boasts more than its fair share of affordable properties, eateries and activities. In fact, a vacation in Anguilla can be as affordable as any other Caribbean island.
Join us in this NEW video for tips on how you can save big on your next Anguilla vacation 🤗💗🏝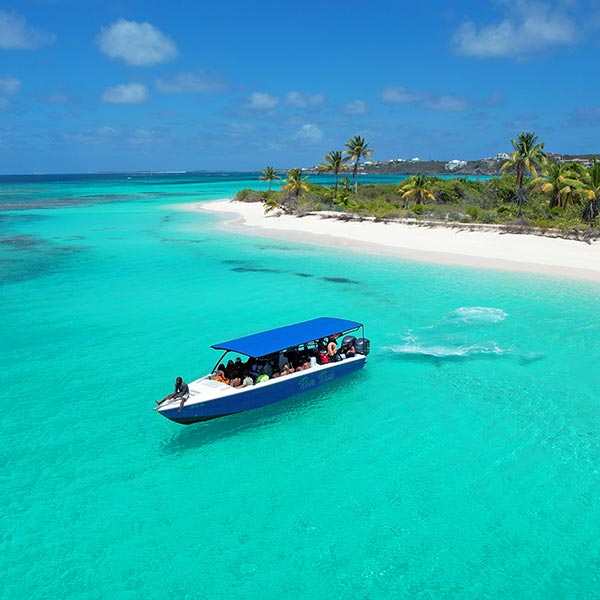 Quick tips?
Tip #1. Get the Anguilla Card

The Anguilla Card saves you 10% at every point of your Anguilla vacation. With 50+ Participating Partners, the savings amount to hundreds of dollars. Use it to book your hotel or villa and save thousands! More on the Anguilla Card here.
Tip #2. Visit During the Off-Season
During summer, prices come right down. Hotels and villas have their very best rates this time of year, as do the airlines.
With waters like these...
The only question is...
---
Where to Stay This Summer?
Affordable Getaway at Arawak Beach Club
Tucked away in Island Harbour, you'll find one of Anguilla's most high value hotels, Arawak Beach Club.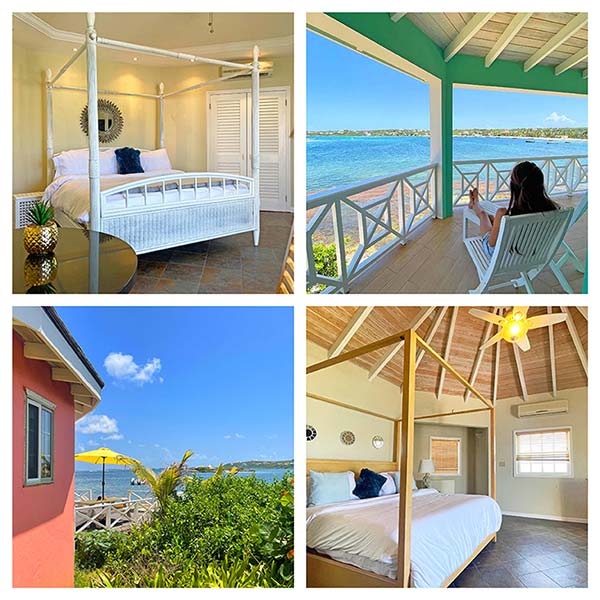 This iconic property is famous for its tropical, colorful buildings that boast beautiful views of Island Harbour and Scilly Cay.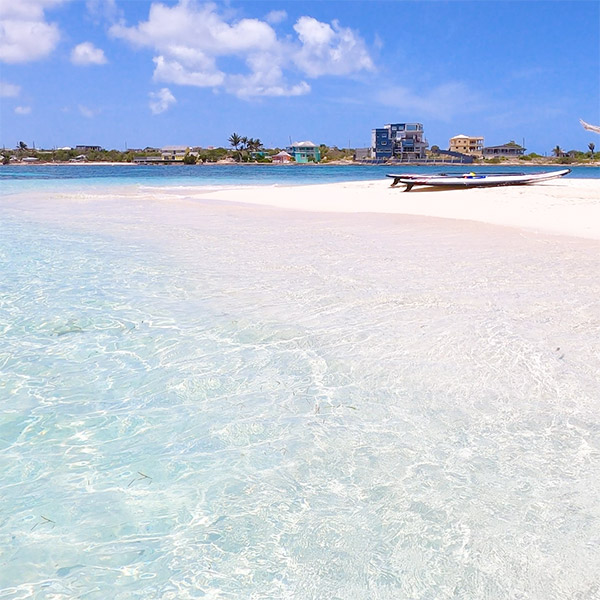 The hotel's modern rooms capture the breeze and scenic view.
With air conditioning, flat screen TVs, verandas, kitchenettes and luxurious bathrooms, these suites deliver total comfort.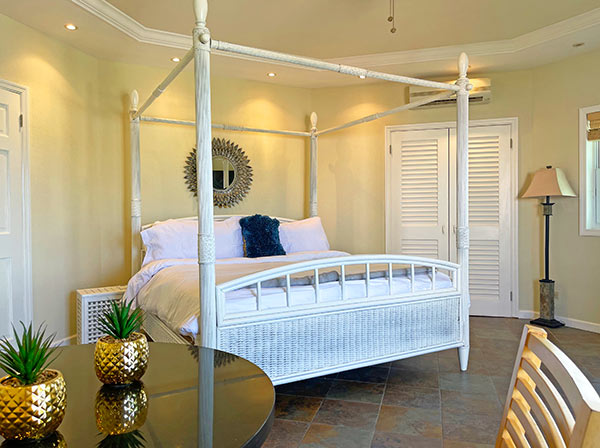 Additional amenities include on-site restaurant, pool, high speed internet and free SUPs and kayaks. Owners Mindie and Judd have thought of it all!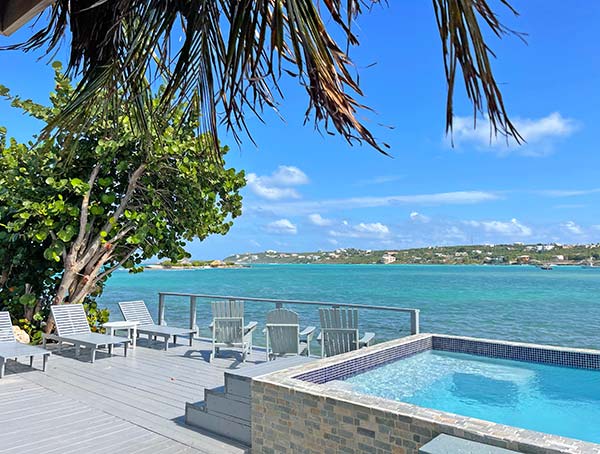 To book your stay at Arawak, contact...
Website: Click here
Tel.: 264-584-1214 or 264-584-1201
Arawak Beach Club is an Anguilla Card Partner. Save 10% at Arawak when you use your Anguilla Card.
---
Private Villa Escape
Nothing says summer like a private beach escape.
Beach Escape Villa ticks all of the boxes when it comes to a peaceful getaway.
A luxurious villa with chic beach house charm, Beach Escape is true to its name.
Set on secluded Sandy Point beach, at Beach Escape you are directly on sandy beachfront.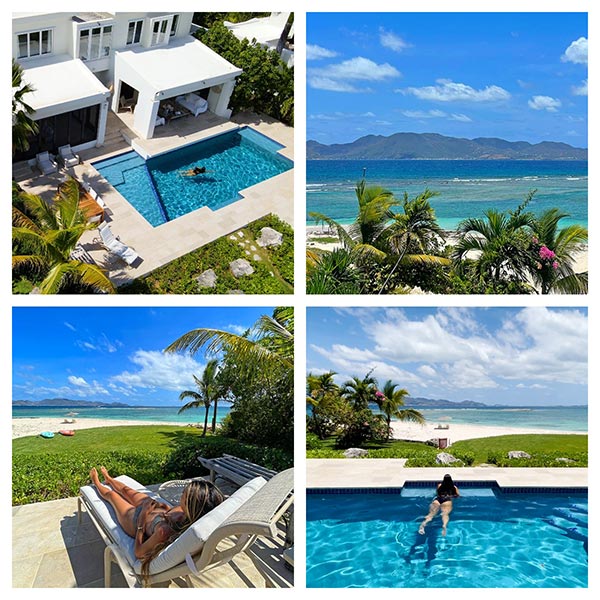 The villa's spectacular location is matched by its luxurious and user-friendly layout and design.
Five bedrooms, plush media room, modern kitchen with outdoor cooking options and indoor and outdoor dining and lounging spaces span out over the villa's two buildings.
With direct beach access, grassy lawn, sandy front, Apple TV, SONOS, EVO grill, tropical landscaping, solarium-eque showers, oversized screened-in patios, luxurious outdoor couches, housekeeping six days per week and on-call staff...
This villa is irresistibly comfortable.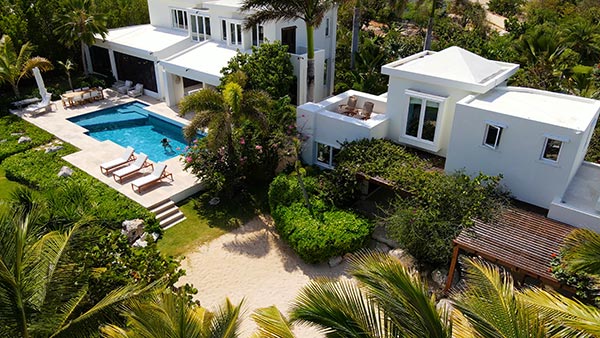 To Book Your Beach Escape...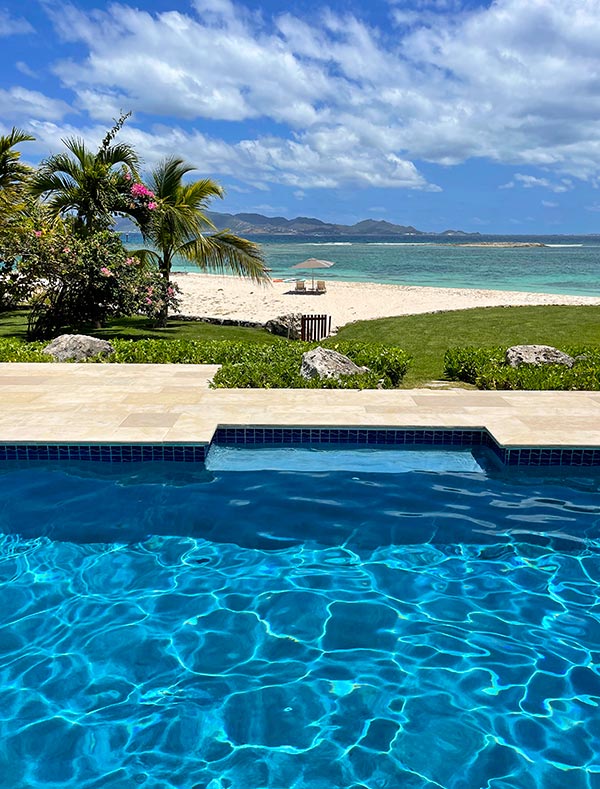 ---
Summer on Meads Bay
Summer on Meads Bay is nothing short of magical.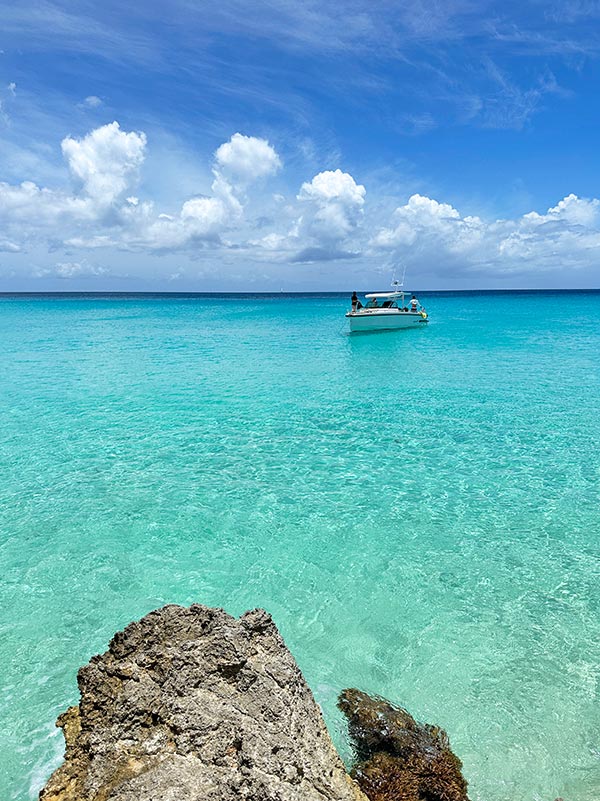 Think: A whole ocean of calm blue open and waiting for you!
Boutique luxury hotel, Tranquility Beach Anguilla has a front row seat to the natural wonder that is Meads Bay. Set right in the middle of this spectacular stretch of sand, its setting is hard to beat.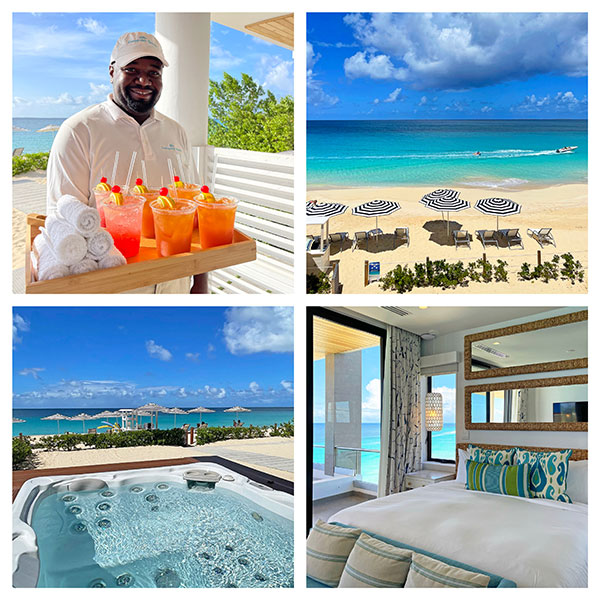 Lunch at Straw Hat, Jacala or Blanchards Beach Shack...
Walk the beach...
And then return to your chic suite...
Life is sweet at Tranquility Beach!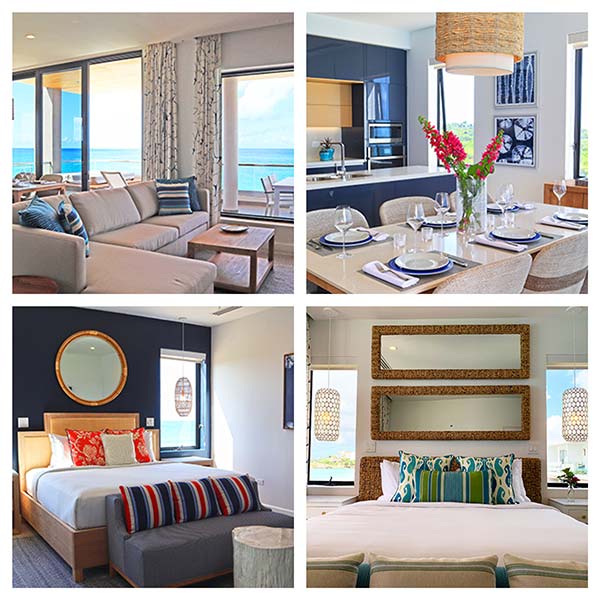 To Book Your Stay at Tranquility Beach Anguilla...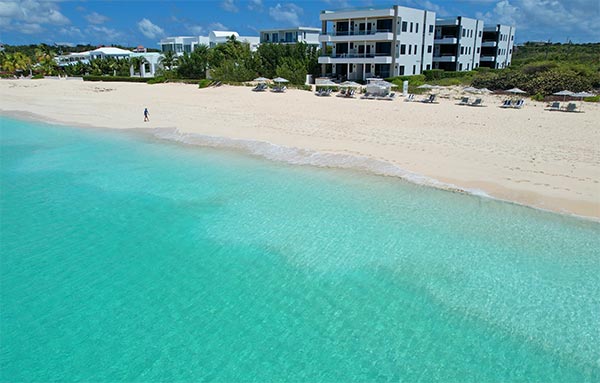 ---
Step Inside: Looking North Villa
Nestled into the cliffs of Island Harbour, Looking North Villa is the ultimate Anguilla escape.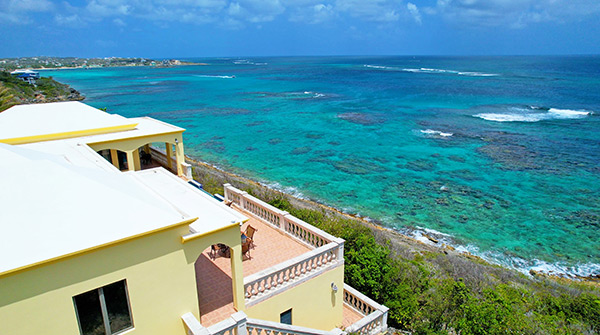 Boasting five spacious bedrooms, each with their own ensuite bathroom, the villa is a tranquil oasis for guests seeking privacy and quiet.
The villa opens into a grand indoor living/dining space with spacious kitchen, perfect for preparing meals in.
The room flows onto one of the most expansive terraces you have ever seen.
It is a feast for the senses with the Caribbean tradewinds blowing in, waves breaking on the reefs and sunshine glimmering across the sea.
The villa's impressive infinity edge pool beckons you in with its endless views spanning north, east and west.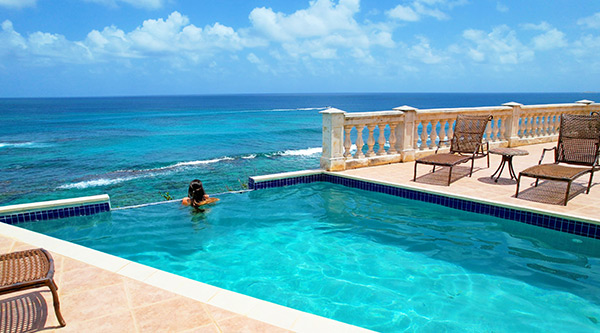 The grand villa features 5 suites with ensuite bathrooms. Three master suites are located on the main floor and open directly onto the beautiful pool deck.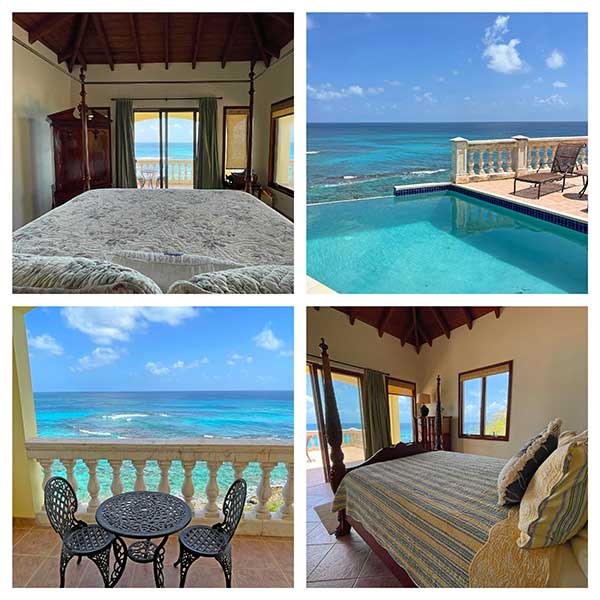 Downstairs you will find 2 additional suites. These bedrooms are complete with large ensuites, making them a perfect choice if you are traveling with extended family or friends.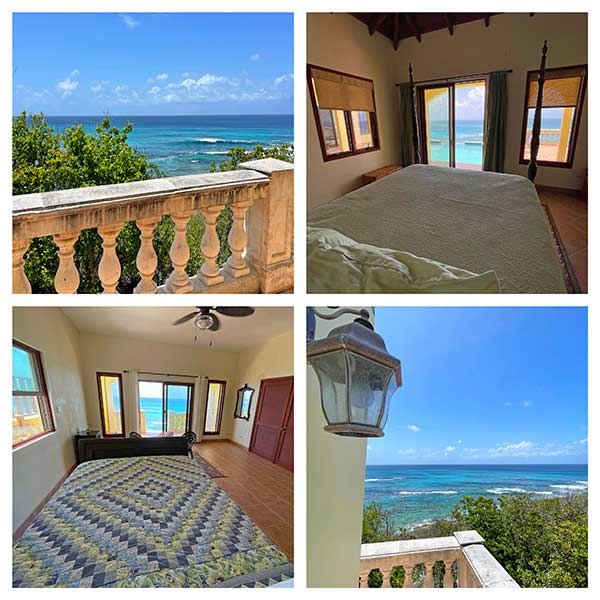 When adventure calls, grab your snorkel and take a dive into the sparkling sea. Looking North Villa has direct ocean access from its staircase leading down to the water.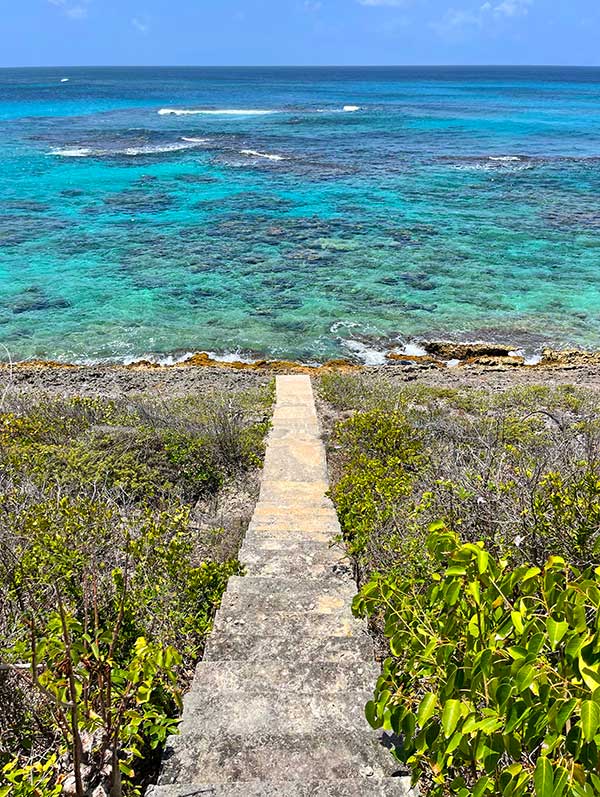 So, pack your snorkel, grab your bathing suit, and embark on an unforgettable island experience at the exquisite Looking North Villa.
Book Your Stay at Looking North Villa
---
Coming Up: Inaugural Aurora Invitational Tournament
Save the date for June 2-4th. Aurora International Golf Club is holding their inaugural golf tournament.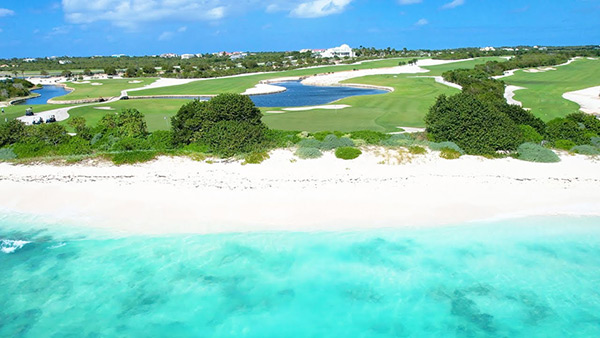 Golfers are in for a treat with this spectacular course!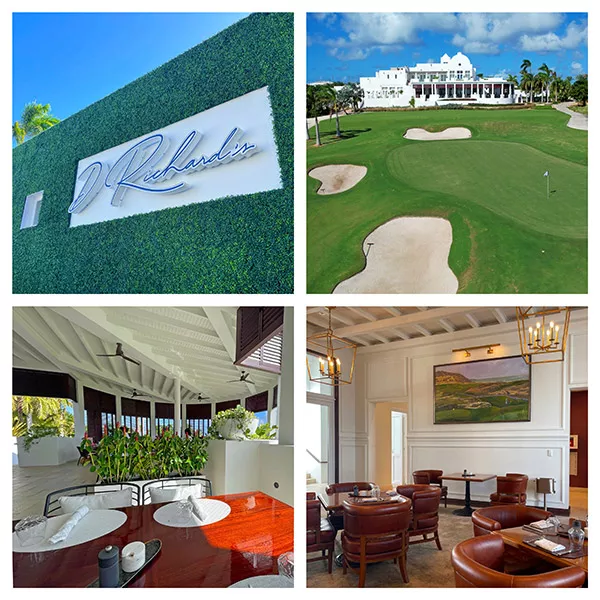 Forbes calls it "The Hidden Gem of the Caribbean," Caribbean Journal has labeled it one of the region's best, and Robb Report refers to its first hole as "The Caribbean's answer to the 18th at Pebble Beach."
Greg Norman designed, 7,000+ yards of 18 manicured holes stretch along the south shore of Anguilla, gazing out to vistas of the Caribbean Sea and St. Martin's majestic mountains.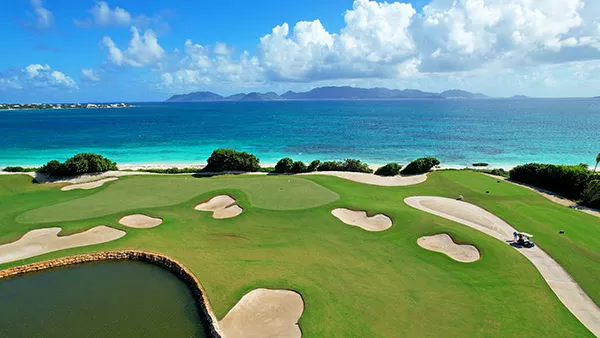 With one of the most spectacular courses in the Caribbean as a backdrop, the inaugural event is sure to be one for the books.
This 36-hole strokeplay event is open to all players with an official handicap. Flights will be based on the number of entries.
As for staying at Aurora Anguilla itself?
It doesn't get better than this!...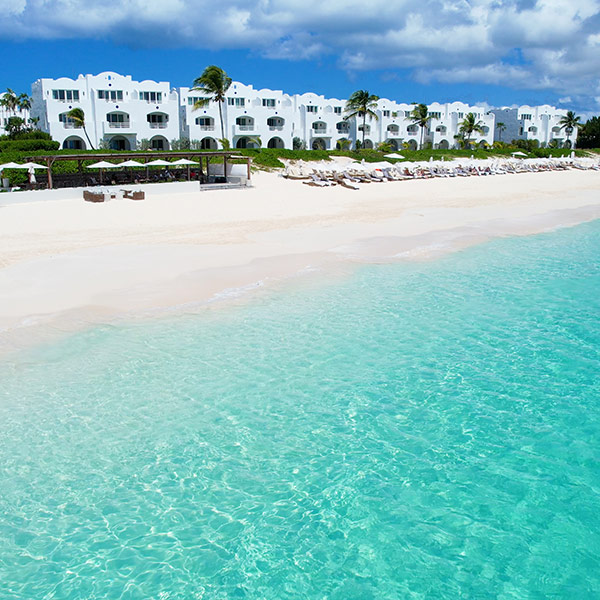 Aurora Anguilla surpasses the term Anguilla luxury resorts.
Its iconic domes and white buildings line the powdery-fine sands of Rendezvous Bay like a Mediterranean dream...
Its pool gazes out to the mountains of St. Martin while sparkling in a million shades of blue...
Its suites provide the most jaw-dropping vistas to the Caribbean Sea...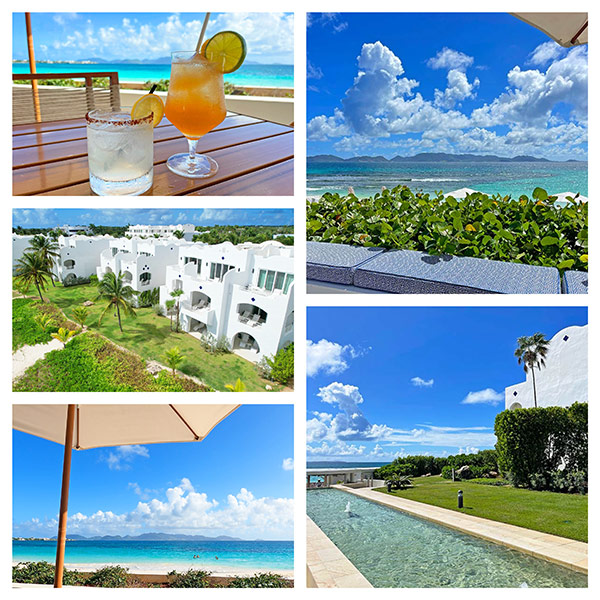 Its dining, spa and golf are world-class...
Its team of staff go above and beyond at every turn...
It is no surprise why Aurora has been our family's pick for years. Arriving at Aurora Anguilla is like arriving home.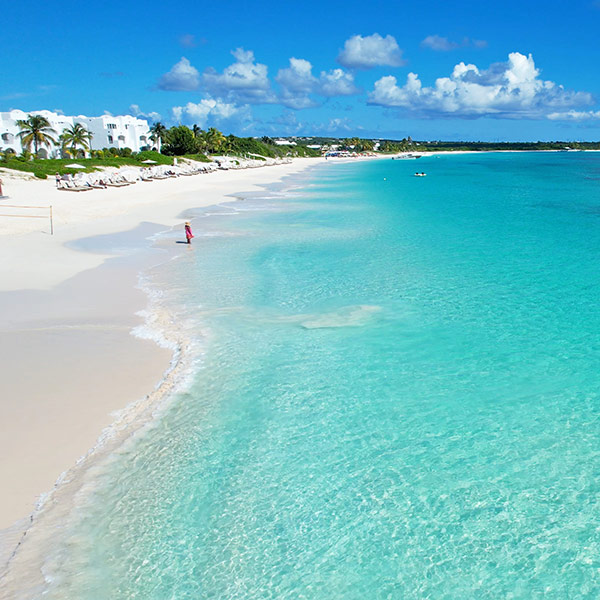 For More on Aurora Anguilla...
Be sure to take advantage of Aurora's summer rates this season!
---
Dining at C-Level
Speaking of Aurora, we can't get enough of C-Level! Their beachfront bistro has become a go-to.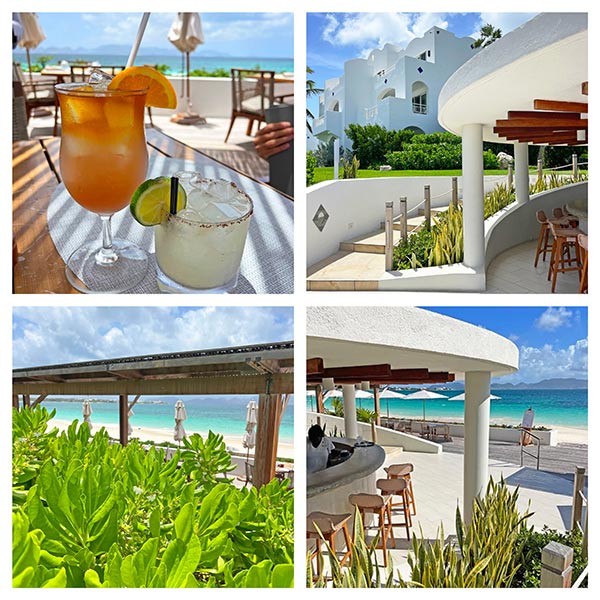 There is no such thing as a bad meal at C-Level and there is no better way to begin a meal than with their Island Margarita, made with jalapeño-infused Don Julio Blanco and mezcal.
As for cuisine? Their items from their on-site hydroponic garden will wow your tastebuds. The gazpacho deserves a special mention. It is a cool breath of fresh air on a warm day.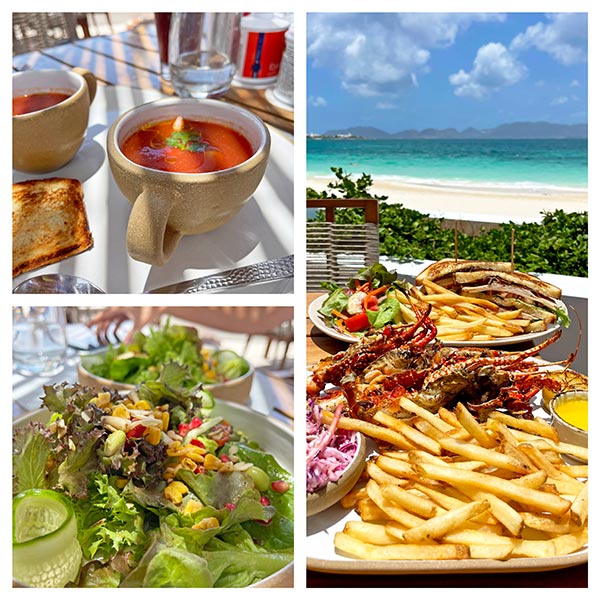 Next, we need to bring your attention to the Classic Club Sandwich!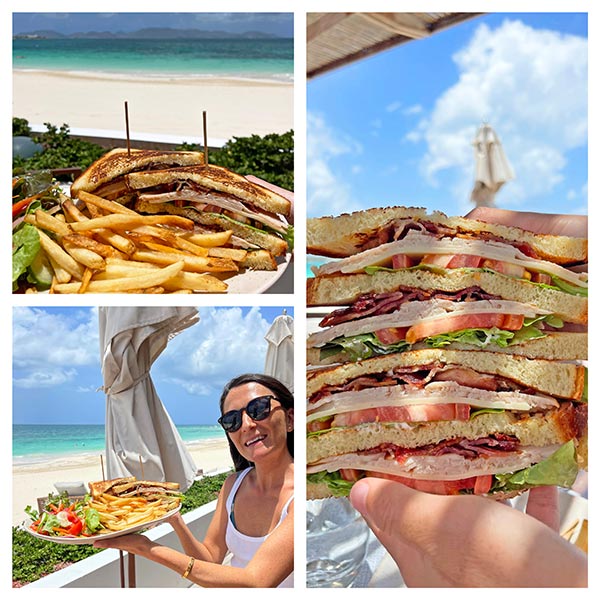 Check out the size of that club! This double decker features smokey bacon, turkey, tomato and lettuce layered between buttery grilled bread. You won't be able to resist polishing off every last ounce of this enormous lunch classic.
Last but not least, no meal is complete without a little sweet treat. To end a perfect day at C-Level, an order of chocolate chip cookies is in order.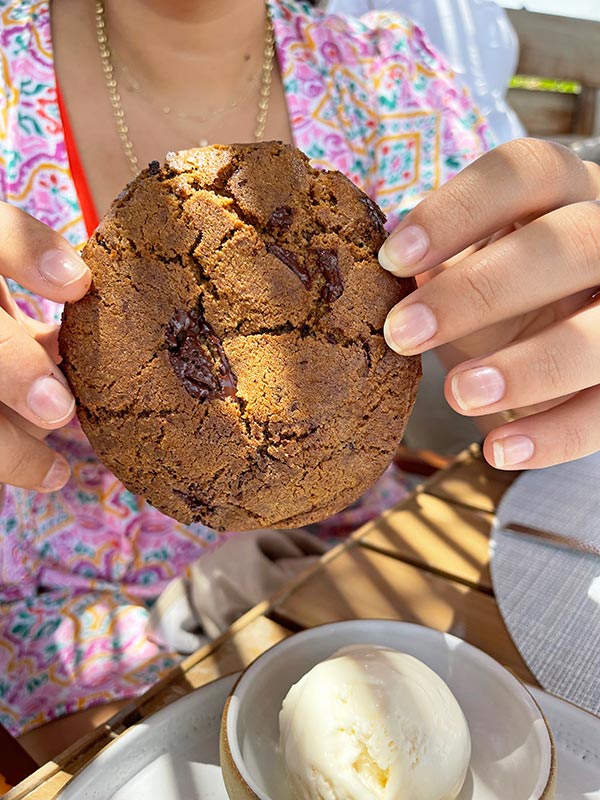 For a video look at C-Level, click here.
For more on C-Level, visit their website here.
---
Summer Fun at Sandy Island
Did somebody say Sandy Island? 🤗💗🏝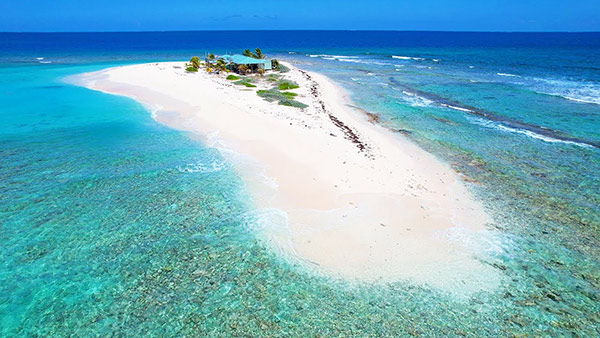 This little sand bar in the middle of the ocean just may be one of the most spectacular sights you will ever see! Set just offshore of Sandy Ground, Sandy Island is famous for its white sand beach surrounded by waters of pure azure.
Click here for brand NEW drone footage of this sandy spit.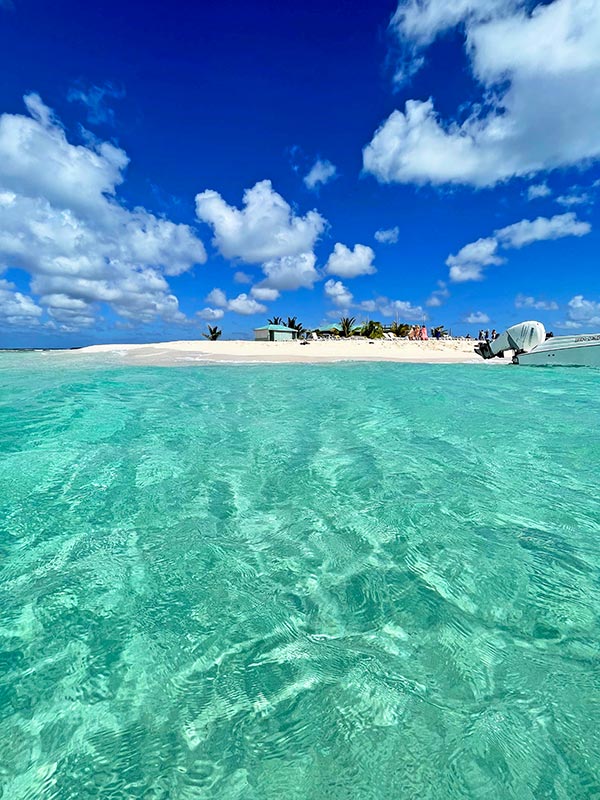 A trip to Sandy Island is one of our favorite ways to spend a day in Anguilla.
First? Boat over to the island from Sandy Ground...
Then? Laze away all day...
Think: Rum punches, BBQ and basking on and on in blue...
How could you not want to visit? 🤗🤗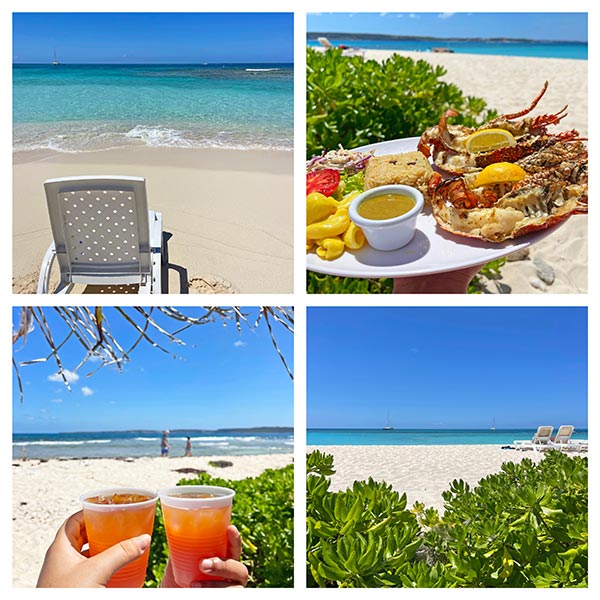 Click here to fly over Sandy Island.
Sandy Island is an Anguilla Card Partner. Save 10% on Sandy Island when you use your Anguilla Card.
To never miss an Anguilla Beaches YouTube video, click here to subscribe to our channel.
---
Anguilla Love From Reader, Ellen
A huge thank you to Anguilla Beach Lovers reader Ellen for sharing her beautiful photos and memories of Anguilla from her trip this February!...
My husband and I were looking for a new Caribbean island to vacation this past February. We were intrigued by Anguilla as well as Nori's Anguilla newsletter. We made a really good choice by picking Anguilla.
We spent 2 weeks there this past February at the Manoah Boutique Hotel and had a wonderful time. As I am a photographer, I found the island of Anguilla to be beautiful, and I took numerous photos of the island's natural beauty.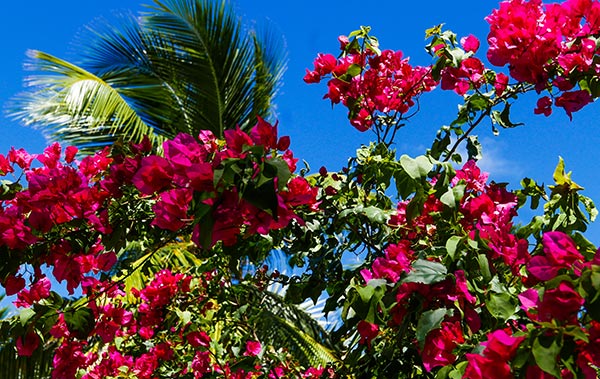 The people on the island were very friendly and made us feel very welcome. Coming from Chicago, we found the weather in Anguilla to be warm, beautiful, and inviting.
We definitely want to spread the word about a beautiful Caribbean island for people to visit and relax.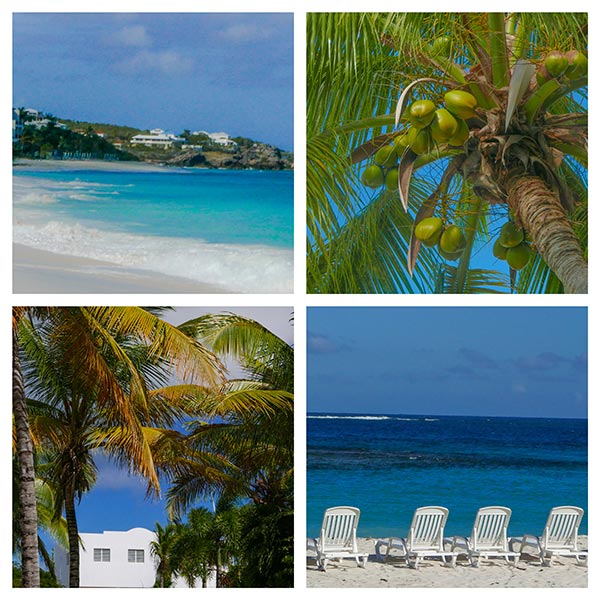 Thank you for your beautiful words and photography, Ellen! We can't wait to sea you here again 🤗🤗
---
Top Take Out Spot: Ruthy's Yum-Yum
A fun, bite-sized restaurant in the tiny village of Little Dix, Ruthy's Yum-Yum is a foodie favorite through and through.
Locals and tourists alike come back time and time again to this roadside gem. From taste, to price, to its convenient location, Ruthy's ticks every box.
Some of our favorite eats at Ruthy's?...
First, if you love sauces that perfectly blend savory with sweet, try the wings tossed in Ruthy's BBQ sauce.
These tasty wings will fly right off your plate!
Ruthy's menu doesn't end there.
With refreshing salads, soft and juicy wraps, cheesy quesadillas, and pizzas with more toppings than we can name, Ruthy's Yum-Yum is one of the top take-out spots in Anguilla.
For light bites, we recommend their fresh and veggie packed House Salad...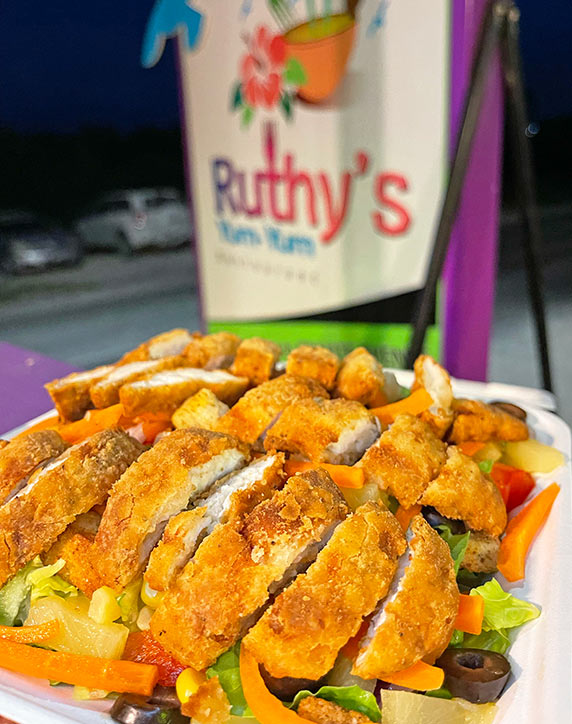 A mixture of lettuce, corn, pineapple, olives and peppers is topped with your choice of protein. We like the chicken for its crispy crunch.
Now, for Louise's favorite from the menu...
A hefty serving of crunchy nacho chips is topped with guacamole, peppers, tomatoes and your choice of protein. Choose from chicken, shrimp, fish, steak or ground beef. The flavors are rich and divine!
On to sandwiches. The menu features a salmon burger, lemon mahi fish sandwich, tamarind chicken sandwich, cheese burger, double bacon burger, veggie burger and the buffalo blue cheese chicken sandwich...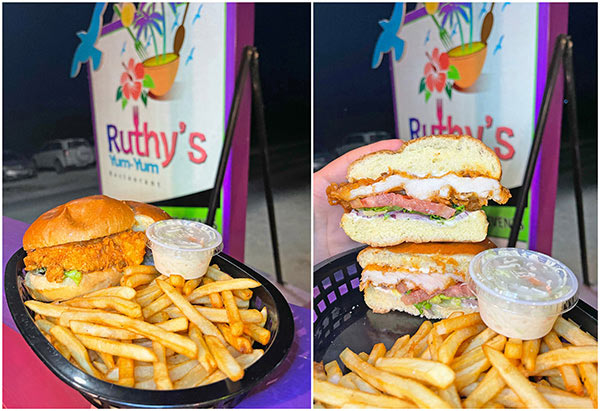 A thick breast of chicken is battered and fried to absolute perfection. Sandwiched between two pillowy soft buns and doused in a delicious blue cheese sauce, top this creation with coleslaw for an extra burst of flavor.
No matter what you choose, Ruthy's always hits the spot.
Ruthy's Yum-Yum is an Anguilla Card Partner. Save 10% at Ruthy's when you use your Anguilla Card.
---
Thinking of a Much Longer Anguilla Getaway?
Our good friend, Jackie Pascher of Island Dream Properties has terrific, high-value real estate listings!
Step Inside: Limin' Da Coconut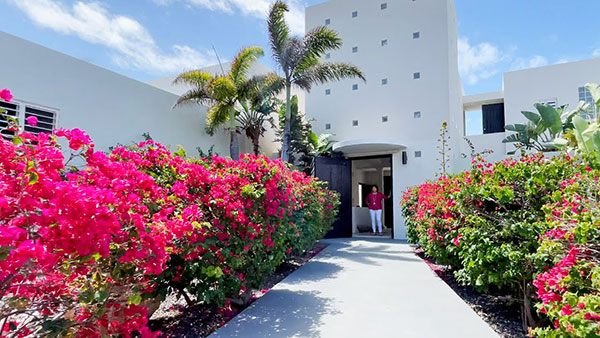 Formerly popular boutique hotel, Las Esquinas, Limin' Da Coconut is ripe with outstanding views, beautiful interior design, sandy beach access and plenty of private corners for relaxing and enjoying the Caribbean climate.
A 6 bedroom villa that spans 8,000 square feet, Limin' Da Coconut is located on the south side of Anguilla overlooking St. Martin.
Here, you are in good company. Ultra-luxurious villas, Le Bleu and Little Harbour Estates are your neighbors along this peaceful stretch of coastline.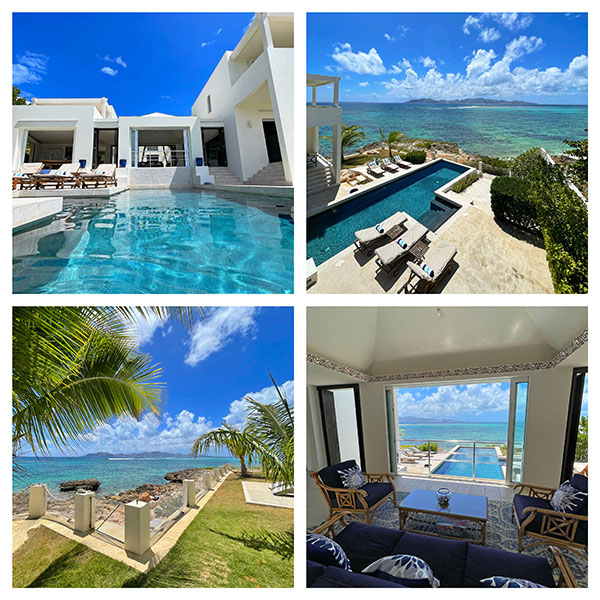 The villa beautifully blends indoor and outdoor living. Finished with contemporary design, lush landscaping and state of the art appliances, Limin' Da Coconut is one of the island's top value listings.
Limin' Da Coconut is listed at $3.8M.
More on Limin' Da Coconut...
---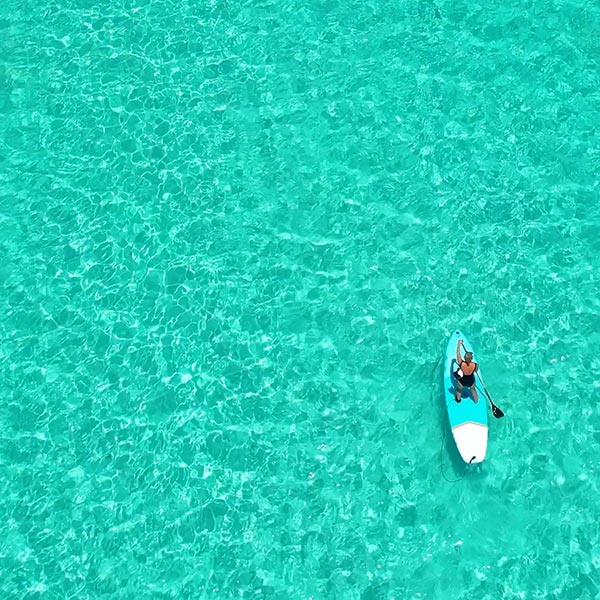 ---
If you enjoy this newsletter and our Anguilla videos, please spread the word about us on TripAdvisor.
If you are planning a trip to Anguilla, get your Anguilla Card here!
We can't wait to SEA you on the beach 💗🏝
With lots of warming Anguilla sunshine,
Nori & Louise
---
Anguilla-Beaches.com
---