Combing Anguilla's Beaches for the Best
---
Anguilla Beach Lovers brings you the latest additions to one family's experiences of the "best of all things Anguillian."

If you like this e-zine <>, please do a friend and me a big favor and "pay it forward."

If a friend did forward this to you and if you like what you read, please subscribe by visiting...
---
Issue #065, April 28th 2012

May is nearing quickly!... But, you would never guess it with these 40°F and 50°F temperatures up in NYC.
Today, as I type under a thick-knit blanket, Spring Break in Anguilla feels especially far away.
Scaling down cliffsides and jumping off rocks at Little Bay, playing in the surf at Meads, lingering over sunset cocktails and tapas at da'Vida, chowing down on burgers and wings at Ferry Boat Inn...
It was tough week to follow, made even more trying by a steady stream of projects, papers and presentations that were due, are due and will be due soon!
But, for once, I am saying these words with little-to-no despair or dread. ;-) Climbing aboard the JFK-bound JetBlue flight, I felt recharged and ready for the final weeks of the semester.
The reason? Life as an undergraduate college student is about to expire. I am in the final stretch of exams and team projects. This is it.
As invigorating as it has been to return to the ultra fast-paced NYC for school one last time, that longing for Anguilla never fades and those Anguilla memories burn so strong...
---
Anguilla Memories: The Funny, Yummy and Breathtaking
1) Crispy outside, soft center, perfect temperature, perfect taste. What am I describing? Tasty's johnny cakes! Mmmm.
Tasty's owner and chef Dale Carty has some of the best johnny cakes on the island, never mind the rest of his award winning talents as a chef. Click here to keep reading.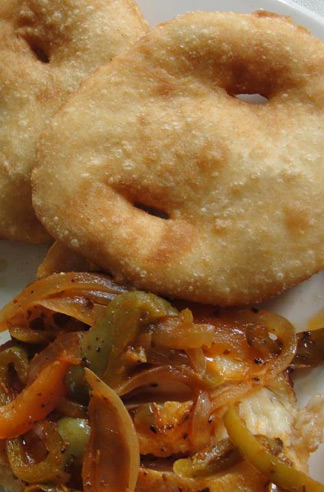 2) In February, my Mom visited us in NY for 10 days. My Dad was left home alone with the responsibility of feeding our 3 dogs.

He thought he was doing a pretty good job until he saw this on the front terrace...

"She not only caught and brought back this fish, she put it on her food bowl, exactly as shown in the photo," said my Dad. Click here for more.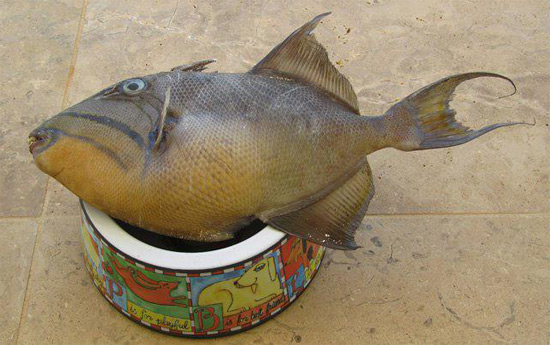 3) A perfect sunset view in Anguilla... This one was taken at Crocus Bay, home to da'Vida. Click for the full post.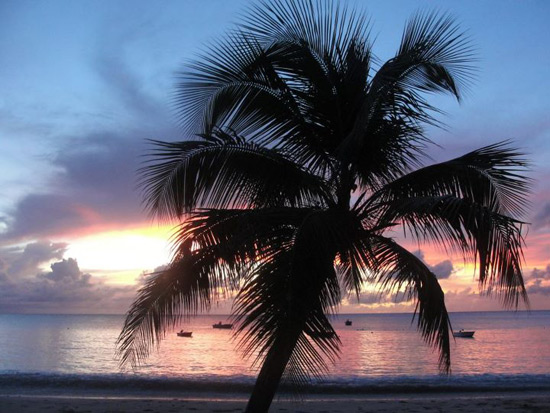 Anguilla-Beaches.com's Facebook page is the best way to stay in touch and keep connected on a day-to-day basis when you're away from Anguilla. The page is updated daily with photos and current happenings on the island. If you don't already Like the page, click here to do so.
---
What Else Is New Since I Last E-Mailed You?
A year ago, a project to build a new home started, as a way to keep a group of really nice people working. We have grown close to those who built our home here in Anguilla. Mike, Toby, Major, Curtis, Freddie and several other of the crew still drop by to say "hi" and have a beer. When their most recent client fell through at the last second, they were looking at unemployment. There is no safety net here in Anguilla, so that means very hard times. So Barth's Bay Villa was started.
You may not know my Dad, but let me summarize by telling you that he needs to be involved with another project like the ozone layer needs another hole. I asked him "why" a year ago. He said... "One, they are friends. Two, they are very good at what they do. Three, Mike is honest and makes sure every dollar is well-spent. And fourth, it will require little of my time." And that's the way it worked out.
Speaking of ozone, by the way, the house is green. Not the "color green," but "ecological green." The team has become one of the very best on the island. This home benefits from all that Mike and the crew have learned over the 4 years they have worked together, blending Anguillian-specific techniques with Canadian quality standards.
And now, tah-dah! Barths Bay Villa is done!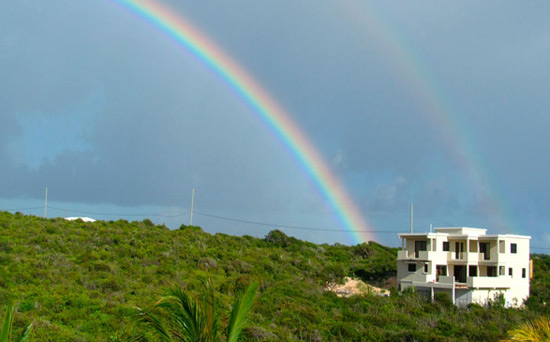 So is the webpage that my Dad wrote, complete with photo tours, 3D PDFs, and a time-lapse video.
If you or anyone you know is interested in a high-quality, low-maintenance home in the Caribbean, please do forward this email.
Also, let me know if you like the page, all comments are most welcome. :-)
Click here to visit the Barth's Bay Villa page.
---
Lloyd's Bed and Breakfast is Anguilla's most charming and affordable B&B.
This historic hotel (the island's very first!) is conveniently located in Anguilla's center, near Crocus Bay and Little Bay. The vistas over the Anguillian countryside and onto St. Martin, and even St. Barths, are breathtaking.
The rooms are fresh and tastefully decorated, the Lloyd's team is warm and accommodating, and a full breakfast is served daily (included in the rate).
Everyone eats together, and everyone knows each other. A true sense of family and unity exists at Lloyd's. When we visited, Merline Carty made us feel right at home. She has been part of the Lloyd's family for over 20 years.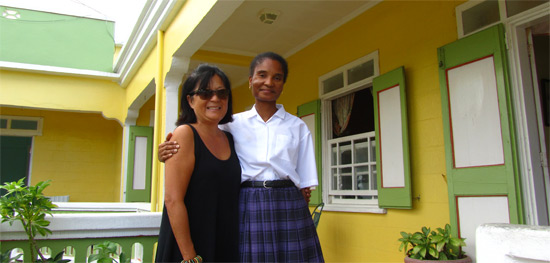 Lloyd's Bed and Breakfast is a special Anguilla hotel, a true piece of history and culture.
At under $150/night (yes! you read that right!), Lloyd's B&B is a top choice for many travelers to Anguilla.
Click here for more on Lloyd's B&B.
---
For an on-the-beach accommodation option, I am excited to share a fun summer special...
Carimar Beach Club's Food & Fun Off-Season Specials Right on Meads Bay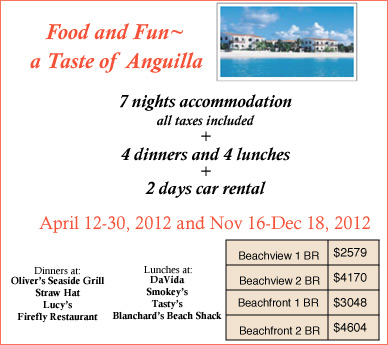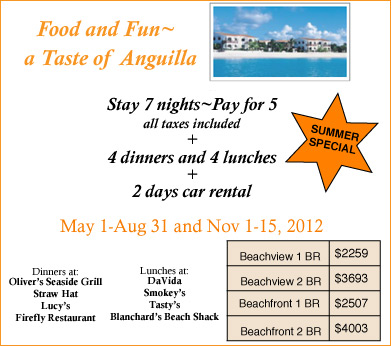 ---
Previews of More Pages Coming Soon...
Moments... The new restaurant at Ku Hotel is a relaxing option for a Shoal Bay beach day. It has more of a laid-back resort feel, where drinks and food can be brought to your beach chairs (the chairs will cost you extra).
The menu is a mix of unique items and traditional lunch fare. It is all good. Each bite of the jerk pork spring rolls is mouth-watering, and the blackened fish sandwich is a menu favorite.
A Burger... This is the only burger joint on the island, and the only restaurant that grinds their own Grade A Angus chuck beef daily for their burgers. They are seasoned with secret spices and served a-top a freshly made bun.
The hand-cut fries that are fried twice in Canola oil make me week at the knees! A Burger is located in the white, red-roofed building just past Geraud's bakery complex.
Italia... Located at CuisinArt Golf Club, this restaurant is not to be missed for dinner. The resident chef is straight from Tuscany and serves the most authentic Italian cuisine in an upscale golf club setting.
Do not miss the lobster ravioli in a light lobster bisque (all pastas are handmade daily!).
PGA Golf Lessons at CuisinArt Golf Club... Many consider the PGA certified amongst the best golf teachers in the world. I can now testify to that! It had been 10 years since I touched a golf club and I still managed to drive the ball 180 yards down the middle of the fairway after a lesson with the Head Pro, Ryan Bowey!
I highly recommend early morning private lessons. A professional level of instruction on a peaceful, pristine course in the cool morning air sure makes for a memorable and energizing morning.
Special Note: CuisinArt Golf Club will be holding the island's first ever annual national Anguilla Open June 23-24! Details coming soon.
One last thing... If you happen to be traveling to Anguilla in May, click here for a guide to May events in Anguilla. From the Anguilla Regatta, to several pageants and small festivals, to Anguilla Day itself, May is packed with fun activities.
That just about covers everything for this month!
Until next time,
Nori
Anguilla Beaches Home Page
---
New!

Comments Have your say about what you just read! Leave me a comment in the box below.