Combing Anguilla's Beaches for the Best
Anguilla Beach Lovers brings you the latest additions to one family's experiences of the "best of all things Anguillian."

If you like this e-zine, please do a friend and me a big favor and "pay it forward."

If a friend did forward this to you and if you like what you read, please subscribe by visiting...
---
Issue #074, September 7th, 2013
September is here! You know what that means for Anguilla... the true off-season has arrived.
It is the quietest time of year on the island with many hotels and restaurants closed up to take a much needed and well earned rest. Tranquil as can be, it's the perfect time of year to visit Anguilla if you're up for a more local experience and if you want to have beaches all to yourself.
Affordable spots like Lloyds B&B are staying open, and airfare is more than reasonable from big U.S. cities (flights for $500 round trip from JFK to SXM on JetBlue). If you're worried about weather, book at the last minute and check the forecast beforehand. You will be good to go!
For a list of spots and their open/close dates, check the AHTA's list here. In addition to that list, favorites like Valley Bistro, The Dune, On Da Rocks, Hungry's and Karla's Grill & Bar at De Reef are all staying open.
Not visiting Anguilla this month? I have something extra-special to bring Anguilla to you... :-)
---
Anguilla Calm
We've been hard at work on exciting projects this summer. One of my personal favorites? Anguilla Calm! You may remember Anguilla Calm from a few months back when we released it for desktop computers and laptops. I'm happy to announce that it is now available for mobile (phones and tablets).
What makes this ultra exciting? It's our very first mobile app!...
Anguilla Calm lets you take the soul-soothing sights and rolling rhythms of Anguilla's world-class Caribbean beaches with you wherever you go. This app is its own relaxation device, playing videos of Anguilla's best beaches over and over.
To keep Anguilla with you even when you're miles away, download the FREE app via the links below.
---
July & Early August Memories
Naturally, it hasn't been all work and no play here in Anguilla. ;-) Let's take a look at what we got up to this month.
We snacked on sea grapes...
We dug into succulent crayfish at E's Oven before they closed for the season...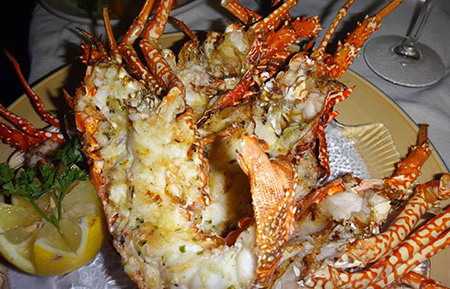 We took a front seat at The Dune...
... and then walked the entire stretch of Rendezvous Bay.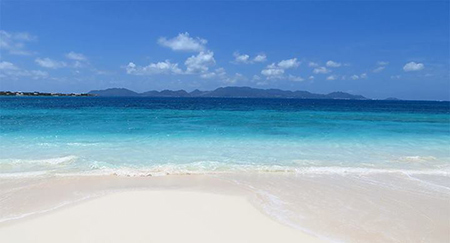 We visited Barnes Bay too, gushing over the color of the sea. I swear this time of year you get the glassiest, most clear and deeply blue waters...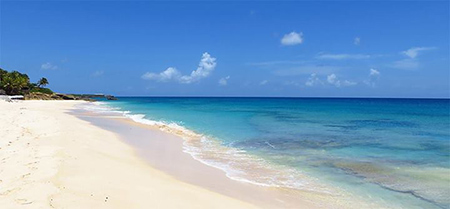 Being the "rainy season," we enjoyed a few passing showers. Because Anguilla is a desert island, our rain clouds never seem to linger long. Just look at that squall hovering over St. Martin, meanwhile Anguilla is clear as can be...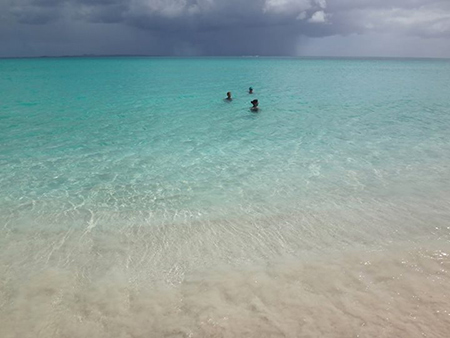 Finally, we enjoyed many a memorable sunset. One of my favorites was seen from in the Caribbean Sea between storms that rolled in with our most recent Tropical Depression. Surrounded by the refreshing sea, the sight of the faint sun punching through heavy clouds was magic!
---
What Else Is New?
---
That's all for this month.
We have some exciting projects on the horizon. Stay tuned for those!
In the mean time, please download Anguilla Calm, and please rate and review the app...
I deeply value your feedback, especially as we start work on Version 2. :-)
See you in October,
Nori
Anguilla Beaches Home Page
---