A Local Hang-Out With a Cool Name...
Natural Mystic
Update 2015: Natural Mystic has moved to The Strip!

Update 2017: Natural Mystic has closed.
By: Kristin Bourne
Located in The Valley, Natural Mystic is a new, casual little Anguilla restaurant and bar owned by a man named Mystic.
If you are driving from Crocus Bay and headed toward The Valley, the building catches the eye from the left side of the road. It has a covered wooden deck, and is painted the Rasta colors of red, green and gold.
Natural Mystic from the side parking lot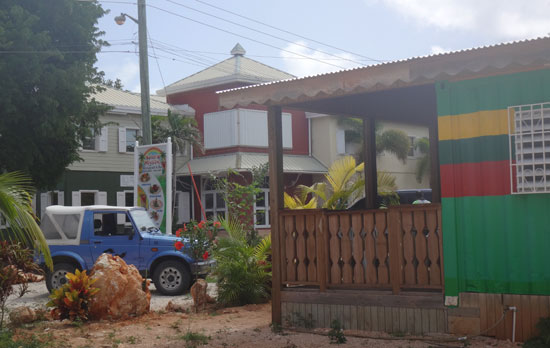 A friend and I stopped in for lunch on a late-August afternoon. The bar area was full of local men enjoying a "lime" and a few of the tables were occupied by local ex-pats giving the place a try.
Except for the sound of conversation, the restaurant was quiet.
We selected our table in the corner, took our seats and before ordering, we asked the owner what was good. He told us that he was getting good feedback on the oxtail. That's a true Caribbean staple and Anguillians are pro's at cooking it, for the most part!
The Menu and Food at Natural Mystic
We momentarily entertained the oxtail, but agreed we were in the mood for something a little simpler, like finger food. My friend ordered chicken fingers and french fries and I ordered fish fingers and macaroni pie.
There isn't a shortage of menu options... There are salads (green, chicken, fish, shrimp and lobster), wraps, burgers and pastas. Prices go from $4 US to $12 US. Wraps are filled with either fish, chicken or vegetable. They are $4 US to $6 US. The burger and fries section gave options of fish, beef, chicken and veggie, ranging from $6 US to $8 US. Pastas with chicken, fish or shrimp went from $8 US to $12 US.
Fish Fingers, Macaroni Pie and Cole Slaw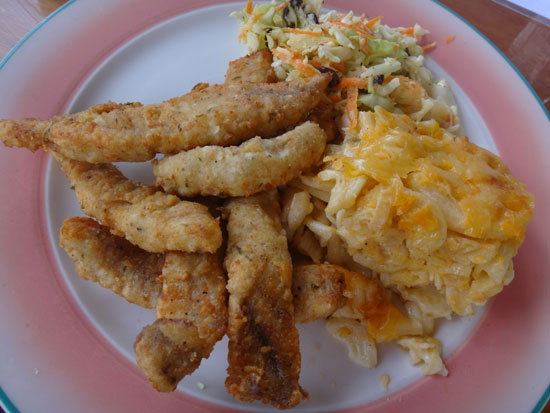 The "BBQ only" menu section included chicken, ribs or a combo or both served with a side of your choice from $4 US to $12 US for the combo. Lobster and Crayfish were the heavyweights, of course, being $35 US and $25 US and they included a side.
Apart from BBQ and more snack-type food, the menu also featured "MEALS." They offer two sizes, small and large. Meal options are oxtail, goat, ribs, or chicken with the small sizes ranging from $6 US to $8 US and large running from $8 US to $11 US.
Sides ran from $1 US johnny cakes to $7 US fish fingers. Falling in between are fried chicken wings, mashed potatoes, fries, macaroni pie, rice and chicken fingers.
We waited quite a while for our food, which was fine as we spent time chatting and drank a Heineken.
When the food did arrive, we dug in. My food was warm but my friend didn't find hers as warm as she'd like. Our plates included cole slaw which we didn't realize we would be getting too! I ate all of my fish fingers and macaroni pie. I found my food was ok, not special and not bad.
My friend didn't care much for her chicken or fries. She felt a little disappointed to not have a BBQ or honey mustard with her chicken fingers, yet she said she'd try the restaurant again.
The Natural Mystic Frozen Drink
After we finished eating, we noticed the special "Mystic drink" that is pictured on the sign out front. It shows an image of a 3-colored frozen drink with the Rasta colors of red, green and gold.
The "Natural Mystic" frozen drink

I asked the server about it. She mentioned something about creme de menthe and pineapple as flavors included.
We placed an order for this special frozen drink and it arrived rather quickly.
It was mostly red with a large spot of green and not a lot of yellow. Not sure of which color represented which flavor, we sipped with an open mind. It was special in that I can't properly describe the taste. That could be intentional, hence the name "Mystic."
At $8, I don't intend to order it again unless the the recipe gets some work. Maybe just get a solid red drink which would likely be a strawberry daiquiri.
All said, I would stop in again at Natural Mystic for a beer and a snack, and/or to sample the oxtail. It's conveniently located, and its surroundings are nice and clean.
I also really love the street that it is on... a very lovely and historic part of Anguilla in either direction.
Natural Mystic doesn't sit far from Anguilla's oldest buildings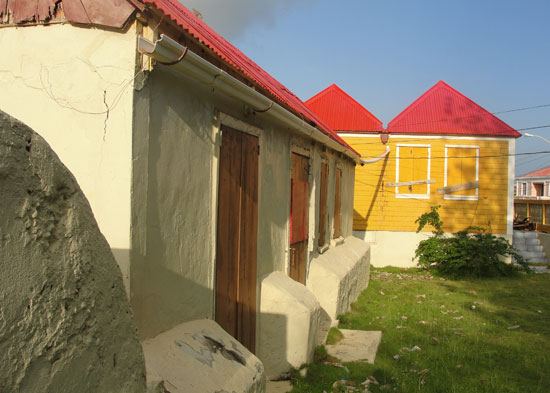 When you give Natural Mystic a try, perhaps go with what Mystic says is good. I'll try it again and do the same! After you try it, I would love to hear all about your experience at the bottom of this page. :-)
Directions, Hours & Contact
Directions: From The Valley, head towards da'Vida. Well before da'Vida, and well before Koal Keel, you will see Natural Mystic on your right.
Hours: Daily for lunch and dinner.
Tel: 264-235-4075 or 264-584-5465