Combing Anguilla's Beaches for the Best
Anguilla Beach Lovers brings you the latest additions to one family's experiences of the "best of all things Anguillian."

If you like this e-zine,, please do a friend and me a big favor and "pay it forward."

If a friend did forward this to you and if you like what you read, please subscribe by visiting...
---
Issue #087, April 10, 2015
Stunning sights, soothing vibes and sumptuous eats!...
April in Anguilla is off to a wonderful start :-)
Incredible pre-sunset vistas enjoyed from Malliouhana...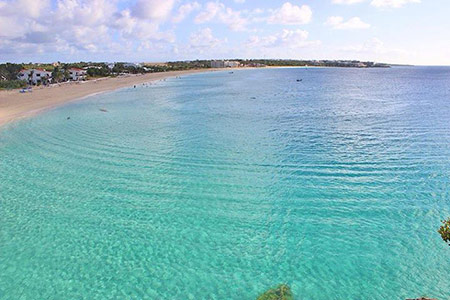 (With its hypnotic, enigmatic ripples, this photo set records over on our Facebook page, with over 1,100 Likes!)
Afternoons snorkeling and swimming in idyllic Little Bay...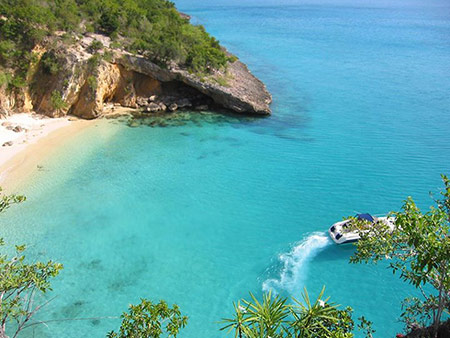 (Little Bay was also highlighted in the latest edition of ISLANDS Magazine, ranking as #3 best beach in the Caribbean with a 10/10 for "castaway factor." Check out the feature below. Click here for a larger version. Thank you to Anguilla Beach Lovers reader, Phil for sending this in!)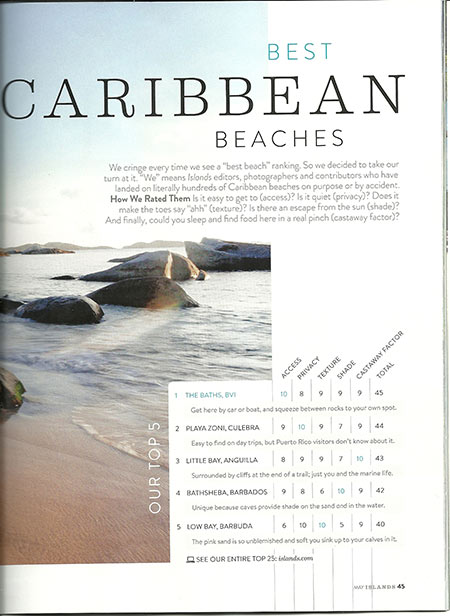 Mornings spent gliding over the seas of Rendezvous Bay (click here for the video)...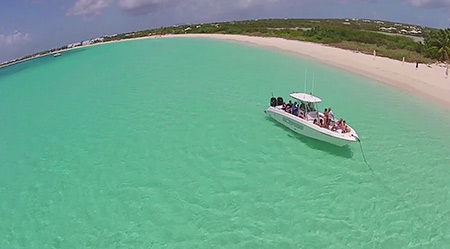 And, of course, taking in the feel-good atmosphere at Island Harbour... THE place to be come Easter weekend.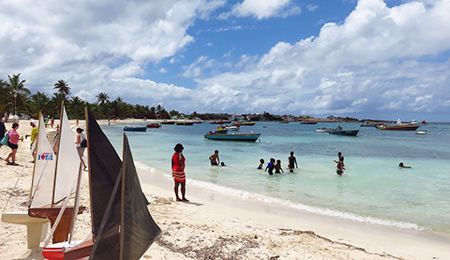 Children swimming. Boats racing. Grills a-blaze with lobster and crayfish. It was a beautiful Easter weekend in Anguilla!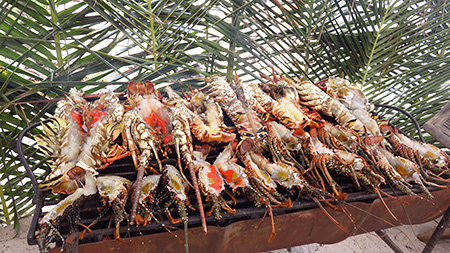 Mahi Mahi at Falcon Nest, lobster at Mikey's pop up spot on the beach, lobster ravioli at Elite, and everything in between, it was a delicious weekend, too ;-)
---
24 Must-Eats in Anguilla
Coming off of a food-friendly holiday, we were inspired to create a list of our dining "must haves."
Pouring over each and every restaurant, we considered bread baskets, appetizers, entrees, desserts and drinks!
Breakfast favorites...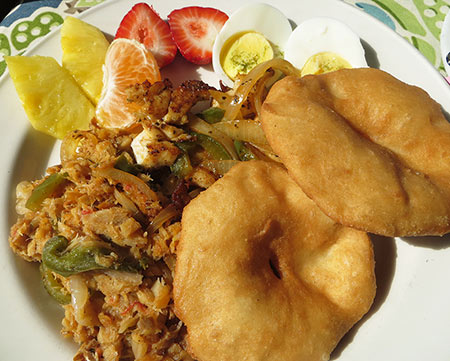 Quintessential Anguillian lunches...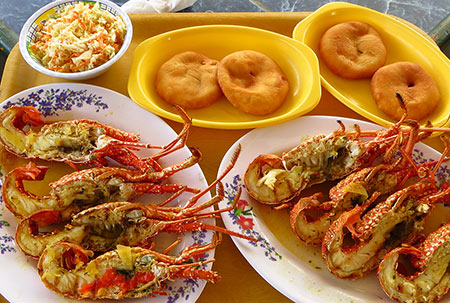 Off the beaten path, Caribbean cuisine finds...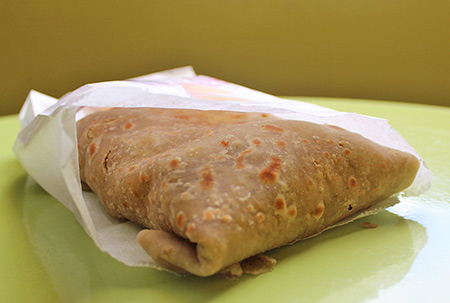 A variety of haute-cuisine dishes...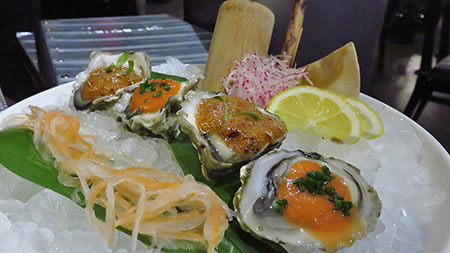 A little bit of everything found its way into the compilation.
Click here to see our list of 24 Must Eats!
I am sure, of course, that for every dish we featured there are many that we missed :-)
So, if you agree or disagree with our picks, click here to let us know and to share your top meals in Anguilla!
---
Hibernia's Annual Fundraiser
More great foodie news!
On April 25th Hibernia will be holding their annual fundraiser dinner for their orphanage project in Myanmar.
(See menu below.)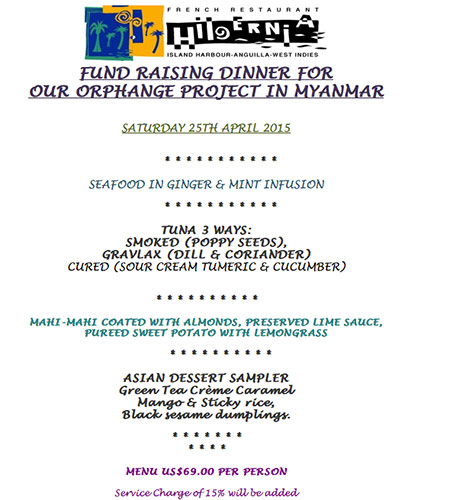 Held yearly, this fundraiser is always so highly anticipated and well-received.
Owners Mary Pat and Raoul never cease to "wow" with their elegant ambiance and fine, Asian-Caribbean cuisine.
At $69/person it's a high-value dinner and all for a great cause.
For reservations, call: 264-497-4290
---
Anguilla Watersports & Tequila Sunrise Villa Team Up!
Last, but certainly not least, as we head further into spring, days on the sea are as idyllic as ever.
And, our Site Sponsors, Anguilla Watersports and Tequila Sunrise Villa have teamed up to offer a tremendous special for all of us lovers of the ocean.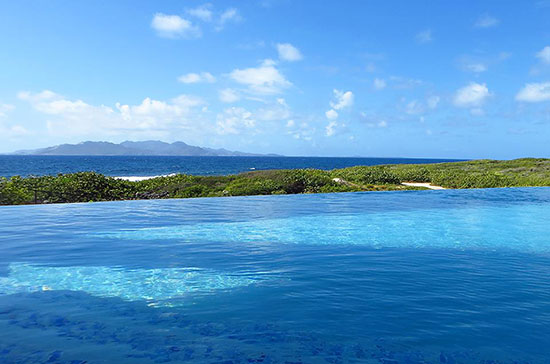 A stay at the luxurious Tequila Sunrise Villa now includes a free kitesurfing or stand up paddleboarding lesson with premier watersports business, Anguilla Watersports.
With winds and seas getting ever gentler as we head into summer, the time couldn't be better to learn to kite and stand up paddleboard.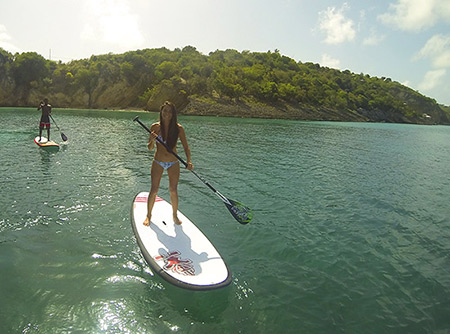 For details on the special, click here.
That's all for this month!
Here's wishing you a blissful spring from Anguilla,
Nori
Anguilla Beaches Home Page
---