Combing Anguilla's Beaches for the Best
Anguilla Beach Lovers brings you the latest additions to one family's experiences of the "best of all things Anguillian."

If you like this e-zine,, please do a friend a favor and "pay it forward."

If a friend did forward this to you and if you like what you read, please subscribe by visiting...
---
Issue #096, March 31, 2016
March is going out like a lamb here in Anguilla!
From Shoal Bay West...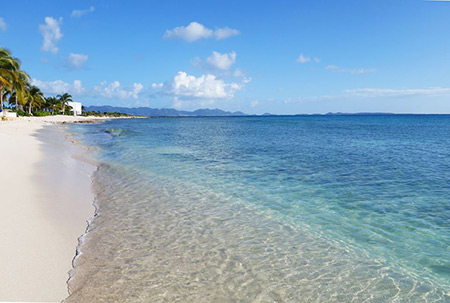 To Shoal Bay East...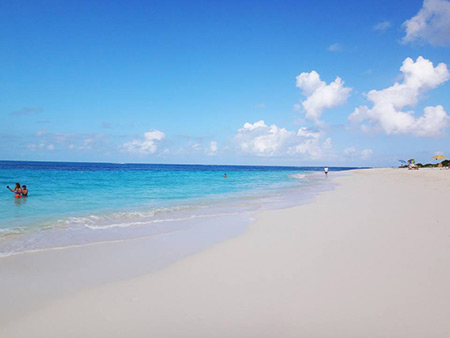 From the smooth shores of Sandy Island...
To the azure waters of Prickly Pear...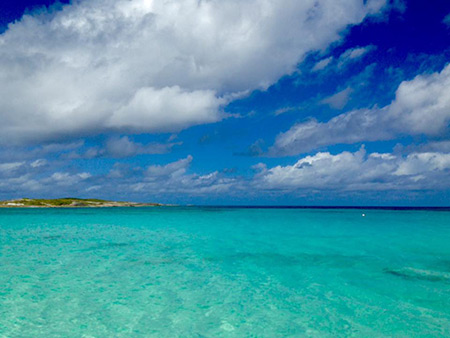 Tranquility wrapped in blue has been exactly that.
Also marking the end of March is Festival del Mar, held this past Easter weekend. Fishing contests, fresh seafood, live music, dancing on the sands of Island Harbour... a two day celebration of the sea, a good time was had by all!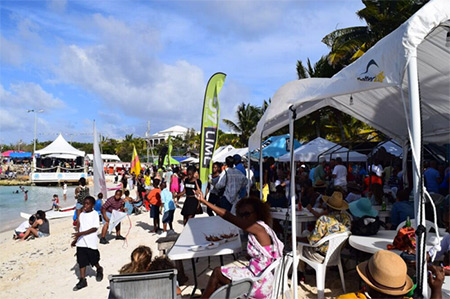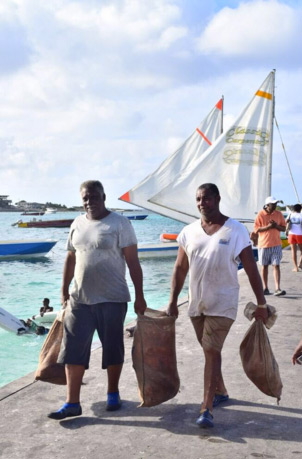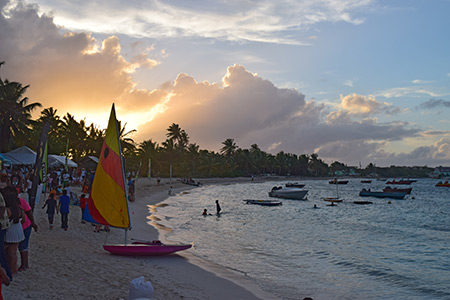 What else is new?
---
Lobster BBQ is BACK at CuisinArt Golf Resort & Spa
CuisinArt Golf Resort & Spa's signature, weekly culinary event has returned!
Ultra-popular, Lobster BBQ has long been hailed as one of Anguilla's "must do's."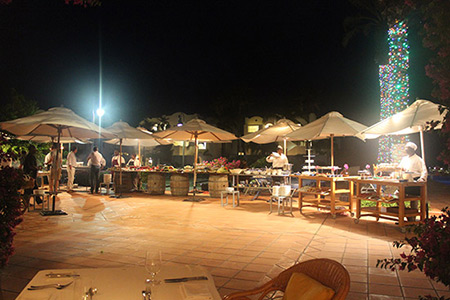 A gourmet food fiesta held pool-side at CuisinArt Golf Resort & Spa, its value is simply unbeatable. $95 buys unlimited BBQ lobster with a plethora of gourmet mains and side dishes. All served in an elegant and inviting atmosphere, it is as far as you can get from typical "all you can eat" resort buffets.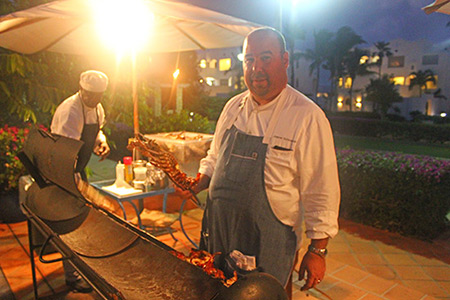 Fresh mahi mahi and lamb are grilled before your eyes. Succulent beef brisket is ready to slice. Classic Anguillian-style BBQ chicken and ribs are grilled on an open, charcoal flame. From time to time, the menu even features a whole roasted suckling pig.
As for the lobster? Billowing with sweet-charcoal smoke, one look at the grills and you swear CuisinArt has hundreds of beautiful Anguillian spiny lobsters on hand. They certainly never run out!
Executive Chef Jasper Schneider grills the sizable spiny lobsters to perfection. They are served straight from the grill to your plate.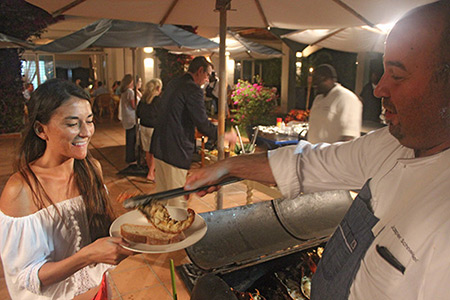 As Chef plated my lobster, he suggested, "Butter, Nori?" Incredulous, I had to ask him to repeat the question. I had never devoured an Anguillian lobster with a side of warm butter.
This was a welcomed treat, reminiscent of days spent cracking lobster claws on The Cape. "A man after my own heart," I replied as I nodded.
Melted butter with herbs and capers is poured over the lobster. With a squeeze of lemon, the combination comes highly recommended. The lobster meat itself is moist and smoothly separates from the shell. And, don't forget to soak up the remaining butter with a piece of fluffy, rustic bread or Johnny cake.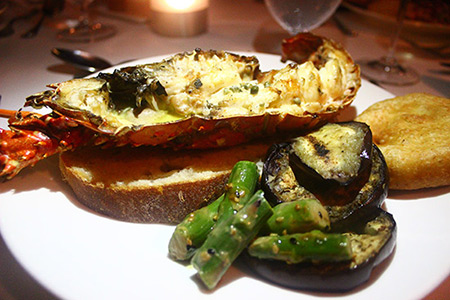 Longstanding "must-do's" often disappoint. But, CuisinArt Golf Resort & Spa raises yet another bar a level higher. Lobster BBQ really is a must!
Read the full Lobster BBQ article here.
---
New to the Meads Bay Scene: The Bamboo Beer Box
A lunch, dinner and drink spot in Anguilla has joined the scene on Meads Bay and it encompasses many elements that makes for a real Caribbean vacation experience…
It's on the sand of a gorgeous beach.
It is owned and operated by genuine, fun-loving, hospitable, happy Caribbean people.
It is unpretentious and laid-back.
It offers delicious drinks and food.
It's a perfect blend of comfort and casual.
It plays good regional music.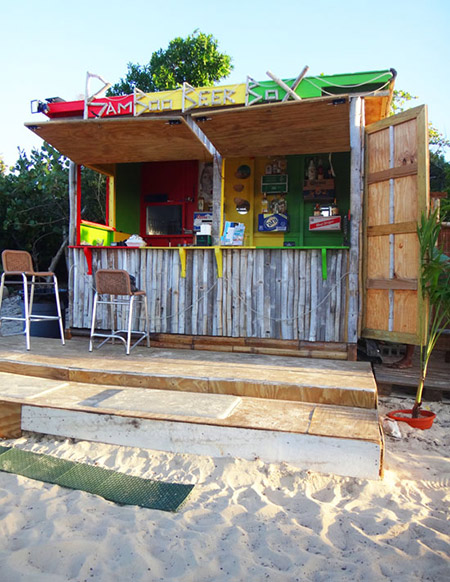 While the Bamboo Beer Box's name is unique and catchy, it's not only a bamboo, beer, box. It is a box, sitting on the beach, made of bamboo and yes, it does hold beer but it's home to some specialty cocktails like "The Skinny Girl"...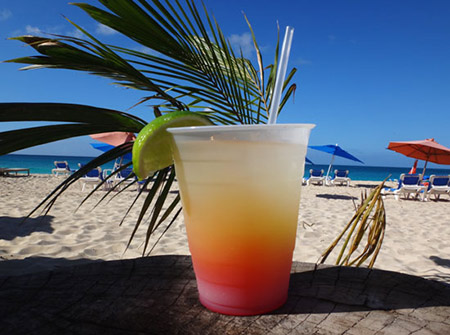 And the ribs have been graced with the title of "Best ribs on Anguilla."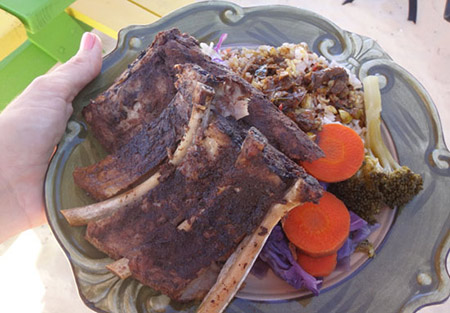 Bamboo Beer Box brings genuine Caribbean vibes to Meads Bay.
Read more on the Bamboo Beer Box here.
---
Win a $10,000 Luxury Anguilla Vacation & Support a Worthwhile Cause!
Less than one month remains to enter to win Hilroy Alfred's $10,000 value Anguilla vacation package, which includes...
A 6 night stay at the luxurious Viceroy resort, a meal for each day of your stay, car rental, transport to and from SXM and a host of activities (sunset cruise, tubing, massages, private fitness training)!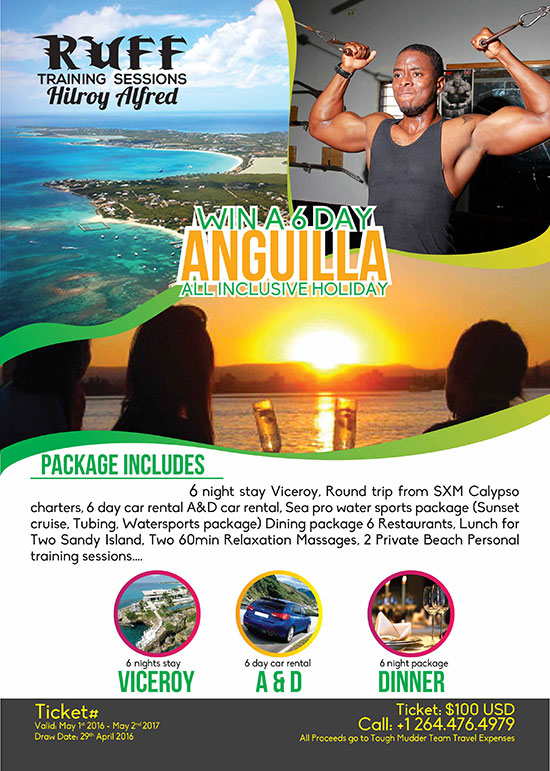 All proceeds go towards his team's trip to the internationally recognized fitness challenge, Tough Mudder in Atlanta, Georgia this May where they will be the first team ever to represent the Caribbean!
Raffle Ticket Price: $100 USD
Deadline to Enter: April 28th, 2016
Winner Announced: April 29th, 2016
Click here to purchase a ticket!
---
Fish Shack & Grill: Hooked At First Bite
New to Anguilla's abundant selection of delicious and varying dining options is the convenient and satisfying Fish Shack & Grill. It's not to be lumped in to the existing category of BBQ or roadside just because it serves ribs and chicken from a grill. This place is different.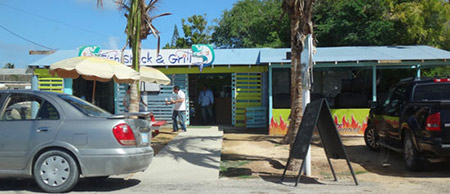 It is fair to say that Fish Shack & Grill is defined by its grills. They are the Cadillac SUV of local grills.
Four black, stout-looking grills line the southwestern front side of Fish Shack & Grill.They are statuesque and visible from Blowing Point Road, the parking area and as you walk into the restaurant.
Each grill is dedicated to cooking the restaurant's main entrees: pork, pork ribs, beef ribs and chicken. (Fish is cooked separately.) These grills are workhorses, smoking and grilling all day with the pork grill cooking pork shoulders, butts and hams anywhere from 6 to 8 hours.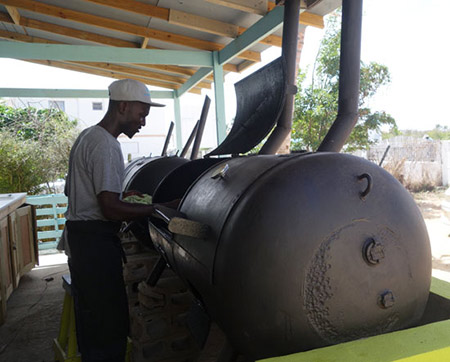 Each meat can be ordered on its own or with "food", which is rice and peas or fries, coleslaw and green salad.
The best of the meats? The beef ribs. They are really good. They are served off of the bone and in thin slices. The flavor is unmatched in Anguilla so far and is more reminiscent of flavors found in the southern United States. They come highly recommended!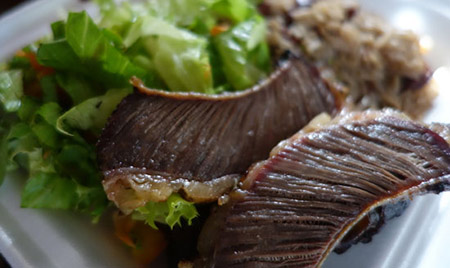 Read more on Fish Shack & Grill here.
---
Anguilla Watersports' Aqua Park Opening This Weekend
In Anguilla with youngsters this weekend? Anguilla Watersports will be holding the grand opening for their brand new aqua park this Saturday, April 2nd!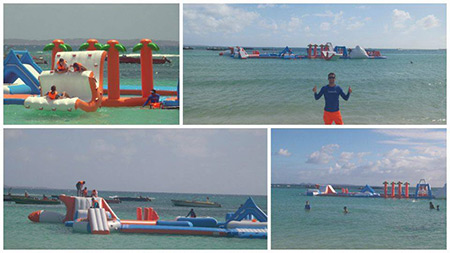 Photo Courtesy of Anguilla Watersports
Set on Cove Bay, pop over this Saturday to take part in all of the family fun!
(Full review coming soon.)
---
East Meets West at Cha Cha San April 8th
Also taking place this month is a one of a kind culinary experience... East Meets West.
Chef Sweets from Ani Villas will be a special chef guest at Cha Cha San April 8th. Together with Chef Ken they will be presenting an "East Meets West" tasting menu. What's on the menu?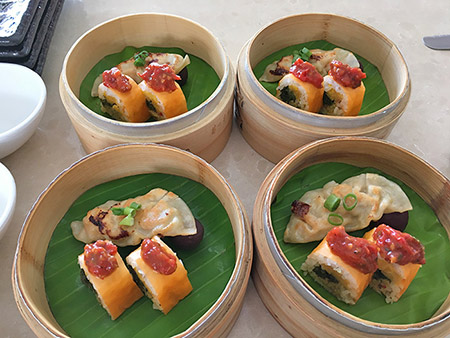 Small dish: Welcome Chef Sweet
Kaffir lime curry with Local lobster dumpling
Sushi roll: Salt fish, Ackee, Local Callaloo Leaf, Plantain & Jerk Tomato Chutney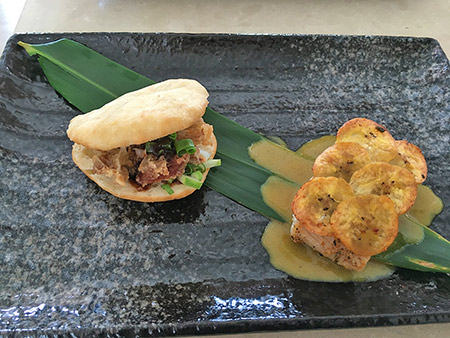 Main course: When Bruce Lee "Meets" Mike Tyson
Plantain crusted Mahi Mahi on island coconut curry sauce
5 Spice Crispy Duck, scallion, cucumber with jonnie cake

... and more! To reserve your spot, call: 264-583-1988
---
Taste of Anguilla Taking Place This Sunday Night
If you will be on-island April 3rd, come out for a great cause: Anguilla's National Culinary Team's fundraiser, Taste of Anguilla!
Held yearly at the beautiful poolside of Aleta's restaurant at Viceory Anguilla Hotel, it is a highly anticipated event. DJ Yosh will be setting the ambiance with delightful cuisine provided by...
The Restaurant at Malliouhana, Veya/Meze, Sandy Island, da'Vida, CuisinArt, Cap Juluca Pimms, Good Korma, Viceroy, Café de Paris, Sarjai's and Dolce Vita Restaurant.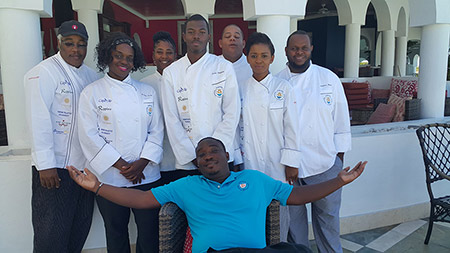 Proceeds go towards the team's participation at the prestigious Taste of the Caribbean competition in Miami this June.
It is sure to be a wonderful event and it's a great opportunity to support our national team and cheer them on to victory in Miami!
Tickets cost $70 (and include a mojito and rum punch bar).
To purchase tickets and for more information, call Gilda of the Anguilla Hotel & Tourism Association at: 264-476-2944
---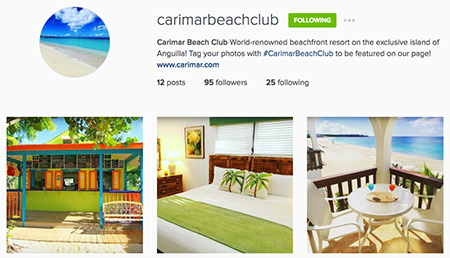 That's all for now!
If you're on Instagram, be sure to give Carimar Beach Club a "Follow" (@carimarbeachclub). This coming month we will be holding contests and giveaways together on Instagram, so stay tuned :-)
Wishing you a happy start to Spring & hope to see you at Moonsplash!
Nori
Anguilla-Beaches.com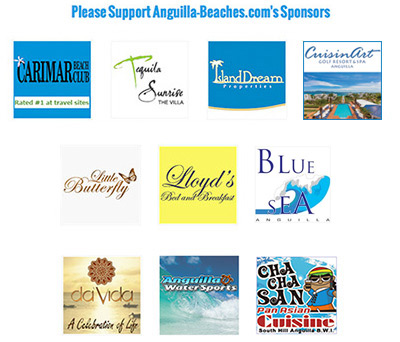 Do you have your Anguilla Card yet? Save 10% at 66 Partners!
---