A Cornucopia of Caribbean Culinary Delights...
Lobster BBQ
at CuisinArt Golf Resort & Spa
Update 2019: The famous Lobster BBQ is BACK at CuisinArt! Lobster BBQ is now held on the beach at CuisinArt's Beach Bar & Grill. One of the best value deals on the island, don't miss it. Full update coming soon.
CuisinArt Golf Resort & Spa has established itself as a Caribbean culinary destination.
Their restaurants (including AAA Four Diamond Le Bistro at Santorini) are among the island's best and their Chef's Tasting Menu goes down as one of our family's most memorable meals.
Time and time again, Executive Chef Jasper Schneider proves that passion prevails as he re-defines and sets new standards for the entire region.
Heavenly Evening Sky at CuisinArt Golf Resort & Spa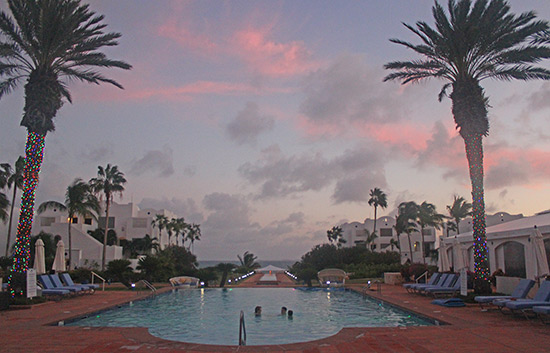 This holds true for CuisinArt's signature, weekly culinary event...
Lobster BBQ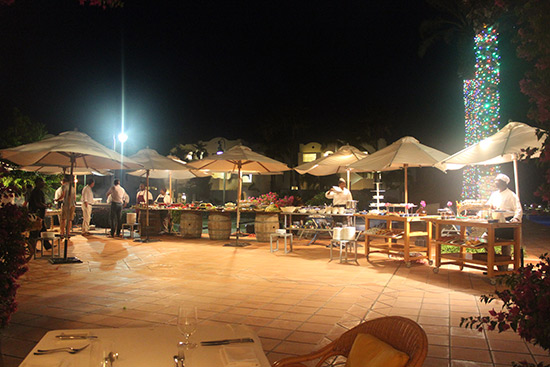 Held every Saturday night, it has long been hailed as one of Anguilla's "must do's." The value is unbeatable. $95 buys unlimited BBQ lobster with a plethora of gourmet mains and side dishes. All served in an elegant and inviting atmosphere, it is as far as you can get from typical "all you can eat" resort buffets.
The Setting
Illuminated palms sway overhead as the lights of St. Martin twinkle in the distance and Michael Masci sets a light-hearted tone with his spirited stylings.
Just adjacent to the enchanting swimming pool, and in front of Le Bistro at Santorini, the patio is transformed into a gourmet food festival. Each table showcases a specialty dish.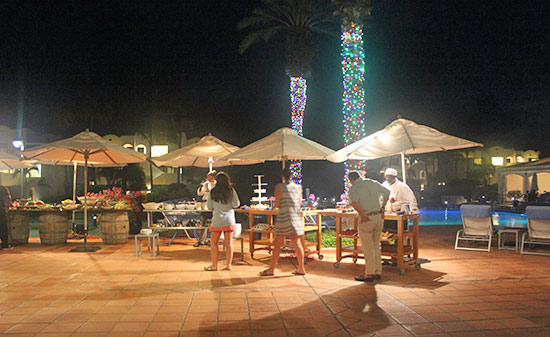 The welcoming staff seated us at our table inside Le Bistro at Santorini. We were ready to explore Lobster BBQ!
The

Lobster BBQ

"Lobster" receives top billing for this evening. But, it has a terrific supporting cast. This is much more than "just" a Lobster BBQ.

First stop of the night?...
La Plancha, Chicken, Ribs & Brisket
The sumptuous aromas of grilled mahi mahi floated through the night air and led us to "La Plancha."
"La Plancha"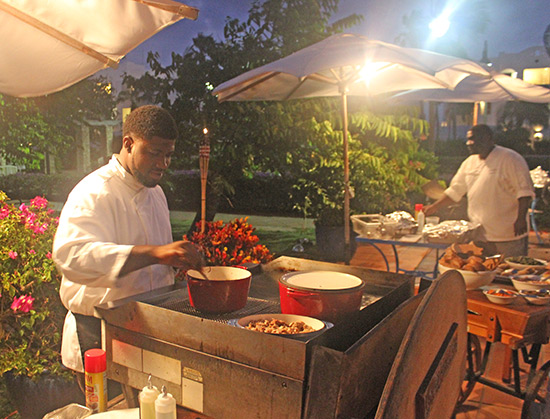 Fresh mahi mahi and lamb are grilled before your eyes. They can be enjoyed on their own or wrapped in a warmed tortilla, making a soft-shell taco.
Grilling Mahi Mahi & Lamb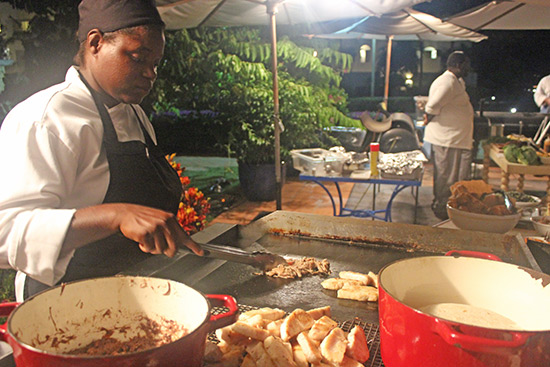 Slicing the Brisket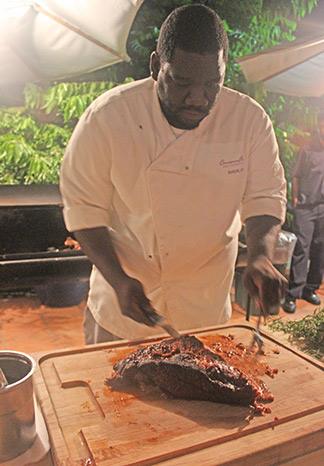 Just next door to "La Plancha," succulent beef brisket is ready to slice.
Do not pass up the brisket to "save room" for the lobster. Try at least a slice.
Classic Anguillian-style BBQ chicken and ribs are grilled on an open, charcoal flame.
From time to time, the menu also features a whole roasted suckling pig.
TIP: Menu items rotate depending on availability. Call ahead to confirm the day's menu.
Between grilled mahi mahi, lamb, tacos, brisket and BBQ ribs and chicken, the variety of dishes and their quality is impressive.
Rounding out the classic Caribbean menu are...
Johnny Cakes, Breads, Salads & Pasta
Golden-crisp Johnny cakes. No Anguillian BBQ is complete without them!
Johnny Cakes & Ratatouille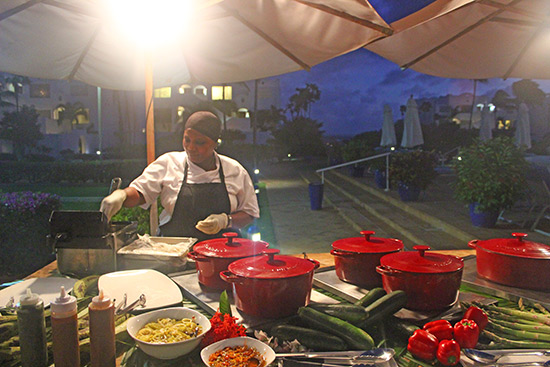 CuisinArt brings renewed creativity to Johnny cakes, serving them with a side of slowly stewed ratatouille.
Artisan Breads & Vegetable Side Dishes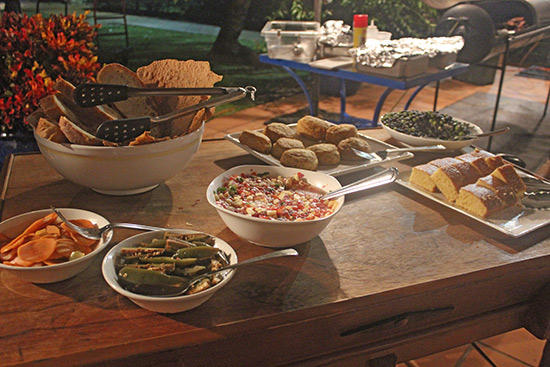 If you're not a fan of the fried Johnny cakes, CuisinArt offers a variety of breads, including butter milk biscuits, corn bread and rustic country bread.
Even pasta is on the regular menu. The pesto, made with fresh, hydroponically-grown basil, is not to be missed.
Fresh Salads with Hydroponic Greens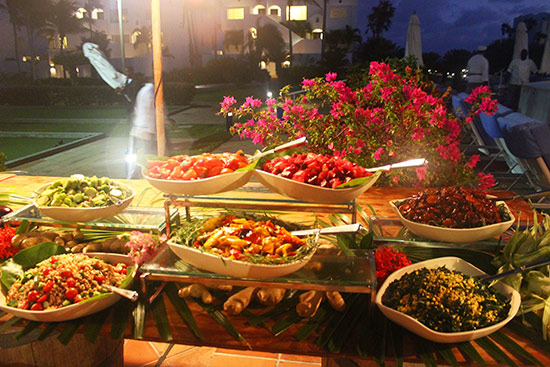 Naturally, all vegetables are ultra-fresh, grown on-site in the resort's hydroponic garden and picked that day. Fried local eggplant and tropical mango salsa salad were two of our favorite Caribbean-inspired vegetable dishes that night.
You can't get fresher than CuisinArt's vegetables!
Finally, saving "the best" for last...
The Lobster
Billowing with sweet-charcoal smoke, one look at the grills and you swear CuisinArt has hundreds of beautiful Anguillian spiny lobsters on hand. They certainly never run out!
Executive Chef Jasper Schneider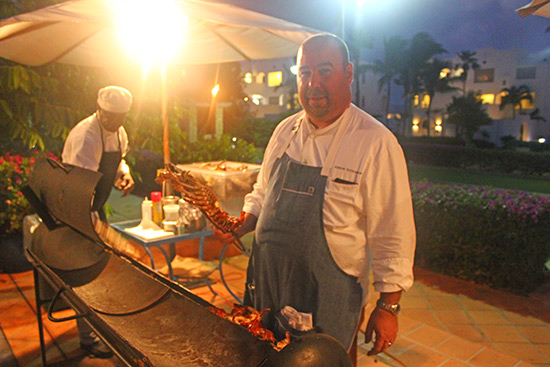 Executive Chef Jasper Schneider grills the sizable spiny lobsters to perfection. They are served straight from the grill to your plate.
The Lobsters Are Served!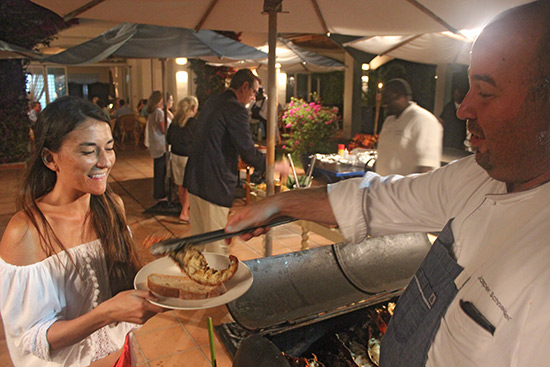 As Chef plated the lobster, he suggested, "Butter, Nori?" Incredulous, I had to ask him to repeat the question. I had never devoured an Anguillian lobster with a side of warm butter.
This was a welcomed treat, reminiscent of days spent cracking lobster claws on The Cape. "A man after my own heart," I replied as I nodded.
Melted butter with herbs and capers is poured over the lobster. With a squeeze of lemon, the combination comes highly recommended.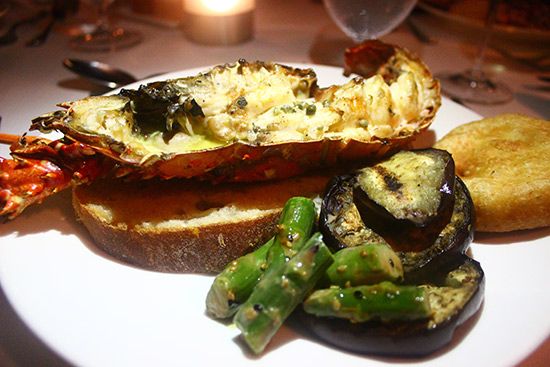 The lobster meat itself is moist and smoothly separates from the shell. And, don't forget to soak up the remaining butter with a piece of fluffy, rustic bread.
When your plate is polished? It's time to go back and do it all over again!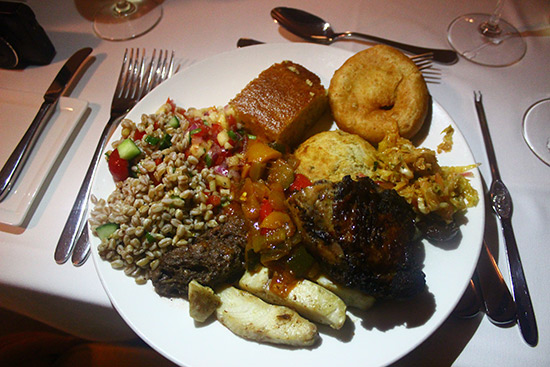 Dessert
Reveling in the glow of post-dinner perfection, dessert was calling our names.
Gourmet Desserts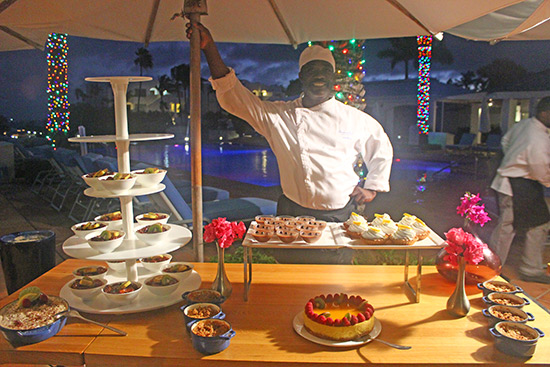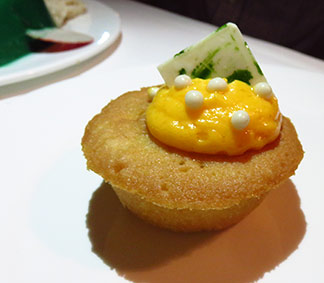 Cake pops.
Crème brûlée.
Fresh fruits.
Raspberry tarts.
Coconut rice pudding.
Decadent chocolate torte.
Rich pistacchio cake.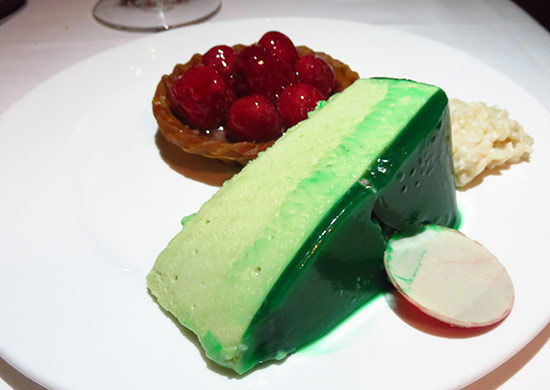 Confectionery creativity knows no bounds at CuisinArt Golf Resort & Spa.
On an island where one lobster dish can run $65, Lobster BBQ is high value. The extraordinary quality of food, table service and flow of the entire evening was a sheer delight.
Lobster BBQ is an opportunity to experience a cornucopia of Caribbean culinary delights in an atmosphere that blends luxury with unpretentiousness in a classic Anguillian way.
Longstanding "must-do's" often disappoint. But, CuisinArt Golf Resort & Spa raises yet another bar a level higher. Lobster BBQ really is a must!
To make a reservation, call: 264-498-2000