A Cornucopia of Caribbean Culinary Delights...
Lobster BBQ
at CuisinArt Golf Resort & Spa
CuisinArt Golf Resort & Spa has established itself as a Caribbean culinary destination.
Their restaurants are among the island's best and the Yacht Club goes down as one of our most memorable meals. Time and time again, CuisinArt's talented team of chefs prove that passion prevails as they re-define and set new standards for the entire region.
This holds true for CuisinArt's signature, weekly culinary event...
Lobster BBQ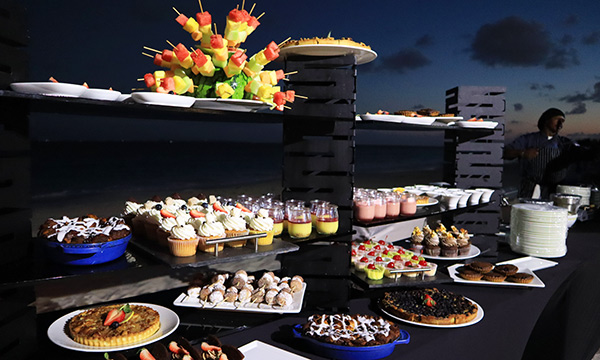 Held every Tuesday night, it has long been hailed as one of Anguilla's "must do's." The value is unbeatable. $75 buys unlimited BBQ lobster with a plethora of gourmet mains and side dishes. All served in an elegant beachfront atmosphere, it is as far as you can get from typical "all you can eat" resort buffets.
See the video below for a look at Lobster BBQ!
The Setting

Illuminated palms sway overhead as the lights of St. Martin twinkle in the distance and Omalie 360 sets a spirited tone with his smooth stylings.
Right at the edge of the sands of Rendezvous Bay, CuisinArt's Beach Bar & Grill is transformed into a gourmet food festival.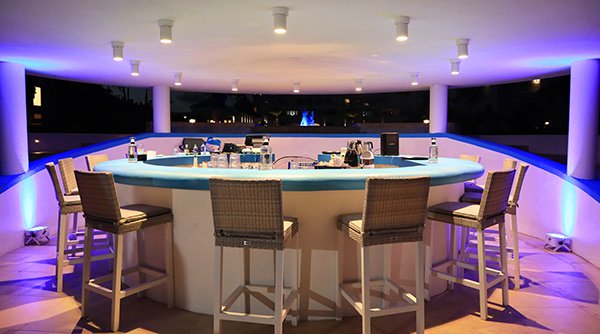 Dining tables and chairs are elegantly set in front of the lit up bar. The BBQ's various "stations" sprawl out before you, adjacent to the bar.
The welcoming staff seats you at your beachfront table, and then? Check your diet at the door. It's time to take a big bite of Lobster BBQ!
The

Lobster BBQ

"Lobster" receives top billing for this evening. But, it has a terrific supporting cast. This is much more than "just" a Lobster BBQ.

First up?...
Goodies From The Grill: Steak, Ribs & BBQ Chicken
The sumptuous aromas of BBQ float through the night air and lead you to CuisinArt's first banquet table. Tray upon shiny tray is filled with tremendous BBQ eats. Rice & peas, roasted veggies and roasted corn to start.
Roast Corn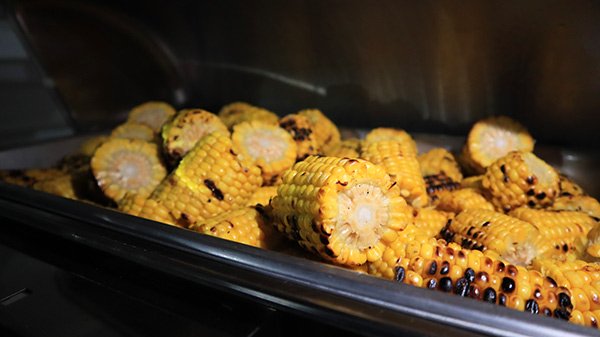 Charcoal-grilled, this is serious roasted corn! It is best enjoyed with a five-star "main" dish...
Flank Steak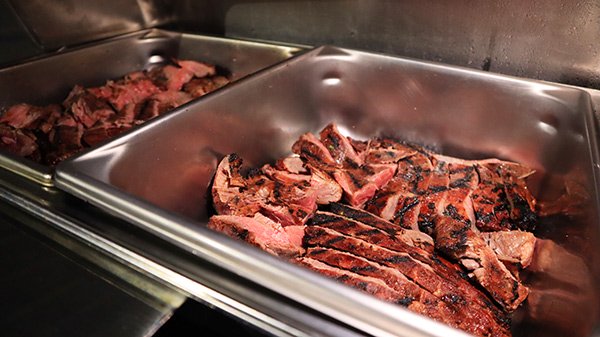 The flank steak is melt-in-your-mouth incredible. Tender, its texture is only matched by its rich flavor. "Is that a red wine marinade," we asked Chef Damien. He grinned as he shook his head, refusing to share his secret recipe. One of the best steaks we have had to date, we can see why!
Next? Sumptuous fresh caught grilled fish, BBQ chicken and...
The Biggest Ribs We've Ever Seen!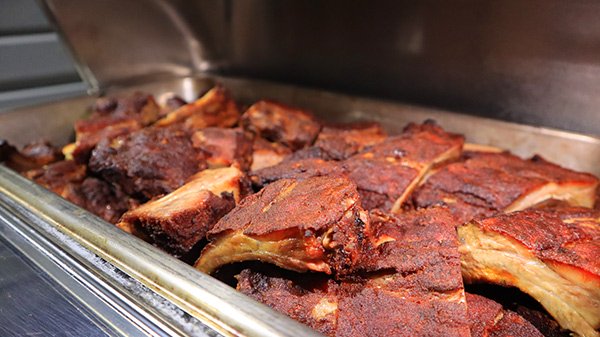 Your eyes pop out of your head as you gaze at these bad boys! Giant ribs, the meat glides ever so easily from the bone. Lightly marinated and dusted with a tangy sprinkle, each bite is addictive. Despite their size, returning for more is inevitable!
Between outstanding flank steak, flaky mahi mahi, enormous BBQ ribs and roasted corn, the variety of dishes and their quality is impressive.
What a way to kick off Lobster BBQ!
Salads & Pasta Station
No CuisinArt BBQ is complete without a pasta station.
Pasta Station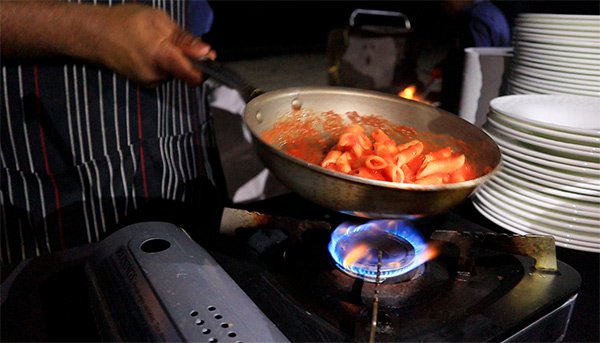 Penne pasta is cooked before your eyes, with your choice of tomato, cream or butter sauce. A welcomed side dish, pasta always soothes the soul!
The pasta station is right next to the roasted potatoes, served with a cream sauce. Rounding out the sides are extra-fresh and zesty salads. Quinoa, curried chickpea, caesar and a vibrant garden salad are just a few of the options...
Fresh & Vibrant Salad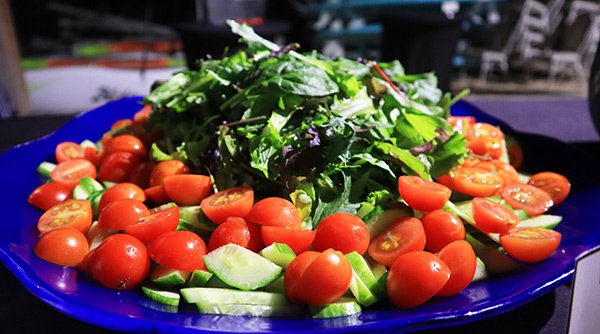 And naturally, it isn't an Anguilla BBQ without coleslaw!
Creamy Coleslaw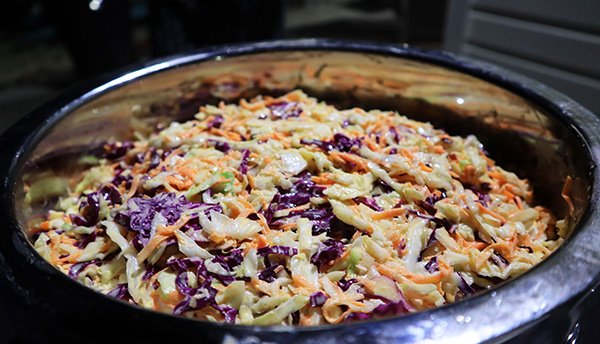 Finally, saving "the star" for last...
The Lobster
Billowing with sweet-charcoal smoke, one look at the grills and you swear CuisinArt has hundreds of beautiful Anguillian spiny lobsters on hand. They certainly never run out!
Sizzling Lobster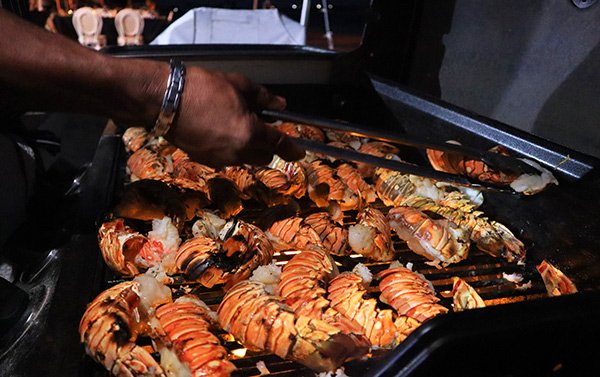 Spiny lobsters are grilled to perfection. They are served straight from the grill to your plate.
As CuisinArt's grill master plates your lobster, he suggests, "Lemon caper butter?" Incredulous, I first had to ask him to repeat the question. I had never devoured an Anguillian lobster with a side of warm butter. This was a welcomed treat, reminiscent of days spent cracking lobster claws on The Cape. "A man after my own heart," I replied as I nodded.
Melted butter with herbs and capers is poured over the lobster. With a squeeze of lemon, the combination comes highly recommended.
Full Plate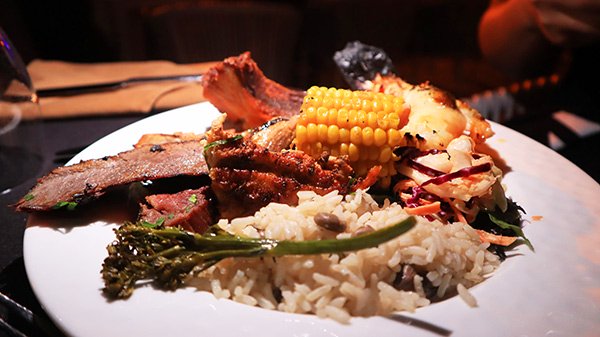 The lobster meat itself is moist and smoothly separates from the shell. The savory caper sauce will just about have you licking your plate clean.
When your plate is polished? It's time to go back and do it all over again!
Grand Finale: Dessert
Reveling in the glow of post-dinner perfection, it is absolutely impossible to not completely overdo it and make at least two visits to the dessert station.
Gourmet Desserts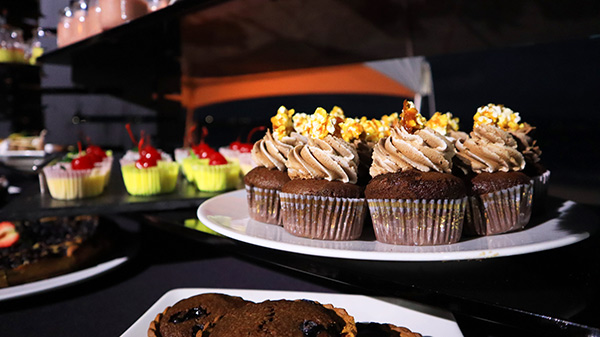 Mini doughnuts. Chocolate cupcakes. Vanilla cupcakes. Two varieties of bread pudding. Apple tart, coconut tart, blueberry tart and blueberry brownie tarts. Flan, mini crème brûlée, pana cotta and cheesecake. Yes, CuisinArt has an entire bakery on their patio!
The display dazzles the eye and awakens your inner child.
Sinfully Good Desserts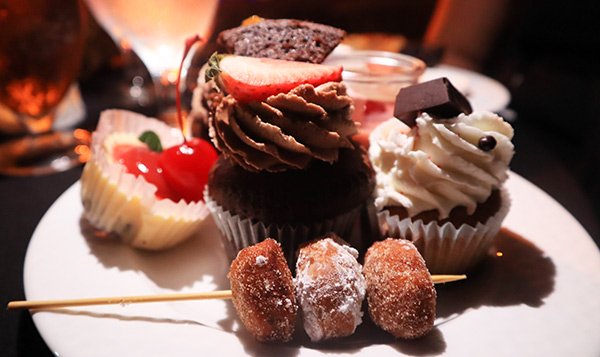 The cupcakes go down as best-in-Anguilla. Buttery-soft cupcakes are topped with a tall dollop of buttercream icing. The icing is the stuff of dreams.
This Dessert Plate BAKES My Day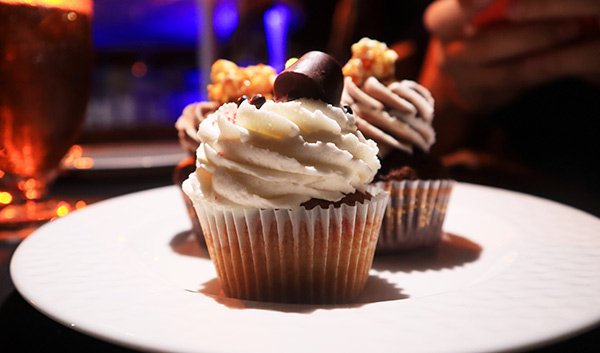 Beyond the icing, cupcakes are topped with a special touch. Chocolate cupcake with chocolate icing, topped with strawberry and ginger snap cookie. Chocolate cupcake with chocolate icing, topped with caramel popcorn. Vanilla cupcake topped with vanilla icing, pink sugar crystals, chocolate chips and a housemade truffle.
Confectionery creativity knows no bounds at CuisinArt Golf Resort & Spa.
Cupcakes so good, I am almost embarrassed to admit we went back for thirds. We had to sample each type!
The Cupcakes of Dreams!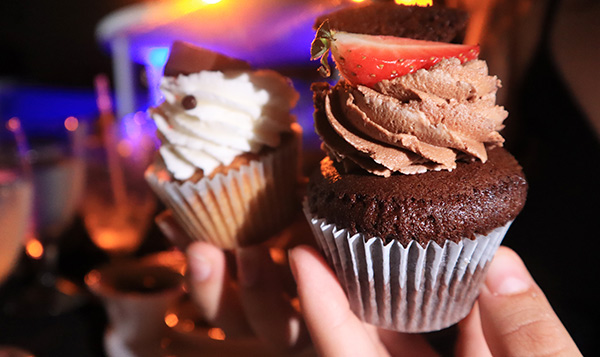 On an island where one lobster dish at a BBQ or high-end restaurant can run $65, Lobster BBQ is high value. The extraordinary quality of food, excellent and attentive table service and flow of the entire evening is a sheer delight.
Lobster BBQ is an opportunity to experience a cornucopia of Caribbean culinary delights in an atmosphere that blends luxury with unpretentiousness in a classic Anguillian way.
Longstanding "must-do's" often disappoint. But, CuisinArt Golf Resort & Spa raises yet another bar a level higher. Lobster BBQ really is a must!
Reservations required, call: 264-498-2000