Combing Anguilla's Beaches for the Best
---
Anguilla Beach Lovers brings you the latest additions to one family's experiences of the "best of all things Anguillian."

If you like this e-zine <>, please do a friend and me a big favor and "pay it forward."

If a friend did forward this to you and if you like what you read, please subscribe by visiting...
---
Special Issue: Contest Winner Announcement...

The Your Dream Day in Anguilla Contest, brought to you by Carimar Beach Club, Straw Hat, da'Vida & Cote Mer, announces the contest winner!
The "Your Dream Day in Anguilla" contest started one month ago, asking you to describe your ultimate Anguilla day (as if it was your last).
Since that announcement we published 28 of the countless entries that we received. To be published, stories had to exude a deep love for Anguilla, to be well written and include at least one photo.
The prize?
6-day/5-night stay at Carimar Beach Club, the best value hotel right on magnificent Meads Bay beach


Dinner for 2 at our 3 favorite Anguilla restaurants
The prize value is over $2000, so it took a pretty good effort to win!
After publishing the stories, I announced each one on Anguilla Beaches Facebook Page. Based on the "Likes," Comments and quality of the stories, a winner has indeed been chosen!
But it wasn't easy...
There were so many charming and touching stories, even sweet poems supplemented with excellent photographs. The winner was to be picked on the basis of Facebook "Likes" and Comments and the story's quality.
Thank goodness for the help of Facebook "Likes" and Comments. Once you are down to the "Five Fave," how would I ever pick a winner? Yuki's favorite was different from Dad's and so on.
Luckily, of the best 5 stories, one stood wayyyy out in support at Facebook, with 146 Facebook Comments and 129 Facebook "Likes," which means that many more read his story...
Congratulations Ricardo from Arizona, writer of One Day in a Lil' Piece of Heaven!
Here is Ricardo with his wife, Kristen...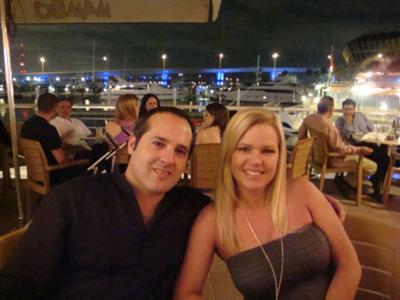 Ricardo's story was a story of romance... Romance of Anguilla and of his wife. From the dewy-fresh morning, to the last breezes of the evening, Ricardo told his story in great detail, visiting each of the island's special sights. Perhaps most special of all was the introduction of his wife to his most cherished spot, and her state of awe, which further deepened his appreciation for Anguilla.
Ricardo's passion for the island shines strong, the "Dream Day" one of the best 5. His Facebook support pushed him the rest of the way to the winner's circle. And on that note..
One of the great side effects of this contest has been the raising awareness of Anguilla. You have shared your entries with so many people, with friends, with family, with co-workers. You have let Anguilla touch many thousands of people through first-hand, passionate eyes.
The contest has been a true success. Thank you to all who participated, and congratulations...
Remember, you qualify for a Carimar Beach Club contest special! Book 5 nights and stay 2 additional nights free! And, if you entered a valid submission, you also receive a 2 day complimentary car rental. Click here for more information on your prize!
A great thank you and congratulations to you Ricardo! I am so glad that you and Kristen have the opportunity to return to Anguilla. I do hope she will snorkel! ;-)
Click here to read the winning "Dream Day" story, Ricardo's "One Day in a Lil' Piece of Heaven".
And, click here to drop by Ricardo's story on Facebook to congratulate him on his winning!
With sincere thanks and congratulations,
Nori
"Like" Anguilla-Beaches.com at Facebook
Follow Anguilla-Beaches.com on Twitter
Anguilla Beaches Home Page
---
New!

Comments Have your say about what you just read! Leave me a comment in the box below.