Anguilla Restaurant Reviews:
A French-Fusion Favorite
The New Coté Mer
Cote Mer closed during the 2011 off-season. Stephane and Thomas decided not to re-open. We can only hope that whoever replaces them reaches their same lofty culinary heights. I leave this page for historical archive purposes and your reading pleasure.
Anguilla's East is the quieter Anguilla. The Anguilla we hold so dear to our hearts.
For us, it is home!
It is also the site of many of our favorite dining experiences: the "no shirt (or shoes) required" sandy Anguilla beach bar spots. Nat's Palm Grove in Junk's Hole, Deon's Kuyah in East Shoal Bay (at Ku Hotel), Arawak in Island Harbour.
The only drawback? No five-star cuisine with that special Anguillian feeling (like da'Vida in the Valley and Straw Hat in the West) pulls us back for over and over dinner.
The West End of course is known for its five-star "tourist zone" service.
This side of Anguilla attracted most of the luxury Anguilla resort and hotel developments and high end dining spots.
Our favorite Anguilla dining spots for dinner have always been in the West End, all about a 20 minute drive. (You know you're from Anguilla when you start whining about the "long drives!" ;-)
But now, we complain no more because of a restaurant in Island Harbour Anguilla, a mere ten minutes from our home...
Coté Mer

You may remember an Anguilla restaurant review from way back when about a St. Martin salad on Anguilla, the "old" Coté Mer.
This Anguilla restaurant review is about The New Coté Mer.
Our favorite Coté Mer!
My Mom and Dad were the first to discover the new Coté Mer...
Coté Mer's History & The Setting
Yuki and I were studying in New York City, enduring the bitter cold and meager meals of chicken noodle soup and crackers, when my parents came through the line with words of Anguilla restaurant reviews.
Green with envy we listened on, trying not to drool in our soup!
At first I was confused...
"Coté Mer Nori, Coté Mer Nori, I don't know what else to say. Dad and I go almost every week. We can't wait to bring you here."
Coté Mer? The same Coté Mer in Island Harbour?
"Well, yes, of course. There is only one Coté Mer!"
I remained perplexed. Why had they only become regulars at Coté Mer now?
The part my Mom forgot to fill me on in, which my Dad later did, was the change in ownership.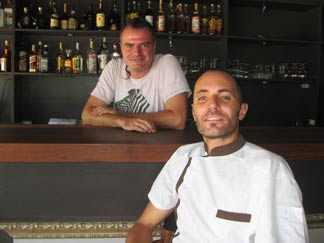 Stephan and Thomas are two Frenchmen who moved to Anguilla from Moscow. You don't have to wonder what prompted that dramatic change in scenery, and climate!
They have made Coté Mer their own.
Stephan and Thomas are quite a pair.
Stephan is a fun and accommodating host, sensitive to your every need. Thomas is the chef. (Emphasis on the chef.) He worked in Moscow for 7 years where he gained wide fame for his food and cuisine, even appearing in the Louis Vuitton City Guide.
Yuki and I couldn't wait. As soon as we were back on the island...
Look for the Coté Mer sign on the road to Island Harbour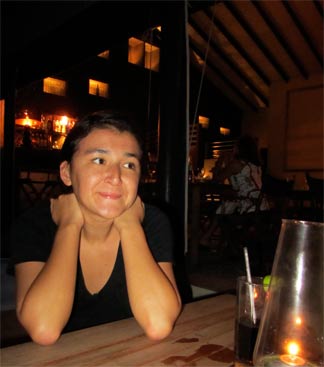 Coté Mer has brought "the Mediterranean to Anguilla," as Stephan and Thomas say.
In Mediterranean fashion, the breezy restaurant is right by the sea, surrounded by swaying palms.
The setting is hard to beat.
At last there is a gourmet restaurant on Island Harbour, my Mom's favorite quiet, quaint fishing village beach.
The restaurant itself is pretty with high ceilings, Anguilla art adorning the walls, and a long, elegant bar.
But what makes Coté Mer, for me, is the pace. The atmosphere is relaxed, calm, a world of its own.
Coté Mer captures the tranquil feel of an Anguilla beach bar, brought to the luxury standards of Anguilla's famous five star restaurants. You can even enjoy your dinner right on the sandy beach!
Our First Coté Mer Experience
The night was gentle and still, the parking lot packed. Thomas was cooking in the back, Stephan was mixing drinks at the bar. It was a busy night.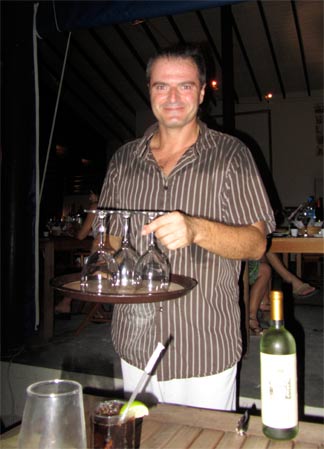 We walked under a canopy of palms prepared to finally experience Coté Mer.
Stephan rushed over to the entrance and greeted us with great enthusiasm, keen to meet Yuki and me. It seems he had spent many an afternoon lunch and evening dinner with my parents who like to "yak" about their daughters.
Stephan is truly sweet!
That night we would be dining on the sandy beach.
A combined beach-bar and luxury-dining experience.
What a treat!
The palms were lit up from below, the sea illuminated from above by the moon.
Could it get better than this?
Evidently, yes.
Stephan took our drink order ;-)
My Dad stuck to his rum punch. To my surprise, this rum punch shines a bright yellow!
Stephan and I on the Island Harbour Beach

Next up? The menu.
As far as Anguilla restaurant menus goes, Coté Mer gets my vote for best written menu. Not only in terms of cuisine, but in their use of language. Let me give you an example...
Penne with Shrimp on Lobster Creamy Sauce... "Somewhere between the kitchen and the sea local crustaceans met Italian cuisine. It was in a pot with fresh Anguillian lobster stock, white wine, vegetables, cognac, fresh tomato base and a touch of fresh basil. The match is truly made in heaven!
The language is musical, weaved together with such care and love. I was desperate to know who writes their Anguilla restaurant menu! Everything sounds good.
This Anguilla restaurant menu is plentiful. We whittled it down to a few selections, everyone trying something different. Beef carpaccio, mozzerella tempura salad, "pieds du cochon" salad, lobster ceviche.
In the interim we explored...
The Interior
The Bar
It didn't take long for my Dad to say "Hello!" to the table next to ours. From Austin Texas, they were the nicest folks. They were just finishing desserts, from their smiles it is clear we were in for a treat...
The exploring was interrupted when I saw Stephan place a basket on our table.
My stomach was rumbling and I was pretty sure that basket wasn't just filled with napkins.
Hot, crusty French rolls. Crisp on the outside, soft on the inside. Just out of the oven. My instincts proved me right, good thing I hurried back and devoured my roll before it had time to cool down.
We always end up asking for a couple of bread baskets. I'm not sure but this just may be my favorite "restaurant bread basket." And then...
"Ding!" Since our first visit I've learned to keep my ears open for the "ding" of the kitchen bell 10-15 minutes after we place our order. Call me Pavlov's pup!
The bread was just the "warm up." Round 1 was coming...
Yuki was hungry and excited to dive into her appetizer, can't you tell?
Beef Carpaccio and Mozzarella Tempura Salad

I was so pleased that I had been swayed in the right direction by the Anguilla restaurant menu's description of the mozzarella tempura salad. The batter light, the cheese warm, the vegetables fresh.
I did a successful job in irritating Yuki and my Mom and Dad. Their appetizers looked so good, I couldn't help but ask from a nibble from Yuki... a nibble from Dad... and a nibble from Mom.
Next time I'm ordering 2 appetizers: Mozzarella tempura salad and the lobster ceviche! Would that be over doing it?
We recharged our appetites in between the courses.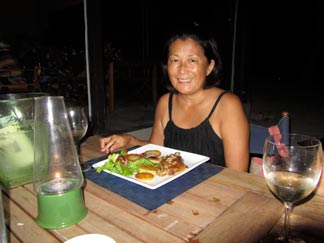 We sipped on our drinks, looked up at the expansive night sky, the stars, listened to the lapping of the waves.
We had chosen the perfect night... The breeze was gentle and refreshing.
Tip: Check the winds before making a reservation at Coté Mer. High Easterly winds can be a bit blustery in the restaurant, call Stephan and ask how it is.
Our main courses? Even more delicious!
It is impossible to take a wrong tun at Coté Mer.
The only let down? We were too full to dine on dessert. Next time I will fast days in advance.

As the night winded down Stephan brought complimentary homemade ginger vodka in fun glasses!
A "glowing" end to an already "glowing" evening.
There was only one thing left to do. Meet Thomas!
Thomas At Work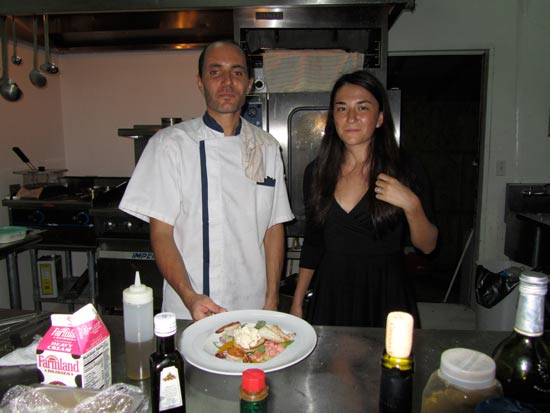 Thomas was busy, preparing meal after meal. We hadn't yet had a chance to properly introduce ourselves and chat. He looked concerned, "Are you leaving already?" I promised we would be back and have a chance to meet then.
The food, the ambiance, the service...
Five star Anguilla dining is an experience meant to deliver a feeling of calm, a moment of peace. Coté Mer does just that, and in desirable Mediterranean fashion.
Coté Mer is on our Top 3 Anguilla Restaurant list, along with the "Anguilla greats," Da'Vida on Crocus Bay (in the middle of Anguilla), Straw Hat on Meads Bay (in the West of Anguilla). And now, Coté Mer in the East.
Coté Mer completes our list.
It must be fate.
Fish Fridays at Coté Mer
We knew that one meal wouldn't be the end. Coté Mer has become a family obsession. We enjoyed it so much we came back several times on just one trip!
Lucky for us we happened upon the restaurant on a Friday, in time to write an Anguilla restaurant review of their Fish Friday, a must-do for seafood enthusiasts.
Each week there is a different menu, so cross your fingers for the tuna carpaccio appetizer.
My Mom and Dad have been for several Fridays. My Mom enjoys the whole snapper oven-cooked in foil. My Dad enjoys the Portuguese style crayfish. The entrées are always served with different sides. Fries, a Creole-inspired rice, or a creamy risotto. A tasty surprise is in store!
Fish Fridays at Coté Mer


I remembered this time to "stay light." The tuna carpaccio and home-smoked mahi mahi with Russian style pancake coming right up, and only one piping hot roll.
I didn't want to miss dessert again!
My eyes honed in on the "Cuban Night Chocolate Biscuit."
The Anguilla restaurant menu description promised it would be a "chocolate extravaganza" served with a shot of "raspberry and red pepper sauce."
My Mom even got her spoon in there, and she doesn't have a sweet tooth in her jaw!
The evening came to a close. Again.
The exciting part? Repeating it all over...
À la prochaine Stephan and Thomas! See you next time, see you soon!