Seaside Anguilla Dining At
Coté Mer for Lunch
UPDATE: Cote Mer has since closed.
Coté Mer is one of our favorite Anguilla dining experiences.
Island Harbour is the most idyllic backdrop for Coté Mer's informal and relaxed, yet always elegant, evenings of the freshest, finest French food.
My parents are regulars here, and whenever Yuki and I are home in Anguilla (on break from school in New York), we visit Stephane and Thomas at Coté Mer at least twice, one of our family's only "repeats."
When we can't be chez-Stephane and Thomas, when we are back at school in the cold north, their weekly newsletter of the upcoming week's menu keeps me warm.
One email caught my eye...
Beach Party With Live Music
The Famous String Band: The Happy Hits
Grill on the Beach!

We knew we loved Coté Mer for dinner. Would we be as passionate about their lunches?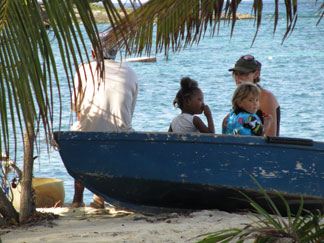 The beach was calm, the day was clear, the palms swayed in the gentle breeze.
Families were dining at tables right on the beach, their toes in the sand, children playing in old boats sitting on the shore.
The ambiance was loose and laid back, people chatting, smiling.
Stephane greeted us, welcoming and warm as always.
They have expanded their restaurant further onto the beach, with a new wooden deck stretching onto the sand, perfect for their Sunday afternon Beach Parties.
With Stephane and Thomas on Their New Deck, Earlier That Week

We picked a table in the sun, and Stephane promptly set up a large slate displaying their lunch menu.
Sunday lunch is simple and straightforward, and for a reasonable price. Their menu includes...
Kebab of chicken, porc, lamb or seafood (conch or fish, depending on what is available). Or, crayfish or lobster.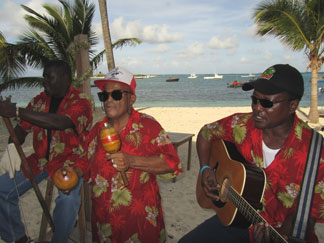 Each dish is served with fresh "salsa" salad and rice "Caucasian" style.
Four lamb kebabs coming up!
But first, the #1 priority on any Sunday Beach Party...
Happy Hits' upbeat tunes, cool drinks, and basking in the blissful seaside atmosphere.
We looked at our fellow patrons, and noticed that Coté Mer (like Anguilla) tends to attract like-minded people, seeking an unpretentious, upscale spot right on the beach, calm and secluded, with no rush, worries or complaints, and, naturally, with great food!
A picture-perfect Sunday afternoon, in Coté Mer style.
Watching Scilly Cay in the Distance

In good time Stephane returned to our table, full plates in his hands.
The lamb was grilled to perfection, served on a warm biscuit-like bun. My Mom, who eats rice with every meal, loved the almost creamy, lightly spiced rice, a kind of pilaf, that was served on the side, with a fresh salad.
My favorite part? The spicy sauce for the lamb! Without being too spicy, it gave the lamb an extra kick.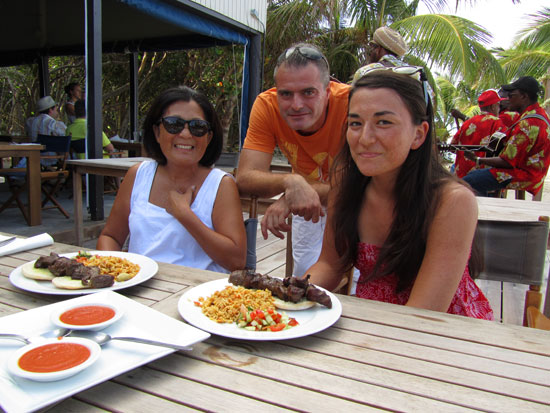 An excellent meal, at a reasonable cost!
As the afternoon winded down, we bid Stephane and Thomas adieu and see you soon...
We should have said, "see you especially soon!"
With Coté Mer being a favorite for dinner and now lunch, they just need to start serving "petit déjeuner," or breakfast.
Would we ever leave? ;-)