A St. Martin Salad on Anguilla
Cote Mer is now Elite Restaurant.
One of the great advantages of staying on Anguilla is, well, of course the tranquil beaches, total solitude, and all of those endless warm, sunny days... but there is one plus that tends to go overlooked...
St. Martin is a beautiful island, and it is one of the greatest advantages to have the island's wonderful shopping and delectable dining only moments away.
When the going gets tough on Anguilla (Ha! Ha!), there's nothing like taking a day trip to the mountainous island for a fill of French delicacies and fine shopping!
The best part of every St. Martin day trip?
While I love the shopping, and I love the atmosphere, I adore the French cuisine... particularly, salade chèvre chaude. Nothing beats a fresh salad accompanied by lightly toasted pieces of baguette topped with a warm goat cheese melt! Mmm...
Until recently, I believed the only place to dine on such a supreme salad, was in St. Martin... That was until my Dad and I tried "Côté Mer" on Anguilla.
Down a secluded sandy path, lined with tropical trees, in Island Harbor, you'll find this tasty restaurant that specializes in Caribbean-French cuisine.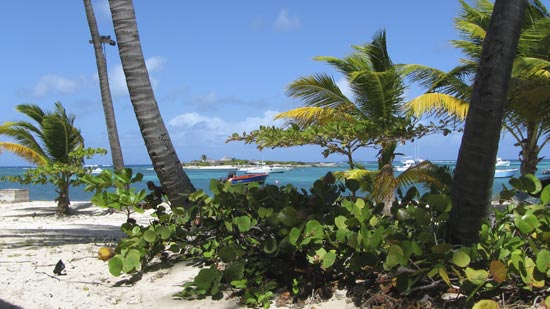 Côté Mer has a picturesque location, right on the beach, with outdoor seating in the sand!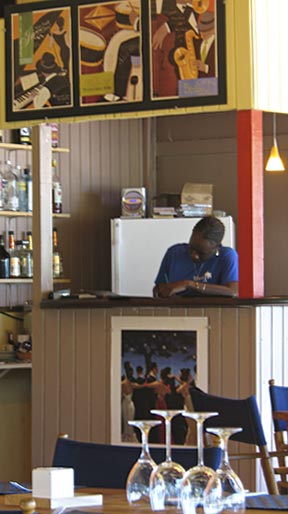 Sadly, the afternoon my Dad and I decided to grab a quick bite at Côté Mer was quite a blustery one so we were seated inside.
The restaurant has a beautiful interior though, with high vaulted ceilings and Caribbean artwork adorning the walls.
A wonderful French waitress served us. She was very kind, and had come over to Anguilla from St. Martin for work. The service was quick, without being too quick. And the food...
Well, I can't really speak for the entire menu (as desireable as it is featuring conch egg rolls, crayfish, snapper with Madagascar vanilla sauce!, chicken in creole sauce, veal steak, the classic salade niçoise and much more)...
The moment I saw salade chèvre chaude on the menu, I was done!
My Dad, too.
We both went with the warmed goat cheese salad. What a choice it was...
One of the best chevre chaude salads I ever had sitting with a cool glass of white wine and the gentle waves of Island Harbour lapping in our ears.
All I can say is that I'm glad St. Martin offers a plethora of pleasures, and not just the salade chèvre chaude.
Otherwise I just may never return to the French paradise! ;-)