A Special Evening
Chez Cote Mer Anguilla Restaurant
UPDATE: Cote Mer has since closed.
The "New" Cote Mer, the laid back, luxurious beach restaurant in idyllic Island Harbour, is one of our "4 Must Eat" Anguilla restaurants, along with da'Vida, Trattoria Tramonto and Straw Hat.
Many travelers to Anguilla stay in West End Anguilla, at some of the island's most exclusive resorts, like Cap Juluca or Viceroy. Due to proximity, Straw Hat and Trattoria Tramonto get high volume traveler traffic. Not to mention, they are superb restaurants! ;-)
We love West End Anguilla, but no Anguilla vacation is complete without a visit "further East" to da'Vida, and to Cote Mer.
Island Harbour

You have not seen the real Anguilla until you have seen the East, until you have driven across the island, until you have seen the charming wooden fishing boats dotting Island Harbour, and until you have had an exclusive luxury dining experience...
Cote Mer is one of our personal favorite Anguilla restaurants.
Since Stephane and Thomas (two Frenchmen who became best friends working in the ultra-high end Moscow restaurant scene) took over Cote Mer, my parents have become regulars. Whenever Yuki and I are back home from school in New York, we visit at least twice.
It is one of our only repeats!
Cote Mer has a couple of weekly specials, including their Sunday afternoon BBQ and beach party, and their seafood Fridays!
We love their regular menu, and their "specials" are just that, so special.
On a recent trip home, Cote Mer started a "special" Wednesday night event. For the debut evening, we regrettably told Stephane that we would be unable to make it. We were heading back to New York on Friday, and had plans scheduled for that Wednesday night, but we promised we would be back for our final meal that Thursday...
The night was heavy, with the promise of a flight back to the snow looming in the not-too-distant future. But Stephane's warm welcome melted those icy thoughts, the bad feelings dissipated.
Stephane brought us to a table on the restaurant's edge, the sea breeze blowing gently. He promptly took our drink order.
He returned shortly, white wines and rum punches in hand. With a curious smile he said, "With your permission, no menus tonight. We would really like to prepare you a special meal." How intriguing!
Little did we know, this would be beyond just intriguing. We were in for one of the most special evenings our family has ever shared...
Following the drinks, Stephane brought our favorite Cote Mer fresh-from-the-oven French bread.
We sipped, devoured our bread, and waited, sipped, and waited, anticipating the meal ahead!
In good time, Stephane approached again. I smiled. He had remembered each of our favorite appetizers, and Thomas had prepared them especially for us that evening (they weren't on the menu that night!).
Our Favorite Appetizers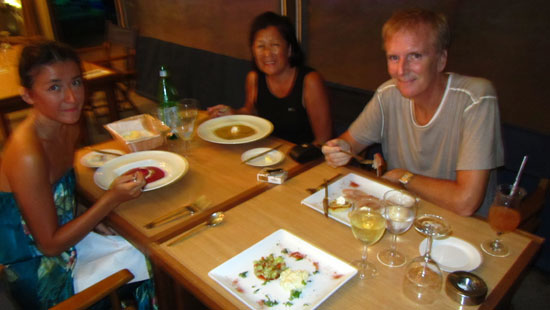 My Mom and sister always eat every last drop of their fish soup and the beetroot gazpacho.
The shredded lobster with homemade mayonnaise salad is one of my favorites.
I say one of my favorites, because it is always a toss up between my Dad's appetizer of choice, their smoked Mahi Mahi. They smoke the Mahi Mahi themselves on sea grape leaves, and serve it with a Russian pancake. The fish is enfused with a deep, smokey flavor.
The appetizers were divine.
How had Stephane remember each of our favorites?
We turned our attention to the clear night sky, and the sleepy, lulling sounds of Island Harbour. Illuminated by the moon, the setting was so serene. Stephane brought more drinks.
What happened next brought the evening to new heights...
Stephane carried the most enormous lobster any of us had ever seen.
We had missed the Wednesday special, but Stephane had graciously put it on the menu for us that evening.
Every Wednesday Cote Mer serves Lobster Thermidor!
Thermidor is a classic French dish, the recipe dating back to the 1800s.
The lobster meat is cooked in a creamy sauce of mustard, egg, and cognac and topped with browned Gruyere cheese.
It is a French staple, a dish Yuki, little Miss Parisian, had been dying to try but hadn't seen it on menus anywhere, until now.
And there she had it, a whole 5-6lbs worth!
On the side?
Potatoes gratin, another family favorite!
The verdict after the first bite?
Heavenly. Extraordinary.
What a dish... soft lobster meat, creamy sauce, crunchy-cheesy top...
Stephane and Thomas had outdone themselves.
On Wednesday nights, guest select their own lobster. Stephane weighs your lobster in a basket. Then, Thomas cooks it to perfection.
After your meal?
You record it in their Lobster Thermidor book...
Be sure to look for our entry, you can't miss it! Yuki even drew a photo of our lobster! Note: not to scale. ;-)
A unique Wednesday night lobster love affair!
Without room for a single bite of dessert, we closed the meal with a celebratory bottle of champagne...
A Bottle of Champagne!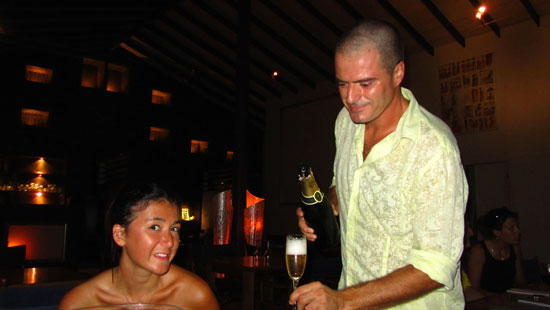 Cote Mer's ambiance is truly unique, unpretentious and relaxed, with 5-star service, a luxurious setting and haute cuisine prepared to wow the most discriminating palates. When you are here, you do feel like the Russian "royalty" they surely served with style and grace in Moscow.
The night was getting late, and the restaurant was quieting down.
Stephane and Thomas joined us for champagne. We clinked our glasses and chatted.
It had been one of the most special evenings we have ever shared as a family, the perfect ending to our trip home, the sweetest send-off.
Until next time at Cote Mer...