---
Combing Anguilla's Beaches for the Best
Anguilla Beach Lovers brings you the latest additions to one family's experiences of the "best of all things Anguillian."
If you like this e-zine,, please do a friend a favor and "pay it forward."
If a friend did forward this to you and if you like what you read, please subscribe by visiting...
---
Issue #119, May 31, 2019
Happy Anguilla Day from Tranquility Wrapped in Blue 💖✨🏝
Yesterday, May 30th marked one of Anguilla's biggest holidays, Anguilla Day. Celebrated with a grand sail boat race, BBQs and live music on the beach, it is the start to a favorite time of year in Anguilla.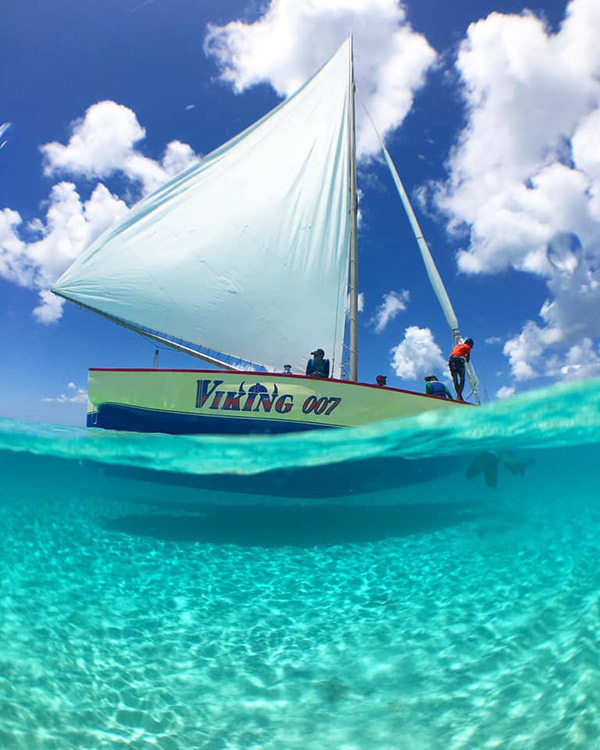 The summer season is one of the most idyllic times of year on-island.
It is a season of festivities, with beautiful sailboat races, billowing BBQs and live music on the beach come Carnival in August. It is also a season of total tranquility. Anguilla's calm water shimmers in a million hues of blue, and most of the time you have these beaches all to yourself, too.
To top it all off, it is one of the most affordable times of the year to visit (more on that below)!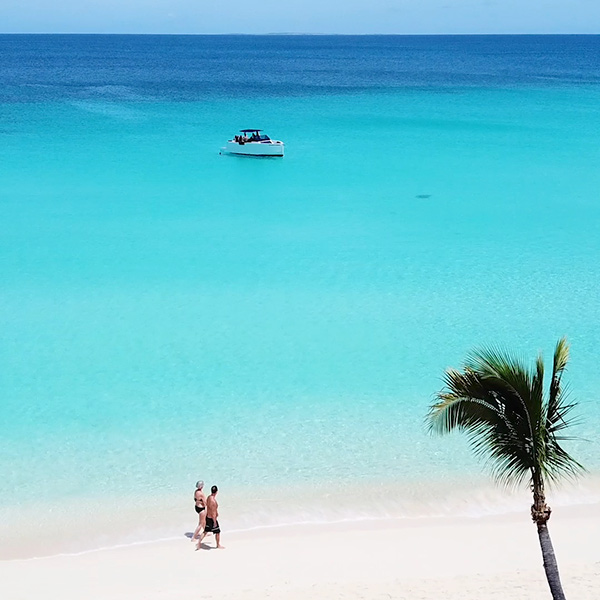 It is days like this that take your breath away.
What's new since last time?
---
NEW YouTube Video: The Ultimate Five-Star Anguilla Villa Experience at Long Bay Villas
Luxury villas? Anguilla has some of the most jaw-dropping bar none!
On an island known for its luxury villas and hotels, Long Bay Villas and Santosha Villa Estate push "luxury" to a whole new level of ULTRA-luxury.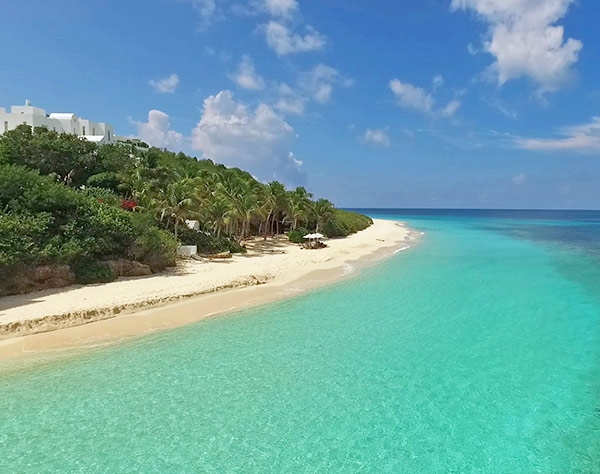 What's it like to live in the lap of ultra-luxury? This month, we found out!
Click here for our NEW YouTube video on the five-star Anguilla villa experience, with all of the bells and whistles.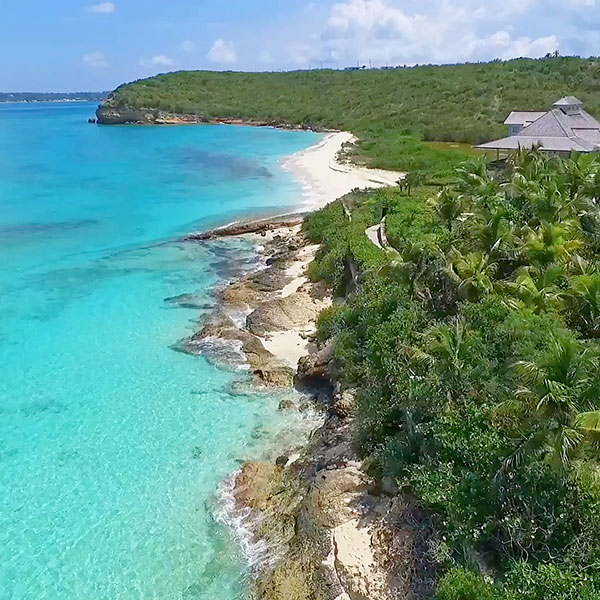 It all starts with Long Bay Villas' and Santosha's jaw-dropping location. Set on a private part of Long Bay, this is tranquility wrapped in blue at its most serene. The villas are conveniently located just one beach over from popular Meads Bay. It is the best of both worlds.
Meads Bay's five-star restaurants are conveniently close by, and when it's time for an extra-quiet day at the beach? Your private beach experience at Long Bay includes water sports, clubhouse and personal beach attendants.
Beyond the beach? The villas themselves boast the most awe-inspiring architectural features. Santosha's grotto by the sea, Long Bay Villas' terrace that hangs over the beach and this particular reading tower (below) are a few inspired settings to lounge away the day.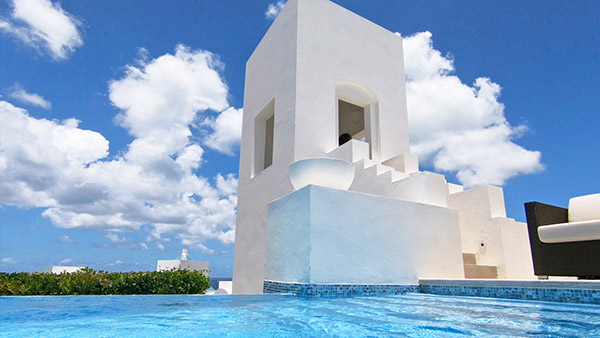 Once inside, Long Bay Villas and Santosha shine yet again with five-star service. Your stay includes butler service every day. Drinks by the pool? Check. Turn down service? Check. Need a dinner recommendation and/or to make a reservation? Your concierge will book your restaurant of choice!
For the full experience, however, I highly recommend spending at least one evening dining-in. Anguilla's private chefs are some of the island's most talented. Chef Hodge of Big & Better Private Catering Services is simply mind-blowing. From party snacks, to luscious desserts, to not just one entrée...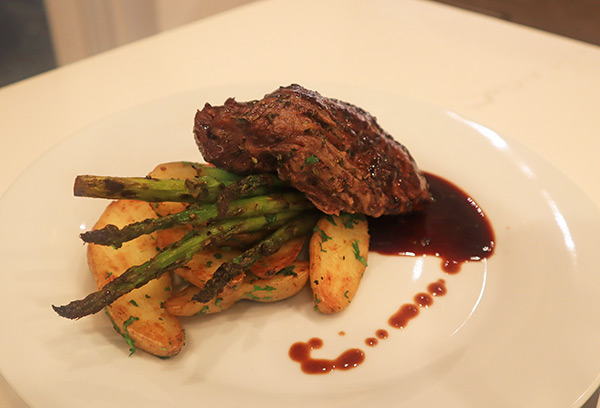 But two!...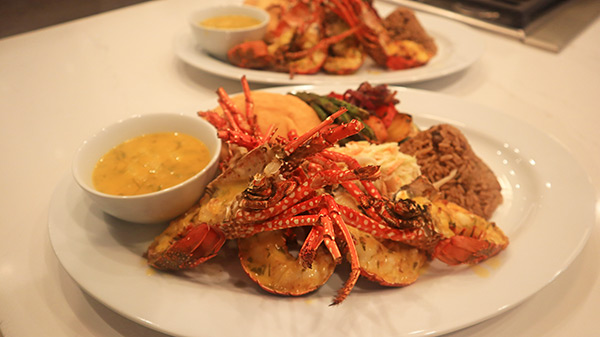 "Eating in" takes on a whole different meaning!
When the sun goes down? Both properties dazzle all over again. Long Bay Villas' striking white structure emerges like a dream against the dark night sky.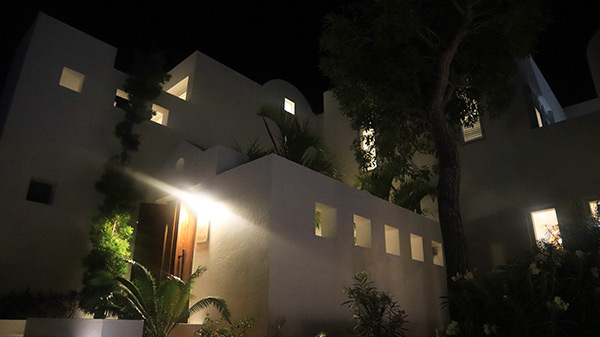 Meanwhile, next door Santosha proves it is the most romantic property in Anguilla.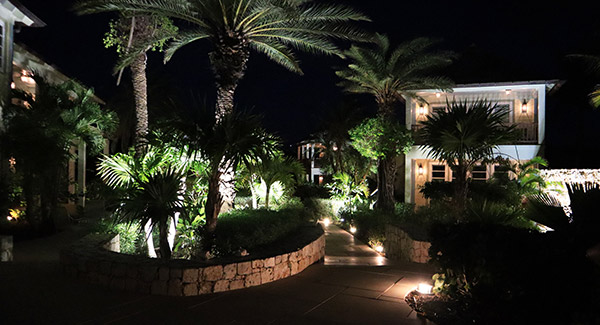 And when dawn breaks? You awake to the most heavenly mornings under celestial skies.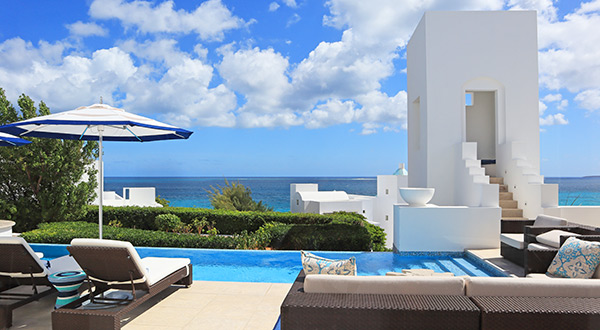 Combined, Long Bay Villas and Santosha sleep up to 55 guests, making it a top choice for private events. With a dedicated team of staff, Long Bay Villas and Santosha define ultra-luxury in the Caribbean.
For the five-star Anguilla villa experience video, click here!
For more on Long Bay Villas...
For more on Santosha Villa Estate...
---
NEW Menus at Malliouhana
Malliouhana's Chef Jusman So has raised Anguilla's dining game to brand new heights. Since he assumed his post at Malliouhana, it has been safe to say that Malliouhana is BACK!
Now, working hand in hand with Chef Jusman is Chef Patricio Massimino. Chef Patricio is Cafe Celeste's Executive Sous Chef. Born in Argentina, Chef Patricio honed his skills in Madrid and France where he worked for many-a-Michelin starred restaurant.
Together, Chef Jusman and Chef Patricio have introduced brand new dishes to Malliouhana's Cafe Celeste's exquisite dinner menu. New favorites include...
Local Tomato Gazpacho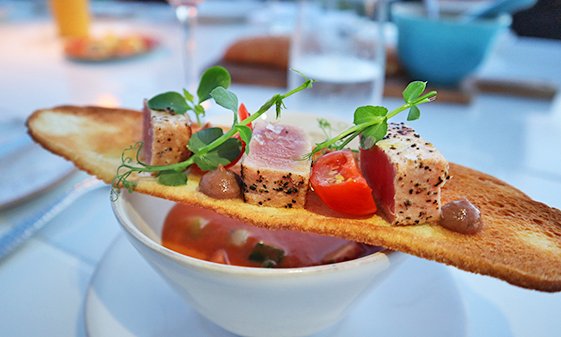 Your bowl arrives with diced cucumber and tomato. On top? A thin, crisp slice of toasted bread. Three cubes of seared tuna elegantly sit around delicious olive tapenade and cherry tomato chunks. Your waitress then pours the cool and refreshing tomato gazpacho into the bowl. Its presentation and flavor? Simply stunning!
Local Crayfish Risotto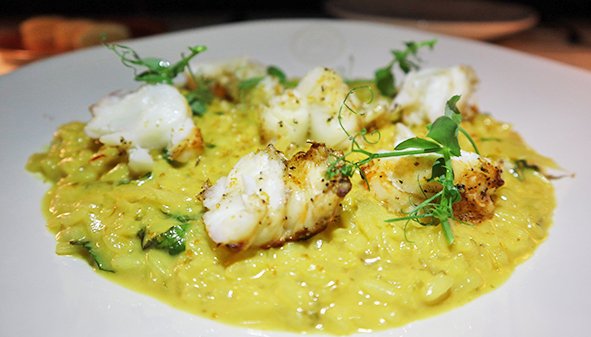 The first bite of this dish blows your mind! Perfectly cooked pieces of local crayfish sit atop a citrus, fennel and basil infused risotto. A one of a kind dish, this goes down as an absolute must try when dining in Anguilla.
16 Hour Short Ribs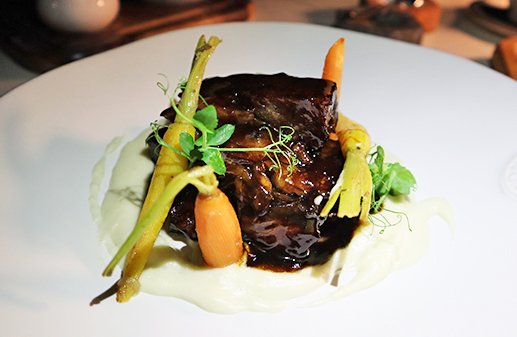 Another cannot-miss dish! These short ribs are divine. Cooked for 16 hours, the ribs are as tender as can be. With the touch of a fork the meat effortlessly falls apart. The stack of boneless ribs rest on mashed eddoes, a tropical oriental vegetable. To tie the dish together? Baby carrots and the tamarind jus.
For more on the full Cafe Celeste menu, click here.
Cafe Celeste is an Anguilla Card Partner. Save 10% on meals at Cafe Celeste when you use your Anguilla Card.
In addition to expanding their dinner menu, Malliouhana has re-opened their iconic sunset bar. Welcome to Bar Soleil.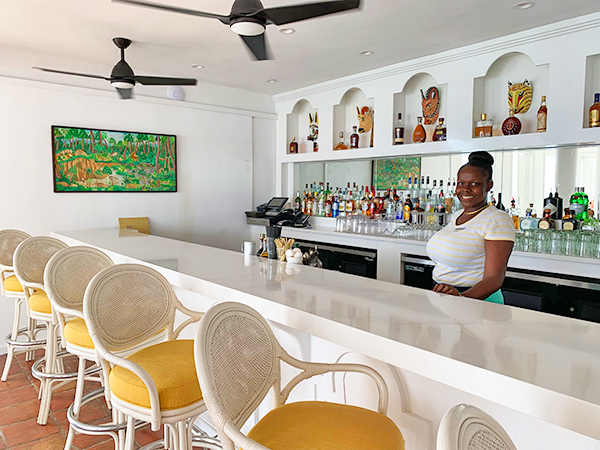 Malliouhana has long been one of the island's top spots come sunset hour. Perched high on dramatic cliff-top, the resort offers a breathtaking view across Meads Bay and to the horizon. This view is one of the many reasons why Malliouhana's bar is an iconic spot.
The second reason? Its fabulous cocktail menu!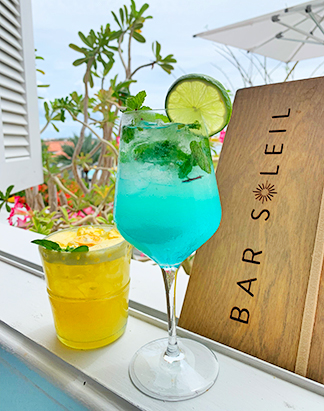 In addition to serving up creative cocktails, Bar Soleil serves lunch daily. The menu begins with a selection of dips including guacamole, Caribbean red pea hummus and Smoked Eggplant Dip.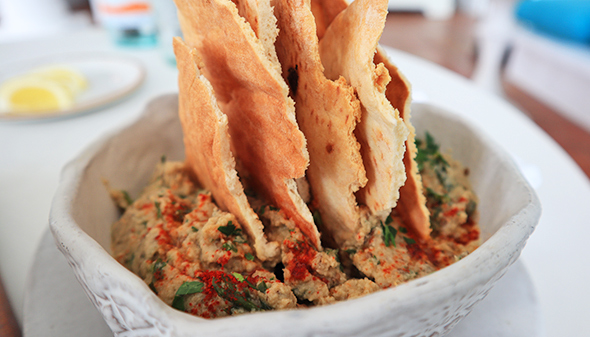 An uncommon finding at restaurants in Anguilla, Bar Soleil's menu also offers a selection of "Pitas." Blackened shrimp, avocado, grilled chicken & bacon and crispy fish pita are all on the menu!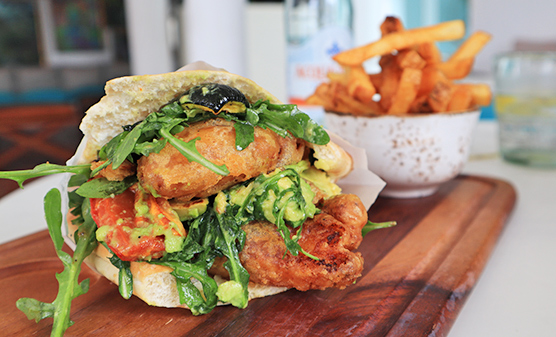 Rounding out the menu is a collection of burgers and a must-have, Chef Jusman's favorite, the Jerk Chicken Club.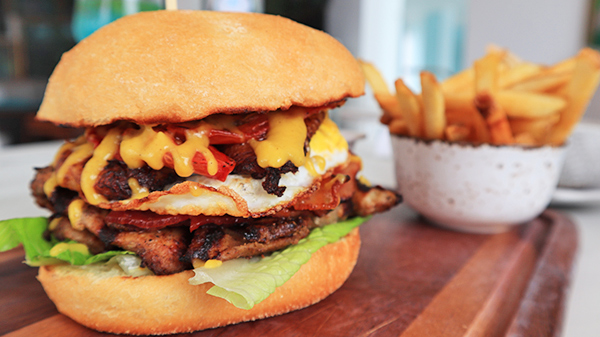 Whether unwinding on a scenic, chic lunch or indulging in those sunset views, a visit to Malliouhana's restaurants is a must!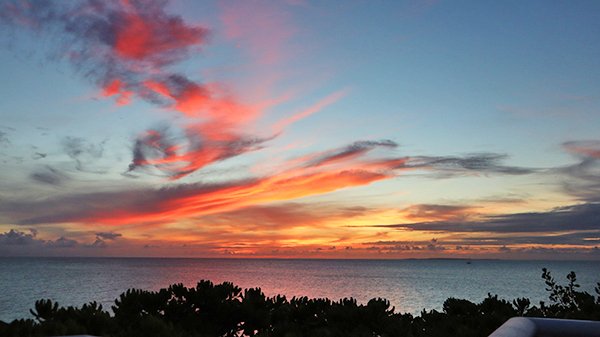 More on Bar Soleil and its full menu here.
Bar Soleil is an Anguilla Card Partner. Save 10% on meals at Bar Soleil when you use your Anguilla Card.
---
NEW YouTube Video: How to Cook The Best Mahi Mahi in Anguilla?
Malliouhana isn't the only one raising the dining game in Anguilla. CuisinArt Golf Resort & Spa and The Reef have been consistently WOWing tastebuds this season with a brand new team of chefs and fantastic menus!
One of our extra-favorite dishes? One that simply melts in your mouth?...
Seared Mahi-Mahi & Corn "Risotto"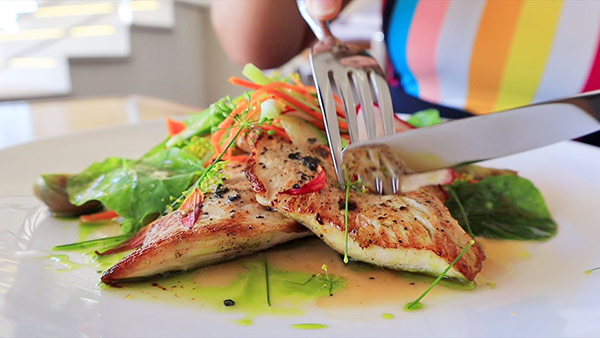 Available at The Reef's fine dining dinner restaurant, the Yacht Club, this dish is one of our all-time favorites in Anguilla.
Seared Mahi-Mahi is drizzled with lobster oil and garnished with a crudité-style vegetable salad. The dish is served with an impressive side of corn "risotto." Corn is roasted with saffron and mixed with manchego. Risotto-like in inspiration, the combination of corn and manchego, with a hint of saffron results in a savory, silky-smooth flavor. It irresistible and had us licking our forks clean!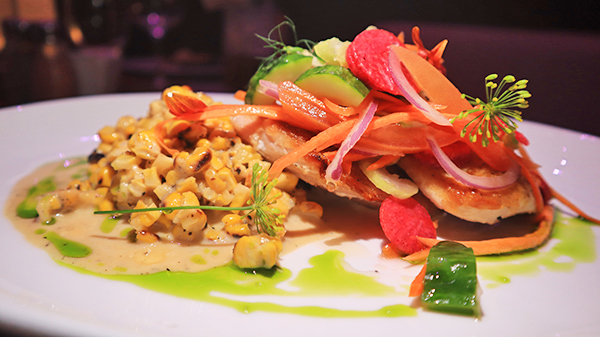 We loved this dish so much, we asked Chef Manuel how to make it. He and Chef Lester (who leads the team primarily at Breezes) gave us the scoop!
Click here to see how to prepare perfect Mahi Mahi!
---
NEW to Anguilla: 2Extreem Watersports
Buckle up for a wild ride! 2Extreem Watersports brings a boat load of tubes and watersports to Anguilla's waters. Available to rent by-the-half-hour, 2Extreem makes for a fun and affordable way to get your blood pumping under the sun.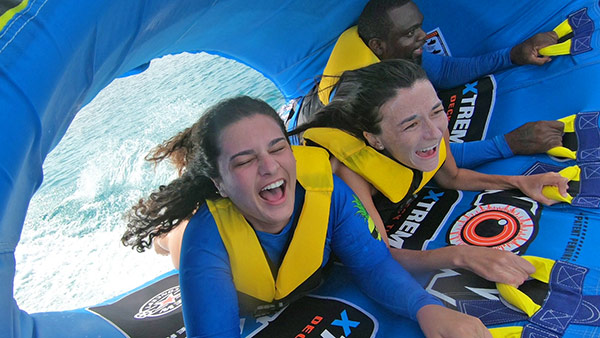 What's on 2Extreem's water activity list? Tubes of all kinds, waterskiing, wakeboarding and even underwater scooters for swimming, snorkeling and diving.
Big lovers of tubing, 2Extreem's selection is the most EXTREME in Anguilla. Click here for the video look at EXTREME tubing with 2Extreem!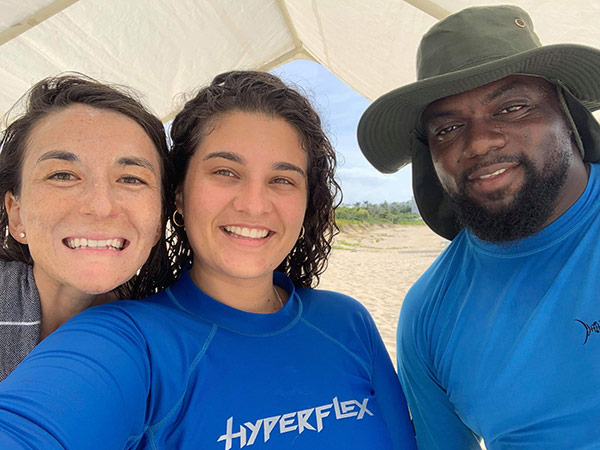 2Extreem is owned and operated by a familiar face, our dear friend, Kumakie Parris. Together with his family, they run an all-star operation. Fun, professional and always putting safety first, you are in great hands with the Parris family!
For more on 2Extreem Watersports...
---
A Steal of an Anguilla Villa Deal: Almond Tree Villa
When it comes to affordable rentals, dream villas that tick every box can be hard to find. Contemporary finishings, plenty of space, a full kitchen, a view and a pool, too? When you find all of this at a reasonable price, you know you have found a rare gem. Almond Tree Villa is that find.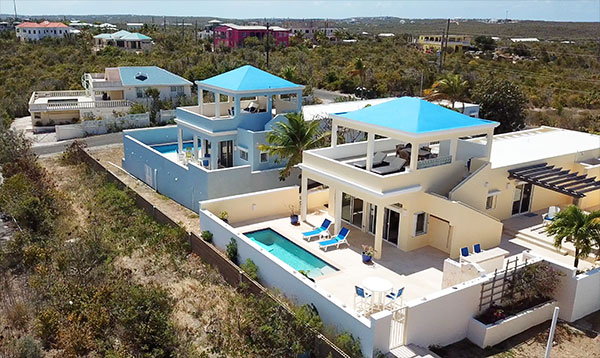 At 1,500 square feet and built for two, Almond Tree villa boasts a clean and contemporary design with a whole lot of space for a couple. Complete with luxurious outdoor lounging areas, a pool and even a rooftop terrace with panoramic Caribbean Sea views, Almond Tree's value is hard to beat.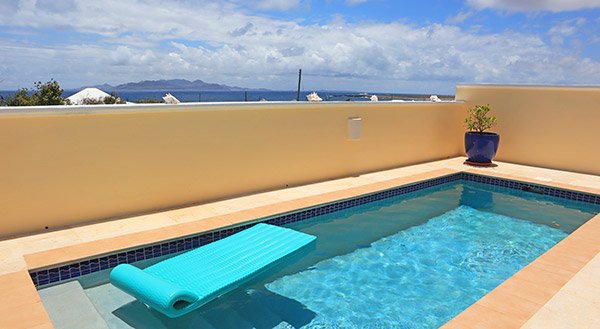 Inside, Almond Tree Villa impresses with modern-Caribbean finishings, ample living space and all of the comforts of home. The villa opens into a large, light and bright living, dining and kitchen area.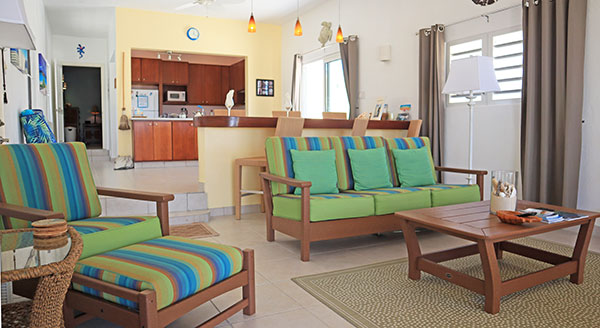 When it comes to amenities, Almond Tree caters to your every need. The kitchen features full stove, fridge, coffee maker, toaster, blender, microwave and every piece of cookware for preparing meals-in. I mean every piece! There is even a garlic press!
Bar-style dining separates the kitchen from the living room. The living area itself features a flatscreen TV, BOSE surround sound, iPhone docking station and a powder room. The space maximizes its scenic setting, opening onto the villa's pool deck with views of Caribbean blue.
Behind the kitchen, living and dining area is the master suite.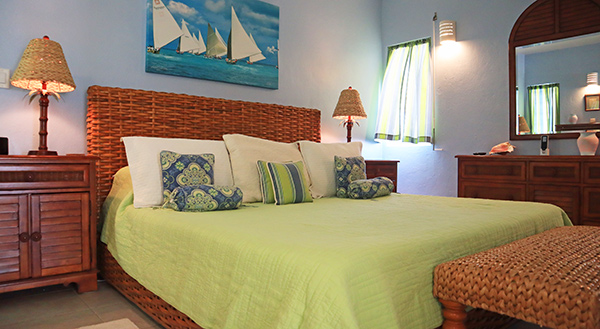 Peaceful, quiet and cool, the bedroom is complete with air conditioning, closet space, safe and flatscreen TV. Rest easy on your deep memory foam mattress!
Outside, Almond Tree Villa impresses all over again.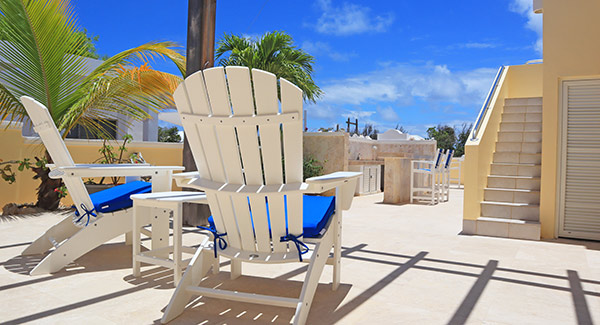 The kitchen, living and dining area opens to the villa's oversized terrace on two sides. The living room opens to the pool and the kitchen and dining area opens to a patio shaded by pergola.
The patio leads to the rest of Almond Tree Villa's outdoor terrace. First stop? The beautifully polished Anguilla stone wet bar and grill, complete with outdoor shower (for post-pool rinses!).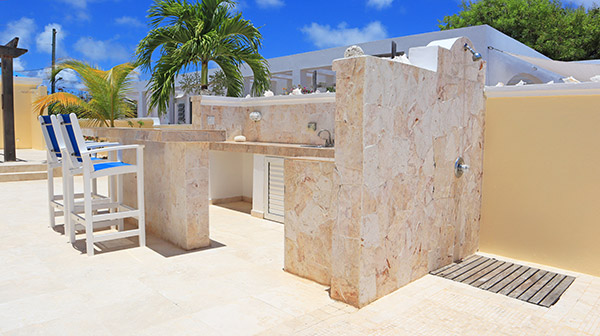 After afternoon drinks and a bite? It's over to the pool, just adjacent to the Anguilla stone grill.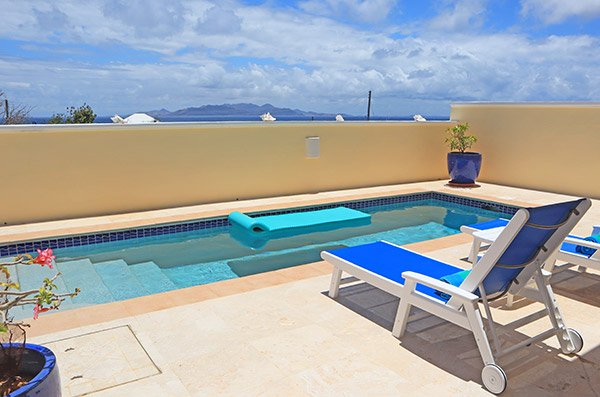 It is incredibly rare to find Anguilla villas with a pool at this price point. Almond Tree's is meticulously maintained, sparkling a clear blue in the Caribbean sun. Almond Tree has thought of everything, stocking the villa with plenty of pool floats!
Last but not least? For even more sun, and for vast Caribbean views, head upstairs to Almond Tree Villa's extra-special "Crow's Nest" roof deck.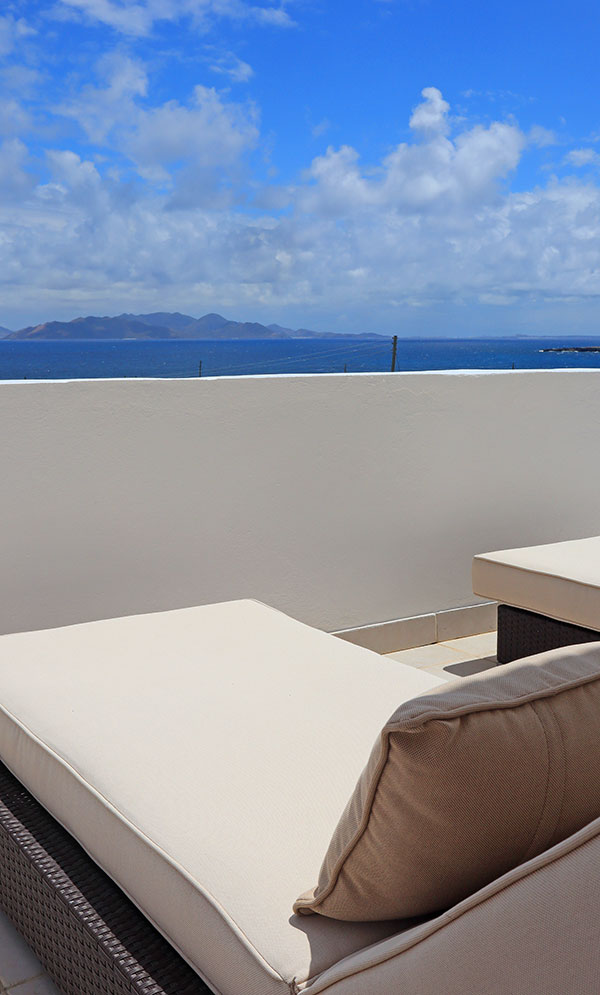 For the full scoop on Almond Tree Villa, click here.
Available at $285-375/night this summer and fall, Almond Tree Villa offers high value Anguilla villa living!
For more on Almond Tree, visit...
---
Carimar Beach Club: Summer Rates
Speaking of excellent deals, Carimar Beach Club's spring and summer rates are ON!
Set on the shores of Meads Bay...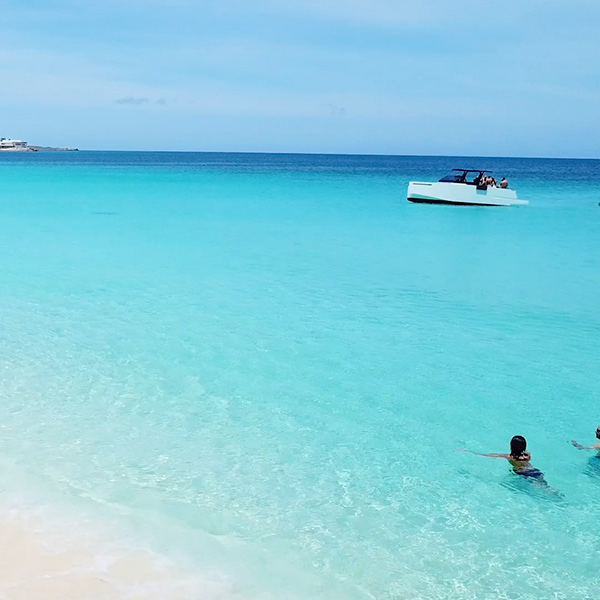 Carimar wins on location alone. With crystal clear water and home to some of the best restaurants in the Caribbean, Meads Bay is one of a kind.
Carimar lets you enjoy Meads Bay at a fraction of the price of surrounding hotels. And it is even more affordable this summer!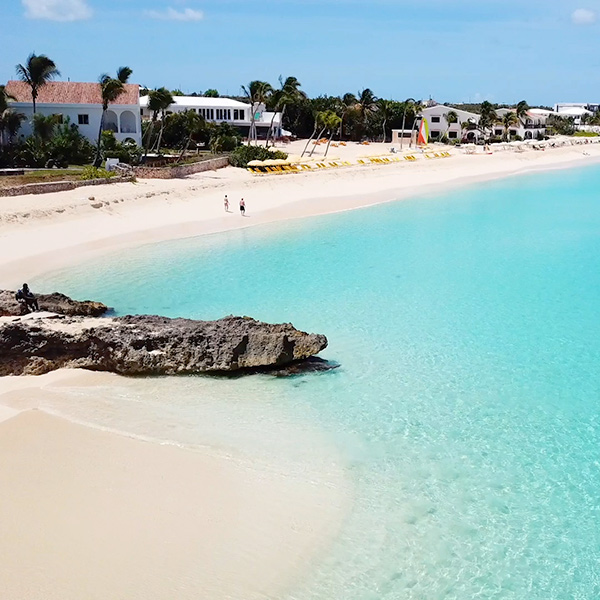 For more on Carimar...
---
Mmmmmm-magnificent Desserts at Blanchards
Right next door to Carimar lies the famous Blanchards Restaurant. Long hailed as one of the very best restaurants in Anguilla, we recently re-visited Blanchards and uncovered a new discovery...
Is it just me or does Blanchards have some of the most mmm-mouthwatering desserts of all time? We went behind the scenes with the Blanchards team to see how two of their classics are made!
First, the Cracked Coconut.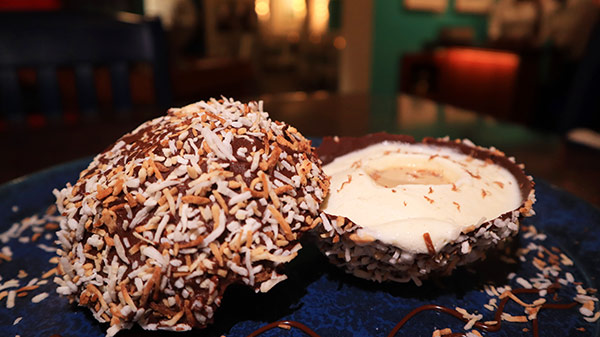 Dark chocolate shells are coated in toasted coconut and filled with rich, vanilla bean ice cream. The dessert is completed by a shot of Bailey's in the ice cream's center. Click here to see the surprising process of how this imaginative dessert is made.
Second? The Ultimate Carrot Cake.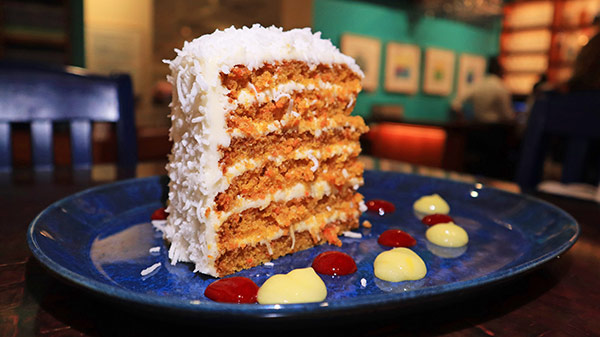 A heaping six layer cake, this is the most moist cake to have ever touched my lips. Each layer is like a piece of heaven, its cream cheese icing and coconut flakes are the cherry on top. Rounding out the flavors? The plate is garnished with lemon curd and raspberry puree. Click here to see chef slice this ULTIMATE carrot cake.
If you haven't already, be sure to "Like" our NEW Facebook page, Anguilla Food for more 😋 photos and videos!
---
More From Meads Bay: Tranquility Beach Anguilla in "Finish" Work Mode
Ian "Sugar George" Edwards' luxury condo development on Meads Bay is heading for the finish line!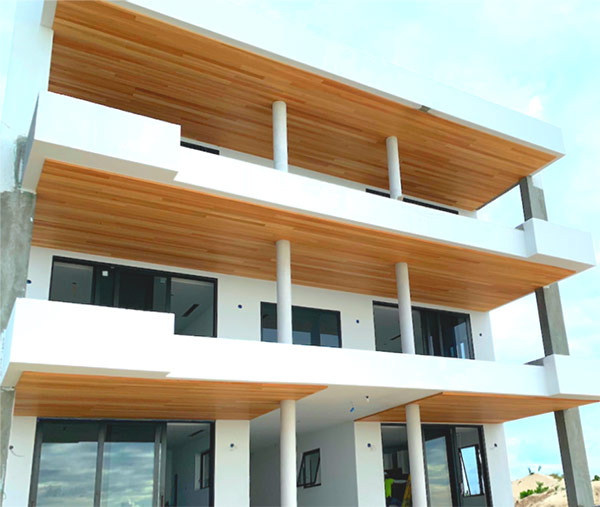 Construction has been full steam ahead. Now, wood paneling is up on the patio roofs and boy, does it look fabulous.
Meanwhile, inside, cabinets are being installed and tiles are being laid...

When you see that, you know you are getting close!
Tranquility Beach Anguilla is the latest residential development by internationally recognized Property Developer and Architectural Designer, Ian "Sugar George" Edwards.
The development's first phase, Signature Suites, includes 15 luxury residences set in three modern beach villas on Meads Bay. Residences come complete with all of the amenities of an upscale boutique resort.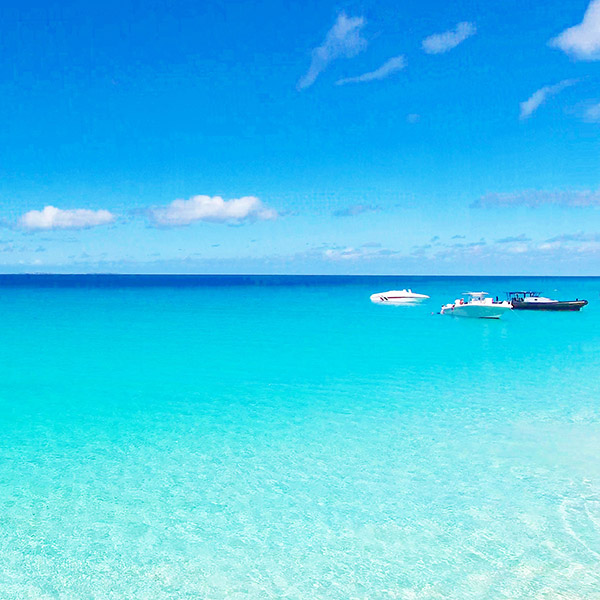 On schedule for a Dec. 2019 opening, Tranquility Beach is positioned to be the epitome of luxury Caribbean living.
More on Tranquility Beach Anguilla...
To arrange a site tour, or for more information...
Phone: 264-729-1879 or 264-476-8488 or 264-235-3666
Email: info@tranquilitybeachanguilla.com
---
As Seen on HGTV: Inside Champagne Shores: The Villa
Featured on HGTV earlier this year, Champagne Shores is a modern Caribbean dream!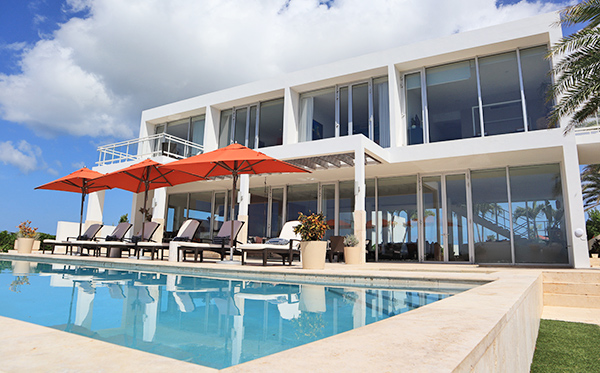 Designer, Alexis Parent hand selected each piece inside this vibrant and warm, yet cooly elegant and modern property.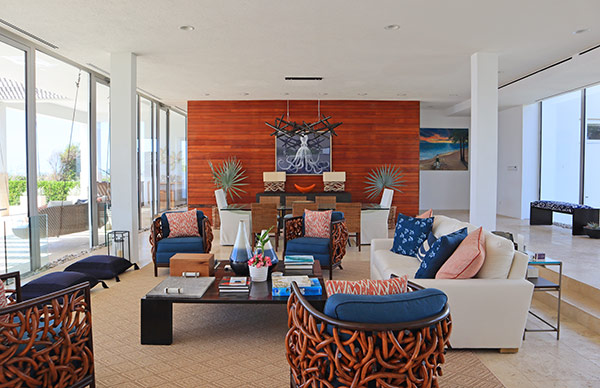 This month, Alexis Parent took us through Champagne Shores, showing each and every design choice. With some of the most luxurious furniture, finishings and special touches like custom-made tiles, Gray Malin photography and Jonathan Adler blankets, Alexis' fine eye proves - every piece counts.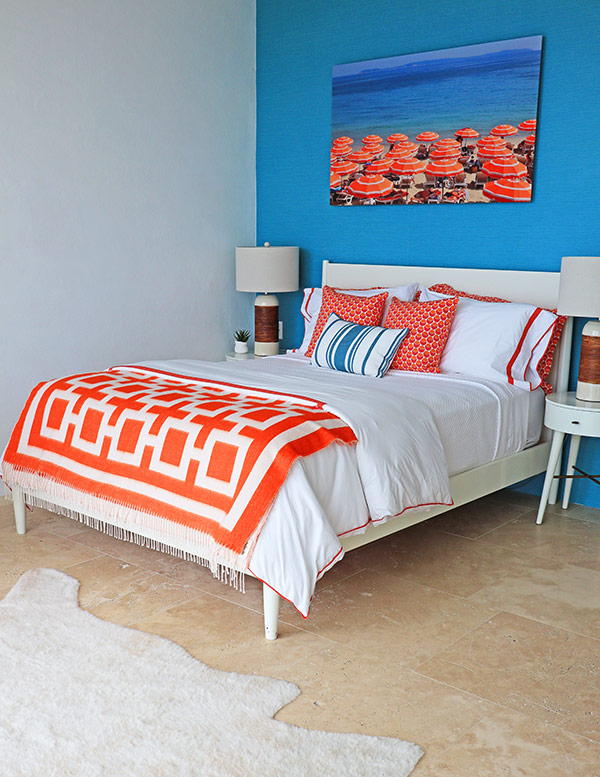 This villa effortlessly blends Caribbean warmth with modern design. Modern in look, Caribbean in feel, and with around-the-clock service, Champagne Shores offers the highest value when it comes to mid-range luxury rentals in Anguilla.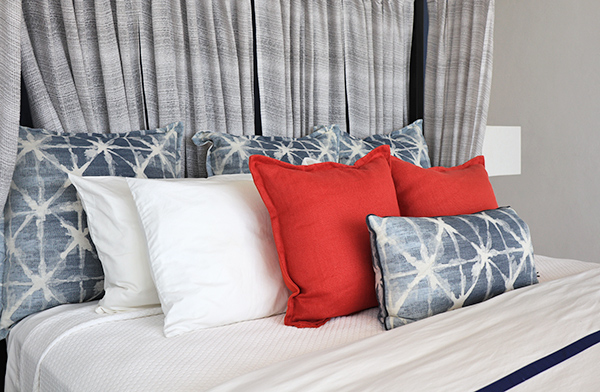 For our tour of Champagne Shores with Alexis Parent, click here!
For more on Champagne Shores...
---
Glowing Review of The Reef
Many thanks to Robin Globus who sent in a glowing review on the five-star Anguilla resort, The Reef!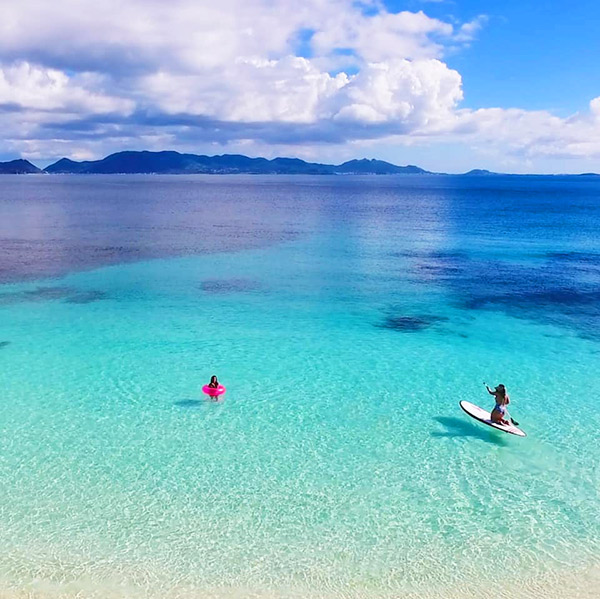 See Robin's review below...

I am so delighted that you had such a wonderful stay, Robin!
CuisinArt and The Reef offer exceptional value.
The value all begins at your suite. The size of the light, bright rooms is beyond compare when it comes to hotel rooms in this price category.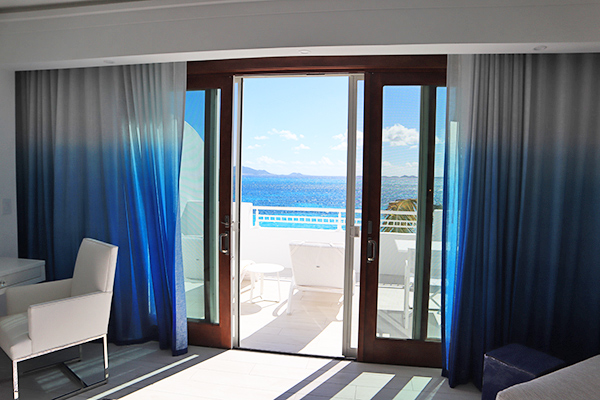 Then? The world-class amenities. The Greg Norman designed PGA golf course, the award-winning spa and one of the best beaches in the Caribbean...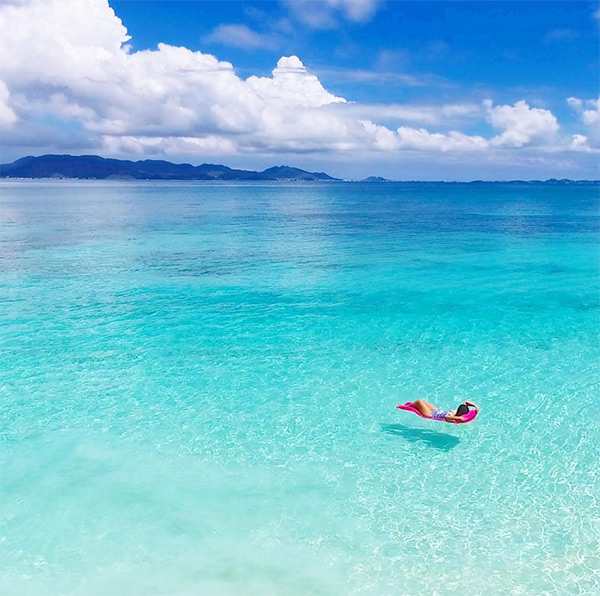 Rounding it all out? Six tremendous restaurants, each which equally impresses!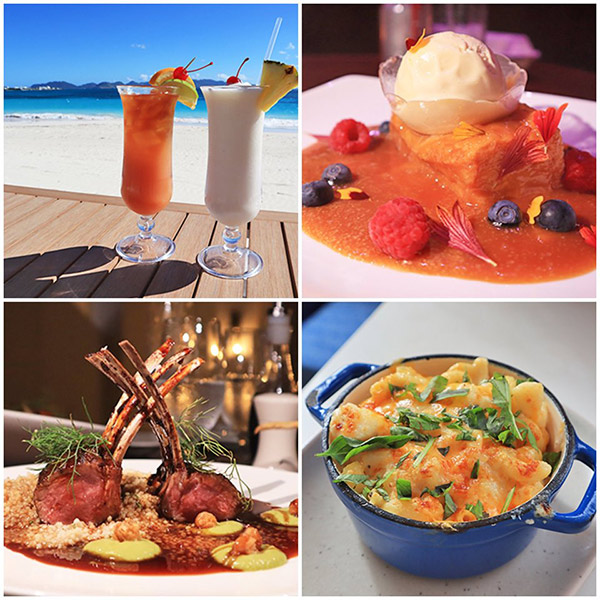 And most importantly of all, the entire experience is carried by a wonderfully caring team of staff who welcomes you in like family.
Our family's long-time favorite resort, let's hear it for CuisinArt and The Reef! Thank you so much, Robin for sharing your experience and here's wishing you many more happy stays :-)
For more on CuisinArt, see...
For more on The Reef, see...
---
Real Estate Corner: An Affordable Gem
Our favorite real estate agent, Jackie Pascher has something extra special on the market. An affordable villa, it is a gem of a find!
Baywatch Villa is a two bedroom, two bathroom, 2,400 square foot villa. Modern and refurbished in 2012, it is perched in the hills that surround scenic Sandy Ground.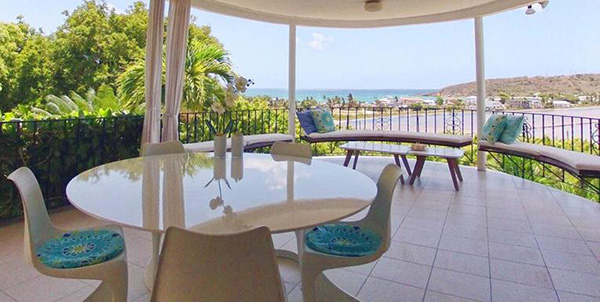 Inside, each bedroom is complete with en-suite bathroom. The living room boasts an open floor plan, opening into the fully equipped kitchen. Outside, the home features 400 square feet of terrace space, as well as a fully manicured garden, garage and independent generator house.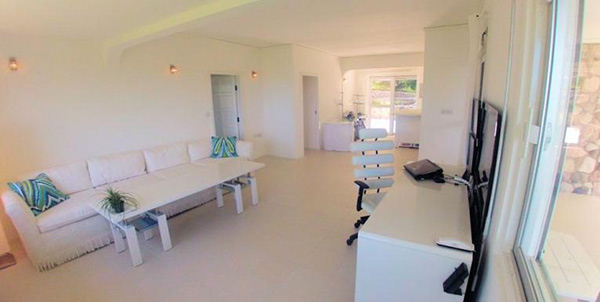 Complete with an 8000W generator, UV filtration system to supply drinking water to the tap, solar panels and solar water heater, Baywatch Villa is the complete package at $540,000.00 USD.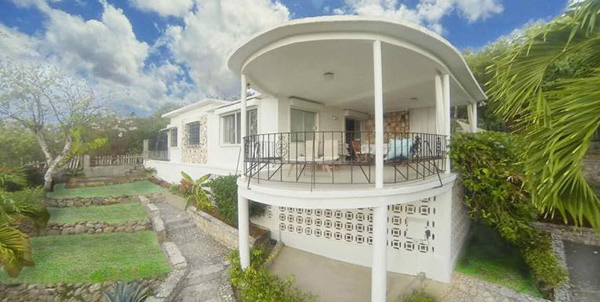 ---
That's all for this month!
Stay tuned for more sailing festivities and crystal clear Anguilla blue coming this summer :-)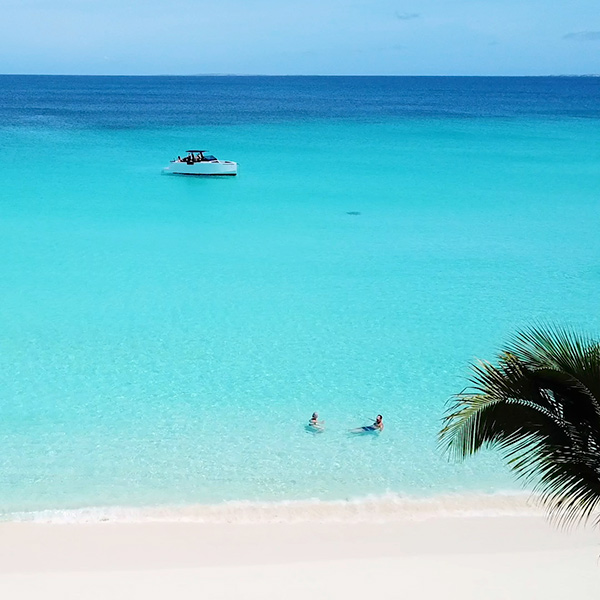 Wishing you a wonderful start to summer & talk to you in June!
Nori
Do you have your Anguilla Card yet? Save 10% at 69 Partners!
---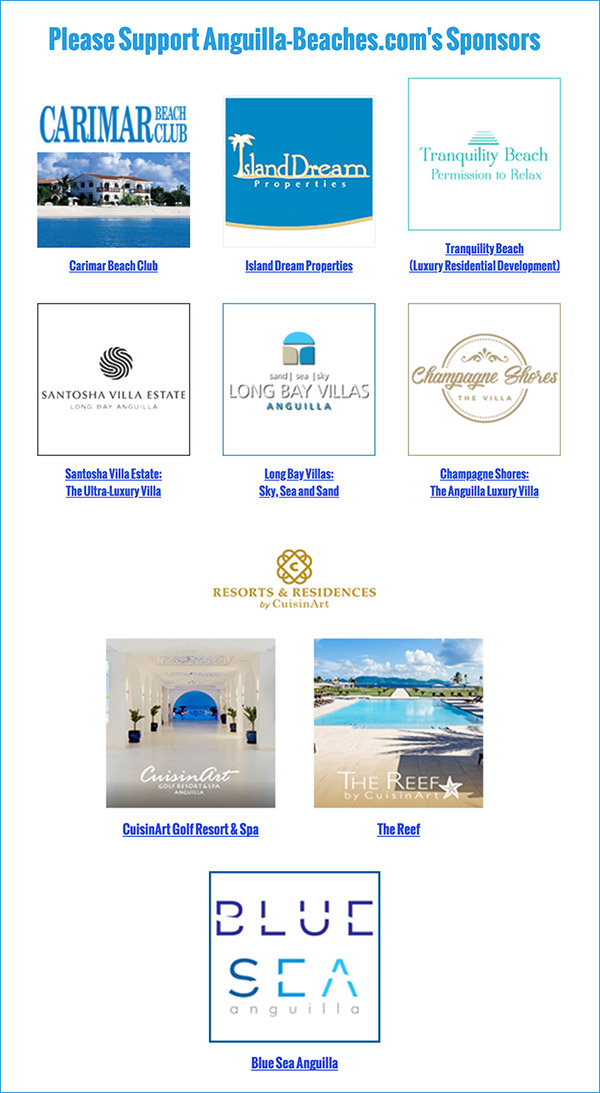 ---
Anguilla-Beaches.com