---
Combing Anguilla's Beaches for the Best
Anguilla Beach Lovers brings you the latest additions to one family's experiences of the "best of all things Anguillian."
If you like this e-zine,, please do a friend a favor and "pay it forward."
If a friend did forward this to you and if you like what you read, please subscribe by visiting...
---
Issue #121, August 16, 2019
Happy National Relaxation Day from Destination Relaxation!
Yesterday was National Relaxation Day, and in Anguilla we're still celebrating today 😁💗🏝
We have been keeping it TEAL here in Tranquility Wrapped in Blue. This past Sunday marked the end of a beautiful Carnival week!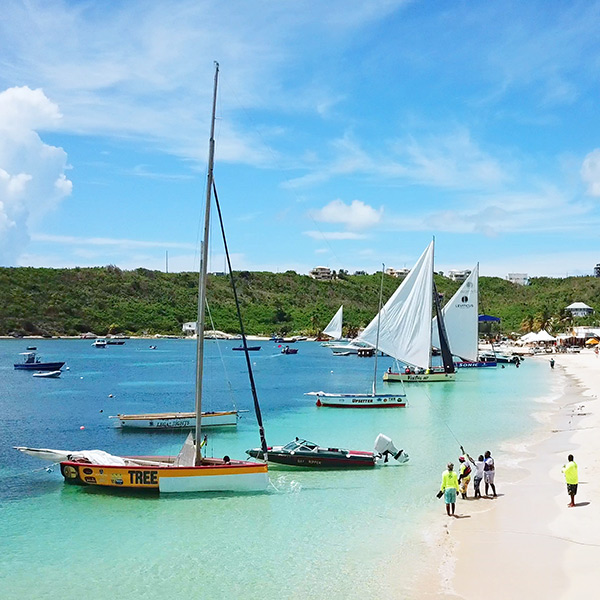 Sail boat races, pumping live music and with BBQs a-blaze, Carnival attracts thousands from across the Caribbean. One look at the Sandy Ground scene and it is safe to say, Carnival is THE biggest party in Anguilla!
Now that Carnival is over? The island has quieted right down. We are back to soothing blue.
What's new since last time?
---
NEW From Malliouhana: Leon's Beach Bar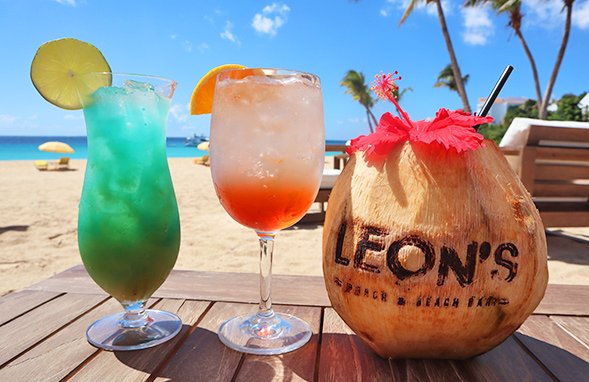 You may remember Malliouhana's old "Pirate Ship" restaurant where children would splash and play all day in the mini amusement park while parents enjoyed an elegant beachside lunch. The restaurant and water playground closed years ago to great dismay. We have missed it every day... that is, until now!
Finally, the beloved beach spot is BACK! Welcome to Leon's Beach Bar.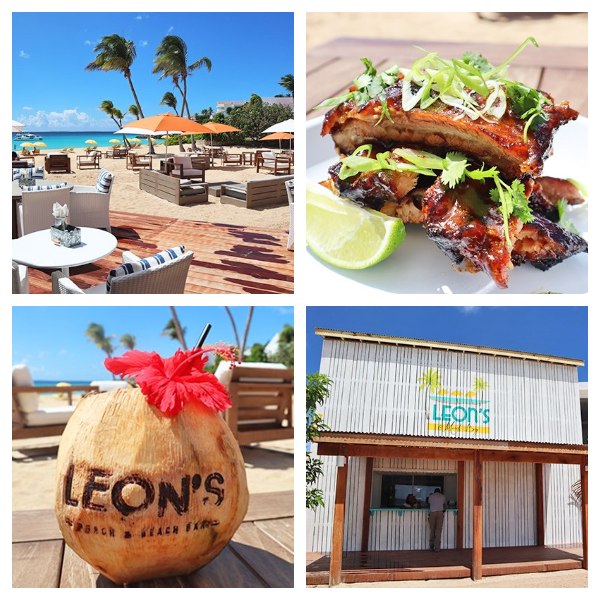 Right on Meads Bay, between Malliouhana's hotel and Carimar, Leon's has one of the best settings on the beach.
This chic beachfront spot is home to THE most photogenic cocktail on the island (photo above), and one of our NEW favorite burgers. The Johnny Cake Jerk Burger is nearly impossible to beat!
A grilled beef patty is lathered in a jerk mayo sauce and topped with pickles, tomato and lettuce. It is all hugged by a warm, fried Johnny cake. The first bite of this burger makes your heart melt. It is too good to share!
The Johnny cake creations don't end there. Be sure to end lunch with a Leon's "Ice-Cream 'Wich."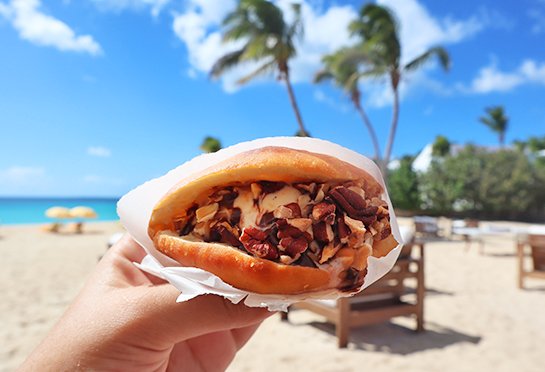 Malliouhana has done a stand-out job. The team has modernized this Anguilla favorite, pushing it to new heights. With a stellar location, reasonable prices and so many eye-catching cocktails and dishes, Leon's is sure to be one of the most popular beach restaurants in Anguilla - yet again.
Leon's at Malliouhana is an Anguilla Card Partner. Save 10% on meals at Leon's when you use your Anguilla Card.
---
NEW YouTube Video: 30 Minutes Relaxing Under the Sea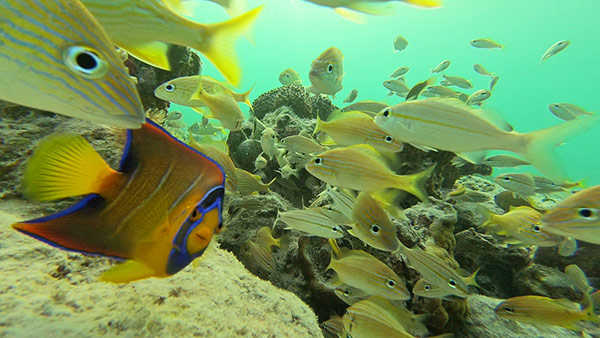 Snorkeling Anguilla's coral reefs always takes our breath away!
The eastern and western tips of Meads Bay, the outer reefs of Shoal Bay and the shoreline that runs from Crocus Bay to Little Bay are some of the most magical spots for spotting coral reef fish.
This video brings 30 minutes of relaxation - from under the sea to your screen!
Click here to watch the video & begin relaxing under the sea.
To never miss an Anguilla YouTube vid, click here to subscribe to Anguilla Beaches on YouTube.
---
Altamer is BACK!
Altamer is perhaps Anguilla's most famous ultra-luxury villa. For decades, this high-end property has set the pace for exclusivity and high-end Anguilla villa living. After under going extensive renovations this year, Anguilla's jewel is BACK!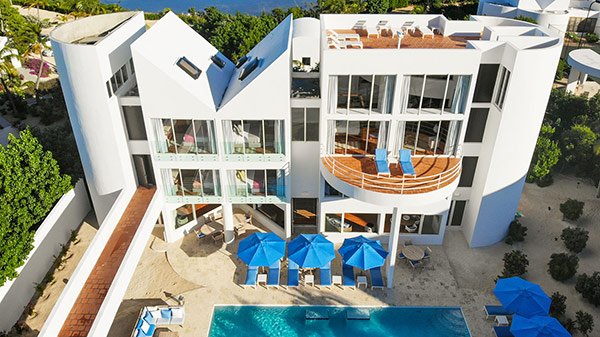 One of the largest villa properties in Anguilla, Altamer is composed of three separate villas:
Antilles Pearl
African Sapphire
Blue Diamond
Let's take a look inside Antilles Pearl...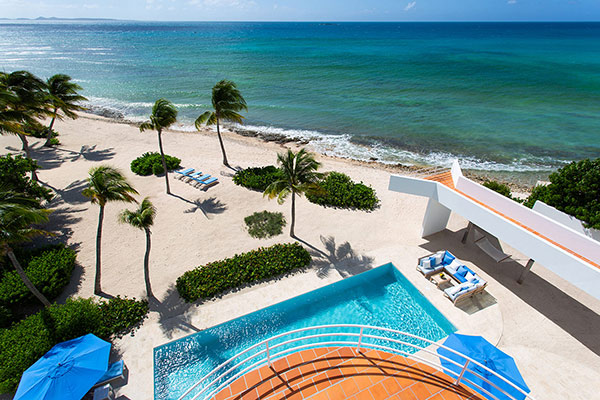 Set right on Shoal Bay West, Antilles Pearl's location boasts the best of both worlds: total seclusion with sandy beachfront. The villa is set at the edge of Shoal Bay West. A most private location, here, turquoise seas are just steps away while St. Martin waves to you in the distance.
For an up close view of Caribbean blue, take a stroll on the villa's 50' skywalk (right of photo above). A stroke of architectural genius, on this skywalk, you feel like you are floating over the sea!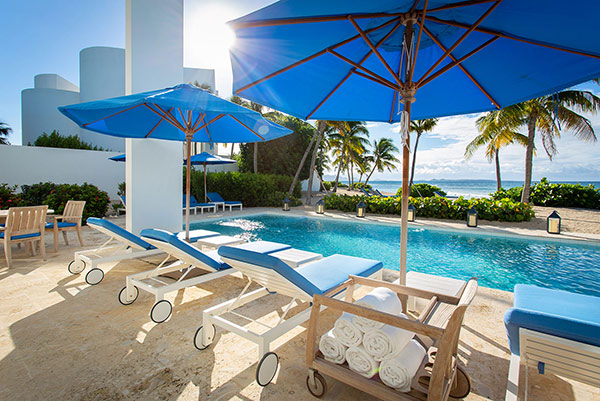 Prefer the pool? Altamer's sparkles in a million shades of blue!
Yes, outdoor living is LARGE at Antilles Pearl. Inside, Antilles Pearl impresses all over again. The villa itself offers 12,000 square feet of living space. Five bedrooms (each with sumptuous ensuite), living area, dining area, games room, chef's kitchen and even an elevator and rooftop terrace all lay out over three stories.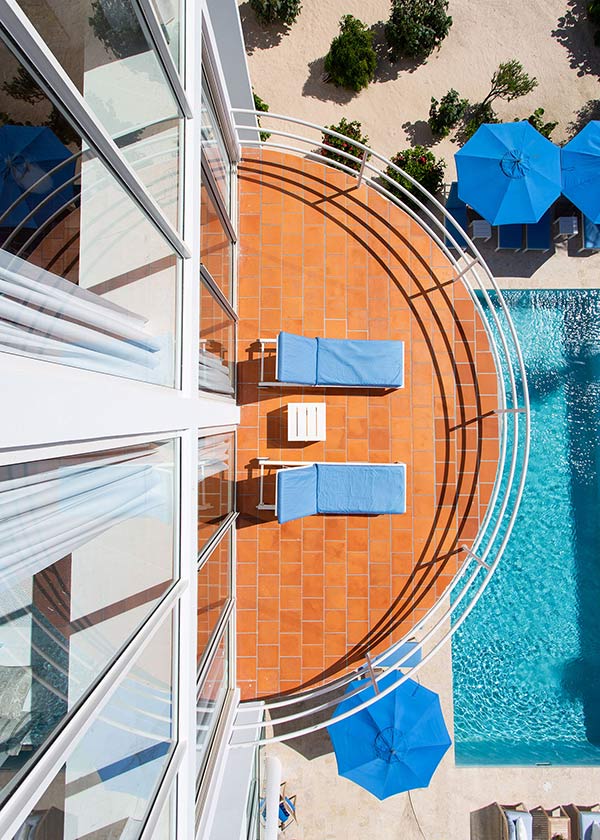 Bright, lofty and with luxurious furnishings and fixtures, the feel is distinctly upscale Caribbean and modern. The living room boasts 21' high ceilings with grand windows and doors that open to the spacious pool deck.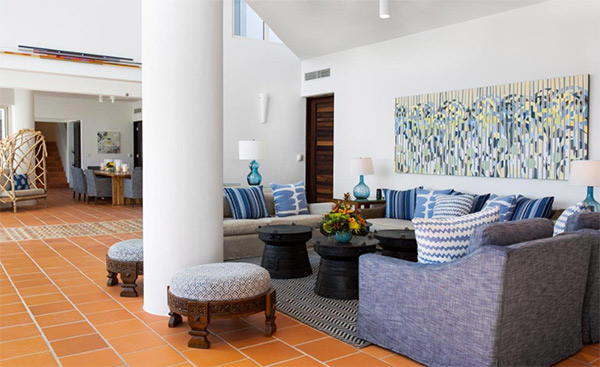 Upstairs, five plush suites with ensuite accommodate up to 10 guests. The master bedroom is simply jaw-dropping. It spans two stories, with an upstairs loft that makes for a private office. The effect of the two story high ceilings and floor-to-ceiling windows is mesmerizing.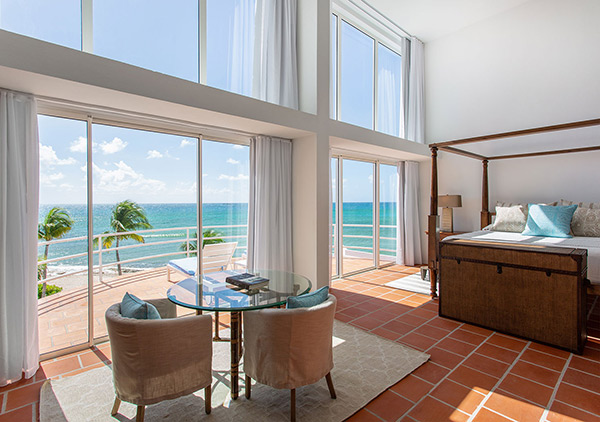 Antilles Pearl is one of a kind. For a deeper video look inside Altamer, please click here.
Altamer does not end there! Also recently renovated is the charming villa rental, Petit Topaz...
Petit Topaz just may be the best kept secret in Anguilla!
A one bedroom villa rental, Petit Topaz is the perfect escape for couples or families traveling with young children. The contemporary and modern villa lays out with one sumptuous bedroom downstairs and a loft with daybed upstairs.
The space is complete with full kitchen, dining and living area. Outside? Sink into a plush lounge chaise or plunge into your jacuzzi tub. Here, you also have full access to Altamer's larger pool as well as Shoal Bay West and Altamer's five-star service.
Available at just $350-550/night, it is hard to find a better villa deal in Anguilla!
For full rental details, see...
One of Anguilla's most impressive villa estates, Altamer is BACK and better than ever!
For more on Altamer, visit...
---
Off Season Hours, Closings & Re-Opening Dates
That time of the year is here!
Following the last day of Carnival in August, many businesses close for a month or two to rejuvenate and prepare for the upcoming season. All businesses re-open in November.
Who's staying open this season and who is closing when? Click here for the list!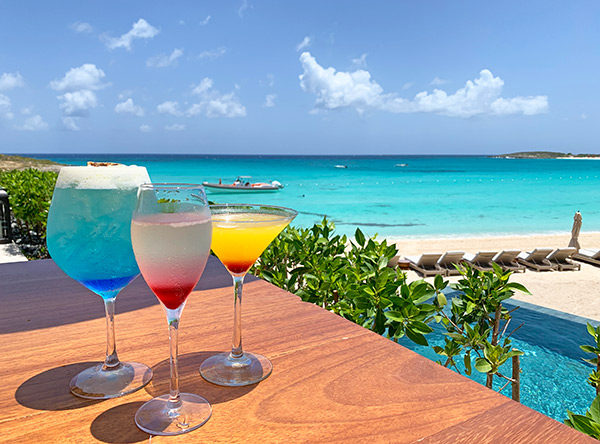 ---
Super Off-Season Rates & Specials
Summer and mid-fall are two of the best times to visit Anguilla. The island has a distinctly more relaxed feel, most restaurants are still open (or have re-opened - in fall) AND the price is right!
Summer and fall bring the best rates. If you are looking to travel to Anguilla, this is the most affordable period.
Carimar Beach Club: High Value on Meads Bay
Carimar Beach Club offers exceptional value on location alone!...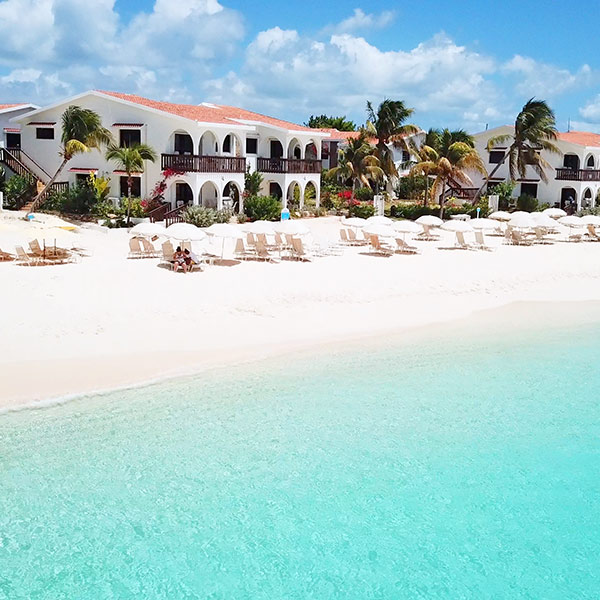 The beloved boutique hotel is set right on the shores of majestic Meads Bay. You are just steps from crystal-clear waters and Anguilla's tastiest eateries!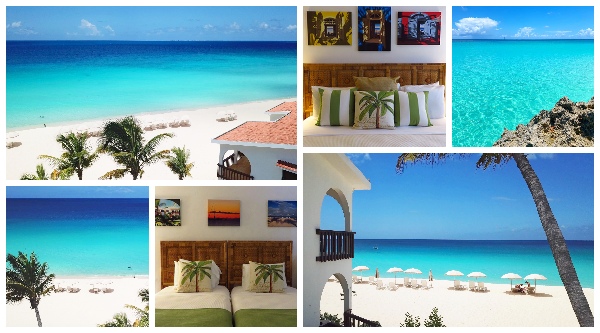 Carimar's units are spacious, modern and complete with all of the conveniences of home, including fully equipped kitchens.
Carimar's summer & fall special is ON until November 15th! With rooms as low as $191/night, it is one of the best deals in Anguilla. For details, visit...
CuisinArt Golf Resort & Spa
CuisinArt. Ahhhh, the name alone conjures up feelings of total relaxation. Its iconic blue domes and white buildings line the powdery-fine sands of Rendezvous Bay like a Mediterranean dream...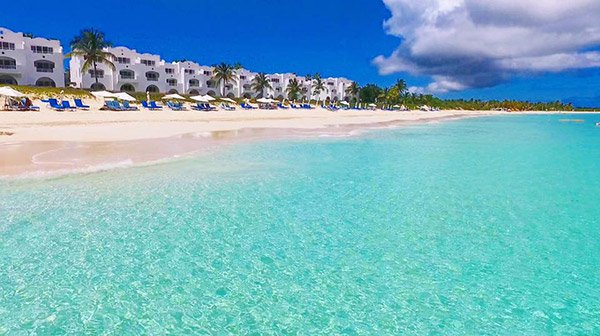 Amidst swaying royal palms and blossoming bougainvillea, CuisinArt Golf Resort & Spa surpasses the term Anguilla luxury resorts. The five-star beachfront property has long been considered a "Caribbean best."
Its pool gazes out to the mountains of St. Martin while sparkling in a million shades of blue. Its suites provide the most awe-inspiring vistas to the Caribbean Sea. World-class cuisine, Greg Norman golf course and award-winning spa round out the CuisinArt experience.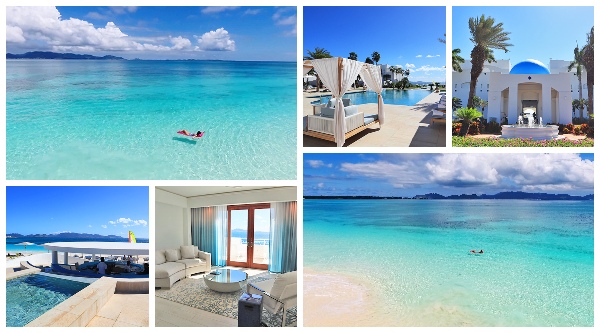 The exclamation point? This summer and fall CuisinArt is offering an unbeatable luxurious special. Stay 7 Nights, Pay 5! For full details, visit...
The Reef by CuisinArt
One beach over, on Merrywing Bay sits CuisinArt's sister property, The Reef.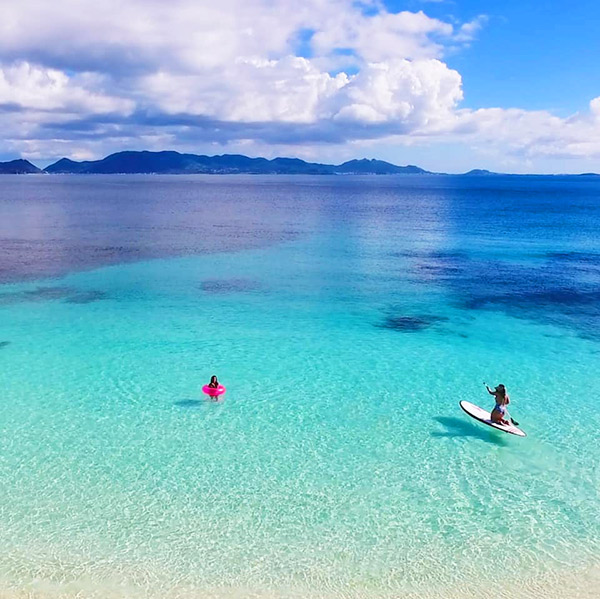 The Reef has been racking up exceptional reviews this year! First, the size of the light, bright rooms is beyond compare when it comes to hotel rooms in this price category.
Then? The world-class amenities. The Greg Norman designed PGA golf course, CuisinArt's award-winning spa and six outstanding restaurants are all at your fingertips.
Last but not least? The Reef's team of staff always make you feel right at home.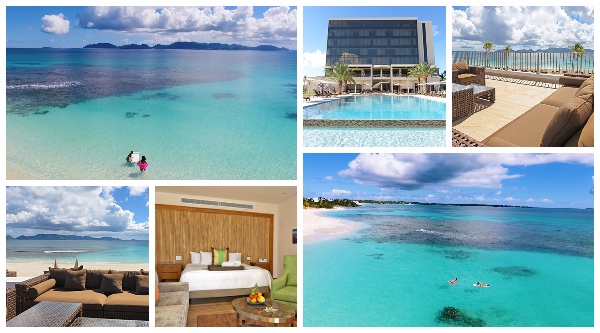 The Reef re-opens end of October with high-value rates of just $333/night!
Long Bay Villas
Long Bay Villas is Anguilla's most elegant and iconic ultra-luxury villa! The property takes your breath away in three distinct ways: Sky Villa, Sea Villa and Sand Villa.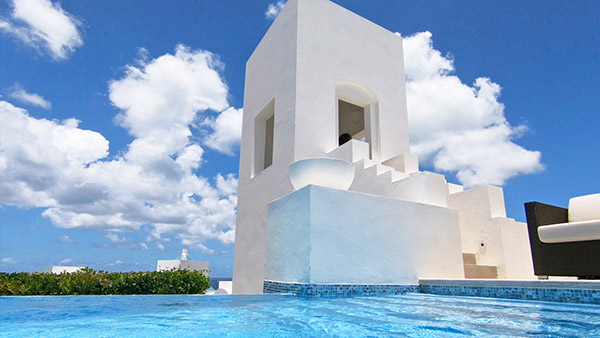 The estate's three stark-white villas tier down the lush hillside that slopes up from pristine and exclusive Long Bay beach. Each villa's unique setting emphasizes a different perspective of "Long Bay Blue."
Inside, the grand villas combine to boast 16 bedrooms with over 19,000 square feet of indoor/outdoor living space that can accommodate 33 guests.
A sensational property, the ultra-luxury experience is rounded out by top-tier service.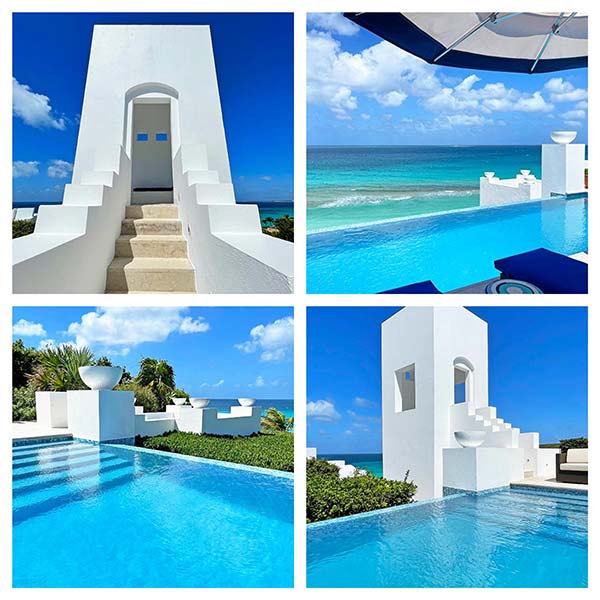 Long Bay Villas' summer and falls rates are ON! For full details, visit...
Santosha Villa Estate
Next door to Long Bay Villas lies the ultra-exclusive Santosha Villa Estate.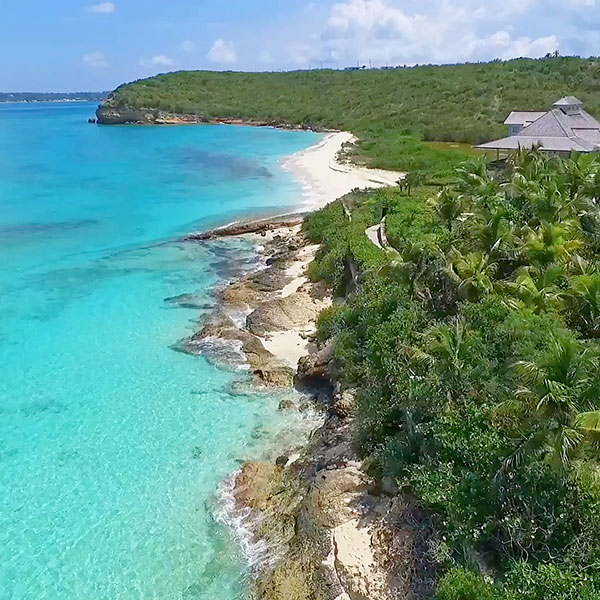 A 37,000 square foot West Indian-style estate, Santosha is of a bygone era. Its design is classic Caribbean, immaculately executed. A marked sense of relaxed sophistication washes over you as you walk through the nine bedroom property.
From regal crown moldings, to mahogany four poster beds, to antique sconces, louvre doors and double-paned windows, to the grand spiral staircase and wrap around verandas, each and every piece has been carefully designed. Each ornamental touch has been hand-selected for its specific place.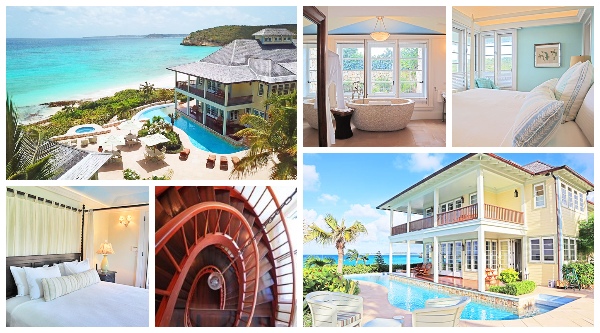 Sprawling across 4.5 lush acres and able to accommodate 23 guests, Santosha Villa Estate is Anguilla's most grand ultra-luxury villa.
Santosha Villa Estate also has discounted rates through November 16th! For details, visit...
Champagne Shores: The Villa
Featured on HGTV earlier this year, Champagne Shores offers luxury with a whole lot of value!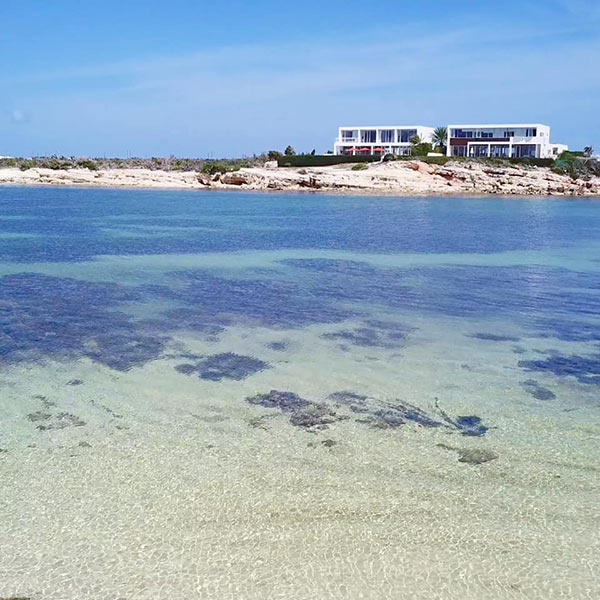 Set on Anguilla's south coast, Champagne Shores spans over 7,000 square feet of plush outdoor and indoor living space with five sumptuous suites. All-air-conditioned, the villa boasts some of Anguilla's most panoramic views.
It is the only villa of its kind to also provide an all-day personal service attendant, in addition to 24/7 concierge service!
Modern in look, Caribbean in feel, and with every need tended to - at Champagne Shores, you often find yourself thinking, "I didn't even know I needed that."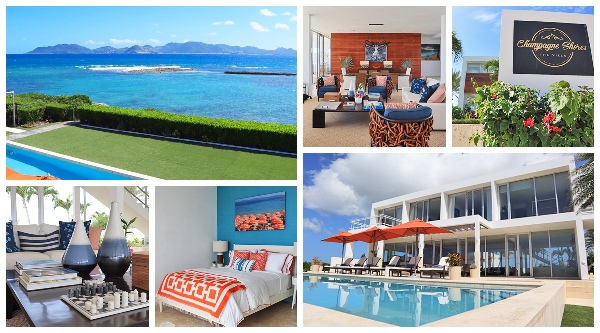 Champagne Shores' summer rates are ON. They are some of the most competitive Anguilla villa rates! For more on Champagne Shores, visit...
---
Tasty Tapas & Decadent Desserts at Blanchards
NEW from Blanchards this season? We have fallen in love with outdoor dining on Blanchards' expanded patio beneath the stars!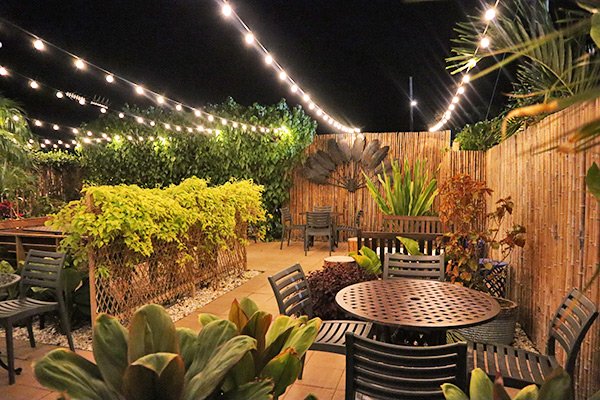 If you want to dine al fresco, there is no spot more magical than below these dazzling string lights!
Blanchards' outdoor terrace pairs perfectly with the addition of a NEW menu (new this season): Blanchards' Small Plates menu. Be warned, just reading the menu will make your mouth water. Every dish sounds fantastic, from arancini with white wine and horseradish to chickpea fritters with feta.
A few of our favorites? First, Melinda's "must have" shrimp & lobster cakes.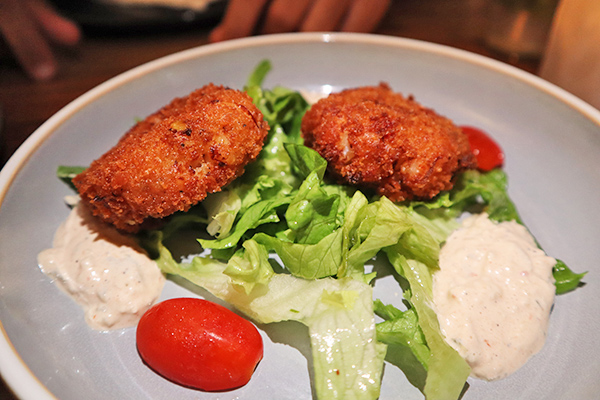 Admittedly not new to the menu, these seafood cakes stand the test of time. Dipped in a tomato tartar sauce, they are unforgettable.
Two brand NEW favorites?
Coffee-Crusted Steak Crostini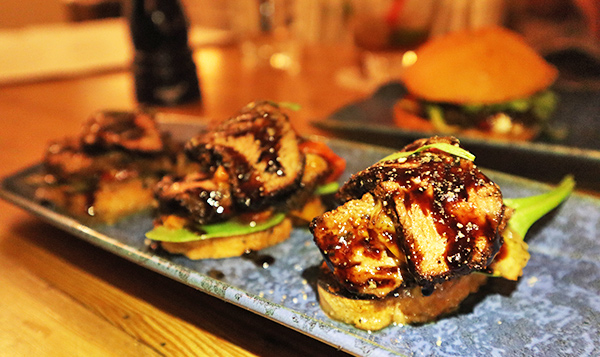 Burger Sliders With Goat Cheese & Sun-Dried Tomatoes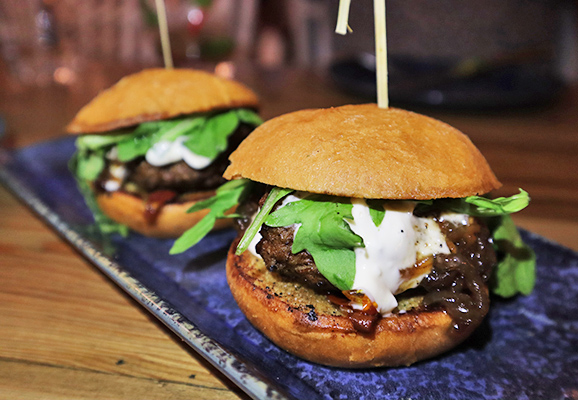 The burger sliders and steak crostini are two of our favorites. The sliders are especially sumptuous. Melinda elevates these sliders by adding goat cheese, sun-dried tomatoes and caramelized onion. If it is steak you prefer, these zesty bites are coffee-crusted and infused with balsamic and tarragon.
The food is always excellent at Blanchards. So excellent in fact, you need to order not just one - but THREE desserts, even if you are bursting at the seams.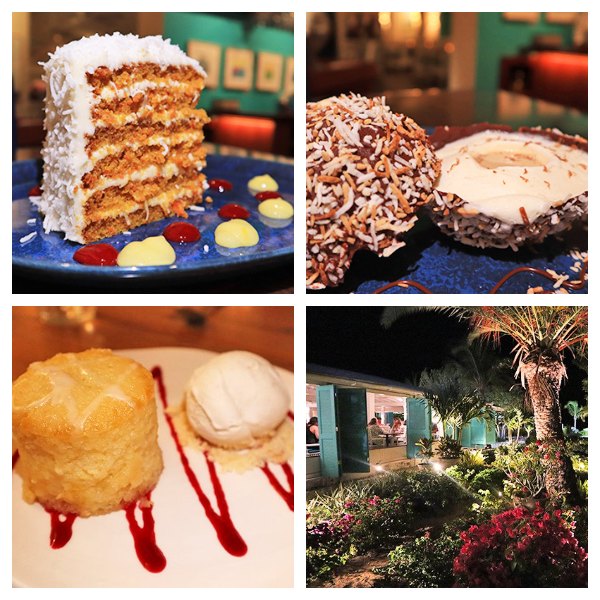 The Ultimate Carrot Cake, Cracked Coconut and Triple Lemon Cake are the "must have" dessert trio.
Decades after their opening (in 1994), Blanchards' food, setting and service still shines strong. The restaurant glows inside and out, from the building itself to the owners and staff. With exceptional food, Blanchards delivers a flawless evening.
---
Update From Meads Bay: Tranquility Beach Anguilla
Just down the beach from Blanchards and Jacala, and between Four Seasons and Malliouhana, lies Tranquility Beach Anguilla.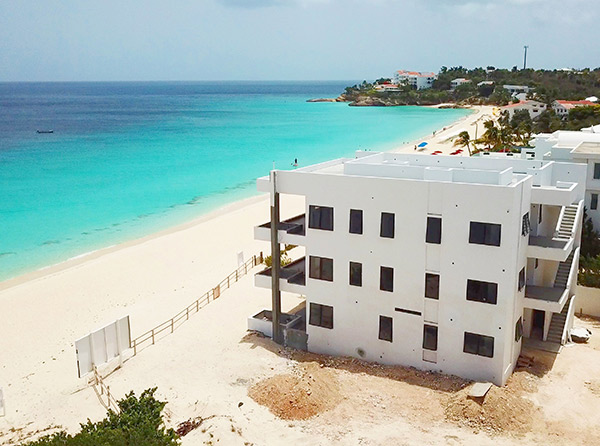 Smack dab in the middle of the "Meads Bay scene," Tranquility Beach Anguilla is the latest residential development by internationally recognized Property Developer and Architectural Designer, Ian "Sugar George" Edwards.
The development's first phase, Signature Suites, includes 15 luxury residences set in three modern beach villas. Residences come complete with all of the amenities of an upscale boutique resort, right on Meads Bay. Tranquility Beach Anguilla will operate as a boutique hotel.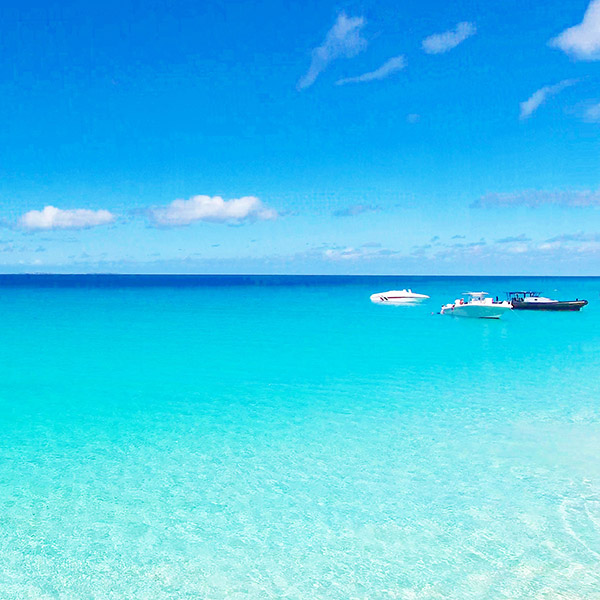 The project has been full steam ahead since they broke ground and now the finish line is in sight! Tranquility Beach Anguilla is on track for a Dec. 2019 opening. They are now taking reservations for the coming winter season.
For full details, visit...
To arrange a site tour, or for more information...
Phone: 264-729-1879 or 264-476-8488 or 264-235-3666
Email: info@tranquilitybeachanguilla.com
---
Wood Fired Cuisine by Chef Marc Alvarez
Chef Marc Alvarez has been igniting tastebuds for years! You may remember him as the stand-out chef at Straw Hat, Pumphouse, Covecastles and even Malliouhana. Fueled by a passion to create exciting dishes, Chef Marc Alvarez has long held a dream of opening up a spot of his own.
Now, Chef has taken the plunge! The dream is a reality today with Chef's extra-popular spot, Ember.
His theme and inspiration? A wood fired oven that creates richly flavored cuisine, including one of the best pizzas in Anguilla.
The Carbonara Pizza is the perfect breakfast pizza! It is dressed up with slices of pancetta, guanciale and smoked bacon. The combination makes for the best salty flavor. The stroke of genius? It is finished with a sunny side up egg.
Next up? Tomato & Stracciatella Toast.
A personal favorite, I cannot recommend this dish highly enough! The dish is elegantly simple: two pieces of grilled bread - one topped with stracciatella cheese and one layered with slices of local tomatoes. Both pieces are then drizzled with an apple balsamic and garnished with thai basil.
When it comes to dinner? The 4 Peppercorn-Coffee Rubbed Steak impresses!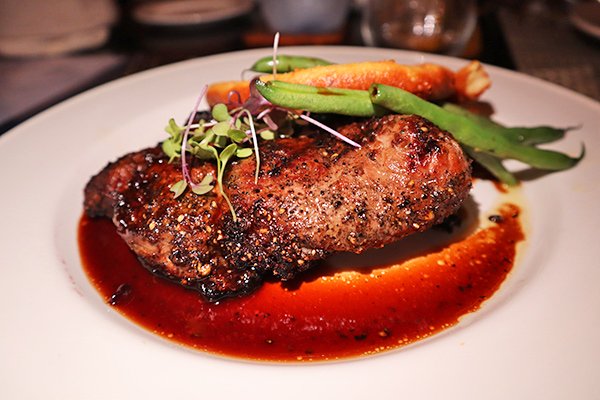 Chef marinates this strip steak with a 4-peppercorn-coffee rub. It complements the quality cut of steak perfectly. This dish's sides are equally impressive. They include a sweet portion of port wine onions, al dente haricot verts, and parmesan churros. The airy churros pair well with the port wine onions. It is one of the most creative dishes we have seen.
For the full review on Ember, click here.
---
Real Estate Corner: Rendezvous Bay Villa
Our favorite real estate agent, Jackie Pascher has something extra special on the market. This gem is just a few hundred yards from the sandy shores of Rendezvous Bay!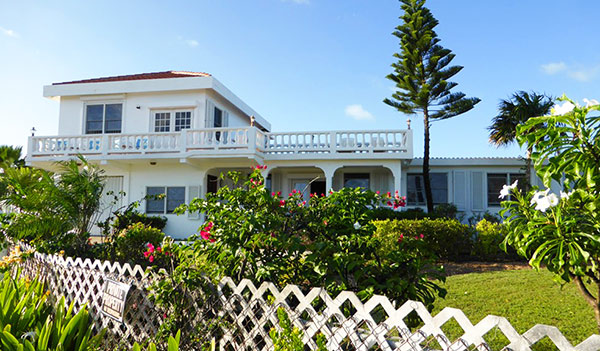 Rendezvous Bay Villa features 2 bedrooms, 2 baths, and an open concept living room, dining and kitchen. Upstairs lies the master suite with sitting room, kitchenette and large balcony looking across to Rendezvous Bay and St. Martin.
The large pool and deck is on the back (northern) side of the house. Very private, it makes for a great area for BBQs and parties. There are high-quality solar lights around the pool and also a separate pool bathroom. The lot is fully fenced with charming landscaping.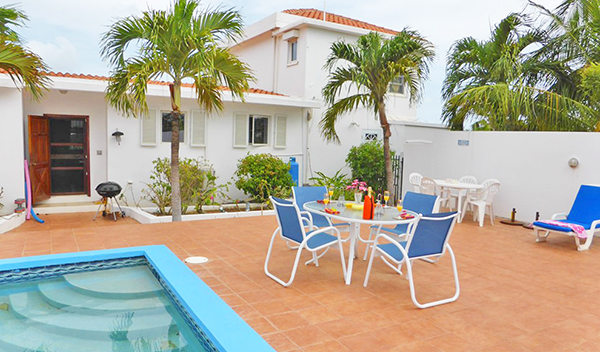 Best of all, you can't beat the location of this property. Rendezvous Bay beach & Garvey's Sunshine Shack is a 60 second walk away!
Rendezvous Bay Villa is listed at $1.2 Million. More on Rendezvous Bay Villa here.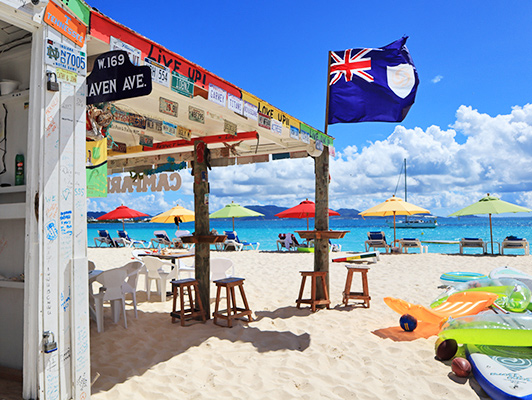 In addition to a fantastic real estate deal, Jackie has a fabulous, newly renovated rental!
Welcome to Sea Winds, a fantastic waterfront villa with classic Caribbean style...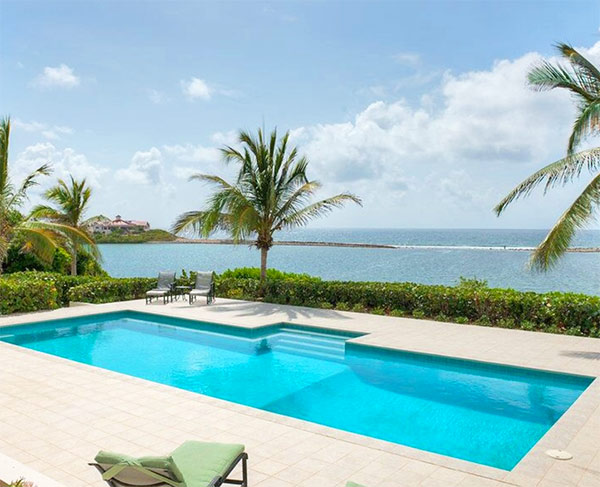 A modern, three bedroom villa, Sea Winds is right on the Caribbean Sea. It has been designed with an open living room, dining room and kitchen concept.
Two Master Suites flank the living area. The 3rd bedroom is set separately, just off the living room. All bedrooms come equipped with adjoining bathroom and air conditioning.
The master suites and main living area open right onto the expansive pool deck...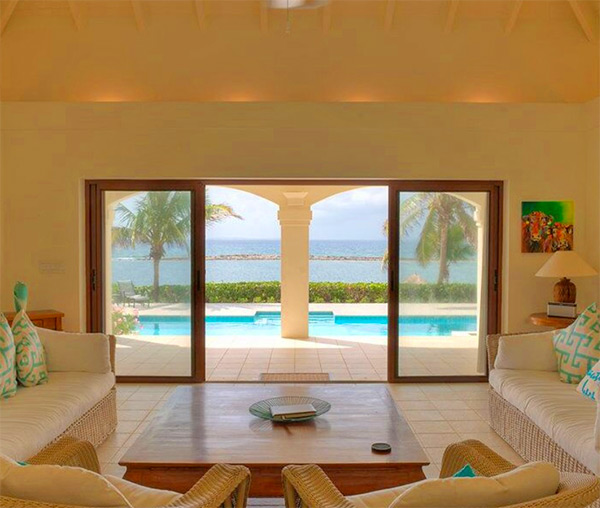 Bright and spacious, and set in a most peaceful location, Sea Winds is a steal at $600/night.
---
That's all for August! Here's wishing you a happy rest of the summer from Anguilla.
Talk to you next month with more Anguilla news & blue,
Nori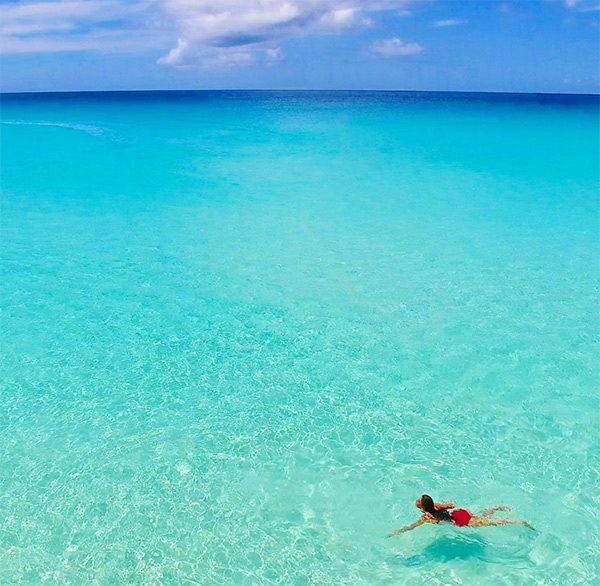 Do you have your Anguilla Card yet? Save 10% at 69 Partners!
---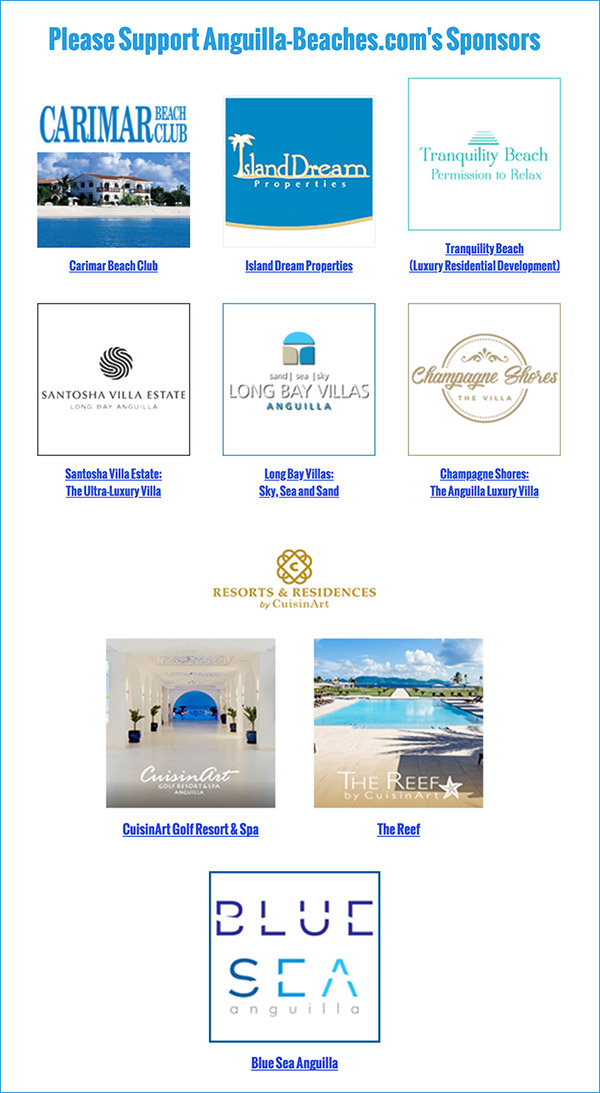 ---
Anguilla-Beaches.com