Ember...
Wood Fired Cuisine by Chef Marc Alvarez
By: Louise Fayet
Chef Marc Alvarez has been igniting tastebuds for years! You may remember him as the stand-out chef at Straw Hat, Pumphouse, Covecastles and even Malliouhana. Fueled by a passion to create exciting dishes, Chef Marc Alvarez has long held a dream of opening up a spot of his own.
Now, Chef has taken the plunge! The dream is a reality today with Chef's extra-popular spot, Ember.
With Chef Marc Alvarez & His Wife Natalie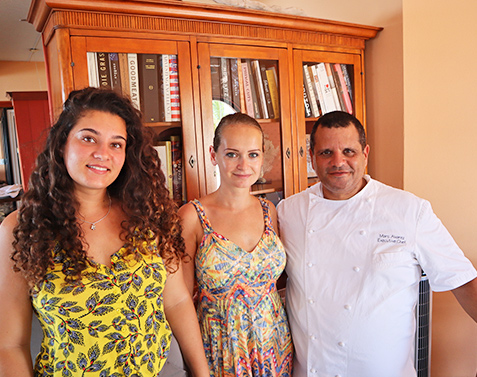 His theme and inspiration?...
The Wood Fired Oven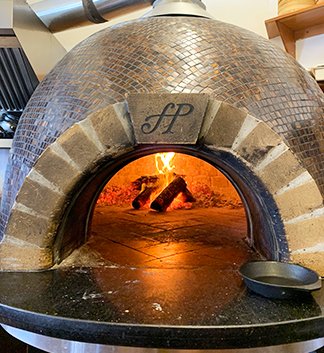 A wood fired oven that creates richly flavored cuisine.
Step Inside Ember
Located at the old Luna Rosa, Chef Marc has transformed the space to a high-end, chic restaurant. Wide open wooden doors open to a long outdoor terrace with breathtaking views of the Atlantic ocean and Sandy Island in the distance. The corner table on the terrace is our favorite seat in the house!
Terrace Views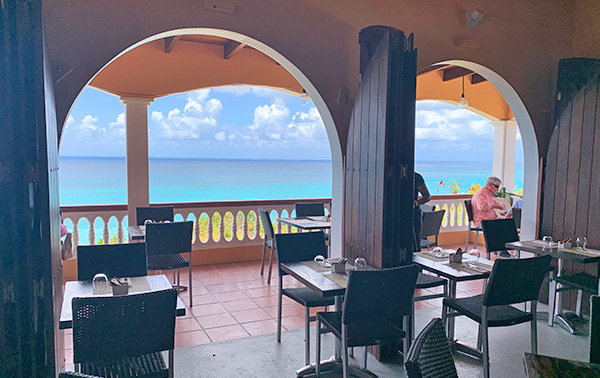 Ember has plenty of inside dining space, as well as bar seating. The bar is fully stocked with an excellent selection of wines and cocktails.
Tip: One of our favorite cocktails? The Ember Delight. A mixture of Captain Morgan, Malibu, mango puree and lime juice, it is a tropical explosion!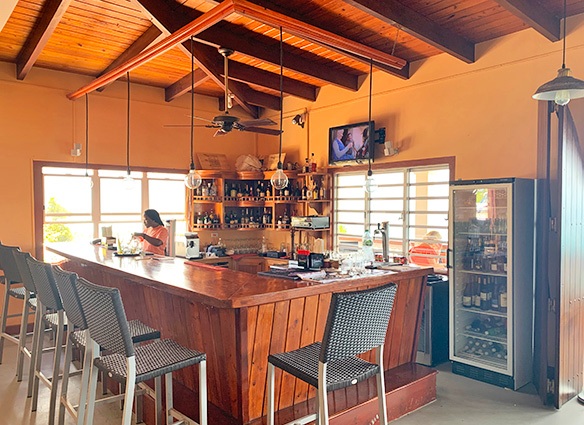 Ember opens nightly for dinner and for Sunday Brunch. What's on Chef's menu?
Brunch at Ember
Brunch begins with "Snacky Bits." Tempting options include roasted snap peas, croissants, saucisson sec and...
Wood Fired Soft Pretzel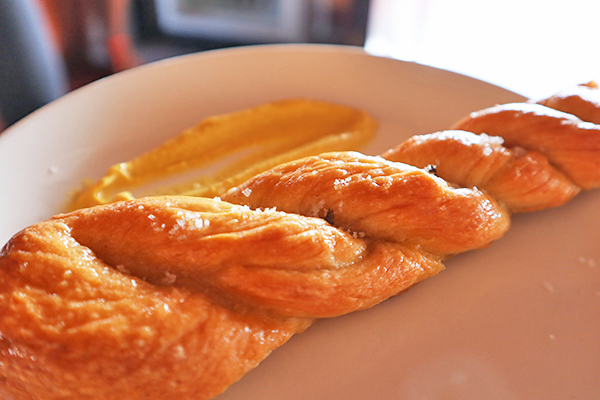 Nothing warms your soul like a soft, homemade, wood-oven baked pretzel! Chef serves his with a sharp Edmond Fallot mustard. Sprinkled with sea salt, it makes for a savory start to brunch.
The menu then moves to the "Something Light" section.
Tomato & Stracciatella Toast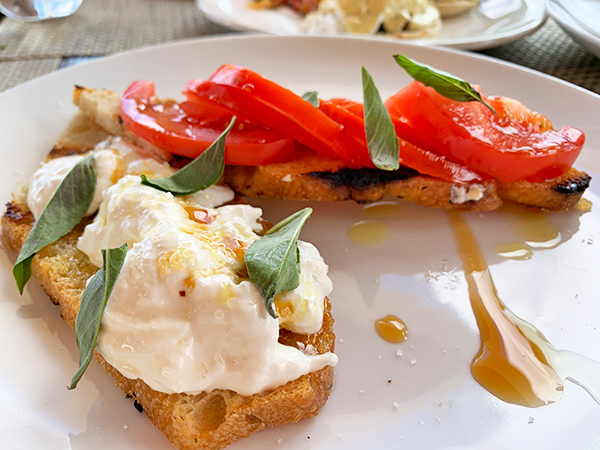 A personal favorite, I cannot recommend this dish highly enough! The dish is elegantly simple: two pieces of grilled bread - one topped with stracciatella cheese and one layered with slices of local tomatoes. Both pieces are then drizzled with an apple balsamic and garnished with thai basil. Amazingly fresh and flavorful, thank goodness this dish is also on Chef's dinner menu. I never miss out on the Tomato & Stracciatella Toast when dining at Ember.
Also on the "Something Light" menu is the...
Breakfast Burrito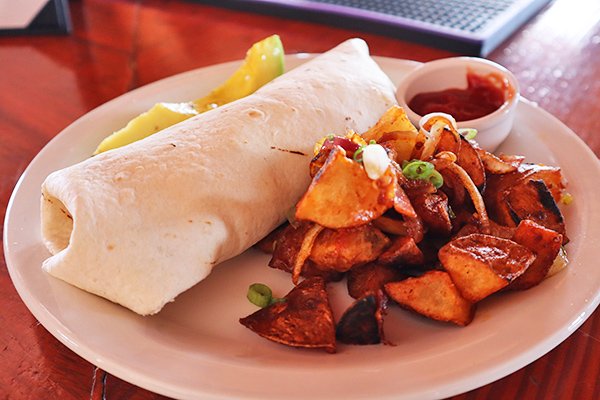 It is more than something light! This big burrito is stuffed with eggs, chorizo, tomato and pepper jack cheese. It is served with a refreshing slice of avocado. Add a side of housemade breakfast sausage patties, Applewood smoked bacon, patatas bravas or boudin noir for a full brunch meal.
Another personal favorite are the oven baked pancakes.
"Pannukakku" Pancakes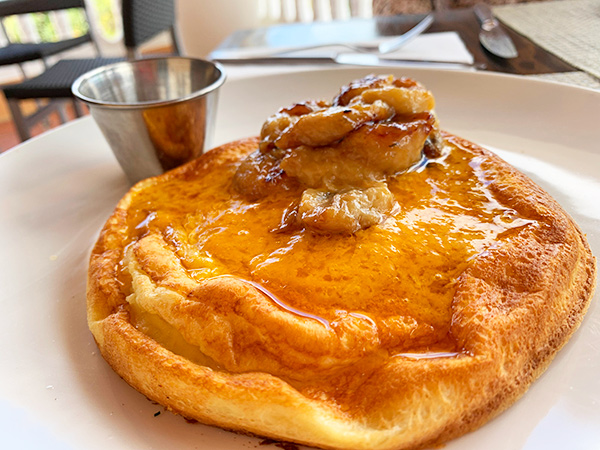 A Finnish-style pancake, these wood-oven baked pancakes are thick! Chef drowns them in a mango butter sauce and tops them with roasted bananas. Talk about taste of the Caribbean.
Try to pace yourself because this is just the beginning of Chef Marc's specialities! Here are a few more..
Ember Benedict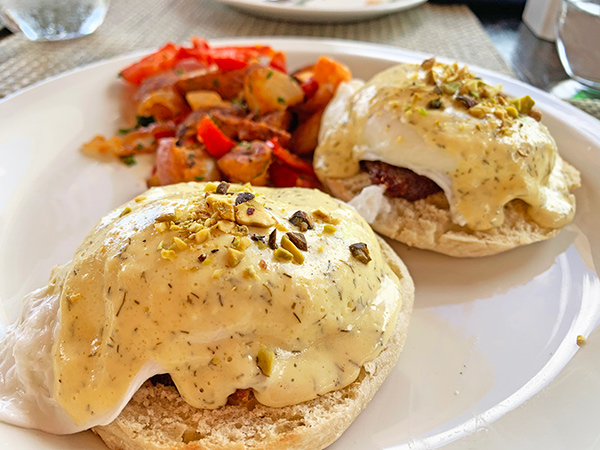 This is more than your usual Eggs Benedict. Chef puts his own spin on this sauce. A crispy pork belly and pistachio gravy, it makes for an extra-rich and indulgent Eggs Benedict.
Chef's brunch menu doesn't end there.
Chef's "Something More" section of the menu begins with a bang! The Ember Lobster Clam Bake is not for the faint of heart.
Ember Lobster Clam Bake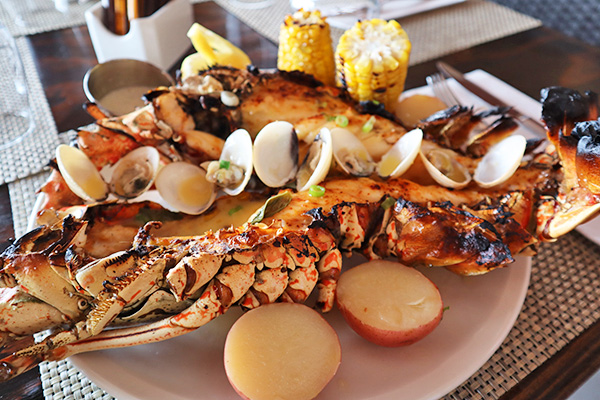 A whole lobster is drizzled with lemon and garlic butter, and topped with picture-perfect clams. It comes with boiled new potato and grilled corn.
For something a little lighter? The glass noodle salad is loaded with shiitake mushrooms, thai basil and toasted peanuts.
Charcoal Grilled Beef & Glass Noodle Salad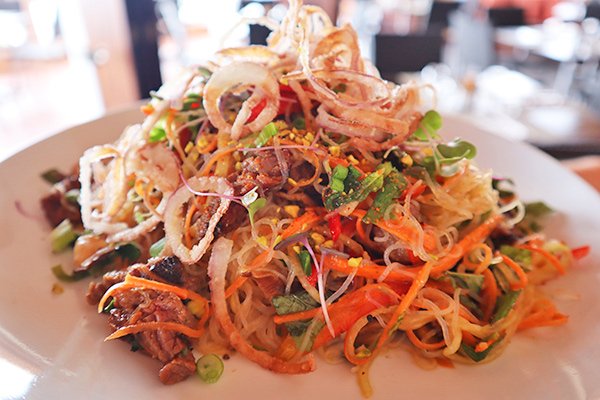 Last but not least, Nori's favorite corner of the menu, "Wood Oven Pizza." Options include a savory white pizza (the Bianca), local eggplant, pepperoni, burrata margherita and...
A Lobster Pizza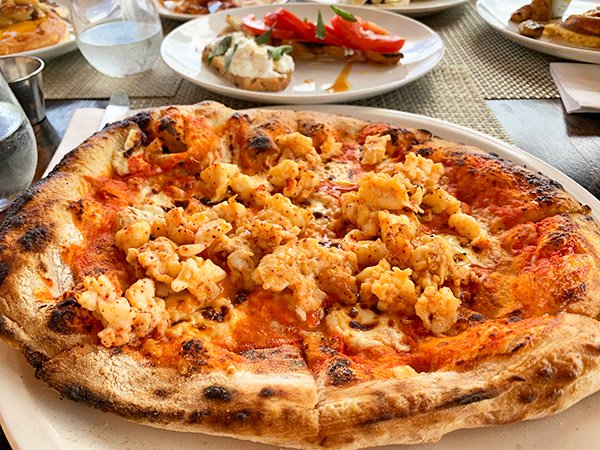 Our favorite from the section is, hands down, the Carbonara pizza.
Carbonara Wood Oven Pizza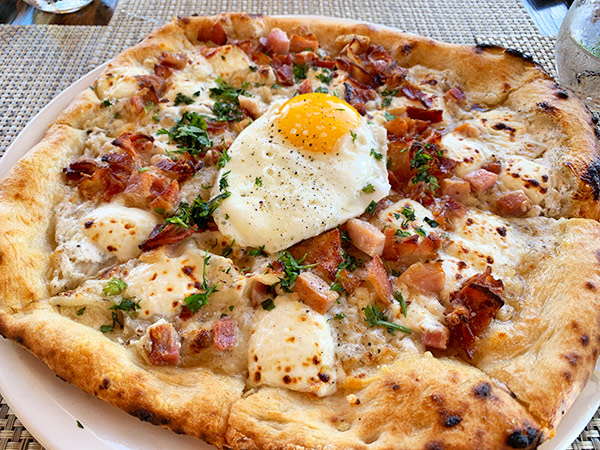 This is the perfect breakfast pizza! It is dressed up with slices of pancetta, guanciale and smoked bacon. The combination makes for the best salty flavor. The stroke of genius? It is finished with a sunny side up egg.
Dinner at Ember
If you come for brunch, there is no doubt that you will return for dinner. Ember is that impressive.
Interior Dining Area

The restaurant shines at night.
Our Table For The Evening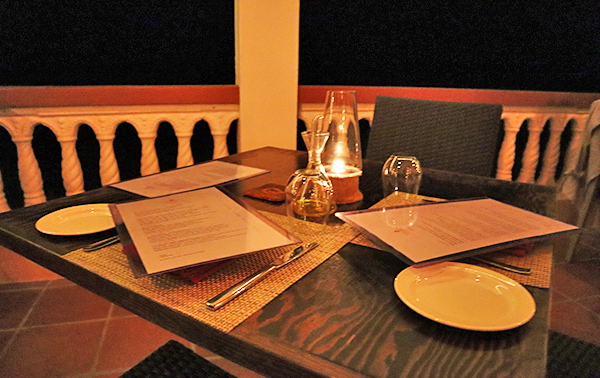 The terrace is wrapped with fairy lights, hanging light bulbs and the lights of Sandy Ground dance in the distance.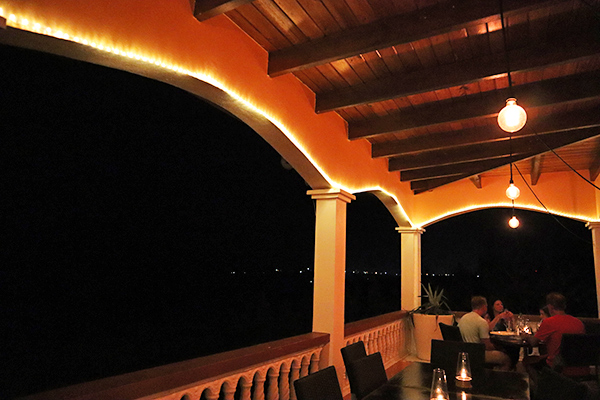 No matter the meal at Ember, we always begin with one of my favorites, the Local Tomato & Stracciatella Toast.
Local Tomato & Stracciatella Toast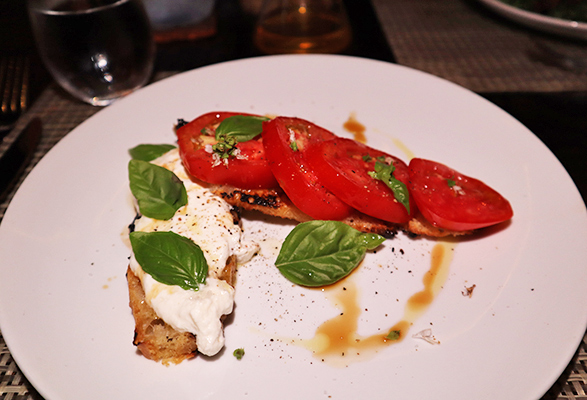 Have I mentioned that I love this dish?
Other appetizers include a wood oven kale salad, red snapper crudo, roasted beets and...
Koren BBQ Short Ribs Wraps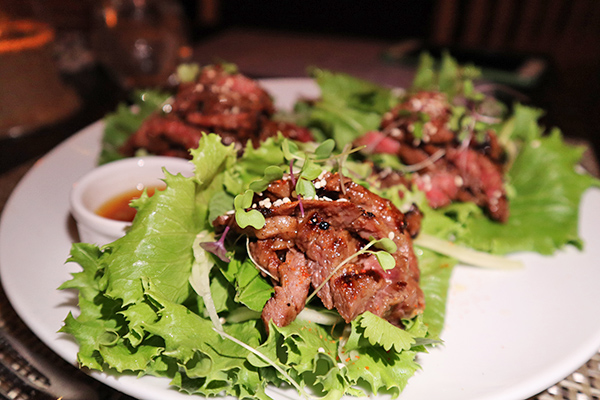 The fillets of BBQ short rib are rich in exotic flavor. Cucumber, ginger and Chimichurri come through with each bite. The rib meat is wrapped in butter lettuce, making for a fun and light starter.
On to the mains.
"From The Wood Grill" and recommended by our waitress, is one of the most popular dishes...
Grilled Snapper Fillet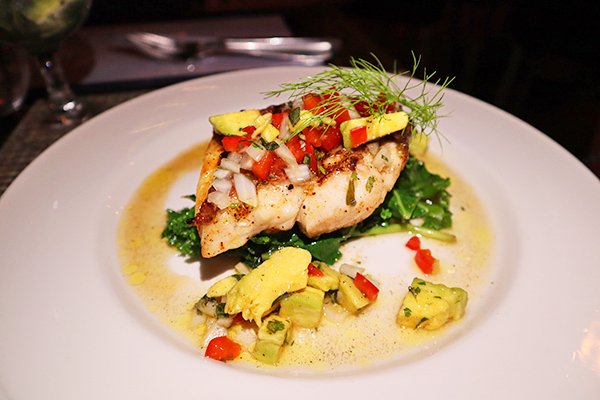 A generous fillet of locally caught snapper is placed atop wilted greens and is topped with charred herbs and an avocado salsa. Chef Marc gently packs this dish with light flavors and cooks the fish to perfection.
Also "From The Wood Grill" is the NY strip steak.
4 Peppercorn-Coffee Rubbed Steak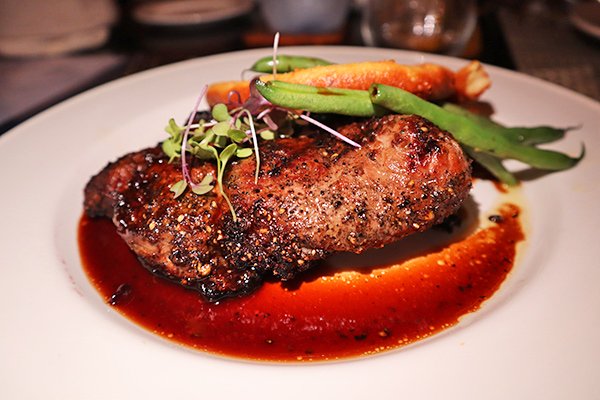 Chef marinates this strip steak with a 4-peppercorn-coffee rub. It complements the quality cut of steak perfectly. This dish's sides are equally impressive. They include a sweet portion of port wine onions, al dente haricot verts, and parmesan churros. The airy churros pair well with the port wine onions. It is one of the most creative dishes we have seen.
Sweet Endings at Ember
Our favorite part of any menu is, of course, the dessert menu. Ember offers a variety of after dinner drinks and digestifs. Dessert options include white chocolate bread pudding, mango panna cotta, chocolate semifreddo and...
Chocolate S'mores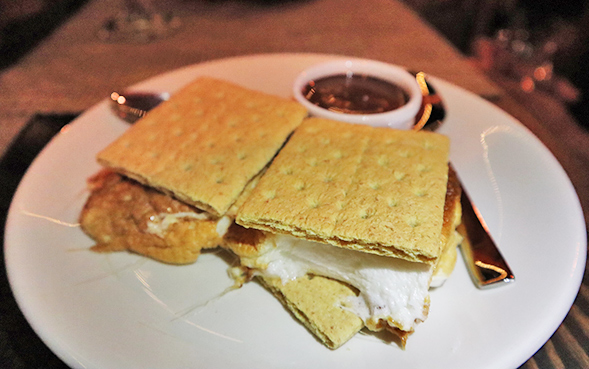 Marshmallows are roasted and melted between sweet graham crackers. It is served with a bowl of melted milk chocolate for dipping. A playful dish, it satisfies sweet tooth cravings!
From brunch, to dinner appetizers, all the way to dessert, Chef Marc has pulled it off! Exciting cuisine with an elegant setting, it is a recipe for perfection. A huge round of applause for Chef Marc Alvarez.
Directions, Hours and Contacts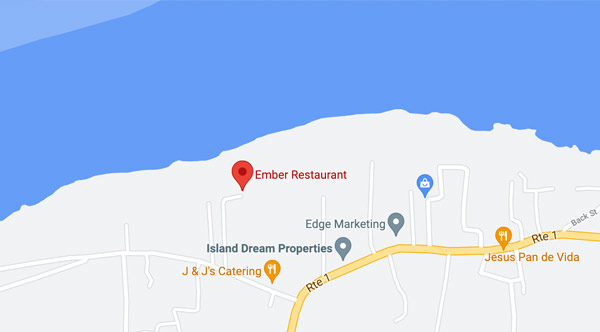 Hours: Dinner: Tuesday-Saturday. Brunch: Sunday. Reservations required.
Tel. & Email: 264-498-2411 & emberanguilla@gmail.com
Menu: Click here