Pumphouse Restaurant Is Back & Full of Flavor!
Update 2018: Pumphouse is currently closed. Updates to come.
When it comes to dining institutions in Anguilla, look no further than the island's "go to" pub set in the heart of the spirited Sandy Ground village...
The One & Only Pumphouse

Like all institutions, Pumphouse is steeped in rich history.
Long before it became the Pumphouse known for its nightlife, Pumphouse was precisely that: a pumphouse. In the heyday of Anguilla's salt industry, Pumphouse was its epicenter, refining salt for export. It saw its last days in the mid-80s.
Roughly a decade later, Pumphouse re-opened as the bar and restaurant we love today.
Pumphouse Today

The integrity of the original building has been effortlessly maintained over the years.
It breathes classic Caribbean charm with a funky flair.
License plates from Pumphouse lovers from all over adorn the walls, as a pirate swoops in over the live music stage.
Inside Pumphouse

Its setting is complimented by its cool, laid-back feel, cultivated by the ever-charming Laurie Gumbs and Deb Vos...
Laurie Gumbs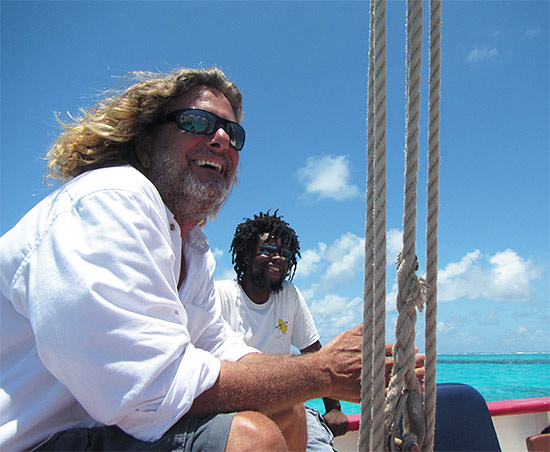 Deborah Vos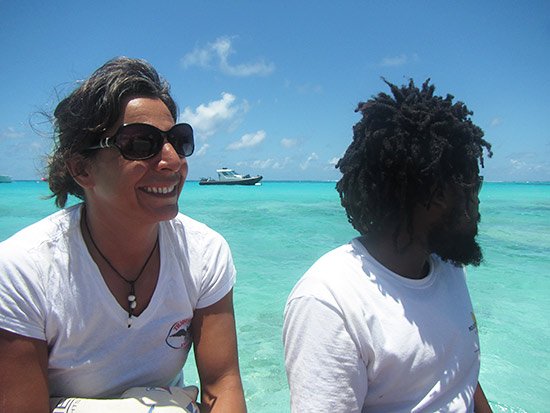 Since the 90's, Pumphouse has been the island's "go to" for drinks, dancing and dining. Even Paris Hilton was spotted hitting the dance floor here.
To great dismay, Pumphouse closed their popular kitchen a few years ago. However, today, dining is back and better than ever. A once-again favorite for affordable and reliably tasty eats, dinner is served!
Dining-In at Pumphouse

Pumphouse For Dinner
From savory bar snacks to melt-in-your-mouth Mahi mains, this is heartwarming comfort food at its best.
As Louise and I browsed through the menu, our kind and attentive waitress brought over a plate of cajun-spiced chickpeas.
Crispy with a kick, they rev your appetite.
A number of "bar snacks" make up the first part of the menu.
Be warned: Everything sounds outstanding. Choosing is extremely difficult. Proceed with caution or you might end up ordering the entire menu!
The infamous, towering chili cheese nachos, potato skins, Anguillian lobster mac & cheese, tuna poke with a crunch of fried wontons...
We agreed on the...
Spinach & Artichoke Dip

Straight out of the oven in a charming French onion soup bowl, we were about to enter dip heaven. Spinach and artichoke are mixed into a smooth and rich concoction. Cheesy and garlicky, the creation is served with Parmesan-dusted tortilla chips. A perfect pair. It cannot be beat.
We couldn't agree on just one appetizer, though. Next on our list?...
Pumphouse Onion Rings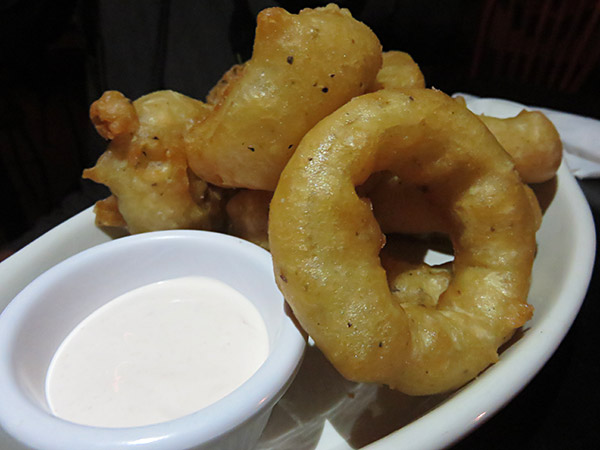 Fluffy and light, and made with big cuts of juicy onion, each bite has you wanting more. Served piping hot, plunge them into the creamy-cool side sauce before digging in. "What is in the sauce? Peppers? Cajun?" I curiously enthused as the onion rings and the lightly-spiced sauce disappeared from the plate.
Pumphouse's NEW Chef Erin
The classic Pumphouse menu is a credit to the restaurant's new Chef Erin. A long time Anguilla lover, she has been visiting Anguilla since the mid-90's. Today, Anguilla is home and Pumphouse's kitchen is her domain.
A kind lady with a passion for cooking, she laughed modestly when we asked her about the onion ring sauce. "A lot of people have the same question," she smiled. "It's simple really, just Sriracha mixed with sour cream."
Brilliant! The onion rings are a "must" for a bar snack, appetizer or as an "add on" to a main.
A variety of soups and salads round out the starters. Creamy fish chowder, beef chili, Caesar salad and a dish after my own heart...
Nori Tuna with Salad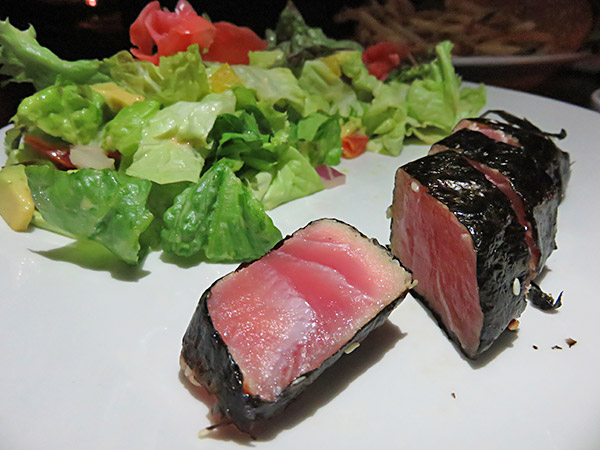 Not only do the dish and I share the same name, but fresh raw tuna is a personal favorite. I had to ask, "Laurie, was this dish named after me?" ;-)
Ahi Tuna is gently seared, served rare and wrapped with Nori seaweed and sesame seeds. The side salad proves to be a choice companion, dotted with chunks of avocado and roses of pickled ginger.
Still hungry? Flip the menu over and a world of robust burgers and elegant mains is revealed.
Pumphouse's burger, cooked over volcanic rock, has long been one of my favorite burgers in Anguilla. Today, they also serve up a chili cheese burger, a blackened chicken burger, a veggie sandwich and...
The Grilled Mahi Sandwich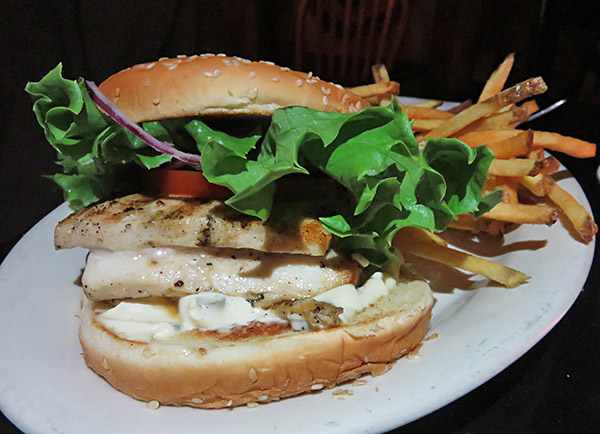 Miso marinated Mahi Mahi is topped with housemade tartar sauce, lettuce, tomato and onion, and popped onto a sesame seed bun.
Incredibly moist, each bite is succulent, full of flavor. The addition of tartar sauce is a stroke of genius. It comes with your choice of house-made fries or Caesar salad (extra $2). Go with the fries. Shoe-string style, they are addictive!
Lastly, a host of Anguillian entrees. Jerk chicken, chicken and mushroom pasta, BBQ ribs. The ribs sound especially indulgent, braised in beer and basted with BBQ sauce.
Or how about the sesame-crusted ahi tuna or the butter poached Mahi?...
A taste of the mains and their decadent desserts will be coming up on our next visit.
Until then, we can all breathe a sigh of relief. A long-standing "go to" and a "must" for its one of a kind, funky atmosphere, excellent service and reliably tasty eats, Pumphouse's restaurant is BACK. Thank you, Laurie & Deb!