---
Combing Anguilla's Beaches for the Best
Anguilla Beach Lovers brings you a fresh dose of "Tranquility Wrapped in Blue" every month.
If you like this newsletter,, please do a friend a favor and "pay it forward."
If a friend did forward this to you and if you like what you read, please subscribe by visiting...
---
Issue #144, January 29, 2022
New Year, new beach treat 🌊🤗✨💙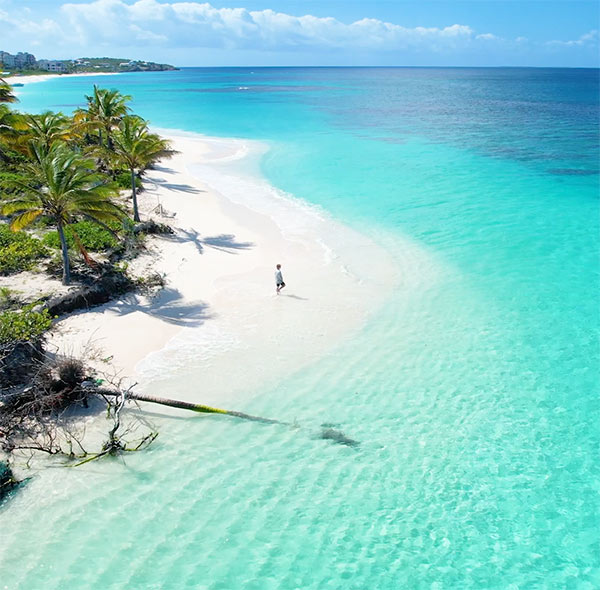 Click here for a brand new 3 hour drone view of Anguilla blue!
We hope this video brings an extra-soothing dose of Tranquility Wrapped in Blue to you.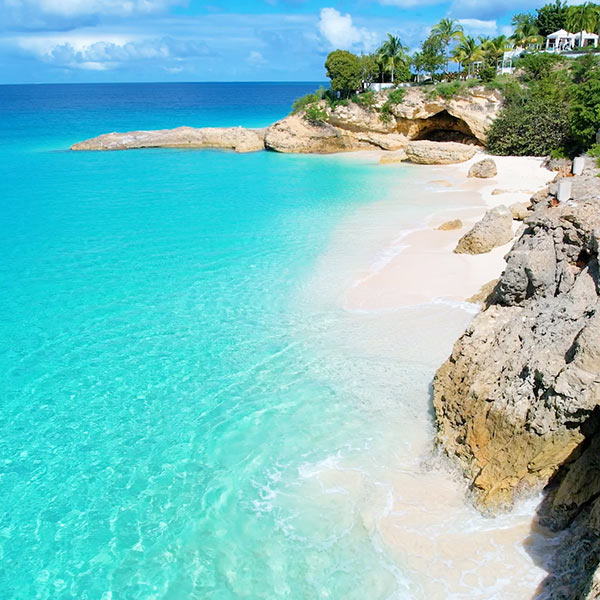 To never miss a dose of calm, click here to subscribe to our sister YouTube channel, MyTranquilitee.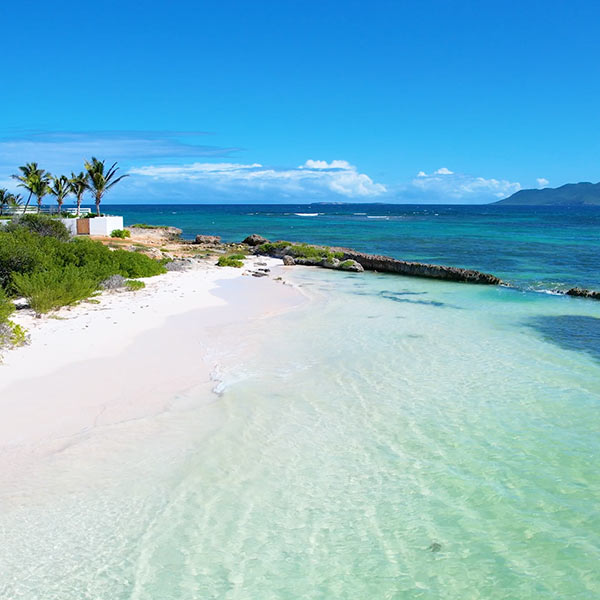 We hope your 2022 is off to a bluuuetiful start 🤗💗🏝
What's new since last time?
---
NEW Anguilla Card Partner: Madeariman Beach Bar & Restaurant
Set on the sands of Shoal Bay East, Madeariman Beach Bar & Restaurant is a favorite for beach days on Shoal Bay...
This French restaurant blends the best of both worlds...
Prime location, right on the sands of one of Anguilla's top beaches.
Excellent cuisine. We've never had a bad meal at Madeariman. Every dish we've devoured has been 10/10!
Practically an institution, Madeariman has established itself as one of Anguilla's great beachfront restaurants.
Beach days Madeariman-style begin with a view of Shoal Bay blue...
(Special Bonus: Beach chairs and umbrellas are now included with your lunch!)
And a frosty cocktail... or two!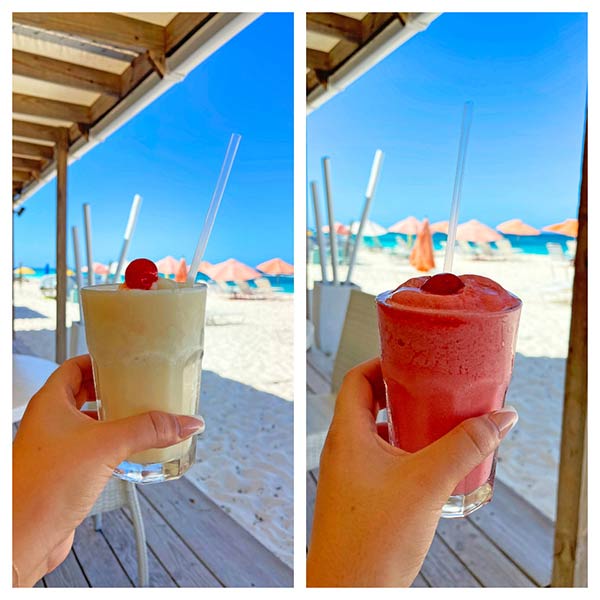 Each sip is pure Shoal Bay bliss!
When hunger calls? Madeariman answers with an expansive menu. This beachside restaurant has something for everyone.
Chef whips up a variety of starters, from conch fritters with a tangy creole sauce...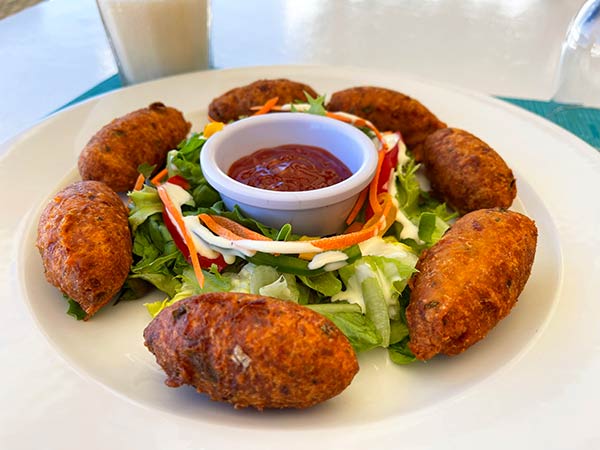 ... to refreshing Caprese salad with bright red, juicy tomatoes.
Popular main dishes include the crayfish in a basil and garlic sauce, with rice and peas, veggies and a side salad...
And then there's the oh-so-succulent rib eye steak with mushroom sauce and creamy mashed potatoes...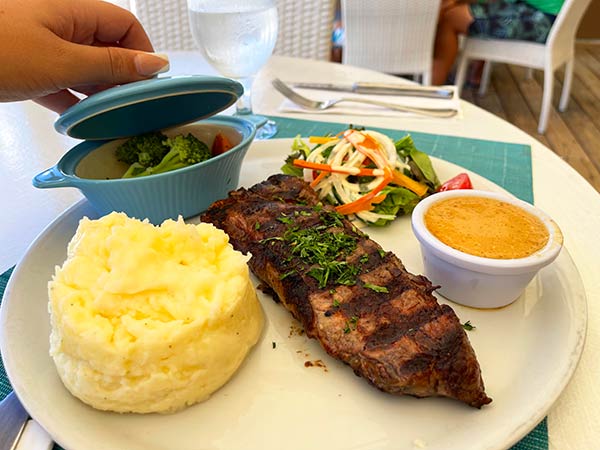 This, though, is barely scratching the surface!
The crispy calamari...
The savory lobster pasta...
The flaky, heavenly mahi mahi sandwich...
And then there's Madeariman's thin-crust pizza...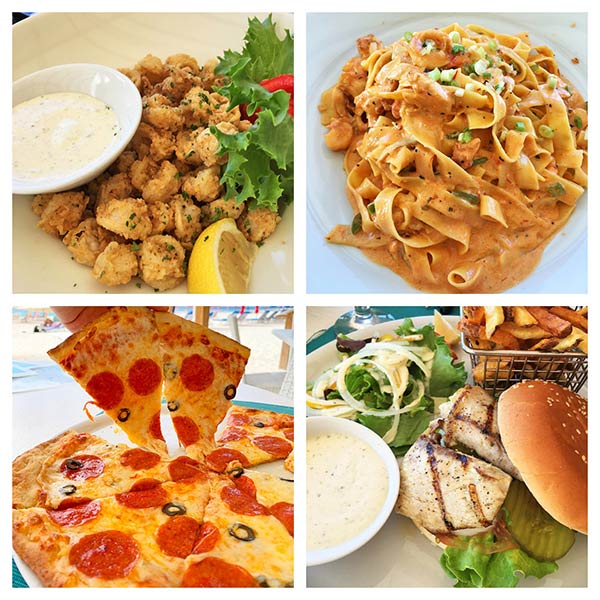 From appetizers, to mains, we could talk about Madeariman's menu all day!
After taking a biiiig bite, it's time for Shoal Bay respite...
Through and through, Madeariman is a dining must-do!
Madeariman is an Anguilla Card Partner. Save 10% at Madeariman when you use your Anguilla Card.
---
Introducing: The OverBoard Bar at Arawak Beach Club
Arawak Beach Club has done it again!
Welcome to Arawak's brand NEW beach bar, The OverBoard Bar...
Set at the edge of the Caribbean Sea with a breathtaking view of Scilly Cay, there's no better spot to grab a drink and cool down mid-day.
Do not miss The OverBoard Bar for cold drinks, good vibes and live music on Sunday afternoons with DJ Soundz from 4-7pm.
Quickly becoming a happening spot in Island Harbour, The OverBoard Bar is yet another reason to love Arawak Beach Club!
Arawak Beach Club is one of Anguilla's most iconic hotels.
Painted tropical colors that catch the eye, the hotel's cheerful atmosphere has always been one of our family's favorites. The hotel is famous for its spacious suites, tropical grounds and excellent rates.
It is no surprise that Arawak Beach Club has been filling up fast this season!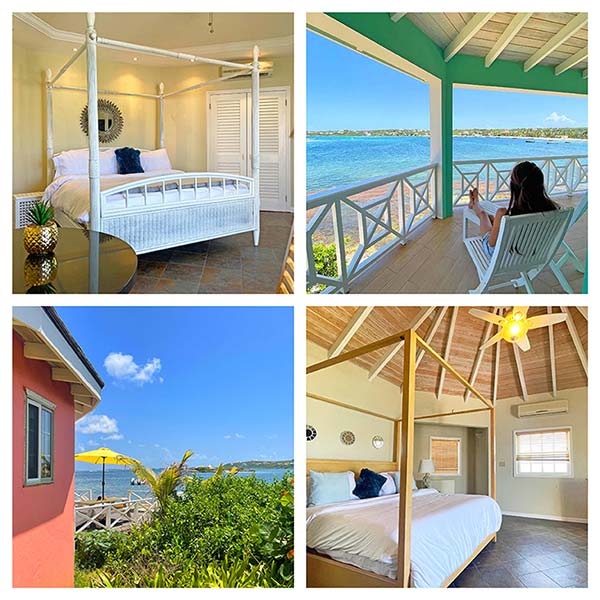 To book your stay at Arawak Beach Club, look inside their 4 beautiful suites here...
Arawak Beach Club is an Anguilla Card Partner. Save 10% at Arawak Beach Club when you use your Anguilla Card.
---
A Refreshing Beach Escape
At Beach Escape Villa, tranquility is a shore thing.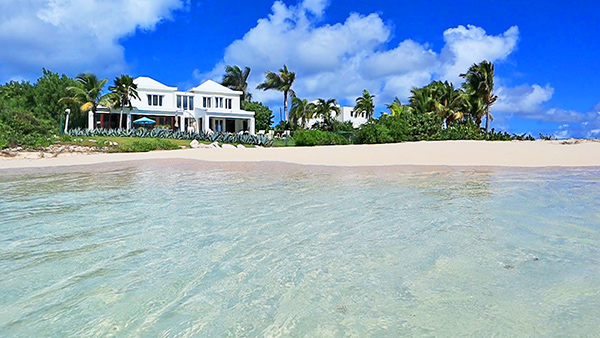 Our family fell in love with Beach Escape Villa many moons ago, based on its location alone. A villa with chic beach house charm, Beach Escape is true to its name.
Set on secluded Sandy Point beach, at Beach Escape you are directly on sandy beachfront.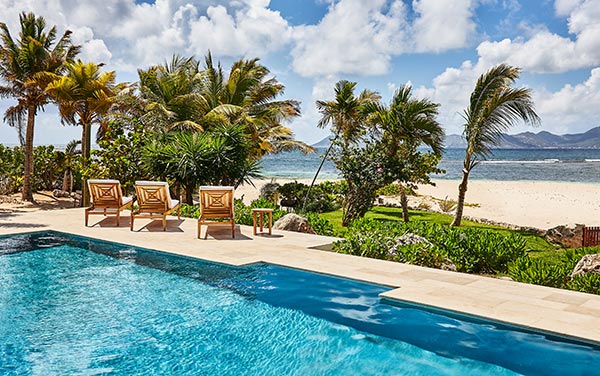 Beyond location, Beach Escape is one of the most comfortable, chic and user-friendly villas in Anguilla.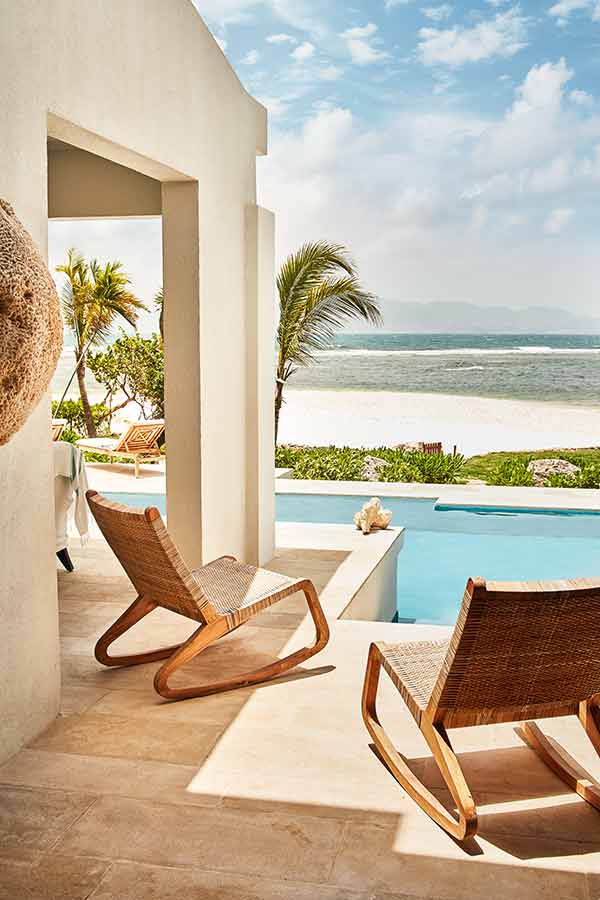 Five bedrooms, plush media room, modern kitchen with outdoor cooking options and indoor and outdoor dining and lounging spaces span the villa's property.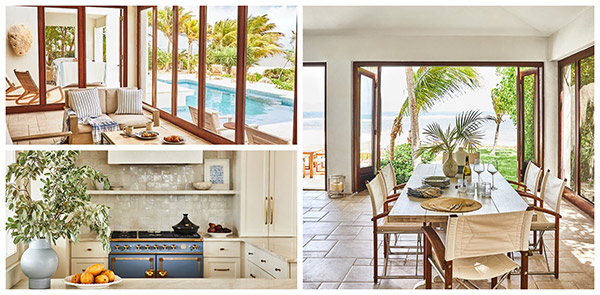 Two heavenly master suites are in the villa's main house, while two additional master suites and a twin room are in the guest house.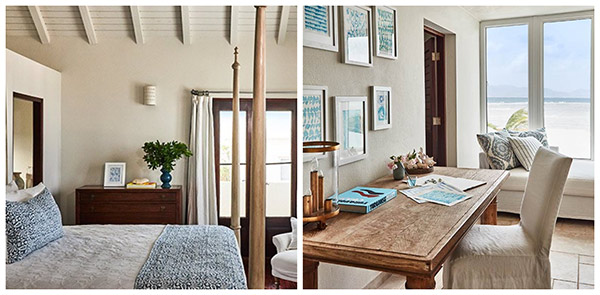 With direct beach access, grassy lawn, sandy front, Apple TV, SONOS, EVO grill, tropical landscaping, solarium-eque showers, luxurious outdoor couches, oversized screened-in patios, and plenty of areas to lounge...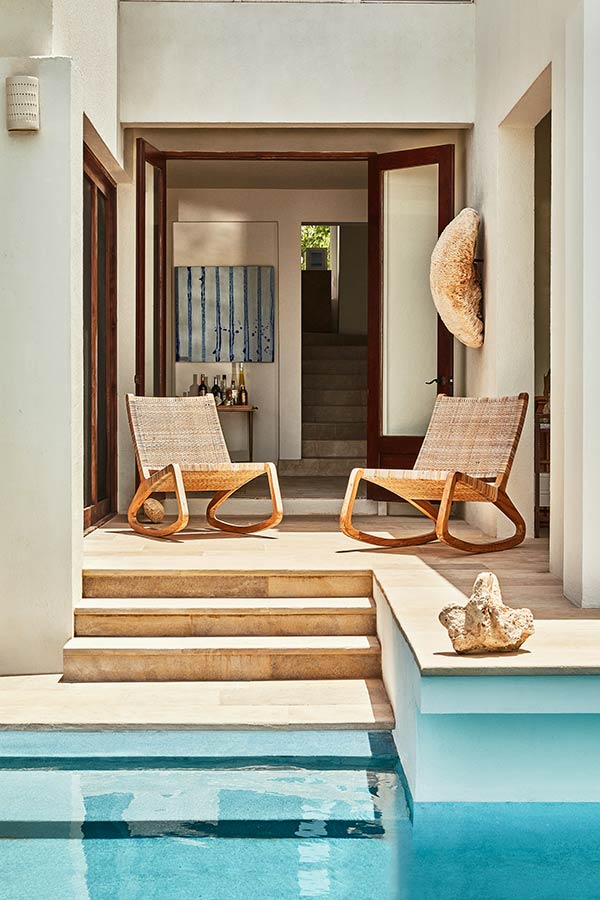 NEWLY renovated Beach Escape is an ideal choice for a winter beach escape!
Book Your Beach Escape
---
The Anguilla Ferry Resumes!
Excellent news! The public ferry has officially resumed. See below for the new schedule...
To Anguilla From St. Martin
To St. Martin From Anguilla
---
Limin' Boutique Re-Opens
We are so excited to announce that Limin' Boutique is OPEN again!
Owned and run by Ken and Renee Reinl, Limin' Boutique carries unique and authentic Anguillian and Caribbean souvenirs hand-made in the region.
They have some of the most unique Anguilla souvenirs, including Sterling Silver DUNE Jewelry made with Sands from the Beaches of Anguilla; Custom Designed Anguilla Themed totes, wine bags & wristlets made from Sail Cloth; and one of our personal favorites...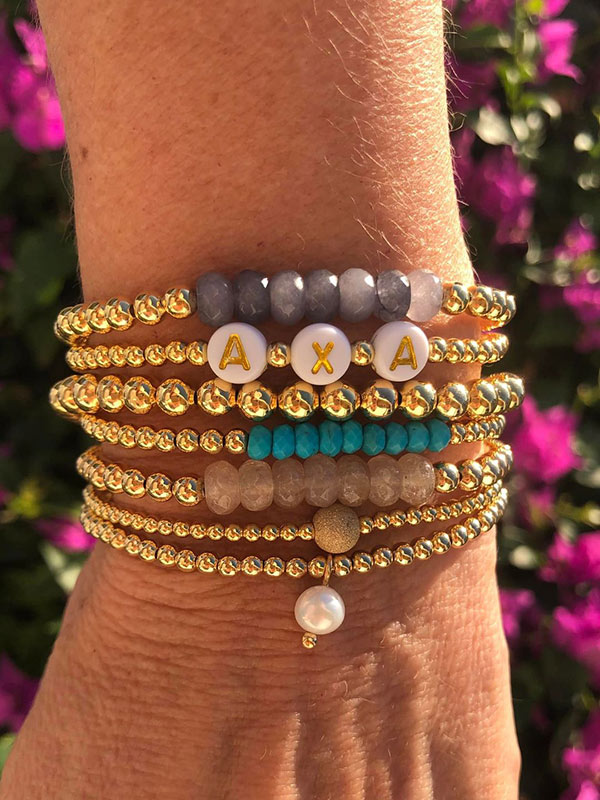 Beautiful, stackable AXA bracelets in 14K gold!
Don't miss Limin' Boutique on your trip to Anguilla.
Drop into their shop at Tranquility Beach Anguilla on Meads Bay, Monday - Friday 10am - 5pm and Saturday 10am - 4pm.
Limin' Boutique is an Anguilla Card Partner. Save 10% when you use your Anguilla Card at Limin'.
---
Save The Date: Anguilla Culinary Experience
Happening May 11-May 15, Anguilla foodies are in for a real treat!...
Introducing: Anguilla Culinary Experience (ACE).
A celebration of Anguilla's talented chefs and exquisite cuisine, the five day festival features signature events at Anguilla's finest resorts; inventive prix fixe menus at some of Anguilla's top restaurants, including Veya, Ember, and Celeste; chef contests and so much more!
It gets even better!...
A portion of ACE proceeds will fund the Anguilla National Culinary Team and other local hospitality training programs, and students will have a chance to learn alongside the more experienced chefs.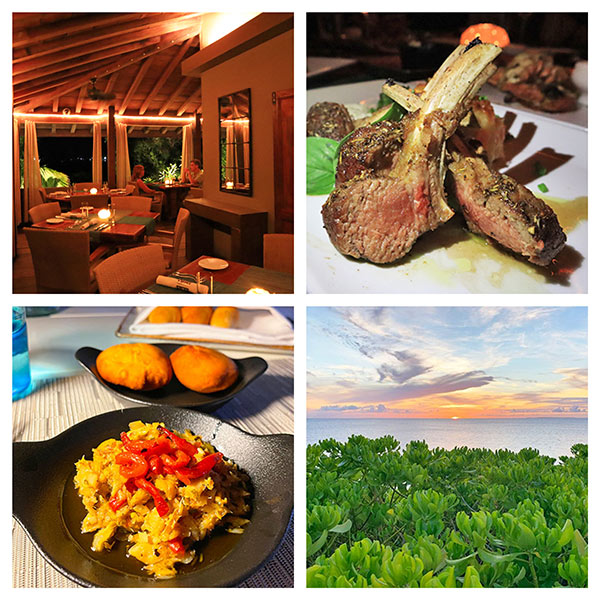 Sure to be a tremendous event, click here for full details on Anguilla Culinary Experience.
Where To Stay During ACE?
Tranquility Beach Anguilla makes for a perfect home base!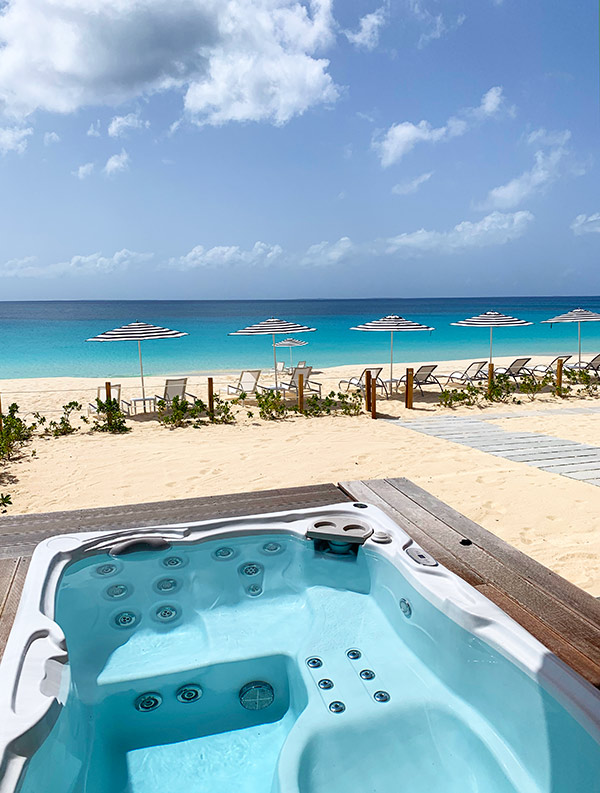 Developers, Neil Freeman and Ian "Sugar George" Edwards sure knocked it out the park when they built Tranquility Beach Anguilla. The property wins for its coveted location alone. Add in its modern design and excellent hospitality, and you have a property that's in a class of its own.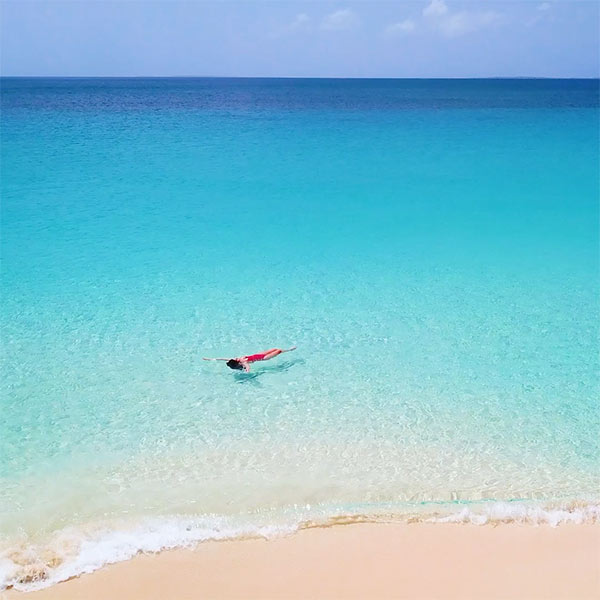 There is no sweeter feeling than "coming home" to Tranquility Beach Anguilla.
Tranquility Beach's large suites offer all of the comforts of home: laundry, dryer, full kitchen for preparing meals in and expansive outdoor terraces.
These suites tick every box!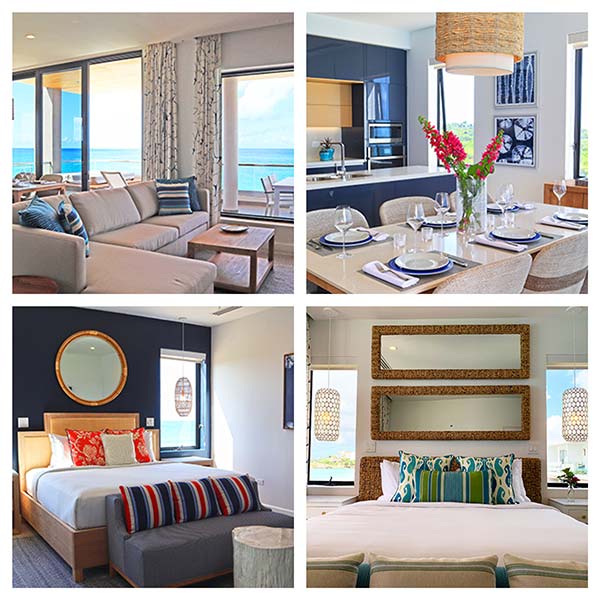 To Book Tranquility Beach Anguilla, Visit...
---
Dining Favorite: Mango's Seaside Grill
One of Anguilla's most timeless high-end restaurants, Mango's has been loved by many for decades.
From its setting that blends casual, laidback beach bar with high-end eatery, to its extra-fresh seafood, to its location right at the edge of the surf...
The reasons to love Mango's are many!
Click here for a taste of Mango's.
---
Flights to Anguilla This Winter
Excellent news from premier airline, Tradewind Aviation! Their scheduled flights from San Juan have resumed.
Scheduled flights from San Juan depart from the Luis Muñoz Marín International Airport are operating now through April 18th, 2022.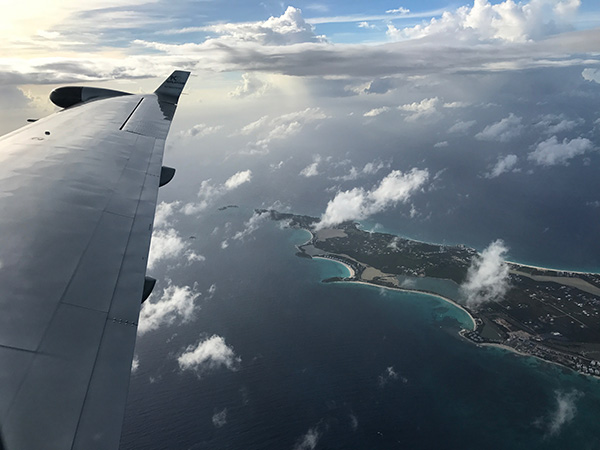 Schedules are designed for convenient connections with airline flights to and from the United States and beyond! The flight schedule is as follows:
San Juan (SJU) to Anguilla (AXA) Fridays, Saturdays, and Sundays departing at 4:00pm
Starting January 6th, departing at 3:25pm Starting January 24th, departing at 3:30pm
Starting February 1st, departing at 3:35pm Starting February 8th, departing at 3:40pm
Anguilla (AXA) to San Juan (SJU) Mondays, Saturdays, and Sundays departing at 8:20am
Starting January 6th, departing at 9:25am
Starting January 11th, departing at 9:40am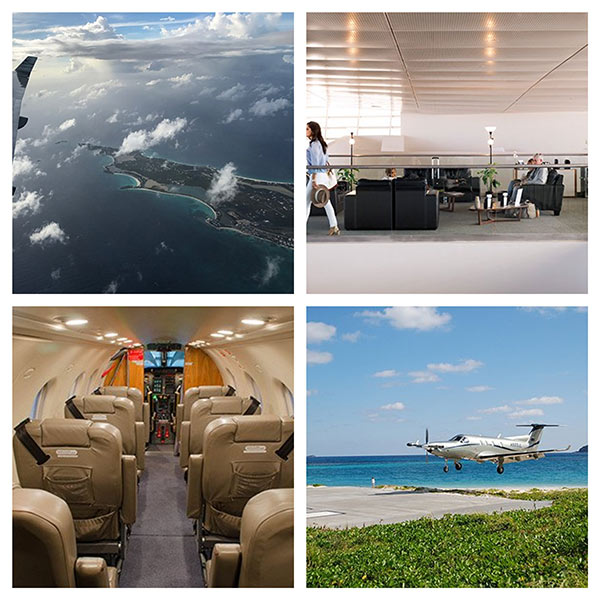 Tickets to Anguilla from San Juan are as low as $195 plus taxes and fees.
To book your flight, click here.
Tradewind is an Anguilla Card Partner. Save 10% when you use your Anguilla Card to book your flight.
---
Let's Hear It For Elvis'
If you've been to Elvis' Beach Bar it's no surprise...
Join us in saying a big congratulations to Elvis' Beach Bar for their 4th nomination in four years for USA Today's 10Best Caribbean Beach Bars!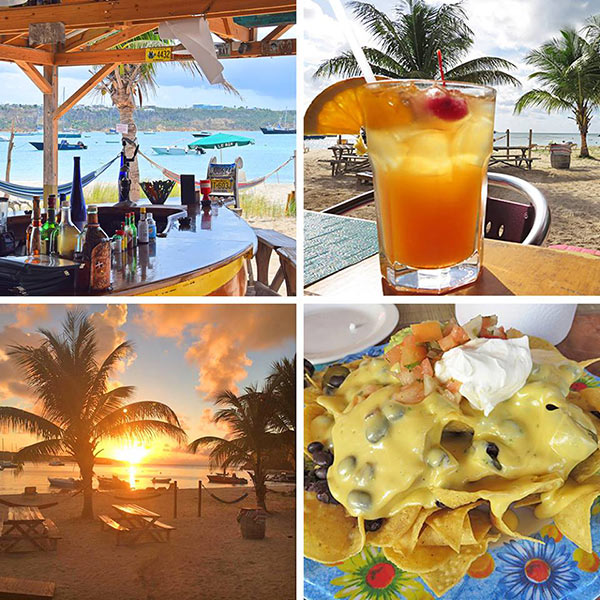 Show your love for Elvis' and Anguilla and vote to get them to #1 by clicking here.
---
Vote For Anguilla!
On that note, Anguilla is up for many more awards in USA Today's 10Best!
Support Anguilla and vote for...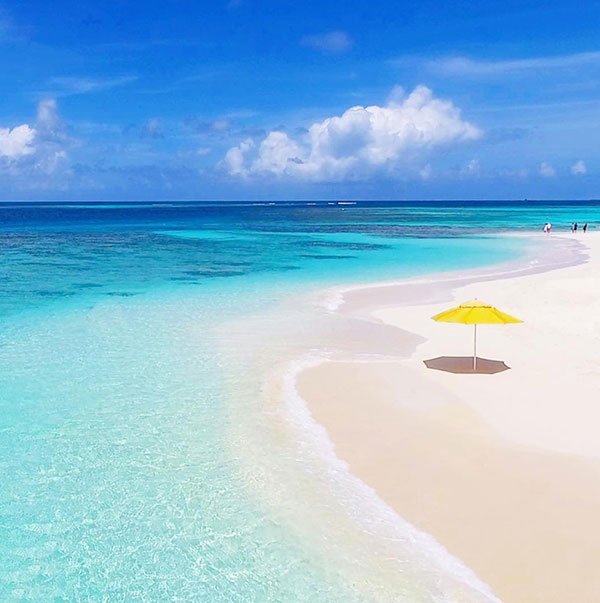 A huge thank you to long-time Anguilla friend and USA Today 10Best Nominating Judge, Melanie Reffes for the wonderful nominations!
---
Beach Therapy
Nothing soothes like Anguilla blue!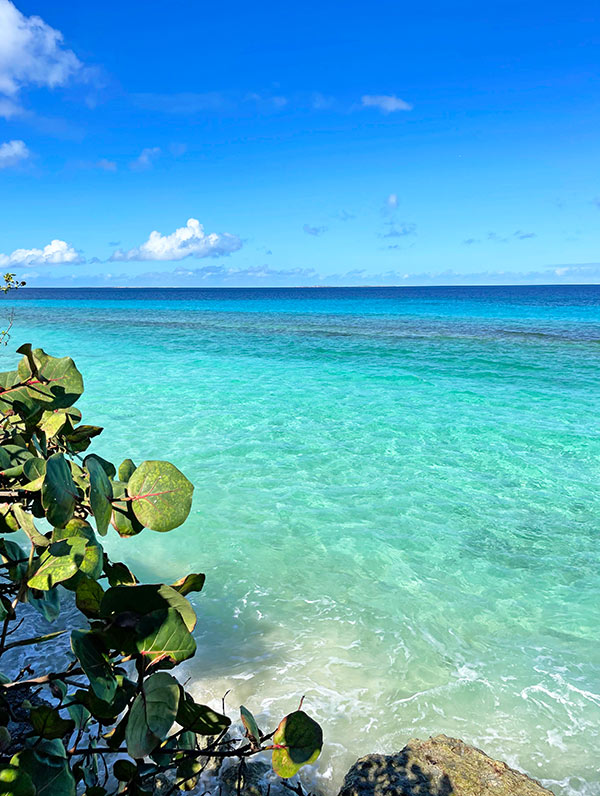 Long Bay beach is one of Anguilla's little known "big beauties." True to its name, Long Bay is a long stretch of powdery-fine sand. Here, waters glisten in a cool gradient of blue, capturing every shade imaginable.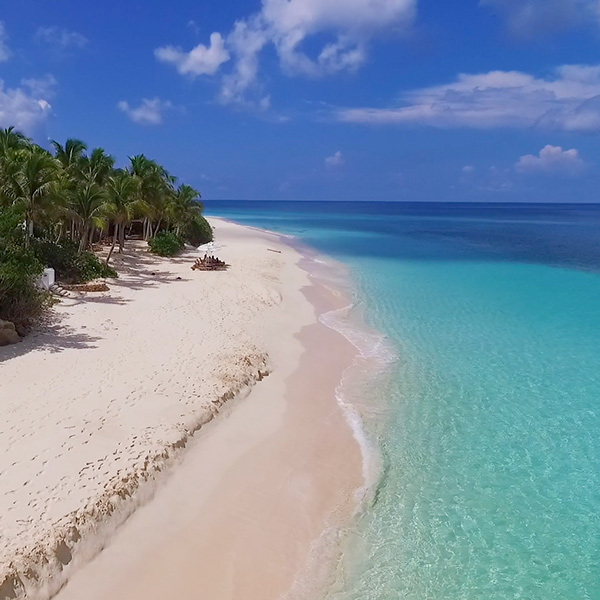 This impressive beach is set just next to famous Meads Bay. Unlike Meads, however, you won't often find another soul on this beach. Long Bay is where to be for total peace and tranquility.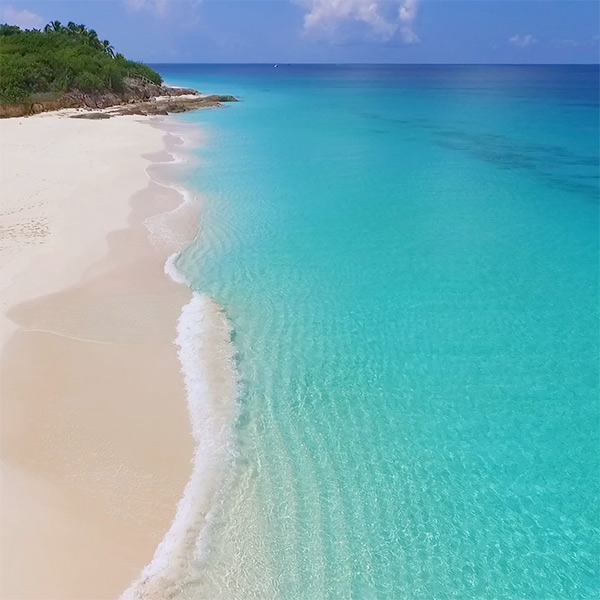 For transcendental tranquility? Check into either of Long Bay's two ultra luxury villas, Long Bay Villas and Santosha Villa Estate.
Set on the lush hillside that slopes up from Long Bay beach, Long Bay Villas' three villas, Sky, Sea and Sand, each deliver a unique blue view.
From Sky Villa...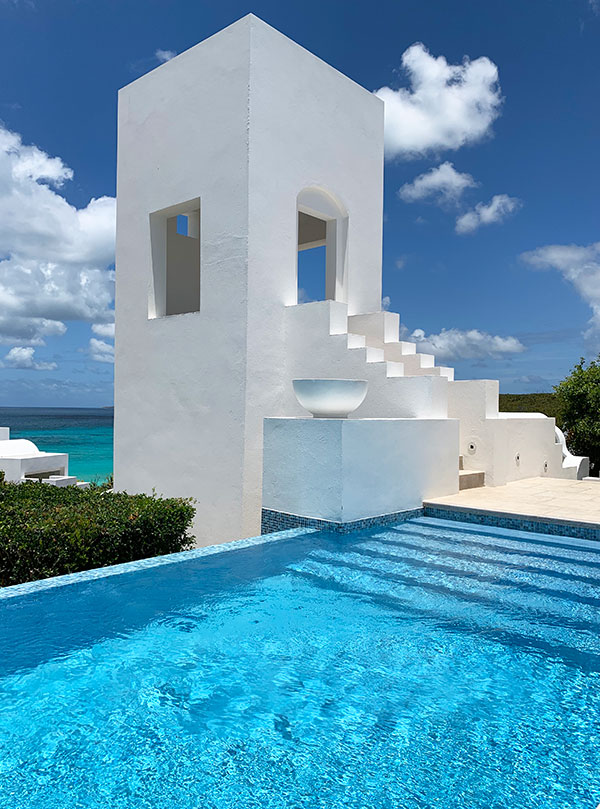 To Sea Villa...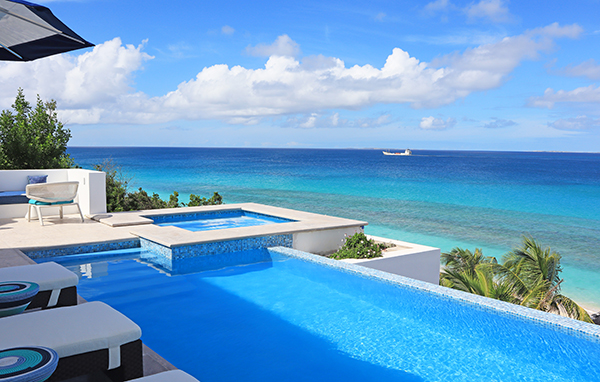 All the way to Sand Villa...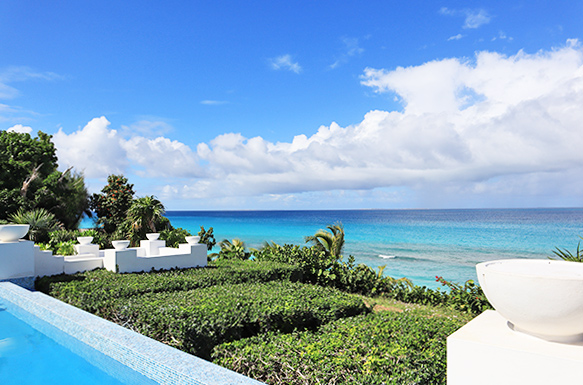 Next door, Long Bay Villas' sister property, Santosha Villa Estate, delivers an even more exclusive feeling of Tranquility Wrapped in Blue.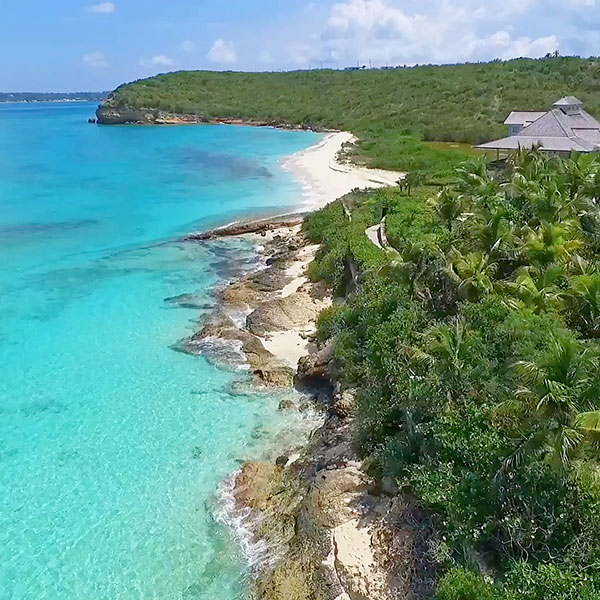 This part of the beach (photo above), is cut off from the rest of Long Bay. It is a soothing escape, a beach all its own.
With enigmatic cliffside all the way to the east, and surrounded by crystal clear waters, the setting is utterly peaceful.
Long Bay Villas' & Santosha's therapeutic effect doesn't stop at the beach.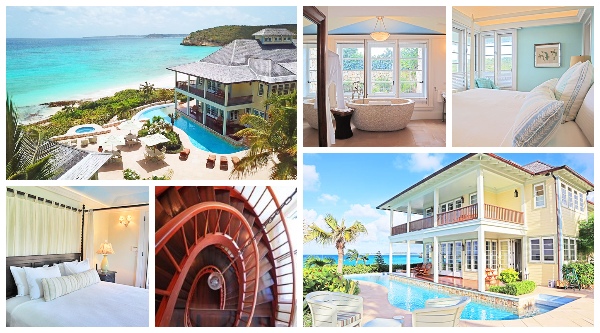 Long Bay Villas and Santosha bring true meaning to the term "beach therapy" with...
Yoga on the terrace
Paddle-boarding and kayaking
"Clean eating" menus prepared by the villas' chef
Gym
Massages and/or facials right on the beach
It doesn't get more rejuvenating than this!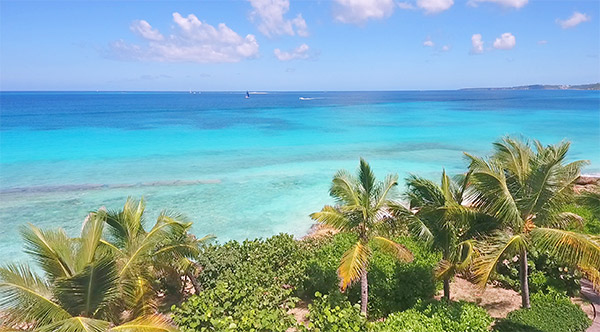 More on Santosha Villa Estate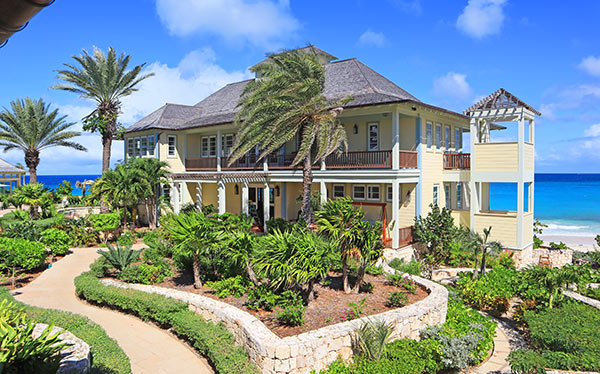 ---
NEW Rental From Island Dream Properties
Our good friend, Jackie Pascher of Island Dream Properties has a brand new, high-value rental listing!
Introducing: Turtle Dove Villa...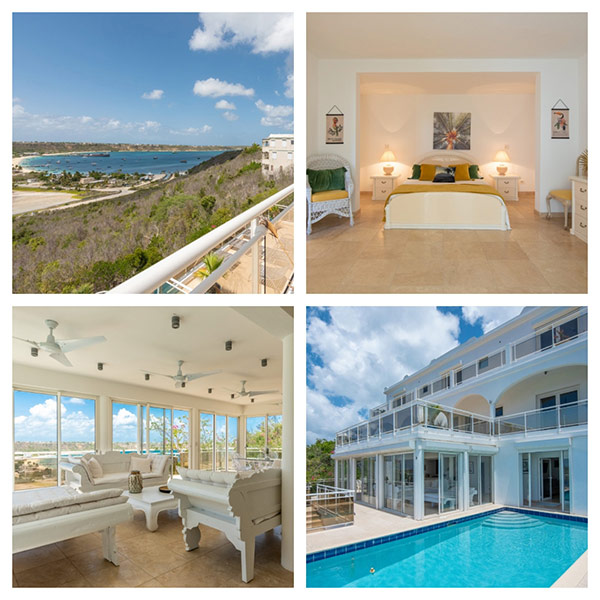 This modern villa is perched on North Hill with a wonderful view of the Sandy Ground beach and the Caribbean Sea.
Spacious and grand, with 4 luxurious bedrooms, a sparkling pool, gourmet kitchen and plenty of outdoor and indoor dining and living areas, Turtle Dove ticks every box.
Rates start at ~$700/night.
Step inside Turtle Dove Villa here.
---
Thinking of a Much Longer-Term Getaway?
Jackie has two fantastic condo listings!
First, at Sandy Hill Club...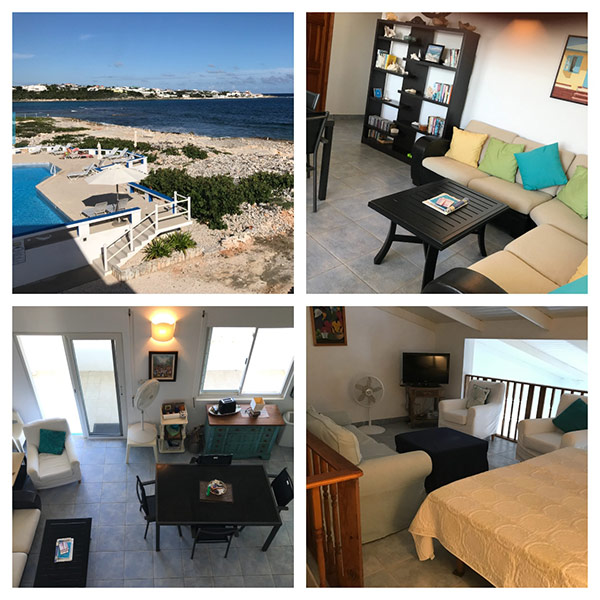 A 2 bedroom condo overlooking the breathtaking Caribbean Sea, with views of St. Martin and St. Barths, too.
This one is a steal at $349,000. Click here for full details.
Second, at Fountain Residences...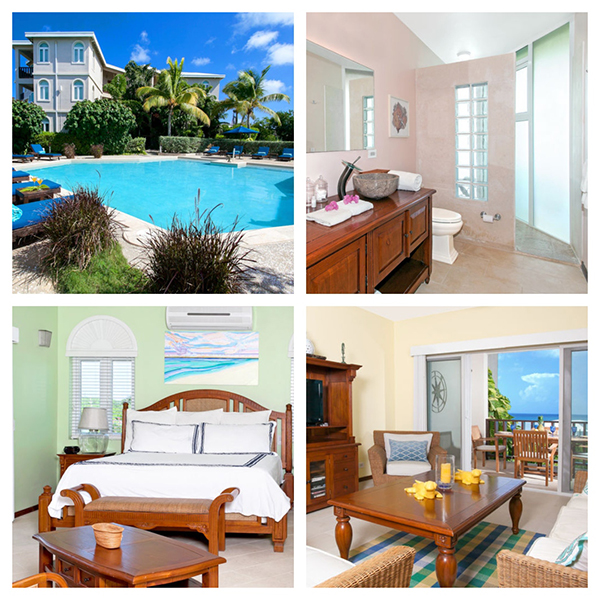 Just a 5 minute stroll from Shoal Bay East, this condo's location cannot be beat. The Bamboo Unit features 2 bedrooms and 2 bathrooms on the 2nd floor with ocean views.
At $650,000, it is a high value listing. More here.
---
---
That's all for January.
If you are planning a trip to Anguilla, get your Anguilla Card here!
We can't wait to SEA you on the beach this winter 💗🏝
With lots of warming Anguilla sunshine,
Nori & Louise
---
Anguilla-Beaches.com
---