Combing Anguilla's Beaches for the Best
Anguilla Beach Lovers brings you the latest additions to one family's experiences of the "best of all things Anguillian."
If you like this e-zine,, please do a friend a favor and "pay it forward."
If a friend did forward this to you and if you like what you read, please subscribe by visiting...
---
Issue #110, July 5, 2018
There's nothing quite like summer in Anguilla!
June, July and August are some of the most blissful months on-island. Ultra-calm, those heavenly waters just sparkle on...
A-glow in a million shades of blue...
There's something so mesmerizing about those turquoise hues.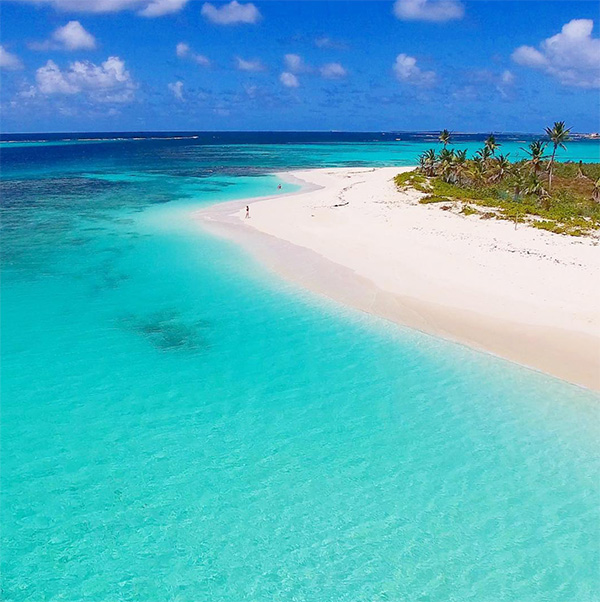 Prickly Pear...
Sandy Island...
And Meads Bay...
Have been taking our breath away!
What's new since last time?
---
Back With a Bang!
Four Seasons, Zemi Beach and almost every restaurant has re-opened its doors. Many more have re-opened in the past few weeks and the remaining few restaurants have announced their re-opening dates, including...
Tokyo Bay is OPEN
Nat's is OPEN
The Dune is OPEN
Mango's re-opens Nov. 2018
Blanchards re-opens Nov. 2018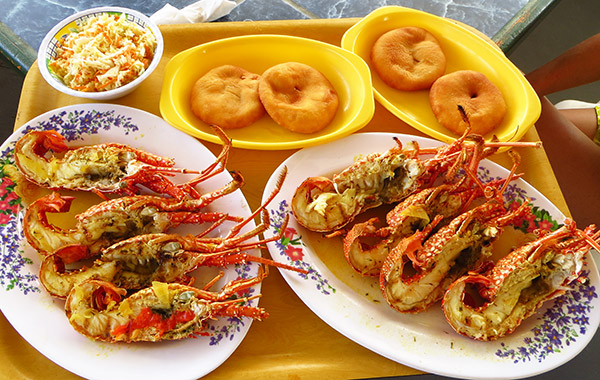 Luxury hotels, Cap Juluca and CuisinArt have been hard at work renovating and preparing for their grand re-openings this November.
Luxury villas, too, are refurnishing and upgrading. Neil Freeman and Ian "Sugar George" and Janine Edwards have been refurbishing two exceptional luxury villa properties on Long Bay.
The exclusive Santosha Villa Estate...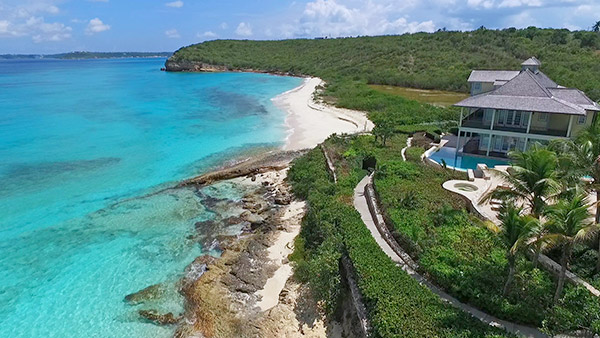 And the awe-inspiring Long Bay Villas...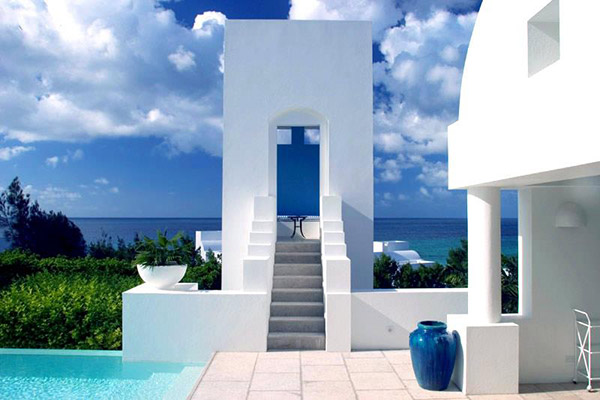 ... are now accepting reservations starting August 1st and November 15th respectively.
Stay tuned for full reviews on both of these stunning properties!
Also back up and running is THE webcam we all know and love... that Roy's Bayside view of Sandy Ground blue! A HUGE thank you to Roy's Bayside for getting the cam back online.
Click here to get your daily dose of Sandy Ground blues!
---
Help Scilly Cay Rebuild
One of Anguilla's most beloved spots that is yet to re-open? Idyllic Scilly Cay.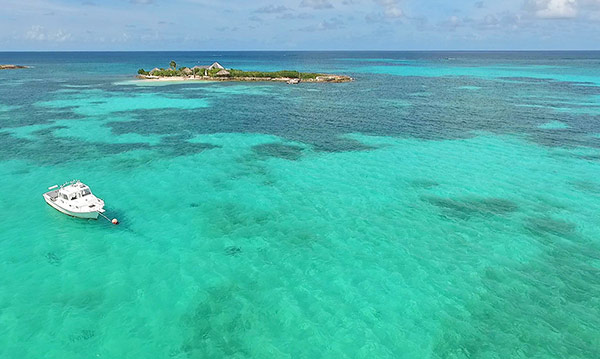 Scilly Cay has suffered a considerable amount of damage. Irma destroyed the dock, the gazebos, the cistern, the toilets and caused significant beach erosion. Tragically following Irma, Eudoxie Gorgeous Wallace passed away after a long battle with cancer.
The ever inviting and hospitable Scilly Cay family is in need of help to rebuild. To help continue Eudoxie's legacy, please click here.
---
Tapas at da'Vida: Better Than Ever!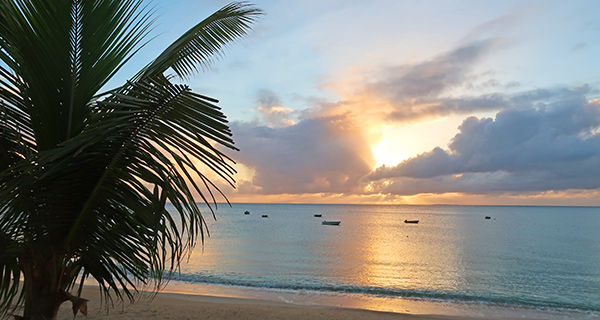 Tapas at da'Vida has always been a favorite dining experience. From those sunset views, to the lapping of Crocus Bay's gentle waves, to the tasty light bites, da'Vida has always set a high bar. It's hard to imagine how da'Vida could improve on perfection, however...
Today, the experience is better than ever for two reasons.
First, Mr. Joash Proctor.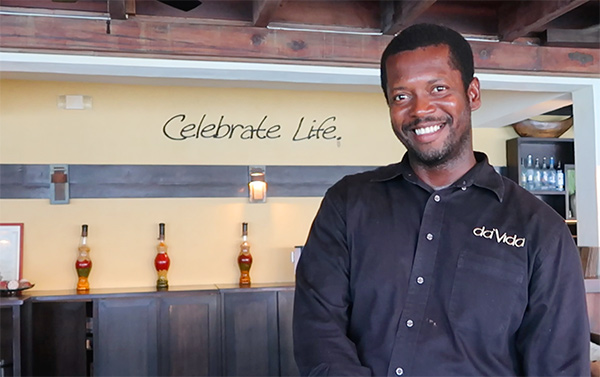 A familiar face in Anguilla, you know it is going to be a good night when you are in the company of Joash! Expert mixologist and one of the most genuine, friendliest souls you will meet, it is always a pleasure to chat with Joash.
Second, the tapas.
Da'Vida has hit their stride this season with new chefs bringing exceptional flavors to their tapas menu. Brother and sister team, David and Vida have brought in brand new chefs. This time, boasting a background in Indian cuisine.
NEW hit dishes include...
Vegetable Samosa with Tamarind Chutney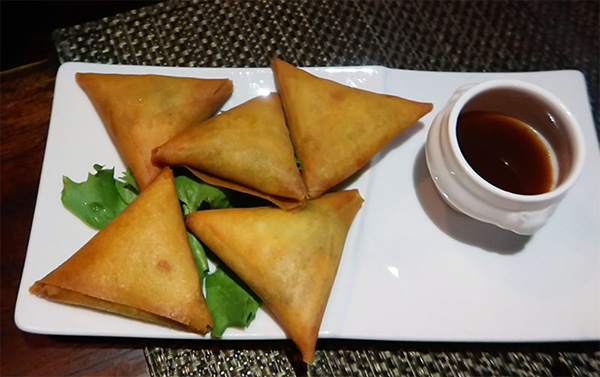 Tandoori Lamb Chops with Cilantro Mint Chutney
For more on da'Vida's tapas, click here.
---
Lynne Bernbaum's NEW Sandy Ground Studio
Forever one of our favorite artists, Lynne Bernbaum is known for her unique, award-winning style. Her impressions of Anguilla are fascinating.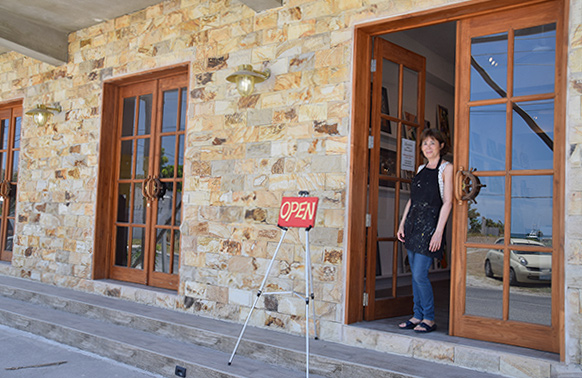 Today you can find her in her brand new studio in the heart of Sandy Ground. A stone building with great character, it is oh so reminiscent of Lynne's studio in the early 2000's. A huge congratulations to Lynne on her new space!
More on Lynne Bernbaum's new studio here.
---
Creative Cakes & Catering By Geraud
Anguilla's King of Pastries, Geraud has introduced a NEW genius delivery service. Now, flaky pastries and French specialty dishes are all only a click away.
Peruse Geraud's menu online, submit your order and your goodies are delivered straight to your doorstep!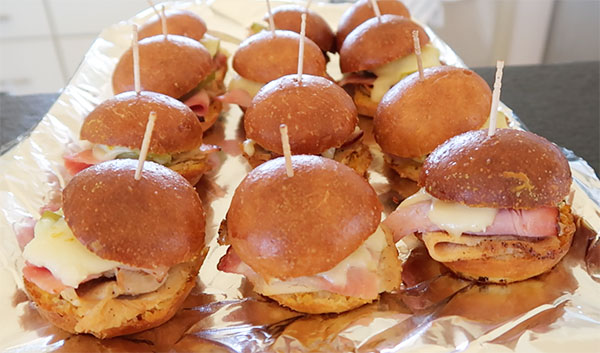 Mouthwateringly delicious and easy to use, it is love at first click!
Click here for details on Geraud's delivery service.
Geraud's services don't end there. When it comes to celebrations, Geraud is a go-to. A huge thank you to Anguilla Beaches readers, Steve and Stephanie who sent in these photos from Steve's grandson's 6th birthday party.
Geraud was the man to call when Steve and Stephanie were planning the celebration.
"What would be the perfect happy birthday cake for a six year old's 6th birthday?" Geraud answered that question in the most creative and colorful way, exceeding expectations as always!
Wheels turning on how to make this sixth birthday extra-special, "How about a 6 layer cake with 6 colors to represent 6 years?" thought Geraud. A sweet and creative stroke of genius!
Steve's grandson was over the moon!...
To contact Geraud for your next celebration in Anguilla, click here.
---
Summer on Sale
Specials are on all summer long at some of Anguilla's finest properties! Anguilla's luxury hotels, Zemi Beach, The Reef and Four Seasons are offering big savings up to 50% off this summer.
A huge thank you to Caribbean expert, Melanie Reffes who shares the scoop on these deals here.
In addition to hotel deals, luxury villa Spyglass Hill Villa is offering a last minute summer getaway special. Stay 7 nights and pay for 5!
And, if you are on-island this summer, be sure to drop into...
ZaZAA Boutique (central location)
Limin' Boutique
Blow out summer sales are on at both shops!
---
NEW: Anguilla Children's Book
The arrival of the American Flamingo on Anguilla's wetlands has turned heads in Anguilla (see left photo below)!
One and then two have been spotted in the Sandy Ground pond over the past 1-2 years. Young Miya Yoshida, a long time friend of Nature Explorers Anguilla, was so inspired by the visiting flamingo, she wrote "Anguilla: Martin's Island Paradise."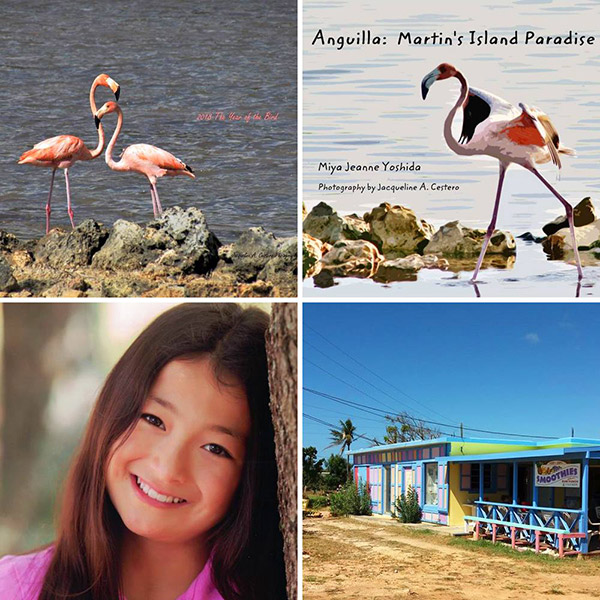 The book weaves a sweet story of how our visiting American Flamingo came to this little island and ultimately made Anguilla his home.
What started out as a school project, ultimately became a collaborative effort with Nature Explorers Anguilla, who used the actual photographs of Martin and his friends, to illustrate the story.
A sweet addition to any Anguilla lover's collection of Anguilla books, click here to purchase your copy.
---
"True Anguilla" From Blue to YOU
A beautiful and handy visitor guide, True Anguilla is packed with interesting stories and lovely photos of Anguilla's attractions, beaches and people. Elegantly presented, it is equal part useful and equal part souvenir!
This summer, True Anguilla is mailing FREE copies of True Anguilla to you at home!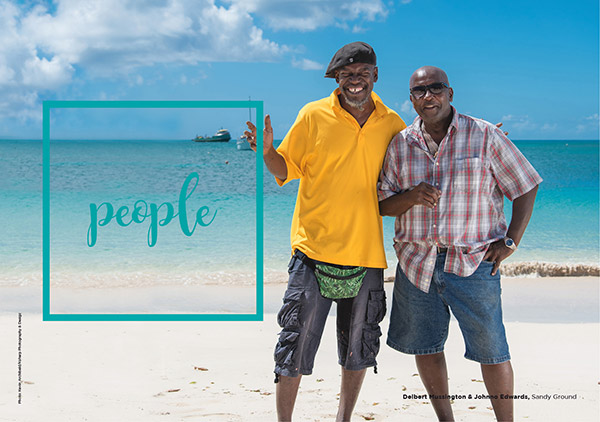 To get your copy, call: 212-490-2098 OR email: anguillainfo@pmgroup.bz
---
Coming Up!
Jul. 7: Hospitality Mixer @ Villa Alegria
If you will be in Anguilla this weekend, don't miss a chance to support Albena Lake-Hodge Comprehensive School's Hospitality students at the breathtaking Villa Alegria.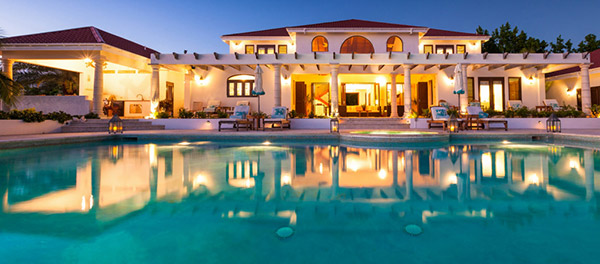 Here, students learn to hone their culinary skills, preparing and serving hors d'oeuvres and cocktails. Aspiring to enter the hospitality industry, it will be a wonderful event to encourage students' creativity, fuel their ambition and perfect their talents!
Mixer specialties include shrimp cocktail, prime rib beef roast and tuna tartare. Omalie 360 will be setting the mood!
Sure to be a first class event, for tickets, contact: 264-583-4136.
Aug. 2-12: Carnival
THE most exciting time of the year is just about here in Anguilla! Carnival is less than one month away.
It's not long now 'til sails will be hoisted, BBQs will be billowing and Anguilla will be ablaze with Carnival spirit!
For the official Carnival calendar by What We Do In Anguilla, click here.
Until then?...
Let's float on in summer calm :-)
Wishing you a wonderful July & see you in August,
Nori
Do you have your Anguilla Card yet?
Anguilla-Beaches.com
---