Combing Anguilla's Beaches for the Best
Anguilla Beach Lovers brings you the latest additions to one family's experiences of the "best of all things Anguillian."

If you like this e-zine, please do a friend and me a big favor and "pay it forward."

If a friend did forward this to you and if you like what you read, please subscribe by visiting...
---
Issue #077, January 12, 2014
We're in it now. Winter that is!
While the weather was raging last week up in the Northeast and across the States and Canada, Anguilla was bustling, too. The beaches, bays and airport have been packed with Anguilla-lovers, yachts and private jets. Without a doubt, "high season" has arrived.
From Christmas...
... to New Year's Eve at da'Vida, 2013 just flew by.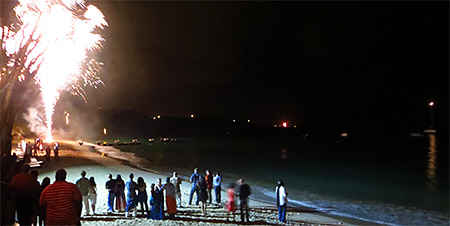 With family and friends visiting over the holidays, we connected with Tranquility Wrapped in Blue beach-by-beach.
Let's take a look back on the spectacular stretches of sand we've walked this winter...
First up, there's Shoal Bay East, naturally.
And then there's Rendezvous Bay...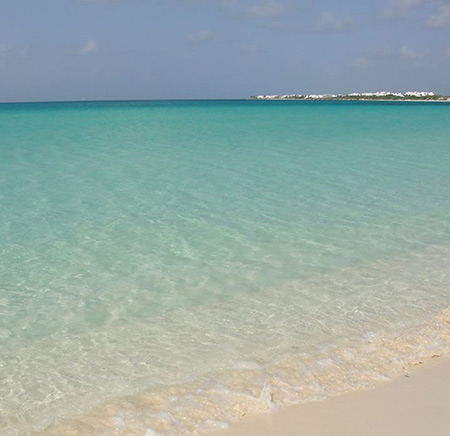 Don't forget Sandy Island...
There's no overlooking Meads Bay, either. In fact, on this beach we stopped and took a couple of hours for a fantastic late afternoon lunch with our friend Dillon, the owner of Ocean Echo. From the seafood chowder, to the Rasta Pasta, toes in the sand and with well-timed, friendly service, all was simply sublime!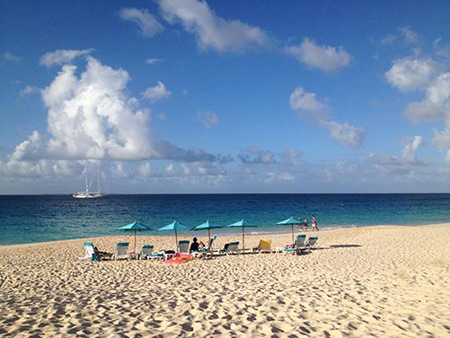 What else is new in Anguilla?
---
Geo-Caching
Something pretty neat for the adventure-bound shared by reader, Tim Adams who wrote to me a while back...
I thought you'd enjoy this. Reading your blog years ago and following your lead to the Iguana Cave and carefully hiding a geocache nearby it, there have been 23 logged visits to the cave. The stories are fun to read. I get an email each time somebody finds the cache, often the same day it is found. Sometimes people travel from St Martin just to find it. There are several others in Anguilla that I have hidden, and they are also found and logged often.
It's a fun activity for families, I know the Bogars (owners of Veya Resturant) have found the caches with their kids. With an iPhone and probably any smartphone, the geocaching app will lead you towards any cache in the world you want to find... it's really pretty cool. A few years back I rented a car in St Martin and found every cache in one day... well over 20 on every corner of the island. It was a fantastic way to explore. You can't go very far these days where there isn't a cache hidden somewhere nearby!
More on the "cache" at Anguilla's Iguana Cave.
Thanks for the tip, Tim!
Do YOU geo-cache? :-)
---
Caribbean Surfing
This winter we had the chance to surf a couple of new spots around the Caribbean, including a secret wave in St. Martin (right next door to Anguilla) and a few famous spots in Tortola, BVI on a recent trip. There certainly are gems to be had in this part of the world!
More on secret St. Martin surf spots.
---
CuisinArt Golf Resort & Spa's New Executive Chef, Jasper Schneider
This season, CuisinArt welcomed new Executive Chef, Jasper Schneider. Boy, is he changing things up!
All of the menus at CuisinArt's signature restaurants have been re-vamped in the most creative (and delicious!) ways.
Two of our new favorites at CuisinArt's family of restaurants? Italia's new ultra-creamy burrata appetizer and just about everything on the new menu at Tokyo Bay. The sushi now exceeds world standards (it's no surprise considering Chef Jasper opened the latest popular Sushi Samba in Coral Gables, FL.). Here's a little peek at what you can expect...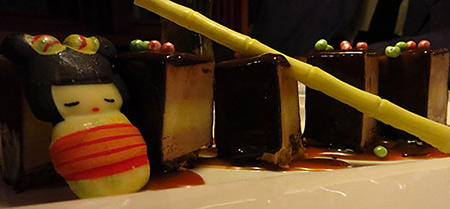 More on the NEW Tokyo Bay here.
Updates on all other restaurants coming soon.
---
Carimar's Winter Specials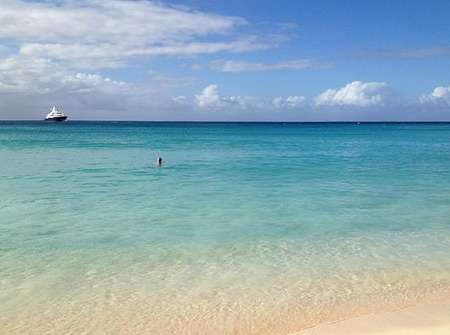 Affordable and right on the beach, there's just no beating Carimar Beach Club.
They are currently running a winter special valid from January 4-24, 2014.
Beachview one-bedroom $3,116.50
Beachfront one-bedroom $3,737.00
Beachview two-bedroom $4,152.50
Beachfront two-bedroom $4,736.50
All taxes included. New bookings ONLY based on availability. Your 7th night's accommodation is FREE!
---
Tequila Sunrise Villa & A Very Worthy Cause
In 2007, 2 year old Liam Witt was tragically diagnosed with neuroblastoma. His mom and dad quickly learned of the limited options for treatment due to the fact that pediatric cancer was so under-funded. Shocked by this truth, they established the not-for-profit, Cookies For Kids' Cancer. It all started with 96,000 cookies that they (with 250 volunteers) baked in one weekend, raising over $400,000 for research.
Since then, the fund has grown substantially. In fact, they have had such a huge impact that, because of funds provided to a researcher, there is now chemo therapy available that would have cured her son.
They have partnered with companies like Glad, King Arthur Flour, and OXO. Adults and kids bake and sell cookies, Gretchen gives talks around the US and they hold large fundraising events.
One such event will be held this February in NYC. Top chefs will be cooking for people who buy a table at the event, Chefs For Kids. Prizes will be auctioned at the event. One of the prizes will be a stay here in Anguilla at Tequila Sunrise Villa where Gretchen, Larry and their daughter Ella came after the tragic passing of Liam in 2011.
Included in the prize will be dinner at Straw Hat, Barrel Stay, Dolce Vita, Picante, Veya and Blanchards, lunch at Scilly Cay, car rental from Richardson car rental, transport on Anguilla Air Services, and a large certificate to ZaZAA Boutique.
Here's hoping the prize raises thousands of dollars in funding for this exceptional cause!
---
The Anguilla Card
It has been go-go-go here with The Anguilla Card!
Anacaona Boutique Hotel, ZaZAA Boutique, Calypso Charters, Anguilla Tennis Academy, Dungeon Gym & Fitness Centre and Limin' Boutique have joined as new Partners.
Sheriva is holding a very special members-only offer. And, we are holding a mini win-a-dinner-for-2-at-AXA Seafood House contest. (If you're a Card Holder, check your latest exclusive newsletter for details.)
Much more to come in this new year from The Anguilla Card :-)
---
What Else Is New?
Dungeon Gym & Fitness Centre With the most variety and most modern of all work-out machines and weights, Dungeon Gym is known as being one of Anguilla's very best. From weights, to cardio, to aerobics, they offer it all with friendly service in an atmosphere that screams committed, strong and cool. If you're thinking about staying in shape while on vacation, look no further than Dungeon Gym.
Anguilla Tennis Academy Open to both locals and visitors alike, the Anguilla Tennis Academy is a must-visit for any tennis enthusiast in Anguilla, or those simply looking to get the blood flowing while on-island! With a top-class facility, the Anguilla Tennis Academy offers 6 beautifully maintained courts and friendly and experienced coaches who provide clinics, lessons, memberships and tennis camps.
Fried Johnny Cakes Johnny cakes have been a staple in Caribbean cooking for hundreds are years. In Anguilla, it's easy to find good johnny cakes, fried or baked. Here's a look at where to find the best of Anguilla's fried johnny cakes.
Viceroy's Spa Utterly luxurious and zen, Viceroy's Spa delivers a truly indulgent experience. With a wide variety of treatments tailored exactly to your liking, it's a top choice for those seeking relaxation and/or repair services.
Exploring Anguilla's East End All of Anguilla is fun to explore, but what is the best of the best? These are some of our favorites stops and sights in the East End of Anguilla!
Limin' Boutique So fresh, Limin' Boutique's feel is reminiscent of a charming shop up in Nantucket or the North East. Limin' Boutique is owned and operated by Ken and Renee, who recently chose to "leave it all behind" in the States and follow their true dream to live in Anguilla. Sweet as can be, their passion for the beach echoes through this store set on the main road right by the turn down to Cove Bay. Full review coming soon.
Sunset Homes Magazines Janine Edwards and her husband, high-profile architect Ian "Sugar George" Edwards have launched a stunning magazine showcasing all that they do, their luxury villas and sharp eye for architecture and design. Click here to browse.
---
That's all for this first month of the year.
Here's wishing you the very, very best for all of the 2014 :-)
See you next month!
Nori
P.S. What better way to start the year than with a few warm thoughts on Anguilla? The following was written by Philippe Pageau–Goyette, a close friend of Janine Edwards. He owns Sandcastle Villa...
Why I love Anguilla
4 years now I have lived in Anguilla. Here is why I live in Anguilla.
Because Anguilla has some of the best beaches in the world, 33 in all!!
Because the weather averages 85 degrees with a gentle breeze
Because the food served on the island is spectacular and the island is blessed with almost 100 restaurants
Because there is virtually no racism
Because the super rich and celebrities vacation here and can be totally left alone
Because Jet Skis are not allowed
Because drivers honk constantly at each other to say "hello"
Because I often am all alone on a white sandy beach, at peace
Because Anguillians are very entrepreneurial despite their tiny economy
Because my jeep never gets above second gear
Because no one cares what you drive, wear or live
Because the fishing is great
Because there is no casino and no all-inclusive resort
Because it rains for a few minutes every morning to water my garden
Because of Prickly Pear and Sandy Island, two deserted islands with small beach restaurants
Because they don't repair the roads as a way to stop speeding
Because Anguillians build their own homes over years and take pride in it
Because Anguillians respect their land
Because Anguillians respect their elders
Because I pick my own coconuts
Because the sunsets, sunrises and rainbows are some of the most beautiful my eyes have ever seen
Because you can hang at Elvis Beach Bar and dance under the stars on the beach
Because you don't really have to wear a seatbelt
Because of the stunning red and orange Flamboyant trees
Because Anguillians religiously say "good morning" and "good afternoon" to anyone, all the time
Because instead of shaking hands, most men will "bump" fists followed by "respect" or "one love"
Because total strangers will "bump" me if they cross me on the street
Because everyone is at church on Sunday
Because "bullying" is almost non-existent
Because there is a great selection of wine and cheeses
Because a bottle of Kettle One is $15
Because it is a British Dependency and as such is protected by a sound legal system
Because of the wild array of birds
Because there are three 5-star resorts on the island
Because paparazzi are not allowed
Because mechanics come to my house to work on the cars
Because of roadside BBQ Chicken and Ribs and Johnny Cakes
Because Anguillians are proud of their history, from boat building, salt trading, luxury tourism and their revolution
Because I often get stopped by total stranger and ask if I need a ride while I am on my power walk
Because I give rides to perfect strangers all the time
Because I can conduct business from Anguilla without being disturbed by too many externalities
Because if there is an act of violence, the ENTIRE society gets together to rid itself of the poison
Because if I need anything repaired at the Villa, someone shows up immediately, not the usual "we will be there between 9-5"
Because retailers have at least one of everything I need
Because most of the restaurants are "on" the beach and I can have lunch with my wife while kids play in the water
Because Anguillians know how to deal with tourists as it is their livelihood
Because Anguillians take cycling very seriously even though some of the roads are rough
Because playing Dominos is the national sport
Because boat building and racing start at a young age and continues to adulthood
Because I am NEVER bored
Because all the moms on the island treat my kids like their own sons
Because Doctors do house visits on request
Because Anguillians have an incredible smile when you are lucky to get one
Because there is a Greig Norman golf course
Because I can't help myself from dancing when Boss Man's Band plays
The local music is real, live and passionate
Because Life is good all the time, and all the time, life is good.
Anguilla Beaches Home Page
---