Combing Anguilla's Beaches for the Best
Anguilla Beach Lovers brings you the latest additions to one family's experiences of the "best of all things Anguillian."

If you like this e-zine, please do a friend and me a big favor and "pay it forward."

If a friend did forward this to you and if you like what you read, please subscribe by visiting...
---
Issue #078, February 13, 2014
I'm writing this newsletter from snowy NYC!
Visiting my sister up in the cold, cold north, with foot upon foot of snow accumulating on the streets below, Anguilla's smooth sand and warm shores seem worlds away.
Those foot-prints we left in the sand...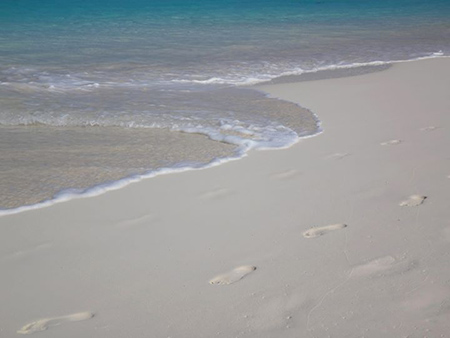 Those seaside sunrises...
Those Sundays at Gwen's...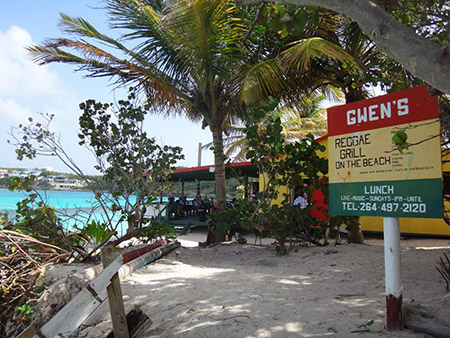 And Tropical Sunset's coconut-crusted shrimp, just a little ways down the beach on Shoal Bay East...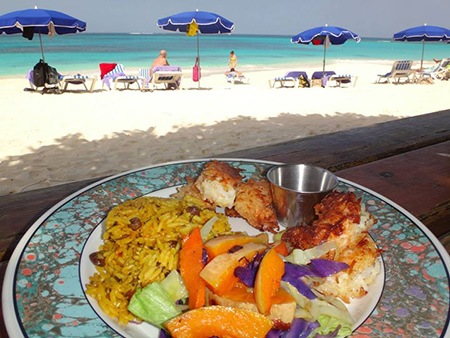 Every last shimmering, turquoise ripple at Sandy Island...
Our own version of "storm watching"...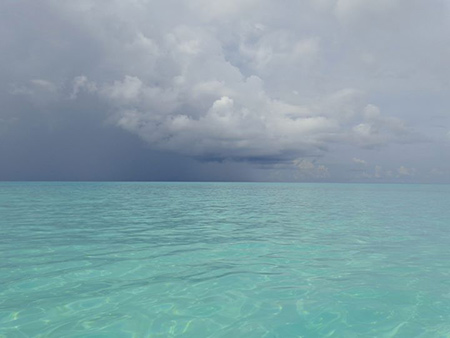 And finally, that last glimpse of Anguilla's shores from the plane, flying away, bound for a place thousands of miles away...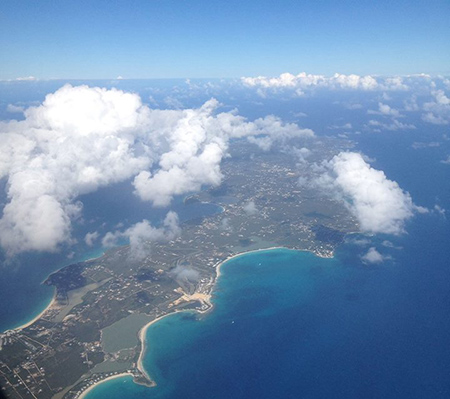 I miss it all!
But enough lamenting. ;-)
What's new in Anguilla?
---
The Anguilla Card
Our "Where's YOUR Anguilla Card?" contest has wrapped, with Robert Batson's I'm Going to Anguilla!!! entry winning the $150-value dinner at AXA Seafood House!
Also, we've added several Partners to the Anguilla Card, including the NEW Sea Pro HQ down on Sandy Ground...
With banana boat, tubing, water skiing, wakeboarding, paddle boarding, a water trampoline, lounge chaises and two bars on the beach, Sea Pro has it all! Full article coming soon.
I'm excited to say that Partner-wise, we have also added...
Kidz Kare
Fun House
Spyglass Hill Villa
Little Butterfly Villa
Nature Explorers Anguilla
Les Grands Vins de France
More on the Anguilla Card here.
---
Anguilla In The News
Anguilla has attracted the attention of big names this past month!
First, Bankie Banx's Dune Preserve played host to the Legendary Rhythm & Blues Cruise...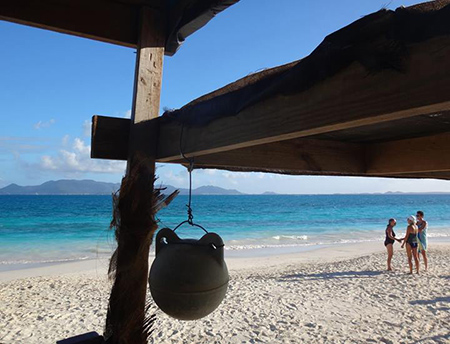 Our friends over at Rum Therapy featured Anguilla's Sandy Ground in a beautiful write up, complete with wanderlusty photos. Click here to get your Sandy Ground fix.
Carimar Beach Club was named as one of the 20 Most Awesome Affordable Beachfront Hotels in the Caribbean by Caribbean Travel Mag. Click here for that article.
Straw Hat also received several nice accolades, including being named one of Fodor's top 10 Caribbean Restaurants!...
Actress Annie Potts, a regular visitor to Anguilla, has written and illustrated a beautiful book, Kemarley of Anguilla.
Heartwarming, with colorful illustrations, it is about a special boy called Kemarley Brooks who lives in Anguilla. All proceeds from sales of the book will go to benefit special needs children in Anguilla via the Arijah Children's Foundation.
For more on Kemarley of Anguilla, click here.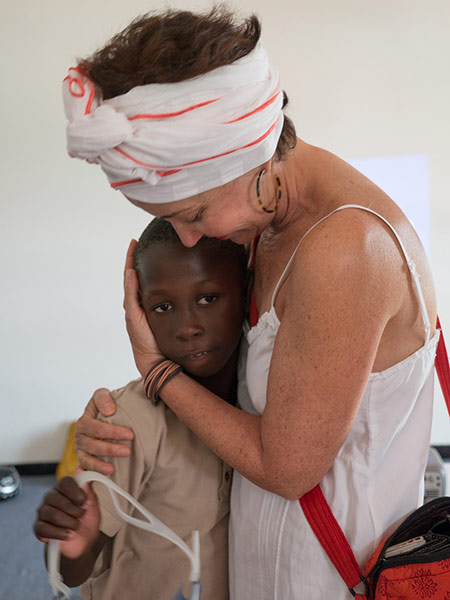 ---
Anguilla Surfing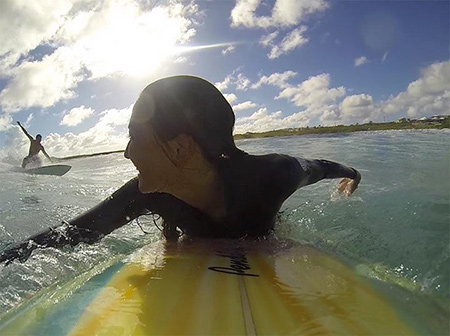 "Surfing? In Anguilla? You're joking, right?"
That's the reaction we usually get when we talk to non-Anguilla surfers about surfing in our waters. The truth is that there are plenty of good breaks (a variety of mushier waves and even a couple of waves that barrel when the conditions line up!), if you're a GOOD surfer! ;-)
Lucky for me, these early winter months we were blessed by having two terrific surfers visit us. We documented it all and have put together a page outlining some of our favorite spots on the island.
More on Anguilla surfing here.
---
Winter Specials!
Two of our favorite villas are offering terrific specials in celebration of this romantic February month.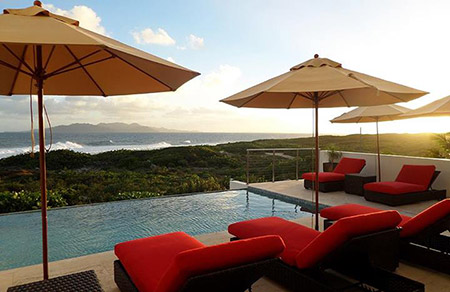 First, Little Butterfly Villa has a special Romance Getaway Package. It includes...
Two 60 minute massages
Welcome fruit and wine basket
First day's breakfast and beverage stock pre-stocked in kitchen
Housekeeping/Laundry service twice per week
Meet and Greet Service
Concierge Service on call daily
For 8 days, 7 nights the cost, inclusive of tax and service, is $1,994.
Note: They still have availability Feb. 15-22!
To contact the owners, click here.
Second, the luxurious Tequila Sunrise Villa is offering TWO specials...
Valid through February, their Valentine's Day special (valid through February) includes:
Continental breakfast daily
A dozen red roses per couple
A bottle of champagne
Tequila Sunrise gift
All the tequila you can drink!
Pay for 6 nights, but stay 7!
The fun doesn't end there!... The "pay 6, stay 7" applies to all 3 bedroom rentals through the month of March, too!
To contact the owners direct, click here.
---
What Else Is New?
Anguilla's Romantic Side Anguilla is for romantics! In light of this oh-so-romantic month, here is an itinerary that explores the coziest corners and most magical restaurants on-island for love-birds.

Sugar & Spice Bakery Conveniently located on the highway that runs parallel to the airport runway, Sugar & Spice Bakery and Bistro serves sweet and savoury treats (including local specialties like shark when it's available) and has a wide variety of fresh fruit smoothies and juices.

Dad's Bar & Grill NEW and friendly, Dad's Bar & Grill is the latest hotspot to join the scene in Sandy Ground. On the beach, drop in for BBQ, boat-watching, music, dancing and drinks. See the photo below for an idea of the setting.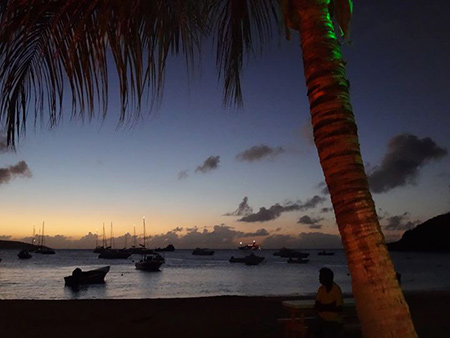 CuisinArt's Clubhouse Grill Big, breezy, white and refreshing, CuisinArt Golf Resort & Spa's Clubhouse Grill offers a classic golf club dining experience with sweeping views of the fairways and the Caribbean Sea and St. Martin in the distance.

Limin' Boutique Owned and run by Ken and Renee Reinl, Limin' Boutique carries unique and authentic Anguillian and Caribbean souvenirs hand-made in the region. Beachy and breezy, this shop has such a fresh feel, reminiscent of surfy shops up in the Northeast and Nantucket.
daVida One of our favorite restaurants, da'Vida has changed up their menu (with brand new chefs). Guests are loving it! Full review coming soon. Also, for tapas and dinner only, they are offering a FREE shuttle to and from the restaurant. Call in advance to book!
See you next month!
Until then, stay warm,
Nori
P.S. To bring you a little island sunshine, here's a holiday slideshow that was put together by fellow Anguilla Lover, Shirley Barry.
Click here to enjoy. :-)
Anguilla Beaches Home Page
---