Lunching at CuisinArt Golf Resort & Spa's
Clubhouse Grill
Update 2019: The Clubhouse is currently open for lunch to golfers. (NOTE: Menu has changed.)
By: Kirmani Honoré
By night, CuisinArt's golf course club house lights up bright against the dark sky, serving Mediterranean food in an elegant ambiance. For dinner, their restaurant is known as Santorini. During the day, however, the Clubhouse embraces a laid-back atmosphere in classic golf course club house fashion.
It is called, the Clubhouse Grill. While Nori's sister, Yuki, was visiting Anguilla (she lives in NYC), we decided to treat ourselves to a tasty lunch in this blissful setting...
Simply Breathtaking

The Setting
Upon walking through the club house's large, white archways, we were greeted kindly and ushered through the bar area to the large, breezy patio.
The vistas were splendid, filled with rich green hues of the fairways, and a grand view of the Caribbean Sea and St.Martin in the distance.
The deck and furnitures' mixture of whites, rich wooden tones and deep blues give it an upscale feel without losing its comfortable-Caribbean vibe.
The tables are nicely spread out, with enough space to dine comfortably.
You can choose to sit tucked under the shade of the tent, or closer to the edge to take in some of the warm sun rays.
The Menu
The colors are hypnotizing

The menu offers just what you would expect from a placed dubbed the "Clubhouse Grill."
There's a variety of toasted and grilled finger foods and an array of interesting cocktails and deliciously fruity frozen drinks.
Nori went for a rum punch, perfectly prepared with just the right balance between sweetness and bitter rum.
The bright, striking colors were tempting I have to admit.
But, Yuki and I went for frozen mojitos with mint, sugar cane syrup, key lime, white rum and club soda.
They're widely considered the best on the island.
There was no effort in choosing an appetizer to start off our lunch.
Snack-wise, the menu features sriracha honey wings, jerk oxtail empanadas and pulled pork nachos.
Yuki had her heart set on the nachos. In good time, a sizable plate of crispy nachos, complete with pulled pork, black beans, cheese, chipotle salsa and a big dollop of sour cream, was placed in front of us.
We dug in!
A touch spicy, Nori and I stayed away from the nachos with jalapeños on them. Yuki on the other hand, scooped everything up without fail. If there's a girl who loves nachos, it's Yuki.
Smiles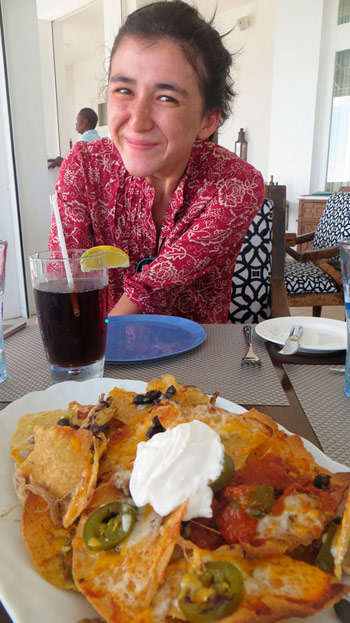 When it comes to "mains," Clubhouse Grill services a caesar salad, chopped salad, mahi mahi fish tacos, turkey club, jerk chicken sandwich, short rib burger, mahi mahi fish sandwich, margherita pizza and a pulled pork pizza.
Nori wasn't too hungry after the nachos, so she stuck to the jerked oxtail empanadas with mango chutney. With a soft shell and crisp exterior edges, and warm, melt-in-your-mouth, perfectly-seasoned oxtail inside, they are a repeat.
Jerk Oxtail Empanadas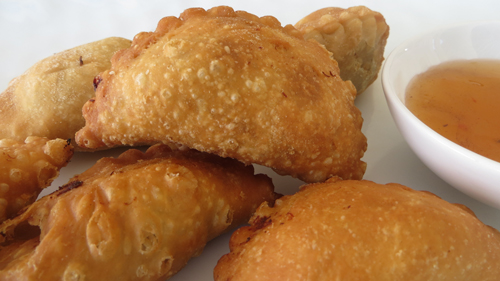 Turkey BLT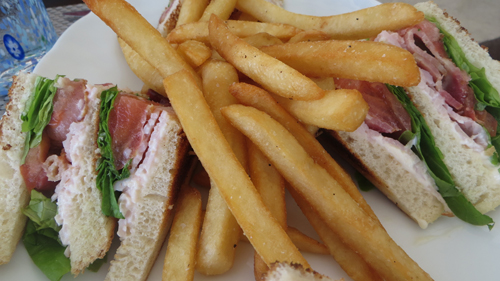 Yuki and I both ordered the B.L.T turkey club with avocado and a side of fries, which was more than satisfying.
Neither of us were anywhere near finished before we were completely full. "Can we have the rest to go?" we asked, holding our stomachs. We had bit off more than we could chew that day at Clubhouse Grill. ;-)
Happy Lunching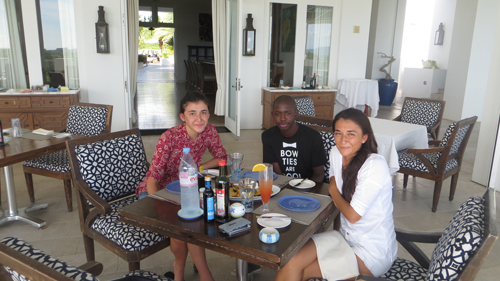 The Clubhouse Grill, with its refreshing setting and atmosphere, prompt and friendly service, is the perfect spot for a relaxing cocktail and afternoon snack. We will be back soon!
More on the Clubhouse Grill
Archive: The Clubhouse Grill by night, Italia
Directions, Hours & Contact
Directions: Clubhouse Grill is located at CuisinArt's Golf Course on the island's western half. See map below for exact location.
Hours: Open daily for lunch and dinner, closed Mondays.
Tel: 264-498-5602