Combing Anguilla's Beaches for the Best
Anguilla Beach Lovers brings you the latest additions to one family's experiences of the "best of all things Anguillian."

If you like this e-zine,, please do a friend and me a big favor and "pay it forward."

If a friend did forward this to you and if you like what you read, please subscribe by visiting...
---
Issue #091, October 9, 2015
It sure has been an interesting off-off-season here in Anguilla!
September brought us endless days of calm, blissful seas, sparkling clear and blue.
From out on the sea...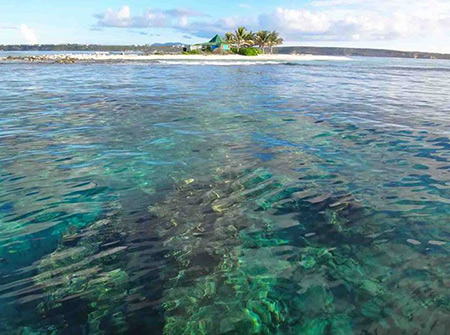 To down on the beach...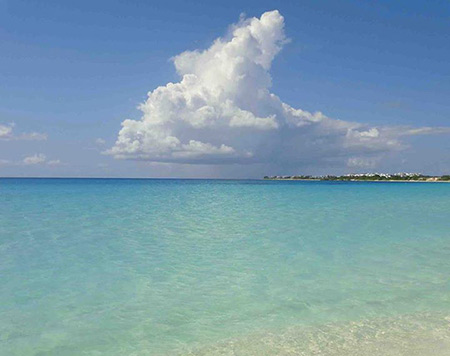 Anguilla's waters were at their very best.
Equally stunning, was the Super Blood Moon. It shone especially bright in Anguilla's open night sky, unobstructed from any ambient light.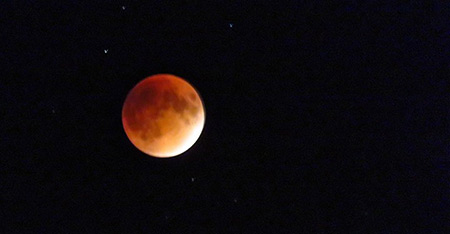 A breathtaking sight that we will never forget.
We lucked into a whole lot of "beauty" and managed to (thankfully) dodge the "beasts," including Tropical Storms Danny and Erika and Hurricane Joaquin, who only brought showers, waves and plenty of lightning. Here's a fun photo snapped of me and a friend surfing "electric waves" on Meads Bay during a stormier afternoon.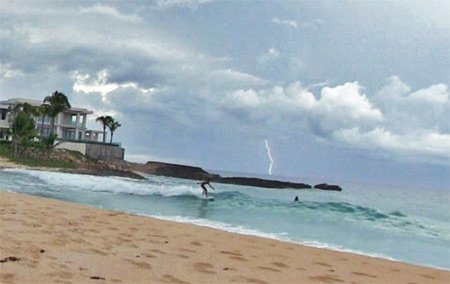 The skies are back to clear blue now as everyone is preparing to re-open for the upcoming season. (Click here to see which restaurants are open in October.)
As we gear up, let's see what's new...
---
Introducing The Cheapest Flight-to-Anguilla Finder!
Why am I super excited to launch our latest project, the Cheapest Flight-to-Anguilla Finder?...
https://www.anguilla-beaches.com/cheap-flights-to-anguilla.html
It's because the #1 misconception about Anguilla is STILL how hard it is to get here. That's because many try to get HERE ("AXA") instead of trying to fly to our "unofficial" major international hub, SXM, which happens to be just a few miles away in St. Maarten.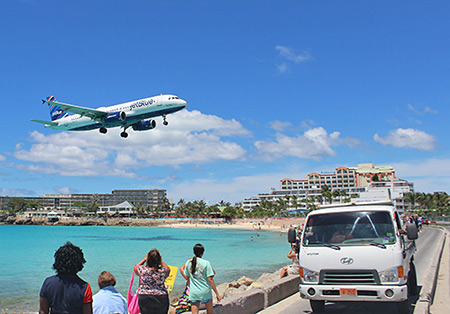 The Cheapest Flight-to-Anguilla Finder lets you see the huge difference in price and time. Just enter your airport of origin and click the button. Then follow the simple instructions.
Click here to try it - you'll be surprised!
And then, please share this tool. It's amazing how few people, especially first-timers, don't see how cheaply and quickly you really can get here. I'm sure many people go to their "second choice" as a result.
So, please share this wherever you may see folks who think "it's too hard to get to Anguilla," and please feel free to share any feedback on the tool and on access to Anguilla :-)
---
CuisinArt Golf Resort & Spa Goes "Off The Grid" & Cuts Anguilla's Carbon Footprint
CuisinArt Golf Resort & Spa is REALLY leading the way in green energy region-wide!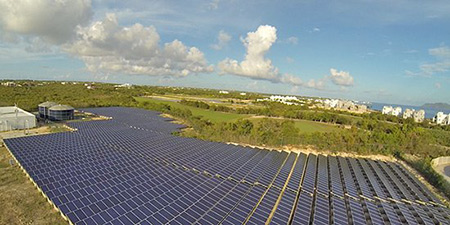 I recently had the chance to meet with Rory Purcell, CuisinArt's Director of Engineering, who gave me a tour of the resort's impressive 1MW PV solar energy plant, made up of 3,300 solar panels.
"Fly over" the solar plant here...
https://www.youtube.com/watch?v=8n1WqbhTz5I
So far the resort's plant...
Has cut the resort's carbon footprint (1 million+ lbs of carbon emissions offset to date)
Is producing 15% of the resort's needed energy
And is even being used to create enough water to supply the hotel and golf course itself, as well as nearby hotels and homes!
A tremendous achievement and a huge congratulations to CuisinArt.
More on CuisinArt's solar energy plant.
---
Anguilla's Jammin'
Anguilla's first island-made jam, Anguilla's Jammin' is bringing vibrant, colorful and flavorful jams to Anguilla's shores.
(A tasty "Hot Jamn'" snack pictured below)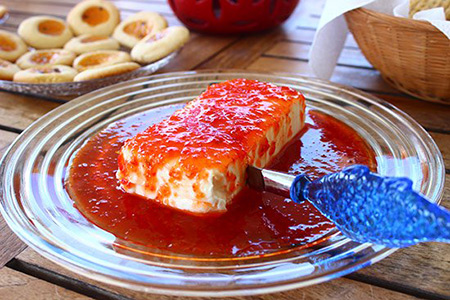 Powered by aquaponics and with flavors of Paw Paw Melon, Kool Kiwi, Mashed Up Mango, Passion Fruity and Hot Jamn, founders Jackie Cestero, Molly and Tommy have found a sustainable recipe for tropical jam perfection!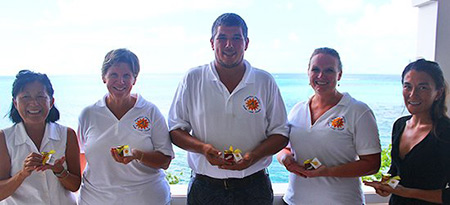 ---
Meet Zharnel Hughes & Garvey Lake
Zharnel Hughes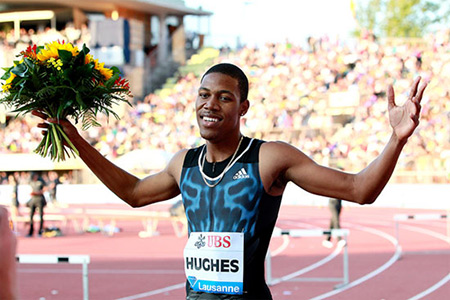 Anguilla's fastest man is setting the track and field world on fire with his steady increase in speed. Humble and kind, Zharnel Hughes sits down with us and shares what inspires him and what's next! Meet Zharnel here.
---
Garvey Lake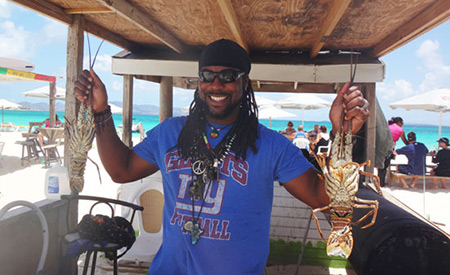 A passionate cricket player and a songbird with a great smile, handsome features and a friendly approach, Garvey Lake is the famous, multi-talented man behind the beloved The Sunshine Shack. Meet Garvey here.
---
What Else Is New?



Three renowned sculptors, Jon Barlow Hudson, Alexandra Harley and Almuth Tebbenhoff, all members of London's Royal British Society of Sculptors, will travel to Anguilla to create three works LIVE before the public over a period of three weeks!


The aim? Engage and ignite the creativity of the island's youth with a series of innovative sculpture workshops. And, the public sculptures created will remain on permanent display in Anguilla.


A wonderful addition to Anguilla's arts and crafts community.


Visit their website here for more details and for information on special travel packages to attend!
---
Last Chance For Off-Season Specials!
Tequila Sunrise Villa's Huge Summer & Fall Special
When it comes to luxury rentals at high-value rates, Robin and Joel Globus, the owners, offer it all.
3 lavish bedrooms (with ensuite bathrooms), sensational vistas out to St. Martin and the Caribbean Sea, an infinity edge pool, an undiscovered cove with ideal beginner snorkeling a short walk away and all of the beach toys and equipment you need, unlimited Patron Silver, daily breakfast, turn down service and even laundry. Every last detail is taken care of!
Through until Oct. 31, they are offering even more...
10% off of your Tequila Sunrise Villa stay
10% off of your rental car
A FREE round trip speed boat between SXM and AXA
A FREE gym membership at Styler's Gym
A blissful time to visit the island when seas are always perfectly-calm and still, for more information, visit Tequila Sunrise Villa here.
Or email owner, Joel Globus, direct at joel@tequilasunrisevilla.com
---
7 Nights For the Price of 5 at Carimar Beach Club

Ranked by Caribbean Journal as one of Anguilla's very best hotels, Carimar Beach Club is a true gem.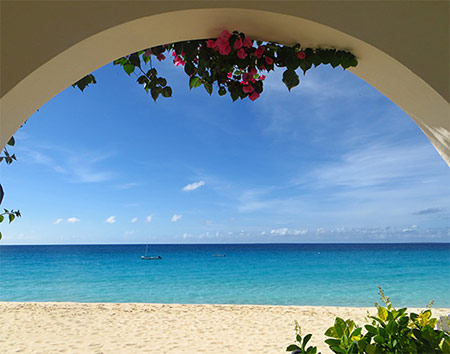 Sitting on the powdery-fine sands of Meads Bay, its location is second to none. Inside, units are modern, spacious, comfortable and nicely appointed, complete with full kitchens, dining and living space, and private balcony/terrace. And as for service? When you're here, you're family!
Through until Nov. 15 2015, Carimar Beach Club is holding a super summer special (7 nights for the price of 5)...
Beachview one-bedroom suite: $1440/week
Beachfront one-bedroom suite: $1750/week
Beachview two-bedroom suite: $2074/week
Beachfront two-bedroom suite: $2384/week
A superb deal! Click here for details.
---
That's all for this month.
We are hard at work on exciting projects, so stay tuned for those in November and for upcoming NEW Anguilla Card Partners for the 2015-2016 Anguilla Card! If you don't have your Anguilla Card yet, click here.
Wishing you a great start to fall & hope to see you this winter!
Nori
Anguilla Beaches Home Page
---