Local Cooking, Fast and Delicious...
TJ's Cafe
By: Kristin Bourne
Nestled in the heart of The Valley, TJ's Cafe blends the best of two different worlds, one old and one new, conveniently in one spot.
TJ's Cafe in The Valley

First the familiar… TJ's Cafe offers a selection of Anguillian staples, which can be found in other bakeries around Anguilla, including the quick-to-sell-out coconut tart.
The ever popular coconut tart
(but don't miss the carrot cake, either!)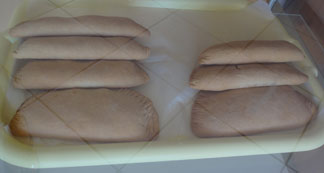 Hall's Unique Bakery makes hot, savory and gut-filling patties with ingredients such as sailfish, kingfish, chicken and beef. They are available at TJ's and are ideal for a light meal, snack or supplementing your TJ's Cafe hot food meal. If your sweet tooth needs to be satisfied, choose a coconut tart. They are highly recommended.
But what about TJ's Cafe's hot food? The TJ's Cafe family is full of seasoned cooks and that's why they opened a restaurant.
The Story Behind TJ's Cafe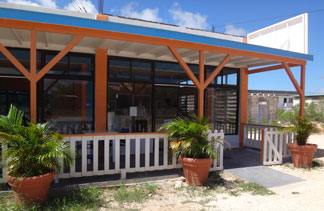 First, "TJ" is not a person but a blend of the family's initials. The family is comprised of names that begin with both "T's and "J"'s. I spoke with the family's daughter, Joya who happened to be visiting during her break from university.
Joya shared that TJ's Cafe officially opened in May of 2015. They are pleased with their operations and their quickly growing clientele.
She introduced me to her mom, Josette, who is behind some of the scrumptious recipes and cooking. I did not meet a "T" that day but I did experience toothsome and tasteful food at TJ's.
It's Boss!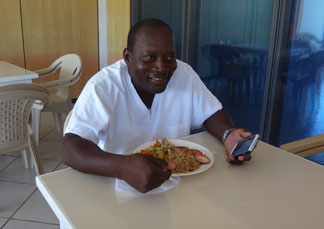 So tasteful in fact, that a local celebrity, one of Anguilla's favored soca singers walked in like he was on serious business and sat down over his hot meal and was ready to dive in quickly - it was Boss! Boss has been in before and continues to return as their food is good.
While TJ's Cafe offers a few of Halls Bakery's goodies, they also make their own.
When you walk in, you'll find their front counter filled with their homemade tarts, cakes, pastries, buns and breads.
To your left is their hot food cart with the day's selections, ready to be served to you whether you are eating in or taking it to go.
The Hot Food
There are three different entrees each day with chicken and fish tending to be regulars in the rotation. You may also find ribs, pork and pasta specials and the fish depends on what's available but tends to be snapper, mahi mahi or salmon. Sides include potatoes, rice and peas, steamed vegetables, etc.
Baked Chicken (small meal: one entree, two sides)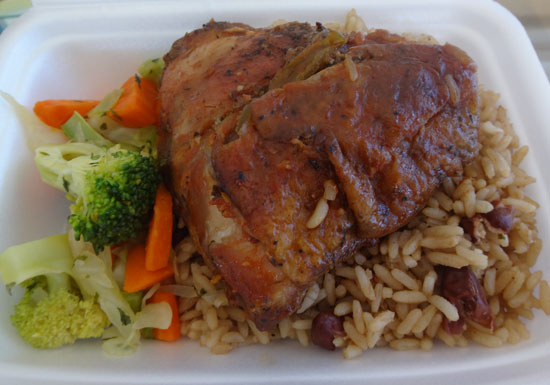 Their goal is to serve what they find to be the freshest, cook it up and serve it to you.
I like that philosophy!
On my visit I spent $25 US total and left with a small chicken meal, a fish meal (one size only) and a couple of the baked goods and one drink. (Meal sizes range in price from $7 US to $12 US. Entree and side options vary from day to day.)
Snapper Meal (green salad and two sides)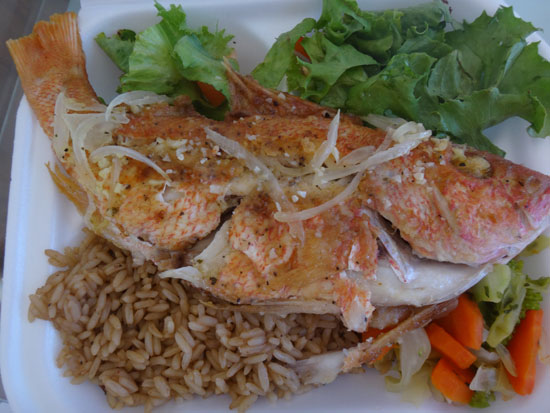 Ready to go hot meals!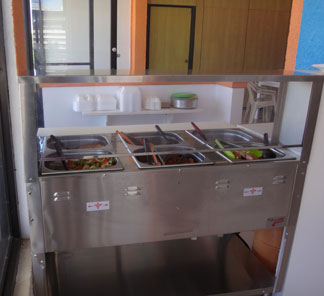 TJ's is a bright environment painted in Anguilla's national colors of orange, white and blue and they offer dining both inside and on their covered porch.
I was on the go that day and brought my to-go container home. After driving home, I found my food still plenty warm and the taste was far better than I had expected given it was ready-to-serve food.
The fish and the chicken were cooked properly and full of flavor. I ate every bite of the hot food and saved the baked goods to sample for breakfast the next morning. It was a good deal!
TJ's front counter with bakery treats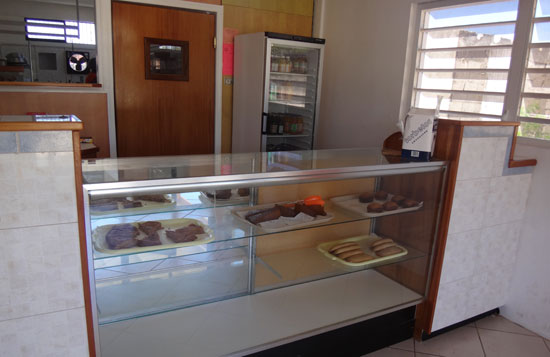 In addition, you can also place an order at the counter for burgers and sandwiches such as cheese, tuna and salami. I didn't try a sandwich but now that I've had a meal, I'm likely to stick with it since it was so pleasing.
Saturday Specials
Something to try that I was happy to hear about is that Saturday is a special day at TJ's Cafe…
All day Saturday (hours are 7am until 2pm on that day) the menu is strictly Caribbean breakfast! You can get a nice Caribbean breakfast: saltfish, johnnycakes, fry cakes, sous, fry fish, fried chicken, eggplant, plantain, eggs, sausage and bacon.
Plates on Saturday are $5 or $7 US and kids eat for $4. What a deal!
Freshly-Brewed Iced Tea
TJ's Cafe's flavored iced tea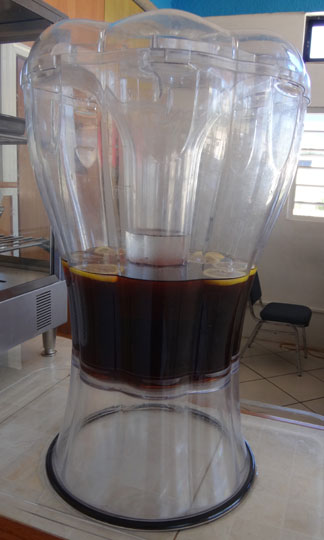 Lastly, drinks.
TJ's offers something you don't see much of around Anguilla...
While you do find bush tea, you don't find fresh-brewed iced tea easily.
Joya told me their customers were loving the tea and they change the flavor each day.
She said favorites were raspberry, peach and lemon.
TJ's also has a typical selection of sodas, juices, water and hot chocolate, coffee and bush tea.
If you like tasty and well-priced food, I recommend trying TJ's Cafe.
It's centrally located in Anguilla, parking is easy, the staff is welcoming and you can have a hot, savory meal and a dessert that's a great value.
Contact, Hours & Location
Hours: Closed on Sundays. Monday-Saturday open from 6 until 1-2pm.
Tel.: 264-581-3727