---
Combing Anguilla's Beaches for the Best
Anguilla Beach Lovers brings you a fresh dose of "Tranquility Wrapped in Blue" every month. And now you can wrap yourself in our Tranquilitee, the softest, most comfy tee you've ever worn.
If you like this newsletter,, please do a friend a favor and "pay it forward."
If a friend did forward this to you and if you like what you read, please subscribe by visiting...
---
Issue #141, September 11, 2021
Infinite peace & calm...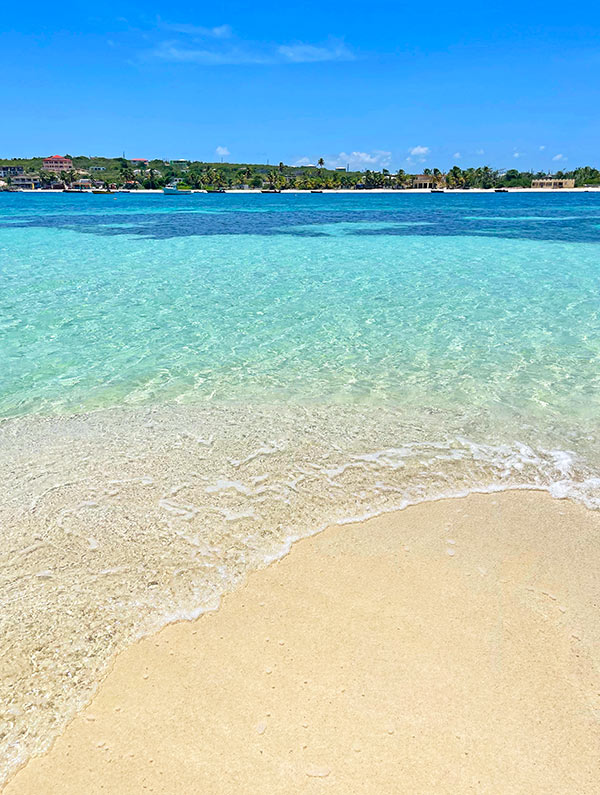 It is hard to believe that summer has already come and gone!
Here in Anguilla, the off season is in full swing. Following the end of August, many businesses close for a month or two to rejuvenate and prepare for the upcoming season.
We all know what that means...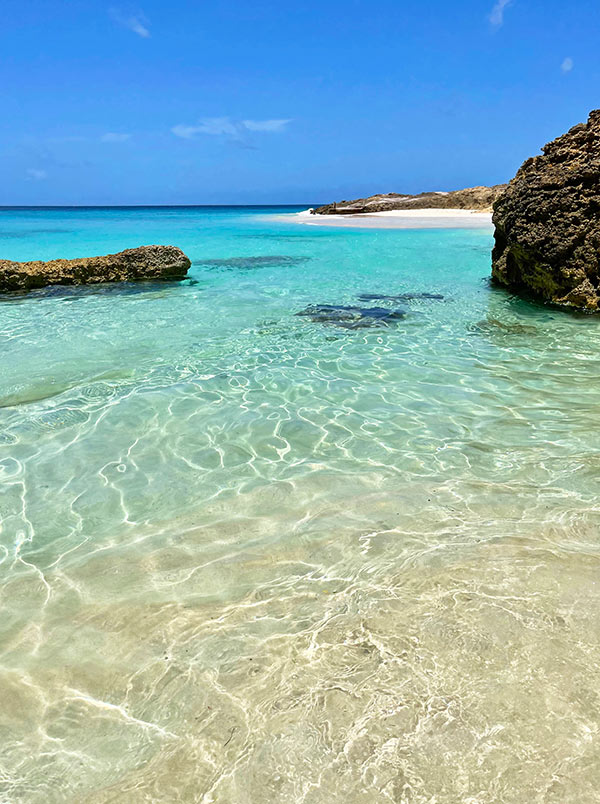 It is 100% non-stop blue and you!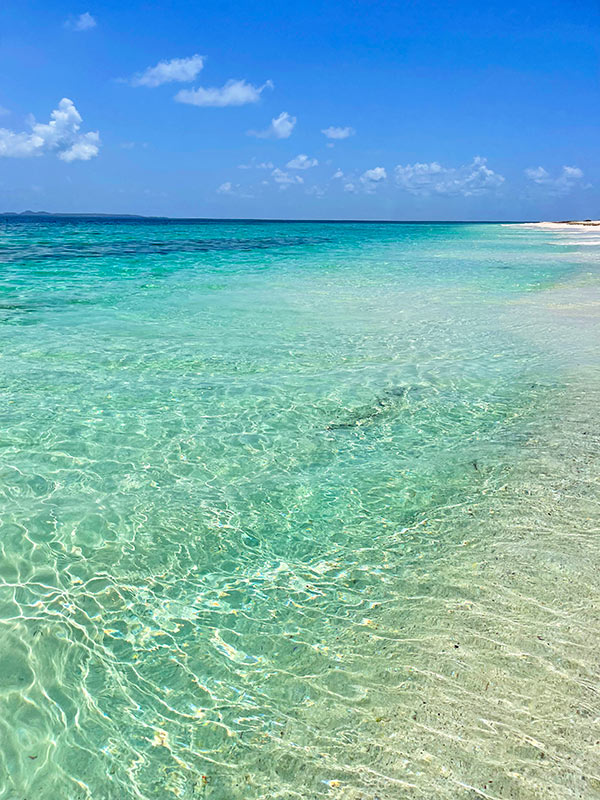 Having some of the world's best beaches all to yourself shore makes the off season one of our favorite times of year in Anguilla!
Considering a trip to Anguilla this off season?...
---
5 Reasons Why We Love The Off Season in Anguilla
Click here for our top 5 reasons to visit Anguilla during the off season!
It all starts with hotels and villas. While many properties temporarily close, there are plenty of gems who stay open all season long.
One of our favorites? Tranquility Beach Anguilla is staying open all September and October.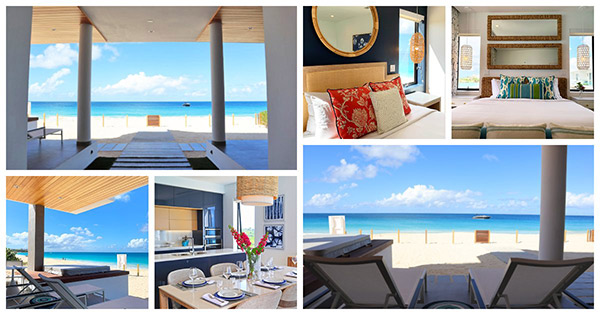 Set smack dab in the middle of Meads Bay, Tranquility Beach Anguilla's setting can't be beat.
Developers, Neil Freeman and Ian "Sugar George" Edwards knocked it out the park when they built Tranquility Beach Anguilla. The property wins for location, design and over-delivers with excellent hospitality.
All factors combine to create a top tier vacation experience!
There is no sweeter feeling than "coming home" to Tranquility Beach Anguilla.
Tranquility Beach's large suites offer all of the comforts of home: laundry, dryer, full kitchen for preparing meals in and expansive outdoor terraces.
These suites tick every box!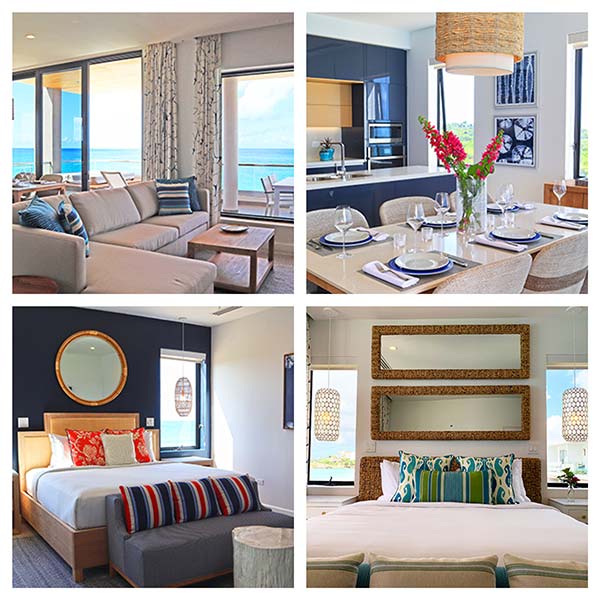 To Book Tranquility Beach Anguilla, Visit...
---
Save 10% at Arawak Beach Club
The ultra-high value Arawak Beach Club is staying open all season long, too!
Exciting News: Arawak Beach Club is now an Anguilla Card Partner. Save 10% when you use your Anguilla Card to book your stay at Arawak Beach Club.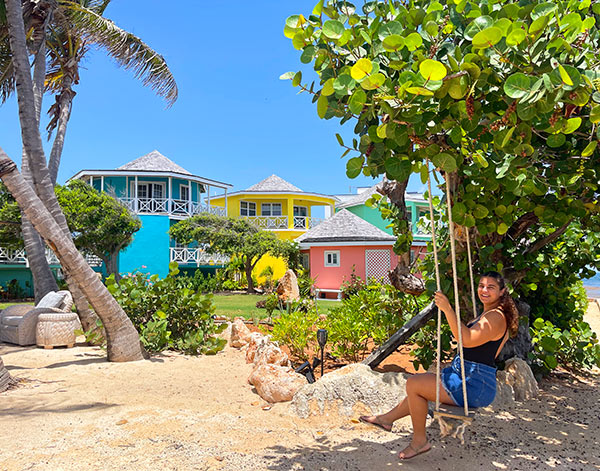 Set at the water's edge in scenic Island Harbour, Arawak Beach Club is one of Anguilla's most iconic hotels.
Painted tropical colors that catch the eye, the hotel's cheerful atmosphere has always been one of our family's favorites. The hotel is famous for its spacious suites, tropical grounds and excellent rates.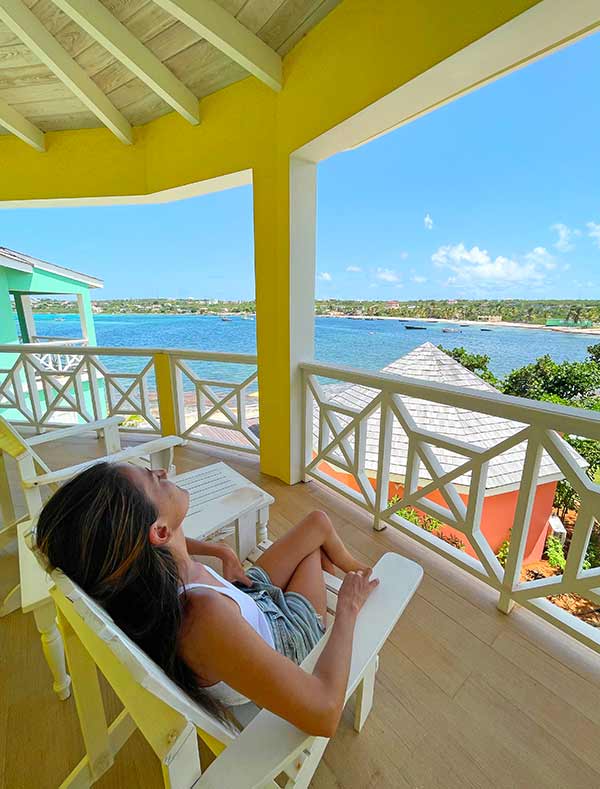 New owners, Judd & Mindie Burdon have restored the historic property and are pushing it levels higher.
From top-to-bottom room renovations, adding a brand new restaurant and pool, and with a host of excellent amenities...
Arawak is back and better than ever!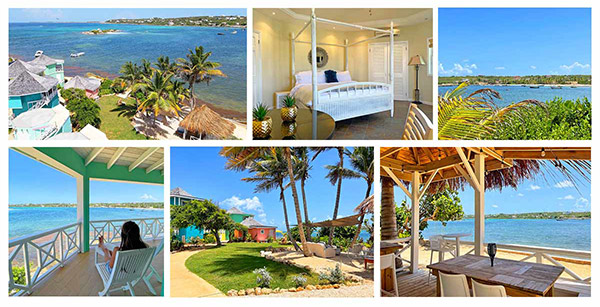 For a full video look at Arawak Beach Club, click here.
For our in-depth article on Arawak Beach Club, click here.
To Book at Arawak Beach Club, Visit...
Website: Click here
Rooms & Suites: Click here
Contact Arawak Beach Club: Click here
---
Open All Season: Scilly Cay
Click here for our brand NEW vlog of a day at the one and only, Gorgeous Scilly Cay.
A tiny island off of the coast of idyllic Island Harbour in Anguilla's east end, Scilly Cay is a dream!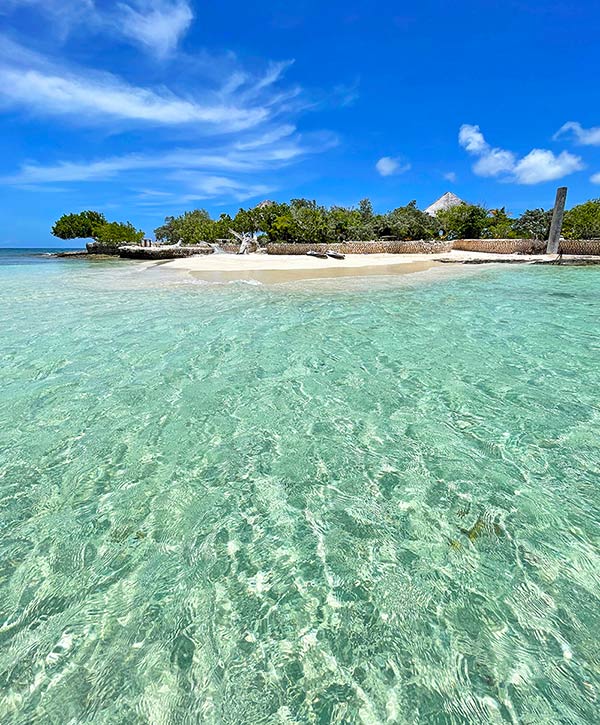 To get to Scilly Cay? Head to Island Harbour's pier! This is where the Scilly Cay adventure begins...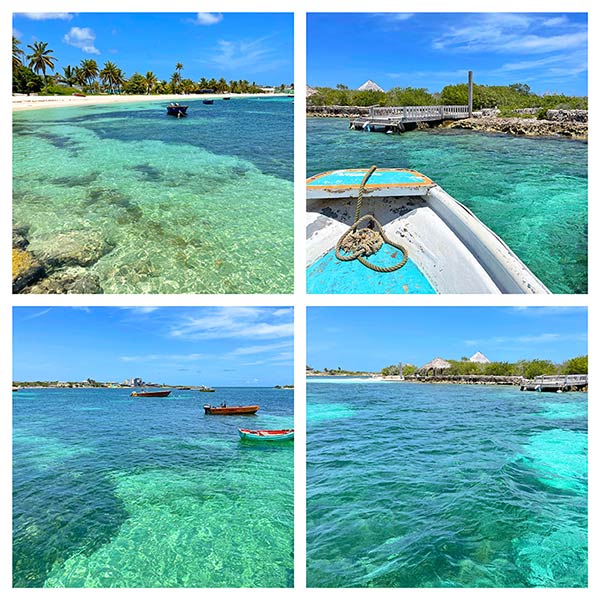 A 10 minute boat ride across the crystal clear waters of Island Harbour takes you right to Scilly Cay's sparkling shores. This micro slice of paradise is famous for its picture-perfect white sand beach with luscious blue waters!
The first thing to do? Dive right into that blue...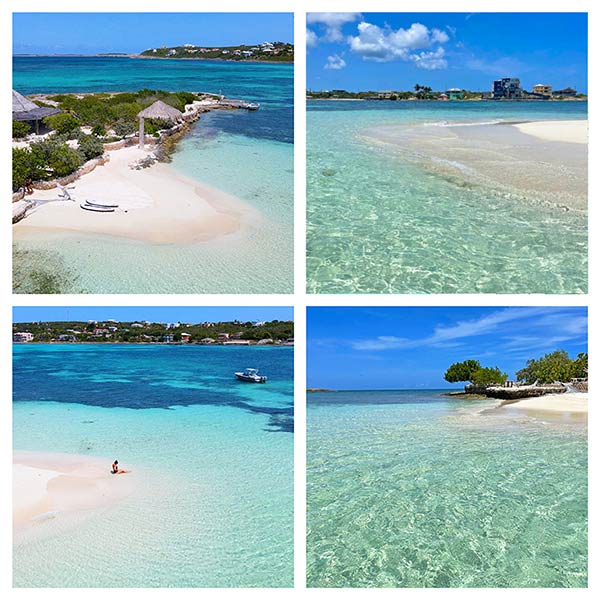 After sunning, swimming, snorkeling and fun in the sun, hunger calls!
Scilly Cay answers with excellent BBQ eats, including chicken, ribs, catch of the day crayfish and one of the best lobsters in Anguilla...
After lunch? It's all beach & repeat :-)
One of the most luxurious beach day experiences in Anguilla, Scilly Cay always blows us away.
Scilly Cay is open Wednesday and Sunday for lunch through the off season. Reservations required: 264-235-5000 / 264-235-2539 / 264-584-9998
Scilly Cay is an Anguilla Card Partner. Save 10% when you use your Anguilla Card at Scilly Cay. Click here to get your Anguilla Card.
---
Seafood Treats on Shoal Bay East
More seafood treats on the beach? Tropical Sunset is staying open all season long, too!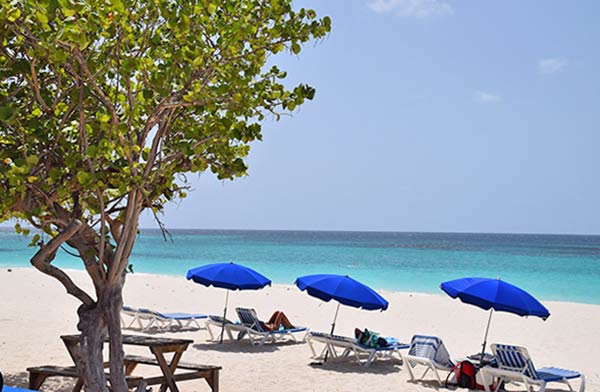 The open-air, breezy seaside restaurant is home to excellent seafood eats!
First up? Their extra-fresh conch ceviche is the island's best. Served on a bed of seaweed salad, each bite is oh so refreshing.
Another favorite appetizer is their coconut shrimp. Deep-fried to golden brown, these crispy, tasty bites pair perfectly with their creole dipping sauce.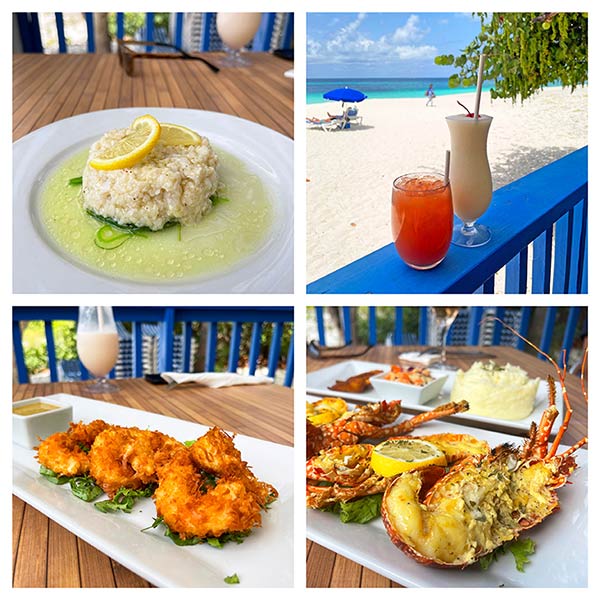 When it comes to entrees, the special of the day always hits the spot :-)
Don't miss this quiet hideaway on one of Anguilla's best beaches!
Tropical Sunset is open Friday-Sunday for lunch through the off season.
Tropical Sunset is an Anguilla Card Partner. Save 10% when you use your Anguilla Card at Tropical Sunset. Click here to get your Anguilla Card.
---
Sunshine All Season Long
Another favorite staying open through September? Sunshine Shack!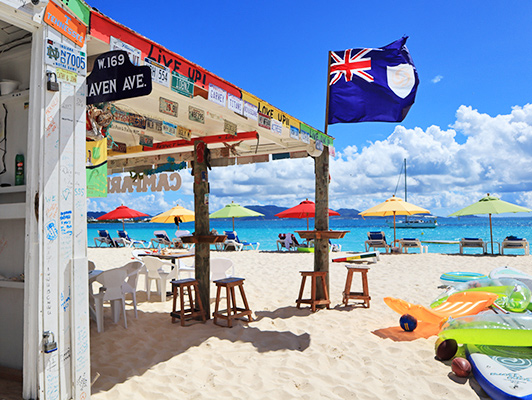 There's no better way to celebrate the weekend than with a little BBQ, rum, and reggae in the sun at Garvey's beloved Sunshine Shack!
The Shack is open Saturday & Sunday for lunch through September.
Sunshine Shack is an Anguilla Card Partner. Save 10% when you use your Anguilla Card at Sunshine Shack for lunch. Click here to get your Anguilla Card.
---
Who Else is Open This Off Season?
West Green Villa
West Green Villa is a dream-come-true for its privacy, sumptuous surroundings, tropical breezes, and (of course) golf!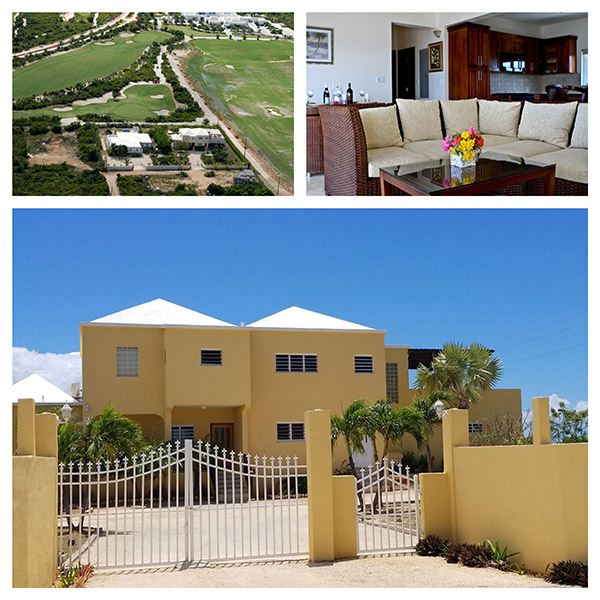 This opulent three-bedroom villa sits just fifteen feet from CuisinArt Golf Resort & Spa (re-opening as Aurora Anguilla in Oct. 2021), one of the finest golf resorts in the Caribbean.
Tucked into a secluded cul de sac, the high vantage point of West Green Villa offers panoramic views of the Caribbean Sea and the nearby island of St. Maarten.
The property sits ensconced behind gates and beautiful hedges. It features a sprawling lawn and cheerful garden, impeccably landscaped with colorful flowers and tranquil footpaths.
Step inside and discover spacious, bright and airy interiors with blissful exposure to the soothing ocean breeze that Anguilla is famous for.
Amenities include...
Flat screen TV (as well as one in each bedroom)
Stereo Hi-Fi audio
Wet bar
Exercise nook
Data center with WiFi
Massive open-concept kitchen with top of the line appliances and finishings
Air conditioning in every room
Private resort-style pool
For details, including long term stays of 1 month, 3 month, 6 month or 1 year, contact West Green Villa at...
Email: westendbay@anguillanet.com
Phone: 264-498-2525
USA: 407-999-6261
West End Bay Apartments
A three-minute walk from sparkling white-sand beaches, West End Bay Holiday Apartments is an exclusive nine-unit holiday resort nestled in the heart of Anguilla's elite West End.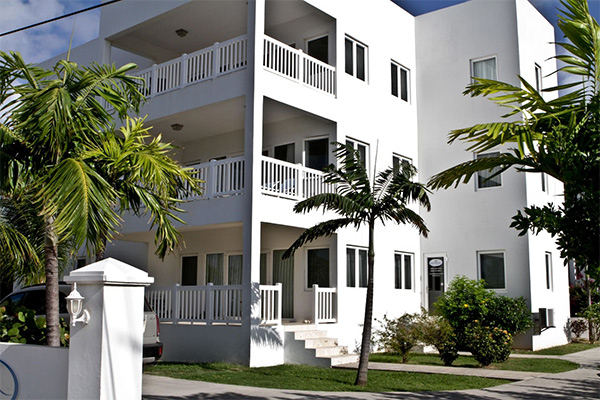 Bright, tranquil, and festooned with colorful flowers, these quiet, self-contained vacation apartments offer sumptuous amenities and spectacular views of Shoal Bay West Beach.
Spend lazy days dining in West End and lounging on the beach... then come home and sip a cocktail on your private patio… before falling asleep with the doors and windows open to let in that blissful Anguilla ocean breeze.
The property features one-bedroom and two-bedroom suites, all furnished with ceramic tile flooring, cheery island furniture, granite kitchen counters, travertine bathroom accents, and other thoughtful touches.
Best of all, the owners live on the property. They are at your service to offer local insights, tour advice, concierge services!
For details, including long term stays of 1 month, 3 month, 6 month or 1 year, contact West End Bay Apartments at...
Email: westendbay@anguillanet.com
Phone: 264-498-2525
USA: 407-999-6261
---
An Off Season Beach Escape
At Beach Escape Villa, tranquility is a shore thing.
Our family fell in love with Beach Escape Villa many moons ago, based on its location alone. A villa with chic beach house charm, Beach Escape is true to its name.
Set on secluded Sandy Point beach, at Beach Escape you are directly on sandy beachfront.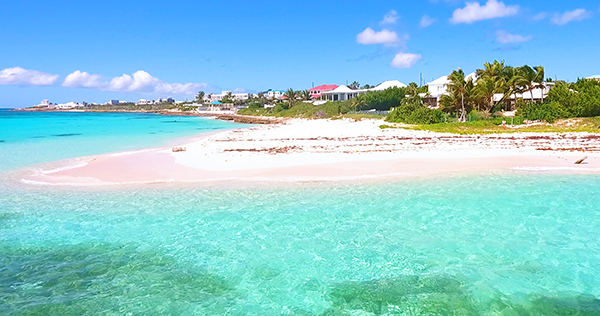 Beyond location, Beach Escape is one of the most comfortable and user-friendly villas in Anguilla.
Five bedrooms, plush media room, modern kitchen with outdoor cooking options and indoor and outdoor dining and lounging spaces span the villa's property.
Two heavenly master suites are in the villa's main house, while two additional master suites and a twin room are in the guest house.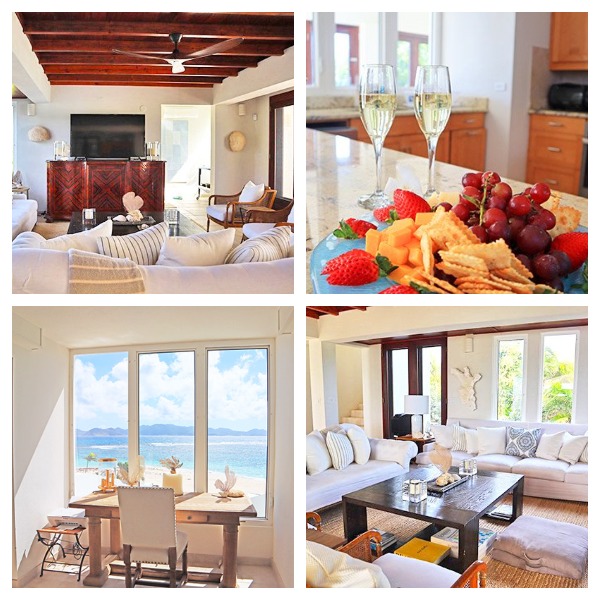 With direct beach access, grassy lawn, sandy front, Apple TV, SONOS, EVO grill, tropical landscaping, solarium-eque showers, oversized screened-in patios, luxurious outdoor couches…
Beach Escape is an ideal choice for an off season beach escape!
More on Beach Escape Villa
---
Spend The Off Season at Long Bay Villas & Santosha Villa Estate
Long Bay Villas is Anguilla's most elegant and iconic ultra-luxury villa. The estate's three stark-white villas tier down the lush hillside that slopes up from pristine and exclusive Long Bay beach.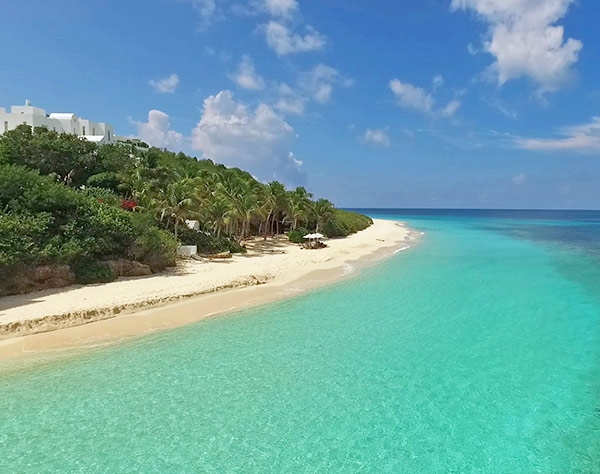 Next door to Long Bay Villas, Santosha Villa Estate sprawls across 4.5 lush acres. A 37,000 square foot West Indian-style estate, Santosha is of a bygone era. It is Anguilla's most grand ultra-luxury villa.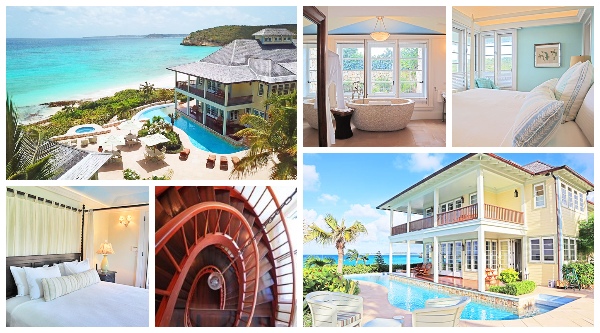 Beyond their sheer beauty and elegance, the two properties are renowned for their excellent service.
Property manager, Patricia Bygrave and her staff go above and beyond to deliver the most blissful escapes.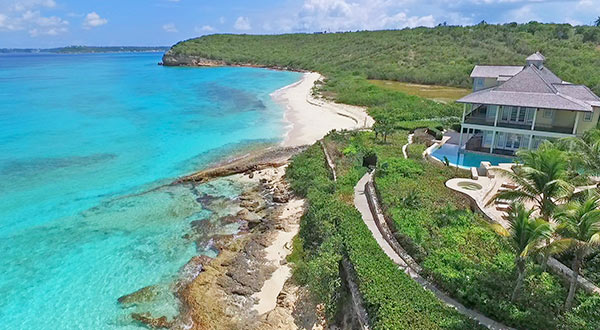 From setting up offices with printers and high-speed & dedicated WiFi for guests working remotely, to organizing private chef services and children's swimming, basketball and kayaking lessons, Long Bay Villas and Santosha Villa Estate always deliver the most seamless Anguilla getaways.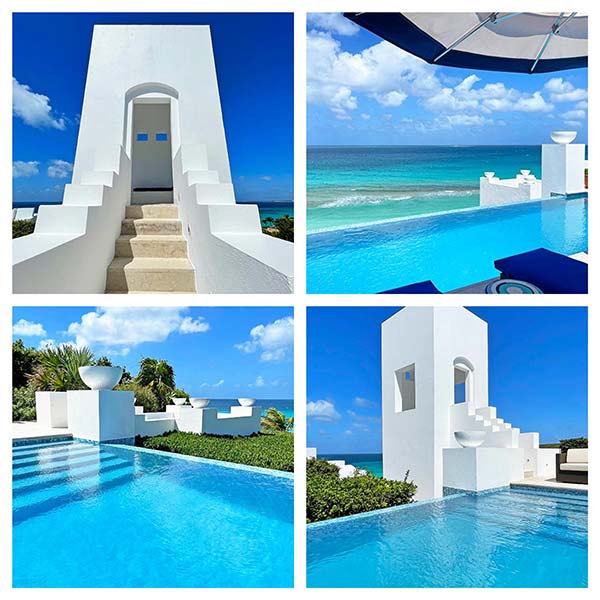 With discounts for long-term stays, Long Bay Villas and Santosha Villa Estate make for the ultimate off season getaway.
More on Long Bay Villas
More on Santosha Villa Estate
---
Thinking of a Much Longer-Term Getaway?
Our good friend, Jackie Pascher of Island Dream Properties has a brand new, high-value real estate listing!
Introducing: Sonrise Villa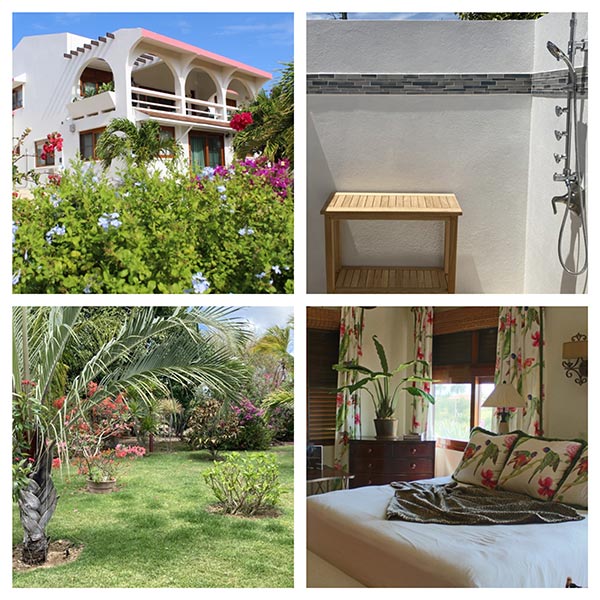 Conveniently located in popular West End near Belmond Cap Juluca, Meads Bay, Barnes Bay and some of the island's best restaurants, Sonrise Villa is a high-value real estate listing.
The villa sits on a picturesque 0.5 acre lot, beautifully landscaped with flowering trees and fruit trees.
Inside, Sonrise Villa features 3 bedrooms, 2 baths, living room/dining room, kitchen and large laundry room on the main floor. The bedrooms and living room have a/c and ceiling fans. Downstairs is a 1 bedroom studio apartment which currently has a long term tenant.
The main floor gallery makes for a lovely spot to unwind, with its view of the sea and lovely Caribbean breezes.
Sonrise Villa is listed at $895,000
Click here for full details on the property.
---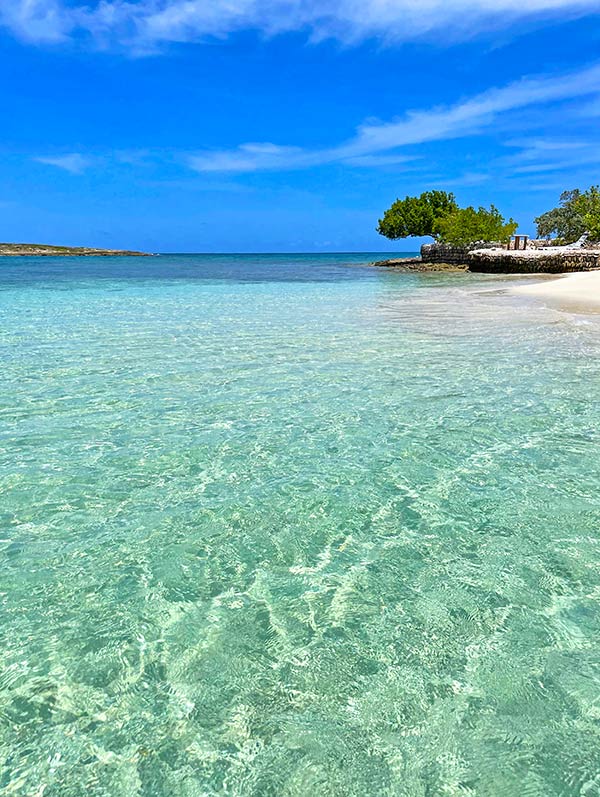 ---
That's all for this time!
For our top 5 reasons to visit Anguilla during the off season, click here!
If you are planing a trip to Anguilla this off season, click here for Anguilla's most up to date travel information, including a list of who is open.
To get your Anguilla Card for your upcoming trip, click here.
Wishing you a beautiful start to fall & sending lots of sunshine from Anguilla,
Nori & Louise
---
Anguilla-Beaches.com
---