---
Combing Anguilla's Beaches for the Best
Anguilla Beach Lovers brings you a fresh dose of "Tranquility Wrapped in Blue" every month.
If you like this newsletter,, please do a friend a favor and "pay it forward."
If a friend did forward this to you and if you like what you read, please subscribe by visiting...
---
Issue #159, June 28, 2023
Happy summer from Anguilla 🤗💗🏝
With summer officially here, there is only one thought that comes to mind as you look around Anguilla...
"It is the most bluuuetiful time of the year!"
Come summer, Anguilla's waters glisten and glow ever-calm like a giant natural swimming pool!
NEW Drone Video: Click here for a special drone view of ahhh-mazing Anguilla this time of year.
From Shoal Bay East, to Meads Bay...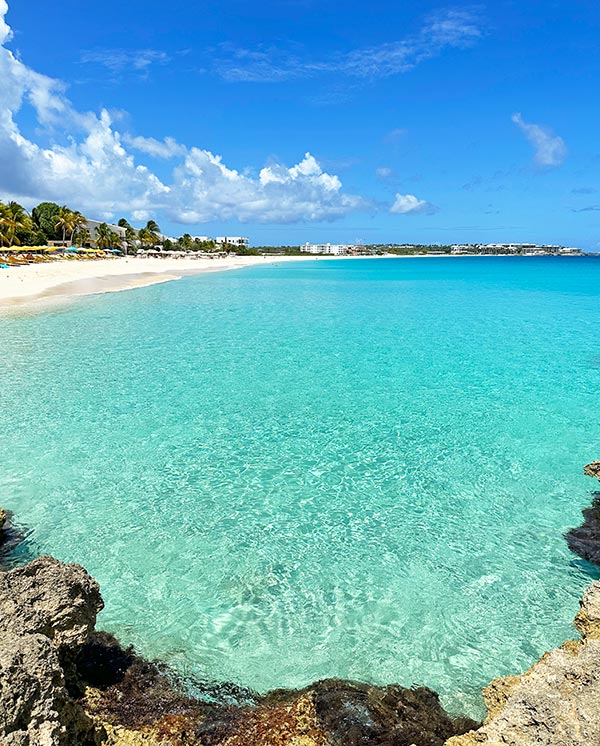 We could beach on and on all day!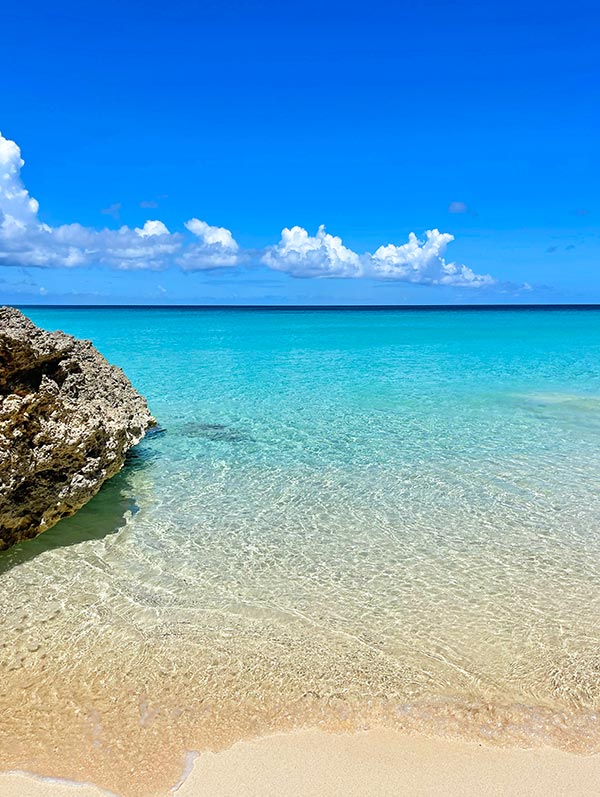 To sweeten the deal? This time of year hotels and villas have their best rates!
First up?...
---
Luxury Living on Rendezvous Bay
Is there anything better than falling asleep to the sound of the sea?
Join us in this NEW video for a look inside Aurora Anguilla's incredibluuue beachfront villas 🤗💗🏝
Set right on Rendezvous Bay, there is no beating these luxurious suites. Aurora's villa suites are complete with 3 plush bedrooms, over-sized living and dining area, gourmet kitchen, private plunge pool and terrace and best of all?...
Steps right to the beach!
Our favorite suites at Aurora Anguilla, they combine the best of both worlds: Villa privacy with all of the amenities of the luxurious Aurora Anguilla resort.
It doesn't get better than this!
For a full look inside these heavenly suites, click here.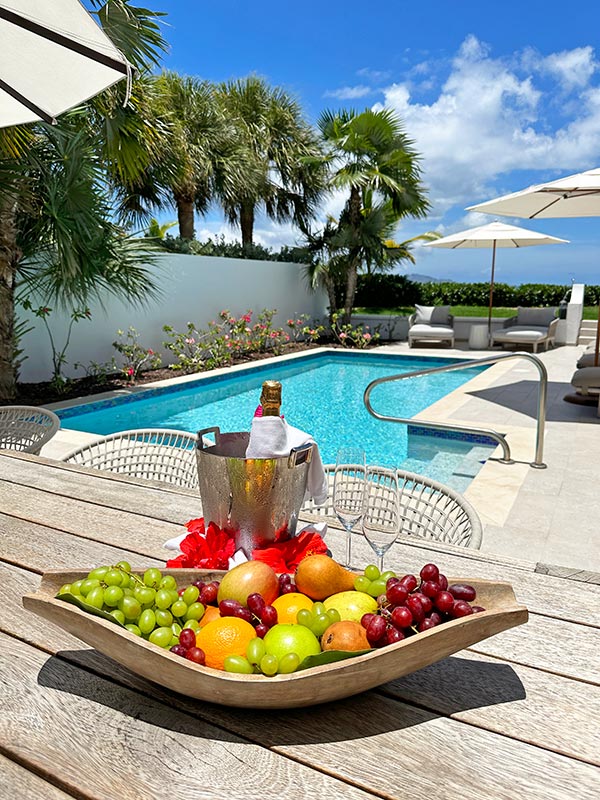 Summer rates are on at Aurora Anguilla!
To Book Your Summer Getaway...
---
Summer Special at Tranquility Beach Anguilla
Tranquility Beach Anguilla has a sumptuous special this summer!
Relax in a three-bedroom Penthouse Villa at the price of their two-bedroom suites. Spanning the entire third level, their Penthouse Suites are an oasis of calm! They accommodate up to eight guests and your stay includes Tranquility Beach's TripAdvisor-awarded service.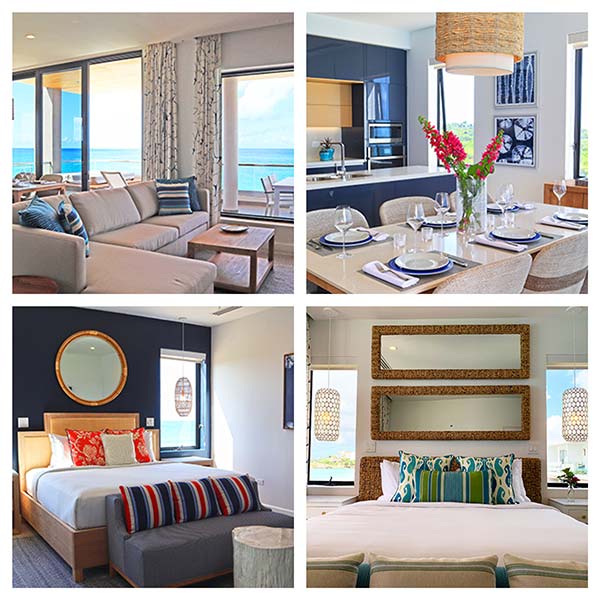 At Tranquility Beach you have the comforts of home, the space of a private villa and the five-star service of a boutique resort, all on one of the World's 50 Best Beaches™ 2023!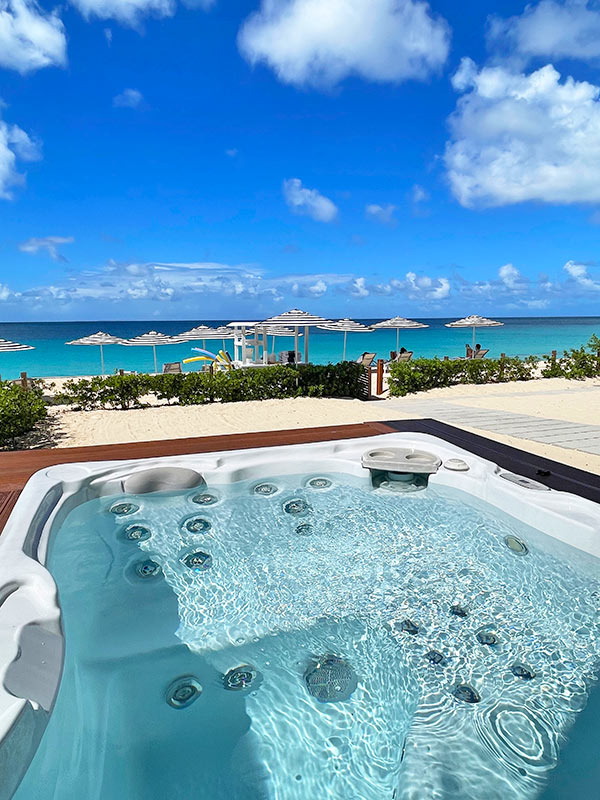 The hotel's glowing reviews say it all. Here is just one example...
The staff at Tranquility Beach was AMAZING! I wanted to give them 5 stars before we even arrived. They arranged car rental reservations, scheduled pick up from the Anguilla port to the property, arranged a day trip to Scilly Cay, and scheduled a private chef – all before we arrived.

As soon as we arrived we were greeted by the lovely staff Deanna, Denise, Abiel, and Kemeisha with cool towels and delicious rum punch. Throughout our stay they were easily accessible through WhatsApp which was so convenient.

The décor is luxurious with high-end appliances with washer/dryer. Even the bath towels were special (I forgot to save the name so I could purchase them for my home).

We took full advantage of the hot tub which was very relaxing. The view was breathtaking with sunsets that looked like a dream.

During our stay, we walked to nearby restaurants on the beach, drove to different beaches, ate at high end restaurants but also places where locals ate (thank you Sam!), danced the night away at Moonsplash and the one thing that remained constant was that Anguillan people are the kindest, most welcoming people.

Thank you Deanna and staff for making my husband's birthday the best ever! We truly appreciate it. You all have exceeded our expectations and we will be back again soon.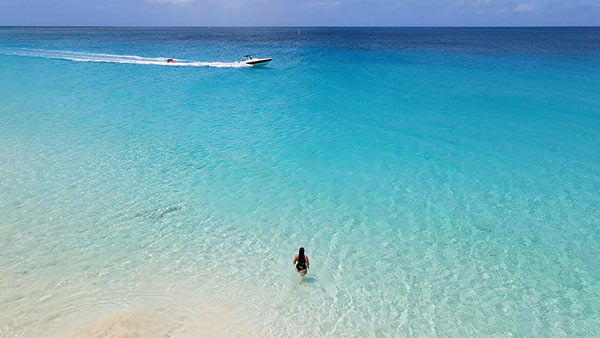 To Book Your Stay at Tranquility Beach Anguilla...
Book by July 15, 2023 and stay before December 16, 2023 to enjoy their Summer Special.
---
Summer Beach Escape
Nothing says summer like a day at the beach!
Every day is a beach day when you stay at Beach Escape Villa.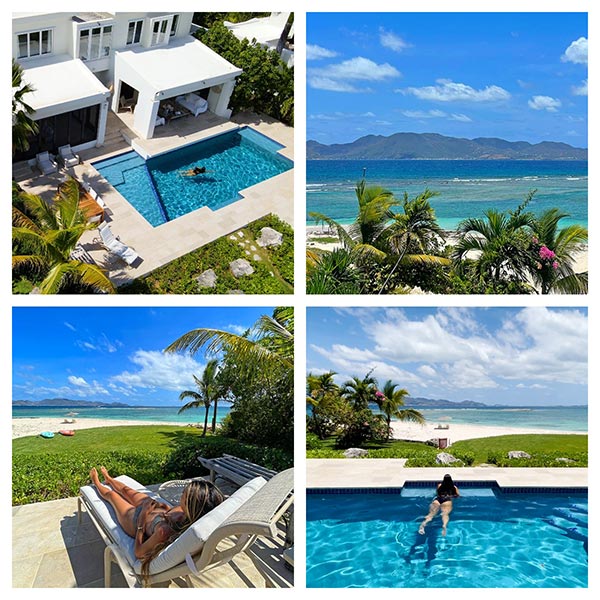 A luxurious villa with chic beach house charm, Beach Escape is true to its name.
Set on secluded Sandy Point beach, at Beach Escape you are directly on sandy beachfront.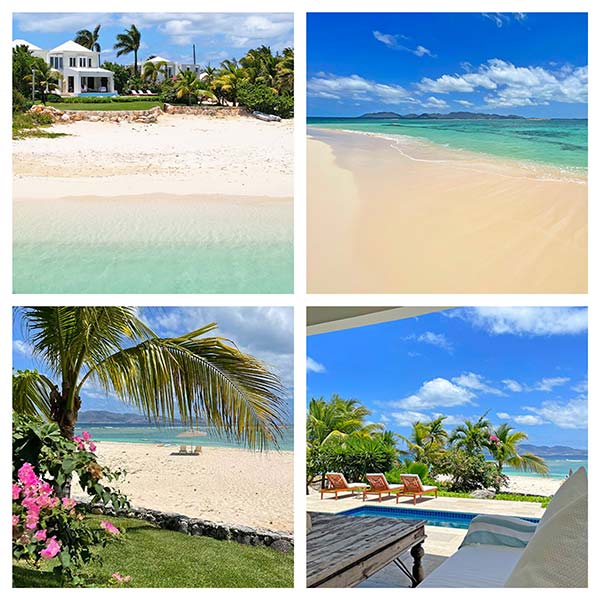 The villa's spectacular location is matched by its luxurious and user-friendly layout and design.
Five bedrooms, plush media room, modern kitchen with outdoor cooking options and indoor and outdoor dining and lounging spaces span out over the villa's two buildings.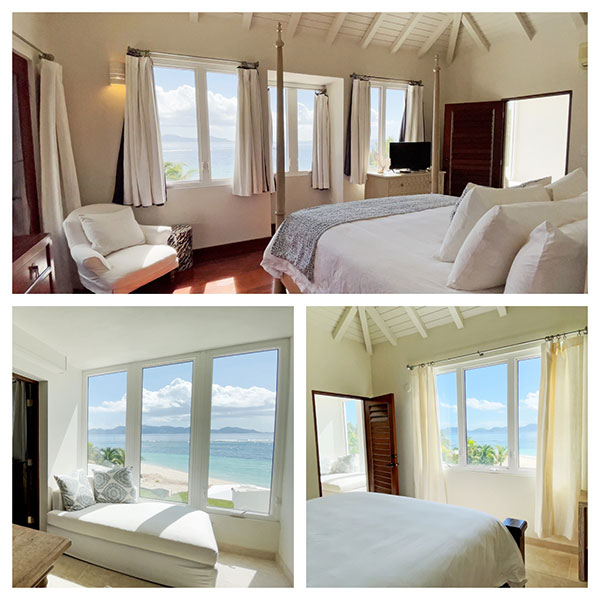 With direct beach access, grassy lawn, sandy front, Apple TV, SONOS, EVO grill, tropical landscaping, solarium-eque showers, oversized screened-in patios, luxurious outdoor couches, housekeeping six days per week and on-call staff...
This villa is irresistibly comfortable.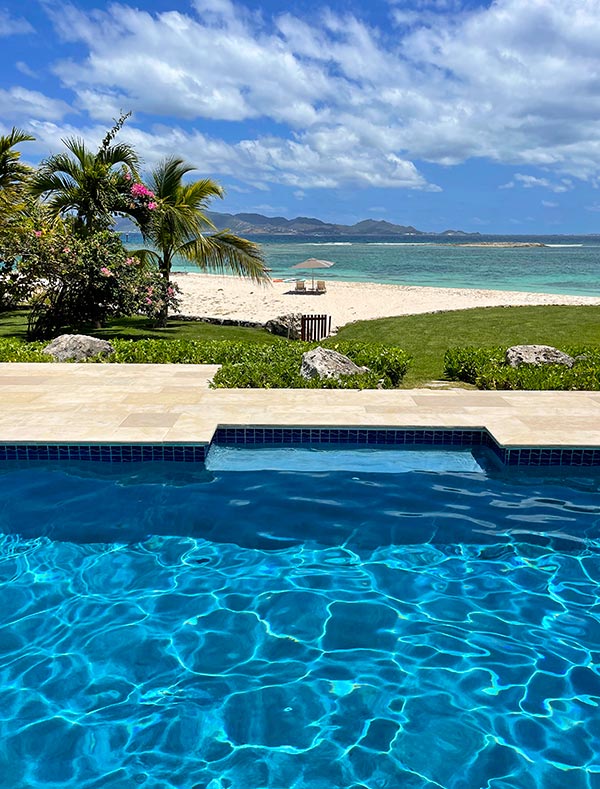 To Book Your Beach Escape...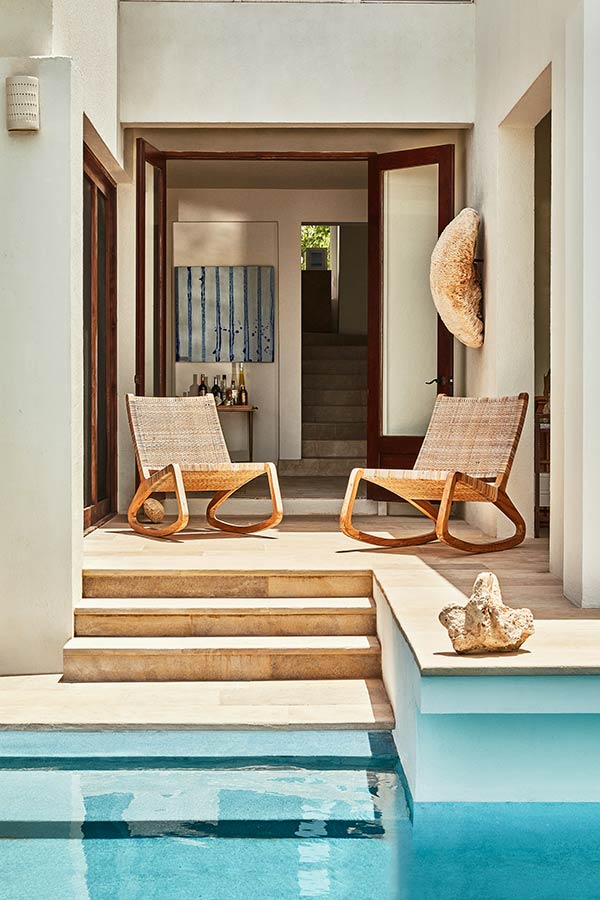 ---
NEW Foodie Favorite: Taverna
Ever since I can remember, Arawak Beach Club has been one of our favorite places for a bite and a "lime" amidst the beautiful sea breeze of Island Harbour.
New owners Mindie and Judd have brought those warm, feel-good vibes back with Arawak's new restaurant, Taverna...
A tapas eatery with Mediterranean flair, Taverna strikes a magical note come night time. Palm trees sway over ahead, the tradewinds blow through keeping you cool, the fishing boats bob in the distance...
Lit up with twinkling lights, the restaurant glows!
The best way to start an evening at Taverna? With a rum punch...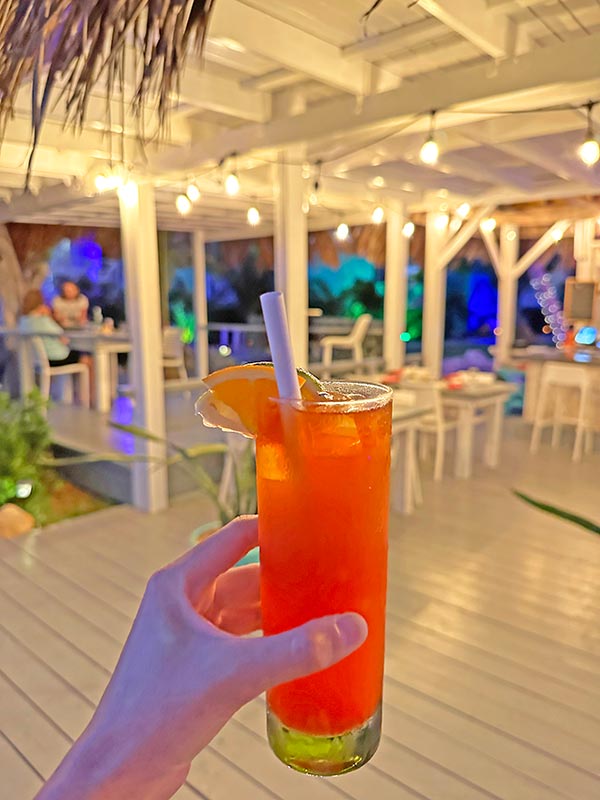 Potent yet light in flavor, and not overly sweet, Taverna's rum punch is a knock out. Our hats go off to cocktail whiz, Sunra Banx!
Owners Mindie and Judd have crafted a tempting tapas menu after their own hearts. Lovers of Mediterranean cuisine, this menu is sure to capture your heart, too.
A number of small plates for sharing make up the menu. We recommend starting with the crispy calamari...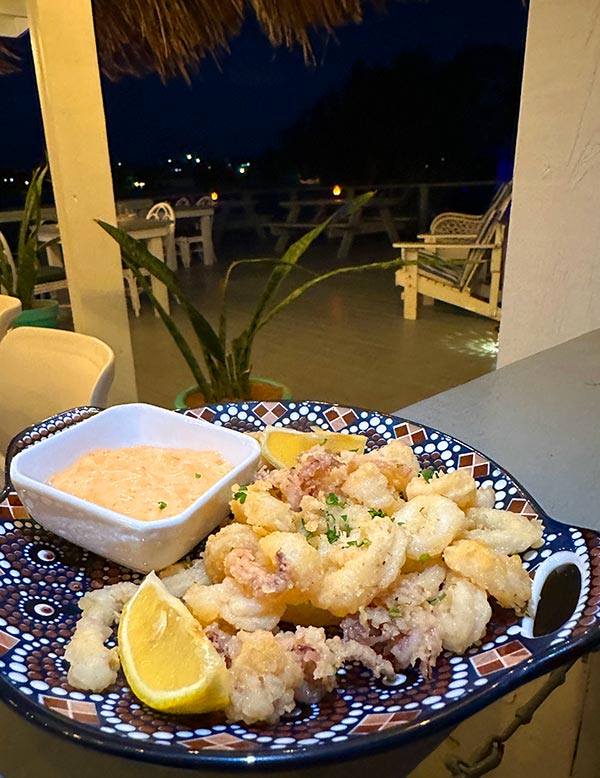 When it comes to classic Greek fare, try the Shrimp Saganaki...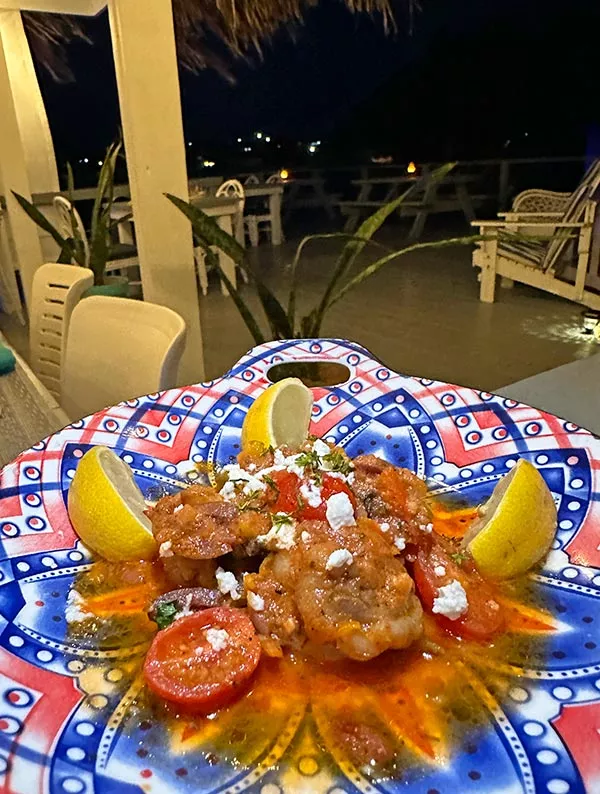 One of Taverna's signature dishes, shrimp is simmered in a zesty tomato sauce with white wine and finished with feta cheese and fresh dill. Wholesome and warm, this dish will have your tastebuds humming a happy tune!
Another winning dish? The Keftedes...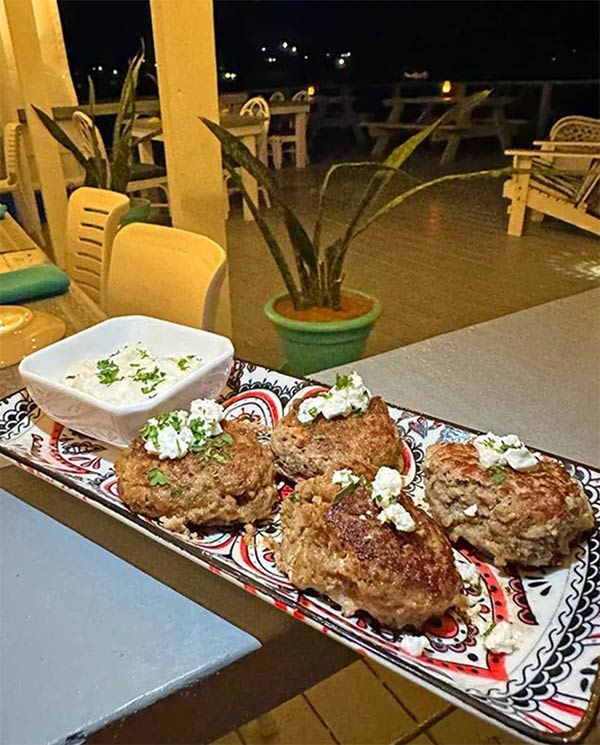 This dish is fragrant! The aroma will have your mouth watering before the plate is placed in front of you. Lamb and beef meatballs are marinated in aromatic herbs and topped with olive oil and feta. So flavorful and perfectly cooked, you may want to order two plates for the table.
My hat goes off to owners Mindie and Judd who have created a menu and cultivated a vibe that will have you coming back time and time again.
For a full look at Taverna, click here for our article.
Taverna is an Anguilla Card Partner. Save 10% at Taverna when you use your Anguilla Card.
---
Chic Treats at Keenie's Boutique
Quintessence, or Q Hotel, is home to many luxurious amenities. Two delightful eateries, Julian's and Coral Beach Bar, a spa and...
Welcome to Keenie's Boutique!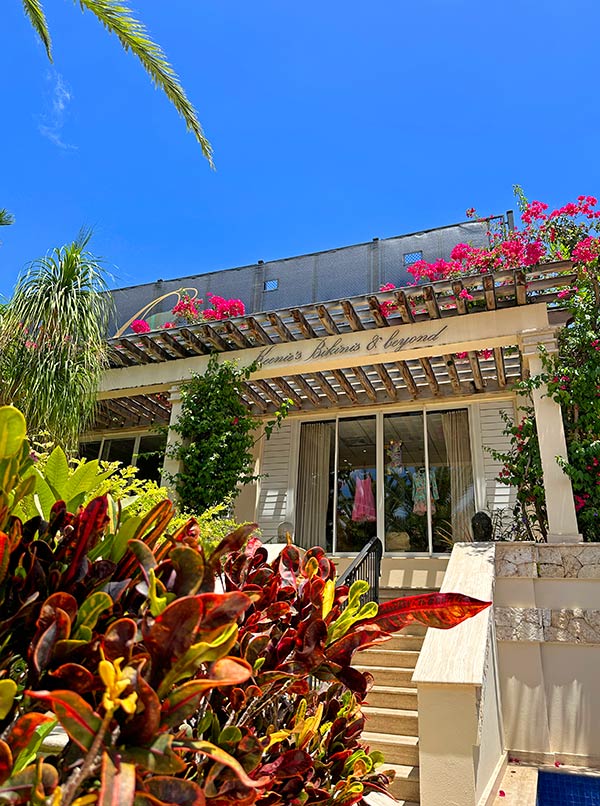 Set amidst the hotel's lush gardens, Keenie's Boutique beckons you in with the wave of a palm tree leaf.
Keenie's Boutique has been expertly curated and merchandised. Gold palm tree leaf wallpaper adorns the walls. Hardwood lies under foot. The store is rich and elegant.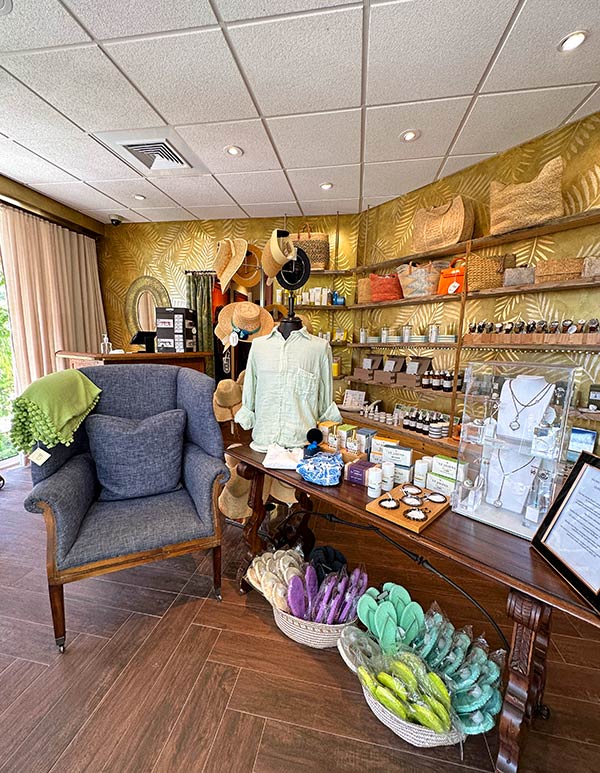 The items are equally luxurious and well selected for a tropical climate like Anguilla's.
High quality and with striking colors and prints, everywhere you look something catches your eye.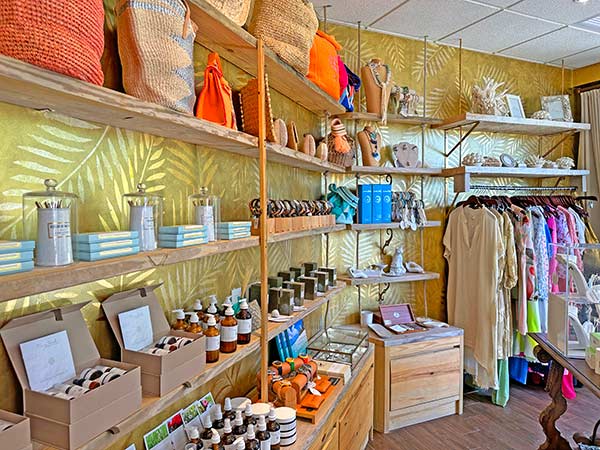 Store manager Anni selects items that are breathable and comfortable for Anguilla's weather, and fun and vibrant, capturing the colors of the Caribbean.
Case in point with these bold and beautiful beach bags...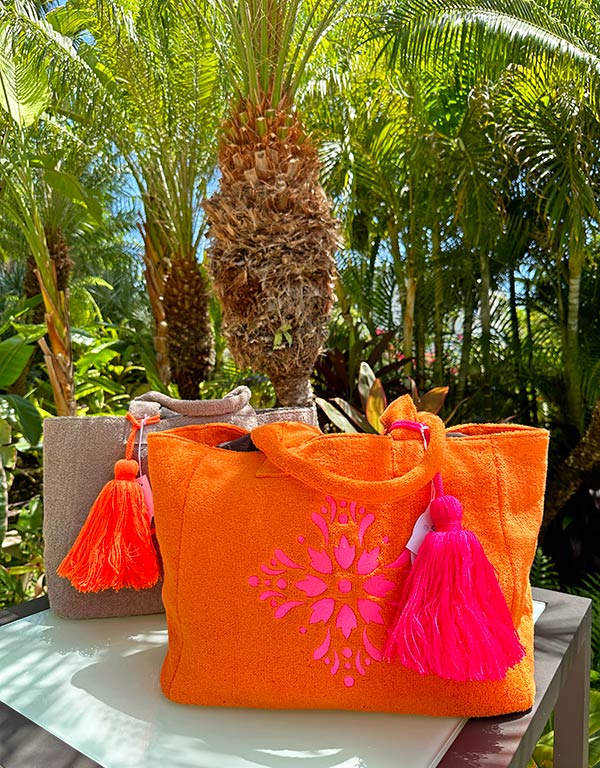 Made out of terry cloth, aren't they the perfect bag for a day at the beach? The colors scream summer!
After browsing, it wasn't long before I fell in love with one of their selections...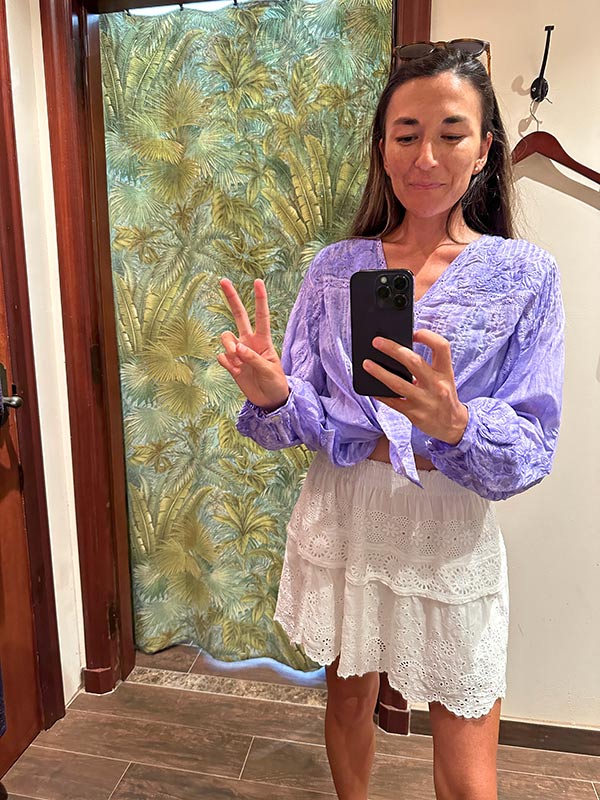 Keenie's Boutique carries plenty for gentlemen and there are plenty of soaps and skincare items as well. Our #1 favorite?...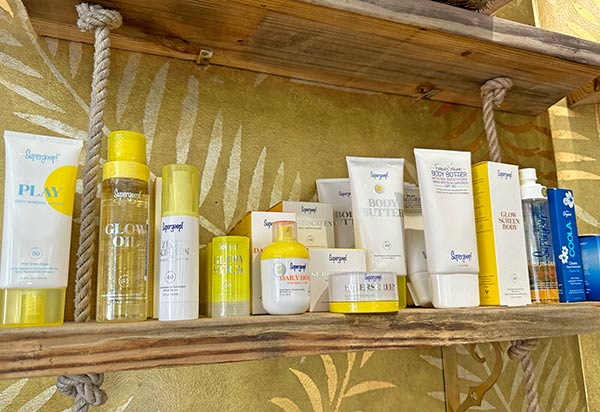 Supergoop is a must for us sun lovers. One of the top brands for sun protection, we haven't found this anywhere else in Anguilla.
Now we know where to go to get our fix.
From the swimwear, to the beachwear, beach bags, skin care and home goods...
A word of warning of necessary: You will not be able to leave Keenie's Boutique without a few goodies! ;-)
More on Keenie's Boutique here.
Keenie's Boutique is an Anguilla Card Partner. Save 10% when you use your Anguilla Card.
---
Last Chance to Set Sail with Tradition
Google "things to do in Anguilla" and you will find Tradition Sailing Charters at the top of the list!
It's not hard to SEA why this idyllic sailing experience ranks so highly.
Owners Laurie & Deb go above and beyond to deliver the most indulgent and unique five-star sailing experiences!
Tradition will be heading south for hurricane season soon.
Their last sail date is July 31st!
To catch them before the end of this season, hop aboard one of their gourmet cruises...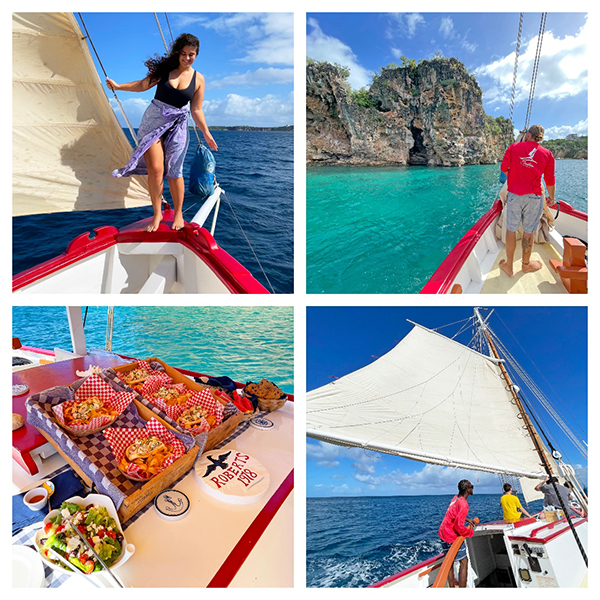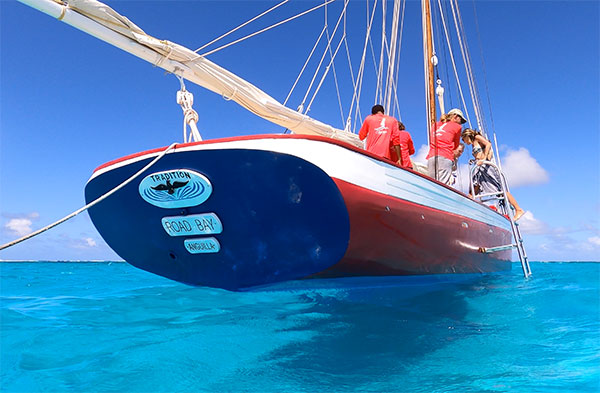 For a look at one of Tradition's most popular excursions, see our YouTube video here.
A once in a lifetime experience, a day with Tradition is a must do through and through!
Tradition is an Anguilla Card Partner. Save 10% when you use your Anguilla Card.
---
Thinking of a Much Longer Anguilla Getaway?
First up, Arawak Beach Club is now available for long-term rental!
Bright and beautiful, with all of the conveniences of home, Arawak's units make for a terrific option if you are looking for a long-term rental on-island.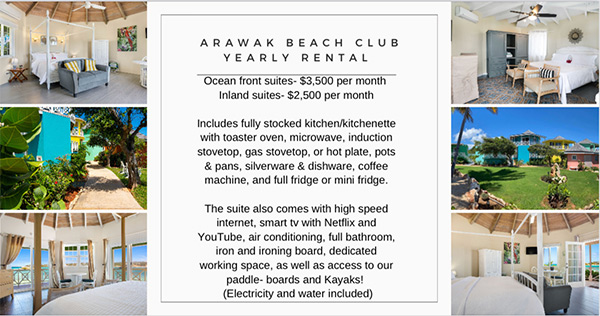 See above for details on renting at Arawk Beach Club.
For more on why we love Arawak's units for the long-term, click here.
For inquiries, contact owners Mindie and Judd at:
Tel.: 1 (264) 584-1214 or 584-1201
Email: contact@arawakbeachclub.com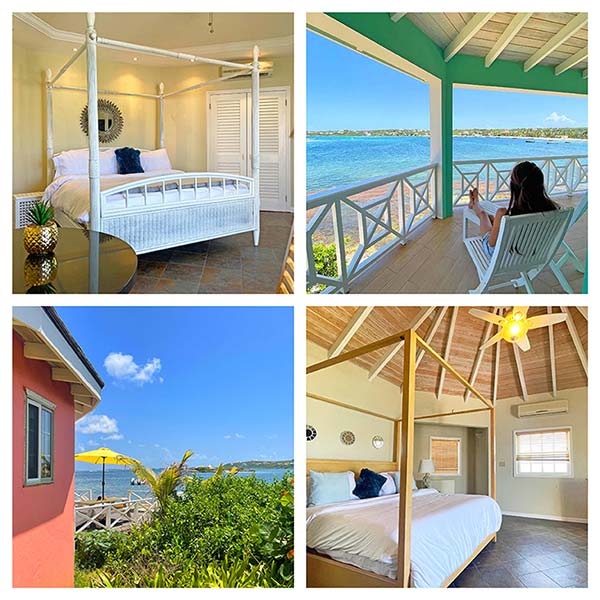 ---
Next up, our good friend, Jackie Pascher of Island Dream Properties has terrific, high-value real estate listing...
Step Inside Villa Rana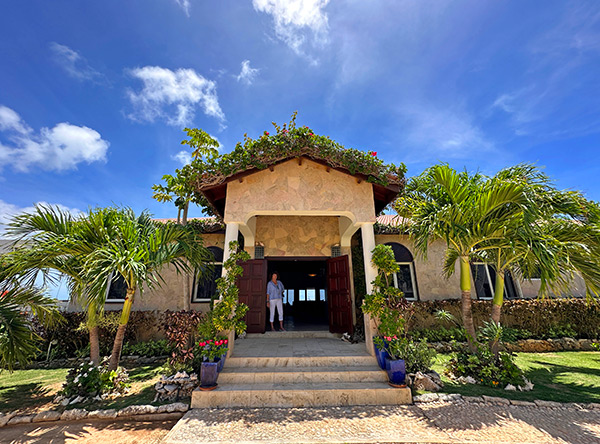 Set on the sea rocks just west of Island Harbour, Villa Rana's location is ideal.
Here, you are a stone's throw from popular beach spots like Scilly Cay and Shoal Bay East. You are not far, too, from the island's best restaurants including Artisan, Ben's Pit Stop, Hibernia, Nat's Palm Grove and did we mention Le Bon Pain is only 2 minutes away?
The 5 bedroom, 5.5 bathroom villa lays out over one expansive floor and features an additional dwelling unit in its gardens. The main villa opens into a lofty living area with gourmet kitchen. This kitchen is every chef's dream with plenty of space and every appliance you need for preparing meals in.
Inside Villa Rana you will also find an intimate study, laundry room and four plush master suites. Two masters open directly onto the property's expansive pool terrace with beautiful stone work. Two additional bedrooms open onto the villa's deck that wraps around and joins onto the property's main pool terrace.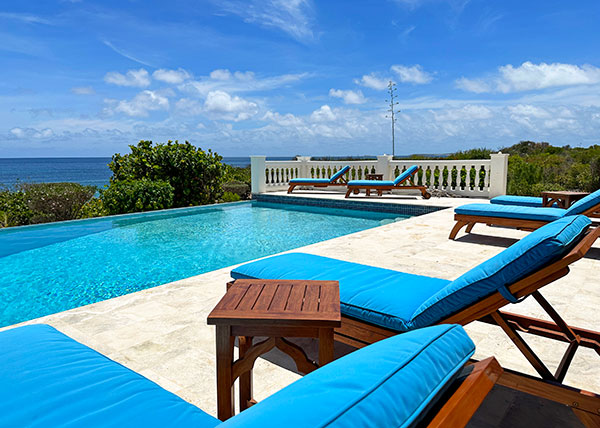 The outdoor living area has you covered with a shaded seating area and a large exterior dining table. There is plenty of space to soak up the rays, too. Comfy lounge chaises surround the big, salt-water chlorinated pool. Sparkling in a million shades of blue, this pool sure beckons you in for a long swim!
The villa's exterior is complete with swaying hammock and beautifully landscaped gardens.
Set in the gardens you will find the villa's additional dwelling unit. It has lots of storage space and a convenient and comfy apartment with master suite and ensuite, private outdoor sitting area, interior living area and an area that can be renovated into a kitchen.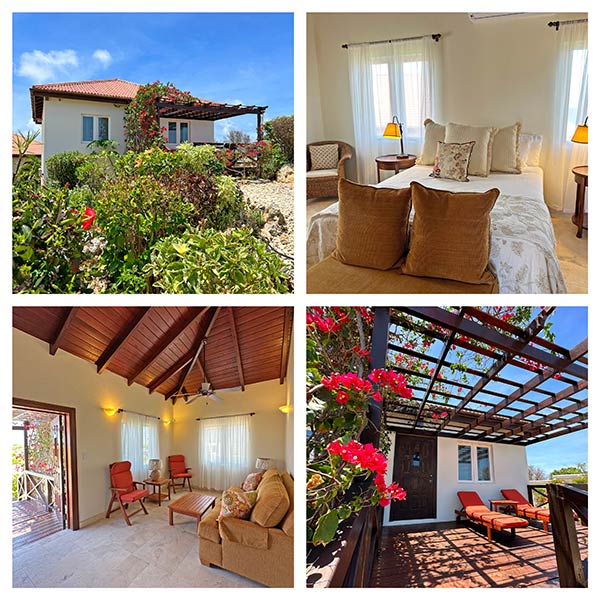 With plenty of potential, living is large and lofty at Villa Rana!
NEW Video Tour: Click here for a full look inside Villa Rana.
Villa Rana is listed at $2.95M.
More on Villa Rana...
---
---
If you enjoy this newsletter and our Anguilla videos, please spread the word about us on TripAdvisor.
If you are planning a trip to Anguilla, get your Anguilla Card here!
We can't wait to SEA you on the beach 💗🏝
With lots of warming Anguilla sunshine,
Nori & Louise
---
Anguilla-Beaches.com
---