Taverna...
Magical Mediterranean Cuisine by the Caribbean Sea
Ever since I can remember, Arawak Beach Club has been one of our favorite places for a bite and a "lime" amidst the beautiful sea breeze of Island Harbour.
New owners Mindie and Judd have brought those warm, feel-good vibes back with Arawak's new restaurant...
Welcome to Taverna

A tapas eatery with Mediterranean flair, Taverna strikes a magical note come night time. Palm trees sway over ahead, the tradewinds blow through keeping you cool, the fishing boats bob in the distance...
Lit up with twinkling lights, the restaurant glows!
Magical Lighting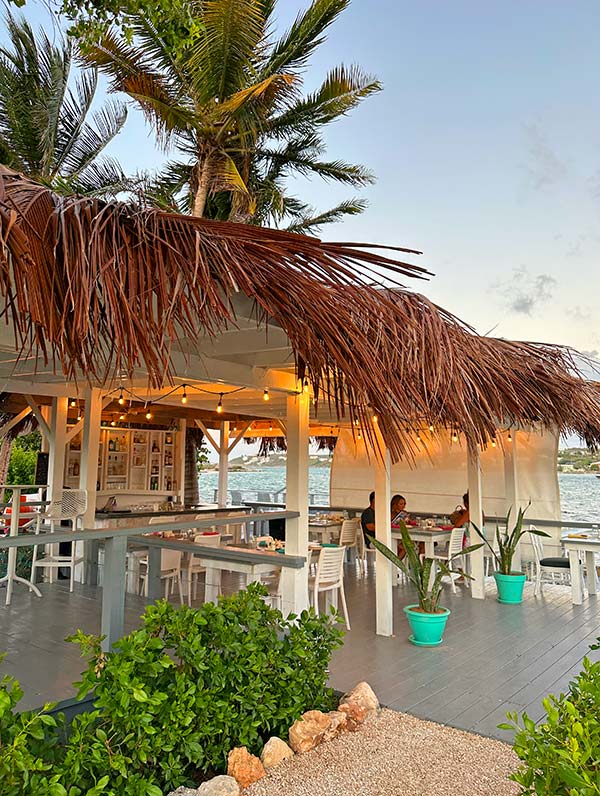 The dining room features an interior seating area and the restaurant's picturesque bar, an expansive outdoor patio with up close views of Island Harbour and a private pavilion for more intimate affairs.
Inside Taverna's Dining Room

The best way to start an evening at Taverna? With a...
Taverna Rum Punch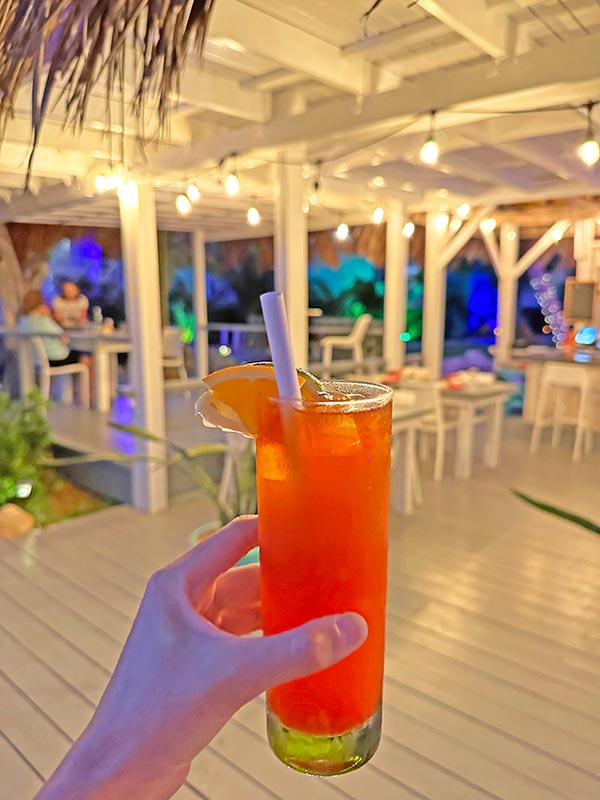 Potent yet light in flavor, and not overly sweet, Taverna's rum punch is a knock out. Our hats go off to cocktail whiz, Sunra Banx!
Tapas Time
Owners Mindie and Judd have crafted a tempting tapas menu after their own hearts. Lovers of Mediterranean cuisine, this menu is sure to capture your heart, too.
A number of small plates for sharing make up the menu. We recommend starting with...
Crispy Calamari

Taverna serves calamari two ways: Crispy or sautéed. Both are a crowd favorite! The crispy calamari is one of our all time favorite appetizers. Taverna's is especially savory with its side of lightly spiced tzatziki.
Sautéed Calamari

When it comes to classic Greek fare, try the...
Shrimp Saganaki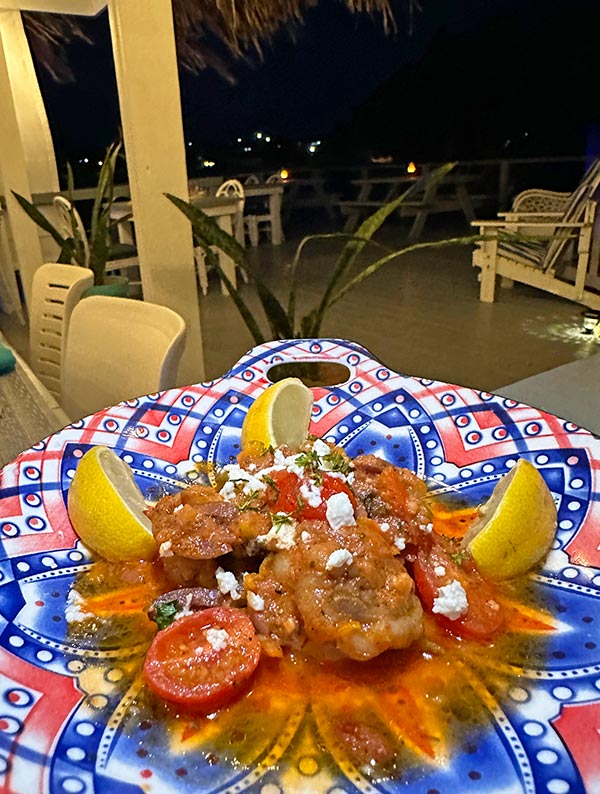 One of Taverna's signature dishes, shrimp is simmered in a zesty tomato sauce with white wine and finished with feta cheese and fresh dill. Wholesome and warm, this dish will have your tastebuds humming a happy tune!
Another winning dish?...
Keftedes

This dish is fragrant! The aroma will have your mouth watering before the plate is placed in front of you. Lamb and beef meatballs are marinated in aromatic herbs and topped with olive oil and feta. So flavorful and perfectly cooked, you may want to order two plates for the table.
For crisp, light flavors, order the...
Mediterranean Salad

Chunks of crisp and refreshing cucumber are mixed with cherry tomatoes, healthy cuts of red onion, kalamata olives and feta cheese. The Greek vinaigrette is the winning touch.
Also light and tasty...
Hummus and Toastettes & a Trio of Tzatziki

The tzatziki is especially noteworthy. It is laced with smoked red peppers, which lend a burst of richness to each bite.

The menu continues with lobster ceviche, coconut shrimp, a host of nightly "fresh caught" specials and Olympian Fries. Hand-cut fries are seasoned with herbs and covered with feta.
The Coyaba Sliders is another popular choice. Two juicy beef sliders are topped with tangy feta cheese and spicy tzatziki and served on soft brioche buns.
Bellies running on full, we had room for just one more Greek specialty. It's not a night of Greek eats without souvlaki! Arawak has a number of souvlakis including fish, shrimp, chicken and steak.
Taino Steak Souvlaki & Chicken Souvlaki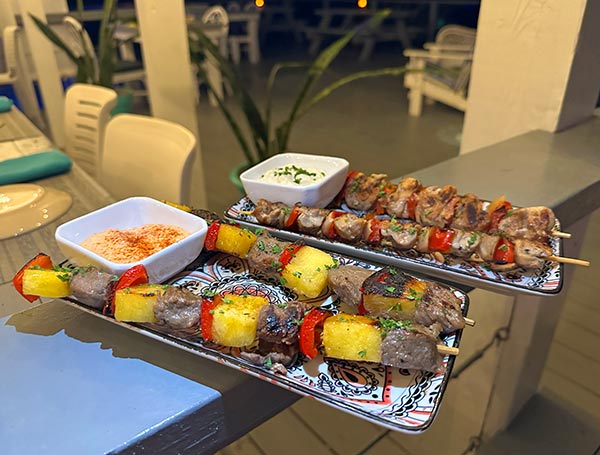 The steak souvlaki, called "Taino Souvlaki" is laced with chunks of pineapple and red peppers. Brushed with honey lime, it is especially divine!
The mahi mahi souvlaki is juicy and tender.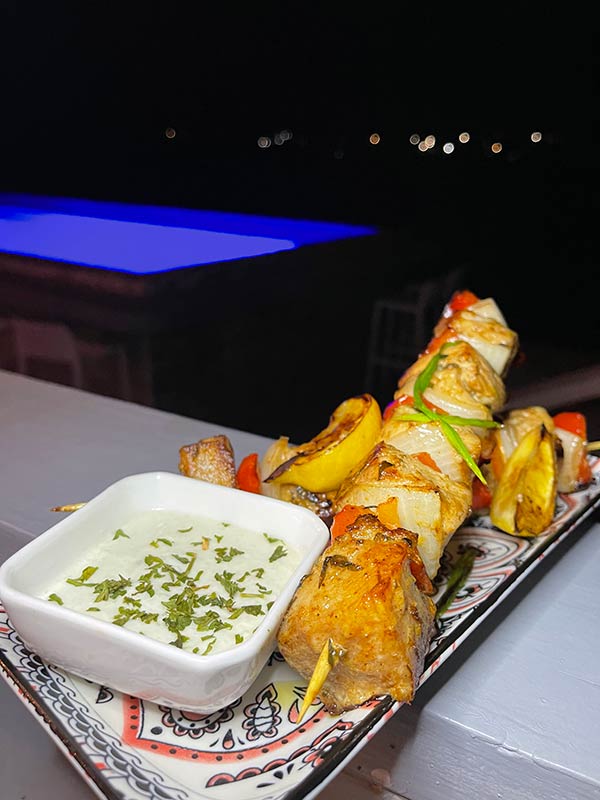 For best results, drizzle each chunk of mahi with grilled lemon and don't forget to dip it in the refreshing tzatziki!
To end the night with something sweet, try Chef's crispy, cinnamony churros...
The only thing left to do after a magical Mediterranean meal?...
Round Two!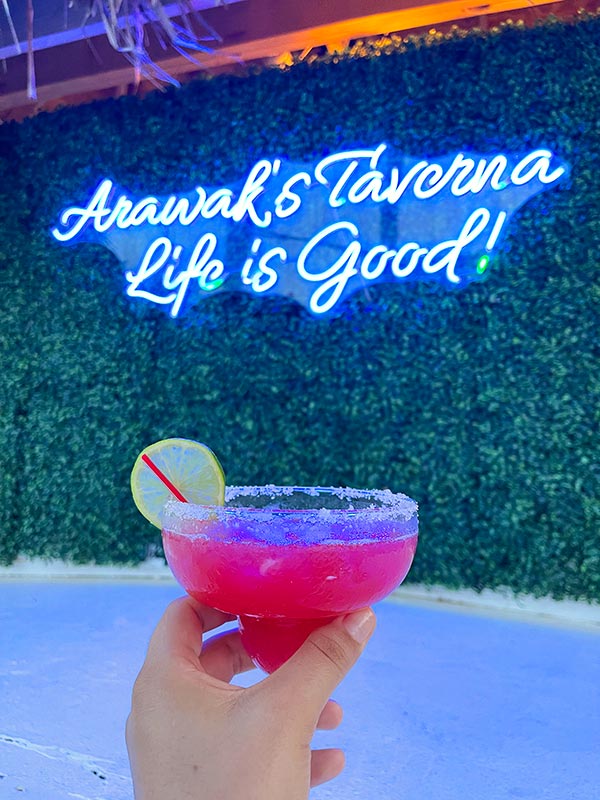 Evenings Are Magical at Arawak
Another round of cocktails and it's over to Arawak's dreamy fire pit to enjoy the ambience...
Enchanting Evenings

There is something enchanting to the glow of the fire, paired with the sound of the Caribbean Sea, the moon shining bright and the palms swaying above.
My hat goes off to owners Mindie and Judd who have cultivated a vibe that will have you coming back time and time again.
Life is Good at Taverna!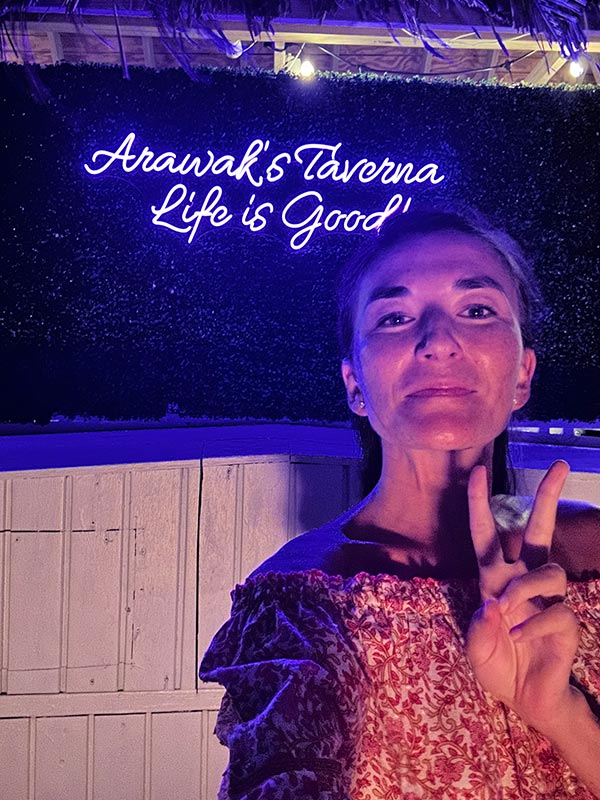 From the cuisine, to the dreamy ambience, to the welcoming team of staff and Mindie and Judd themselves who put you right at ease...
When you are here, life is good!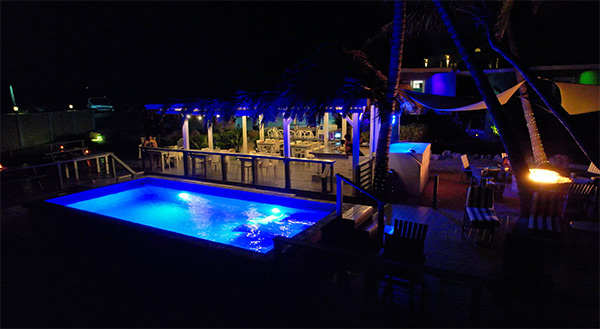 Directions, Hours & Contact
Directions: At Arawak Beach Club.
Hours: Thursday-Monday for dinner 6-10pm.
Menu: Click here.
Tel: 264-584-1206