---
Combing Anguilla's Beaches for the Best
Anguilla Beach Lovers brings you a fresh dose of "Tranquility Wrapped in Blue" every month.
If you like this newsletter,, please do a friend a favor and "pay it forward."
If a friend did forward this to you and if you like what you read, please subscribe by visiting...
---
Issue #164, October 31, 2023
Anguilla is calling 🥰💗🏝
That's right! With October coming to a close, the island's slow season is ending as well.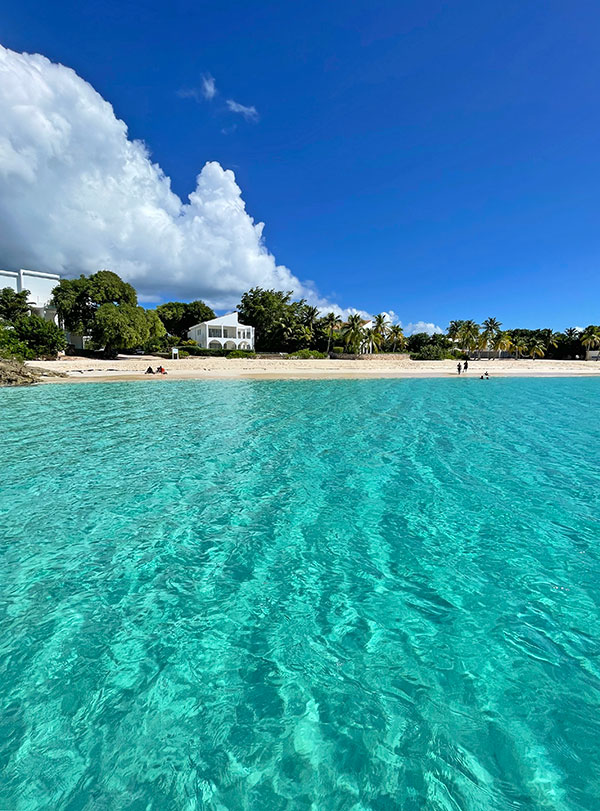 November 1st marks the official re-opening of Anguilla.
Restaurants, resorts and businesses begin to re-open at the end of October. Come the beginning of November, everyone is open for business.
Things shore are picking up here!
On that note, if you are planning a trip this winter and want to make it perfect, let us help you...
---
The Best Anguilla Vacation
Over the years, we have received many inquiries about planning the best Anguilla vacation.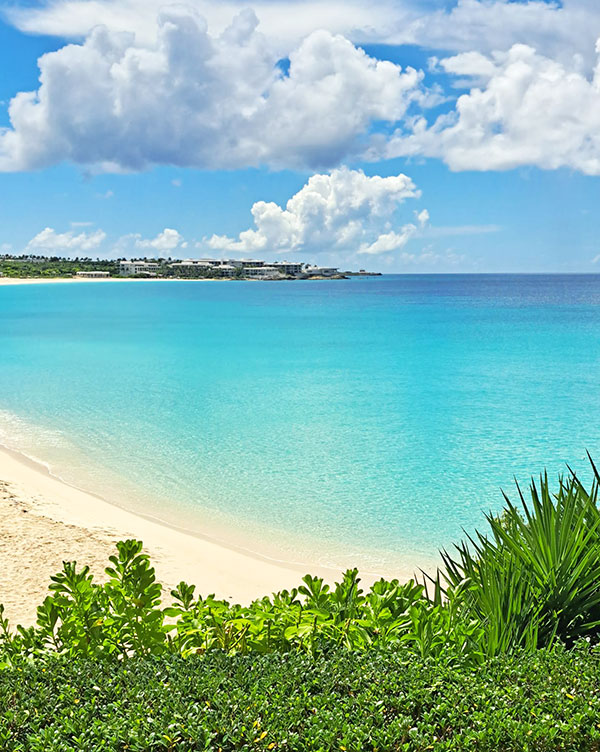 Planning the perfect Anguilla vacation, honeymoon, wedding or event can be a daunting task!
Luckily, we know Anguilla inside and out and we are here to help :-)
We will help you find the best hotel/villa, restaurants and activities to suit your needs, and we will help you secure the best rates, too.
In fact, we recently helped customer, Ken save $600 on his January vacation with his Anguilla Card.
(If you haven't already, click here to get your Card!)
Without further ado...
Let's Plan Your Perfection Vacation!
To book a call with us, click here.
We so hope to speak soon!
---
Tranquility Beach Anguilla Wins "Best Boutique Hotel" Award by Caribbean Journal
Tranquility Beach Anguilla was named "Top Boutique Hotel in the Caribbean" by Caribbean Journal readers in their 2023 Caribbean Boutique Hotel Awards.
With over 50,000 votes from worldwide readers, join us in a huge round of applause for Tranquility Beach Anguilla 👏🥳💗🏝
So well-deserved, don't miss the chance to celebrate with Tranquility Beach Anguilla this November and December!
Treat yourself to a special pre-holiday getaway with their NEW tasty special:
Enjoy Chef Service for 5-Night or More Stays from November 25 through December 15, 2023
15% off the standard nightly rate + chef service for breakfast one morning with a 5-night or more stay in a 1- or 2-bedroom suite
15% off the standard nightly rate + chef service for dinner one night with a 5-night stay in a 3-bedroom penthouse
Chef service fee included - no cash value. Food/beverage varies by menu selected and is additional charge to guest.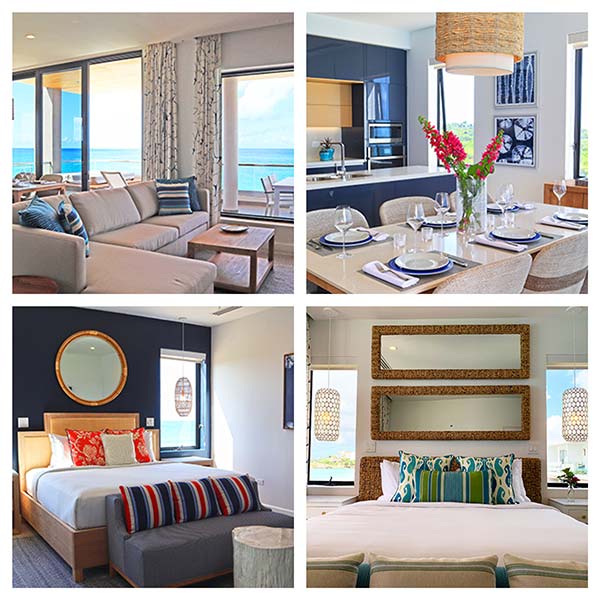 For full details on this special, click here.
To book your stay, click here.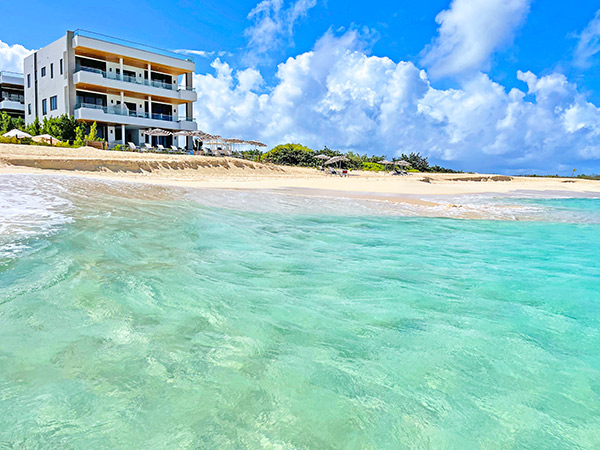 Sea you on Meads Bay!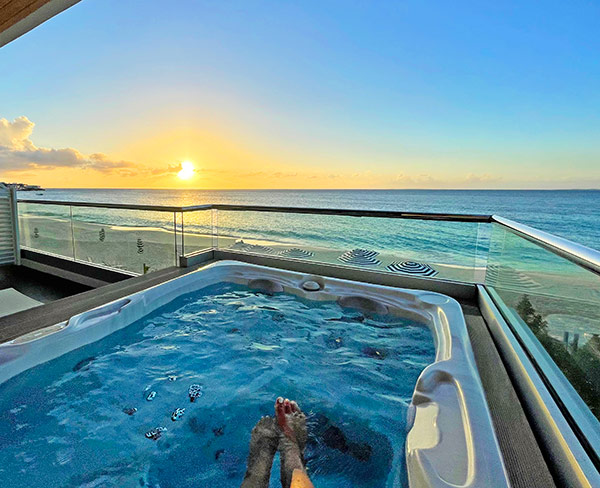 ---
Tradewind's Antigua Flights
Exciting news from premier regional airline, Tradewind Aviation!
If you are traveling to Anguilla this winter, be sure to consider connecting through Antigua. As of January 2024, Tradewind Aviation will be flying between Antigua and Anguilla.
Flights conveniently time with the arrival and departure of British Airways from London and American Airlines from the US.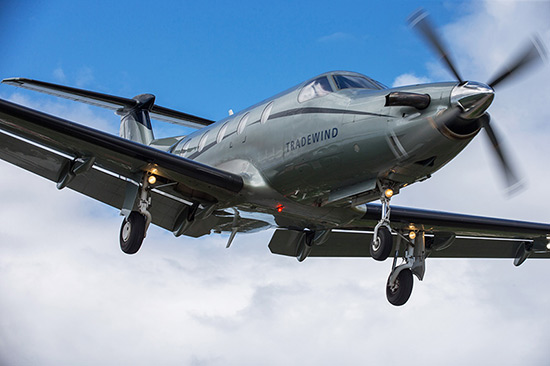 Scheduled service from Antigua departs from the V.C. Bird International Airport (ANU) and will operate on Saturdays and Sundays. Tickets start at $195 plus taxes and fees one-way.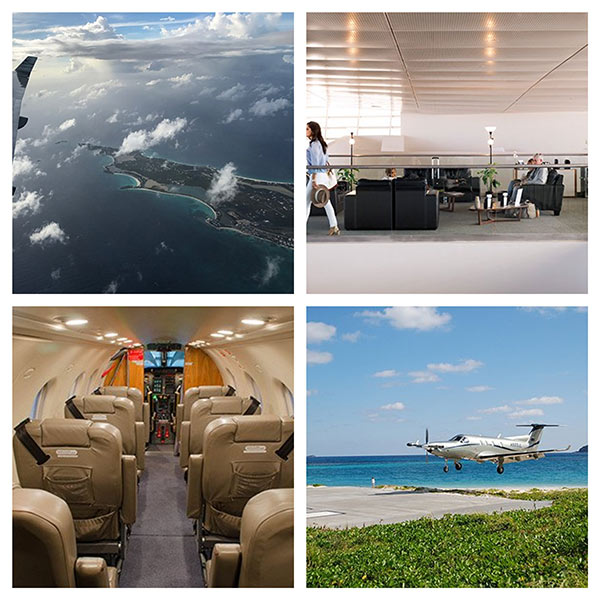 That's not all. You save 10% on your flight when you use your Anguilla Card. Click here to get your Card.
For more information, visit Tradewind Aviation here.
---
Aurora's Lobster Menu Special at Tokyo Bay
If you are on-island, don't miss Aurora Anguilla's exciting culinary specials!
A decadent must-do? Their 5-Course Lobster Tasting Menu at Tokyo Bay.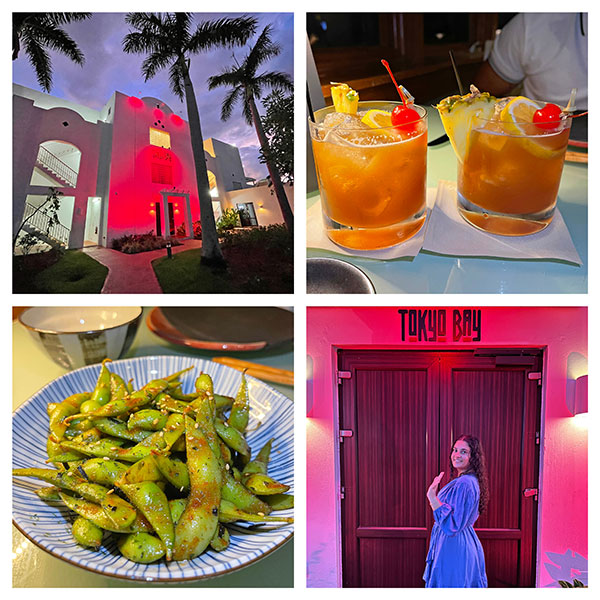 The special menu consists of 5 special courses, each showcasing a different way to enjoy one of Anguilla's top delicacies, spiny lobster.
The menu includes lobster miso soup, lobster gyoza, a lobster and foie gras sushi roll, lobster fried rice and a serving of truffle ice cream to end the evening.
Chef Joe and his team execute each course to a T (for Tokyo Bay 😉).
This special menu is available until November 7th.
For a full look at Tokyo Bay, click here.
To Book Your Stay at Aurora Anguilla
---
Scilly Cay's Festive Schedule
A tiny island off of the coast of idyllic Island Harbour in Anguilla's east end, Scilly Cay is a dream!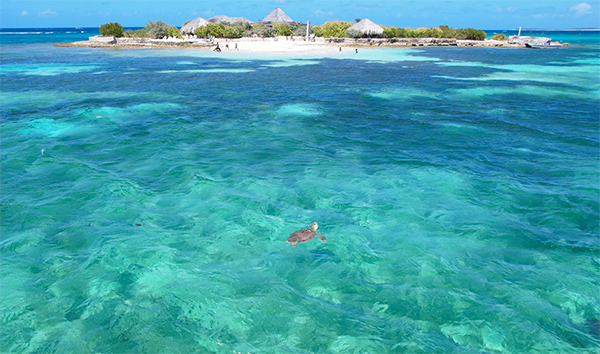 A favorite destination for beaching, sunning, swimming, snorkeling and fun in the sun, Scilly Cay also serves up excellent eats.
Chicken, ribs, catch of the day, crayfish and one of the best lobsters in Anguilla are all on the menu...
If you are visiting Anguilla for Thanksgiving weekend, Scilly Cay is whipping up some impressive platters!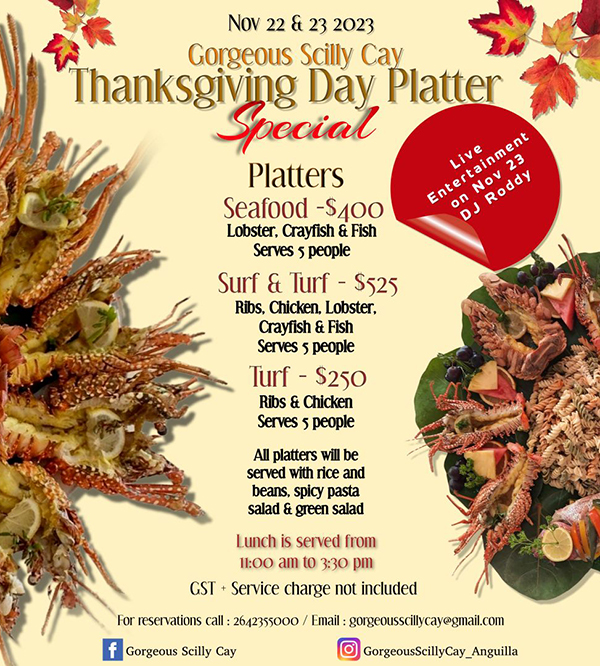 Seafood Platter $400: Lobster, Crayfish & Fish (Serves 5 people)
Surf & Turf Platter $525: Ribs, Chicken, Lobster, Crayfish & Fish (Serves 5 people)
Turf Platter $250: Ribs & Chicken (Serves 5 people)
All platters will be served with rice and peas, garlic bread, spicy cold pasta & green salad.
Lunch is served from 11:00am - 3:30pm. Lounge around and enjoy drinks until 5:30pm.
Scilly Cay also has the following entertainment schedule:
Live entertainment every Sunday
Mellow Wednesdays
House music on Thursdays
See below for special holiday entertainment.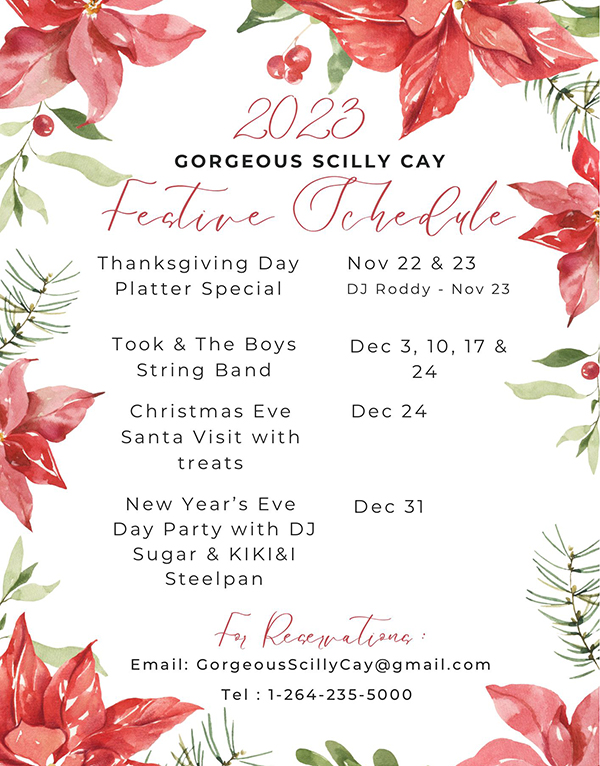 Walk ins are welcomed, reservations appreciated. 
To make reservations: +1-264-235-5000 or email at gorgeousscillycay@gmail.com
Scilly Cay is an Anguilla Card Partner. Save 10% at Scilly Cay when you use your Anguilla Card.
---
Just Next Door: Arawak Beach Club
If you love Scilly Cay, you will love Arawak Beach Club!
Set at the water's edge in scenic Island Harbour with beautiful views of Scilly Cay, Arawak Beach Club is one of Anguilla's most iconic hotels.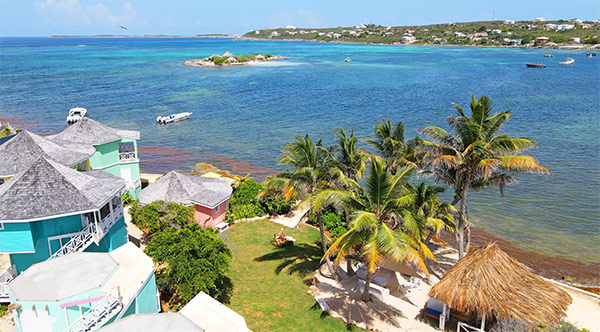 Painted tropical colors that catch the eye, the hotel's cheerful atmosphere has always been one of our family's favorites.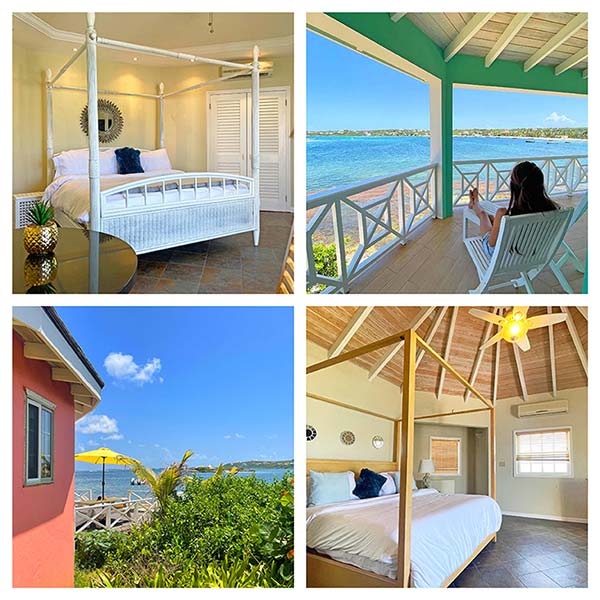 Arawak is known for its high value accommodations. Their rates are a steal! Starting at $150 and up per night depending on the time of year, you cannot get better bang for your buck.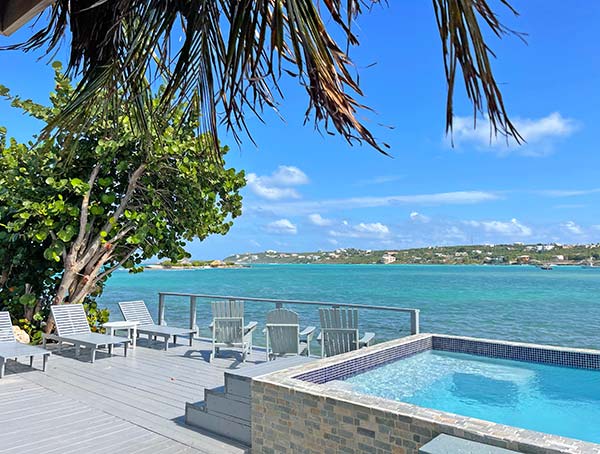 One of Anguilla's most high value properties, my Dad often talks about how he would love to stay year round on these beautifully landscaped grounds.
There is no doubt about it! Life is good at Arawak.
To Book Your Stay at Arawak
Tel.: 264-584-1214 or 264-584-1201
Email: justin@arawakbeachclub.com
Arawak Beach Club is an Anguilla Card Partner. Save 10% at Arawak Beach Club when you use your Anguilla Card.
---
New Anguilla Card Partner: The Mill House Café
Anguilla's West End is known for its beautiful beaches, high end resorts and special vantage points with breathtaking vistas. Right in the middle of the action is the buzz-worthy brunch hot spot, The Mill House Café...
Fun, pretty and bursting with personality, this lovely addition to the excellent restaurants in West End is one of our top spots for a lively brunch!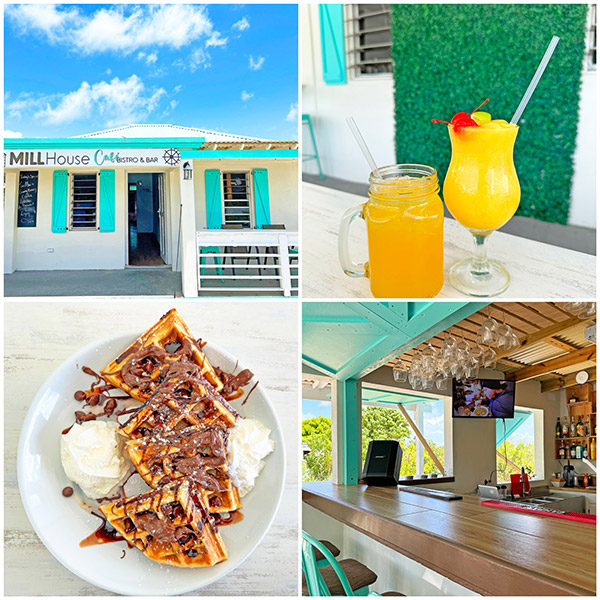 When you first arrive, the Mill House's charming building invites you in with its teal hues.
The deck is breezy, chic and comfortably sits about 30 people. Word of Warning: On weekends, this dining room will be packed. Come early to get a seat!
To start, we had a cold, caramel frappuccino topped with sweet, milky whipped cream.
Recommended by Mill House's gracious barista, this is a cool treat on a warm Anguilla day.
One of our favorites on the menu, the DBC...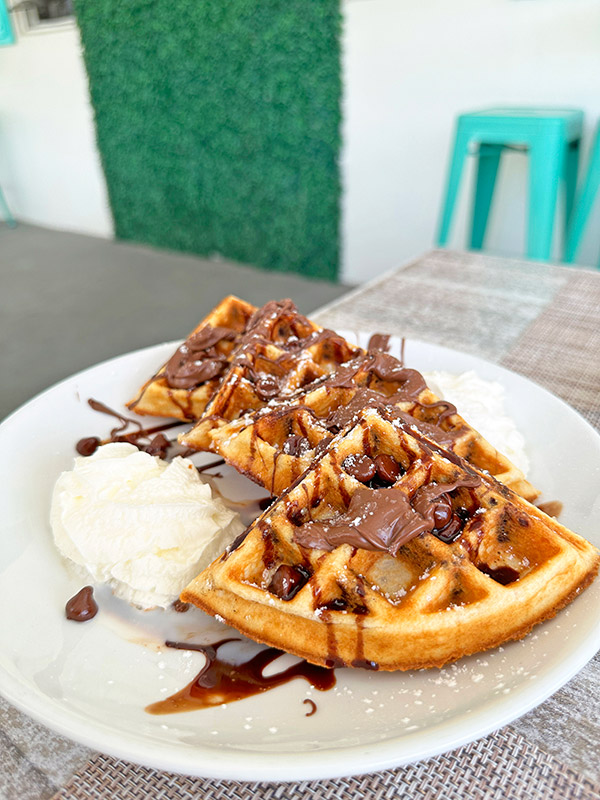 "What is DBC?" I asked our host. "Death. By. Chocolate," she replied with a wide, menacing smile.
She was not kidding. These waffles are decadent, coated in chocolate Nutella, chocolate syrup and chocolate chips. Topped even further with whipped cream and powdered sugar, it is definitely the sweetest item on the menu.
In addition to their breakfast items, The Mill House Café serves up a whole variety of lunch eats. Burgers, pizzas and a number of sandwiches grace the menu.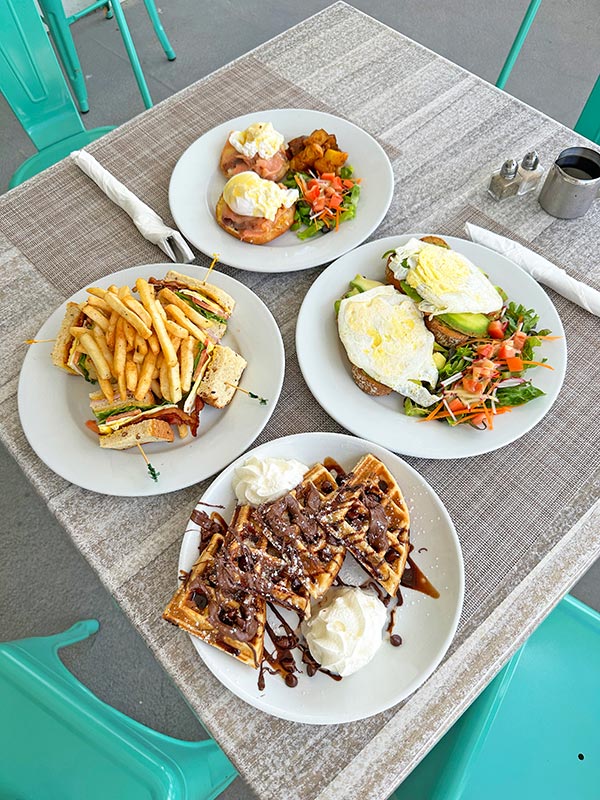 What fun it was! Hip, delicious and with the warmest of service, dining at the Mill House is an experience.
Their food will wow your tastebuds and their fun-loving team of staff will have you coming back time and time and time again.
The Mill House Café is open: Tuesday-Thursday 7am-3pm; Friday-Saturday 7am-7pm; Sunday 7:30am-12pm
Tel.: +1-264-235-6544
The Mill House Café is an Anguilla Card Partner. Save 10% at The Mill House Café when you use your Anguilla Card.
---
Who Wants a Beach Escape?
If you are looking for a winter beach escape, look no further than Beach Escape Villa.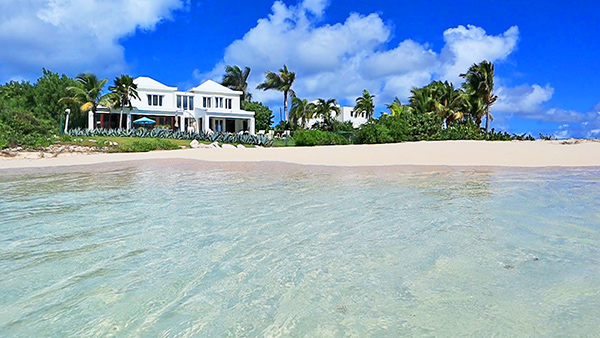 A luxurious villa with chic beach house charm, Beach Escape sits on secluded Sandy Point beach.
Sandy Point glistens in a million hues of Anguilla blue. Shallow calm waters stretch for as far as the eye can see, before dropping off to St. Martin's majestic mountains in the distance. A hidden gem, it will capture your heart.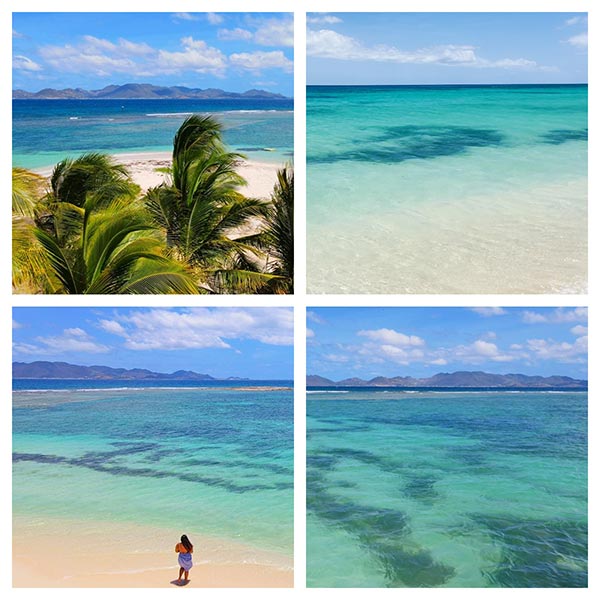 Beach Escape takes full advantage of its setting with beach chairs, umbrellas, a grassy front lawn overlooking the Caribbean Sea and even beach service.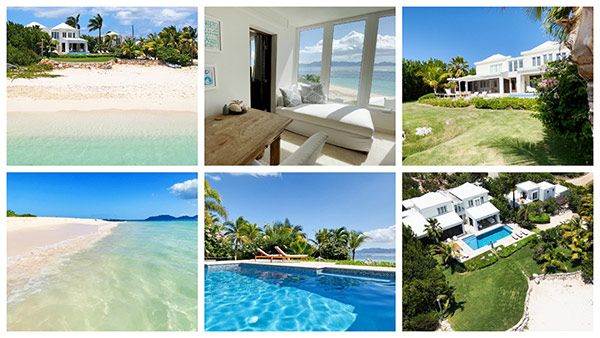 More on Beach Escape Villa
Book Your Beach Escape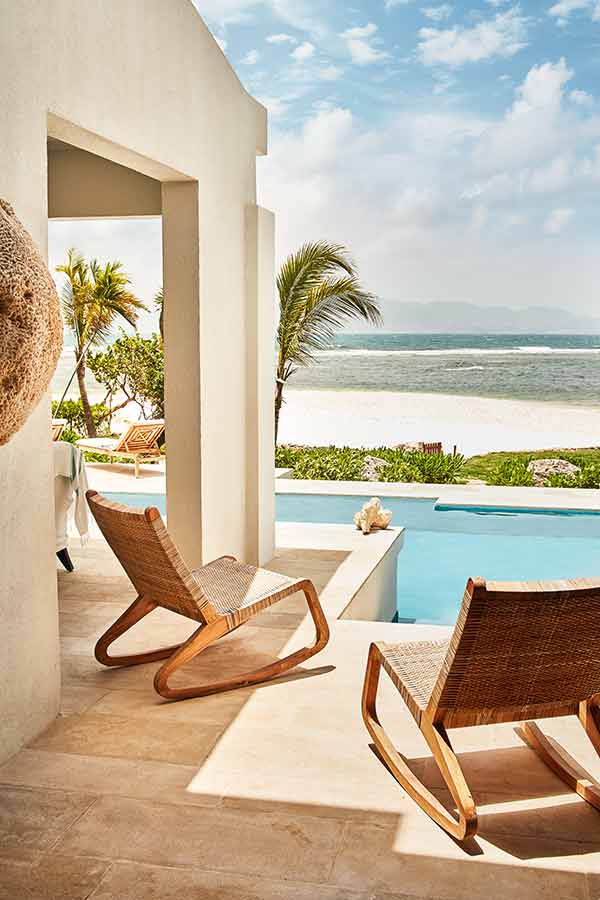 ---
Thinking of a Much Longer Getaway?
Our good friend Jackie Pascher of Island Dream Properties has some of the highest-value real estate listings on-island!
Have you seen one of her newest listings, Villa Rana?
Villa Rana sits right on sea rocks outside of Island Harbour, just near Scilly Cay, Shoal Bay East and top restaurants like Artisan, Nat's Palm Grove and Le Bon Pain.
The 5 bedroom, 5.5 bathroom villa features a grand kitchen, indoor and outdoor living areas, expansive wrap-around terrace and a separate additional dwelling unit.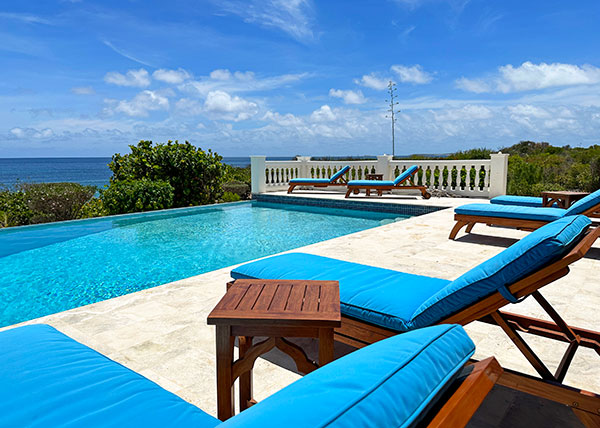 The outdoor living area is particularly noteworthy.
It has you covered with a shaded seating area and a large exterior dining table. There is plenty of space to soak up the rays, too. Comfy lounge chaises surround the big, salt-water chlorinated pool. Sparkling in a million shades of blue, this pool sure beckons you in for a long swim!
With plenty of potential, living is large and lofty at Villa Rana!
Video Tour: Click here for a full look inside Villa Rana.
More on this listing...
---
Caribbean Corner: Best Beaches in Aruba
One of the benefits of living in Anguilla is exploring its beautiful neighboring islands! In the off-season, we love to travel and sea what the Caribbean has to offer.
This fall we had the chance to visit beautiful Aruba.
From special coves like Mangel Halto and Baby Beach, to big beauties like Eagle Beach, we can't stop singing "Aruba, Jamaica, ooh I wanna take ya..."
Click here for our guide to Aruba.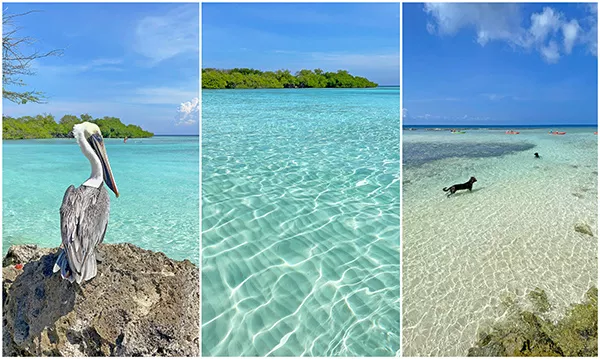 ---
If you enjoy this newsletter and our Anguilla videos, please spread the word about us on TripAdvisor.
If you are planning a trip to Anguilla, get your Anguilla Card here!
We can't wait to SEA you on the beach 💗🏝
With lots of warming Anguilla sunshine,
Nori & Louise
---
Anguilla-Beaches.com
---